In this article, I have come up with a complete analysis of two major LMS Thinkific vs TalentLMS.
I think it is more important for you to select the appropriate learning platform than it is for us to do so, and unfortunately, we don't know very much about you!
Therefore, before delving too far into the features, it is strongly recommended that you plan a conversation with our solutions inc. so that we can better align on the most effective strategy to accomplish your objectives.
Let's get started!
Thinkific Overview
Thinkific makes it possible for solopreneurs, groups, and businesses to create, distribute, and manage online courses. At Thinkific, we want to change the way people learn and make money online.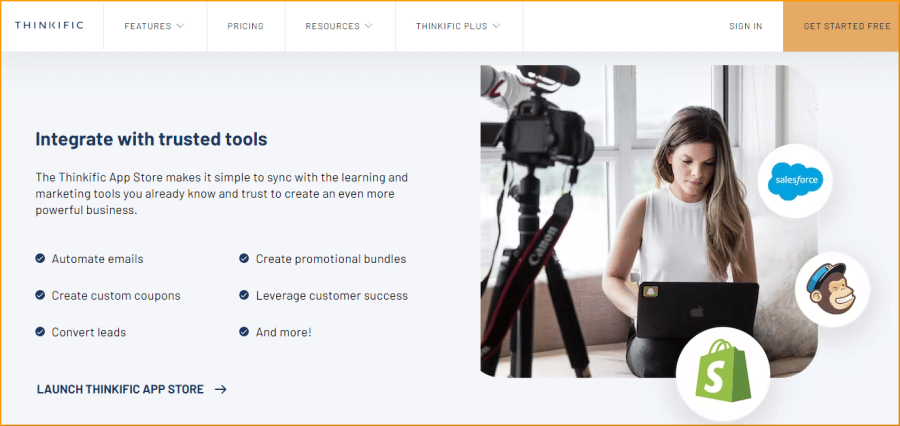 We do this by giving them the tools they need to make money from their knowledge in a way that helps them and their audience.
Your business grows, and so does Thinkific. Thinkific Plus gives businesses that are growing quickly the flexibility and reliability they need to offer online education to their customers when and where they want it.
Thinkific Plus is a cheaper alternative to more complicated and expensive standard LMS platforms for medium-sized businesses that want to increase revenue, and educate customers, partners, or employees at scale. Here, you can find information about Thinkific Plus.
You may read our article Thinkific review, where you can get in-depth of Thinkific.
TalentLMS Overview
TalentLMS is a cloud-based learning management system (LMS) that makes it possible to send interactive e-learning materials to customers, channel partners, or employees.
It is a piece of software that has won awards and has a lot of useful features that go beyond just planning, teaching, and making courses.
TalentLMS makes it very easy to teach your staff, partners, clients, or students.
It can be completely changed to fit your needs, and it gives you clear, easy-to-understand analytics about everything that happens in your e-learning environment.
It has strong support for SCORM and TinCan (xAPI), as well as notifications, the sale of courses, video conferencing, gamification, extendable user profiles, and more features than you can imagine.
Aside from that, it was built from the ground up with a responsive design in mind, so it works perfectly on mobile devices like the iPad, iPhone, and Android.
Thinkific Vs TalentLMS: Pros & Cons
Both Thinkific and TalentLMS are remarkable learning management systems (LMS) that offer a variety of appealing features and some of drawbacks too. Here I have mentioned below.
Thinkific pros & cons
| | |
| --- | --- |
| Pros | Cons |
| Easy to use. | Challenging navigation environment |
| All-in-one course platform. | Poor marketplace |
| You can upload videos directly to Thinkific. | |
| Thinkific's interactive tools, like the quiz creator, help enhance interest and course completion. | |
| Robust customer support. | |
| Free trial available. | |
TalentLMS pros & cons
| | |
| --- | --- |
| Pros | Cons |
| Adorable Integration. | Templates are limited. |
| Wonderfully designed user interface | |
| affordable. | |
| Excellent customer support. | |
Thinkific Vs TalentsLMS: Features comparison
Thinkific Features
Content Quizzes
Thinkific gives you the ability to make some of the most engaging and high-quality quizzes that are accessible on any course-building platform. Simply put, there is a huge variety of alternatives.
Be sure to make use of their capabilities not only with regard to text but also images and videos. You may also construct your own quiz bank to make your classes even more organized.
Customize and flexibility
Thinkific, in comparison to any other platform, offers a significantly greater number of customization choices.
You may give your classes and storefront the same look and feel as your website, provide students with exams, surveys, student conversations, required lessons, and achievement certificates, as well as the list could go on indefinitely.
If you are more technically inclined, Thinkific also provides you with complete access to edit HTML and CSS in addition to its user-friendly customization capabilities for everyday users.
Student Experience
If your customers, workers, or clients do poorly, your business will fail. This is why the needs of students were prioritized during the development of Thinkific.
Our intuitive course player, beautiful design themes, flexible settings, and intuitive student control panel are all examples of this. Rather than focusing on providing a pleasant learning experience, TalentLMS prioritizes speed in distributing course content.
TalentLMS's user evaluations complain that the platform's student interface is clunky and outdated. Thinkific goes above and beyond the competition in its efforts to provide a unified brand experience for its students.
Customer support
Thinkific's exemplary customer service has earned the company numerous accolades throughout the years.
This is due to the fact that Thinkific has institutionalized customer support, which means that each and every employee can take regular turns working support shifts.
TalentLMS Features
Course building
You can make both asynchronous (go at your own pace) and real-time training courses with TalentLMS. The system supports the content standards Experience business applications interface (API), Cacheable Content Object Reference Model (SCORM), and Laptop Instruction (cmi5).
Documents, movies, and audio files can be added to existing course modules by dragging and dropping them or by uploading them.
Any URL from the outside can be used to bring content to a website. Iframes of websites outside of the platform can also be added for student use.
Interface
TalentLMS's administrative interface is simply cluttered and straightforward. Quickly access useful features like course creation, user administration, report generation, certificates, gaming, e-commerce, and more. New users are alerted by blinking red dots that they can access concise tutorials.
The freemium edition of TalentLMS distinguishes out because both the instructor and student interfaces can be customized.
By dragging and dropping logos and adjusting color schemes, you can create a fully branded user experience.
Reporting
Every user, program, branch, group, exam, survey, and assignment has a built-in report in TalentLMS. Only paid plans are available with customizable reports.
The reports highlight the most significant data for each topic. For instance, instructors can examine a student's progress in a course or training route, including the results of a specific test, and the assignments and marks that have been submitted.
Additionally included in TalentLMS are infographics that are helpful to both administrators and students. These provide a vivid, audacious description of the outcomes and performance.
Conclusion
Overall, Utilizing the resources provided by Thinkific, you may design, market, and deliver your very own online courses.
It paves the door for individuals to gain knowledge on their own time and to utilize their specific talents in a successful professional path.
The features that make TalentLMS a helpful learning platform for businesses of all kinds include course management, progress monitoring, reporting, and gamification.
It supports multiple languages and makes use of the content delivery network provided by Amazon.
Frequently Asked Questions
Is TalentLMS cloud-based?
Yes,  TalentLMS is a cloud-based learning management system, there is no need to install any apps in order to progress through the various courses.
Do you own your content on Thinkific?
Yes, those that construct courses on our platform retain full control of the information they provide. Because Thinkific does not assert any intellectual property over the items you create and publish using our platform, you retain full ownership of everything you create.
How many people use TalentLMS?
More than 70,000 businesses all over the world are expanding with the help of TalentLMS.