Are you looking for a detailed comparison between Thinkific vs Teachable, your search ends here.
Thinkific and Teachable are the two best online learning platforms. Both are the most affordable online course platforms we can find right now.
They are easy-to-use online management systems with several students and engagement tools.
In this article, I have done an in-depth comparison between Thinkific & Teachable based on their features, performance, user-friendliness, security, marketing, Payment Integration, and customer support.
So let's start.
Thinkific Vs Teachable: Overview
First of all, both are cloud-based LMSes (learning management systems). This means rather than having our courses on our own website, they take the responsibility of hosting for us.
You don't need to install any software or upload any plugins. You can simply bypass the major learning hurdles of web design.
For education and training, both LMSes also function as e-commerce platforms that make it easier for us to market and sell our courses.
All to do is have signed up and sign in to our account for smooth sailing creation. Both platforms allow us to create and upload content and manage our students and customize the design of our course and website.
They also take care of the aspects of course creation, website building, and sales! We would not need more than our account and a domain name to point.
You may also like our detailed article on Learnworlds vs Teachable.
What Is Thinkific?
Thinkific is an online platform that allows you to develop and sell online courses. It is one of the most effective platforms for sharing information and tracking company sales.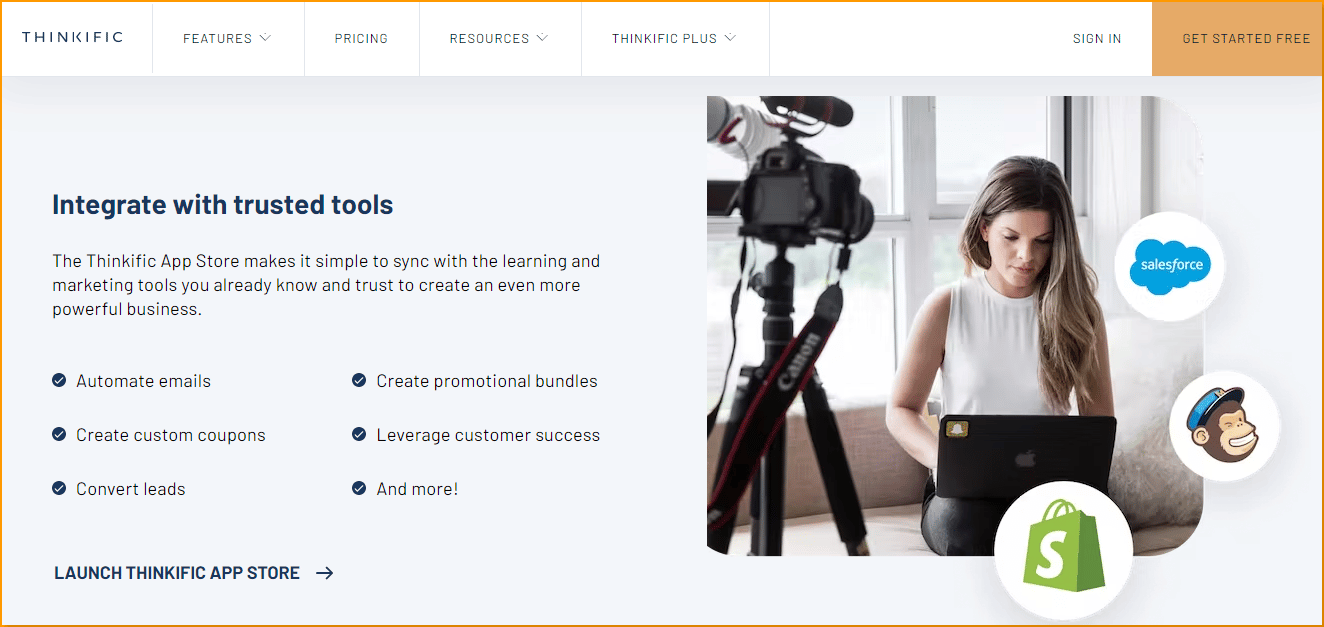 It is used by over 36,000-course authors, has over 16 million active registered students, and is accessed by producers and students from 164 countries.
No matter how many courses you produce or how many people you coach, give it your all since it is the ideal platform for your business.
People are generating a lot of money on both Thinkific and Teachable, and with good cause.
What Is Teachable?
Teachable is another platform that lets you develop and sell online courses while also offering to coach your students.
Teachable has over 100,000-course authors, and according to current statistics, $1 billion worth of courses have been sold. It's a self-paced online course learning platform featuring one-on-one sessions that facilitates knowledge exchange via live interactions.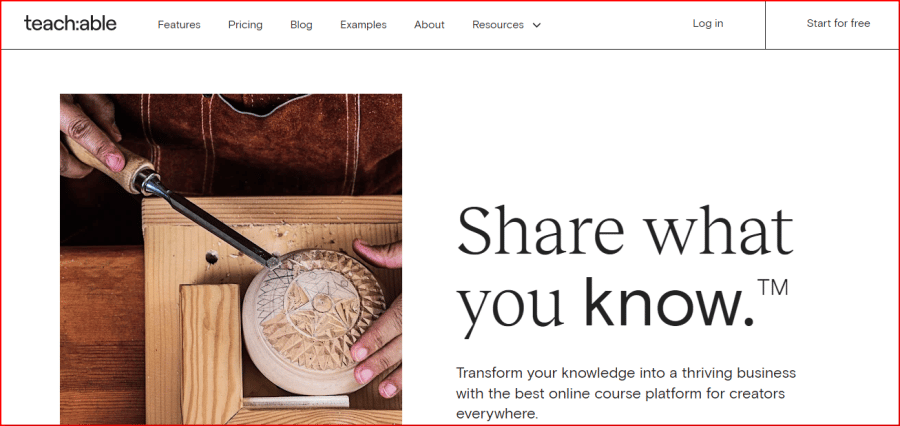 Just like Thinkific, Teachable allows you to construct a beautiful course website, set up your courses online, provide students with an excellent learning experience, and tailor everything to your and your student's needs.
Teachable has over 18 million students enrolled, with over 68 thousand teachers and over 186 thousand courses to choose from.
The New York Times, Intuit, Shopify, Pearson, and Penn Law are just a few of the notable businesses and organizations that utilize Teachable.
Thinkific Vs Teachable: Features Compared
Let's see some of the best features that you can use to grow your business online.
Features Of Thinkific:
This offers an easy setup and gives us absolute control over their content and customer data.
They provide superb web design options without the need for HTML and CSS. We can customize every inch of the website and course.
Their analytics tools help us maximize engagement and boost revenue.
It is known that Thinkific has around 100 employees who work to provide their services in over 15 countries.
Features Of Teachable
Teachable allows us to quickly build a website through a drag-and-drop editor.
This also offers analytics tools to gauge your courses and calculate ROI.
We can design optimized pages to boost conversions and sales.
They provide advanced marketing and sales to help us after launch.
Teachable has 83,000 instructors and 23 million students. It was founded in 2014.
Now let us know about the main difference between Thinkific and Teachable.
The main difference between the two is that Teachable is well-known for providing better marketing features, while Thinkific is well-known for offering better site design.
Read our Teachable Review to learn more about its features and pricing options.
However, now we need to get deeper before deciding.
You may also read about the Unbounce coupon.
Which One Is Best?
Let's find out which one is best for you to build your online course platform.
Performance
We would never want our course builder to be down while learners will be buying or taking lessons. Not only it will be a loss in revenue, but it will also seriously damage our brand image.
Thinkific provides 24/7 monitoring of the website to make sure it is up all the time. Also, it claims to have an excellent 99.9% uptime.
Here are some of the common issues that were reported:
Some reported that had issues with updating the billing information.
Some had intermittent connectivity issues.
And some of them had latency and 504 errors.
Thinkific has faced problems with responsiveness in the past. But after some time all issues were fixed as the first priority and are delivering satisfactory performance.
But if we will have a look at both of the links given above we will find that Teachable had more incidents of downtime than Thinkific.
User Friendly
Having an online course platform that is intuitive and user-friendly is essential for everyone who wants to scale their business online. Building an online course platform with a complex user-friendly interface that we are unable to operate is of no use.
Here are some key features that make Thinkific an easy-to-use platform.
We can use drag-and-drop content for easy uploading to launch at a faster pace.
We do not need any coding for customization.
Thinkific always allows free hosting of video content on the platform.
Thinkific supports all kinds of multimedia content.
Thinkific easily integrates with email marketing software and drip content.
Here are some prominent features that make Teachable an easy-to-use platform:
Teachable enables us to add video, text, audio, etc, and PDF files from cloud storage.
Teachable's built website is responsible to give a user experience on desktops, tablets, and smartphones.
Teachable easily modifies the language to make our website more suitable and interesting for students.
Any member of the team can use the power editor to customize the features.
So here we can clearly know that Teachable offers more options to customize our website easily and present it to the students.
Security
These days cybersecurity threats continue to become a problem for websites globally. This threat mainly becomes active while money transactions are on our websites.
According to a report, cybersecurity attacks costs the world $6 trillion per year by 2021. Therefore a lot of money is lost due to the absence of proper diligence.
Thinkific offers secure cloud hosting to keep its data safe 24/7.
It always gets regular automatic backups of the data to lessen the chance of data loss.
It checks its automatic security system so that we don't miss any updates.
Thinkific's team monitors the platform to be sure that there aren't any cases of a security breaches.
We can get total control of our data with absolute ownership.
Teachable integrates with only PCI level – 1 payment providers to maintain absolute data security.
Teachable receives automatic updates to bring on new security features instantly.
Teachable allows us to have complete control of our data.
Here we come to know that both platforms set strong security features. But Thinkific is slightly more capable than Teachable as it provides some extra security features.
Marketing
Let's see some of the amazing marketing features of Thinkific.
Thinkific allows us to market and reward affiliates with instant payments for sharing online courses.
We can also connect with providers to execute personalized campaigns to reach people at right time through email.
We can also use advanced data tracking to optimize marketing campaigns in time.
There is also support for ad tracking and analytics through GOOGLE ADWORDS, FACEBOOK, AND CAMPAIGNS.
Here are the marketing features of Teachable.
Teachable easily tracks programs through built-in features and provides payments if they sell your courses and online products.
Teachable promote offers by creating coupon codes to increase the joining of new users to promote online learning platforms.
Teachable uses integration with marketing tools such as MAILCHIMP, MIXPANEL, and more.
Teachable easily adds conversion pixels to our website for the effectiveness of our marketing campaigns.
Here we come to know that Teachable has a longer list of marketing tools that we can use to run optimized and personalized campaigns.
Payment Integration
There are some prevailing data security concerns, that we simply can't do without robust and secure payment integration.
The relaxing news is that both Thinkific and Teachable pricing offer reliable payment with PayPal and stripe.
However, Thinkific also comes prepared with stunning to prevent failed transactions on stripe.
This means with Thinkific there are fewer chances of transaction failures.
Customer Support
Both Thinkific and Teachable offer robust customer support:
They support tickets
Online tutorials
Onboard emails
Facebook groups for doubts
Base of knowledge
However Teachable provides real live chat customer support on its professional plan. With Thinkific we have to fill out a form to be in touch with customer support.
Thinkific vs Teachable: Key differences
Thinkific and Teachable, as you might anticipate, share a great deal in common; accordingly, we'll first discuss the similarities between the two platforms and then focus on the most important distinctions between them.
Course creation
Thinkific and Teachable are two platforms that make it simple for individuals to develop and host their own online courses, but the two platforms offer distinctively different sets of tools for doing so.
Uploading content and structuring your course
Thinkific and Teachable both provide unlimited hosting, allowing users to upload a wide variety of multimedia content to their courses. This content can include audio, video, PDFs, text, and quizzes.
Teachable has the added benefit of allowing you to upload in bulk not only from your computer but also from OneDrive, Google Drive, or Dropbox as well.
You can perform a bulk upload of your content onto the platform, after which you can use the drag-and-drop feature to organize it into the structure of your choice, be it lessons and chapters on Thinkific or sections and lectures on Teachable.
Lessons may consist of a single piece of content or a collection of multiple pieces of content that are related to one another, such as a video, some text, and a PDF.
Teachable also enables you to change the settings for previewing, downloading, publishing, and deleting from the curriculum page without having to go into individual lessons. This can be done by selecting multiple lessons at once.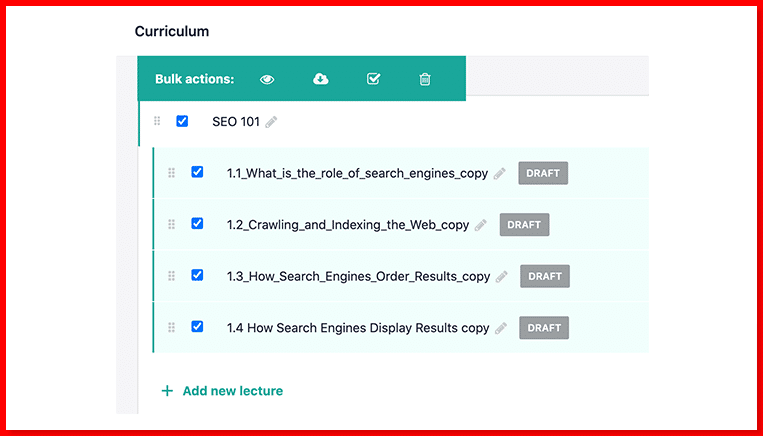 Thinkific provides a number of tried-and-true course templates, such as Pre-sell, Mini-course, Flagship Course, Webinar Replay, and Membership Resource Library, in addition to the default Blank template.
These templates are designed to help you create courses more quickly while adhering to the most effective methods for curricular and instructional design.
Delivering content with the Course Player
The Course Player appears to be of high quality on all supported platforms when viewed from the point of view of a student. It is simple to review previous lessons if they become necessary, and the sidebar will keep you apprised of your overall progress.
Students have the ability to search through the course on Thinkific by using the lesson titles, and they also have the option to use full-screen mode, which hides the sidebar as well as any other distractions.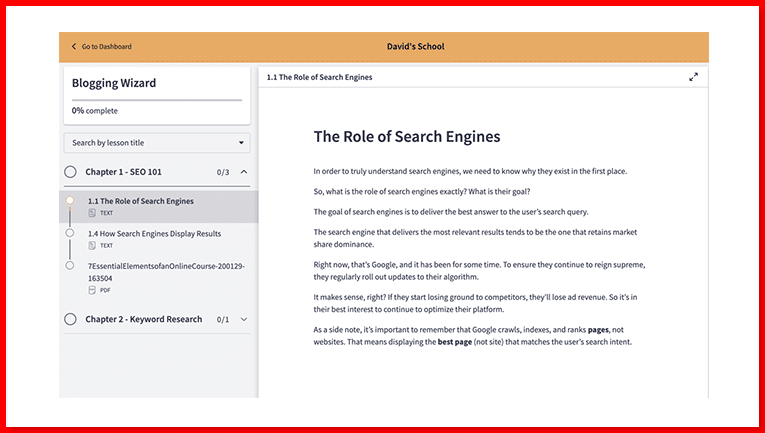 Content drip and locking
You are able to drip-feed your content across both platforms based on the date that the course begins or the date that the student begins. Teachable provides you with the additional benefit of being able to notify your students through the use of drip emails.
The ability to lock content, also known as course compliance, is available on both of these platforms for online courses. Locking content requires students to finish certain assignments, such as lessons or quizzes, before moving on to the next lesson.
The most important distinction here is that Teachable operates on the level of the entire course, whereas Thinkific allows you to set course compliance at the level of individual lessons.
Student engagement
Engaging and interacting with your students is an essential component of online learning, so before we examine the advantages and disadvantages of each platform, let's look at what each one has to offer.
Student discussions
Through Thinkific's Communities feature, which you can attach to a particular course or bundle of courses, you are able to interact with your students outside of the confines of Thinkific's Course Player.
It functions similarly to having a Facebook Group, except that it is hosted on your website rather than on Facebook. This enables you to construct and manage the community associated with your membership site or online course.
Teachable has a commenting system that is attached to each individual lecture, which means that it is heavily centered on the subject matter being taught.
You can also enable a feature called Discussions on Thinkific, which is a system very similar to the one described above. This feature can be activated for individual lessons or for the entire course.
Quizzes and assignments
Thinkific is far more advanced than other platforms when it comes to quizzes and assignments. Multimedia content, multiple tracked attempts, explanations of the correct answers, grading, and questions drawn from a randomized question bank can all be components of a quiz. Quizzes can also be generated randomly.
You can also conduct student evaluations, collect feedback from instructors, and monitor progress using the surveys and polls that you create with Thinkific's user-friendly interface.
Additionally, you are able to create, request, and evaluate student work using the Assignment lessons provided by Thinkific. In addition to that, it is compatible with Brillium, an independent exam service provider.
Certificates of completion
After a student has successfully completed one of your courses, you have the option of creating and distributing certificates to that student. On the Teachable platform, you have the ability to generate completion certificates, and you can select one of three different templates to use. Thinkific, on the other hand, has an integration with a third-party certificate service called Accredible.
Course reporting and analytics
Both platforms give you the ability to monitor your student's participation in your classes, including the following: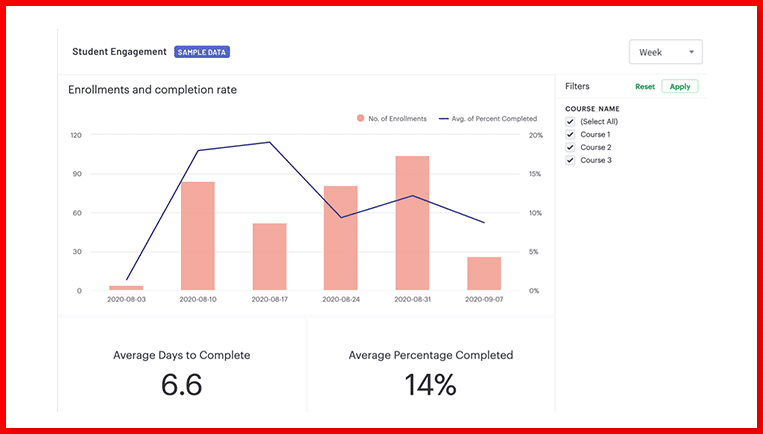 Enrollments and completion rate
Lessons completed vs lessons viewed
Views by content type
Quiz attempts
Number of course reviews
Average course rating
You are also able to view orders (such as new students versus returning students, coupons, product type, and more) and track revenue (such as new students versus returning students, payment provider, and affiliate). Both of these features are available to you.
Website design and customization
Moving away from the actual delivery of the course, you will also need to work on marketing and selling your product. If you so choose, you can carry out these actions on your very own website. However, you are able to construct a website using either of these platforms while using them.
If you decide to go with that alternative, you will be provided with free hosting along with an SSL certificate, and the team will also take care of the security, backups, and maintenance updates for your website. You will also receive a free subdomain for your websites, such as Bloggervoice.teachable.com or Bloggervoice.thinkific.com. This will allow you to better organize your website. Or, if you'd rather, you can use a custom domain, such as BloggerVoice.com. Either way, the choice is yours.
Both Thinkific and Teachable include a landing page builder with drag-and-drop functionality, as well as the ability to create custom pages and the choice to personalize your checkout and thank-you pages with elements such as social proof or upsells.
But first, let's look at the differences between the two.
Website themes
The theme library for Thinkific contains three different themes, each of which has four distinct styles with customizable color palettes.
Teachable only provides a single default template for use by all of its websites. You have the option of uploading your company's logo, selecting the font family and color palette, as well as creating your own.
Page Builder
The page builder that comes with Teachable only allows users to add Banners, Text, and Images with Text blocks.
On the other hand, Thinkific's Site Builder offers a significantly higher level of personalization with over 20 different types of section types, such as a "Hero" section, testimonials, pricing, frequently asked questions (FAQs), calls to action (CTAs), countdown timers, text with images, and many more. (Exactly the same as what you would anticipate seeing in Thrive Architect or Elementor).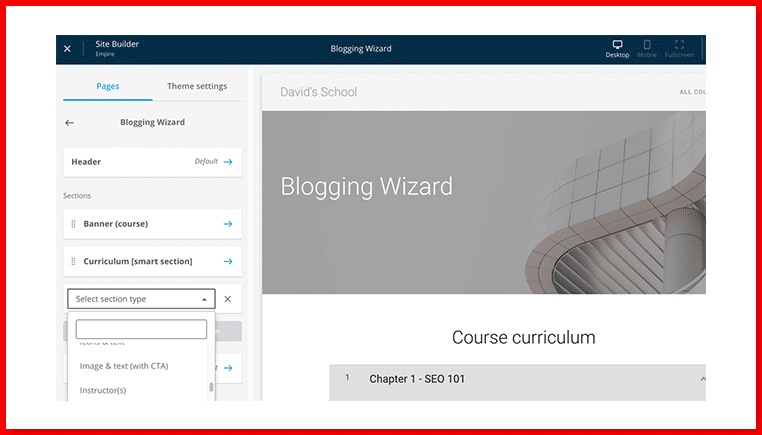 Blogging
Teachable comes with a rudimentary blog, whereas Thinkific doesn't even offer a blog at all. Neither platform puts a primary emphasis on this functionality, so we recommend that you keep using WordPress for your blog.
White labeling
If you use a custom domain, either of these platforms will let you hide their branding from your users. It is important to note, however, that the Teachable pages for signing up, logging in, and checking out all still use a sub-domain:

Sales and marketing tools
In addition to developing your course, you will need to market it and sell copies of it. Both Teachable and Thinkific provide their users with the tools necessary to accomplish this goal.
For example, they both offer the ability to:
Sell lifetime courses
Create subscriptions
Generate coupon codes
Bundle courses
Add 1-click upsells
Conduct email marketing campaigns
Launch affiliate marketing programs
Use Google analytics and course tracking
But they tackle it differently, so let's take a look.
Checkout process
Teachable has a checkout process that only requires one step, so students can enter their information and make their payments on the same page. After the transaction has been completed successfully, they will be prompted to create an account.
Teachable asserts that because this transaction does not involve any friction, it offers higher purchase conversion rates for its students.
But Thinkific has a different opinion.
They claim that if you do not collect an email address at the beginning of the enrollment process, you have no way to contact prospective students who are "on the fence," and as a result, your overall conversion rate is likely to decrease as a result of this.
According to Thinkific, if you use Teachable, you will end up collecting up to 20-30% fewer high-value prospective emails each and every month, which means you will miss out on the opportunity to grow your list of valuable customers who are very close to being ready to make a purchase.
Thinkific has a 2-step checkout process, during which a student must first create an account before moving on to the next page and making the payment.
Teachable asserts that this is a cumbersome and outmoded method and that a significant percentage of users abandon the process before completing a payment.
You are able to see the argument from both points of view. Therefore, this is one area in which you'll need to decide which method of purchasing items from a store works best for you.
Payment processing and payouts
The manner in which the platforms handle financial transactions is the next key distinction.
On Thinkific, payments are always instantaneously deposited into your personal Stripe or PayPal account. There is never any delay in the process of receiving your funds. After that point, it is up to you to pay any co-authors or affiliates who contributed to your work.
Depending on the payment gateway that you use, things can get a little more complicated when using Teachable.
When you use a custom payment gateway, the funds are sent to your own personal Stripe or PayPal account rather than the merchant.
If you use the payment gateway that Teachable provides, then the money will be processed through Teachable's account. If you are not located in the United States or Canada, Teachable will keep your money in escrow for thirty to sixty days.
When you use Teachable's gateway, one of the benefits you'll receive is access to their suite of services known as BackOffice. This service has the capability to automatically pay out commissions to your affiliates and authors. However, these transactions are subject to an administration fee of 2%, so you will need to evaluate whether or not this will save you enough time to make up for the cost of the fee.
Because Thinkific does not charge any transaction fees, you are able to keep a greater portion of your money at each and every transaction.
Teachable is shifting its business model to include more transaction- and processing-based fees:
EU VAT handling
Teachable is responsible for EU VAT, whereas Thinkific is not.
You have the ability to charge EU VAT on top of your course price when using Teachable. It sends the students an invoice that includes the VAT details along with the automatic addition of the appropriate VAT rate based on the location of the students.
On the sales page for your course, you also have the option to display the value-added tax. And if you use the payment gateway that Teachable provides, they'll take care of remitting the tax to the relevant authorities on your behalf. (However, there is a transaction fee of 2%).
Although Thinkific does not collect EU VAT, it does integrate with Quaderno, which enables you to monitor and manage your sales tax, VAT, and GST. You could also make use of a specialized shopping cart, such as ThriveCart, as an alternative.
Affiliate marketing capabilities
Affiliate programs are one method that can be utilized to increase course revenue.
Both Teachable and Thinkific enable you to add affiliates, set a custom commission rate for each one of them, and choose which of your courses you want them to promote. You are unable to establish a bespoke affiliate rate for a particular course.
You are able to manage and keep track of affiliate commissions in the Thinkific dashboard, but you will not be able to pay them through the platform itself. Whereas with Teachable, you can manage and pay your affiliates by using their BackOffice, although there is a 2% transaction fee associated with using it.
Third-Party integrations
Both platforms integrate with thousands of third-party marketing tools, including those listed below, either directly or through Zapier.
Analytics and tracking tools like Google Analytics and Facebook Pixel.
Email marketing tools like ConvertKit, MailChimp, Aweber, ActiveCampaign, Constant Contact, and Infusionsoft.
eCommerce tools like Shopify, SamCart, PayPal, Stripe, and Stunning.
Support and training
Teachable and Thinkific both provide their users with access to a comprehensive knowledge base in addition to a closed Facebook community.
TeachableU and Thinkific training courses are both available to users of any paid Teachable plan. Thinkific training courses are included in all plans at no additional cost.
Support is available via email and telephone around the clock through Thinkific. (It's worth noting that, in my experience, they respond in a timely manner.)
Teachable's business days are Monday through Friday, and the company offers live chat support for customers with the Professional Plan and higher.
Site Administration
Let's go over some backend site administration topics first before we get into the pricing.
SSL certificates and cloud hosting that is secure are included with both platforms. In addition to that, they allow you to:
Enroll an unlimited number of students.
Manage and export your student data.
Segment and email your students.
Provide comprehensive progress tracking, reporting, and analytics.
Performance and uptime
The last thing you want is for your students to be unable to access the course they are enrolled in. Both platforms, to their credit, monitor activity around the clock, with Thinkific boasting an impressive uptime of 99.9%.
You can check the availability of their servers at this link:
https://status.thinkific.com/
http://status.teachable.com/
Users and groups
Both systems allow users to take on a variety of roles, such as owner, site admin, course admin, and student, among others. However, Thinkific provides an additional feature referred to as "Groups," which enables you to organize users into groups, make sales to those groups, and track their activity.
You'll be in a great position to sell your courses to businesses if you can produce individualized reports and organize students into cohorts according to the passage of time.
Thinkific vs Teachable Pricing
teachable pricing
Inside Teachable Pricing Plan you can find 3 options.
A Basic package is available for $39 per month (or $29 per month if paid annually). This package allows you access to all of the company's basic features, such as…

Unlimited Students

Transaction costs are 5%

Payments are made immediately.
2 users with administrative privileges
Support for the product
Training for course creators
Support for custom domains
And there's more.
The Professional package is $99 per month (or $79 per month if paid annually). This plan includes everything in the Basic plan, as well as some advanced features. You can save 10% on the Professional plan by using the Teachable Student Discount during the checkout process.

There are no transaction costs.
5 users with administrative privileges
Priority product assistance
A website with no branding
Certificates of completion
Completion of the course
Plus a lot more
For $499 per month (or $399 per month yearly), the Business plan is also known as "the best of Teachable." This is a considerably more comprehensive layout that includes things such as…
Unlimited video
Unlimited courses
Unlimited Hosting
Payment processing that is integrated
Management of students
Remarks about the lecture
Quizzes for beginners
There are no costs for free courses.
Thinkific Pricing
Thinkific offers 4 pricing plans including the Free plan, Basic plan ($49), Pro plan ($99), and Premier plan ($499).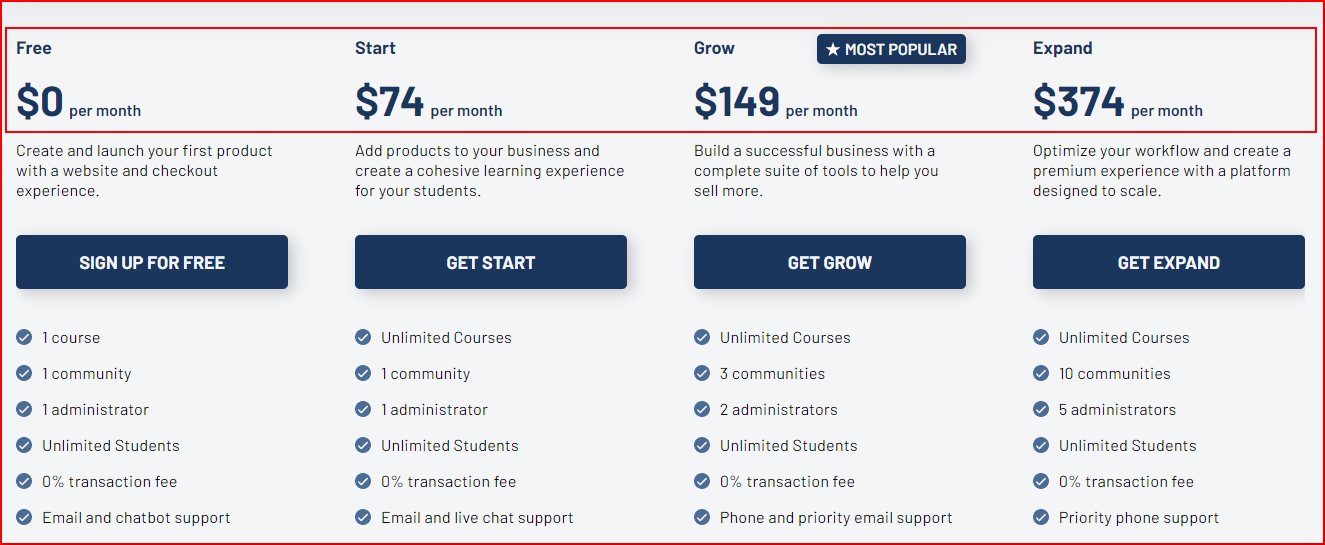 The Thinkific core feature is accessible for free and has relatively restricted functionalities, as this version is intended to be used as a test drive.
Courses are limited.
Unlimited students
Surveys and quizzes
Hosting of content
You will have immediate access to your cash.
The Basic plan costs you $49/month, or $39/month if paid yearly.
Courses and students are unrestricted.
Coupons
Students should be emailed
Drip material (on a regular basis)
Reporting on affiliates
Personalized domain
Integrations with email
Triggers for Zapier
Student enrolment and exporting are done manually.
App store by Thinkific
The Pro plan costs you $79/month if paid yearly – $99/month if billed monthly.
Courses and students are unrestricted.
2 accounts for site administrators
5 administrators/authors of the course
Courses that are private and concealed
Pricing alternatives for advanced courses
Bundles and memberships
Certificates
Customization options are extensive.
Priority assistance
Assignments
Communities
Zoom sessions in real-time
The Premier plan costs you $499/month, annual payment – of $399/month.
Courses and students are unrestricted
5 accounts for site administrators
15 analysts in a group
50 administrators/authors of courses
On a single symbol
Package for onboarding
Growth bundle with no limits
If you are interested to know more in-depth about the Thinkific pricing plan, check out our article Thinkific pricing.
Thinkific Pros & Cons
| | |
| --- | --- |
| Pros | Cons |
| Zero fees for transactions | In the free plan, there aren't many options |
| Thinkific lets you make as many courses as you want | The quiz and survey tools don't have as many advanced features as they used to have |
| If you want to host videos, you don't pay extra | If you buy this, you won't be able to run workshops or have live office hours |
| Easy navigation and organization of the course for better efficiency | |
| Use payment gateways like Stripe or Paypal to get paid right away | |
| A free trial period and the ability to make a course without having to put in your credit card information | |
Teachable Pros & Cons
| | |
| --- | --- |
| Pros | Cons |
| Flexible and easy-to-use interface | Can't sell a lot of courses at once |
| If affiliates make sales for you, you can pay them when they do | Fees for transactions |
| Has a good app for iOS | There are more students who take Thinkific's courses |
| Premium live chat service is available | |
| VAT tax is taken care of | |
| Analytics and reporting tools that are very good | |
Teachable Customer Reviews
The Teachable HQ Community and more got me back on track and both people from Teachable and other Teachable Creators gave me the support and help I needed with great ideas. Within a month, I was totally kicking butt on not only Teachable; but also my general influencer growth abilities.

Edward Z., Excellence Above
Teachable incorporates sales pages, so if you're not a designer or developer, you don't have to worry about creating a killer sales page from scratch.

Melyssa Griffin : MelyssaGriffin.com
It was important to us that our courses would look beautiful and that the software would be easy to use by everyone.

James Blatch : Self Publishing Formula
Thinkific Customer Reviews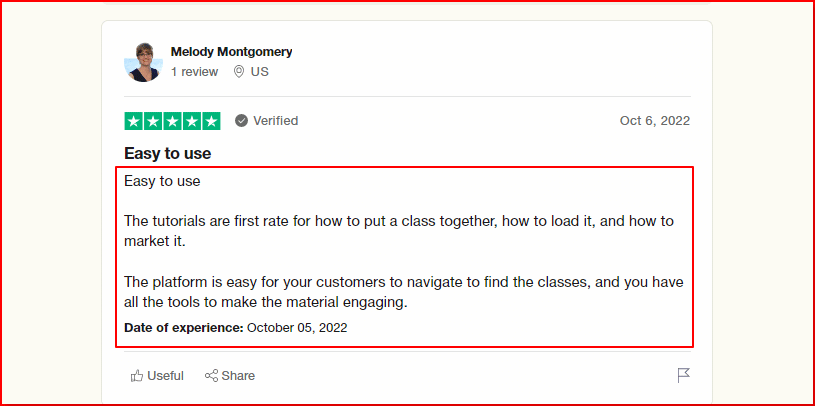 Turning my book Sell It Like Serhant into an online course has changed my life and career. Without Thinkific I would not have a course. It's opened up a new revenue stream for my business, and way to help more sales people.

Ryan Serhant, Sell It Like Serhant
Thinkific offers the power and flexibility to help us achieve our business goals. If we had only started using Thinkific 1 or 2 years earlier, we'd have gotten to where we need to be so much faster.

Ryan Chynces, Hootsuite
I use Thinkific because it's the best online learning platform. It enables me to interact with my students, answer their questions, see how they're doing – all without having to worry about building that technology for myself.

Kim Werker, Make it Mighty Ugly
By teaching our audience how to scale and grow their business through online training, we've grown ours. We couldn't have done it without Thinkific.

John Lee Dumas, EoFire
When I found Thinkific it was like a breath of fresh air. It cut my content upload time more than in half. It has literally transformed my ability to get my content out to my community, increased my revenue, and I don't think my business would be where it is today without it.

Dana Malstaff, BOSSMOM
Teachable Testimonials by Reddit users
I have a course on teachable. It's a nice platform but I have to market it myself and I'm not great at that, so it's just sitting collecting monthly fees from me. I'm planning to move it off Teachable onto my website with LearnPress or something similar.

Reddit Comment
If I wanted to do something similar could I make it on captivate or 360 and upload it to my website and avoid the fees? Is there any benefit to teachable that you have found? Is it any good for authoring?

Reddit Comment
Thinkific Testimonials by Reddit Users
I liked it apart from not being able to do full customer management on it.

That's the only reason I didn't end up using it.

If there's a payment issue then you need to go to the payment processor, login and manage the customers account there instead.

For me that's too much of a hassle when almost every other course platform has full customer management.

Reddit Comment
Thinkific is pretty good. You should also look at teachable. Disclaimer: I run a similar competitor company but we are priced higher and are a better fit for clients with existing business models. I talk to clients like you all the time so happy to advise. If you are just starting out, I highly recommend Thinkific and Teachable both. I suggest you do a trial with both and decide for yourself. Both have freemium versions as well.

Reddit Comment
Thinkific Vs Teachable: Social Presence
Thinkific and Teachable both are on different social media platforms with a good number of followers to help and answer people's queries. Let's look at them.
Teachable On Facebook
Teachable official Facebook page has over 57k followers and they share knowledge about their platform which can help you build your online learning platform.
Teachable Instagram Profile
The teachable Instagram profile has over 66k followers and 905 posts where they share amazing content about their online learning platform.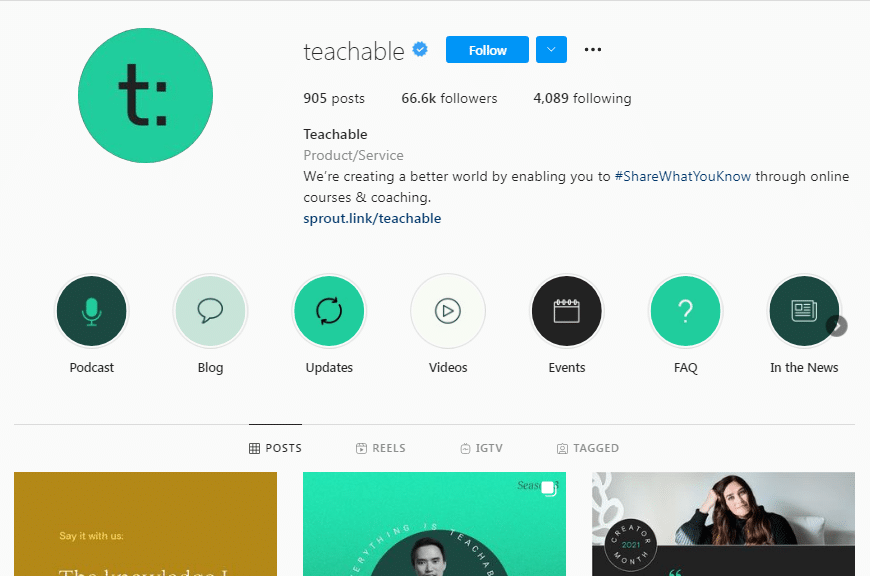 Teachable Youtube Channel
Teachable also has a Youtube channel where they share practical video tutorials which help you build your online learning platform. Currently, they have 17k active subscribers on Youtube.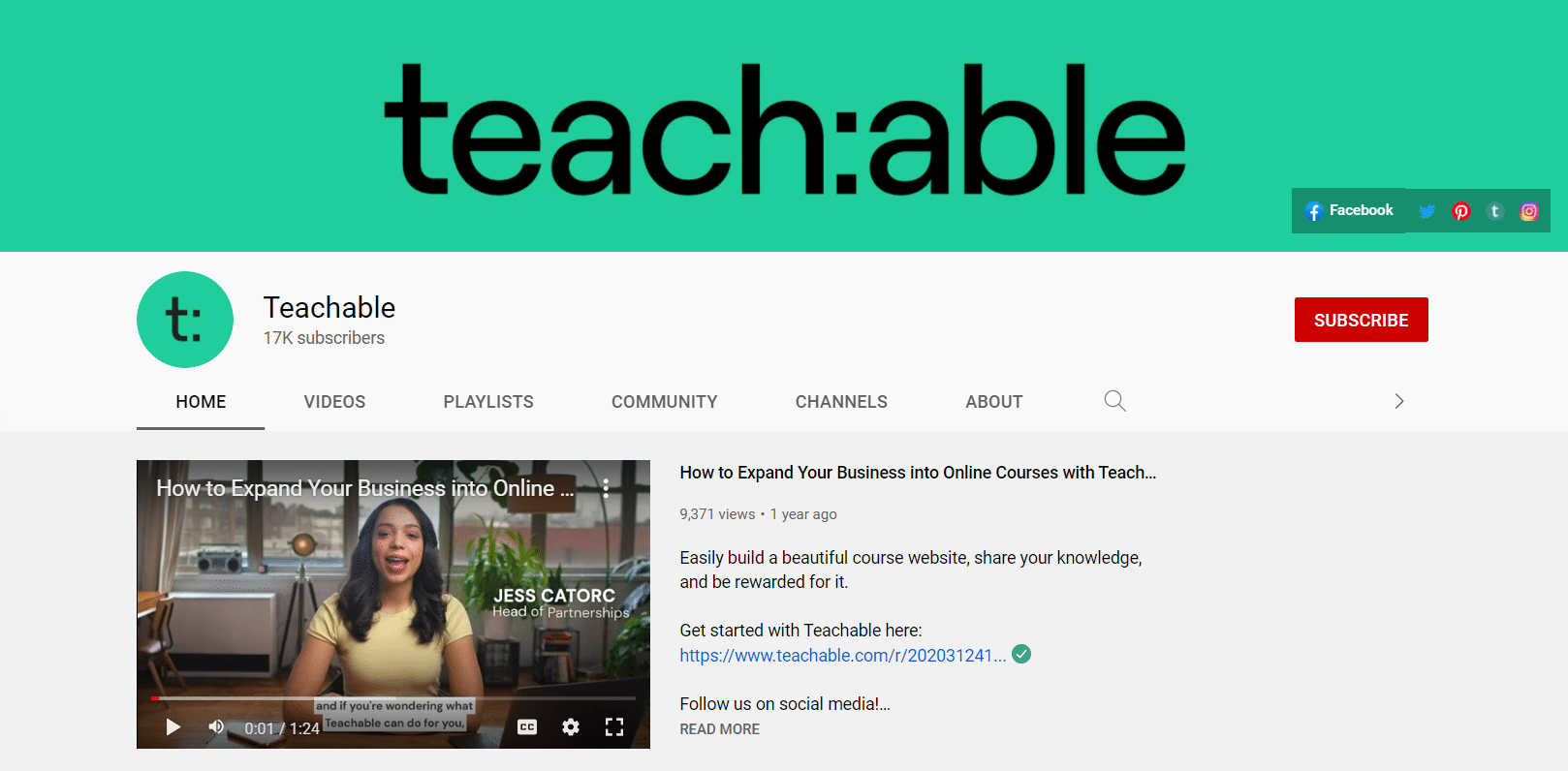 Teachable Pinterest Profile
Teachable has a Pinterest profile where they share awesome images of their online course-building platform. They have over 61k followers on Pinterest.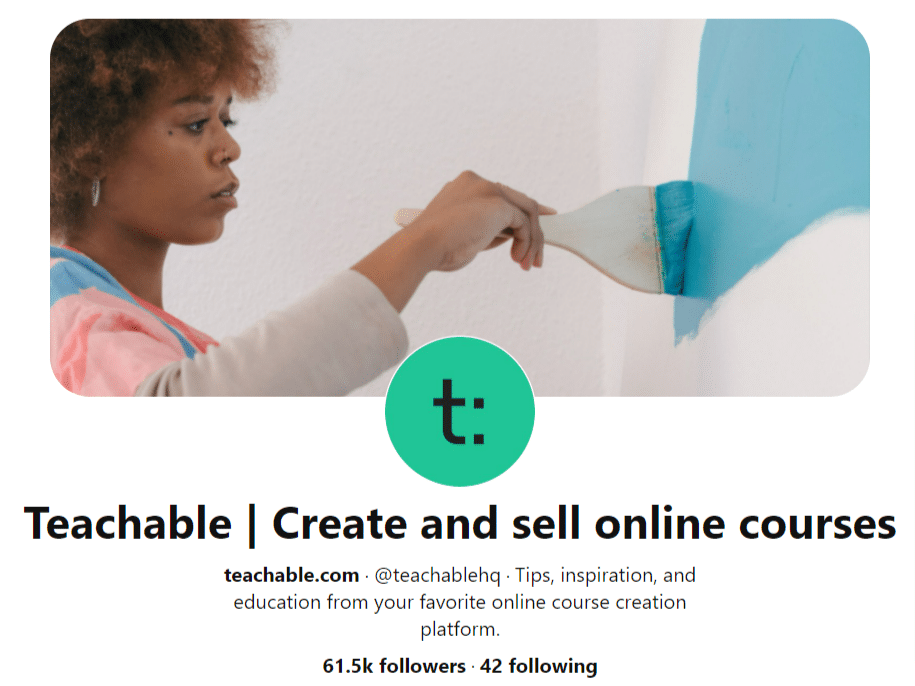 Thinkific On Facebook
Thinkific official Facebook page has over 29k followers where they share the latest deals, tips, and tricks related to their online course-selling platform.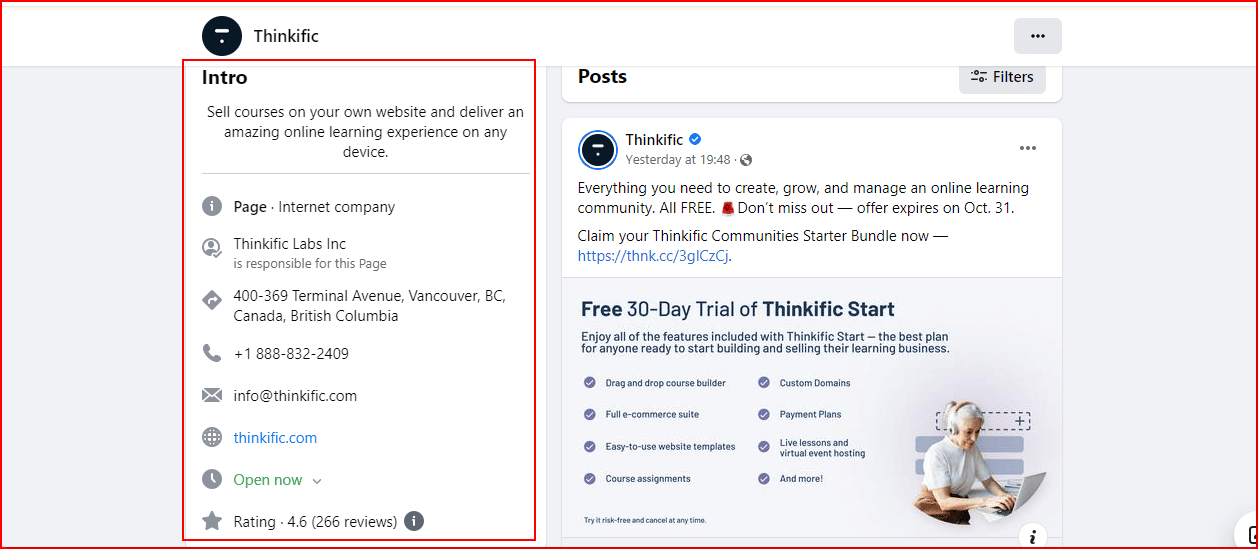 The teachable Instagram profile has over 31k followers and 991 posts where they share amazing content about their online learning platform.
Thinkific Pinterest Profile
Thinkific has a Pinterest profile where they share awesome images of their online course-building platform. They have over 6k followers on Pinterest.
Thinkific Youtube Channel
Thinkific also has a Youtube channel where they share practical video tutorials which help you build your online learning platform. Currently, they have 22k active subscribers on Youtube.
Thinkific vs Teachable On Reddit
I have looked at all of these. They are all good, too. I found Teachable very limiting in what type of questions I could do. Kajabi is fantastic… and expensive. I really like Thinkific. It's pretty, has a good free model, and can get you going well right out of the gate. The reporting isn't great but you can get by. I would think building on something like Thinkific is way easier than building your own wordpress. You can get farther, earlier and start making money. From there you can scale to anything.

Reddit user
Final Thoughts on Thinkific Vs Teachable
After every comparison between Thinkific vs Teachable, we come to the conclusion that both online platforms offer robust online solutions. The decision is up to us about which one to pick.
But we should pick the one which is subjective and depends on our requirements.
Thinkific's free version is very useful for the online course platform and its users.
Teachable also offers course platform solutions. Its drag-and-drop feature is very useful but it sometimes lags while doing various works.
All we have to do is evaluate both platforms against our specific needs and make sure we pick the correct option.
Frequently Asked Questions
Does Thinkific Own Your Content?
Yes, all the course authors on the Thinkific platform have complete control over the content they generate. Thinkific does not claim any intellectual property rights to the items you produce and publish on the Thinkific site, so everything you generate and upload is yours to keep.
How Do I Withdraw Money From Thinkific?
You may start accepting payments for your courses by integrating with a payment processor! You will get your funds directly from your payment processor after you begin collecting payments.
Is Thinkific Multilingual?
The beauty of Thinkific is how adaptable it is; if we haven't created it ourselves, we'll work with someone who has. Weglot and Thinkific are ideal for businesses that provide online courses and multilingual material.
What Courses Are Offered On Teachable?
Types of courses that are offered on Teachable are Art, Business, Careers, Course Creation, Design, Food & Drink, Health & Fitness, Home & Garden
Does Thinkific have an affiliate program?
The Thinkific Partner Program is run on the PartnerStack Affiliate platform. You may always go to your PartnerStack dashboard to see your links, referral activity, and payouts, and you can also message the Thinkific Partnerships Team at any time.
Does teachable integrate with stripe?
Teachable uses Stripe Express to process credit/debit card transactions as well as PayPal payments. This enables school owners to get payments more quickly and choose their own distribution schedules.
What percentage does Thinkific charge?
If you live in the United States, the fees for each successful subscription and payment plan payment are 2.9 percent + 30 cents, +1 percent for international cards, +1 percent for currency conversion, and +0.5 percent subscription fee.
Does Thinkific have a community?
Yes, Thinkific has its own community. You can have talks with your students about things other than the substance of your course. Students and teachers can connect through written posts and comments on each Community's dedicated page (on your Thinkific site).
Is Thinkific better than Teachable?
The main difference between Teachable and Thinkific is that Teachable has better marketing tools, while Thinkific has better site design. However, there are a lot of other things we need to think about before we make a decision.