Teachable, Thinkific, and Kajabi are three of the most powerful cloud-based online course builders. In this post, we are going to compare and contrast Thinkific vs Teachable vs Kajabi.
These are the three platforms for online courses that are utilized by the greatest number of people currently available.
Let's get started!
Thinkific overview
Thinkific is a digital business that offers an online learning platform. It enables people and organizations to build online courses and sell them to customers through their own websites under their own brand names.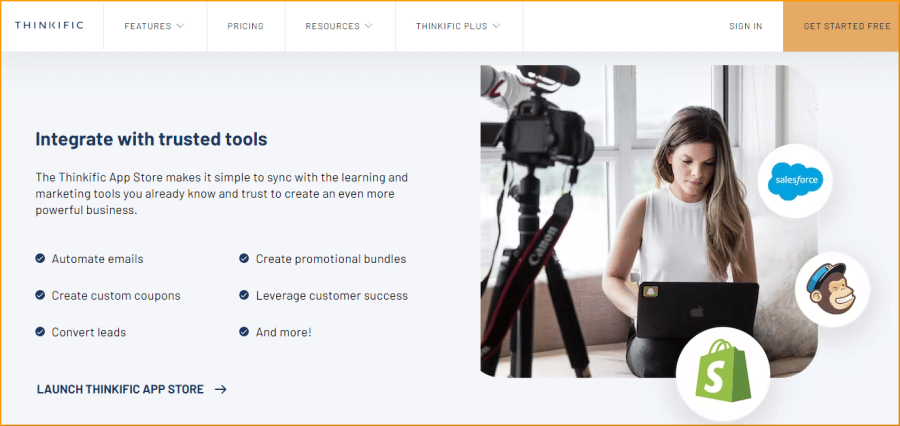 Thinkific provides all of the tools you need for each phase of the course design process, from online course creation to course launch.
People with a blog or a YouTube channel, authors/speakers, subject matter experts, and others take online courses to expand their offline businesses or monetize their knowledge.
Thinkific also enables organizations and consultants to transfer training content online, saving them time and effort. As Thinkific is the most liked LMS, to know in-depth information about it, read our article Thinkfic review.
Teachable Overview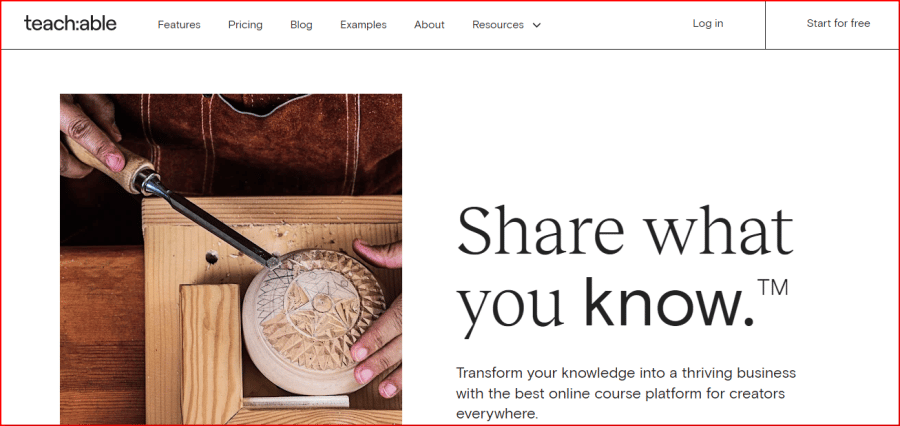 Teachable is an eLearning industry-related online course platform. It's a cloud video platform that allows businesses and organizations to sell courses, educate online, and train personnel.
With proper planning, this Learning Management System (LMS) enables content creators to offer their courses online.
You don't have to be technical or be concerned with stuff like hosting design or marketing integrations.
Anybody can sign up for Teachable and begin producing and selling courses online.
There are currently some established training programs accessible to help content providers choose themes and launch their courses.
Kajabi overview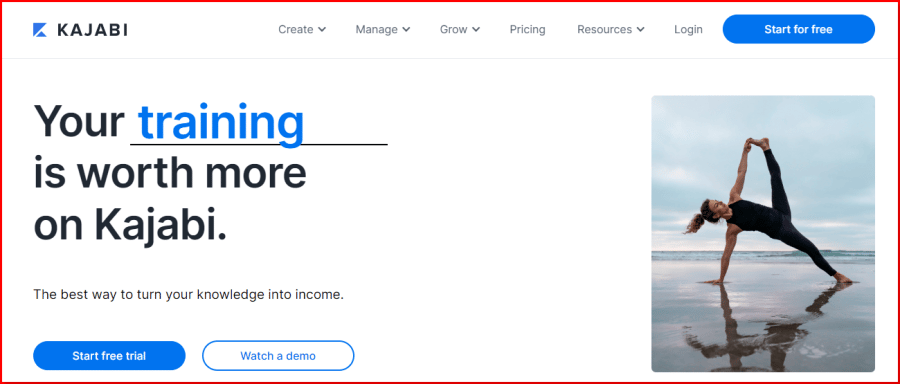 Kajabi is an easy and technologically innovative online education platform.
Kajabi's goal is to give its users a simple web platform for launching their businesses by designing and selling online courses.
It strives to simplify the processes involved in any online business and to assist entrepreneurs in promoting and selling their items.
Kajabi includes a set of integrated tools that are accessible from a single platform.
It provides online hosting, marketing options, course building, payment checkout pages, website pages, and a Kajabi community of users with similar interests.
Kajabi is designed exclusively for people searching for sales and marketing funnels that work together to increase user and customer comfort.
Thinkific vs Teachable vs kajabi: Pros And Cons
Thinkific pros and cons
| | |
| --- | --- |
| PROS | CONS |
| Thinkific is an all-in-one e-learning platform that hosts, markets, manages, engages, and handles payments. | Thinkific's course creation is expensive for beginners. |
| Online classes can include a variety of resources. | |
| Thinkific doesn't charge transaction fees for course payments. | |
| Students and schools have many course payment choices. | |
| Websites and course pages can be simply customized. No coding is needed. | |
Teachable Pros And Cons
| | |
| --- | --- |
| PROS | CONS |
| The Teachable iOS app allows students to access your course. | Transaction fees for all plans. |
| Students are given a completion certificate. | |
| | |
| | |
| | |
| Unlimited course-creation | |
| Excellent customer support. | |
| Courses with monthly payment options. | |
| Affordable. | |
Kajabi Pros And Cons
| | |
| --- | --- |
| PROS | CONS |
| All-in-one platform for creating online courses and marketing. | The WordPress interface is confusing. |
| Various learning and teaching devices. | |
| Themes are pre-installed and modifiable. | |
| Facilitates the marketing of your course. | |
| You can have conversations and forums as a member site. | |
Thinkific vs Teachable vs Kajabi: Features comparison
Let's compare the features of Thinkific, Teachable & Kajabi.
1. Course Creation
You can add multimedia content like videos and pictures to Teachable and Thinkific. Quizzes can also be given to users to complete in order to keep tabs on their development.
No prior technical knowledge is needed to create an online course utilizing these platforms because Kajabi offers a simple drag-and-drop interface. Both your Thinkific and Kajabi subscriptions include video hosting.
2. Quizzes and Surveys
In terms of surveys and quizzes, Thinkific and Kajabi are fairly comparable. They both provide methods for testing students and gathering feedback directly on their platforms, and they all feature grading.
On the other hand, Teachable doesn't naturally integrate surveys and necessitates a particular plan to use grading.
Teachable still lags a little in the quiz department, but as was previously mentioned, we'd recommend the Pro Teachable plan as a baseline nevertheless.
3. Marketing
All appear comparable in terms of integrated features. Kajabi is great since it offers everything in one convenient bundle.
You will at the very least require an effective email marketing tool with Thinkific and Teachable.
4. Analytics & Reporting
All three of the LMSs offered here allow you to present reporting and analytics for your company or place of business.
Teachable features reporting tools in its Professional Plan and above but Thinkific and Kajabi only include them in their trial plans.
Or otherwise, given that all of these platforms offer incredibly in-depth analytics, there isn't much to compare. In the end, decide which of Teachable, Thinkific, and Kajabi best suits your needs.
5. Uptime and Performance
Thinkific keeps an eye on the website for your course 24/7 a day to ensure that it is typically extremely available online. The platform also asserts a 99.9% uptime rate.
On the other side, Teachable's support staff asserts that they constantly check on their platform to make sure it is up and running well.
Additionally, a few common problems with Kajabi were noted.
These problems include significant technical difficulties that hampered API calls from a few providers, which in turn affected statistics for email broadcasts and integrations with suppliers like SamCart and ClickFunnels.
6. Customer Support
Here, Kajabi stands out without a doubt. They offer chat assistance. It is a 24/7 service for more expensive plans. There is no faster than this.
Both Thinkific and Teachable are renowned for their prompt and helpful customer care. As a general rule, you will be given more priority when they handle your difficulties if your membership is more expensive.
In any case, they are respectable, and neither of them bothers me.
Thinkific vs Teachable vs Kajabi: Pricing Comparision
Below are a detailed comparison of Thinkific, Teachable, and Kajabi.
Thinkific Pricing Plans
Mainly Thinkific has four pricing plans.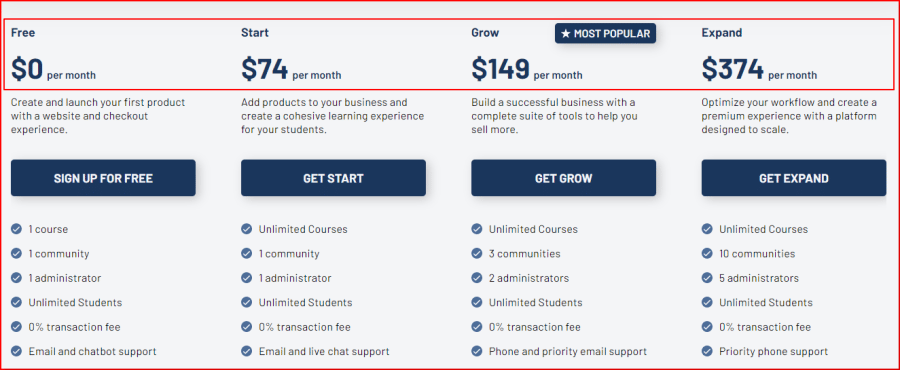 If you are interested to get in-depth information on Thinkific pricing plans, read our article Thinkific plans.
Free plan: $0
Start plan: $99/month, $74/month(if billed yearly).
Grow plan: $199/month, $149/month(if billed yearly).
Expand plan: $499/month, $374/month(if billed yearly).
The free plan offered by Thinkific has a three-course maximum. For all paid subscriptions, you have access to an infinite number of courses and students.
Additionally, Thinkific offers 3 programs with specials for yearly orders. In addition, a risk-free trial is available, and check out the Thinkific coupon to get massive savings on Thinkific online courses.
Teachable Pricing Plans
Mainly Teachable has three pricing plans.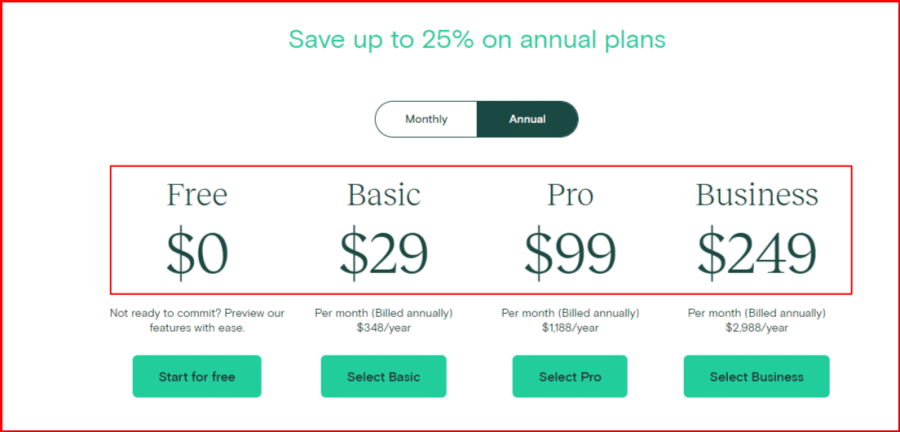 Basic plan: $39/month $29/month (if billed yearly).
Professional plan: $119/month, $99/month (if billed yearly).
Business plan: $299/month, $249/month (if billed yearly).
With all paid subscriptions from Teachable, you may host an infinite number of courses and students. Although they don't provide a free plan, they do offer a 14-day trial.
Teachable offers three different plans, each of which is offered with a monthly billing cycle or with a discount for annual orders.
Kajabi Pricing Plans
Mainly Kajabi has three pricing plans.

Basic plan: $119/month, $149/month(if billed yearly).
Growth plan: $159/month, $199/month(if billed yearly).
Pro plan: $319/month, $399/month(if billed yearly).
Similar to Teachable, Kajabi does not have a free plan, but it does offer a 14-day trial that requires you to enter your credit card information.
You have 14 days to end your trial before being charged, so do it as soon as possible.
Conclusion
Our choice is Kajabi for the majority of designers of introductory and intermediate courses.
They might not have as robust ESP or website builder tools as a standalone software package like ConvertKit and WordPress. Additionally, Teachable or Thinkific is preferable if you want to produce a lot of courses.
But Kajabi is a better bargain than Teachable and Thinkific.
Teachable or Thinkific would require you to invest at least $60 per month in either mid-level plan if you ever wanted to come close to the same capability.
At that point, Kajabi would still be more seamlessly integrated and simple to set up, and the pricing would be fairly even.
Frequently Questions
Which among Teachable, Thinkific, and Kajabi is the best?
When comparing Teachable, Thinkific, and Kajabi, Kajabi has a tiny advantage thanks to its features, customizations, and excellent 24/7 customer service. The only negative is the lack of a free plan, and the pricing is also on the expensive side. If you can put up with it, choosing between the three is a no-brainer. If not, Teachable and Thinkific have been compared for you above to meet your needs. This concludes our comparison of Teachable, Thinkific, and Kajabi.
What is the difference between Kajabi and teachable?
All of Teachable's plans allow you to build an unlimited number of courses. You can also accept an unlimited number of students into your classes. As opposed to Kajabi, which even in their higher plans has restrictions for some students and courses.
Is Thinkific better than Kajabi?
Both Thinkific and its course builders are simple to use and intuitive. Kajabi outshines Thinkific with better functionality and course delivery, despite the fact that Thinkific offers a good selection of course template possibilities. Additionally, Kajabi features a mobile app that enables you to stay in touch with clients in your neighborhood wherever you are.
What is Thinkific used for?
Thinkific is a well-regarded platform for building, promoting, and selling your own membership websites or online courses. By creating an all-in-one platform for course authors and their audiences, the platform has completely changed how people work and learn online.
Does Teachable integrate with Shopify?
There is an integration between Teachable and Shopify available through Zapier.
Is the free trial of teachable a decent deal when compared to the competition?
There is no longer a free trial for Teachable, however, there is a free plan that has very few features. The free version of Teachable only allows for one administrator and one course. Additionally, a transaction fee of $1 per sale plus 10% of the sale price is applied.