You've come to the right site if you're browsing for the top online course creator. In this article, I'll compare Thinkific vs Teachable vs Podia to help you choose the best online course platform for your needs.
As a new creator or entrepreneur, choosing the finest online course platforms for your course can be difficult due to the huge and little add-ons that each of the online learning platforms offers, making it difficult for you to know your best fit.
The major tools and features for creating online courses, along with their advantages, disadvantages, overview, and recommendations for makers, are listed below.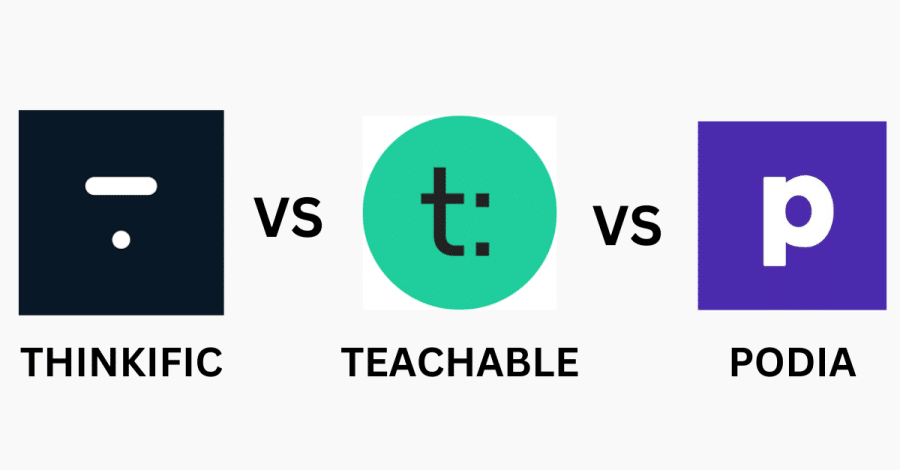 Thinkific Overview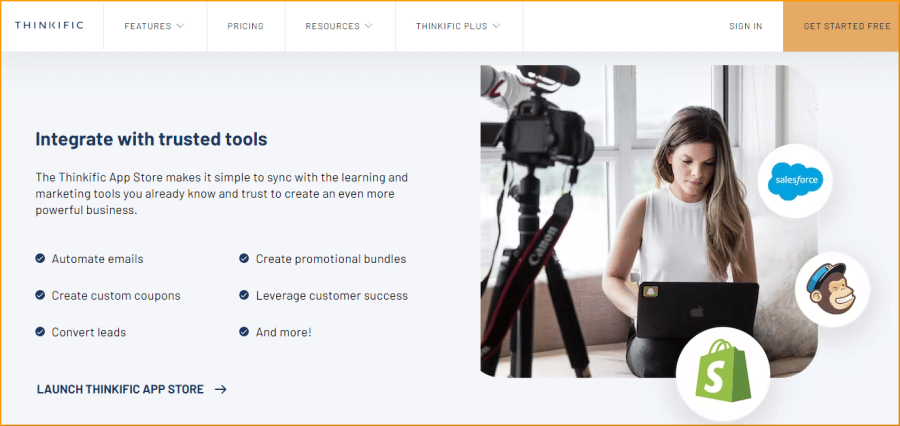 Thinkific is an online learning marketplace where people may create, market, and sell online courses or memberships to share their knowledge and talents with the world.
The platform provides a range of features to help members and learners.
The platform also enables teachers to provide all the extras that students would often expect from a regular course, such as certificates of completion, assignments, and even one-on-one lessons.
Read our Thinkific reviews article, which we have covered in detail about Thinkific.
Teachable Overview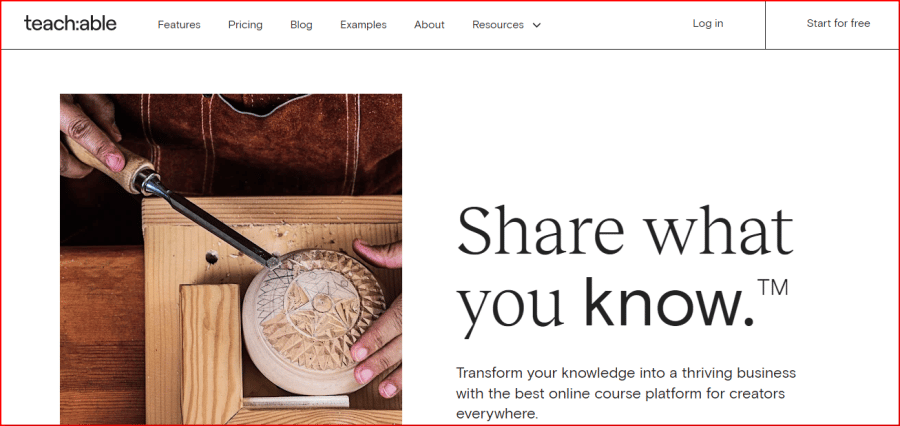 The most well-known platform for creating and selling online courses and membership sites is definitely Teachable. Teachable will give you the tools you need to design and market your course.
With the use of videos and written content, you may create your course and then sell it using a Teachable sales page that uses a ready-made template.
You can utilize your preferred 3rd party payment processors, such as PayPal or Stripe, or Teachable Payments, which is embedded inside the Teachable platform.
Podia Overview
You can sell online courses, coaching, digital downloads, webinars, packages, etc. using the all-in-one Podia platform.
Communities, emails, promotions, upsells, and affiliate programs are effective marketing tools.
It serves as a solid substitute for Teachable and Kajabi as a platform that prioritizes creators. Given the features it delivers, the price is reasonable and the product is worthwhile.
Using the all-in-one Podia platform, you may sell online courses, coaching, digital downloads, webinars, packages, etc.
Effective marketing methods include online communities, emails, promos, upsells, and affiliate programs. It is an excellent replacement for Teachable and Kajabi as a platform that puts creators first.
The pricing is fair, and the product is valuable given the features it offers.
Thinkific vs Teachable vs Podia: Features Comparision
1. Course Creation
Thinkific provides a drag-and-drop course builder and bulk import capabilities that allow you to include video, audio, and PDF assets in your course.
Thinkific divides its lesson-building into content and assessment, allowing you to deliver in-depth surveys, quizzes, assignments, and tests to your students.
Teachable offers a more comprehensive course platform that includes strong editing software and a responsive design. Teachable enables you to produce video lessons and even live-stream coaching sessions.
Podia's course-building software is fairly basic and simple to use, which is ideal if this is your first time creating a course.
You can include a product like a digital download, webinar, coaching session, or online course. When you select what you want, a template will appear to help you get started.
2. customization
Thinkific allows you to personalize your site, create customizable course landing pages, and integrate with existing websites.
However, if you want a custom domain, you must switch to a paid plan, and if you want all of the customized capabilities, such as the ability to remove Thinkific branding and have email white labeling, you must pay for their Premier plan.
Teachable allows you to incorporate your own brand into your course.
It provides you with a plethora of design possibilities, including a plethora of themes and colors, the ability to integrate your domain name, and a great deal of control over your course pages.
To attract new members, you may even develop interesting sales and landing pages.
Podia allows you to create homepages, sales pages, newsletter sign-up pages, and more. Pages can be customized with images, layouts, and color schemes to match your brand. Podia will assign you a subdomain by default, but you can change it to your own domain name.
3. Customer Support
There is customer assistance available for creators of all online course-building tools. However, Podia and Teachable provide 24/7 customer service via phone or chat.
You can contact Podia by email or live chat assistance that is available constantly.
With Teachable, you can only have real-time chats with people if you have the Pro or Business plan.
With Thinkific, you can access 24/7 monitored email assistance as well as Facebook community support.
4. migration of courses
Podia offers the greatest transfer service, followed by Thinkific and Teachable, even though any online training software permits course conversion to another platform based on unique conditions.
You can transfer your course entirely for free from any other platform to Podia.
You can only move on to Thinkific and Teachable if you are a paying subscriber.
This means that while students on Teachable import content from the $299 Business plan, they import content from the $99 Pro plan on Thinkific.
Thinkific vs teachable vs podia: Pricing Comparision
Thinkific Pricing
Mainly Thinkific has four pricing plans.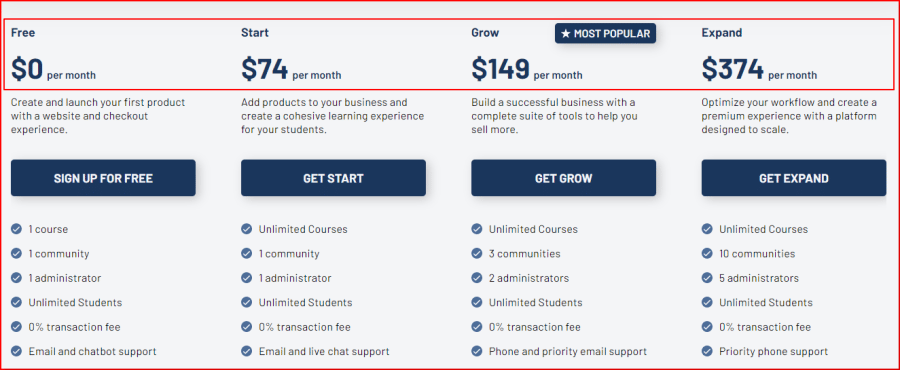 Free plan
Start plan
Grow plan
Expand plan
In our Thinkific plans article, we have explained in detail each Thinkific pricing plan, read it.
The free plan provided by Thinkific is more than sufficient to launch the sale of courses.
Once you have more than one course or when you want extra capabilities like creating your own affiliate program or using a unique domain without co-branding, you should upgrade.
Additional features included in Thinkific's Start subscription ($74/mo.) include limitless courses and Zapier integration with your preferred email service or other third-party applications.
The Pro plan, which costs a few dollars more per month, is my paid pick.
The Grow plan ($149/mo.) opens up advanced pricing like payment plans and subscriptions.
And my favorite Pro features are priority phone support and affiliate tools which allow you to have a team of marketers selling your course for you.
The Thinkific Grow plan also comes bundled with completion certificates from Accredible. To get more discount codes on Thinkific online courses, read our post Thinkific coupon code.
Teachable Pricing
Mainly Teachable has three pricing plans.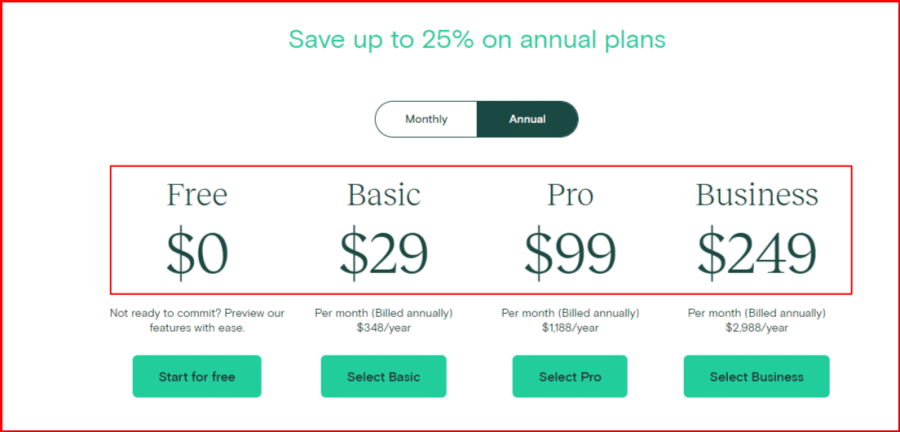 Basic plan
Professional plan
Business plan
Teachable's Basic subscription is just $39 per month if paid monthly, or $29 if paid annually.
Additionally, a Professional package is available for $119 monthly or $99 annually, and a Business plan is available for $299 monthly or $249 annually.
With its Professional package, Teachable offers a 14-day free trial that lets you preview the tools you'll have at your disposal to create an online course.
Podia Pricing
Mainly Podia has three pricing plans.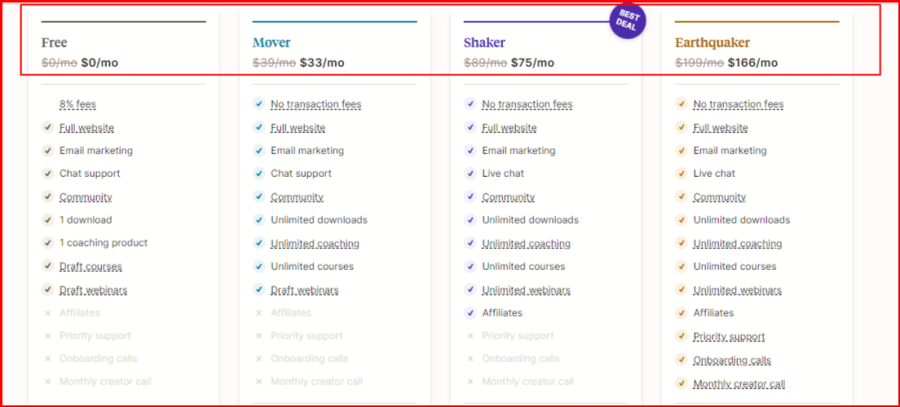 Mover plan
Shaker plan
Earthquaker plan
Podia plans begin at $39/month for Mover and save $78 when purchased annually. The Shaker hosting plan is $89 per month, or you may save up to $158 if you pay annually.
The final plan is the newly announced Earthquaker plan, which starts at $199/month and saves $1790/year (a savings of $358/year) when paid annually.
Conclusion
Overall, We are able to select the top online course delivery systems for us because they all have wish-list features.
The advantage is that you can start each one for free and observe the results.
We advise starting with the best plans available so you can utilize all of the course-building options at your disposal to cater to your audiences and upsell for increased revenue.
I hope this thorough study based on experience was helpful to you in making a choice between Thinkific vs Teachable vs Podia.
Frequently Asked Questions
Is podia better than teachable?
If you're seeking excellent value for your money, Podia is a better option for you. With Podia's straightforward pricing, it's simple to understand exactly what you get for your money at a quick glance. Additionally, Podia grants access to capabilities that Teachable reserves for its more expensive programs.
Is Thinkific better than teachable?
Teachable does in-depth analysis of your quizzes, student demographics, video engagements, play rates, and other data far better. Although Thinkific offers course reporting, Teachable's is more comprehensive.
Is there a free course offered by Podia?
They do, indeed. For online creators, the Podia migration service is free. To receive the free migration from the Podia team, you must subscribe to her Shaker plan or the Mover plan annually.
Is LearnWorlds a good Thinkific substitute?
Yes, LearnWorlds, like Thinkific, is an all-inclusive course builder for online courses with core advanced building capabilities.