In this article, we've done an in-depth comparison between Thinkific vs Udemy to see which one is best for you.
Those who create online courses are countless. You might wish to develop an internal training program to use when you hire new employees.
To give its students the option of taking classes remotely, colleges and universities can use an online course builder.
You might wish to use an online course to market your goods and services, share your knowledge with others, or both.
Thinkific Overview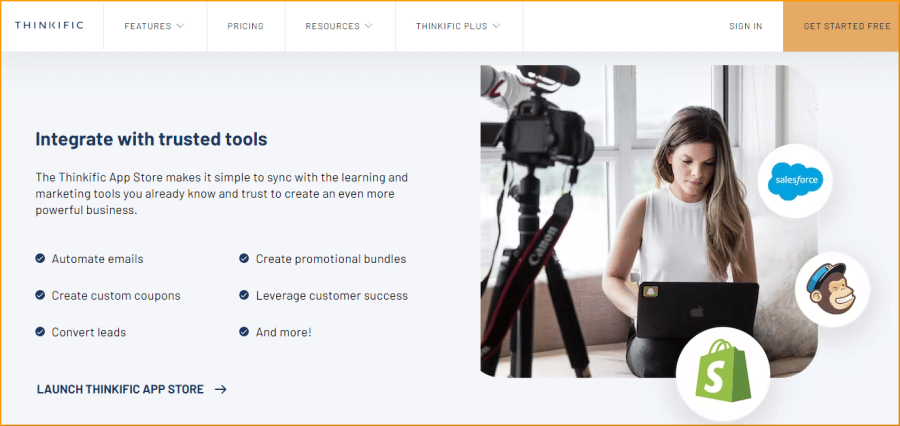 Create and sell online courses and membership sites using your own company or personal brand using Thinkific, a service that enables you to do so.
Your small enterprises will then be able to see how big of an impact educating online will make.
Having Thinkific host your courses for you means that their one-stop-shop platform can grow with you as you attract more students.
You don't need to know how to code to build up your courses, choose features, and make customizations.
The self-directed, group and hybrid classes are also available. You can also make changes to HTML or CSS if you have the necessary coding knowledge.
To know more about Thinkific, Read our Thinkific review post, where we have covered in-depth information.
Udemy Overview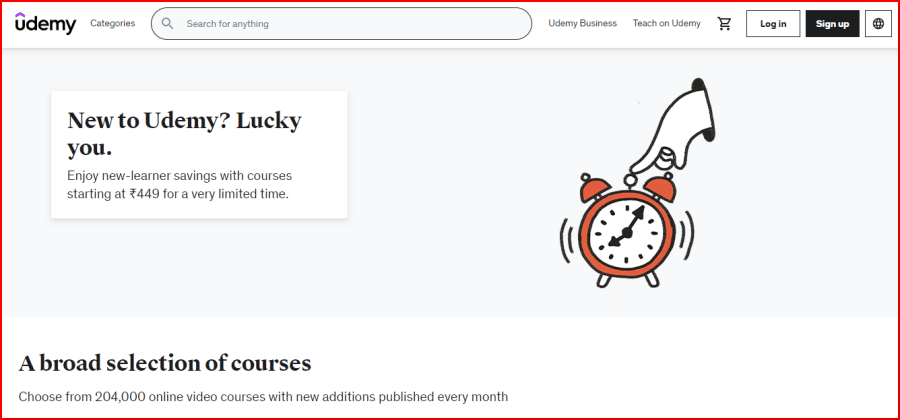 Udemy is a platform for educators to make their expertise available to a global audience of learners.
In addition, you can utilize Udemy to further investigate your favorite pastimes by sharing material with an audience and allowing for feedback. In addition, some people use Udemy to advance their jobs.
You'll use your own tools, such as Google Docs or Microsoft programs, to plan your course.
Udemy includes examples of other Udemy courses and worksheets that you may complete helping you learn how to develop your own courses.
Thinkific vs Udemy: Pros & Cons
Thinkific Pros & Cons
| | |
| --- | --- |
| Pros | Cons |
| White-labeling | No support for chat |
| Custom Domain | |
| Customization | |
| Free trial for 30 days | |
| Instant fund access | |
| Third-party integrations | |
Udemy Pros & Cons
| | |
| --- | --- |
| Pros | Cons |
| Policy for Refunds: 30 Days | University credit is not available for courses. |
| Excellent for corporate education and development. | |
| Affordability is a strength of Udemy courses | |
| Completion Certificate | |
| A wide variety of courses are available. | |
| Nearly 600 free courses are available on Udemy. | |
Thinkific vs udemy: Features Comparision
This list includes what creators can accomplish with online courses, sales and marketing features, and student experience.
In-depth reviews contain analytics and customizing features to help you choose an online education platform.
1. Student Experience
Students will have a satisfying online learning experience with Thinkific's rich and varied multimedia content.
Students will like the user-friendly layout and the ability to restart their work from any device.
There are more than 40 million students enrolled in Udemy's online courses, which cover a wide range of subjects.
A professor uses computer screenshots and slide displays, but the student's experience is limited.
2. Customization
Thinkific has the best customizability features out there. You can not only use themed templates to create your educational website.
but you can also modify the course materials themselves. On paid accounts, you can also use your own domain name.
Udemy has a predetermined course layout and design elements, but you can play around with your course images. It's not possible to use a custom domain on the dashboard of Udemy.
3. Online Course
When it comes to the style and layout of your online courses, Thinkific provides you greater leeway, but Udemy is more strict about adhering to predetermined guidelines.
You are able to host an infinite number of courses on any platform, but transaction fees cut into your earnings on Udemy.
In contrast to Thinkfic, where you are the only proprietor of your courses, you do not have complete ownership of the content of your course on Udemy.
However, you do have control over the course's structure.
4. Marketing & Sales
Thinkific's sales and marketing features include, among other things, the ability to offer upselling possibilities, membership sites, coupons, subscription courses, and incentive affiliates.
Udemy does not require you to have an existing student database before you can begin using the platform.
You will be provided with marketing tactics and promotional tools by the platform, which will assist you in promoting and selling your courses.
5. Analytics
It's best to use Thinkific's analytics services because they provide more extensive and detailed statistics on sales and student success.
Thinkific provides more thorough data and analytics on the performance of your online courses, including sales and student engagement, compared to other LMS platforms. Udemy and Google Analytics can be linked.
Student's progress can be tracked using the analytics capabilities of Thinkific and Udemy, respectively.
6. Marketing options
Since Thinkific is a self-hosted platform, you can customize the landing pages however you like. In order to facilitate the building process, they offer several different examples to follow.
Thinkific also offers a number of promotional tools, like coupon coupons, sales "call-to-action" buttons, and an affiliate scheme, so that users can recruit the help of third parties to sell their courses.
Udemy has few built-in marketing capabilities, but as previously said, it does provide you with access to thousands of learners who visit the site every day searching for courses to purchase.
This may work for some individuals and it may be worth foregoing the more intense marketing choices provided by other platforms.
7. Application
There is currently no Thinkific app. Unfortunately, this means that your students won't be able to take advantage of one of Thinkific's most useful features: offline reading.
Thinkific's one redeeming feature is that it can be included in a WordPress site, thus expanding its potential user base. This isn't really helpful, though, because WordPress plugins aren't always the ideal approach to creating a course or membership site, either.
Users of iOS and Android can download the Udemy app to take their courses while they are on the road. The application comes with a number of nifty add-ons, such as the ability to project content onto a television screen.
Thinkific vs Udemy: Pricing & Plans
Thinkific and Udemy both provide a free registration scheme that allows anyone to deliver courses on the platform. Of course, those aren't the only expenses you'll face.
The free edition of Thinkific has more capabilities, but there are transaction costs associated with Udemy.
THINKIFIC
UDEMY
Free Trial
Yes, 14 days.
Yes, when registered with Google Workspace for Education platform.
Pricing Plans
Free – $0/month
Start Plan – $74/month
Grow Plan – $149/month
Expand Plan – $374/month
(Save 25% if you billed annually)

Free – $0 for creating and hosting free courses.
*Sales percentage retained for each course sold.
Best For
Creators of online courses who want to run their educational business teaching and selling digitally with control of marketing
People who want to share their knowledge by teaching online with an educational platform that largely handles marketing.
User Interface Features
User-friendly
Optimized for all devices
Accessible on iOS and Android mobiles with a downloadable app
User-friendly
Lifetime access on desktop and mobile
Online Courses
Customizable site design
Advanced CSS and HTML for course content
Custom domain
Offers SSL features
Video, audio, PDF, and quizzes
Unlimited courses
Set your course prices
No customization of site design
No CSS and HTML editing for courses
No custom domain
SSL features available
Videos
Unlimited courses
Course prices limited to pricing tiers
Monetization
Course bundles and upsells
Membership sites
Affiliate marketing
Subscription courses
Payment plans
Sales of courses
Affiliate Program
Payment plans
Marketing
Coupons
Membership sites
Course bundles
Free trial offers
Bulk e-mail
Strict coupon offers
E-mail through the Udemy tool
Thinkific Pricing
Mainly Thinkific has four pricing plans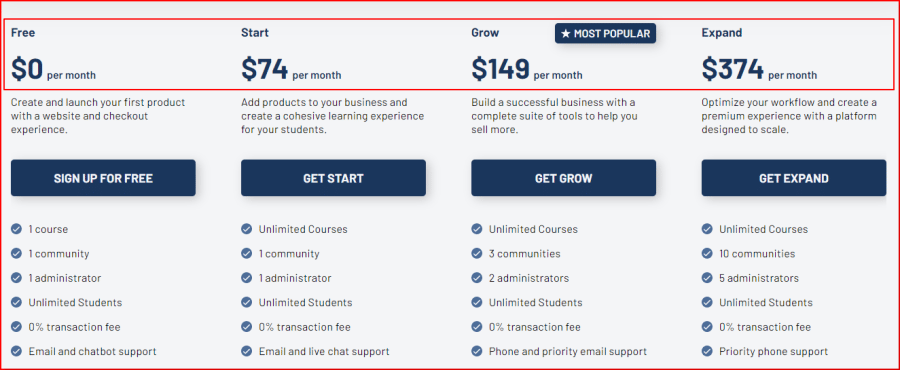 Free Plan
Start Plan
Grow Plan
Expand Plan
To know more about the Thinkific pricing plan, check out our article Thinkific subscription plans.
Free Plan
provides the ability to create and host online video courses, as well as access to a vast marketplace, an unlimited number of students, and an unlimited number of classes.
There is no income potential with free courses.
Start Plan
The start package is $74/month(if paid annually). This includes everything from the free plan, plus unlimited courses, drip material, and limitless courses. You get sales and marketing tools.
The Basic plan works with email marketing solutions.
Grow Plan
The Grow plan is an upgrade from Basic and includes CSS/HTML editing, 2 site admin accounts, and 5-course admins.
It costs $149 per month(if paid annually) including all previous features, completion certificates, private and hidden courses, and site white labeling.
A host storyline, intermediate Zapier, webhooks, three-course admin accounts, advanced HTML/CSS editing, priority support, instructor payout reporting, an onboarding call, payment plans, and direct Infusionsoft integration.
Expand Plan
The most costly Thinkific plan, the Expand package, costs $374 per month(if paid annually) and gives you access to a wide range of useful services, such as bulk emailing, white-label courses, and much more.
Emails can be sent to several students at the same time, advanced marketing and sales tools can be integrated, and even an exam can be created for the course.
This plan includes up to 50-course administrators and up to five site administrators.
Thinkific premier plan is more expensive than its other plans, click the link Thinkific coupons, on which you will get a massive discount on your desired course.
Udemy Pricing Plan
Udemy is crucial for businesses. Mainly Udemy has two pricing plans.
Enterprise Plan
Team Plan
More than 6,000 courses on Udemy have been specifically chosen for business needs, and it is user-friendly.
A great tool for changing entire teams is Udemy for Business. With Udemy for business, you can get the entire work team on the same page, polish talents, gain skills that are necessary for the industry, and much more.
Enterprises plan
This is the best option for companies that have 21 or more employees using the software. Please get in touch with Udemy for pricing information.
Team Plan
The Team Plan is ideal for groups with five to twenty members. The price is $360 per user/year.
Social Media Platforms
Thinkific Social Media Profiles
Thinkific markets its business courses to a wider audience via social media. Social networking sites like Facebook, Twitter, and LinkedIn are just a few of the many that Thinkific employs.
Facebook
Thinkific's Facebook page has a rating of 4.6 out of 5 stars, and the company has 33,785 people following it.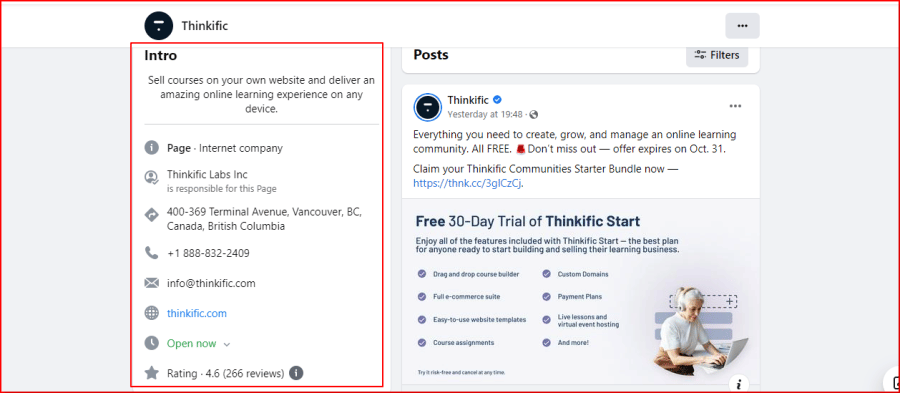 Twitter
There are 11,200 followers and 15,400 tweets on the Thinkific Twitter profile. It is regularly updated with advice for designing and marketing online courses.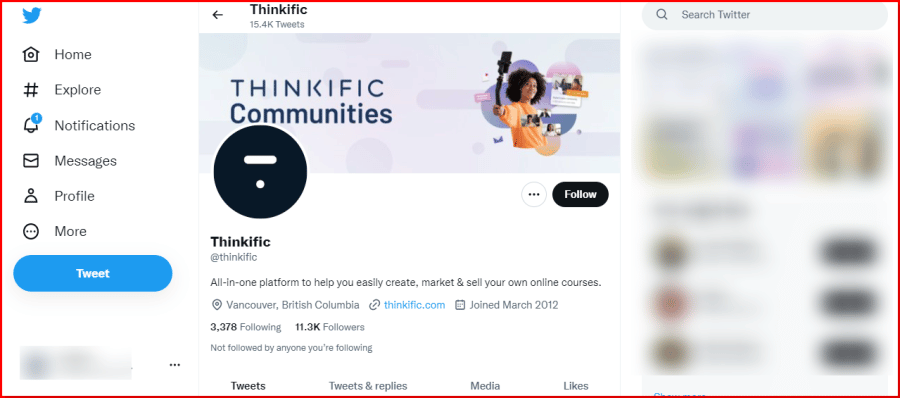 LinkedIn
On the LinkedIn profile, which is used for professional networking, Thinkific has 33,041 followers.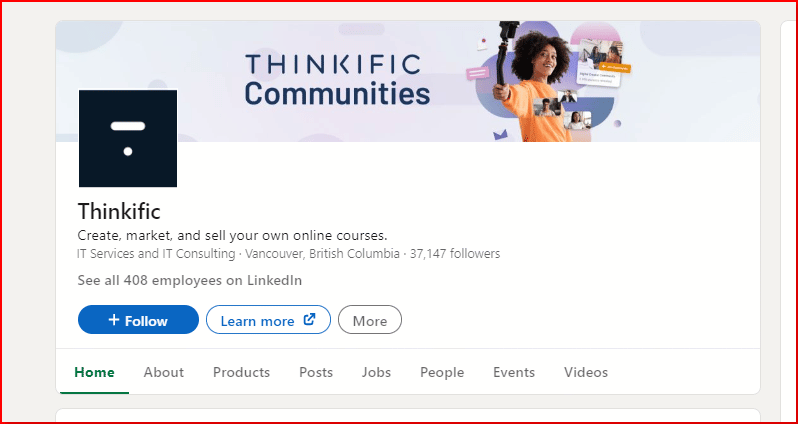 Udemy Social media profiles
Udemy is utilizing social media platforms to improve its social media awareness by making use of the various online learning opportunities that are currently available.
It uses various social media platforms such as Facebook, Twitter, Linkedin, and many more.
Facebook
Udemy has 6,873,562 likes and 7,544,496 followers on its Facebook page.
Twitter
Udemy has tweeted 17.3k tweets and 282.3k followers on its Twitter profile.
LinkedIn
Udemy has 6,829 followers on its LinkedIn profile.
Customer Review And Testimonials
Thinkific
Here is what users say about Thinkific:
The FREE version works well!


I like that the FREE version allows me to actually have a course that people can take. This way I didn't have to pay $ just to find out that the platform doesn't work for me.
It's user friendly and support is timely, even for the free version.

Source: Trustpilot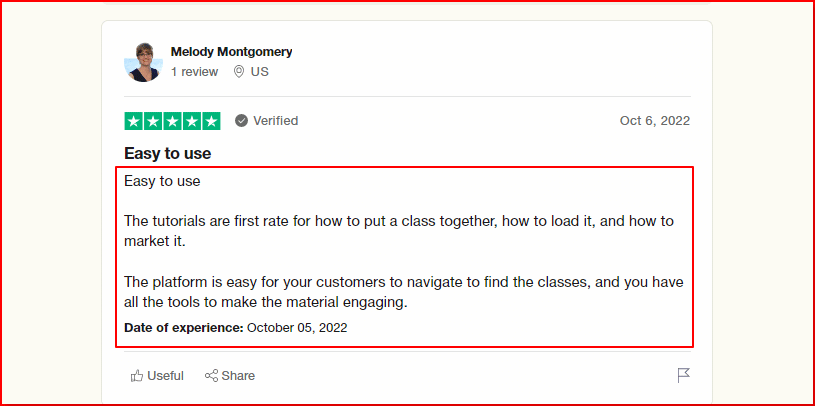 "Great for creating webinar replays or courses"


What do you like best about Thinkific Plus?
I like how easy it is to create a course. We've created a course for every single webinar we've hosted. It displays it really nicely on the landing page. Very easy to navigate around our e-learning page.

Source: g2


Udemy
Here is what users say about Udemy:
Conclusion
Udemy has a large marketplace, but you have little control over it, and their fees seem excessive.
On top of that, Udemy has the potential to modify its policies at any time, which is a bad decision if your business is established on rented land. This isn't the first time it's happened either.
Thinkific features a sleek design with plenty of customization choices. Thinkific is the real deal when it comes to managing your students, including the ability to offer a variety of payment and design alternatives.
However, Thinkific does not have a marketplace like Udemy, but you can create your own.
Frequently Asked Questions
Which is better Thinkific or Udemy?
Teachable and Thinkific are better options than Udemy if you plan to stay in the online course industry for a long time, which you should if you're putting time and effort into generating courses.
What is better Udemy or Teachable?
When comparing Teachable to Udemy, you'll notice a significant difference in the level of customization available. Allows you to establish your own price, create a course that is tailored to your needs, and maintain complete control over your content and information.
Is Thinkific expensive?
For a flat monthly charge of $50, Thinkific is now offering all the features of its Growth Plan. For the Pro Plan and Growth, the total cost is $149/month. If any of these high-powered capabilities will assist your business, the additional investment is certainly worth it.
Can I sell my Udemy course on other platforms?
Yes, provided it's not a part of the Udemy for Business course.
Is Udemy free for instructors?
Instructors can test the waters on Udemy by offering their courses for free on the marketplace, allowing them to create a student audience and assess the demand for a particular topic. It's also a tool for teachers to get feedback on their teaching methods from students.
What is the best platform to sell a course?
Digital Class, Thinkific, and Udemy are three of the top online education sites. Podia and a teachable. The key to success is producing high-quality material for your courses. You need to find the appropriate methods of organisation and distribution to the students.