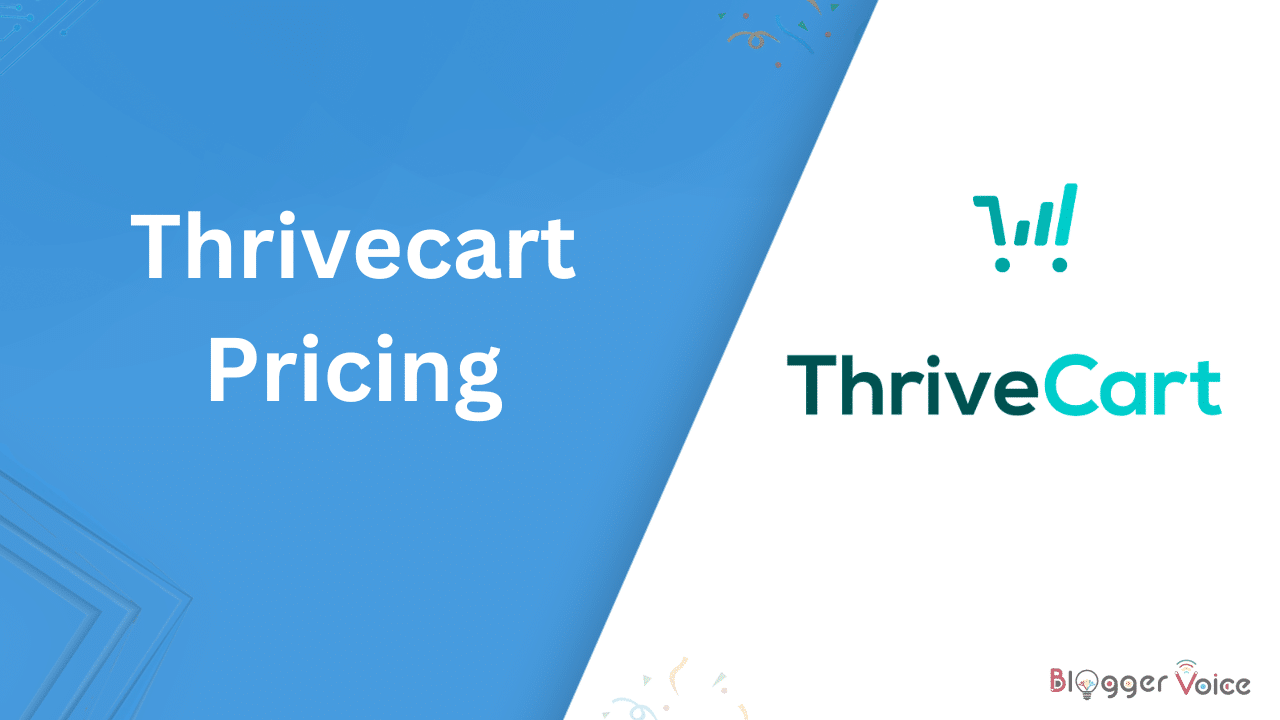 Unlock the full potential of your e-commerce business with Thrivecart's unbeatable pricing plans. Whether you're just starting out or looking to scale your existing operation, we've got the perfect solution for you.
The flexible monthly plans allow you to pay as you go, while the one-time payments offer significant savings for businesses that are ready to invest in their future.
With features like unlimited products, order bumps, upsells, and more, Thrivecart pricing will help you boost sales and streamline your checkout process. Don't just survive in the e-commerce world, thrive with Thrivecart.
Thrivecart Pricing Overview
It is seen that one of the most important parts of a shopping website is its shopping cart and payment page. This is the page that decides whether a customer will trust you enough to pay for a service or whether an unfamiliar boring page will scare them away.
A 40% increase in sales is seen in websites that have customized and optimized shopping carts and checkout pages. Thrivecart is by far one of the leading software to help you make these beautiful and optimized pages. But how much does it cost to make these?
As of 2022, for a limited time frame, Thrivecart will be available at the lowest price ever. Thrivecart has achieved to offer its customers a unique and never-seen-before special offer of waiving usual monthly or yearly subscription fees to give lifetime licenses to their services with just one payment.
Yes, you read that right. You have to pay only once to use this software for life. The Standard Lifetime Licence Plan is marked at $495 and the Pro Lifetime Licence Plan is marked at $690.
However, this will be available for limited customers and prices may increase soon the offer will end with the usual monthly fees of around $95 monthly.
This is the perfect time to create your Thrivecart account and boost your online business. Let's look into the details of these Thrivecart Pricing plans.
Note You can get an additional discount on Thrivecart plans, by using our Thrivecart Coupons. At this moment Thrivecart offers their users two-lifetime access pricing plans.
| | |
| --- | --- |
| Thrivecart Standard Plan | Thrivecart Pro Plan |
| $495 for lifetime access to most of Thrivecart features. | $690 for all of Thrivecart's features. (495$ +$195= Pro Package Upgrade) |
Thrivecart Pricing Breakdown
Thrivecart is an e-commerce platform that offers 2 pricing plans for businesses of different sizes and needs. The pricing options include flexible monthly plans, as well as one-time payments.
To get a comprehensive understanding of the Thrivecart platform, including its interface and functionality, read our detailed Thrivecart review here.
Standard Plan (Lifetime Deal)
A lifetime access plan means once the payment is made you need not pay again. This means no recurring monthly charging on your credit card or any payment emails. You also are entitled to free upgrades and offers.
There might be some internal payments but that depends if you are opting to purchase something extra from Thrivecart.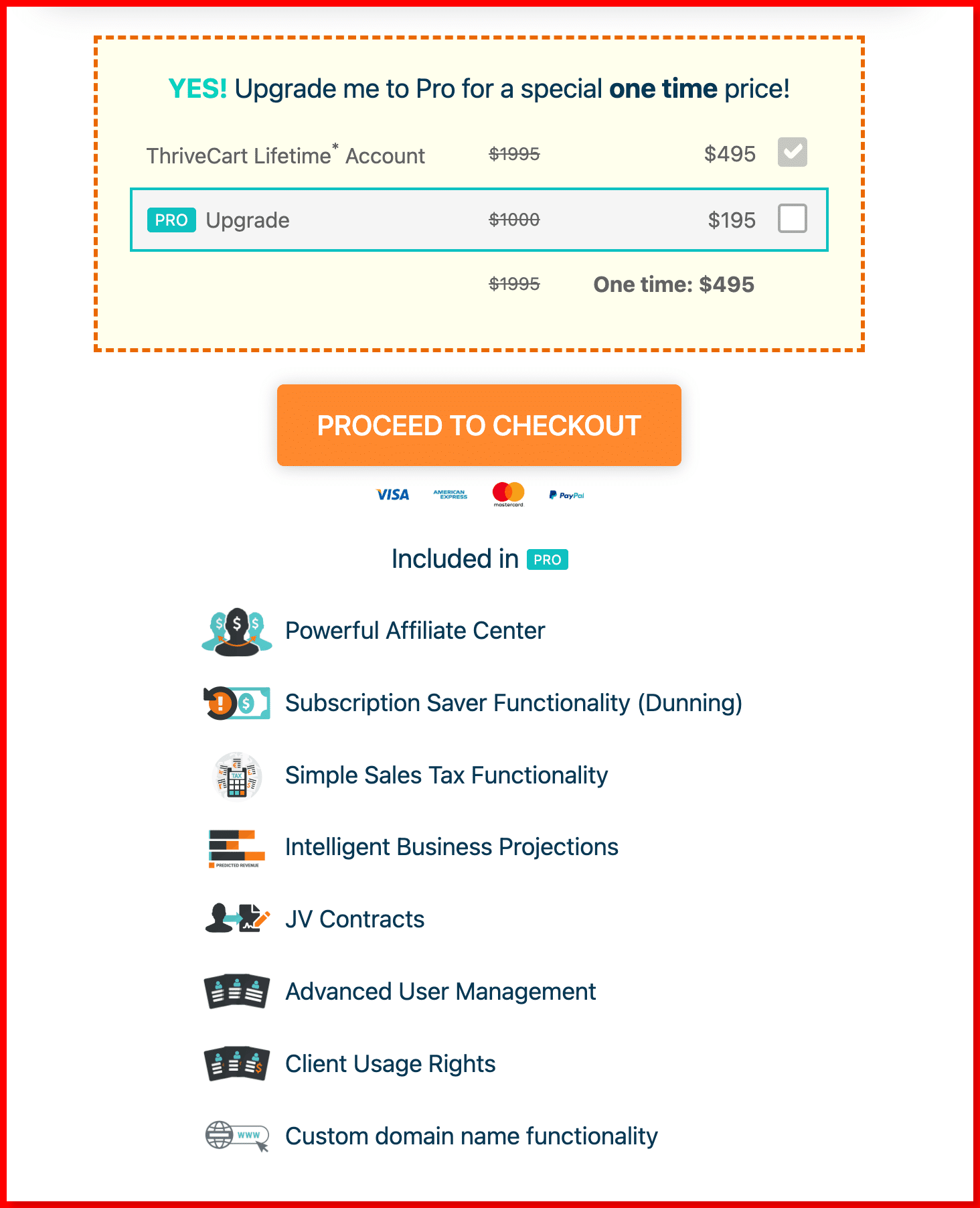 Thrivecart's Standard Pricing Plan allows you to create an online store that offers a complete shopping cart solution. It is built on top of WordPress which will add to your site's overall ranking on search engines like Google and Bing.
This pricing plan can be used by anyone looking to open a new online store and is the most popular option for the best balance of features and price.
And truth be told for what it has to offer it's actually cheap. Let me explain.
The Standard Plan includes the following features at $495
Lifetime access to their Drag-and-drop visual builder and tools with free upgrades and resources.
Learn Platform at your fingertips.
Large gallery of highly converting templates that are also pre-tested.
Create Unlimited Checkout pages.
Create unlimited shopping carts.
Advanced Integrations with marketing tools like ESPs, CRMs, analytics, social media, and so on.
A/B split testing for all your pages created.
Integration payments powered by Stripe or PayPal; are supported on mobiles as well.
GDFR-compliant and secure payments.
Email and SMS Autoresponders.
Dashboard and Reporting Analytics.
Automated Follow-ups to keep customers intact.
Unlimited Upsells and Downsells with lucrative bump offers.
24*7 customer service.
The standard plan overall provides everything that an online business needs and without any doubt a safe place to start. But this is where things get interesting with Thrivecart Pro Plan.
Pro Plan (Lifetime Deal)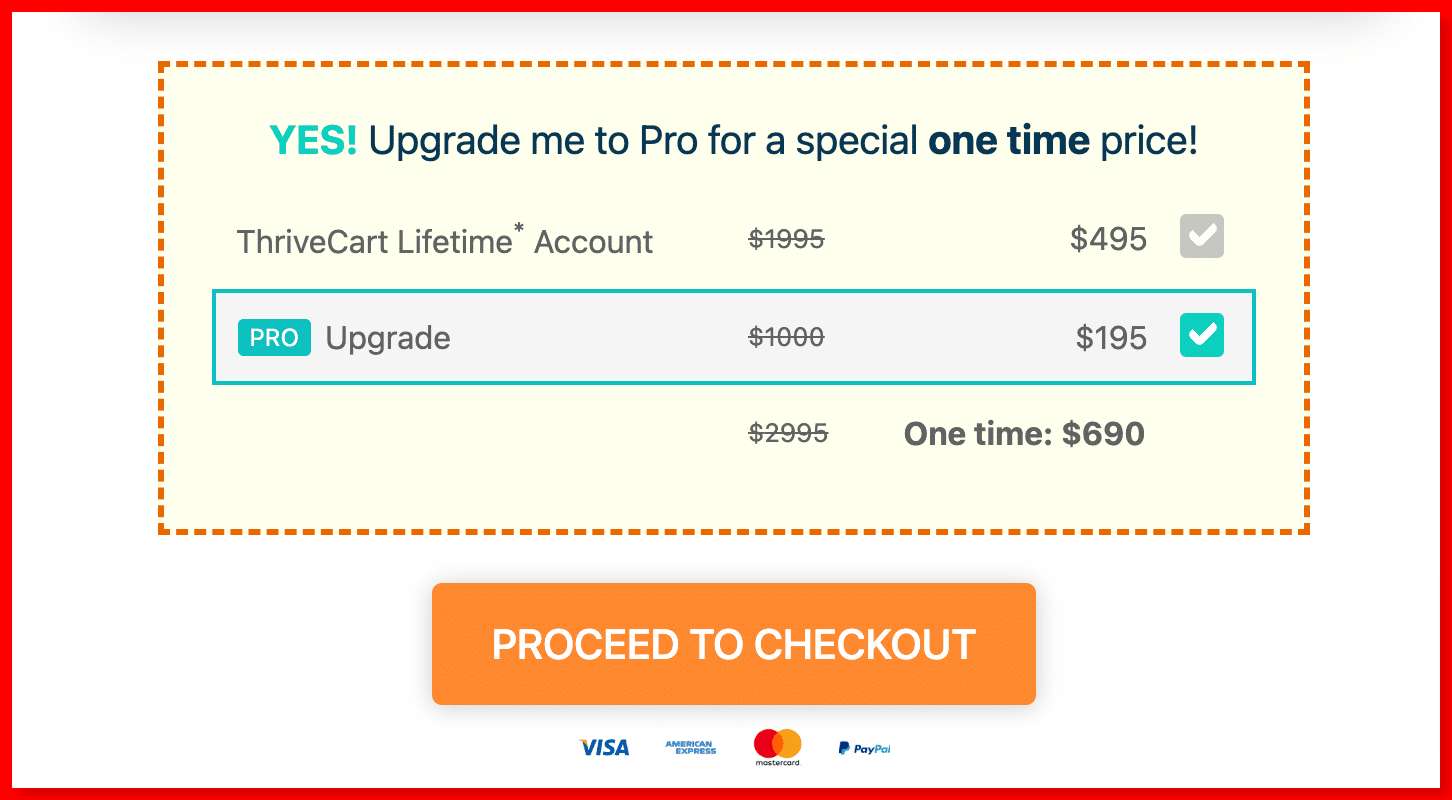 Thrivecart pricing was created in such a manner that even the standard user gets access to all the building materials required to kick-start a business but with the Pro, Plan Thrivecart gets serious about profits and also encourages you to be a part of their community.
Here is what Thrivecart Pro Plan has to offer at $690
Everything is included in the Standard Thrivecart Pricing Plan as listed above.
Affiliate Marketing with them as well as management systems to start your own.
Dunning Facility to send regular reminders of due payments.
Automated Sales Tax Calculation where you can also set up shipping, payments, and taxes, and even customize the checkout flow.
Manage your Thrivecart account from 5 different user bases with advanced user management.
Joint Venture Contracts for ensuring fair and automated splitting of revenue of products that are marketed in joint ventures from your website.
Custom Domain.
Specific Client Usage Rights.
With these added features Thrivecart Pro is by far the most popular plan, it includes all the features you need to power a store not only to sell but create an impact on your business ventures and clients.
At $690 Thrivecart still manages to include almost every feature one can think of that most of its competitors still offer for much more. We have been a part of Thrivecart's Pro community for quite some time and the experience is undoubtedly effortless yet powerful.
ThriveCart Refund & Money Back Guarantee
If you use ThriveCart and its features in your business and find that it doesn't help your results grow by more than the cost of your investment, the ThriveCart team will work with you for free until it does!
If, after taking these steps, ThriveCart still hasn't paid for itself, you can get a full refund during the first 30 days.
Thrivecart Key Features
Powerful Software: A rock-solid, robust, and powerful shopping cart software for online stores that are even mobile responsive.
Ease of use: All it takes to set up Thrivecart with your shopping website is three steps only.
Drag and Drop Page Builder: You can easily design your online store and shopping cart page with a drag & drop page builder and the Thrivecart visual editor.
Easy Customization: Customise your website to your unique business needs with unlimited color options, multiple features, and themes.
Conversion Tracking: With Thrivecart not only do you create pages but also track them, and their conversion and get insights in their dashboard.
Integrated Payments: Save Time and Money with a fully integrated Payment and Shipping Solution that you can use to process payments with Stripe or PayPal.
Marketing Automation: Automate your e-commerce business with Product Listing and Sales Automation, Social Media Integration, and more.
Thrivecart's Learn: A course builder for an easy learning solution for your viewers.
Bump Offers, Upsells, And Downsells: Increase your sales with lucrative offers designed to convert with Thrivecart.
A/B split testing: To create the highest converting pages for your website.
Security and Support: Security and Support have a completely secure payment pathway that is approved and compliant with all regulations. Also, get 24*7 customer service for any work hiccups.
Flexible Pricing: With comparatively cheap pricing plans and flexible payment methods and frequent offers, discounts, and coupons Thrivecart Pricing is a plus point for their users. there are one more tool ClickFunnels also has flexible pricing, Checkout the detailed comparison on Thrivecart and Clickfunnels
Social Media Profile
Social media is a type of internet-based communication. Users of social media platforms can have conversations, share information, and create web content.
Facebook Profile
This is a friendly environment/community. Everyone deserves to be treated with dignity. Healthy debates are natural, but they must be carried out with decency. ThriveCart Academy has 12.6k Facebook fans.
ThriveCart On Twitter
Set up the ThriveCart trigger and watch the magic happen on Twitter. The automation tools provided by Zapier make it simple to connect ThriveCart and Twitter. Thrivecart has 104 Followers on Twitter.
ThriveCart Linkedin profile
Entrepreneurs' cart, funnel, and course creator. Sales, metrics, subscriptions, affiliates, and online courses are all powered by this platform. To get more details check their Linkedin profile.
Thrivecart Pricing: Is it Worth it?
The answer to this million-dollar question is a big resounding yes. If you're looking for eCommerce software, we highly recommend Thrivecart. It's the most popular eCommerce platform on the market and has a ton of useful features and integrations.
This also happens to be the perfect time for you to grab your own Thrivecart account that you will get at an amazing special lifetime offer that cannot be missed. We will keep you updated with the latest updates from Thrivecart and until then happy sales.
FAQs Related To Thrivecart Pricing
What does Thrivecart cost?
Thrivecart cost $495 for a standard lifetime license and $690 for a pro lifetime license to use all the services and features of Thrivecart with free upgrades and resources. For complete details refer to our Thrivecart Pricing article above.
Does Thrivecart Take A Percentage Of Your Sales?
No, with the lifetime license plans Thrivecart is barring any fee collection from your personal sales. You have to only pay for your account in Thrivecart.
Will The Standard And Pro Thrivecart Account Always Be A One-Time Fee?
The one-time fee payment for a lifetime deal with Thrivecart is part of their special lifetime offer which is available for a very limited period and limited customers as well. They will soon be charging monthly fees like they previously did.
Does Thrivecart have an affiliate program?
They have a pretty well-known affiliate program that is pretty lucrative for someone who can create a quality website or landing page. You can also set up your affiliate programs using Thrivecart and earn commissions.
Does Thrivecart offer a free trial?
Currently, with the limited lifetime access plans, Thrivecart does not offer a free trial but directly jumps to a money-back policy of about 30 days. With reversion to the monthly plans, they will soon restart their free trial period of about 14 days.
Is ThriveCart Pro worth it?
The Standard edition includes nearly all of the functionality available in Thrivecart. However, for an additional $195 (still a one-time price), you can upgrade to the Pro edition, which includes features like sales tax computation and joint venture contracts. Thrivecart Standard and Thrivecart Pro both provide good value for money.
What is ThriveCart?
ThriveCart is a shopping cart platform that helps companies increase revenue by creating high-converting cart pages.
Does ThriveCart work with Squarespace?
ThriveCart may be used with any website platform (SquareSpace, Wix, Weebly, WordPress, and so on…)… Affiliate sales can be tracked (Pro Account Required) One-page websites with built-in checkout are possible.
Does thriveCart work with WordPress?
The ability to add one-click upsells and order bumps during the checkout process will help you increase revenue because up to 50% of customers will receive the add-on. ThriveCart is a great alternative for anyone running membership sites or digital downloads because it integrates seamlessly with WordPress and Wishlist Member.
how do I use thriveCart in WordPress?
FTP or your WordPress admin panel are both options for uploading. Simply activate the plugin after it has been uploaded, then go to the FastFlow settings page and enter your ThriveCart key. Then, add your ThriveCart product ID to the Fast Member product you want to integrate.
Can I use ThriveCart on multiple websites?
With the purchase of each license, you will automatically receive a single ThriveCart domain and account to use with your store. This will be changed with a custom domain name so that you may use a domain name that is unique to you. It does not provide any more domains of any type whatsoever.
Does ThriveCart remit sales tax?
ThriveCart makes it simple for you to collect sales tax from your consumers whenever it's required. It only takes a few clicks and, in contrast to other platforms, there is no additional expense to you in order to enable this for your product (or products). The majority of our sales tax computations are taken care of by an external third-party service that operates in a manner analogous to Taxamo.
Is ThriveCart a payment processor?
Thrivecart allows users to choose from a number of different payment processors, including Authorize.net, PayPal, Stripe, Google Pay, and Apple Pay.
Can I upgrade ThriveCart?
ThriveCart is a shopping cart software that was developed by Josh Bartlett in 2016; nevertheless, despite more than four years of development, the software is currently only available through a significantly subsidized trial program.