If you are looking for the best data skills course provider, then here is the answer for you. As per my personal experience, I suggest Udacity is the most compatible Nanodegrees online course provider.
Which includes courses like programming, data science, artificial intelligence, and cloud computing.
In this article Udacity review, I have come up with a complete in-depth analysis of every aspect such as pros & cons, features, pricing, and more.
So, let's get started!
Udacity Overview
Udacity is a platform where you may take paid or free online classes. Programmers, industrial designers, data scientists, product managers, and software developers are just a few of the fields in that Udacity's students gain expertise in.
Udacity is a free online introductory HTML and CSS course provided by Udacity, an online coding school that also offers paid courses for anyone interested in studying programming.
Nanodegree programs in Autonomous Systems, Artificial Intelligence, Business, Cybersecurity, Cloud Computing, Data Science, Programming, and Development are just some of the many that are available from Udacity.
Udacity's Nanodegree programs feature a variety of specialty courses, such as those for Front End Developers, Android Kotlin Developers, Full Stack Developers, and Java Programming.
DataCamp is also one of the most well-known data skills providers, to know more about it, read our in-depth DataCamp review.
Udacity pros & cons
There are many wonderful benefits to look forward to, but there are also some downsides to consider.
I have listed the benefits and disadvantages of using Udacity in this section.
| | |
| --- | --- |
| Pros | Cons |
| Strong support from a mentor | Mobile application is not available |
| 200+ free courses available | |
| Student forums for discussion | |
| Graded student projects of high quality | |
| Best-in-class career assistance resources | |
| Excellent mentoring | |
What Courses Does Udacity Offer?
Udacity's Nanodegree program and individual paid courses are what the platform has to offer in terms of education for lone students.
Nanodegrees from Udacity are bundles of individual, fee-based classes.
Each course culminates in a final project where you put your new knowledge to use, and the typical student can finish one in a month if they devote just five to ten hours per week to the endeavor.
Taking longer to complete is inevitable given that the Nanodegree consists of three or four courses. Udacity now provides more than 70 Nonodegree courses.
Currently, Udacity's eight "Schools" provide access to 80 different Nanodegree programs.
Here is the list:
School of Programming & Development
School of Artificial Intelligence
School of Autonomous Systems
School of Product Management
School of Cloud Computing
School of Cybersecurity
School of Data Science
Udacity Nanodegrees Overview
Udacity offers online, project-based nanodegree programs that aid in the development of new technological skills and job advancement. They provide a comprehensive learning experience that addresses a variety of tech and programming-related topics.
With the assistance of industry leaders and experts, each Nanodegree program is created to provide students with the information and skills they need to succeed in the tech sector.
The programs are divided into various courses, each of which focuses on a distinct aspect of the topic. Each course includes practical assignments, engaging lessons, and additional resources to support students' learning beyond the classroom.
The flexibility and self-paced nature of Udacity Nanodegrees, which allow students to complete the program at their own leisure, is one of their strongest features.
Depending on their schedules and available time, they can opt to enroll in the program full- or part-time.
In a variety of disciplines, including data science, artificial intelligence, web development, programming, and digital marketing, Udacity offers Nanodegree programs.
Well-known Nanodegree programs include the Full Stack Web Developer Nanodegree, the Data Analyst Nanodegree, and the Artificial Intelligence Engineer Nanodegree.
Udacity awards learners who complete Nanodegree programs with certificates of completion, which they can use to demonstrate their knowledge and abilities to prospective employers.
Also, Udacity assists its graduates with their careers by examining their resumes, assisting them in interview preparation, and assisting them in finding employment.
In sum, Udacity Nanodegrees provide a comprehensive, adaptable, and career-focused learning experience that can aid individuals in acquiring new technical skills and advancing in their employment.
Whether you're a newbie looking to break into the tech field or an established expert looking to expand your knowledge, Udacity Nanodegrees are a terrific option.
Udacity Nanodegree Programs & Courses
Through the Udacity course platform, students can choose to take either the Nanodegree program or a single paid course as their form of education.
The Nanodegree programs that Udacity offers are made up of separate paid courses. Often, the last part of a single course is a project where you can show off the skills you've learned.
A typical learner can finish one course in one month if they work on it for five to ten hours per week.
The Nanodegree, on the other hand, requires you to finish three to four courses, which takes a lot more time. Udacity gives people access to more than seventy different programs that don't lead to a degree.
Advantages of Nanodegrees:
Content of very high quality
Solid support from one's mentors
Student discussion forum
Instructors who are professionals in their field
Career counseling and guidance services
how does Udacity work?
It's easy to learn with Udacity. Even if you've never taken an online class before, you won't have any problems. For clarity, the Udacity course I finished was the Content Marketing Nanodegree.
Udacity is a virtual university that provides education in a wide range of technical disciplines, including but not limited to computer science, data science, and programming.
It teaches its pupils through a series of video lectures, quizzes, projects, and discussion forums. Students can begin and end the courses whenever they like.
In addition to expert advice and guidance, users can tap into the platform's peer support system and network of experienced mentors. Udacity is most effective when students put aside regular time each week to study and finish assignments.
Following simple steps, you can take Udacity Nanaodegree courses:
Select a course
Paying the tuition fees
Course onboarding
Going through the course lessons
Taking quizzes
Completing graded projects
Graduating with a certificate
Taking advantage of career services
The Most Popular Udacity Courses
Here I have mentioned which Nanodegree Programs or courses at Udacity are the most sought after by the company's students. I have detailed the best programs and classes available based on the subject matter.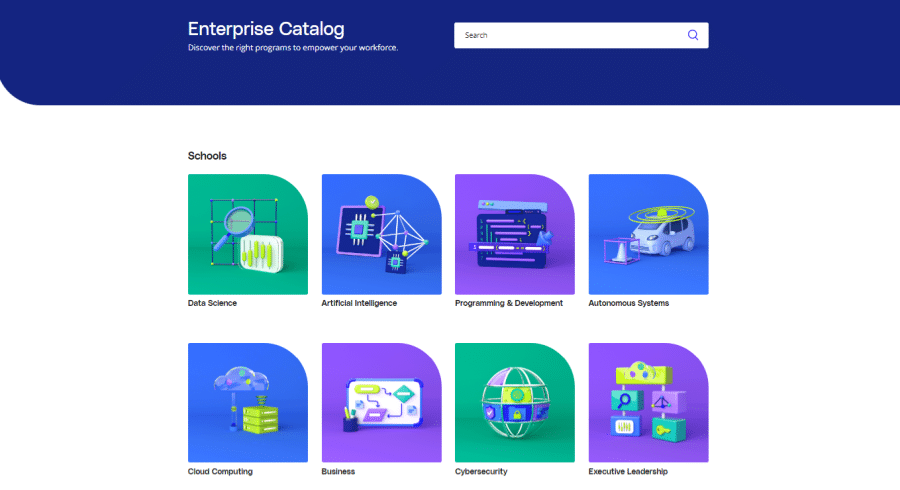 Data Science
If you want to learn the ropes as a Data Scientist, one of the best ways to do so is to work on projects conceived by seasoned professionals in the field. Doing this at a rate of 10 hours per week for 4 months should be doable.
You need to be able to make strategic decisions regarding the people, platforms, and processes involved in Data Science if you want to enable it in your firm. The curriculum can be completed in 4-8 weeks if 5 hours per week are devoted to it.
Programming & Developer
If you want to learn how to code, improve your skills, or move up the career ladder, you only need to study programming for 10 hours a week to be ready for your dream developer job in today's economy.
Students in the Front End Web Developer Nanodegree learn the specialized skills and knowledge they need to design and build a wide range of websites and apps. You should be able to complete this course in 4 months if you work 5–10 hours per week.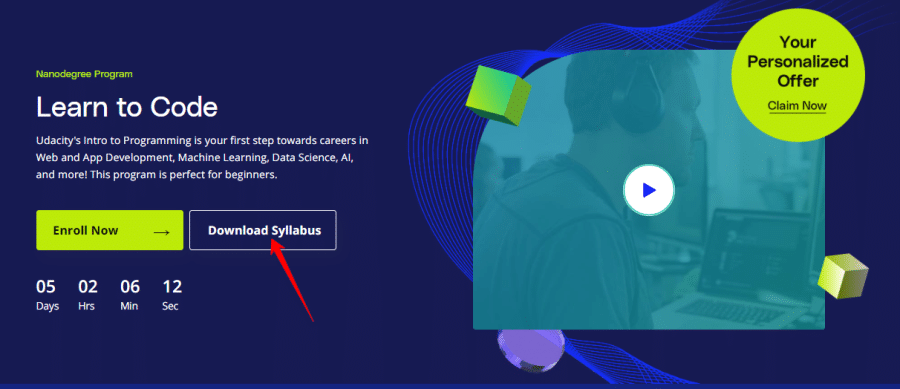 Java Web Environment Programmer You might want to become a Java Web Developer. You will learn the skills you need to start working as a software engineer in the back-end development field using the Java programming language.
If you spend 5–10 hours a week on this course, this must start taking you 4 months to finish.
Artificial Intelligence
Artificial intelligence (AI) is one of the most promising and potentially game-changing technologies of the present. There have been 2.3 million job additions in this sector over the past few years.
You will master the fundamentals of artificial intelligence, including the language Python, the libraries NumPY and PyTorch, the mathematics of calculus and linear algebra, and the fundamental methodologies of neural networks. A three-month commitment of 10 hours per week should be enough time to finish this course
Cloud Computing
Cloud developers establish the foundation for the forthcoming generation of software. Fundamentals of Amazon Web Services (AWS) cloud development and deployment will be covered. If you put in 10 hours each week, you should be able to do this in 4 months.
Engineer the hybrid cloud by mastering the art of hybrid cloud infrastructure and application design. The Nanodegree was developed in partnership with Nuranix, and if you put in 5-10 hours each week, you should finish it in three months.
Autonomous Systems
There will be a 42% increase in the number of autonomous vehicles on the road in the next four years, and leading engineers may expect to earn between $300,000 and $500,000 over that time.
One such solution is to get a Nanodegree in Autonomous Systems and use that knowledge to launch a successful career.
Robotics, machine learning, and engineering have never been more advanced than they are in self-driving automobiles.
Take a cue from the teams developing self-driving cars in collaboration with established brands like Mercedes-Benz and McLaren and acquire their know-how and expertise. If you work 15 hours each week, you should be able to finish this course in 6 months.
Robotics software engineer- learn the fundamentals of mapping, navigation, and path planning through hands-on project development. If you put in 10 or 15 hours each week, you should be able to finish this course in four months.
You can also check out the Pluralsight review to know in-depth about the Pluralsight course platform. It is the nearest competitor of Udacity.
Udacity Key features: Udacity Review
Students are drawn to Udacity since it has a lot of great features that they can take advantage of.
In this section, I have explained each feature in detail.
1. Content Quality
Udacity has existed for a while, and in that time it has earned a solid reputation for its high-quality technical education offerings.
In fact, Udacity is featured prominently as a high choice for multiple courses here. Udacity differentiates itself from other online education providers by providing more value.
Instructors on Udacity are experts in their fields and typically work for Fortune 500 or Global 2000 firms.
2. User interface
Udacity's UI is user-friendly, intuitive, and highly efficient. Among the many options for online schools, it is among my top picks.
The Udacity interface has seen multiple updates in recent years. There wasn't much to choose from on the options, and the site was mostly blank. It took a while, but they've gradually improved what was once a subpar user experience.
In comparison to other MOOC sites, I find Udacity to have the finest user experience and design at the present time. Simple on-demand lessons for continuing education can be found on the menu.
Expected submission dates for assignments with grades are clearly displayed. Moreover, the course syllabus is easily accessible. This allows you to quickly access any previously completed or scheduled lessons.
3. Learning Methods
Personal, and expert-level experience management, as well as Udacity's proprietary Nanodegree method to certification students in rare, high-value, and useful abilities, are central to the Udacity learning experience.
In addition to a simplified dashboard for tracking outcomes and progress over time, users also gain access to in-depth exploratory assessments that may be used to personalize a curriculum to the needs of an individual or team.
Udacity offers two types of courses to its students: the self-paced subscription programs and the time-bound Nanodegree programs.
4. Scholarships
Udacity offers many scholarships. With 48 country partners, it has been awarded 22,000 scholarships.
Udacity's Pledge to Equality provides professional education to marginalized students. To develop skilled job seekers with in-demand skills, learners can enroll in any Nanodegree program. Udacity 2021 will intern its top five grads.
Microsoft Azure's Machine Learning course, Bertelsmann's AI, Cloud Computing, and Data course, and Intel Edge's AI course are other scholarship programs created in the past year.
5. Instructors
Udacity's online courses are always up-to-date with the latest developments in the disciplines of software and web development, data analytics, and online marketing since their designers and teachers are recruited from leading tech companies like Facebook, Google, and Amazon.
Users have several options for getting one-on-one assistance from course instructors to help them succeed. Students can gain practical experience by working on meaningful projects with industry leaders.
Learn from the insider knowledge and real-world experience of working professionals through Udacity's mentoring and career coach programs.
6. Customer Support
When it comes to enhancing your workforce, Udacity has more than just courses for employees to choose from.
Udacity for Enterprise is distinguished by its ability to create individualized learning plans for each business, and its availability of expert mentors around-the-clock to help employees stay on track.
The best ways to get in touch with Udacity. It has numerous channels for contacting support, including phone, chat, email, social media, and more.
Udacity Pricing: How much does Udacity Cost?
| Course time duration(Nanodegree) | Monthly Access | Full Access Pay Upfront |
| --- | --- | --- |
| Two month | $399/ month | $558 for the program/two-month access |
| Three month | $399/ month | $1,017 for the program/three-month access |
| Four month | $399/ month | $1,356 for the program/four-month access |
| Five month | $399/ month | $1,695 for the program/five-month access |
| Six month | $399/ month | $2034 for the program/six-month access |
At this time, Udacity's Nanodegrees have a monthly data engineering course membership rate of $399 per month, and if you go with four monthly access plan its costs $1356 instead of $1596.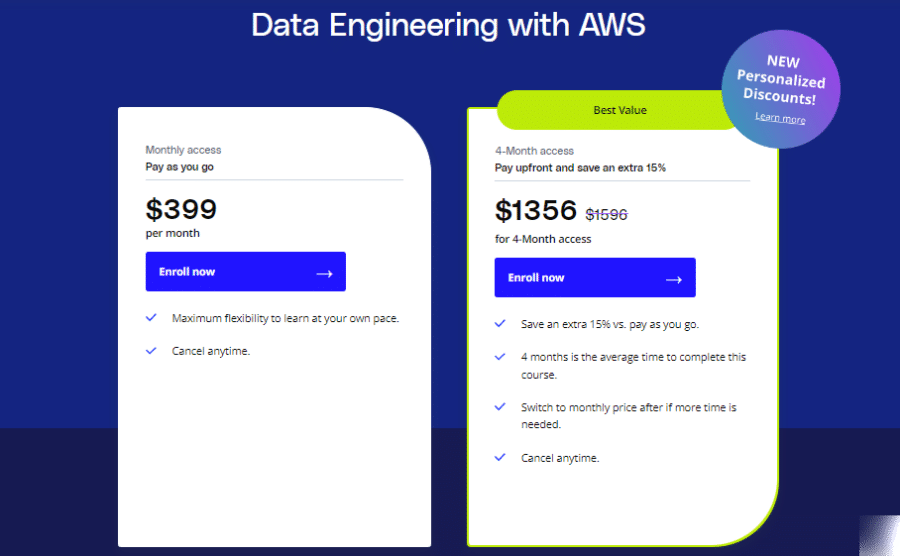 Students have the option of paying for multiple months at once and receiving a discount of 15%; if you do not intend to complete the course quickly in order to save money, it is strongly advised that you take advantage of this choice.
Udacity for Enterprise
Udacity enables companies to teach and educate their workforce internally, saving time and money.
The website offers courses in subjects including data science, AI, the cloud, software engineering, and more, taught by experts in the IT industry.
With Udacity for Enterprise, businesses may benefit from a wide range of benefits:
By selecting from a wide range of accessible courses and programs that are specially tailored toward achieving the expectations and objectives of the firm, businesses can create customized educational plans for their employees
Udacity is a self-paced learning model, employees have the choice to learn when and how quickly they choose, making it simpler for them to balance jobs and school
Students may be confident that they are learning about the most cutting-edge technologies and practices because Udacity's programs are created and taught by experts in the industry
For companies wishing to retrain or upskill their current workforce, Udacity for Enterprise is a more affordable option than traditional in-person training or hiring new employees
Udacity provides companies with the data and metrics they require to assess the success of their employee training programs
Conclusion: Is Udacity Worth it? (Udacity Review)
Overall, Udacity still remains valuable. It is a well-known online educational platform that provides students with access to a diverse selection of classes in a variety of subject areas, such as technology, business, and data science.
Udacity provides an interesting and useful method for acquiring new skills and knowledge. The platform features an intuitive user interface, interactive lectures, and projects that are applicable in the real world.
Students at Udacity have access to a wealth of essential tools and chances for growth in their careers thanks to connections the company has formed with industry heavyweights such as Google, Amazon, and Facebook.
Udacity provides a learning experience that is one of a kind and highly effective, which may help you achieve your objectives and advance your career no matter where you are in your professional life or how much experience you already have.
Frequently Asked Questions
Is Udacity reputable?
Udacity has existed for a while, and in that time it has earned a solid reputation for its high-quality technical education offerings. In fact, Udacity is featured prominently as a high choice for multiple courses here.
Is Udacity enough to get a job?
The Udacity nanodegree is valid and can be used to secure a job. Udacity grads are in demand by a variety of tech firms.  AT&T, Google, Facebook, and Amazon are just a few of the tech giants that have employed Udacity grads in the past.
Are Udacity courses recognized?
Don't forget that universities won't accept the credentials from these programs because they aren't officially recognized by any school. Udacity offers training in six different areas that all have to do with technology: software development, artificial intelligence (AI), data science, cloud computing, management, and autonomous systems.
Is Udacity really free?
Udacity is a website where you may take paid or free online classes. Programmers, industrial designers, data scientists, product managers, and software developers are just a few of the fields in that Udacity's students gain expertise in.
Is Udacity different from udemy?
On Udacity, anyone can become a course instructor, but Udemy only hires experts who have been checked out. If you're looking for short courses, Udemy can be a great choice. Udemy has a wide range of online classes for you to choose from. Udacity isn't the best when it comes to classes.
Is the Udacity certificate valuable?
Yes, Certificates from Udacity are highly valued, and that is true. Credible industries recognize a wide range of certifications. In particular, their major aspects highlight your mastery of the material covered in your technical courses.