Udemy is the most popular and comprehensive online learning and training marketplace in the world. Udemy is without a doubt an excellent platform for you to improve your talents or acquire new ones.
Still, you are not happy with Udemy and looking for a few similar alternatives.
The response is as follows: Here In this article, I will discuss some of the most suitable Udemy alternatives. I hope it will be of assistance to you in locating appropriate online course platforms.
Check out these 8 e-learning platforms like Udemy to see which one fits your learning style and needs the best.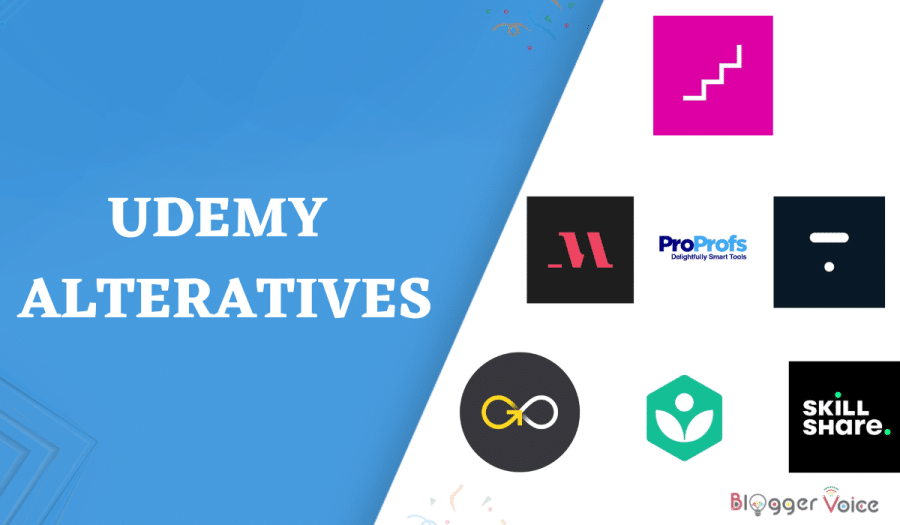 Udemy Overview
Udemy is a MOOC (massive open online course) platform that organizes its educational content into bite-sized chunks called "modules" that may be supplemented with supplementary materials including text notes, videos, and quizzes.

The video player on Udemy is equipped with helpful tools including subtitles and note-taking.
The instructor is exclusively responsible for the content of any course they offer on Udemy. The core of any Udemy course is the lecture content, which can take the form of video, PowerPoint, or text.
Teachers can also supplement the curriculum with additional materials and exercises of varying types.
As of the month of November 2022, Udemy has more than 57 million users, 213,000 courses, and 74,000 instructors who collectively offer education in more than 75 different languages.
What Are the best Udemy Alternatives?
Let's start with the list of best alternatives to Udemy.
1. Thinkific
Thinkific is an online platform for the delivery of courses, with the primary users being educators, business coaches, and business owners.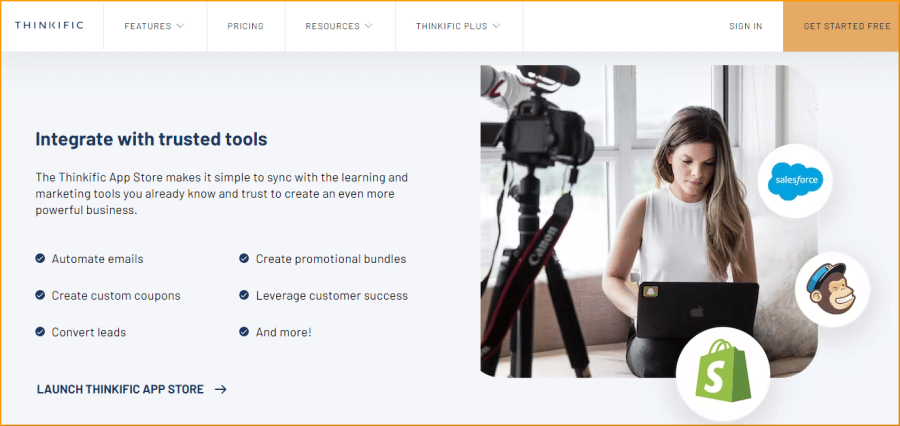 The platform gives you the ability to create online courses utilizing a variety of material formats, including videos, text, PDFs, quizzes, conversations, and a lot of other content styles in a similar vein.
For a lot of the reasons why Udemy is popular, Thinkific has emerged as a strong contender among similar platforms.
There are no hidden costs or transaction fees with the free plan. In contrast to Udemy, the basic plan on Thinkific is entirely cost-free.
In this case, there will be no fees associated with students joining through the platform or its partners. Thinkific is one of the top alternatives to Udemy because of this special feature.
Help through telephone. Many of us who are looking for Udemy alternatives have found that the platform's lack of phone assistance is a major drawback. The customer service and phone assistance at Thinkific are second to none.
Acceptable methods of payment. Potential clients, such as students who could be put off by hefty upfront costs, won't be lost thanks to the monthly pricing plans and alternative payment methods.
In our review of Thinkific, we have looked into every aspect of the platform, you may go through.
Thinkific Pros & Cons
| | |
| --- | --- |
| Pros | Cons |
| Excellent customization | No online chat availale |
| White- labeling | |
| Third-party integration | |
| There is no transaction fees | |
| 30-day free trial | |
2. Khan Academy
Khan Academy is an additional online education platform that can be used as an alternative to Udemy.
It features more than 4,000 professionally developed courses in a variety of subject areas, including computer science, mathematics, arts and humanities, reading and language, and economics.
This online learning platform provides access to a wide variety of educational resources, including topics typically covered in primary school, as well as college-level and professional-level courses.
To customize your training, all you have to do is pick one of these options. Assessments, assignments, practice tasks, and extra handouts are also included as additional elements.
Khan Academy Pros & Cons
| | |
| --- | --- |
| Pros | Cons |
| Variety of different subjects to choose from | No course completion certificate |
| High-quality courses created by expert | |
| 100% free to access | |
| Easy to use, simple, and user-friendly | |
3. ProProfs
ProProfs provides you with a wide collection of pre-made courses on vital areas including compliance, sales, leadership, and customer service training.
These courses can all be simply deployed to your employees, much like other alternatives to Udemy on this list.
A learning community, virtual classrooms, discussion forums, and a centralized knowledge base that includes frequently asked questions, how-to manuals, and other training materials are some of the additional features that are offered by Proprofs.
These features allow for smooth collaboration and the sharing of information among your coworkers.
ProProfs pros & cons
| | |
| --- | --- |
| Pros | Cons |
| Excellent features available | Customer support is not responsive |
| Multi-language quizzes | |
| Simple & speedy interface | |
| Course certification | |
| No Advertisement | |
4. GoSkills
GoSkills is a course management system that focuses on providing corporate training in a variety of skills.
Through the use of their extensive course collection, you will be able to acquire marketable skills such as project management, design, and data analysis here.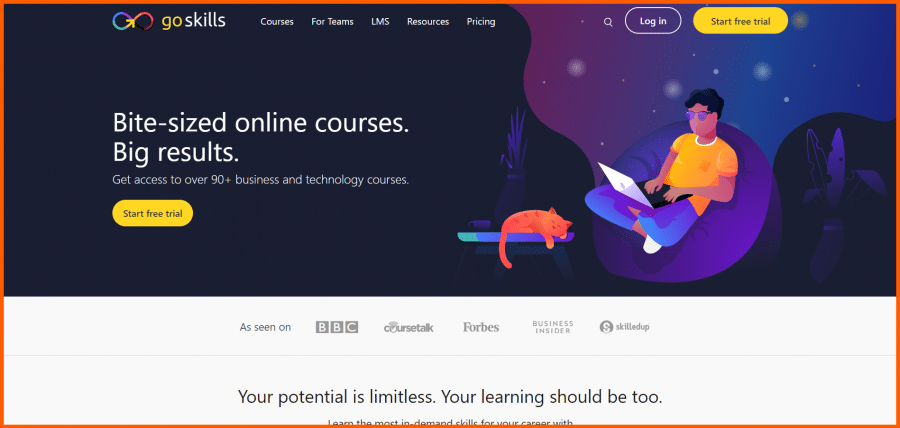 These courses are taught via video lessons and come with a variety of additional features, such as quizzes, exercise files, and reference guides. You can also access them through self-paced mobile learning, which allows you to learn even when you're on the move.
GoSkills pros & cons
| | |
| --- | --- |
| Pros | Cons |
| Industry-accredited Courses | The list of courses may be longer. |
| Mobile Friendly | |
| Course completion certification | |
| Gamified Learning | |
| Teaches Excel, Python, Javascript, and more | |
5. Pluralsight
Pluralsight is an online learning platform for technological skills that places a significant emphasis on helping users acquire the abilities they will need in the future.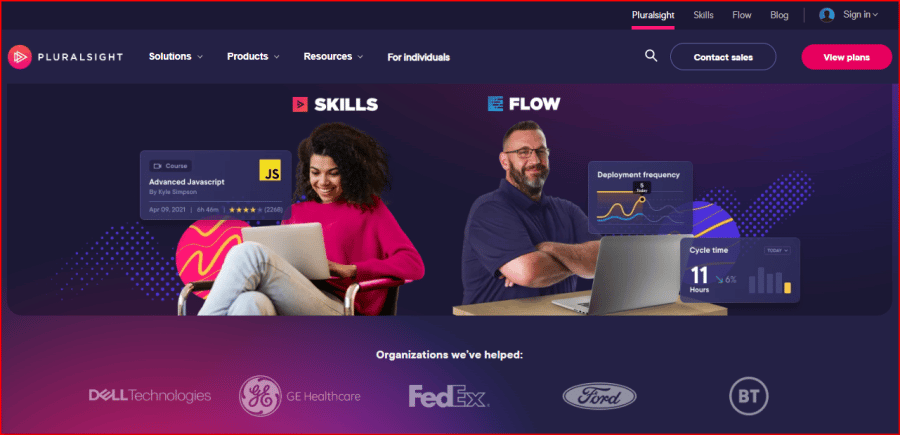 It provides two different course libraries, one called the Core library, which has more than 2,500 courses, and the other called the Expanded library, which has more than 7,000 courses. Individual students have the option of choosing between two distinct programs, each of which comes with a free trial period of ten days.
Pluralsight is the platform that you should use if you want to build your abilities in a technology-based area such as Software Design, IT Ops, Information & Cyber Security, and many more.
Additionally, it offers subscription programs that can assist corporations and teams.
To get to know in-depth about Pluralsight, read our article Pluralsight review.
Pluralsight Pros & Cons
| | |
| --- | --- |
| Pros | Cons |
| A significant number of courses | More focused on IT related course |
| Highly qualified expert | |
| Free trial available | |
| Offline for download available | |
| excellent support | |
6. DataCamp
There are so many great online resources for learning data science, programming, and machine learning that it's hard to choose just one.
Platforms like Datacamp and Udemy have video lectures that can help you learn the technical skills you need to move up in your career. All right, but which one is better?
DataCamp is the place to go if you are a beginner and want to learn by doing. You can learn a lot for your membership fee because they have a clear career path and a fun atmosphere. But Udemy is the best platform if you want to sign up for low-cost single courses.
DataCamp Pros & Cons
| | |
| --- | --- |
| Pros | Cons |
| Courses that are engaging and interactive | Only For the English language |
| Multiple course platforms are available | |
| A simple and clean user interface to use | |
| Reasonable pricing | |
| Excellent customer support | |
7. FutureLearn
The online learning platform known as FutureLearn can make it simple for you to acquire new abilities and increase your level of competence.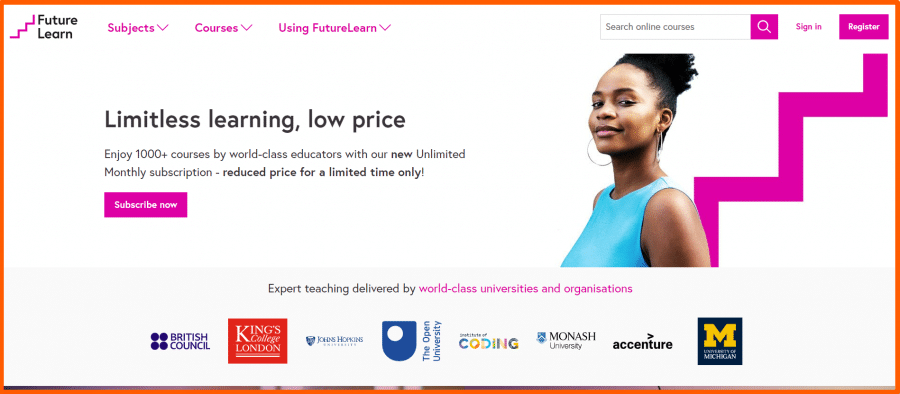 This alternative to Udemy offers more than 2,000 distinct educational programs that cover a wide range of topics, such as healthcare and medicine, business and management, creative arts and media, and many more.
These courses are also developed by prestigious educational institutions and specialists in the eLearning development sector. They are presented online in the form of videos, essays, conversations, and even quizzes, among other things.
However, what separates this particular learning technology platform from its rivals is the provision of one-of-a-kind programs that are geared toward the delivery of comprehensive instruction in a variety of specialized subject areas, making it an excellent choice for blended learning.
These are supported by third-party certification management software, and some of them even come with academic credit that candidates can apply toward the completion of a professional degree.
Futurelearn pros & cons
| | |
| --- | --- |
| Pros | Cons |
| Excellent Community of Lifelong Educators | |
| Free course available | |
| High-quality courses available | |
| Top University Credentials | |
8. Skillshare
SkillShare is yet another option to Udemy that was developed to make online learning more approachable and interesting for the students that use it.
Within this platform, you'll have access to hundreds of video courses that cover a diverse range of subjects, such as business and marketing, photography and illustration, web design, and a lot more besides.
These are self-paced classes that can be viewed on any device as long as there is an internet connection, and they are taught by experienced experts from a variety of fields.
Premium members get access to additional features, including the ability to view content without an internet connection.
SkillShare Pros & Cons
| | |
| --- | --- |
| Pros | Cons |
| Simple to use | Poor video quality |
| Has unique content | |
| Mobile application | |
| Free trial available | |
9. MasterClass
The eLearning platform known as MasterClass presents its lessons to students in a video format, and each one lasts for approximately ten minutes.
Their programs may help you improve virtually any ability, whether you want to become a better leader, learn how to cook, or improve your communication skills, to name just a few examples.
What makes these educational resources even more intriguing is the fact that they are hosted by well-known authorities as well as renowned celebrities.
These video lessons have also been designed for self-paced learning, which means that you can view them whenever it is most convenient for you.
On the other hand, because they only invite the most accomplished people in the world to speak on a variety of subjects, their course catalog is extremely small and restricted.
In addition, the majority of their classes are designed for novices, which means that you might not find them to be as helpful if you already have some expertise.
Read our In-dep Teachable Review which is also one of the best platforms for online learning courses.
MasterClass Pros & Cons
| | |
| --- | --- |
| Pros | Cons |
| A wide combination of course topics | No instructor contact |
| Amazing video quality | |
| New class updation on a regular basis | |
| 30-day refund policy | |
Conclusion
Besides Udemy, there are a lot of other ways to learn online. Some of the most popular ones are DataCamp, Khan Academy, and Skillshare.
Each platform has its own features and things that make it unique. For instance, Coursera focuses on college-level courses, Skillshare on creative skills, and Khan Academy on helping people for free.
You should think about the courses or skills you want to learn and the kind of learning experience you want when looking for the right platform.
Frequently Asked Questions
Is skillshare better than Udemy?
Both Skillshare and Udemy are big participants in the e-learning sector, and either one of them may be able to assist you in improving your abilities to a higher level. However, after much deliberation, we've come to the conclusion that Skillshare is your best bet if you want to put what you've learned into practice, engage in conversation with other students, and receive feedback from the teacher.
What is better than Udemy?
Competitors to Udemy include Skillshare, which is likely the most well-known of the bunch. It gives teachers the ability to construct online classes with video lessons and something called a "class project" using the tools that are provided.
Is Skillshare or Udemy better?
Skillshare is better suitable for courses in creative niches, whereas Udemy is better suited for in-demand courses in business, technology, and marketing. Both platforms offer online learning opportunities.