Are you looking for a Udemy online course platform that is brutally honest and comes from someone who utilizes these platforms?
Then you have found the right page.
Udemy is a great place to start if you've ever been interested in learning something new but didn't know where to begin. Udemy provides an extensive selection of courses by connecting teachers and students for mutual gain.
In this Udemy review, we'll take a look at the courses available on the platform, as well as their prices and quality to determine if they're a good value. Find out what we think of Udemy and what it has to offer in the following paragraphs.
Udemy Review: What is Udemy?
Udemy is an online learning marketplace where one can take classes on anything from how to code in HTML to how to groom a dog. It truly does cater to all tastes.
With its inception in 2007, Udemy has quickly become one of the most successful online education providers (as of 2019).

Udemy is a global platform for education, serving students from over 190 countries and offering courses in more than 60 languages. Globally accessible from any electronic device.
When compared to competing online learning platforms, what sets Udemy apart is its dedication to its teachers as much as its students.
Professors can now develop and deliver complete courses over the web (after quality checking and other processes first). Without ever having to physically interact, this facilitates the transfer of information and the development of expertise.
You will not only be able to take part in these courses, but you will also receive feedback from your instructors and, in most cases, be expected to demonstrate what you've learned.
Udemy has recently expanded its offerings to corporations and other major organizations, enabling individual instructors to teach groups of employees within those establishments.
Which course is best in Udemy?
It would take an interminable amount of time to list all of the courses that are offered through Udemy because there is such a wide variety of options. However, the following are the most common:
The 2022 Web Development Bootcamp
Practical Leadership Skills
Photography Masterclass
NLP Practitioner Qualification
The Professional Guitar Masterclass
Professionals in the field teach each course, and some of them can even vouch for the quality of what they've taught by accrediting or certifying it.
You have unlimited access to the courses for as long as you like, so you can pause your studies whenever you like.
How Much Does Udemy Cost?
The cost of Udemy courses varies greatly and while many of them are around the $200 mark, you will find that Udemy has offers, coupons, and deals available to help you keep the price down.
You will find these deals on their website, on their Facebook page, and on their Twitter feed too.
Many of the instructors also offer discount codes for their specific courses so if you see one you like, it's worth checking out the instructor's website to see if they have a course code on there too.
These codes can bring the price down by sometimes $100 or more so it is well worth hunting for them so that you can grab yourself a deal!
Udemy Pros & Cons
Because there are always positives and negatives associated with anything, we felt it would be helpful to provide you with some information regarding the advantages and disadvantages of Udemy and the services it provides.
A huge range of classes, from yoga to learning how to be a leader.

Courses designed by industry professionals.

Great discount codes available.

The ability to learn on the go.

Lifetime access to your courses.

Great for training solutions for business.

The ability to interact with the educators.

Great way for people to share their knowledge.

Not recognised by traditional institutions.

University credit cannot be earned through courses.
Who Is Udemy for?
Udemy is the place to go if you want to learn a new skill, be it web design or photography. Courses are designed to help you develop and improve upon your existing abilities while also introducing you to brand-new ones.
You may want to check out other online learning platforms, however, if you're after a more conventional credential or one that's been officially recognized by an authoritative body.
Udemy is perfect for corporations. It's an affordable option that provides your staff with high-caliber specialized training.
Udemy is also a fantastic platform for educators to hone their craft and make a living doing what they love. The earning potential is substantial, but there are specific requirements for course creators and some quality checking.
Udemy Review: Overall Course Takeaways
After attending all of the lectures, there were a few aspects of the class that immediately jumped out to me in terms of its overall quality:
Great video and sound quality: The video quality was good enough that everything on the screen could be seen well, and the instructor's voice could be clearly heard.
Effective use of time and space: I felt like the material was appropriate for a basic-level course, which is what this was designed for. There wasn't much downtime between each mini-chapter on a feature.
Updates required: The year 2018 marked the debut of this course. There have been several major improvements to WordPress since then. The new Gutenberg editor, which might be intimidating to novices, is not covered in this course and should be.
Do I feel that the entire price of $200 was justified for taking this class? Absolutely no way.
However, I believe that it is acceptable for the price of $12.
You can get equivalent tutorials on YouTube for free, but they won't have well-structured portions that can be incredibly helpful to you. You can find these tutorials on YouTube.
Favorites About Udemy
Here are some of Udemy's major benefits to discuss.
It's not a flawless system, but it has a lot going for it.
Firstly, there is an incredible breadth of offerings over a wide range of topics. When it comes to the breadth and depth of their course catalog, no other online learning platform even comes close.
Training your dog, perfecting your makeup skills, or learning the ins and outs of video editing—all of these and more may be learned from reputable online instructors.
If you're looking for a place to take classes related to your hobbies, I recommend Udemy.
Moving on, the overall quality of the software used in the class is really good. The lesson player and course navigation are smooth and intuitive. I've never encountered a bug or been unable to find something I was looking for.
You may finally go through the coursework at your own leisure. If there is a certain class that you are interested in taking, you will have to be patient and wait for an enrollment period on platforms such as edX. You have unrestricted access to the course for the rest of your life, and there is neither a time limit nor haste to finish it.
Udemy in My Opinion
At the outset, I stated categorically that there are defects in the system. There are three major issues that I have with the Udemy platform.
The most serious problem is the faulty rating system.
When you see that a course has a rating of 4.8 out of 5, you assume that it must be excellent. It isn't always the case.
The deep price cuts are the root cause of this phenomenon. In order to attract early students, many course creators discount their courses by 90% or more or even give them away for free.
This is a major issue. For the simple reason that my expectations for a product I paid $10 for will be vastly different from those of someone who paid $200 for the same thing.
When it comes to the courses with the highest ratings, I've found that reviews may be quite helpful in identifying the ones that are definitely the worst, but they aren't always accurate.
The fact that anyone can teach is another major problem, as it encourages the proliferation of subpar programs. Although most teachers are sincere in their efforts to impart knowledge, they may err if they are not subject matter experts.
Because of this, there is a wide range in the quality of both the video and the audio. It's great sometimes, and terrible other times.
And finally, once a course has received several hundred positive reviews, it will remain at the top of its category. Pages in many categories are stuffed with outdated courses that were created years ago.
There is the potential for course updates, but this rarely occurs in practice. They once could have gotten a perfect score, but now they don't even get a four.
How Will Udemy Influence Your Career?
You shouldn't expect too much from Udemy if you're looking to take online courses to help you advance in your career.
After completing a course on Udemy, you will receive a certificate, but in my experience, employers don't put too much stock in these.
As a rule, I would rather not have it on my CV. However, if you take courses that improve your ability to do your job, you may be able to earn a promotion or salary increase.
I wouldn't take a course on Udemy just to boost my resume, but it certainly wouldn't hurt.
Can I teach on Udemy?
Yes! New instructors are always welcome at Udemy.
They've released a nifty app that will help you figure out what kinds of courses Udemy needs more of so you can design a set of lessons that would appeal to their customer base.
The beautiful thing about becoming an instructor on Udemy is that you retain full ownership of your content even after it has been published on the platform.
The price point is also excellent. To reward you for spreading the word, we'll give you 97% of the tuition paid by any student who signs up using your referral code. Any time a student enrolls in your course after discovering it while browsing Udemy, you receive 50% of their tuition.
If you can convince only one person to utilize your referral link, your earnings will increase by 47 percent. You're free to use this code on your own websites, emails, and other marketing materials.
In addition, you can set the price and outline of your courses however you like, so long as there are at least 30 minutes of video content and 5 separate lessons.
Some subjects are off-limits in the classroom, including guns, relationships, drugs, and conspiracy theories. However, the number of taboo subjects is relatively small, so it shouldn't be hard to find something about which you feel confident speaking.
While formal training in education is not required to teach, credentials can help you stand out from the crowd.
Udemy Review: What Do Others Say?
Customer evaluations on Udemy's website provide invaluable insight into what students think of the platform and how they have benefited from the courses they have taken. Each course also has a score ranking so you may pick the top-rated one in your field.
However, TrustPilot only gives Udemy a 2.8 TrustScore. There is a wide range of opinions, and most of them are highly contextualized to a particular class and teacher.
Sixty-nine percent of the evaluations on TrustPilot is 5 stars, indicating that users are pleased with the learning platform overall.
There are also some complaints regarding the wiggle room in the pricing structure. The TrustScore reflects how polarised the evaluations are as a whole.
Top Udemy Alternatives
There are a great many platforms analogous to Udemy given the size of the online education market. Coursera has emerged as the most preferred alternative to Udemy.
Coursera features instruction from prestigious institutions like Harvard and Yale as well as thriving corporations like Facebook and Google.
Udemy's competitors include Skillshare, EdX, Pluralsight, and Domestika. Base lang and Lingoda are the greatest alternatives to Udemy for language study.
1. Udemy vs Coursera
The standard of instruction offered by instructors on Udemy and Coursera is the primary distinction between the two platforms.
Coursera has highly stringent requirements, and it only collaborates with well-established educational institutions and companies from all around the world.
Because of this, it has a more scholarly air to it. Because anyone may build a course on Udemy, it is a better alternative for learners who are only occasionally serious about their education.
However, the overall quality of the courses on Udemy is somewhat inferior, despite the fact that it is significantly more affordable than Coursera.
2. Udemy vs Baselang
You might want to check out the online courses offered by Udemy or Baselang if you're interested in learning Spanish. Udemy provides low-cost recorded Spanish classes that may be accessed at any time.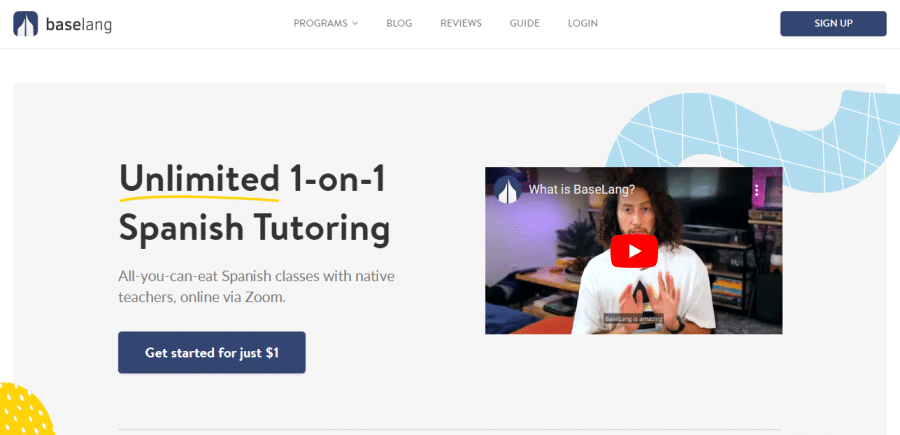 At Baselang, you may take unlimited private Spanish courses with a real teacher for the low monthly price of $149.00. Baselang is the superior choice if your objective is to achieve native-like proficiency in Spanish.
You'll learn considerably more than what a single Udemy course can teach you, and you'll become fluent in the language much more rapidly.
3. Udemy vs Lingoda
There are classes available in English, French, German, and Spanish at the online school Lingoda, which has been granted official recognition by the German government.
Although you can find courses for these languages on Udemy as well, the quality of the courses offered by Lingoda is significantly better. Lingoda sessions are group lessons led by an experienced and qualified native speaker of the language.
You will learn much more with Lingoda, and in addition, you will receive immediate feedback from a teacher on your progress. Udemy does not provide access to this particular feature.
4. Udemy vs Skillshare
Both Skillshare and Udemy are online learning communities that operate on an open framework concept, which allows instructors to choose whether or not to post their own courses.
Skillshare is arguably the most closely related to Udemy. The content that can be found on Skillshare is restricted to creative talents such as design, and its library is somewhat smaller.
However, classes have a tendency to be more constant in terms of price and quality, and they often feature instructors with better profiles.
5. Udemy vs MasterClass
The "celebrity" teachers, carefully picked video lectures, and in-depth 30-day "Sessions" on a variety of topics are what make MasterClass the most well-known aspect of the company.
The costs that MasterClass charges are, in fact, equivalent to those of the other companies on this list; however, where they fall short in quantity, they more than makeup for it in terms of quality.
They have a tendency to focus more on soft skills with programs such as "Modern Italian Cooking" with Massimo Bottura or "Self-Expression and Authenticity" with RuPaul. Both of these instructors are well-known in the entertainment industry.
On MasterClass, students won't have to worry about whether or not their instructor has the necessary experience, but they might be missing out on the breadth and depth of options accessible on Udemy.
Is There A Money-Back Guarantee With Udemy Courses?
All purchases made on Udemy are backed by a 30-day money-back guarantee, which is one of the many reasons why it's a good idea to sign up for a course there.
After the initial 30 days, no refunds will be given. However, several restrictions have been put in place to prevent misuse of the system.
You might not be able to get a refund if you get the whole thing downloaded. You risk suspension if you have to refund classes too often.
You can get your money back easily by filing a refund request. Select "request a refund" from the drop-down menu in the top right corner of any course you've purchased.
Is Udemy worth it in 2023?
Udemy is unquestionably worth it if you are looking for something to extend your mind or learn a new talent, as both of these goals can be accomplished through the use of the platform.
You may actually acquire a great deal of knowledge for a very low investment if you plan the pricing well. Make it a point to read through the review scores for each individual class so that you can pick the most beneficial one and get the most out of your investment.
And if you want to take it even further, you could always share your own expertise by creating your own training program and teaching it to others.
We hope that you have found our Udemy review to be informative and that you are now in a better position to select the appropriate online learning platform for you as a result of having access to this newfound knowledge.
You may also learn more about Linux foundation training programs to improve your technical skills.
Final Thoughts On Udemy Review
In my perspective, any kind of online learning platform that aims to educate individuals of various ages, talents, and socioeconomic backgrounds in a manner that is both affordable and accessible is worth far more than its weight in gold.
After all, providing education to those who have the greatest requirement for it is a worthy objective.
You will most likely find exactly what you're looking for on Udemy's user-friendly course platform, despite the fact that the company's primary objective is, of course, to turn a profit.
As you start evaluating different platforms for taking courses and looking for training that will help you expand your skill set, we hope that this review of Udemy was helpful to you. Best wishes, and take it easy and enjoy the journey!
frequently asked questions
Are Udemy courses actually good?
It's an inexpensive option that provides high-caliber, targeted training for your personnel in necessary areas of expertise. Udemy is also an excellent platform for educators to hone their craft and make a living doing what they love. The earning potential is substantial, but there are specific requirements for course creators and some quality checking.
Is Udemy certificate valid?
Completion certificates are a great way to showcase your skills but keep in mind that Udemy is not a recognized educational institution. Therefore, the certificates are not valid for any kind of official recognition.
Do jobs accept Udemy certificates?
It's true that a Udemy course completion certificate can be used to get a job. The value that employers place on Udemy certifications varies from job to job and from candidate to candidate, which is why many students have doubts about the legitimacy of these credentials.
Can I put Udemy courses on my resume?
Unless your Udemy certification is both professionally recognized and granted by an accredited institution, recruiters will not take it seriously if you list it under "Education" on your resume. That said, you can still include courses you took on Udemy on your resume.
Does Udemy help get a job?
Benzinga has joined forces with Udemy to help you achieve your professional goals. Can you really get hired after taking classes on Udemy? That question receives a resounding "Yes!" Here's how using Udemy can lead you to your ideal existence.
Is Udemy better than Coursera?
Udemy offers more and more diverse course options. Compared to Coursera, it is more cost-effective and provides a wider range of features for business users. A shareable certificate of completion is offered, but it is not officially recognized.