Are you looking for the Best Unbounce alternative? Then you are on the correct page.
Unbounce is among the finest landing page builders, but not everyone should use it.
You might be searching for an alternative that isn't priced based on how many conversions it gets, or you might need something that can do email marketing.
Read on, as we have ranked and reviewed 5 of them. So let's get started.
What is Unbounce?
Unbounce is a drag-and-drop landing page builder founded by a group of six creators in 2009.
They were upset by the time it took for developers to design landing pages for each new marketing campaign, and they thought to themselves, "There has to be a better way!"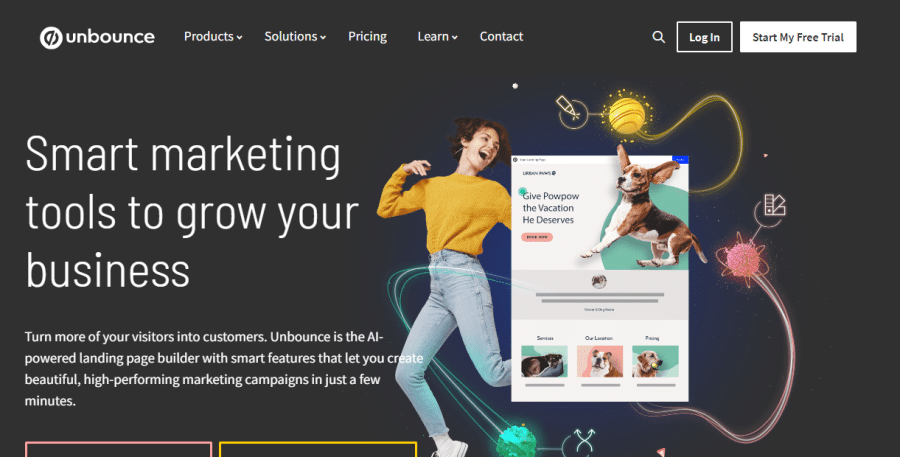 Unbounce was created, and it came before any of the other technologies discussed in this post. Unbounce might be considered the pioneer of the landing page builder industry.
Unbounce later added the ability to create popups and sticky bars, transforming it into a full-fledged conversion optimization tool.
And, best of all, they included A/B testing in every product. So whether you want to test landing pages, popups, or sticky bars, Unbounce makes it simple.
Unbounce Pros & Cons
Great landing page builder
Split testing functionality is good
Quickly build and publish landing pages
Quickly create variants for testing
Great templates and ThemeForest integration
Form builder lacks some major features
You can't add custom classes to buttons
Existing landing pages produced outside of Unbounce cannot be split tested.
Unbounce Pricing Plans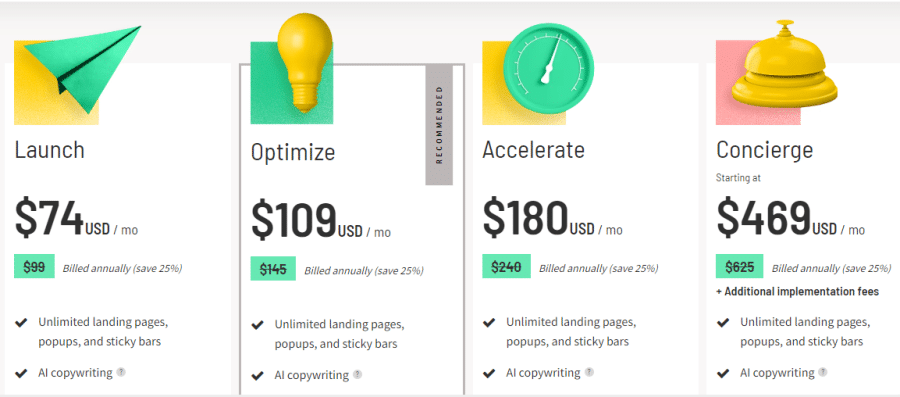 As you can see, the cost begins at $74/month, and the final price is determined by the amount of pop-ups and landing pages that you intend to make.
Even with the Launch bundle, you get landing pages and 8 pop-ups or sticky bars, which can be plenty for some smaller businesses.
So, unless you know you'll be receiving more than 1,000 conversions and 30,000 visitors in the beginning, I'd recommend starting with the Optimize plan.
You can always update later if necessary.
You may save 20% by using the Unbounce Coupon Code, and you can save another 20% by using my partner link for the first three months.
Best Unbounce Alternatives
Let's find out some of the best alternatives to Unbounce.
1. ClickFunnels
Forbes says ClickFunnels "silently revolutionized" online marketing in just three years.
ClickFunnels' gist: It simplifies internet sales for firms and entrepreneurs utilizing sales funnels (more on those in a second).
Russell Brunson, the founder of ClickFunnels, is well-known. ClickFunnels and other marketing enterprises have made him wealthy. He tried email marketing and then sales funnels.
Russell Brunson is the bestselling author of DotCom Secrets and Expert Secrets, which explain his marketing methods. Dotcom Secrets is on Amazon (with 400 ratings) on his website (free). Get Expert Secrets on Amazon or his website.
ClickFunnels was created to enable Brunson and his colleague's design funnels faster for diverse companies. They immediately recognized their invention was valuable to others and had product potential.
Here I have mentioned the key features of ClickFunnels:
Use the page builder's intuitive drag-and-drop interface to design your own landing pages, product pages, and subscription forms.
Quickly launch your campaign using pre-built funnels and templates designed for a variety of sectors and end goals.
A/B testing: Compare two or more variations of your landing pages and sales processes to see which produces the best results.
Connect your email marketing platform so that new leads are added to your mailing list and nurtured with automated emails.
Your sales channels can now seamlessly take payments thanks to streamlined payment integration.
Analyze and track data to see what's working and what might be tweaked on your website.
Business growth through strategic alliances and the support of influential third parties is the goal of an effective affiliate management program.
Create a membership site where you can sell your content, courses, and other things for a recurring fee to a paying audience.
Integrating additional services with ClickFunnels can help you save time and effort.
2. Instapage
Instapage is a cloud-based landing page creation and distribution software.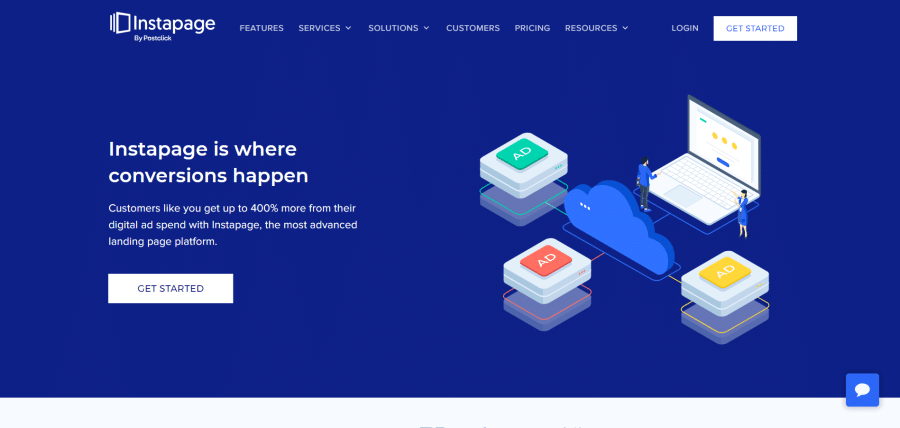 Instapage allows you to develop conversion-focused landing pages whether or not you have a website or online presence to generate more leads, sell more products, or elicit extra actions from your visitors.
Because Instapage's features make it simple to construct outstanding landing pages for any promotion, no coding or design skills are necessary. You may utilize visitor data to improve your landing page designs using heatmap, analytics, and split-testing tools.
While Instapage claims to have over 200 templates, a check of the library yielded just about 80. Some of the templates, such as thank you page templates, didn't offer extensive landing page options, so don't be tempted by the headline number of 200 templates.
Here I have mentioned the key features of Intapage:
An editor that allows for the creation and editing of landing pages using a drag-and-drop interface
A/B testing to improve page load times and overall performance
analytics that is integrated to measure the behavior of visitors and conversions
Tracking with a heatmap to determine which portions of a website receive the most attention
Integrated lead collection through the use of a form builder
Integrations with well-known marketing and analytics solutions such as Salesforce, Google Analytics, and MailChimp among others
Design that is mobile-friendly and responsive to guarantee that sites look excellent on any device
Custom domains and SSL certificates allow you to utilize your own domain name while also protecting your connections from prying eyes.
3. Leadpages
Leadpages assists you in collecting email addresses by creating landing pages and popups. In other words, if you're having difficulties creating an email list, you might consider using Leadpages. How does the tool make it easier for you to locate solid leads?
The first word in the answer is templates. Leadpages provides access to over 150 professionally designed templates.
According to Leadpages, it is the only tool you need to get your business online and flourish.
Leadpages will not only provide you with the tools you need to create your "lead collection" materials, but it will also assist you in improving your interactions and conversions via split testing and analytics.
When you utilise Leadpages, you won't need to invest with all your money on high-priced graphic designers, coders, and developers. Leadpages does all of the work for you.
Anyone may create the ideal moment in the purchase cycle for their consumers by dragging and dropping modules into position.
Here I have mentioned the key features of Leadpages:
With a drag-and-drop website builder, users don't need to know how to code in order to make landing pages and full-fledged websites.
The term "lead generation forms" refers to a group of pre-made web-based forms used to collect information from website visitors, such as their names, emails, and other identifying details.
The goal of A/B testing is to determine which of two or more versions of a webpage or form produces the highest conversion rate.
The responsive design of Leadpages ensures that your website will look fantastic and perform as intended across all platforms, from desktop computers to tablets and smartphones.
Lead magnet delivery: With Leadpages, you may have an ebook or webinar sent to a visitor's inbox immediately after they provide their email address.
Leadpages users can promote sales, promotions, and other noteworthy content with the help of pop-ups and alert bars.
Leadpages' analytics and reporting capabilities are state-of-the-art, letting users keep tabs on website traffic, conversion rates, and other important indicators.
4. Thrive Architect
Thrive Architect is a WordPress page builder. Thrive Themes created it and it was replaced with a newer version of Thrive Content Builder. It's wonderful for creating any type of website, but it excels for marketers because it's specifically designed for them.
Thrive Architect has a library of hundreds of pre-made landing page layouts.
These pages are fantastic since they're practically ready to go. You'll have to tweak the copy to make it work for your company, but you've got a decent start.
A window with a template will open when you click the "cloud" button icon. Whether you start from scratch or utilize a template, every page you create with Thrive Architect is mobile-friendly.
Here I have mentioned the key features of Thrive Architect:
An intuitive drag-and-drop interface makes it simple to rearrange page components like text, photos, and buttons.
Responsive web design is a method of web development in which a page's structure is dynamically modified to suit various screen resolutions and devices.
Included are a number of pre-made layouts that can be modified to suit the individual's needs.
Ability to compare two or more variations of a page to determine which delivers optimal results with built-in A/B testing functionality.
The ability to alter the font, color, and size of a page's elements, as well as their relative positioning, is an example of the more complex styling options available.
Connects without any hitches to the popular blogging platform WordPress, making it simple for users to create and manage new pages.
5. OptimizePress
OptimizePress has existed for over six years, yet with the exception of a minor update in version 2.0, it has not altered significantly. Does this plugin continue to be useful?
Have other WordPress plugins since replaced it? Will it provide the desired features? Find out in our complete OptimizePress review and guide!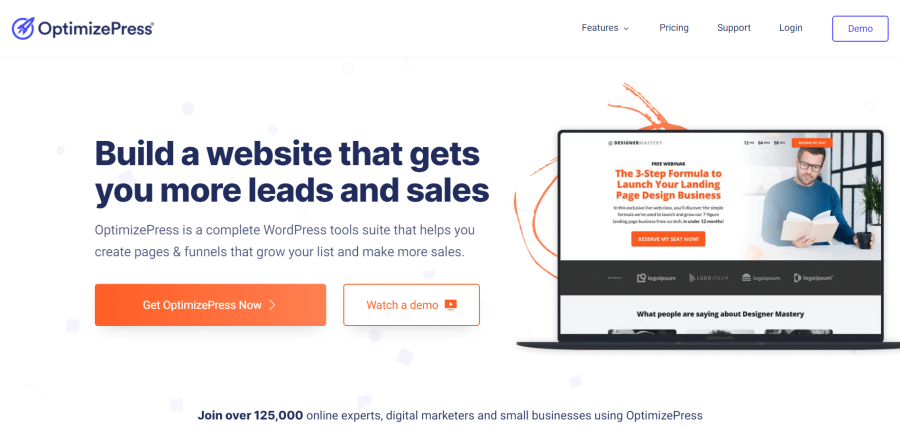 With this plugin, you can make beautiful, high-converting sales pages or membership sites complete with signup forms, secure payment gateways, and drip-fed content.
This plugin has the flexibility to perform as much or as little as you require.
Premium versions of OptimizePress for WordPress cost $149 per year and the Suite version costs $299 per year. In terms of plugin prices, this one is not the cheapest.
The pricing is likely around the middle of the spectrum for plugins, but you get a great deal for your money.
Here I have mentioned the key features of OptimizePress:
The drag-and-drop page builder makes it possible for non-technical people to make their own unique web pages with minimal effort.
Page layouts for common purposes including landing pages, webinar pages, and sales pages are included in the collection of pre-designed templates.
All pages made with OptimizePress are mobile-responsive, meaning they will look great on smartphones, tablets, and desktop computers.
Incorporates prominent email marketing platforms and a variety of opt-in form templates that can be added to pages with a single click.
By using A/B testing, website owners can compare the success of two or more variations of their page.
Provides in-built analytics so that users may monitor the success of the pages and make educated design choices.
Tools like webinar hosts and membership site generators can be seamlessly integrated with OptimizePress.
Final Thoughts
Once you get used to using Unbounce, you won't want to be without it because of how much time it saves you.
There's a tonne of leeway for personalization, and the landing page builder and templates are both top-notch.
There is also a 20% discount promotion running on Unbounce's official website, which you can get by clicking on this link.
I hope you enjoyed reading our article on 5 Best Unbounce Alternatives, if you have any queries then do let us know in the comment section.
frequently asked questions
Is Unbounce a CMS?
Unbounce and WordPress are both "Landing Pages" and "Self-Hosted Blogging / CMS" solutions. Unbounce offers Drop-and-drag. Page layout quickly.
What is Unbounce used for?
The Unbounce Conversion IntelligenceTM Platform assists you in converting more visits into leads, sales, and customers. Unbounce combines your expertise with AI to help you turn your ideas into successful campaigns, from pre-optimized landing pages to fantastic copy generated for you.
Is Unbounce easy to use?
Unbounce is a simple solution for small business owners looking to enhance web conversions. It's also worth emphasizing that this is a full-featured platform that will adapt and develop with your organization, not a band-aid solution.