Are you looking for the Best Unbounce Alternative? Read on, as we have ranked and reviewed 5 of them.
So let's get started.
What is Unbounce?
Unbounce is a drag-and-drop landing page builder founded by a group of six creators in 2009. They were upset by the time it took for developers to design landing pages for each new marketing campaign, and they thought to themselves, "There has to be a better way!"
Unbounce was created, and it came before any of the other technologies discussed in this post. Unbounce might be considered the pioneer of the landing page builder industry.
Unbounce later added the ability to create popups and sticky bars, transforming it into a full-fledged conversion optimization tool.
And, best of all, they included A/B testing in every product. So whether you want to test landing pages, popups, or sticky bars, Unbounce makes it simple.
Unbounce Pros & Cons
Great landing page builder
Split testing functionality is good
Quickly build and publish landing pages
Quickly create variants for testing
Great templates and ThemeForest integration
Form builder lacks some major features
You can't add custom classes to buttons
Existing landing pages produced outside of Unbounce cannot be split tested.
Unbounce Pricing Plans
As you can see, pricing starts at $79 per month, with the number of landing pages and pop-ups you intend to produce determining the price. Even on the Essential package, you receive 75 landing pages and eight pop-ups/sticky bars, which may be enough for some small firms.
So, unless you know you'll be receiving more than 1,000 conversions and 30,000 visitors in the beginning, I'd recommend starting with the Optimize plan. You can always update later if necessary.
You may save 20% by using the Unbounce Coupon Code, and you can save another 20% by using my partner link for the first three months.
Best Unbounce Alternatives
Let's find out some of the best alternatives to Unbounce.
Forbes says ClickFunnels "silently revolutionized" online marketing in just three years. ClickFunnels' gist: It simplifies internet sales for firms and entrepreneurs utilizing sales funnels (more on those in a second).
Russell Brunson, the founder of ClickFunnels, is well-known. ClickFunnels and other marketing enterprises have made him wealthy. He tried email marketing and then sales funnels.
Russell Brunson is the bestselling author of DotCom Secrets and Expert Secrets, which explain his marketing methods. Dotcom Secrets is on Amazon (with 400 ratings) on his website (free). Get Expert Secrets on Amazon or his website.
ClickFunnels was created to enable Brunson and his colleague's design funnels faster for diverse companies. They immediately recognized their invention was valuable to others and had product potential.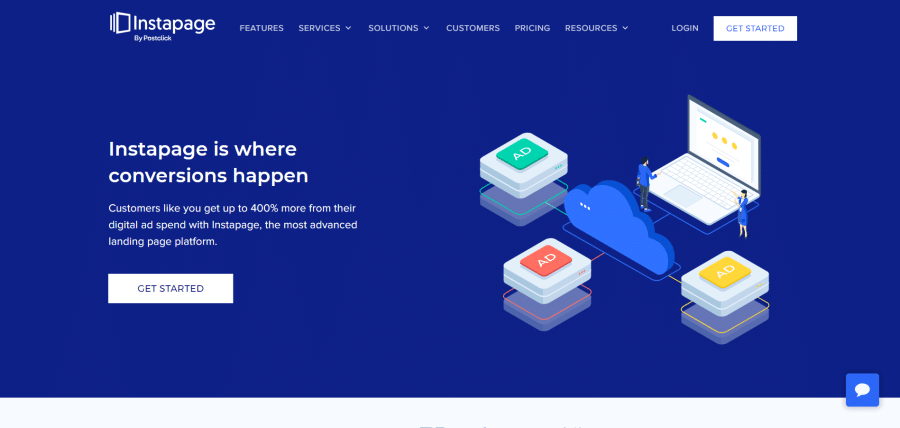 Instapage is a cloud-based landing page creation and distribution software.
Instapage allows you to develop conversion-focused landing pages whether or not you have a website or online presence to generate more leads, sell more products, or elicit extra actions from your visitors.
Because Instapage's features make it simple to construct outstanding landing pages for any promotion, no coding or design skills are necessary. You may utilize visitor data to improve your landing page designs using the heatmap, analytics, and split-testing tools.
While Instapage claims to have over 200 templates, a check of the library yielded just about 80. Some of the templates, such as thank you page templates, didn't offer extensive landing page options, so don't be tempted by the headline number of 200 templates.
Leadpages assists you in collecting email addresses by creating landing pages and popups. In other words, if you're having difficulties creating an email list, you might consider using Leadpages. How does the tool make it easier for you to locate solid leads?
The first word in the answer is templates. Leadpages provides access to over 150 professionally designed templates.
According to Leadpages, it is the only tool you need to get your business online and flourish. Leadpages will not only provide you with the tools you need to create your "lead collection" materials, but it will also assist you in improving your interactions and conversions via split-testing and analytics.
You don't have to spend all of your money on pricey graphic designers, programmers, and developers when you use Leadpages. Anyone may create the ideal moment in the purchase cycle for their consumers by dragging and dropping modules into position.
Thrive Architect is a WordPress page builder. Thrive Themes created it and it was replaced with a newer version of Thrive Content Builder. It's wonderful for creating any type of website, but it excels for marketers because it's specifically designed for them.
Thrive Architect has a library of hundreds of pre-made landing page layouts. These pages are fantastic since they're practically ready to go. You'll have to tweak the copy to make it work for your company, but you've got a decent start.
A window with a template will open when you click the "cloud" button icon. Whether you start from scratch or utilize a template, every page you create with Thrive Architect is mobile-friendly.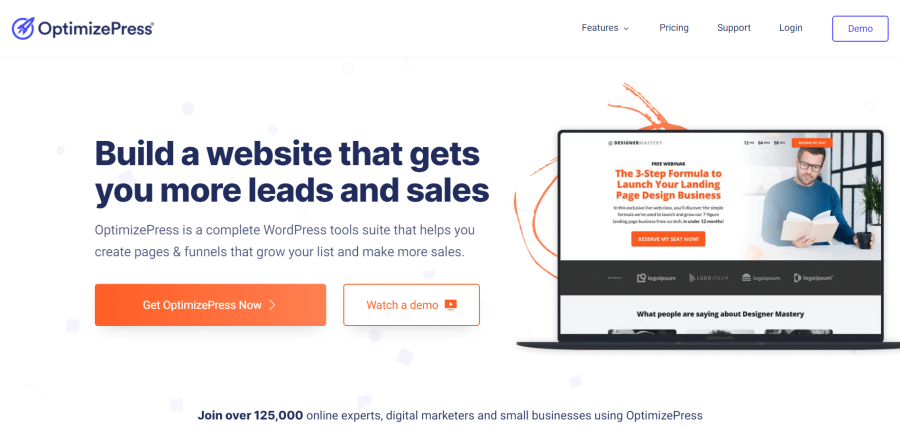 OptimizePress has existed for over six years, yet with the exception of a minor update in version 2.0, it has not altered significantly. Does this plugin continue to be useful? Have other WordPress plugins since replaced it? Will it provide the desired features? Find out in our complete OptimizePress review and guide!
You may use the plugin to create sales pages that look fantastic and convert, or membership sites with opt-in pages, paywalls, drip-fed content, and payment interfaces. This plugin has the flexibility to perform as much or as little as you require.
OptimizePress is a premium WordPress plugin with annual prices of $99 for the core product, $149 for the Business edition, and $199 for the Suite. This plugin is not the cheapest available. The pricing is likely around the middle of the spectrum for plugins, but you get a great deal for your money.
Final Thoughts
Unbounce will save you far more time than it costs, and once you're up and running with the platform, you'll find it difficult to go without. The landing page builder is fantastic, the templates are fantastic, and you have a lot of freedom to customize your sites.
There is also a 20% discount promotion running on Unbounce's official website, which you can get by clicking on this link.
I hope you enjoyed reading our article on 5 Best Unbounce Alternatives, if you have any queries then do let us know in the comment section.
Unbounce Alternative FAQs
Is Unbounce a CMS?
Unbounce and WordPress are both "Landing Pages" and "Self-Hosted Blogging / CMS" solutions. Unbounce offers: Drop-and-drag. Page layout quickly.
What is Unbounce used for?
The Unbounce Conversion IntelligenceTM Platform assists you in converting more visits into leads, sales, and customers. Unbounce combines your expertise with AI to help you turn your ideas into successful campaigns, from pre-optimized landing pages to fantastic copy generated for you.
Is Unbounce easy to use?
Unbounce is a simple solution for small business owners looking to enhance web conversions. It's also worth emphasizing that this is a full-featured platform that will adapt and develop with your organization, not a band-aid solution.
Is Unbounce any good?
Unbounce is versatile. From zero to the template, landing pages are straightforward to create. Unbounce's features include: A/B testing lets you easily replicate page versions and divide traffic.
What is Instapage?
As previously said, Instapage is a tool that allows you to easily create landing pages for your internet marketing and advertising initiatives. It includes features like A/B testing, multiple campaign management, simple page creation, and much more!
What is the difference between landing pages and websites?
Landing pages, as opposed to homepages and websites, are tailored to a particular campaign or offer and direct visitors toward a single call to action. Homepages and websites are designed for exploration, whereas landing pages are not. In a nutshell, landing pages are pages that are specifically designed to convert.
What are the pros of Unbounce?
The fact that Unbounce can produce landing pages that are extremely effective, that it can be combined with a few other marketing tools, and that it comes with a large choice of templates that can be used to create landing pages are the primary advantages of using Unbounce.
What are the best alternatives to Unbounce?
Naturally, this is a question that can only be answered by one person at a time, which means that the response could be different each time. GrooveFunnels, Simvoly, and ClickFunnels are, in my view, the three platforms that are most capable of replacing Unbounce.