Seeking access to a demo version of the Landing page builder for free. I have some very exciting news for you. Anyone who is interested in testing out how Unbounce operates is eligible for a free trial that lasts for 14 days.
I've put together a comprehensive guide in this article that will walk you through the process of signing up for an Unbounce free trial and can make the best use of it.
So Let's get started!
Unbounce Free Trial
Unbounce is a website builder and landing page platform that provides new users with a free trial period of 14 days to test out the software.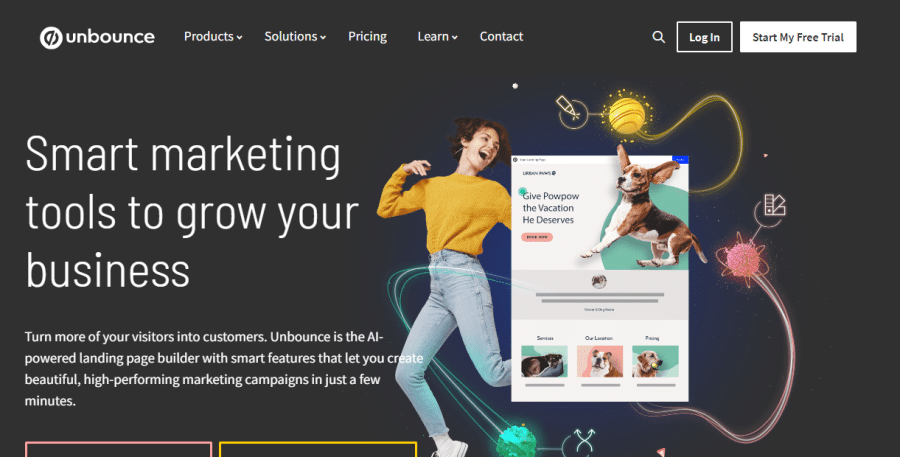 Before committing to a paid plan, you will have the opportunity to evaluate the platform and all of its features thanks to this.
You will be able to create and upload an unlimited amount of landing pages during the free trial and also have access to the greater part of the platform's capabilities. After the trial has ended, you must choose a premium plan if you wish to continue using Unbounce.
How to Get Unbounce Free Trial
The following are the easy steps to get a free trial of Unbounce for a period of 14 days.
Step 1. Browse the official website of Unbounce and click on the " Start My Free Trial" button. It will take you to Umbounce's "Pricing" page.
Step 2. Choose your Unbounce pricing plan.
Step 3. Create your account by just filling up your personal details as given on the below page.
Step 4. On Check out complete your payment process. Congratulations, You can try out Unbounce free trial for 14 days.
(You won't be charged for using Unbounce until the end of your free trial period after 14 days)
How much does it cost to use Unbounce after the free trial?
After the free trial period of 14 days, you may be charged according to the plan that you choose.
The following is the price breakdown for each Unbounce pricing plan:
| | | |
| --- | --- | --- |
| S. N. | Unbounce Plan | Pricing(Rates) |
| 1. | Launch Plan | $90/ Month |
| 2. | Optimize Plan | $108/Month |
| 3. | Accelerate Plan | $225/month |
| 4. | Concierge Plan | $575/Month |
You will get an instant 10% discount (if you are billed yearly). Click to get more Unbounce Offers.
Who Can Take Advantage of Unbounce?
Unbounce is a landing page builder and optimization software that marketers, entrepreneurs, and small business owners may use to develop landing pages for online campaigns in an efficient manner.
Unbounce is available to marketers. It can be put to use in a wide variety of businesses and industries to increase conversion rates and generate leads.
In addition, Unbounce provides analytics, integrations with other marketing tools, and A/B testing, which transforms it into a comprehensive solution for businesses that want to increase the efficiency of their digital marketing.
Is Unbounce Free Trial Worth My Time?
It is dependent on the particular requirements of your business. Unbounce is a famous landing page builder that provides a free trial period of 14 days. This gives you the opportunity to test out its capabilities and determine whether or not they are compatible with your objectives and spending plan.
However, how much the trial is a good value for your money and effort ultimately relies on how well it satisfies your unique needs and whether or not it will help you accomplish the objectives you want to attain.
Before settling on a choice, it is always a good idea to look through the various pricing options, read some customer reviews, and test out the platform in question.
What Features You get with Unbounce Free Trial
Below you will find a list of the features that you will have access to during the free trial period.
Landing Pages
Drag and Drop Page Builder
Popups
Page Builder
1. Landing Pages
During the free trial period, you have access to the majority of the landing pages.
It gives you access to over a hundred different ready-made templates that you may use for the landing page.
During the period of the free trial, customers have the option of personalizing the premade templates in order to boost conversion rates.
2. Drag and Drop Page Builder
Create a website with no effort and zero coding with Unbounce's drag-and-drop builder.
To begin, select a template and then just drag & drop your desired components onto the page.
Depending on who you expect to visit your site, you can tailor the content you provide, such as pictures, videos, slideshows, and buttons.
This convenient drag-and-drop function allows you to easily generate many pages and make any free adjustments without cost.
3. Popups
During the 14-day free trial of Unbounce, you will have access to the popups and stick bars, which will allow you to acquire a greater number of clients.
With this function, you'll be able to present your blog's readers with a variety of different news and offers.
In addition to this, the appearance of the sticky bars can be timed according to the way that your website is designed.
4. Page Builder
With the help of the smart page builder, creating web pages has never been easier.
Users of Unbounce's free trial can use this feature, which makes it easier and faster to make a landing page by cutting down on the time and work needed to do so.
As a result of analyzing over 1.5 billion pieces of conversion-related data from different websites, the smart page builder provides consumers with a wide range of innovative suggestions.
Because of this function, you won't need to conduct substantial market research before launching your landing page.
How to stop/Cancel a free trial of Unbounce?
Here is a step-by-step tutorial on how to cancel your Unbounce subscription following the trial period:
You can take the following actions to end your 14-day free trial of Unbounce:
Open your Unbounce account and log in.
The "Account" tab can be found in the top right-hand corner.
From the drop-down option, choose "Billing".
Select "Cancel Plan" from the menu.
To confirm your cancellation, adhere to the instructions.
Conclusion
Overall, Unbounce is a platform that eliminates the need for coding or IT help when making, publishing, and testing landing pages. During the 14-day trial period, customers have access to all of the platform's features and tools, including the ability to design, publish, and test landing pages, do A/B testing, and connect with a wide range of marketing automation platforms.
Frequently Asked Questions
Can I use Unbounce for free?
Yes, Unbounce offers a 14-day free trial to new users.
What happens when I cancel Unbounce?
All of your pages and content will stay in the account after cancellation, however, some app features may be updated or modified. Take notice that if you don't upgrade to a subscription account within 12 months, the Unbounce account will be terminated.
Is customer service for Unbounce included in free trials?
Yes, when you get stuck during your free trial of Unbounce, you can contact customer care for guidance.
Is there Any Limitation On Unbounce Free Trial?
There are no limits on the free trial because Unbounce advises users to experiment with its page builder options before choosing a premium plan.
So that you may make an informed choice following the trial period, you are free to use all Unbounce features throughout this time without any limitations.