Digital marketing success requires the right tools. Unbounce helps you create landing pages that generate leads and sales.
There are literally hundreds of page builders available today that can make the process of designing, constructing, publishing, and scaling landing pages really simple and quick.
In my experience, Unbounce is the best among the other landing page builders.
Why? let's find out.
What Is Unbounce?
Unbounce is widely recognized as one of the best landing page builders in the marketing industry.
Founded in 2009, Unbounce has grown to include over 200 workers worldwide and has facilitated over 1.5 billion conversions to date. Unbounce is loaded with a comprehensive set of features based on AI.
You may develop and test your own unique landing pages with the help of Unbounce, a website that specializes in landing page construction.
You can increase the number of leads and conversions for your business with the assistance of these landing pages.
You have total control over the creative process when you use Unbounce, and the platform is a cost-effective resource that helps you increase the number of clients you reach and your conversion rates.
The 4 main pillars of Unbounce are:
Artificial intelligence: Unbounce is placing a significant wager on AI, and they have just lately released a barrage of AI-powered landing page optimization tools to assist marketers in making more money.
Integrations: When compared to other platforms, Unbounce offers the greatest number of direct integrations with your preferred digital marketing tools.
Templates: Although Unbounce provides its users with a free and extensive collection of templates for use in landing pages, popups, and sticky bars, users also have the option to purchase templates from third parties.
Unbounce price is affordable and reasonable.
What are landing pages?
A landing page is a single web page that a visitor arrives at after clicking through from an email, advertisement, or other digital sources. Users are urged to take action after they arrive on your landing page, such as joining your mailing list or purchasing your items.
Landing pages are used in a variety of digital marketing strategies, such as social media, email marketing, and pay-per-click (PPC) advertising. They are laser-focused on a single concept and feature a sign-up CTA for additional information or to make a purchase.
Having a nice landing page is especially crucial for PPC since it improves your AdWords quality score. Because you may have a lower maximum bid with a high-quality score, you'll spend less each time someone clicks on your ad.
What Are Unbounce templates?
Unbounce provides more than one hundred landing page designs for free, Unbounce also allows users to purchase third-party Unbounce landing pages through a variety of online marketplaces.
This is something that users of other page builders are unable to accomplish.
When you use Unbounce to construct landing pages, you will immediately have access to hundreds of mobile-responsive landing page designs to choose from.
Utilizing the drag-and-drop functionality of the Unbounce landing page builder, you have total freedom to customize each of them.
Unbounce Pricing Plan
Unbounce sets pricing by looking at the number of conversions as well as the number of domains and monthly visits.
Unbounce offers 3 pricing options:
Launch: $80 USD to $90 USD
Optimize: $120 USD to $135 USD
Accelerate: $200 USD to $225 USD
Launch: If you sign up for this plan, you'll have access to the most important tools for developing and maintaining landing pages that have a high rate of conversion. If you have 500 conversions and 20,000 visits each month, then the plan will cost you $90 per month.
Optimize: If you choose the Optimize plan, you will pay an extra $5 per month on top of the Launch plan's fee, for a total of $95 per month's worth of service. This allows you access to a more robust set of marketing tools than the Launch plan offers.
You will have access to all of the features that are included in the Launch plan, with the exception that this plan includes 1,000 conversions per month and 100,000 monthly visits.
Accelerate: If you want access to the most powerful array of capabilities that Unbounce has to offer, you can go with their Accelerate package, which costs just $225 per month but grants you 2,500 conversions each month and 50,000 visits each month.
Unbounce Pros and Cons
The best landing page builder out there
Excellent templates and third-party sources like ThemeForest
Variants for testing can be made quickly
It is easy to make and post landing pages quickly
Business hours are the only time we can help
Some people who aren't very tech-savvy might be overwhelmed by the number of options
Unbounce Social Presence
Let's find out the social presence of Unbounce, what they share and how active are they?
Twitter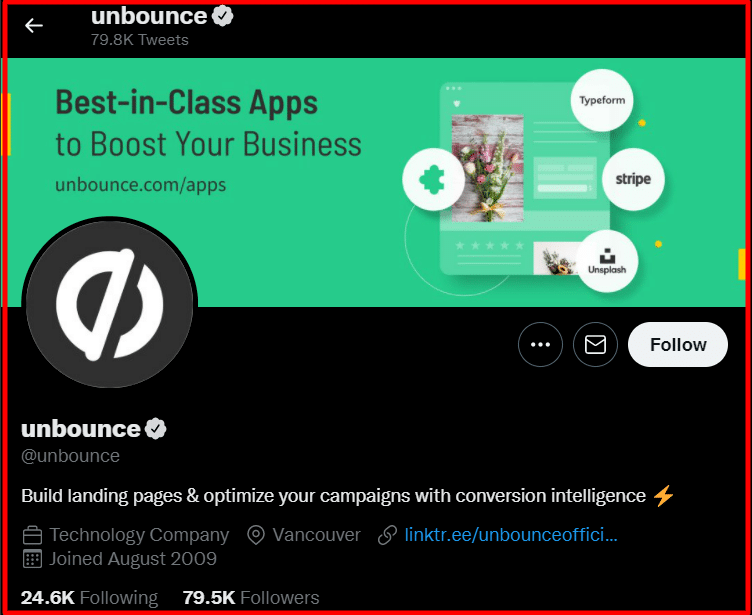 Unbounce has a Twitter profile with over 79.5k active followers where they share about how you can build fast and powerful landing pages that drive sales and conversions.
LinkedIn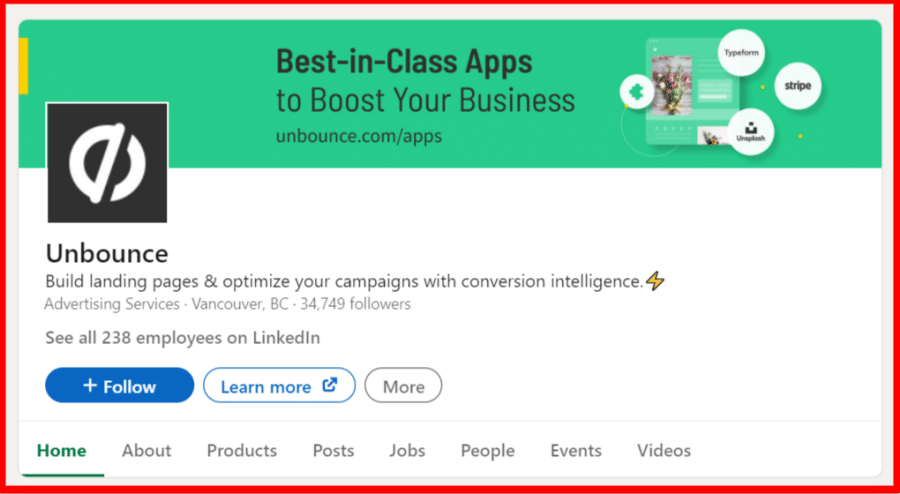 Unbounce has a LinkedIn profile with over 34,749 followers and 238 employees.
Instagram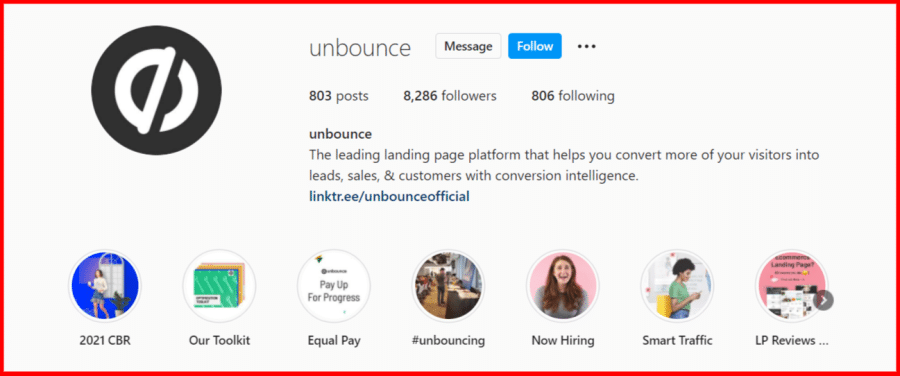 Unbounce's Instagram Profile has over 8,286 followers and 803 posts related to the landing page platform and about their brand.
YouTube
Unbounce has a YouTube account with over 16k active followers where they share tutorials related to their platform and landing page.
Frequently Asked Questions
What is the difference between a landing page and a website?
Landing pages are tailored to a specific campaign or offer and lead visitors to a single call to action. This is different from homepages and websites, which are meant to be explored. In short, landing pages are made to bring in customers.
Is Unbounce a CMS?
Unbounce and WordPress are both categorized as "Landing Pages" and "Self-Hosted Blogging / CMS" platforms. Unbounce provides the following features: Drag and drop is a great way to get things done. Page design that is quick.
Does Unbounce host landing pages?
Yes, Unbounce host your landing pages.
What is the purpose of a landing page?
The purpose of a landing page is to collect contact information from contacts in exchange for something of value. This could be in the form of a discount code for a retail store or business-to-business (B2B) insights in the form of a white paper.
How do I edit Unbounce pages?
To access the landing page you have created with the Unbounce Builder, click the Edit button. To modify the title of the page you're currently seeing, move your mouse pointer over the title, then click the Edit Name button.
Why should I use Unbounce?
Unbounce platform is a conversion tool. It provides assistance in the creation of landing pages that are optimized for conversions. And you can complete it in a short amount of time. Additionally, Unbounce makes it simple to deploy pop-ups and sticky bars, both of which have the potential to increase the amount of engagement you have with visitors who fall inside your target demographic.