Unbounce Smart Builder is a landing page builder which picks the optimal page and section components for you to use depending on the sector in which you operate, the demographics of your target audience, and the objectives of your marketing campaign.
This brand-new landing page builder is driven by artificial intelligence and offers optimization advice as you construct, allowing you to sail right through the process of designing your landing page and easily begin converting your audience.
So, let's find out more about it.
What is Smart Builder?
Unbounce Smart Builder makes it easy to develop and optimize landing pages, overlays, and sticky bars. Users don't need to know any coding or design software to create their own websites.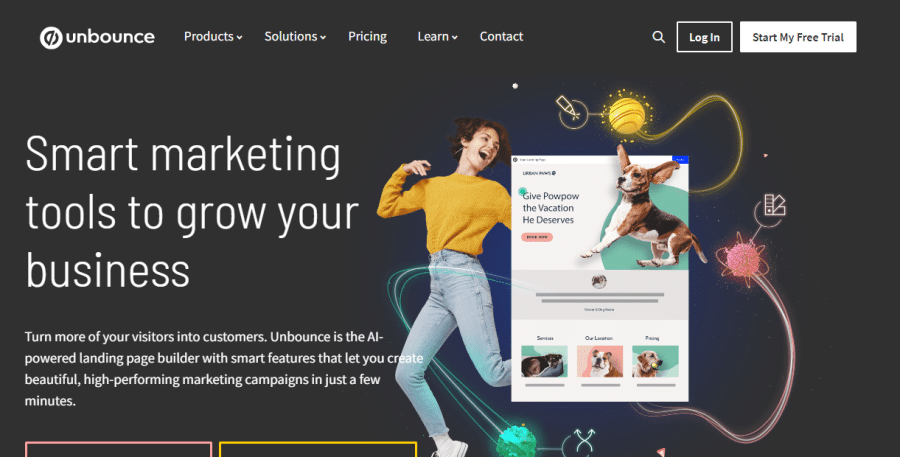 With the Smart Builder's drag-and-drop interface, page elements like text, images, and buttons can be added and rearranged quickly. Users can create their own layouts or choose from a variety of ones that are already available.
Another key feature is the capacity to contrast two or more iterations of a page to see whether one performs better. Users can design different iterations of a page and track statistics like conversion and bounce rates to determine which version is the most successful.
The integrated analytics of the Smart Builder allows for the monitoring of metrics like pageviews, bounce rates, and conversions. Users can use this data to enhance page performance and fix issue areas.
In conclusion, the Unbounce Smart Builder is an excellent tool for creating and optimizing sticky bars, overlays, and landing pages. With its drag-and-drop interface, analytics, and A/B testing capabilities, users can quickly create and test websites. They can also optimize the speed of their pages.
Features Of Unbounce Smart Builder
Unbounce is the solution for you if you're seeking a simple method to develop landing pages, a means to convert more prospects into customers, and a way to obtain a beautiful design that will make your company stand out from the competition in the marketplace.
Discover with me some of the incredible features of the Unbounce smart builder.
1. Optimized Page Sections
You may create your ideal landing page with Unbounce by mixing and matching the pre-made, modular section templates. These templates are optimized for conversion.
2. Style Guide
The Unbounce Smart Builder Style Guide allows for the simple saving and reusing of approved typography, color schemes, and graphics across several pages.
Always and without fail, the presentation of your brand, with pride.
3. Design Assistant
Unbounce Design Assistant can help you speed up the process of page design by providing visually appealing templates that are supported by data and customized to your business, audience, and goals in order to increase conversions.
4. Copy Insights
Smart Copy, which would be powered by the app itself, will give you suggestions for high-converting copy centred on your message, viewers, and tone. You can get these suggestions right in the app.
5. Builder Grid
No designer? No issue.
With the Builder Grid as a reference, you may "snap" components into place to check for errors and make sure the design is mobile-friendly.
6. Mobile-Responsive Design
Create mobile-optimized pages that are the best in their class without any additional labor or technical know-how required.
As a result of your site being optimized for every device, you will convert more clients.
7. Multi-Device Page Preview
You may get a quick preview of how web users will be seeing your page on mobile mobile as well as desktop when they visit your website. Independent editing while maintaining simultaneous publication is possible.
8. SVG Images
Ensure the quality of your sites' visuals by using the SVG format. The filesizes of SVG logos are tiny, and they may be resized to fit any display.
9. A/B Testing
Perform A/B testing to determine the landing page version that provides the best response from site visitors. Make use of the results to make adjustments to the pages and boost conversion rates.
Unbounce Pricing Plans in 2023
Before we begin, you should be aware that Unbounce offers 4 different price options.
launch plan
Optimize plan
Accelerate plan
Concierge plan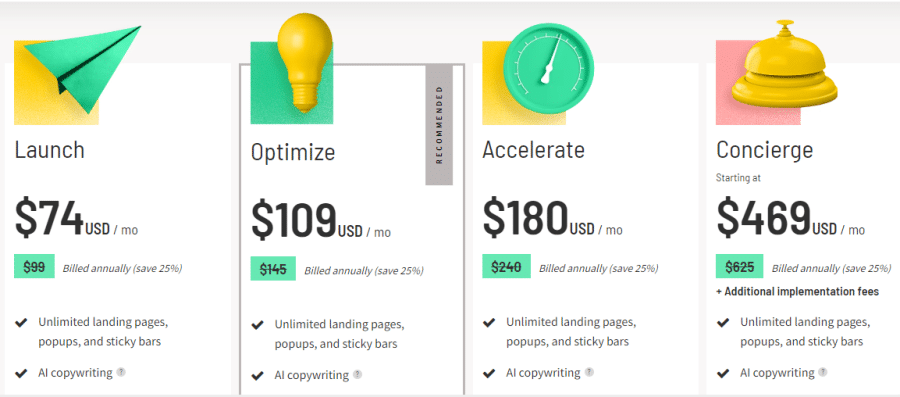 You may even pay monthly or annually (so we'll have more to discuss).
You should also be aware that each Unbounce plan includes the following key features:
Unlimited popups.
Unlimited sticky bars.
Unlimited landing pages.
Integrations option such as the powerful Zapier integration.
Unbounce Integration options:
HubSpot integration.
WordPress integration.
Infusionsoft integration.
The Marketo integration starts with the Premium plan.
The Salesforce integration also starts with the Premium plan.
You can check out the Unbounce coupon code to avail extra 25% off on your yearly billing.
Let's explore each plan to see what this landing page builder has to offer.
Unbounce Launch Plan
Unbounce's Launch package is only $74 per month (if you are billed annually).
The Launch plan price package includes the following special benefits:
1 domain
AI copywriting
Up to 500 conversions
Up to 20,000 visitors
Unlimited landing pages
Unlimited popups & sticky bars
When it comes to their drag-and-drop landing page builder, it's quite cool.
This Unbounce package is ideal for individuals who are just getting started with landing pages. You may start developing your first landing page right away with your free 14-day trial.
So, now let's move to the next pricing option of Unbounce.
Unbounce Optimize Plan
The monthly cost of the Unbounce Optimize package is just $109/month (if you are billed annually).
Here are some of the special benefits that come with the Optimize plan:
5 domains
AI copywriting
Unlimited Popups & sticky bars
Up to 30,000 visitors
Unlimited landing pages,
Up to 1,000 conversions
Smart Traffic and Dynamic Text Replacement capabilities are also available. Smart traffic is what allows you to design marketing programs that convert even better.
Now let's find out the last pricing option of Unbounce.
Unbounce Accelerate Plan
The Unbounce Accelerate plan costs $180 per month (if you are billed annually).
The following are the unique benefits of the Unbounce Accelerate plan
10 domains
AI copywriting
Unlimited landing pages
Up to 50,000 visitors
Up to 2,500 conversions
Unlimited popups & sticky bars
This package includes a unique feature called Accelerate mobile pages, which will be among the quickest-loading landing pages you've ever seen.
Unbounce Concierge Plan
The Unbounce Concierge plan costs $469/month (if you are billed annually).
The following are the unique benefits of the Unbounce Concierge plan:
More than 25 domains
Unlimited landing pages
Unlimited popups and sticky bars
More than 5,000 conversions
More than 100,000 visitors
Dedicated success manage
AI copywriting
Frequently Asked Questions
How does Unbounce smart traffic work?
The quantity of traffic that is directed to each of your variations will cause Smart Traffic to learn in real-time which demography of visitors is most likely to convert on which variant. It will then guide that demographic to the version that is best suited to their needs. The longer you continue to use Smart Traffic, the more significant the improvement in your results will be.
Who uses Unbounce?
A number of well-known products, such as Mailchimp, Salesforce Sales Cloud, Marketo, Visual Website Optimizer, and KISSmetrics, are all capable of integrating with Unbounce. The following is a list of all 36 different tools that are compatible with Unbounce.
Is Unbounce easy to use?
Unbounce is a simple solution that may be utilized by proprietors of small businesses that are interested in increasing the number of internet conversions. It is also important to note that this is not a stop-gap solution that will only get you by; rather, it is a fully-featured tool that will adapt to your company's needs and develop together with it.
How might AI be used to increase the effectiveness of your landing page?
Artificial intelligence basically draws on previous encounters to make recommendations for things like favored locations, items, and more. Additionally, AI has the ability to forecast future purchasing trends by analyzing past ones. Because of this, businesses are better able to anticipate the wants of users, which enables them to simplify the purchasing process.