If you are looking for the landing page builder, then you have reached the correct page.
In this article, I will provide an in-depth comparison of the two most liked Landing page builders Unbounce vs InstaPage.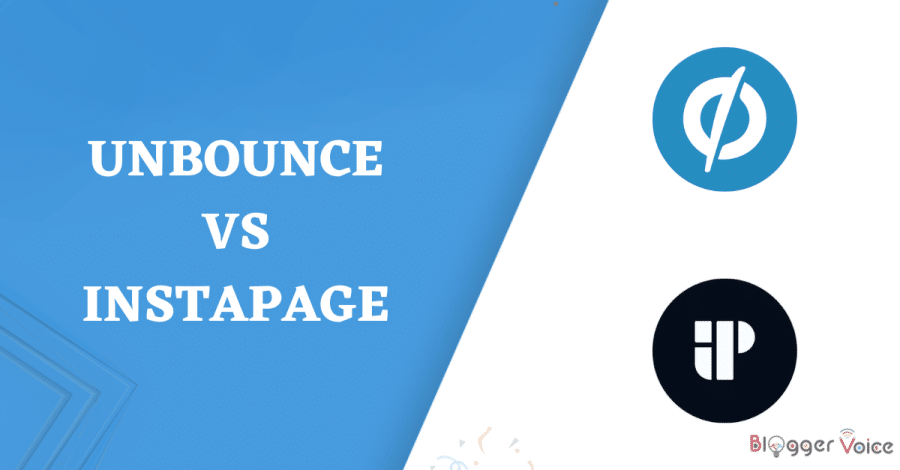 Landing pages generate more traffic than other types of websites because they concentrate on a single objective or action call by delivering details about a certain product or offer.
It has a straightforward navigation structure, and this makes it easier for visitors to concentrate on the task at hand rather than becoming sidetracked by the abundance of links that lead them off the page.
Let's get started!
Unbounce Overview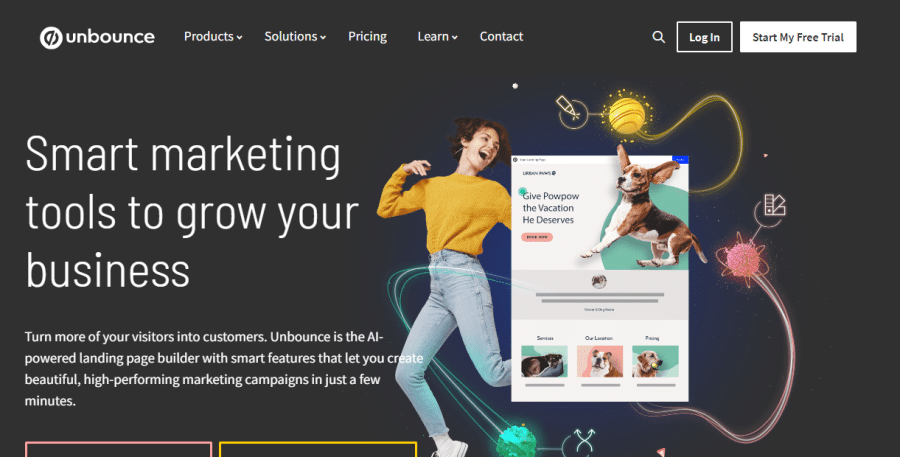 Unbounce is a tool for building landing pages and websites, you can make pop-ups, sticky bars, and landing pages without knowing how to code or design. Its main goal is to help companies make more money and get more people to visit their sites.
The platform has a lot of features, such as drag-and-drop landing page creation, responsive design, A/B testing, integration with a variety of marketing tools, analytics, and tracking.
Users can choose from a number of templates that have already been made, or they can use the visual editor to make their own.
Unbounce lets you improve conversions in a number of ways, such as with lead-generating forms, pop-ups, sticky bars, custom form fields, and dynamic text substitution.
A/B testing is a way to improve the performance of a landing page. It lets users build and compare two or more versions of their page.
Read our article titled "Unbounce Review" to learn more in-depth information regarding this product, which includes numerous endearing features.
Instapage
Instapage is a landing page design and optimization tool that assists businesses and marketers make and test landing pages for their online marketing campaigns.
The platform provides a drag-and-drop editor, in addition to a library of premade templates and design elements.
Instapage allows users to do A/B tests, connect with popular marketing tools, and optimize their websites for conversions by making use of heatmaps, analytics, and other features.
Teams may easily work together on landing page projects because of the platform's plethora of team management and communication features.
Unbounce vs Instapage: Main Differences
Unbounce and Instapage both are landing page builders that don't require you to know how to code, it's never been easier to make landing pages for your website. But there are some important differences between the two:
Instapage has more clearly defined landing pages, however, Unbounce gives you more leeway in terms of design.
When comparing Unbounce with Instapage, Unbounce's A/B testing features are more powerful.
Unlike Instapage's rudimentary popups, Unbounce's are more adaptable and even include an exit intent.
Whereas Unbounce is more concerned with optimizing for conversions, Instapage provides additional specific targeting options, including dynamic text substitution and personalization.
When compared to Instapage, Unbounce has a wider variety of marketing and analytics integrations.
Unbounce is more expensive than Instapage, but it has a wider range of functions.
Unbounce vs Instapage: Features
Both Unbounce and Instapage are well-known landing page builders that offer a variety of tools to help businesses make landing pages that work well.
Some of the most important features of both platforms are mentioned below:
Unbounce Features
Drag-and-drop builder: Users may quickly and simply develop landing pages with a visual editor that supports drag-and-drop functionality
A/B Testing: Using Unbounce's A/B testing feature, customers may compare the efficacy of two or more variations of their landing pages
Mobile-friendly design: Customers may make landing pages that adapt to any screen size
:Integration: When it comes to integrations, Unbounce works well with email marketing software, analytics programs, and customer relationship management platforms
Templates: Landing page templates allow users to quickly and easily get started on their projects
Form builder: By using the form builder, users may design and distribute their own forms to gather data from site visitors and generate new leads
Pop-up: Users can generate pop-ups and sticky bars to advertise deals and collect contact information
Script manager: Landing page scripts and pixel tracking can be administered through a centralized script manager
Publish and distribute: Visitors can send out links to their landing sites via email, social media, and more
Instapge features
Drag-and-drop builder: Landing page creation is simplified using Instapage's drag-and-drop page builder and visual editor, which eliminates the need for technical expertise in coding
A/B testing: With Instapage's A/B testing feature, users may compare the success of two or more variations of their landing pages
Heatmaps & analytics: Instapage's heatmaps and analytics reveal the patterns of user involvement with your landing pages
Form builder: Create forms with ease and keep tabs on submissions with instapage's built-in form builder
Lead generation tools: Lead magnets, opt-in forms, and exit intent pop-ups are just some of the lead generation tools that are included with Instapage
Mobile optimization: Optimizing landing pages for mobile devices is a top priority for Instapage. This helps to provide a consistent experience for visitors across all devices
Integrations: The prominent marketing and sales platforms MailChimp, Salesforce, and Google Analytics are all integrated with Instapage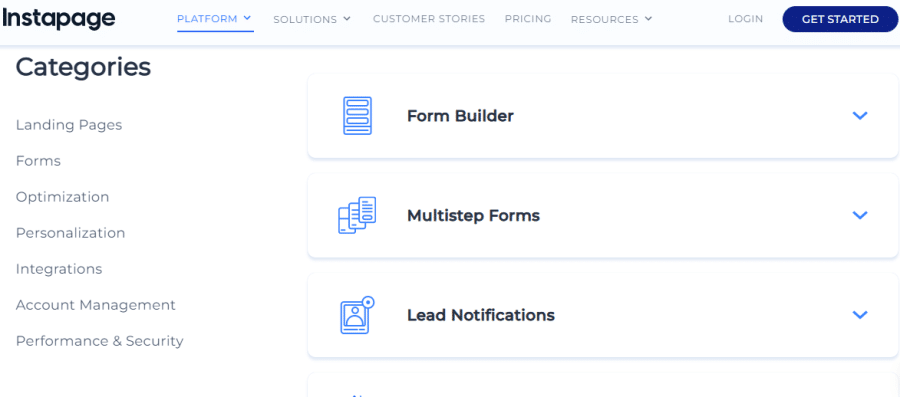 Unbounce vs Instapage: ease of use
Both Unbounce and Instapage are intuitive and easy to use, especially for those with no prior experience.
With Instapage's Block manager, you can quickly and easily construct landing pages in bulk.
However, Unbounce makes use of pre-made design templates and a simple page editor. You can move elements around by clicking them and dragging them to their new positions.
Although the two platforms use distinct page-building techniques, they are equally simple and straightforward to use and navigate. Even if you have zero experience with web development, you should have no trouble using one of these tools to create landing pages.
Unbounce vs Instapage: Analytics
Unbounce possesses robust analytics tools that will show you the number of visitors, views, sales, and conversion rate for each of the forms and landing pages that you have created.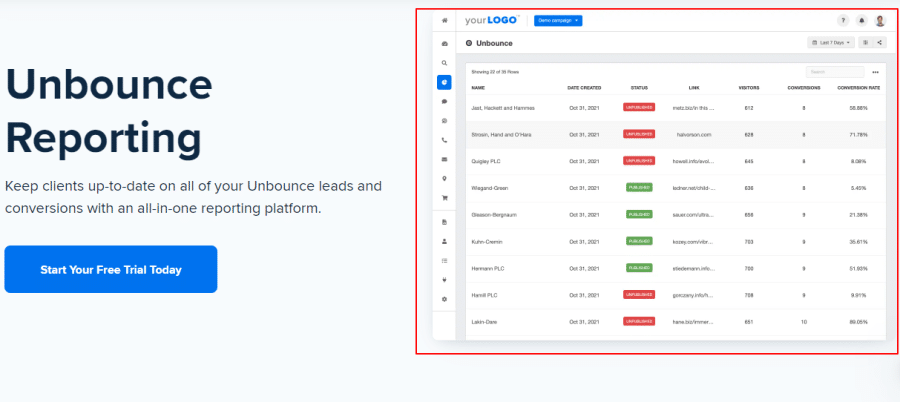 You will also have access to powerful data analytics dashboards with Instapage, which will provide you with real-time information about how well your landing pages are doing.
You will also be able to conduct multivariate and A/B tests with this data, in addition to better-analyzing user behavior with the use of heatmaps.
Unbounce vs Instapage: Integrations
Both Unbounce and Instapage integrate with a variety of prominent marketing and analytics solutions, including Google Analytics, Marketo, Hubspot, and Salesforce.
Instapage has fewer connectors than Unbounce. It interfaces with more than 150 applications, including webinar platforms such as GoToWebinar, email marketing services such as Mailchimp and AWeber, and CRM systems such as Pipedrive and Zoho CRM.
There are around 100 connectors available for use with Instapage, including popular alternatives such as Facebook Pixel, Google Tag Manager, and AdWords. Both platforms enable Zapier connectivity, enabling integration with a variety of additional applications.
Unbounce vs Insstapage: Support
By combining live chat, mail, and phone help, Unbounce is available at all times. They also provide users with a community forum and a rich information library.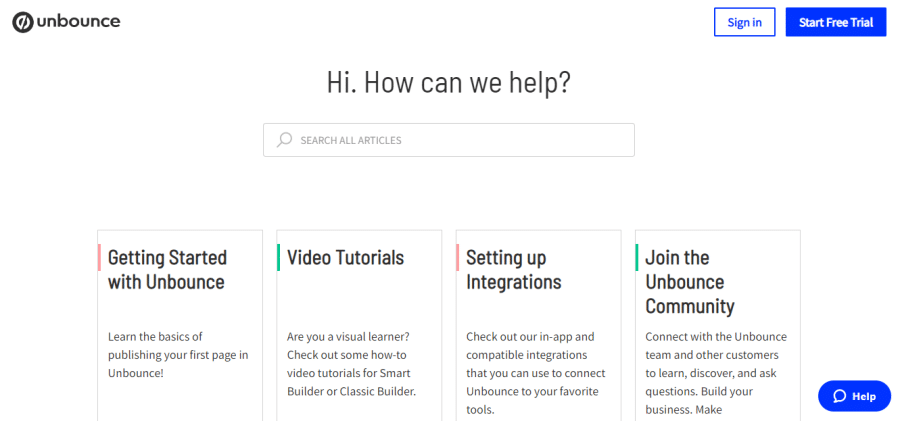 They also provide seminars and tutorials to help consumers learn how to maximize the platform's potential.
Live email and chat assistance are available around the clock from Instapage. Users get access to both a comprehensive information base and a community forum.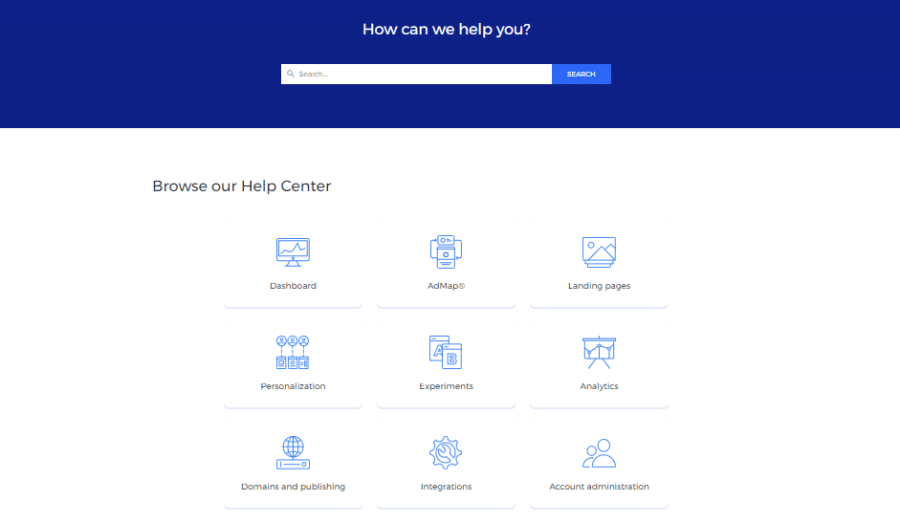 In addition, they provide seminars and tutorials for users to get the most out of the software. Plus, its enterprise clients can take advantage of a personal account manager.
Unbounce vs Instapage: Pricing & plan
Unbounce pricing
Mainly Unbounce has four pricing plans:
1. Launch plan: $74 per month(if you are billed yearly)
2. Optimize plan: $109 per month(if you are billed yearly)
3. Accelerate plan: $180 per month(if you are billed yearly)
4. Concierge plan: $469 per month(if you are billed yearly)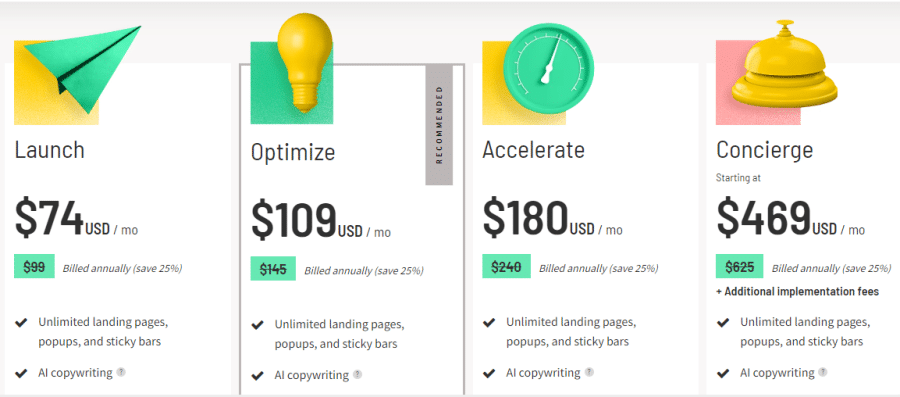 Unbounce offers exclusive deals to its users regularly, to get additional discounts on your desired pricing plan, simply check out our article Unbounce discounts.
Instapage Pricing
Build plan: Build plan costs $199 per month (If you are billed yearly) in which you will 14-day free trial.
Unbounce Vs Instapage: Pros & Cons
Unbounce pros and cons
Unbounce is a widely known page builder that makes it easy for users to make and share landing pages that convert well. Some good things about using Unbounce are:
| | |
| --- | --- |
| Pros | Cons |
| A/B testing | No heatmaps |
| Drag-and-drop editor | |
| Pop-ups and sticky bars | |
| Compatible with the most popular software | |
| 100+ template options are available | |
| 14-day free trial | |
Instapage pros & cons
Create & test high-converting landing pages with ease using Instapage, a landing page design, and optimization tool. There are several benefits and drawbacks to using Instapage, some of which include:
| | |
| --- | --- |
| Pros | Cons |
| A/B testing | No popups and sticky bars |
| High efficiency and safety | |
| Heat maps | |
| Over 500+ Templates | |
| Performance and durability and safety | |
| 14-day free trial | |
Conclusion
With capabilities like dynamic text substitution and in-built A/B testing, Unbounce is a more sophisticated platform. It's also more adaptable because you can write your own HTML and CSS.
On the other hand, Instapage is better suited to newcomers because of its user-friendly drag-and-drop editor and extensive library of pre-made themes.
In addition, it may be easily integrated with a wide variety of analytics and marketing platforms.
Overall, both Unbounce and Instapage are strong contenders in the landing page-building space, with the winner being determined by the user's individual requirements and comfort level with the program. Instapage is excellent for novices, whereas Unbounce is best for experts.
Frequently Asked Questions
What is Unbounce good for?
The intuitive drag-and-drop interface of Unbounce makes it a great platform for developing landing pages. To increase our client base and our revenue, we can select from a wide variety of mobile-friendly, pre-made design templates that include pop-up windows.
What does the Unbounce page mean?
To "Unbounce" is to stop the downward spiral of the "bounce rate." Therefore, every online marketer's ultimate objective should be to debounce their advertising.
What is Instapage used for?
Instapage is a platform that facilitates the creation of landing pages for use in various online advertising and marketing initiatives. You can use it to do things like A/B testing, manage several campaigns, create landing pages with minimal effort, and much more.
Can you build a website with Instapage?
The most common uses for Instapage are to generate leads from advertisements, to attract visitors for free, and to quickly prototype an idea or product. For whatever reason, Instapage makes it simple to construct a landing page.