If you are an affiliate looking for tracking software, this Voluum Review will be of your help.
An affiliate, Managing affiliates is a time-consuming task. If you have too many, it can be hard to keep track of them all and ensure that they're performing well.
There are many tasks that need to be done in order for an affiliate marketing campaign to run smoothly. Things like tracking orders, sending out payments, and keeping track of affiliates' performance can get very time-consuming.
That's when something like Voluum can come in handy. Voluum makes managing your affiliates easier than ever before!
With automated workflows for everything from affiliate management to campaign tracking, you can focus on what's important – building an engaged audience of customers who love your products!
If you are tired of using a self-hosted tracker, paying extra bucks of money, and frustrated with constantly shifting from one traffic source to another trying to integrate everything—Voluum is the perfect solution to your problems.
So, let's dive right into the Voluum Review to understand why it became my first choice for tracking campaigns.
Voluum Review: What Is Voluum?
Voluum is cloud-hosted tracking software that provides tracking, analyzing, and optimizing your affiliate marketing campaigns all in one place.
Many top marketers have recognized Voluum as one of the best and have highly recommended it because of its smooth functioning.

Its real-time data analysis, AI powdered optimization, and automated system together have made advertising campaigns easier.
Voluum provides real-time data processing and instant information, allowing you to make transactions right now.
It does not slow down due to the fact that it is hosted on the cloud, and it can be accessed from any device. The best part; Voluum also offers a mobile phone to check everything on the fly.
What are the Pros & Cons of Voluum?
It is truly comprehensive tracking software for the affiliates.
Voluum is completely cloud-based, so you don't need to worry about the upgrading or data loss.
You can upgrade or downgrade the plans anytime.
Off all the affiliate tracking software that I have used, Voluum is one of the easiest to navigate.
The software has a detailed tracking pixel.
It does A/B testing for easy workflow.
Voluum offers various API & Manual Integrations with third-party tools.
The tool also offers different tracking mode; redirect and direct tracking.
Voluum does not offer any free trial or a free plan. However, you can check a free demo.
Customer support needs a bit more improvement as you get personal attention on higher plans.
Why do I use Voluum?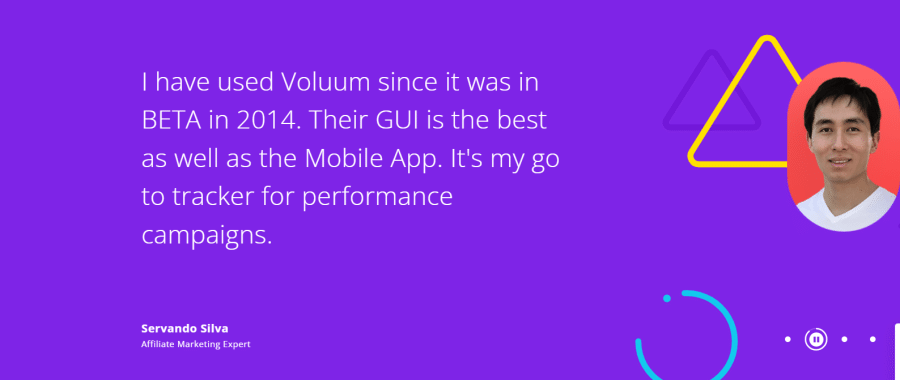 For an extended period, I had been using a self-hosted tracker, and it required me to buy extra servers and install the software.
Let's keep the cost aside for a moment. But even after spending so much, I did not have any relief by using all these to track all of my affiliated marketing campaigns together.
Until my frustration took a sharp turn and made me bash out my anger on my keyboard with eyes fixed on the screen for hours. And to my only resolve, I came across Voluum through a comment regarding the same issue I was facing.
My research on Voluum and building frustration lead me to try out the cheapest and most basic plan of Voluum.
And honestly, that has made life much easier ever since.
There are multiple reasons why I use Voluum. One of them is the cloud-hosted system which we'll discuss later in this review.
Key Features of Voluum
Voluum offers three major features;
All three features work together to bring out the best results in making your affiliate campaign much more successful.
Track
The advanced tracking systems provide mobile and desktop ad tracking of all the campaigns in one system.
This tracking can be carried out in two ways, redirect tracking and direct tracking.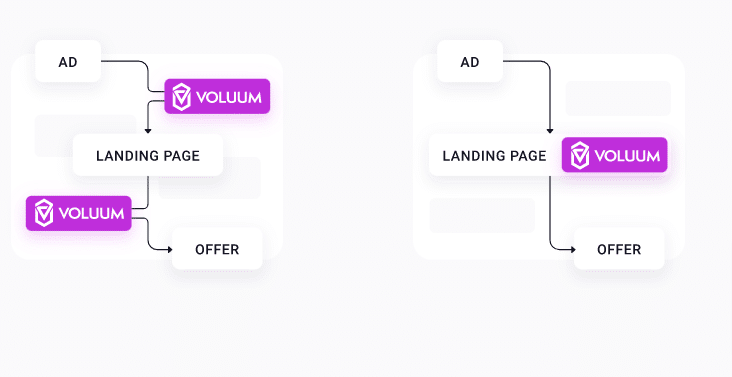 Redirect Tracking: You can easily track all the data without any use of third-party cookies. This form is usually for complex and integrated tracking systems.
Direct Tracking: This is an effective form of tracking since there are no redirects in between. And it is compliable with all traffic sources irrespective of the internet speed of the visitor.
Affiliate Marketing Dashboard
The marketing dashboard provides a complete outline of the statistics involved in your ad campaigns as visits, clicks, bonuses, and much more.
Organic Traffic Tracking
Organic Traffic Tracking monitors visitors coming from the direct URL, search engines and other web pages.
It gives a good insight into how you can improve your strategies for an efficient marketing campaign.
Custom Conversion Tracking
You can track all the conversions the visitor follows while browsing through your campaign.
Multi-step funnel
If you want to increase the conversion for your visitors, you need to create a much more complex path.
A multi-step funnel facilitates the process. Create a well-defined marketing funnel on Voluum to increase visitors and revenue generated.
Optimize
As the campaign progresses, it becomes inevitable that you need to focus on improvement and changes. The optimizing feature of Voluum makes it easier to do so.
Real-time Report
The Voluum optimizing feature provides the generation of the database in real-time. It helps in better planning and effective campaign.
Error Log

Not every time a campaign may go as planned. It may be because of wrong planning. Error log helps in discovering where your campaign funnel setup may be going wrong.
A/B Split Testing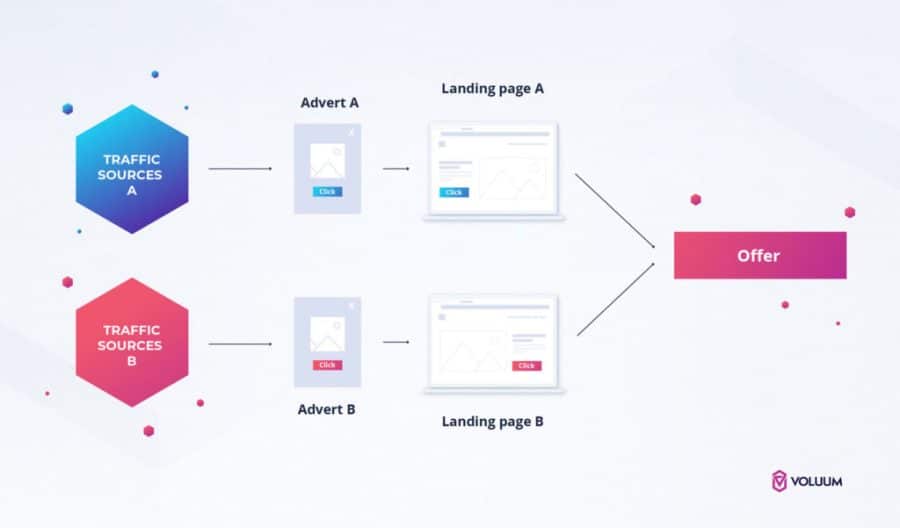 Checking which route is working and producing the best result every time can be a difficult task. With A/B split testing, you can easily see which offers and landing page brings an effective result.
Traffic Distribution AI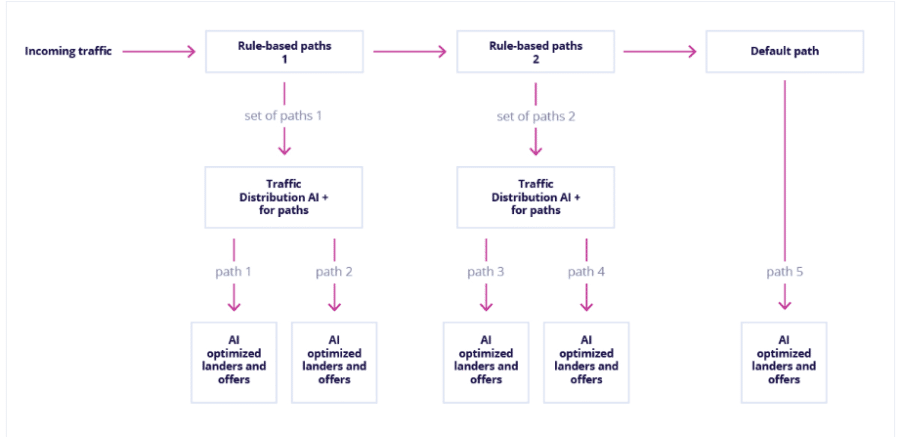 Even when you have a systematic database produced from A/B split testing, keeping a check on it and optimizing it every time can be difficult.
Traffic Distribution AI automatically changes your traffic flow for better efficiency depending on the conversion rates, landing page, and offer performances.
All you have to do is opt for the "auto-optimize" option, and that's it. You can either choose auto-optimization AI for the entire path or focus on every segment of your campaign separately.
Rule-based Traffic Distribution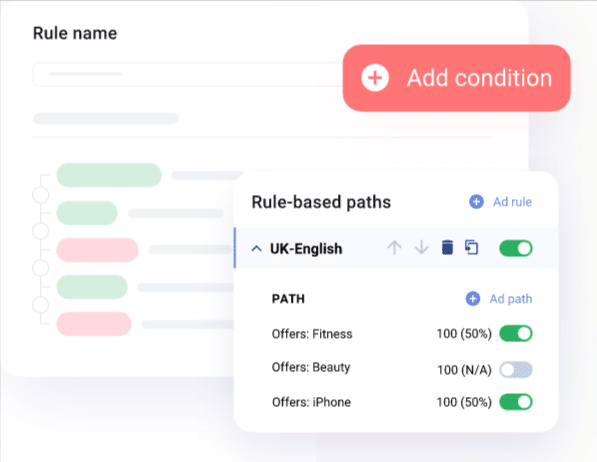 It is personally one of my favorite features of Voluum. You can choose the path you want your visitors to follow. It helps in increasing conversion rates and leads to a successful campaign.
Automate
Just another feature to make your life easy. Analyzing and optimizing is a time-consuming job when done manually every time, and hence an automated system becomes a necessity.
Automizer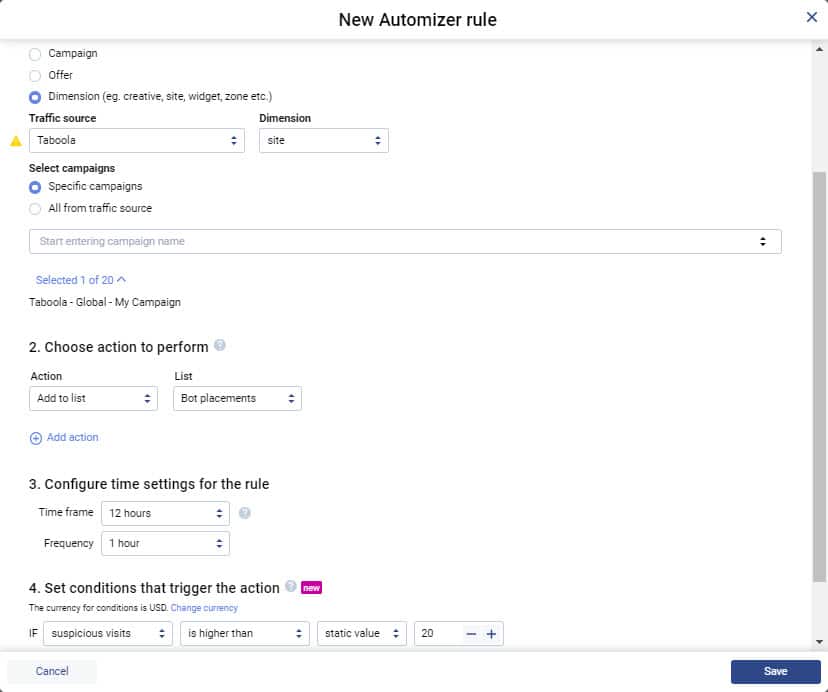 Just put your campaign on auto-pilot after setting up your rules as per your Performance goals and sit back.
With the automizer features, you can work on all your campaigns in one place, according to the set rules. Automizer also keeps you updated through alerts and notifications about your campaign performance.
You can also pause and resume your campaigns as and when needed.
Anti-Fraud Kit
Bot traffic can be malicious and act as a stepping stone in your campaign's progress and success. Anti-Fraud Kit detects any suspicious activities and manages any wrong traffic sources.
How to Create Campaigns on Voluum?
Creating a campaign on Voluum is quite an easy task. These are the steps to follow to create campaigns on Voluum:
To create a campaign, open up your Voluum Panel and spot the "Campaign" Tab. Click open the tab and select "Create new campaign".

Once selected, you'll be able to see a new campaign general page with traffic source, country tag, and a few other options.
Start by selecting the traffic source, for example, Facebook, email, or custom traffic source.
When you choose the country tag, you can select a specific location if you want to organize your campaigns for that particular location or keep it global if you are running a multi-geo campaign.
Choose an attractive name for your campaign. You can customize it with emojis to make it stand out from the crowd.
Select the cost price depending on the type of traffic you want to purchase and the model supported by the traffic source. For example, you can choose from cost per click (CPC), cost per 1000 impressions (CPM), cost per acquisition (CPA), or keep it as default or auto mode.
Once you are done selecting the cost model move ahead to "Conversion reporting to traffic source" located just below the cost model field. You can use them to send the conversion data to the traffic sources. Choose from a postback URL, postback URL per event type, or redirect URL according to your campaign needs.
Keep the workspace as initial if you are not using any specific workspace or keep it specific.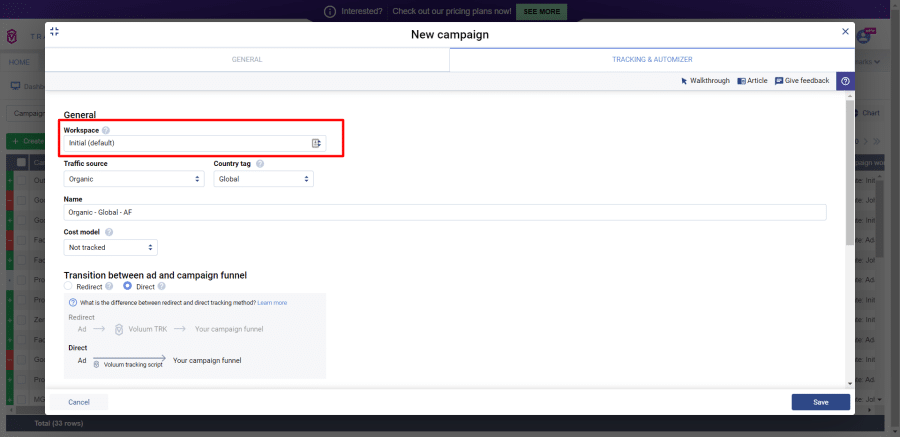 The next step is a crucial one. Adding personalized tags would help search the campaign easily.
Once completed with the first page, click next to move ahead to the destination page.
Choose the campaign destination from flow, path, or listicle destination type.
Flow is a campaign funnel template applicable to multiple campaigns at once whereas the Path destination campaign applies to just one campaign and acts as a specific funnel. Listicle tracking allows you to create a complex pathway for your visitors by using multiple landers. It is applicable to profit pricing plans.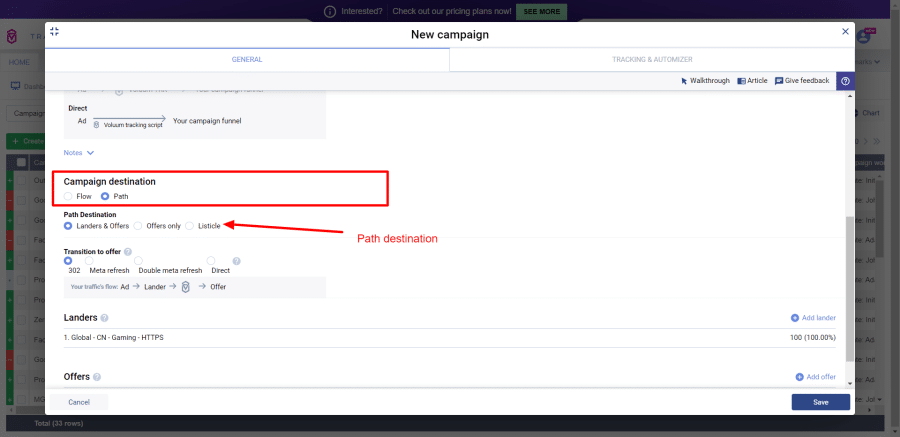 Once you see your campaign type and destination, a new tab called the tracking tab is displayed. You can find all the campaign tracking links in the said tab.
How to track your campaigns on Voluum?
A visitor follows a series of steps until they reach the final conversion destination. And to track these, Voluum follows a series of steps and records these actions done by the visitors.
Once you have formed a campaign, you must add all the traffic sources, affiliate networks, landing pages, and offers to the Voluum tracker.
Place the campaign URL you get in your traffic source during setup. It facilitates the delivery of your purchased traffic to your campaign.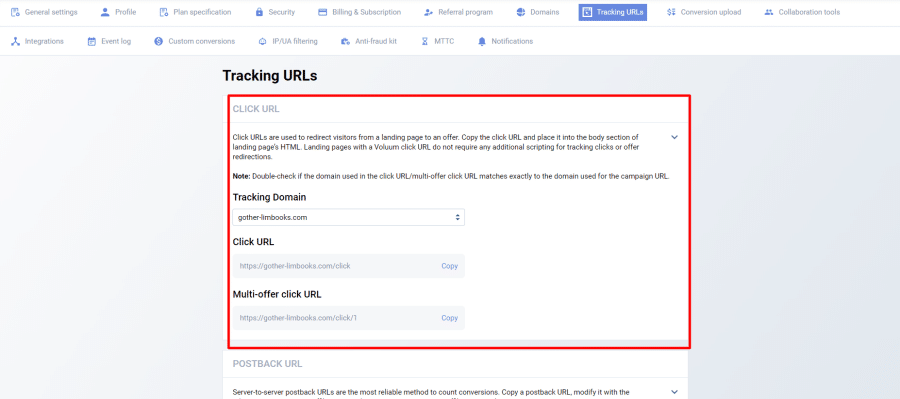 You have to place bids on your traffic source and activate the campaigns. Depending on your bids, the ads appear to the potential customer.

Once the customer clicks on the ad, it redirects them to the landing page through the campaign URL, and Voluum tracks it as a visit.

You can check how many people have visited your page because of this option.
If the customer clicks on the action on your landing page, the click URL will take them to the offer page, and a click ID is generated and passed onto the affiliate network.
When the customer takes an offer, Voluum tracks and confirms it as a click, this acceptance of the offer leads to a conversion tracked by the affiliate network sending a postback with the click ID to Voluum. You can also set up a postback to send this information back to the traffic source.
Voluum Pricing
Voluum has flexible plans to make it available for any user. It offers three service plans you can sign up for immediate and a fourth plan for which you need to fill in your information to contact them.
When you subscribe to the yearly pricing plan of Voluum, you would get a discount of above 25% on a subscription.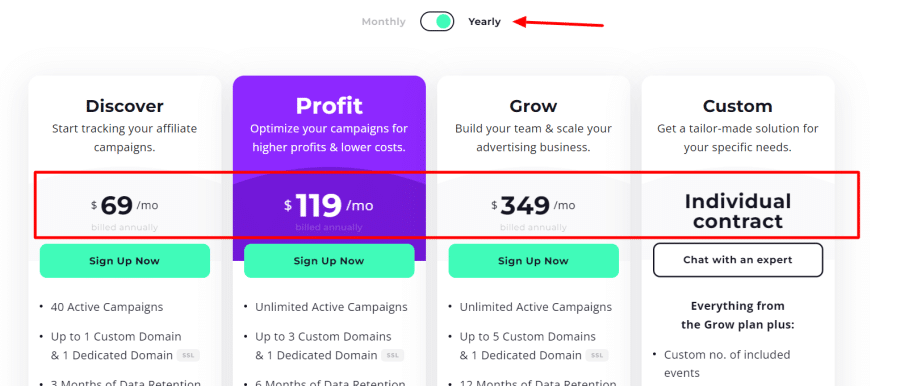 Discover Plan costs $69/month. It provides 20 active campaigns, one custom domain, and one dedicated domain with three months of data retention.
An ongoing offer will have you a bonus of one free month of affLIFT membership.
Profit Plan costs $128/month and offers unlimited active campaigns with three custom domain limits, one dedicated domain, and six months of data retention.
You get a $200 bonus for zero park traffic and one free month of affLIFT membership.
Grow plan costs $426/month and offers unlimited active campaigns along with five custom domain limits and one dedicated domain, and twelve months of data retention.
As a bonus, you get $200 for zero park traffic and one free month of affLIFT membership.
You can immediately sign up for these three plans. But the fourth plan is the agency plan, for which you need to contact Voluum.
This plan is an individual contract for $999/month and provides unlimited traffic tracking, customizable features, and usage parameters along with skype account management.
However, if you wish to stick to only a monthly plan, here are Voluum monthly pricing plans:

What do I like about Voluum?
Voluum has always been my first go-to for tracking advertisements and affiliated marketing campaigns. It is not just because of the features it has to offer but also because it is easy to use and manage.
Multiple things make Voluum stand out exceptionally when compared to its competitors.
Cloud Hosted
A cloud-hosted tracker is much better than a self-hosted tracker as you don't need to spend extra bucks on separate servers for setup, updates, and other features. And a cloud-hosted tracking system can target visitors globally.
Integrations
When you open up the Voluum panel, you will see multiple options that help you set up a campaign by integrating all the essential features required in one place.
You don't have to bang your head out of frustration by changing to every traffic source now and then for integration and optimization.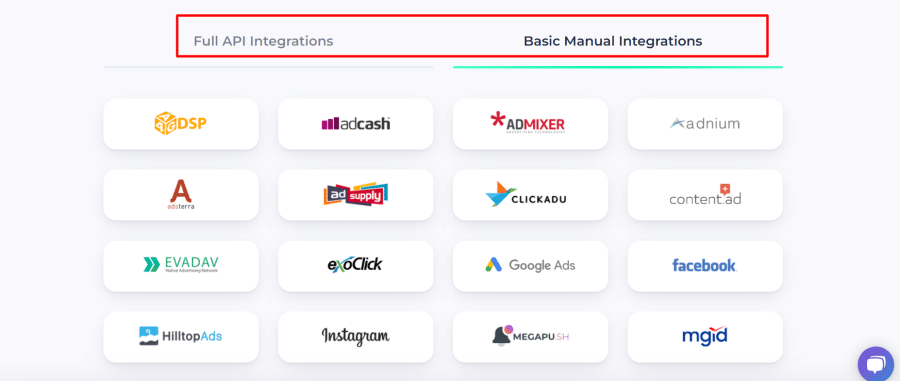 Usually, Voluum lets you integrate using the automizer feature in the dashboard.
Voluum offers robust integration and two types of integrations; Full API and Basic Manual integration.
Taboola
Facebook
Google Ads
Adsterra
Instagram
Pinterest
Clickadu
Content. ad
Data System
The data system of Voluum is one of the safest and most secure systems. Not only that, the data provided is so detailed that it makes analysis of the campaign easy, pointing at every flaw that needs attention and leading to a much better and more effective campaign.
What I don't like about Voluum?
All the features provided and integrated into Voluum are surely worth appreciating. No criticism for everything they have to offer.
The only thing that sticks out to some people would be the cost. It may be a little too pricey for some.
But for everything it has to offer, it is a value for money.
What do Voluum users say about it?
Voluum users on G2 crowd have given various positive reviews and some negative users to the software: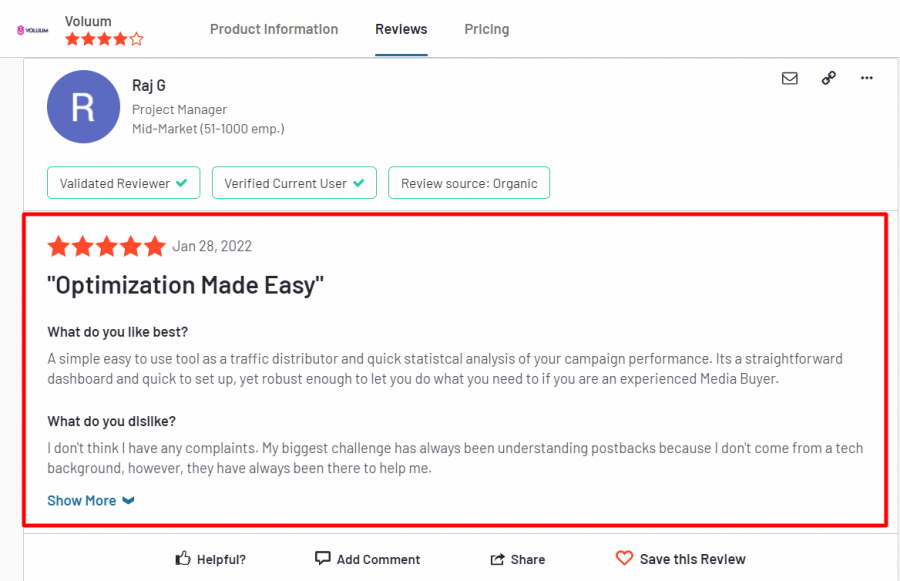 Voluum Tracker Makes A Big Difference For Me

I've been using the Voluum tracker for 3 months now and I love it. I don't have to scratch my head anymore and contact support for every single thing like I used to do with some of the other leading tracking software out there.
Voluum support is awesome and their training videos are short and straight to the point and the documentation on their website is second to none.

All I can say is I love the Voluum tracker and the icing on the cake is the Voluum DSP traffic manager.

Date of experience: November 26, 2021

Source: Trustpilot
Voluum helped my company go 6 figures

My company switched to Voluum at the end of 2019 and it became our main tracking tool ever since. It helped us take our whole performance marketing (lead gen affiliation) business to a higher level, now my only regret as a businessman is not having switched to it before, as I spent almost 1-year "thinking" if it would be relevant or not.

Date of experience: November 26, 2021

Source: Trustpilot
Voluum Alternatives & Competitors
When we talk about competitors, Voluum has many services standing up against it in the market.
ClickMagick
ClickMagic is sometimes strongly compared to Voluum for all it has to offer. An excellent funnel path tracking system along with cross-platform tracking technology. The prices for ClickMagic are comparatively more flexible.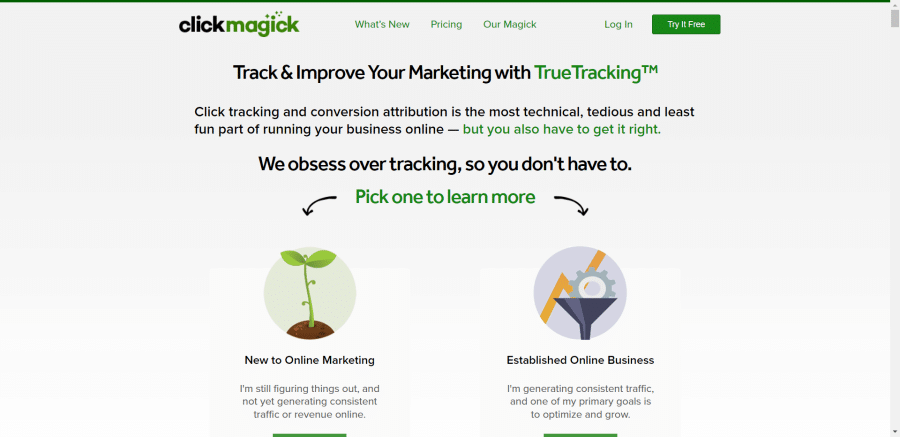 But with its lower price, the features offered also become limited with no collaboration tools and not much support in its basic plan.
ClickMeter
ClickMeter is one of the easiest to use with its appreciative monitoring framework and over 400 affiliate networks.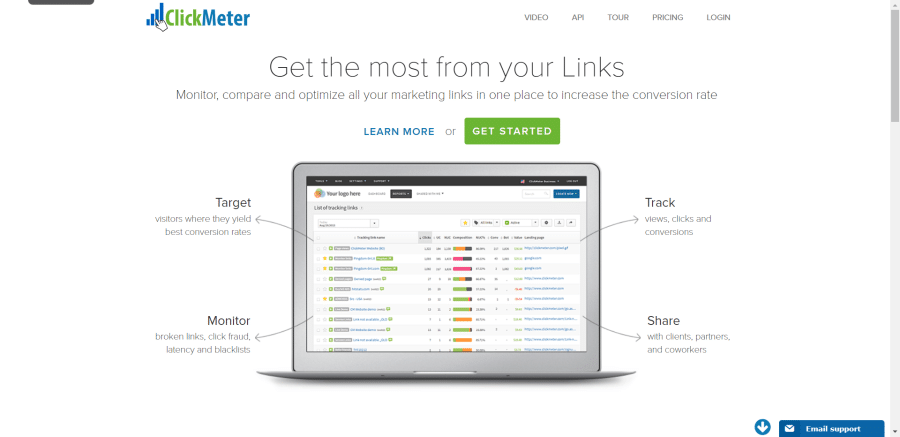 But sadly, if this service doesn't seem perfect for you once you have purchased it, there is no resolution. There is no money-back guarantee and neither a free trial nor a demo. And it doesn't offer a mobile app version either.
Voluum On Social Media
Let's see the social presence of Voluum and how active they are on different social media accounts like Facebook, Twitter, and LinkedIn.
Facebook Page
Voluum has more than 230 followers on Facebook. Voluum shares some good stuff related to Affiliate marketing, tracking, and how to effectively manage Affiliate portals.
Voluum also has a Facebook community group with over 6k members. By joining this group, you can connect with various affiliates or share your knowledge with them.
Twitter
Voluum is on Twitter with over 1.9k followers. They have joined Twitter in 2008 and They help affiliates across the globe to easily manage affiliate marketing campaigns and give better insight into it.
Linkedin
The LinkedIn profile of Voluum has a 1.5k active following. They share knowledge related to affiliate management and campaign creation.
Final Thoughts on Voluum Review
Voluum, according to me, is one of the best SaaS services for tracking all affiliating marketing campaigns in one place.
You can easily track, optimize and automate the campaign to bring out the best results possible.
Voluum will always remain my first go-to and my priority opinion to whoever struggles with or has struggled with tracking ad campaigns on self-hosted affiliate trackers.
We hope this Voluum Review would have helped you understand how Voluum works and why it stands out in the competition.
Frequently Asked Questions
What are events in Affiliate Tracking?
An event is an action done by a visitor like a view, click, or conversion being monitored and tracked.
Will tracking stop once the monthly limit reaches?
No, the tracking will not stop even after the monthly limit reaches. But you will have to pay for the overages.
Is there a need to purchase hosting separately for Voluum?
No! You don't need to spend any extra bucks on servers or installing software. That's the beauty of Voluum. The highly integrated system provides all the facilities in one place.
What payment methods are accepted by Voluum?
Almost all payment methods are accepted. You can either use a credit/debit card, PayPal, American Express, or a visa card.
Does Voluum allow real-time data processing?
With Voluum, marketers and advertisers can expect real-time updates on their initiatives. This is due to the architecture of the system, which enables it to handle massive amounts of data in real time. In this approach, users may use granular data to analyze, optimize, and ultimately monetize their initiatives.
Does Voluum have API integration?
Yes. Voluum offers an API integration using which you can integrate with any software or tools.
How Many Traffic Sources Does Voluum Track?
More than 40 traffic sources, including Google Ads, Facebook Ads, Propeller Ads, and more, are tracked by Voluum's affiliate tracking software.