If you want to make some significant money by flipping bookings on Amazon, Zen Arbitrage is one of the greatest online book arbitrage solutions on the market. So, today we have posted an In-Depth Zen Arbitrage Review along with its features, pros and cons, and price.
What is the mechanism behind this book retail arbitrage? Simply said, Zen Arbitrage will search for books that may be purchased and subsequently resold for a profit on Amazon's FBA channel. I'll go through the program, how it benefited me, and what I like and dislike about it.
You may believe that flipping books are unlawful, or does Zen Arbitrage legit? These marketing claims appear to be too good to be true, don't they?
However, I have been involved in book arbitrage as an Amazon seller for a long time and can conclude that Yes, you can earn money by flipping books on Amazon FBA.
Before then, making a profit online is challenging, and anyone who claims it can be done overnight is delusory. There are several frauds in the internet market, therefore in this post, I will cover all aspects of how to utilize Zen Arbitrage, as well as which books are solid possibilities for getting started for ebook flipping also you can even opt for their 14-day free trial.
Let's quickly dive right into the Zen Arbitrage review.
What is Online Book Arbitrage?
Making money by buying and selling books online is essentially what this is. When you engage in online book arbitrage, what you do is acquire a book at a low price and then resell it at a higher one. You get to retain all of the money that you make.
Today, book arbitrage is a thriving sector, and there are a plethora of opportunities to make money by reselling previously owned books.
Zen Arbitrage was developed by Peter Valley, an Amazon author, and seller who has more than ten years of experience in the industry, with the intention of facilitating the simplification of this procedure. He developed this tool so that anyone, no matter where they are in the globe, may operate an Amazon business.
100% online company and business.
It can be operated from anywhere in the world.
There is no need to interact with any of the stock!
Zen Arbitrage Review | Buy Cheap Books & sell high-profit Resell FBA💚
Zen Arbitrage is a fantastic book arbitrage solution that guides you through the entire process. It is a basic and easy-to-use application that assists in scanning the Amazon book sector for trendy and profitable novels.
We'll help you identify firms in hard-to-find industries, verify their prices, and get them up and running on Amazon FBA.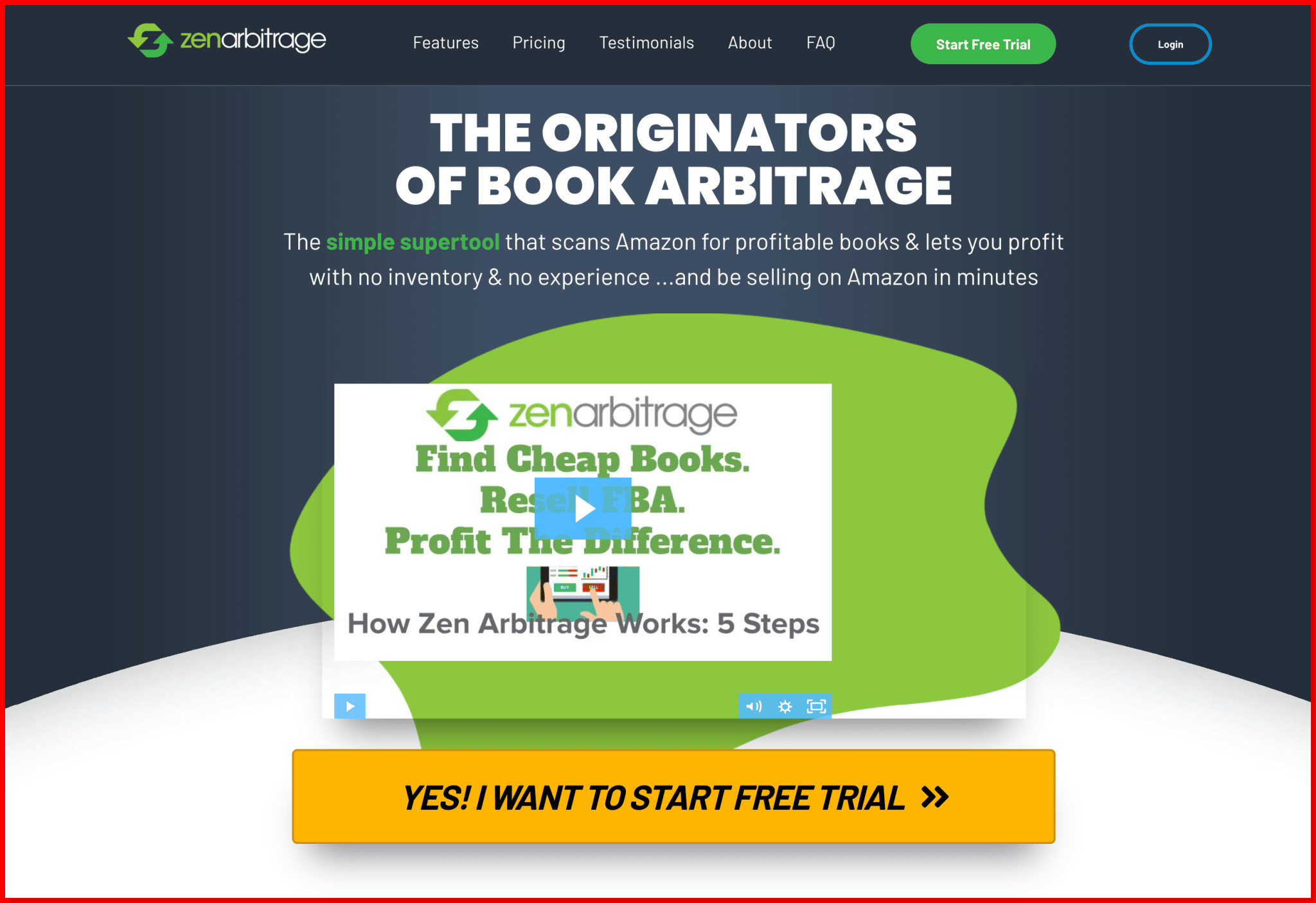 The Zen Arbitrage site also features a calculator that allows users to input the price at which they want to purchase and sell. Then it deducts Amazon fees based on the desired profit margin.
Arbitrage, as the name implies, is the foundation of the entire program. You acquire books at a lesser cost and sell them at a greater cost thus gaining a set profit.
Zen Arbitrage Pros & Cons
There are more profitable flip opportunities

Peter's personal Contact Number

Awesome Chat and E-mail support

You can make money using Zen Arbitrage

It is efficient and 100% safe & useful

No contracts or commitments
About The Creator Peter Valley
Peter Valley, the creator of Zen Arbitrage has been an Amazon seller for the longest time now, nearly over ten years. He came up with the software for his convenience but redesigned it and added more features to make it accessible to one and all.
He has been selling books on Amazon since 2007, and he claims to be "the world's most published author on Amazon selling." He also runs the website FBAmastery.com, which teaches people how to sell books on Amazon.
He also created "online book arbitrage" in 2015, which is the practice of purchasing books on Amazon and reselling them for a profit on the same platform.
Putting online book arbitrage into the good machine that allows you to operate an Amazon empire from the comfort of your own home – and generate money while you sleep.
At the present, he works on Zen Arbitrage on a daily basis in order to make it the most profitable online tool available, to ensure that you make the most amount of money in the shortest amount of time possible, and most importantly, to benefit from the freedom that an online business offers.
What Does Zen Arbitrage do?
Zen Arbitrage would facilitate your work of searching and hunt for a good book you can resell and serve multiple options right on your platter.
Finding the Cheapest book
The hyper-focused search options in Zen Arbitrage help you find the cheapest yet in-demand book from various sellers. You can easily find all the books by sorting them out depending on their price, sale rank, offers, and much more.
Books with high FBA price
Now find the same book in the FBA section and Compare prices. Set the lowest FBA price.
Buy at a lower price and sell at a higher
Buy the book at a lower price. List it with a higher FBA price according to your needs and comparison with competitors, and ship it in. When someone buys the book, you'll gain the set profit margin.
Key Zen Arbitrage Features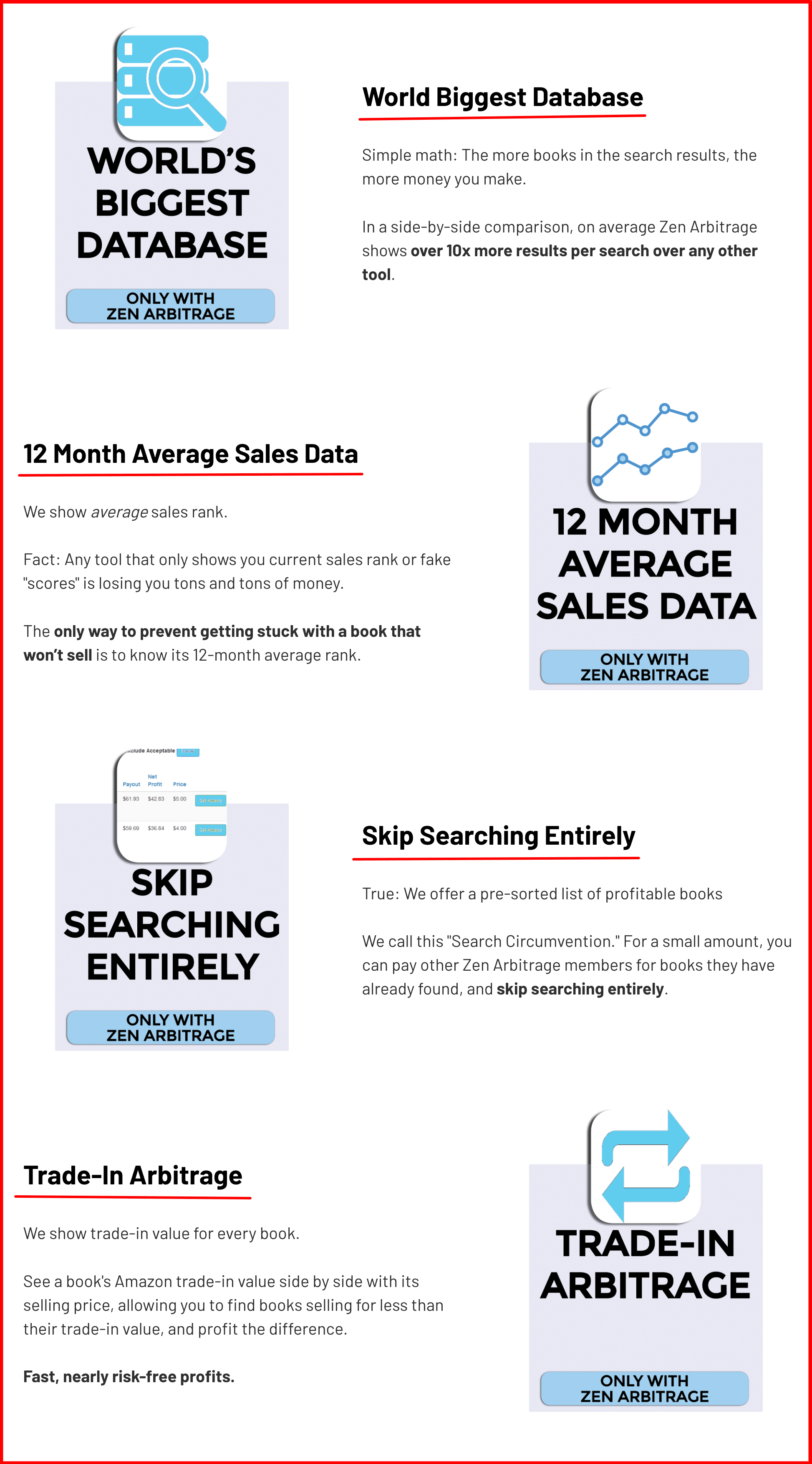 Zen Arbitrage was built carefully and precisely, keeping in mind the needs and demands of the user. It has incorporated more than 20 exclusive tools and technologies, which makes it stand apart from the rest of the crowd.
Training Programs and Live Webinars
Zen Arbitrage guarantees that you will not need any Amazon selling expertise to get started. And it's correct. Its training classes and live webinars will educate you on how to get started. You also receive timely assistance, which aids in shaping your business mind.
When I had initially started with the 14 Day free trial, the training lessons themselves had intrigued me to continue with the software, now leading to a revenue generation of nearly $200-$500 a day.
The results vary depending on the individual to individual and how much effort and dedication they put in.
World's Biggest Database
The database refers to how much information you're getting, and the more the database, the more will benefit you.
Skin Searching with Marketplace
With Zen Arbitrage, you do not need to keep searching to find just the right book which would help you make a good profit. It provides a list of profitable books keeping in mind their sales rates and demands.
By paying just a small amount to the other members using the software, you can skip the entire search process.
But guess what, if it is someone else in your place then you could earn an extra profit in this way.
Profit Tracking
You do not need to track everything you've bought and then sit with a calculator to know how much profit you've earned. Just use the built-in profit tracking tool and check which books you've sold, and it automatically calculates the profits.
No Handling of Books
You don't need to touch a single book while running this business, like a dropshipping business, where it doesn't concern you. With Zen Arbitrage and its service partner, you do not have to worry about shipping books to your customers. It would be taken good care of by the software team.
Price History Chart and live prices
Get a good analysis of the books and their prices in the past to understand what price you should set and how you can accordingly gain a good profit it.
Not just that, it also offers live Pricing data to facilitate the analysis of the graph and current pricing.
Undemanding Process
There is a purpose behind Amazon's Fulfillment by Amazon (FBA) program. There is no need to exert any physical effort in order to participate in Zen Arbitrage.
You won't have to put in any effort at all in order to turn a significant profit. To successfully run the company, all you require is a dependable internet connection and a laptop.
The procedure can be broken down like this.
You are able to configure your settings using the software. You have the ability to choose the categories of books that you wish to sell.
This is the one aspect of the feature that merchants, such as yourself, desire to have control over. In addition, Zen Arbitrage enables you to make adjustments in a timely and reliable manner.
You will be able to select the FBA offers once you have determined which products are of interest to you. In the same way that it works when you buy something from Amazon.
You will be prompted to choose an address where the products will be delivered. Because FBA allows it, you can delegate the delivery of these items to your prep service partner.
Which can be found at one of Amazon's Fulfillment by Amazon locations. After the book has been received, it will remain in the warehouse until you are able to sell it for a greater profit. Because of this, Amazon will send the book directly to the customer who purchased it. Additionally, the proceeds will be deposited into your bank account.
As can be seen, the handling of both the books and the software is done through an online method. You won't have to put in any actual physical labor to run the company, but you'll still bring in a healthy profit.
This brings up yet another significant aspect that must be taken into account.
Automate
How great would it be if you don't have to do much work? With Zen Arbitrage, that's exactly what you can achieve. But only after a later stage of time.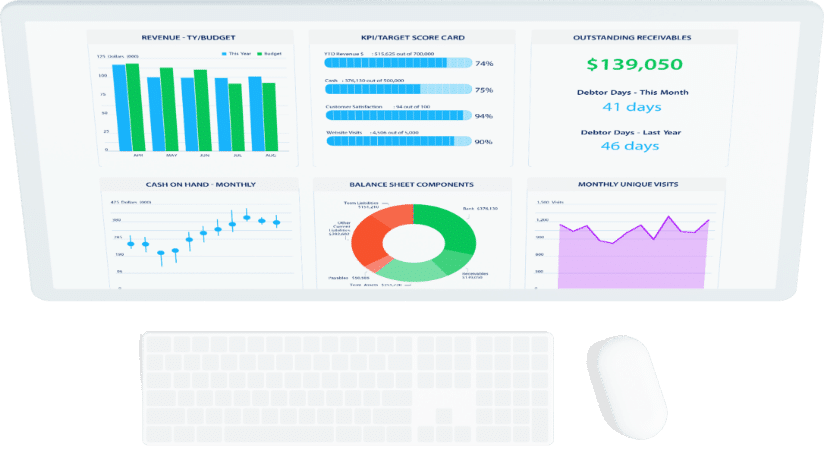 The prep service partner would take care of the shipping of books. The marketplace would help in the listing of profitable books.
The teaching courses will help in a better understanding of the business plan.
Adaptable Software
If you're counting on Zen Arbitrage to generate income straight now, you might be disappointed. That is not the case. Books sold on your business account might not require inspection or shipping before the sale. But you'll need to spend a lot of time in front of a computer screen.
Zen Arbitrage is a sophisticated piece of software that keeps careful track of every last aspect. Looking for books online to sell on your account requires extensive scanning.
Once you begin to streamline your approach more attentively, it might not take as long. But you need to put in some serious effort in the first few weeks or months.
However, it's even more satisfying to see results after putting in so much effort.
To accomplish this, you'll need to use Amazon's search and cataloging tools to sift through many volumes.
This, then, isn't mere window-gazing. Your goal should be to find novel and improved methods of increasing your earnings. Zen Arbitrage's only function is to equip you with the means to prosper monetarily.
It is entirely up to you how you put them to use.
Keep around 300–400 books in stock at all times. Once you get started, you may find that this takes more than a couple of hours. Given this, it's clear that dabbling in Zen Arbitrage during your spare time is a great way to generate money.
It's incredible how much stock is just waiting to be claimed by an individual FBA seller.
It's you! This means that you shouldn't sit around and hope that excellent literature will find you; rather, you should actively seek it out. The wait will be well worth it.
Private Facebook Group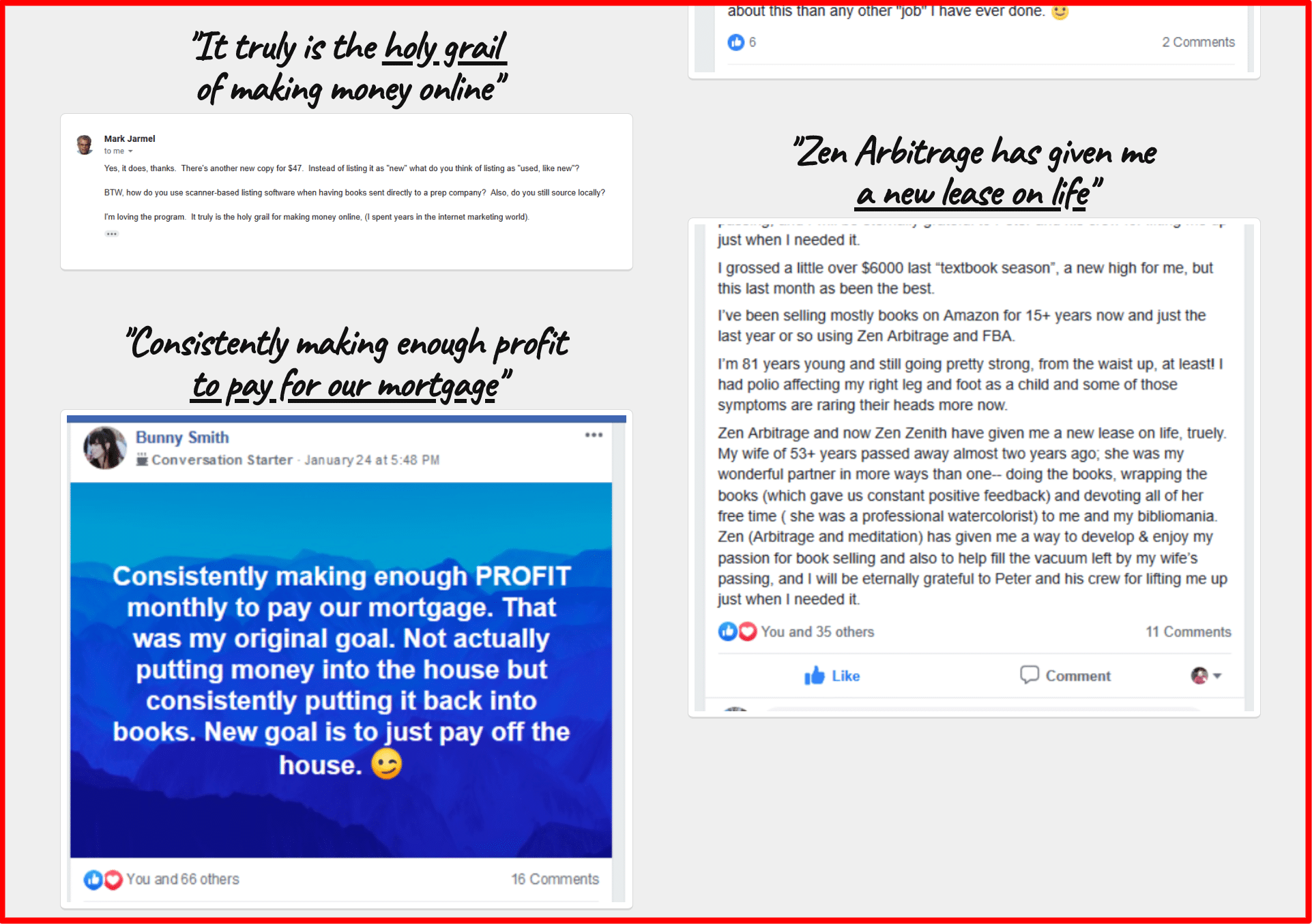 You don't just get private training and live webinars but also a private Facebook group where you can raise concerns and get answered as soonest possible. You also get notified about exclusive videos and offers.
Why Should You Use Zen Arbitrage?
Zen Arbitrage is not just software to find books at a lower price and sell them for higher. It serves a purpose for multiple businesses.
Selling Profitable Books
One major reason why people use Zen Arbitrage. The huge database makes it easier for you to find the best selling at low prices and then sell them for a higher FBA price.
Selling Links to Profitable Books
If you've found the most profitable book, you can easily list it for sale in the marketplace of Zen Arbitrage and earn good revenue. You do not have to make any investment, no need to buy the book. Simply search, find good books and earn revenue.
It is a perfect choice for those who would not want to make investments in purchasing even cheaper books.
Risk-Free Profit
You can easily scan nearly 40 bestselling book sites and lock in the trade price. You are buying at a cheaper price, trading it, and selling at a higher. It nearly makes it impossible for you to have a risk in trading. It's like investing in stock markets, just a little easier.
Zen Arbitrage Pricing Plan & Reviews
You may test it out for 14 days for free, and if you want to continue, you must pay $97 each month as Zen Arbitrage only offers one package.
You have access to a complete, full-proof, tried-and-true solution that requires no prior familiarity with Amazon, is entirely web-based, and can be used from anywhere in the world.
Top Recommendations to start With Book Flipping:
Here are several books that have assisted me in doing successful Zen Arbitrage flips.
| | | | | |
| --- | --- | --- | --- | --- |
| Book Name | Buy Price | Sell Price | Days until Sale | Net Profit |
| Contract Law Fundamentals (6 copies) | $5.79 | $79.99 | 16 days | $314.46 |
| Urban Economics | $25.56 | $123.39 | 24 days | $70.45 |
| Understanding Post-Tonal Music | $31.89 | $144.31 | 52 days | $66.03 |
| Finite Mathematics | $43.99 | $138.41 | 19 days | $63.79 |
| Student Activities Manual | $19.94 | $94.99 | 18 days | $51.71 |
| Cognitive Psychology and Instruction | $39.18 | $110.05 | 43 days | $46.72 |
| Introduction to Learning and Behavior | $14.39 | $111.00 | 60 days | $72.32 |
| Research Methods in Education | $51.79 | $124.00 | 30 days | $45.45 |
| Major Problems in the Early Republic | $17.55 | $82.56 | 54 days | $45.00 |
| Microsoft Office 2016: A Skills Approach | $25.63 | $88.61 | 68 days | $41.00 |
| Foundations of Earth Science | $19.27 | $90.00 | 53 days | $48.70 |
| Government by the People | $11.03 | $75.00 | 45 days | $44.54 |
| Writing in the Health Professions | $29.10 | $93.99 | 34 days | $43.18 |
| Human Behavior and the Social Environment | $21.44 | $74.49 | 58 days | $34.25 |
| Educational Psychology | $26.29 | $139.99 | 55 days | $84.14 |
| Managing Classroom Behaviors | $28.09 | $74.95 | 39 days | $30.29 |
| Introduction to Developmental Psychology | $10.80 | $52.99 | 42 days | $25.64 |
| Chemistry: A Guided Inquiry | $12.70 | $49.95 | 11 days | $21.40 |
| Play, Development, and Early Education | $28.76 | $95.00 | 26 days | $44.35 |
Zen Arbitrage Alternative
1. Zen Arbitrage vs. eFLIP
Both eFLIP and Zen Arbitrage are online book arbitrage platforms, and while they are somewhat different from one another, they share many commonalities.
The database that Zen Arbitrage uses has a total of 21 million books, with 32.8 million of those books being listed on Amazon. On the other hand, the database maintained by AFP contains 23 million different ISBNs.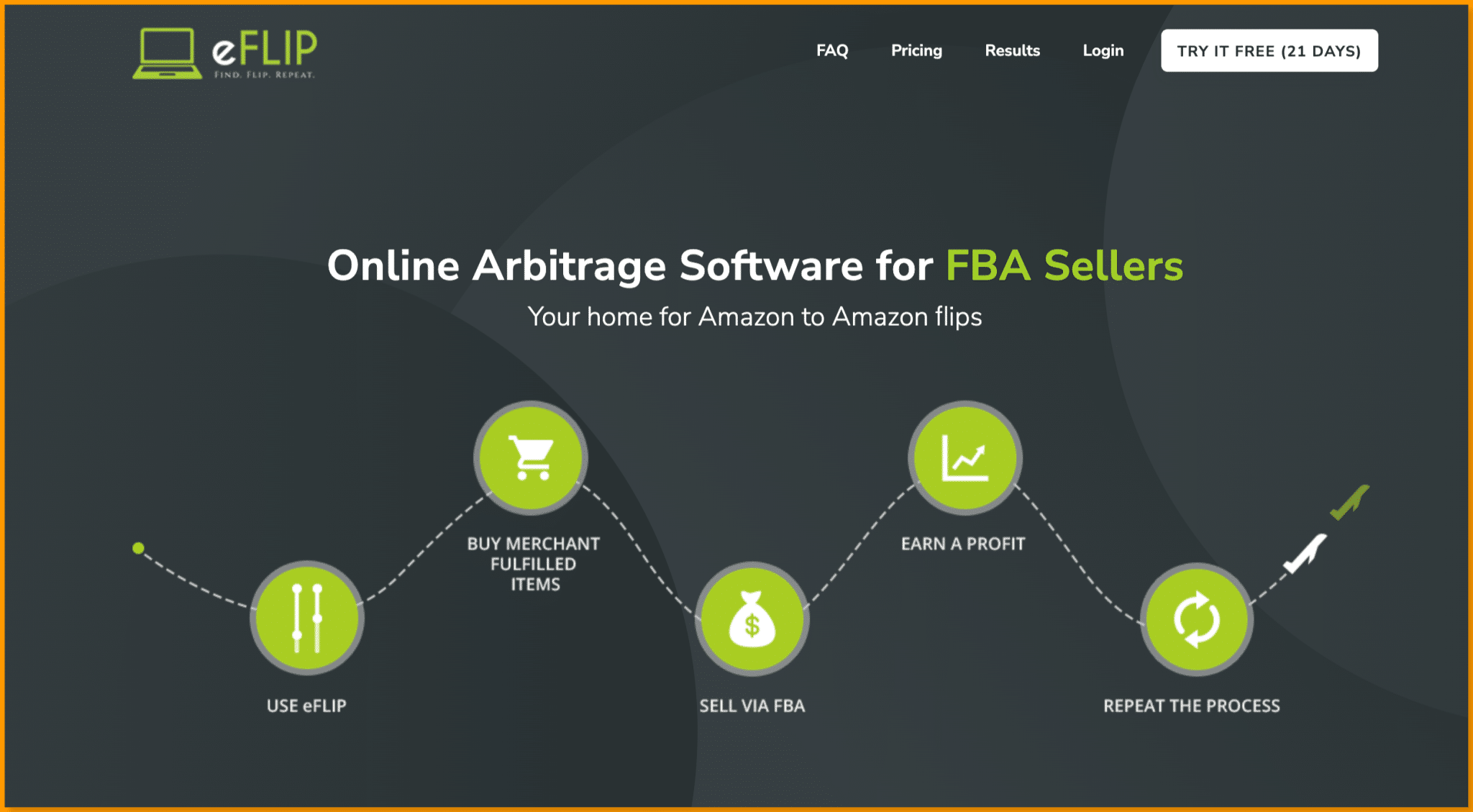 In both sets of programs, there are dependable ones that offer a history of sales rank and search results when it comes to filtering options.
On the other hand, Zen Arbitrage comes equipped with straightforward and user-friendly filters, such as category, price, condition, trade-in value, title, FBA offers, publisher, Amazon price, and sales rank.
eFLIP, on the other hand, has more advanced price filters, such as maximum and minimum Amazon prices, maximum and minimum prices for new and used goods and books, and so on. These price filters can be used to find the best deals.
Maximum or minimum rank and a maximum or minimum publish date. Aside from that, a free trial version is available for both of the products.
Comparatively, the monthly fee for using Zen Arbitrage is $ 97, whereas eFLIP's monthly fee is $79.
2. Zen Arbitrage vs. Book Profits
These two apps are easy to use and perform their intended functions effectively. Book profit is largely geared toward virtually assisting anyone interested in venturing into the business of buying and selling used books online in an arbitrage setting.
Find these books and charge more for them if you want to ensure that you make a profit. Additionally, Zen Arbitrage ensures that Amazon sellers gain a significant amount of money. Therefore, it's a circumstance in which both parties can benefit.
It will notify you immediately through email if the price of any item drops, making it quite convenient. Both of these mobile applications are accessible from any location on the planet.
The main drawback of Zen Arbitrage is that you need to put in quite a deal of work to get started with it.
3. Zen Arbitrage vs. Tactical Arbitrage
Tactical Arbitrage and Zen Arbitrage are two tools that help Amazon sellers find the products that will bring in the maximum revenue, despite the fact that they do jobs that are similar to one another.
The operation of Tactical Arbitrage involves the scanning of more than one thousand independent shopping websites.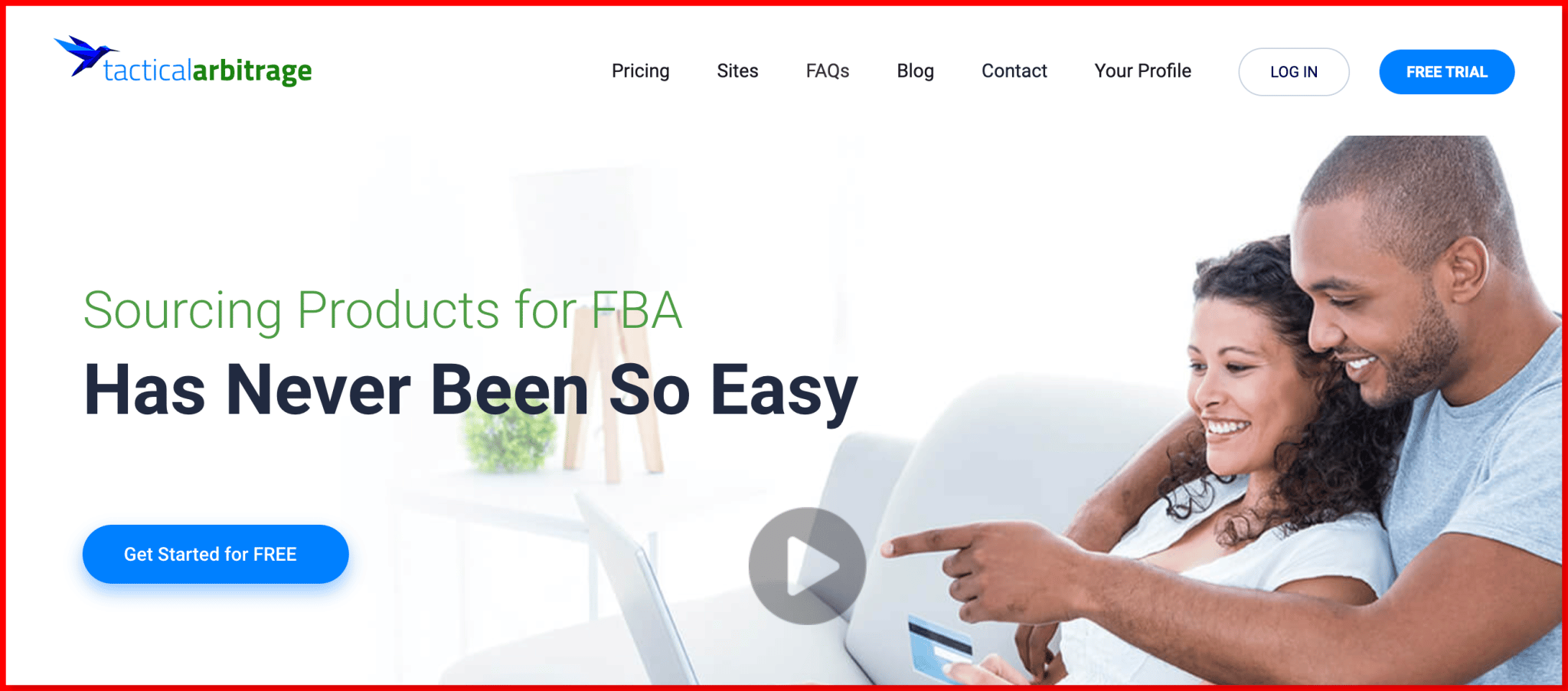 The software then examines the pricing of the products offered on these websites and compares them to the prices offered by Amazon. It does this to identify any opportunities to purchase an item at a low price and then resale it for a profit.
On the other hand, Zen Arbitrage offers assistance in the process of searching for books on over 40 different websites. The most efficient piece of software on the market for digital arbitrage and research on wholesale products is called Tactical Arbitrage.
In addition, Zen Arbitrage provides a free trial period of fourteen days, whereas tactical Arbitrage provides a free trial period of seven days. The cost of Tactical Arbitrage is lower than the cost of Zen Arbitrage.
Additionally, unless your Amazon account has little or no restrictions, you should avoid purchasing leads from the Zen Arbitrage Marketplace. In addition, select Amazon as the destination for your bulk delivery.
I hope that reading this review has provided you with a comprehensive introduction to Zen Arbitrage and assisted you in determining whether or not it is the appropriate program for you.
Is Zen Arbitrage worth it?
Well, it depends. Zen Arbitrage is excellent software, no doubt. But are you willing to give your best in making a business out of it? If yes, then it's one of the best software you can choose.
It's essential to be aware that this is a solid business and requires hard work and effort. Especially during the initial stages when you're just starting to set up.
Also, you need to be aware that you will require a capital investment to get started with the book Arbitrage. First buying the software and then investing money in buying the cheapest books.
Zen Arbitrage is a great tool if you are willing to be patient and consistent with your efforts and dedication. It isn't some booking theory. It's a personal experience.
Zen Arbitrage Social Media Handles
Facebook Group
Zen Arbitrage has a private group on Facebook group and has 5.1k members, Group was created on 1 May 2018. It is also one of the biggest online book arbitrage groups in the world.
Zen arbitrage Twitter (Peter Valley)
Zen Arbitrage is not on Twitter, but the founder Peter Valley has an account on Twitter with 2610 followers. He joins Twitter in May 2012 and shared all the information related to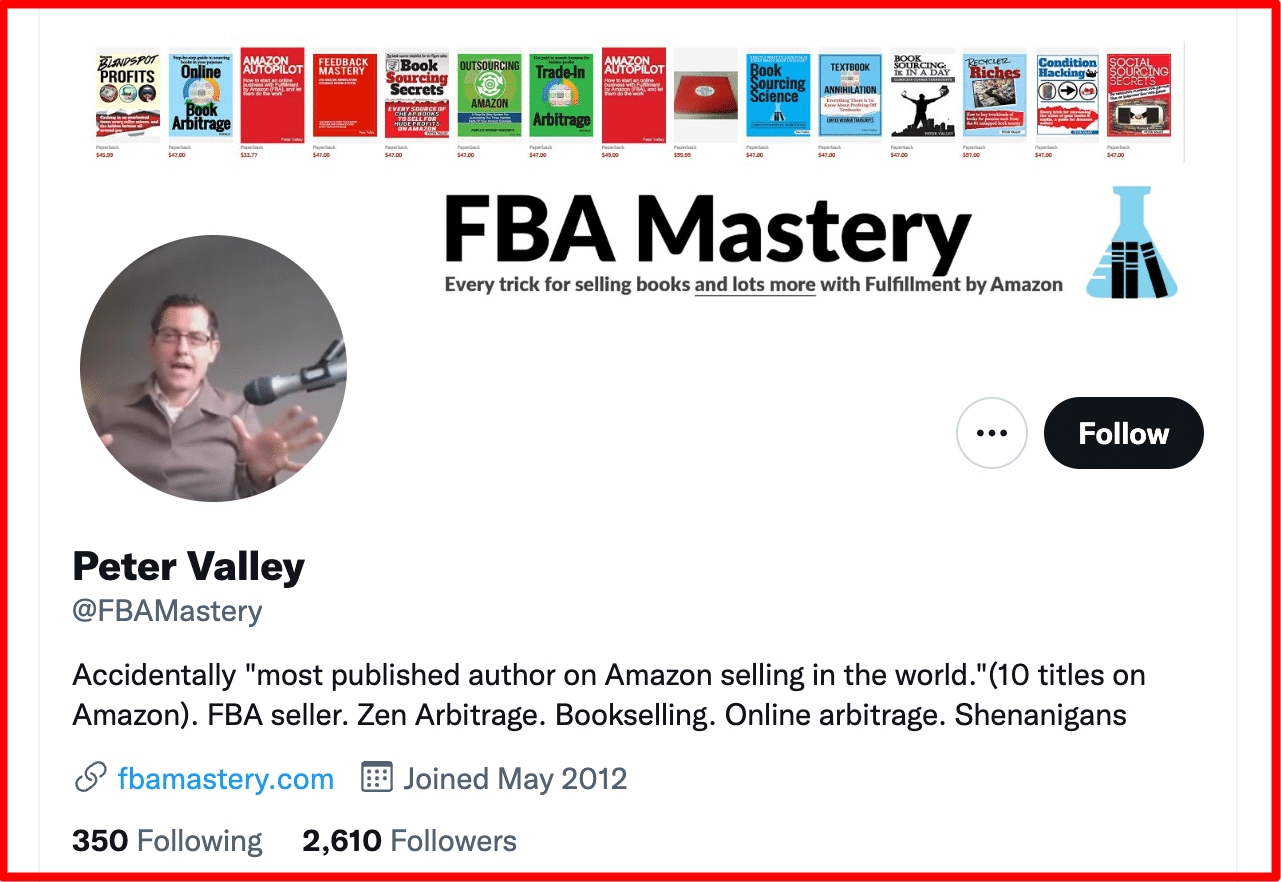 Zen arbitrage YouTube Channel
The Zen Arbitrage YouTube channel has more than 5.4k subscribers. Zen Arbitrage is the first, largest, and most effective online book arbitrage tool in the world.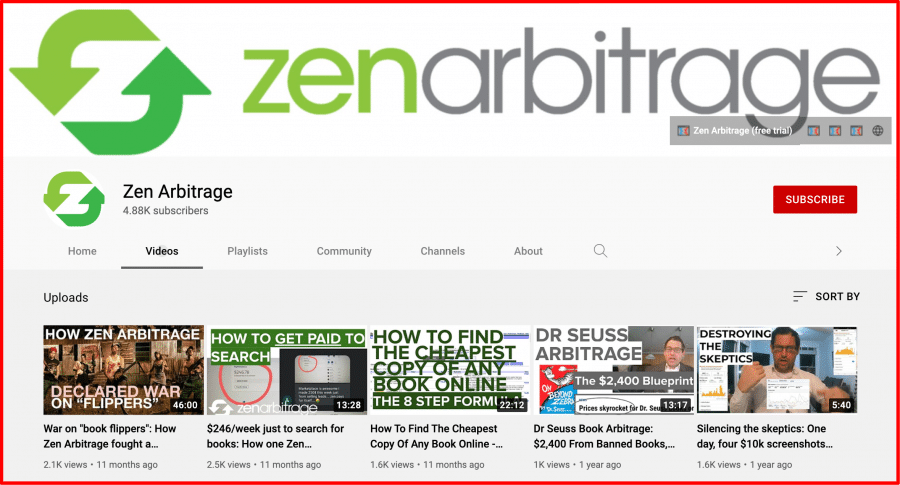 Conclusion: Zen Arbitrage Review 2023
There is no doubt that Zen Arbitrage has helped me generate greater revenue over the due course of time. All that it takes is patience, determination, and hard work like any other business would. It utilizes real-time data to identify profitable arbitrage opportunities and provides a streamlined process for sourcing and listing products.
While it has received positive reviews for its ease of use and ability to save time, users should be aware that success with arbitrage on Amazon depends on a variety of factors such as competition, demand, and product margins.
It may be a useful tool for those experienced in the arbitrage business, but it's important to thoroughly research and understand the process before relying solely on the software.
We hope this Zen Arbitrage Review helped satiate your curiosity and gave you a good insight into the splendid software.
Faqs On Zen Arbitrage Review
Can you use Zen Arbitrage on any device?
Yes, both Windows and iOS computers can use it. Also, if someone wants to use it on their tablet or phone, it is entirely web-based and can run on both Android and iOS devices.
Is there a free trial?
Yup! Zen Arbitrage offers a 14 Day free trial with all features unlocked and unlimited access.
Can you use Zen Arbitrage anywhere?
Yes, you can use Zen Arbitrage all around the globe. They have their services extended to various countries and set up for a prep service partner that receives orders in the US and then ports them to the FBA warehouse. Well, if you do not understand this, that's fine. It wouldn't necessarily be your concern either. So yes, you can use it from anywhere.
How much would be the initial Expenses?
If you're trying out the free trial, there shouldn't be any initial expenses except for what you put in while buying a book. When your free trial ends, you would need to pay $97 per month plus the added cost of buying books and also investing a little in the marketplace if you plan to do so.
Is Zen Arbitrage good?
Yes, Zen Arbitrage is a tool with more than 20 exclusive features to offer. Something no other book arbitrage software does. Making the right use of the said software would surely lead to great revenues.
How can I contact customer care?
You can easily get in touch with customer care by sending a mail to support@zenarbitrage.com or dropping a text at (619)483-1382. Just be a little patient. They usually revert quickly.
Is there a contract in place for Zen Arbitrage Software?
No, there are no restrictions if someone wishes to utilize the Zen Arbitrage Software. It is possible to sign up and cancel with a single click. The company believes in a system with no strings attached.
Does Zen Arbitrage work in any country?
This software has no Limitations and can be accessed from anywhere in the world on any device with an internet connection, which is widely available globally.