Nowadays, the competition on E-Commerce websites among sellers is very high. To sustain and stay in the internet market, you need to know and adapt various strategies, rules, tools, and many factors. As a seller, I have a great experience with the Zik Analytics tool. And here, I have shared a detailed Zik Analytics Review based on my personal experience. Hope my opinion will help you to understand the best part as well as the disadvantages of the Zik tool.
If you're a new seller and worried about how to boost your sales and increase return on investment (ROI) on any e-commerce platform. Don't worry! There are various market research tools available online; one of them is Zik Analytics.
Let's dive deeper into Zik Analytics review. However, if you are looking to save some bucks on Zik Analytics, we have shared the Zik Analytics coupon with up to 50% OFF.
Zik Analytics Pros & Cons
It is quite simple to use.

You can find millions of trending products in a short period of time.

Learn about the most popular item categories and keywords.

500 of the best-selling things on eBay

Provide AliExpress Market Research

Provide the most effective and live chat support.

Accurately extract sales information.

I can readily identify things that sell, and the majority of the time, there is help available.

Help me develop a profitable eBay store with the most reliable research possible.

The Support is quite competent, and the results are obtained much more quickly than I anticipated.

Free trial have limited features
Know More About Zik Analytics Tool Full In-depth Zik Analytics Review
More than thousands of trusted sellers are using the Zik Analytics tool daily. It is a web-based leading e-commerce market research and analysis tool. Till now, it has helped more than thousands of online sellers to earn profits. It targets and finds profitable items to sell on online marketplaces.
You can use this tool for analysing the market for many different digital e-commerce platforms. But, eBay is one of the most prominent e-commerce websites that has partnered with Zik Analytics for its sellers.
I'm an eBay seller and telling you, it can be a life-changing or life-saving tool. You can consider my Zik Analytics Review to make your decision because it is based on my long-time experience.
Why Should You Use The Zik Analytics Tool As A Seller?
Currently, every seller wants their product to list on the homepage or page 1 of the E-bay or any other marketplace. And, without the Zik Analytics Tool, your chances to grow and reflect profit in the bank account are almost impossible. It can help sellers like us by targeting different-different factors with its many in-built features.
It can analyze the internet market based on different-different factors that can boost your revenue as well as sell products. The feature uses many factors like best products, niches, and different categories to analyze the data.
Once you buy a Zik Analytics tool, they will provide you with training to become familiar with the in-built tools. They host multiple training programs so that you can use this application completely. The training team can explain the features with webinars, live, and documentation methods.
In case of any emergency or help, you can directly contact the support team. They offer amazing online support as well as help during business hours. According to my experience, I had an issue with functions and features. I emailed the support team and they got me resolved and fixed the issues almost instantly.
Is Zik Analytics The Best eBay Market Research Tool?
ZIK Analytics offers a diverse set of tools which includes an eBay product research tool, as well as an AliExpress research tool, a supplier database, and other features.
You can view a list of items for sale on the site, with information such as the number of listings and total sales.
With Zik Analytics you'll be able to see what the best-selling items are in every area, and look at product statistics and sales trends which also helps you to see the top-ranking listings.
You may view your competitors' sell-through rates, active listings, sales profits, average selling price, sold products, and much more – both for the entire market and for each product listing individually.
How Much Does Zik Analytics Cost You?
When you want to use the Zik Analytics Tool, you need to purchase its service. And, according to my Zik Analytics Review, purchasing a subscription to this tool will help in your growth.
With various features added in the premium version can analyze the market demands and supply.
I had bought the annual subscription plan which cost me around $20 per month. It is available for you in monthly, 6-month, and yearly packages.
I would recommend you to buy the yearly packages of Zik Analytics. Because yearly packages will cost a little cheaper compared to other packages.
Zik Analytics User's Success Stories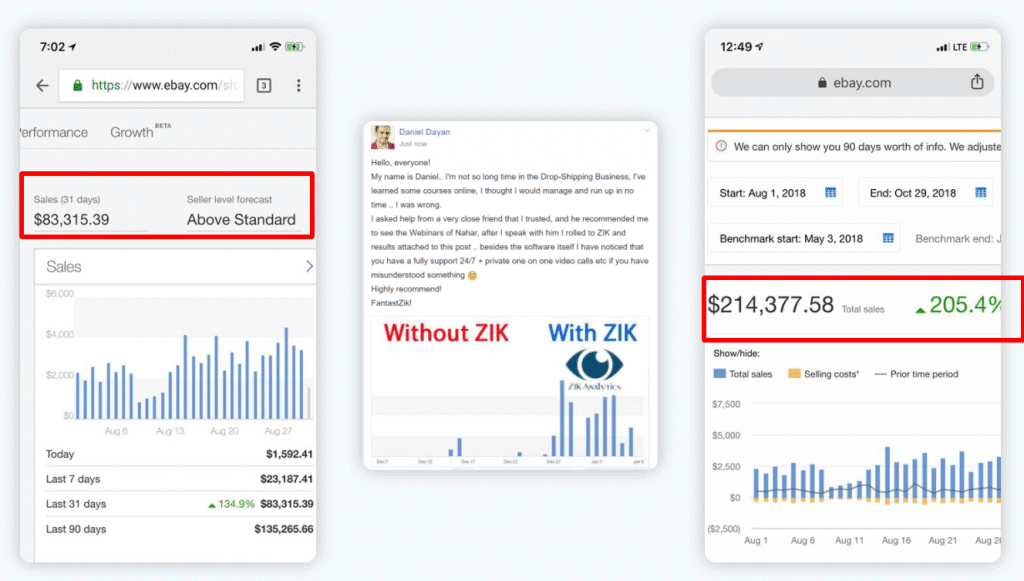 How to Use the Zik Analytics Tool?
As per my experience, this market research and an analysing tool are online and web-based software. This software needs to deploy on the cloud that makes it as a Service (SaaS) tool.
You don't need to install and maintain the application inside your mobile and system. You can easily access this via the internet for eBay or other e-commerce platforms.
Zik Analytics Advanced Features
When you need market research and analysis for your Agency and Enterprise organizations, you must use this application. And, with a subscription of packages available online you'll experience many different features inbuilt in it.
Like you, I had a doubt that am I wasting my money on it or not. All these issues and doubts were resolved as soon as I made up my mind to purchase the subscription.
The inbuilt features bewildered and amazed me. To help you with various useful features, I'm doing this authentic and detailed Zik Analytics Review.
These features focus on qualitative research to understand the market response. Let's see the features in detail which you are going to experience.
1. Find the Hot Products Easily
To earn more and heavy profit, you need to get the enterprise sales data. This data is the list of those products that have huge potential to sell.
And, to gain that data I opened my analyzing page. And, I searched with different filters to find exciting opportunities for making more money. Then, I saved listed products or items and exported them to the software.
2. Dominate the Market
As per my experience, I went one step ahead of other sellers with this great tool. Using this tool, you can scan your competitor to get inspiration for new products and items.
Learn the strategies and see which product is in demand. You can easily dominate any E-commerce platform like Ebay. I recommend you to search which product category is currently hot and in demand.
3. Rank your Products Higher
Which seller doesn't have the dream of listing its product on the homepage or first page? To gain popularity for items you need to look for the best keywords, sorted amount, and sales.
After analyzing all the data you need to build the titles of your product and list accordingly. Upon doing this you'll experience ranking of products higher and sales will increase compared to earlier.
Other features are basic which you'll come to know while using it. So, these are the major features to experience upon subscription to the package according to your investment.
What People are talking about Zik Analytics on Trustpilot
The Best Thing You Can Do For Your Business

Mor Dvash
Excellent service there is no questions about it, izudin should get a noble price for best support in the world.

Melvin Pincus
A perfect portal for your ebay research. You get exactly what is needed and it is accurate.

Pravin Patade
what an an amazing , top rated company who not only answer your questions but do their best to help you with everythong. im so glad I found you as I feel there is light at the end of the tunnel now xx thankyou

Sarah Davis
The tool is very powerful and even fast. The tutorial is great, much helpful and let me to think in a new way about eBay business. It had been a great experience as a beginner for me. Thank you for offering this trial in a reasonable amount of money. I would like to subscribe again. But I cannot afford at the moment. But I will do soon. Please let me in when I request. Thank you.

Luxman Nanayakkara
Zik Analytics is one of the best software for dropshipping on ebay , I Recommend every seller tu use it and making some profitable results !!

Facebook user
Amazing Software, the perfect tool for drop shipping! The support is some of the best I've ever seen ZIK Analytics!!

Facebook user
Best market research software out there. without it I would not have been selling in eBay! Zik it and you will sell! $$$$$$$

Facebook user
Zik was a game changer for my online business. It's a really good tool, that allways improving to give us a better experience and better results.

Facebook user
Thank you so much. I've been doing more research and started using zik analytics competitor research tool.

Reddit comment
Lots of different websites like JungleScout where you can find out how many times a month people are searching for certain keywords.

Reddit comment
Top 3 Alternatives Of Zik Analytics
1. Algopix
Algopix is a powerful tool that will help you determine your Amazon business's profitability. It will also help you identify and mitigate risks while increasing revenue. This tool also helps you find market opportunities, get product sourcing information, and estimate competitors' performance.
Algopix helps merchants by automating the process of determining what to buy, where to sell, and at what price. It assists them in making good business decisions.
Algopix provides real-time product marketing research. Market insights are accessible for 14 worldwide marketplaces, and they can help you save time, reduce risk, and make sales easier.
2. CheckMarket
CheckMarket is a survey platform that serves small, medium, and large enterprises, as well as government agencies. It has tools for creating surveys and managing distribution channels.
You can create, modify, and conduct a survey in a variety of languages with the survey creation module. Respondent surveys can be customized depending on prior replies, gender, language, and other factors.
Users can gather replies by email, social media, Slack, text messages, telephones, or kiosks using the distribution module.
3. Spark Chart
Business consultants and executives can use Spark Chart's survey software to develop and launch any sort of poll and collect feedback.
The software has a lot of features including ready-made templates, sophisticated logic, extensive survey deployment and response tracking, process automation, various language support, and rich analytical reporting.
Zik Analytics Social Media Handles
Facebook
Zik Analytics has more than 14000 followers on Facebook, and they are very active on it, they post regular updates, offers, and videos there.
Instagram
Zik Analytics has more than 4000 followers on Instagram and they share all the videos photos and latest updates related to the brand.
LinkedIn
Zik Analytics is not much active on Linkedin, but they share posts on a weekly basis, and they have 965 followers on Linkedin.
Twitter
They are active on Twitter and have 486 Followers on Twitter, Joined in October 2018. The power of ZIK Analytics,  With the software, you can learn exactly what customers want and meet their needs.
FAQs Related To Zik Analytics Review:
How do I cancel my ZIK Analytics subscription?
To cancel your ZIK Analytics subscription, navigate to Zik settings> Management panel> Manage payments> Cancel.
What is ZIK Analytics for?
ZIK Analytics is a market research platform that helps sellers identify profitable items to sell on eBay and other marketplaces, as well as how to rank their items on page 1.
What is ZIK Pro?
You can get more items to sell on eBay with Pro ZIK, a Zikanalytic add-on.
Is zik analytics free?
You can choose from any one of the plans for $1 and get a 7-day free trial with all the features.
can I access the ZIK Academy for free?
Yes, The ZIK Academy, an online video course with over 25 films teaching members how to create their own eBay business, is available for free.
How Can I Find My referral link?
Simply go to Management Panel > Affiliate Manager. Under My referral URL, you'll find your referral link. You'll also find other Affiliate Program-related information there.
Why is Zik Analytics the best eBay search tool on the market?
ZIK Analytics is a tool that helps sellers identify the best goods to offer on eBay and how to sell them quickly by ranking them higher in search results.
Conclusion: Zik Analytics Review 2022
I have been using this Zik Analytics tool for more than a year. Yet now, I couldn't find any demerits or cons whether it is about services offered or price.
As the last thing in Zik Analytics Review, you may find little issue with the support team because they might revert or resolve your problem a little late.
Zik Analytics YouTube Channel
In order to boost online business success, eBay merchants can use ZIK Analytics. The software was created by an eBay Power Seller and makes market research simple, fast, and effective. Below are some tutorials that might help you to understand Zik Analytics better.
Top 21 Items to Sell on eBay in April 2022 🔥 eBay Best Sellers 🔥
[Webinar] How I Uncovered This UNTAPPED eBay Niche (10X Profit,1 Competitor = HUGE Opportunity 🤯)
Wholesaling on eBay UK | How Phil Made £22k in 90 Days [Deep Dive]