One of the best marketing strategies is to know what your competitors are doing? Replicating and mastering their strategy is an art.
What if I tell you about the Anstrex Ad Spy Tool? This stellar tool helps you to see competitors' ads on various traffic types such as push notification ads, native ads, and pop ads.
Let's read this in-depth Anstrex Review to understand the features, benefits, pros and cons and pricing.
Why Should You Use an Ad Spy Tool?
You should make use of an ad spy tool such as Anstrex for a variety of different reasons.
The following are a few of the more significant ones:
It will assist you in remaining one step ahead of your competitors.
It is crucial for the success of your company to be aware of what your competitors are doing in order to stay ahead of the curve. You will receive this information from an ad spy tool, allowing you to modify your approach to counter their tactics and win against them in their own arena.
You'll spend less time and money as a result of using it.
If you are aware of the strategies that are producing positive results for your rivals, you will need to spend less time conducting trial-and-error experiments with your own advertisements.
In addition, conducting market research through the use of an ad spy tool is a more cost-effective method than employing someone else to carry it out on your behalf.
You will be able to discover fresh dropship products and marketing tactics with its assistance.
Anstrex is a great research tool that can be used to locate profitable dropship products as well as marketing techniques.
You may rapidly adapt your competition's strategy and start seeing results in your own eCommerce and dropshipping business if you observe what aspects of their business are proving successful for them.
We have a strong belief in the power of ad spy technologies to not only provide you with information about what is successful for your competitors but also to assist you in developing innovative ways to market your own products and services.
What Is Anstrex?
Anstrex is an efficient ad spy tool that will help you get insights into your opponent's advertisement and dig deep into their marketing strategies and plans.
Anstrex provides a suite of tools designed primarily for online advertising and performance marketers.
Anstrex provides data on your competitors' internet advertising and marketing activities, allowing you to get a competitive advantage and promote your brand.
It has over 15 million advertisements from 50k+ advertisers scattered over 92 countries, and Anstrex also has software for e-commerce and dropship store owners that simplifies everything from product import to inventory management and order fulfillment.
Well, you can not and will not be able to bring yourself to the top if you don't know what your competitors are planning and how they're succeeding. You need to study your competitors and bring out something much better than theirs.
Anstrex Key Features
We'll take a look at the most amazing features offered by all the products available on Anstrex.
With Anstrex Native, you can easily unlock all the secrets of native advertising and build excellent campaigns.
And with Anstrex Push, easily spy on any advertiser to check their tactics of dominating in the field of push notification ads and get immense amounts of data and use it to the best of your advantage.
Keyword Search and Filters
Search filters turn out to be a really essential component to save time and extra effort. The system works in two ways,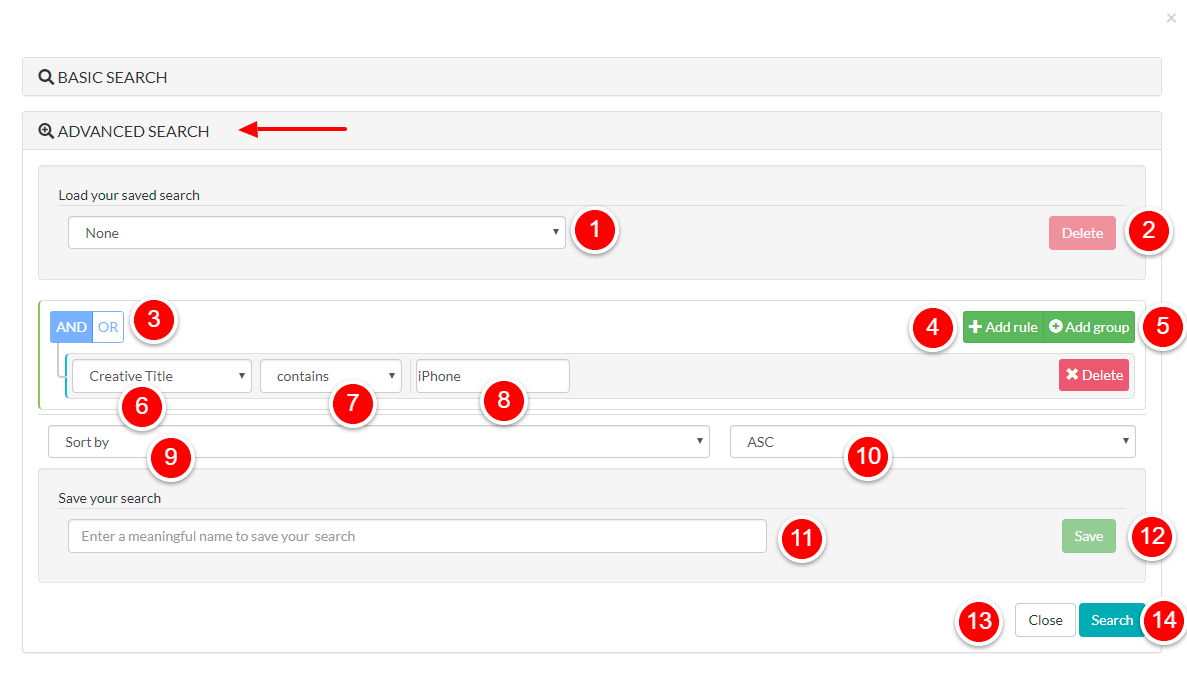 Non-keyword Search Filters
Keyword-based filters
Non-keyword Search Filters are easy to carry out and understand. And you can take away from its name that it doesn't require any keyword searches.
All you have to do is select the criterion you would be looking for in an ad. You can choose from ads that have been ranking highest and have been doing best in recent times. You can use the ad-strength (desc) and ad-gravity (desc) sorting orders.
Ad-strength tells about the ads which worked well in the past but are doing a little low recently. And, ad-gravity gives a good idea of the ads that are well functioning at the current moment.
How to use non-keyword searches and filters?
You can either sort the filter search depending on ad strength (desc) or ad gravity (decs). Choose the option from the drop-down menu. Depending on your sorting option, the ads will appear in a particular order.
Keyword Based Filters
You can also make use of the sorting order mentioned above, along with keyword-based filters. 
Once you have the ads in a particular order, type the specific niche keyword you want to look for in the given keyword search column in the top right corner. For example, you can use diet, exercise, and weight loss for a weight loss niche.
There are two main forms of keywords-based filter searches;
Basic Keyword Search

Basic Keyword Search helps when you want to search for a keyword in particular. You can simply punch in the keyword in the creative text column provided, and it will display multi ads for your needs.
One great feature of Anstrex that sets it apart from its rivals is the "Translated Text" option provided in its basic Keyword search. It would help you find ads in languages other than English.
So you can spy on ads from various countries and languages and further bring them to your use by taking ideas and insights and incorporating them into your marketing campaigns.
Advanced Keyword Search

Where Basic Keyword Search is for specific keywords, the Advance Keyword Search filter opens up more opportunities. From ad networks to platforms, devices, and countries, you can filter out any option you would want to target.
You can type out the main keyword and select other sorting and filtering options as per your needs.
Bookmark Options
It's possible that you do not have enough time to go through all the ads when you see them but trying to find them later once you have lost them is difficult.
It's just like the Instagram refresh button. When you find something good and accidentally refresh it, the post gets lost somewhere in the universe and out of your reach.
Alert Queries
It is another feature that sets Anstrex apart from its other competitors. The alert function serves the purpose of finding matches for your alert queries. So whenever there is an ad that fits just right for your alert query, you'll receive a ping on your alert screen! And well, just in case you miss it, you also receive an email!
Landing Pages
The landing page feature of Anstrex is a game-changer. Not only is it easy to understand, but its download and deploy feature makes it stand apart.
You can download any page you like with simple clicks. While you are downloading the page, you can still browse and look for more campaigns.
You can either choose to download or offline or keep it online on Anstrex. It's essential to note that the download expires in 24 hours and is no longer visible.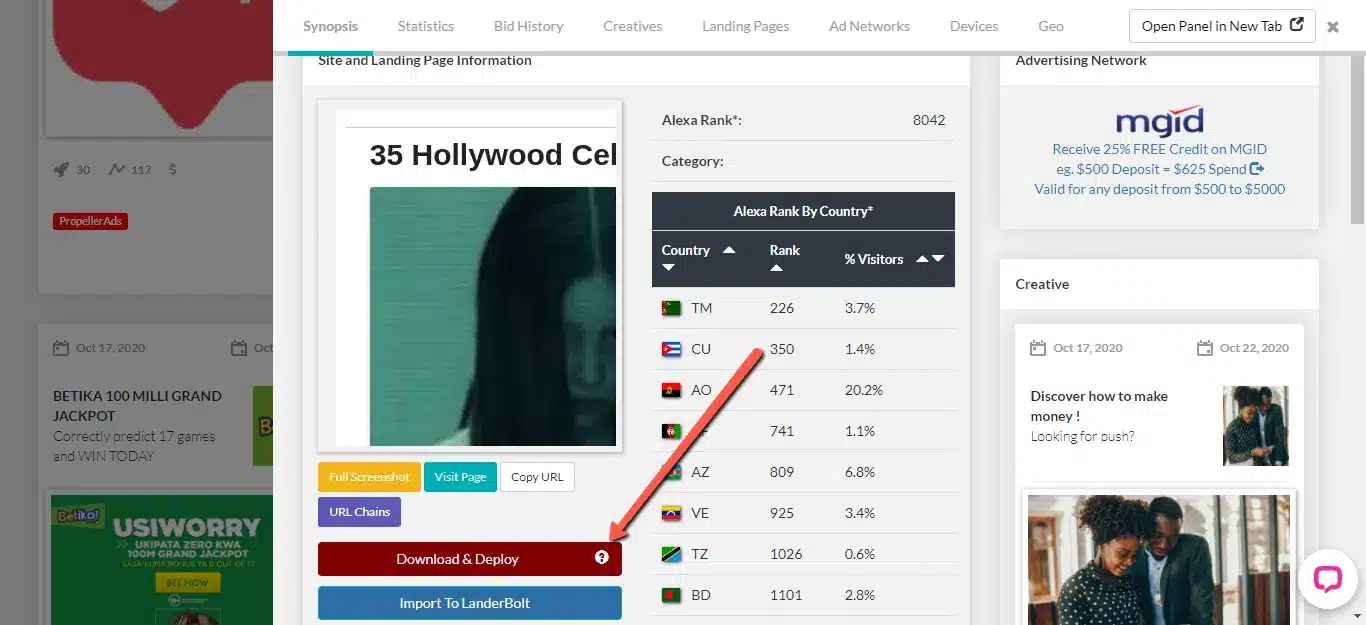 But if you wish to edit within 24 hours and even upload it, it is preferable to save it online. The deploy feature makes it easier for you to directly upload the edited picture onto your server without downloading or having an offline copy
Once you have downloaded the page, it's time to edit it. You can either choose the quick editor if you want to edit minor things requiring fewer features.
Or take up the comprehensive editor if there is major editing that is required.
Download And Deploy
If you come across an advertisement that piques your interest and want to rip the landing page, all you have to do is click the Download and Deploy option.
It is possible to download many pages at the same time. This is one of the strongest points of the Anstrex platform.
Landing pages may be downloaded with a single click, and by utilizing the Advanced Landing Page Editor, you can make changes to the pages after you have downloaded them.
You may even publish your landing page directly to your server after you have finished tweaking it, allowing you to use it right away.
You can link directly to servers from other hosting providers using SFTP or FTP connections, or you can connect directly to your Amazon AWS account.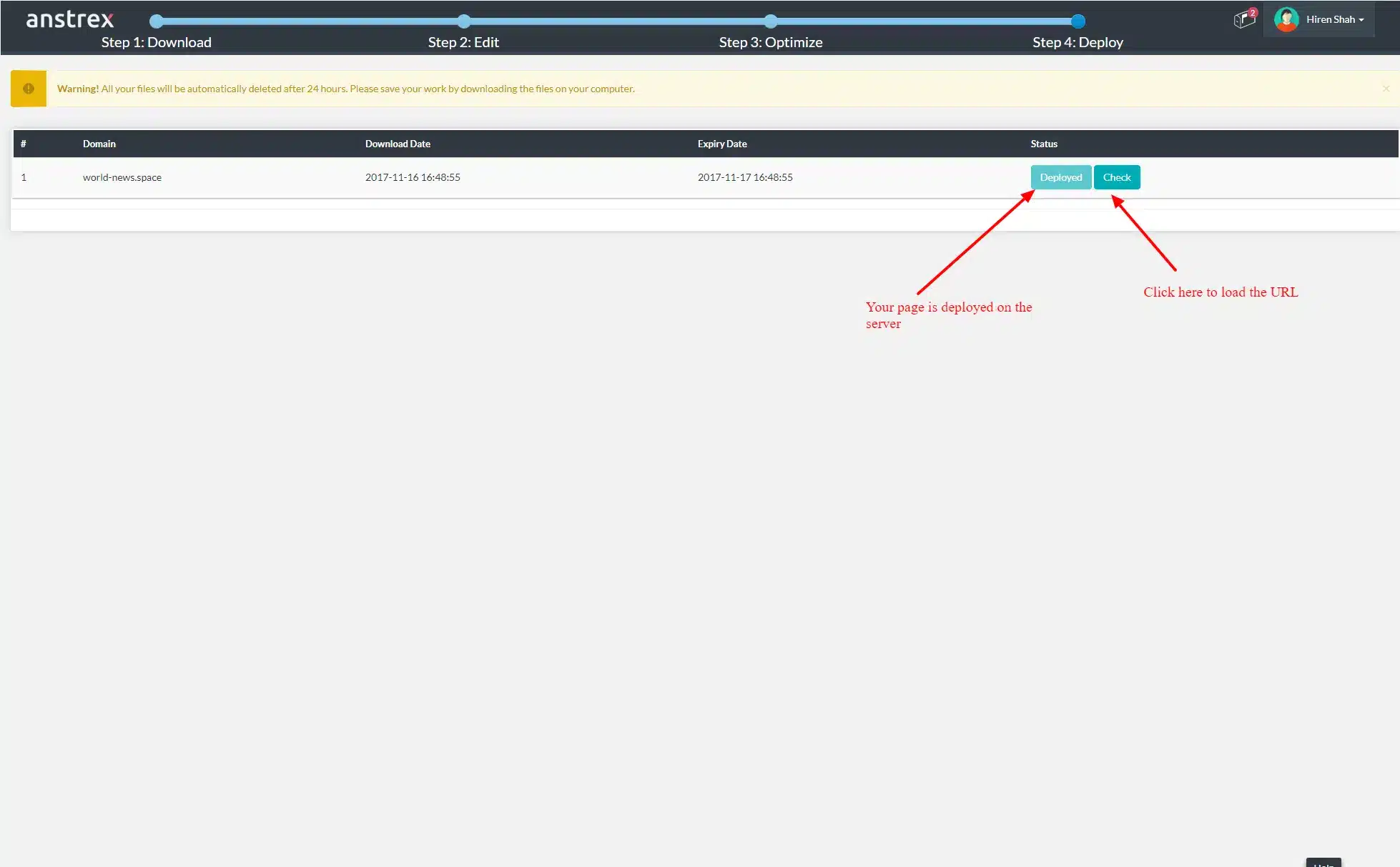 Real-Time Analysis
Marketers may use this tool to not only track potential customers and trends, but also to build the most successful campaigns. This feature aids the marketer in instilling a sense of urgency in the purchasers.
There are two types of tools that can be used for this. The Anstrex Native Advertising tool is one, and the Anstrex Push Notifications Spy tool is the other.
Your customers will learn more about your brands and services thanks to the real-time marketing feature.
Competitors Analysis
Anstrex's competitor analysis is one of its unique selling points. Marketers may use the dashboard filters to see how rivals are targeting potential customers, managing campaigns, and what filters they are employing.
Such filters can provide real-time campaign tracking results and uncover top competitors' strategies.
Anstrex Dashboard And User-interface
When you first open up your account, you see a Dashboard having filter options and ad listing areas. Both of these will be mentioned and explained in detail as you go down this Anstrex Review.
Clicking on an ad will show you multiple things worth noting and keeping in mind to use Anstrex to its best abilities. The topmost column will display options like synopsis, statistics, creatives, landing pages, etc as shown in the picture below.
1. Synopsis
Synopsis, as the name tells, gives a detailed overview and information about the ad. For example, you'll get details of the Alexa Rank based on countries, the Alexa Rank in general, URL links, and many other features.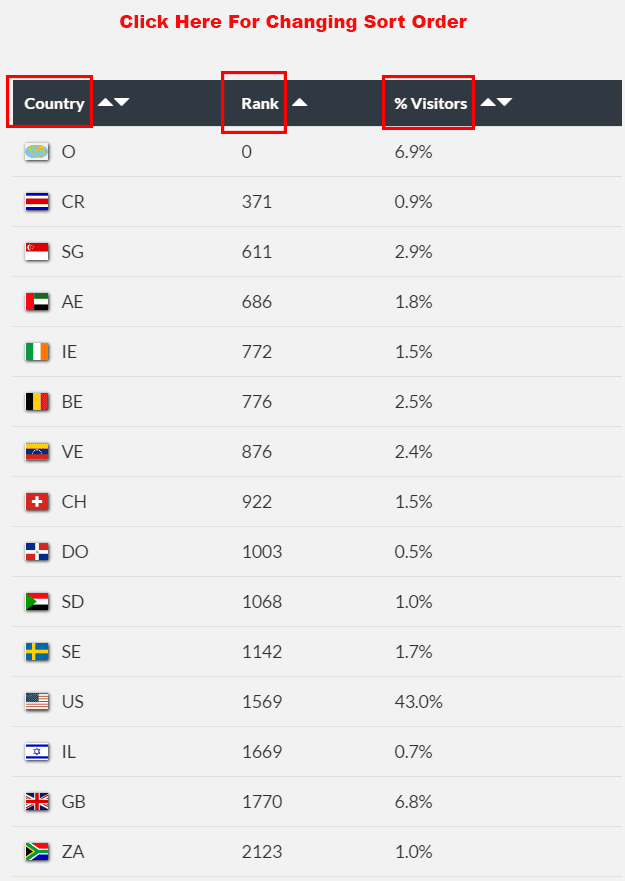 You can also get to preview the screenshot of the landing page once you click on the image.
2. Statistics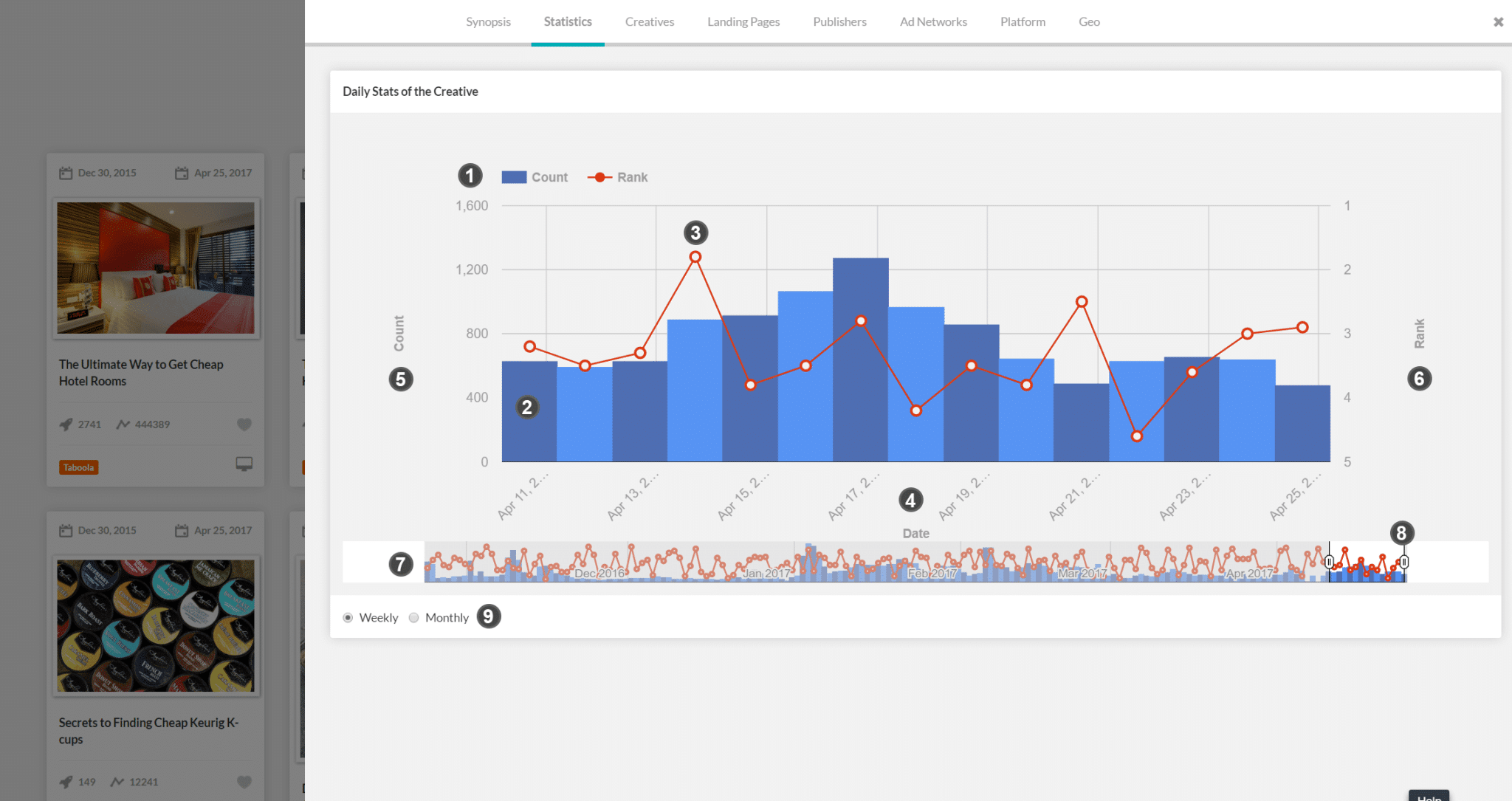 Statistics will give an idea about the frequency of the viewers for a particular ad compared to how long it has been since it's running.
There are two types of graphs. One shows the frequency of the ad seen by viewers in a certain period and is depicted in blue while the red one shows the rank an ad would have attained in defined periods.
3. Creatives Tab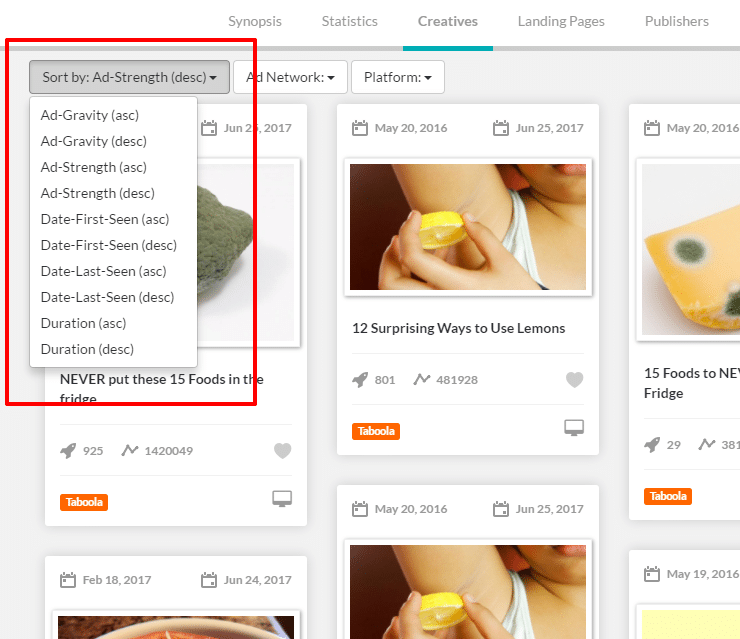 If you are looking for a particular advertiser and want to see what they've been posting, the creative tabs just make the work easier. You get a detailed insight into what worked out for them and how it did.
Not just that, you also get to see what did not work out for them and the mistakes they would have made.
Under the Creatives Tab, you also have the option of viewing CPC bids for creatives. It's essential to know that CPC bids are not available for all creatives, especially native ads. They are mostly a part of the push advertisements.
4. Landing Pages Tab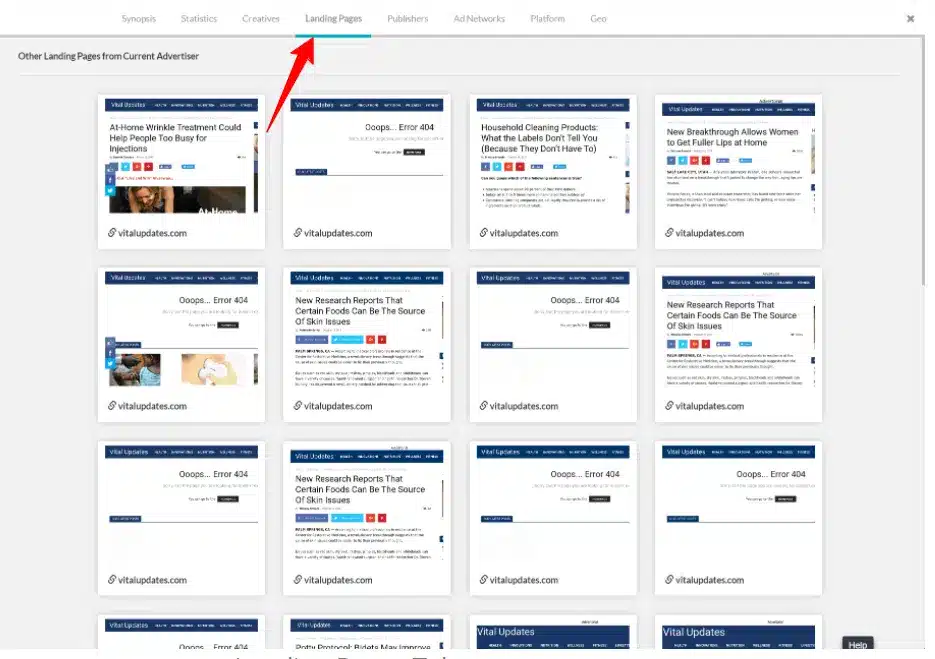 Landing Pages Tab gives an insight into all the landing pages that your rival is using or has used. You can take ideas from these landing pages, download them, and even deploy them directly to your server. We'll discuss this later in this Anstrex Review.
5. Publishers Tab
The publisher's Tab shows where the ads are currently active and running or have been previously. You get a detailed insight into information from the publisher in the form of a graph chart. It also gives separate insights in a tabulated or listed manner.
The bubble chart shows things like the Alexa Rank, duration of days, and the traffic brought in.
Whereas the table shows information like duration, date-first-seen, date-last-seen, publisher's URL, traffic percentage, and Alexa Ranks.
6. Ad Networks
Ad networks are a major driving source if you want to promote the campaigns well. You need a strong ad network for that.
The ad network option gives an insight into the networks used by other advertisers in promoting their campaigns in the form of a pie chart but in a table format.
The pie chart represents the type of ad network used and the percentage of traffic it brings in. So technically, you're getting everything served on a platter.
How to use Anstrex? (Step-By-Step Guide)
Anstrex working system is not something that would require putting in your sweat and tears into understanding. It's rather easy to use and one major reason why it is loved by many.
If you're not a native English speaker and do not know much about English, you can also choose the language you'd like to view the content. I personally love this feature.
Let's take a deeper look at how Anstrex works.
Step 1: The first and foremost step of starting to work on Anstrex is to find a successful campaign.
Step 2: When you login into your account, you will view the dashboard with a listing page and multiple filters and search options available.
Step 3: The very first thing that you see would be the quick filter options. It has nine drop-down options such as ad network, country (geo), device or platform, language, category, affiliate network, trackers, technology, and sort by.
Step 4: You can choose from the given filters by simply clicking on the down arrow and choosing the suitable option. For example, if you want to choose Taboola as your ad network, click on the down arrow, scroll, and select it.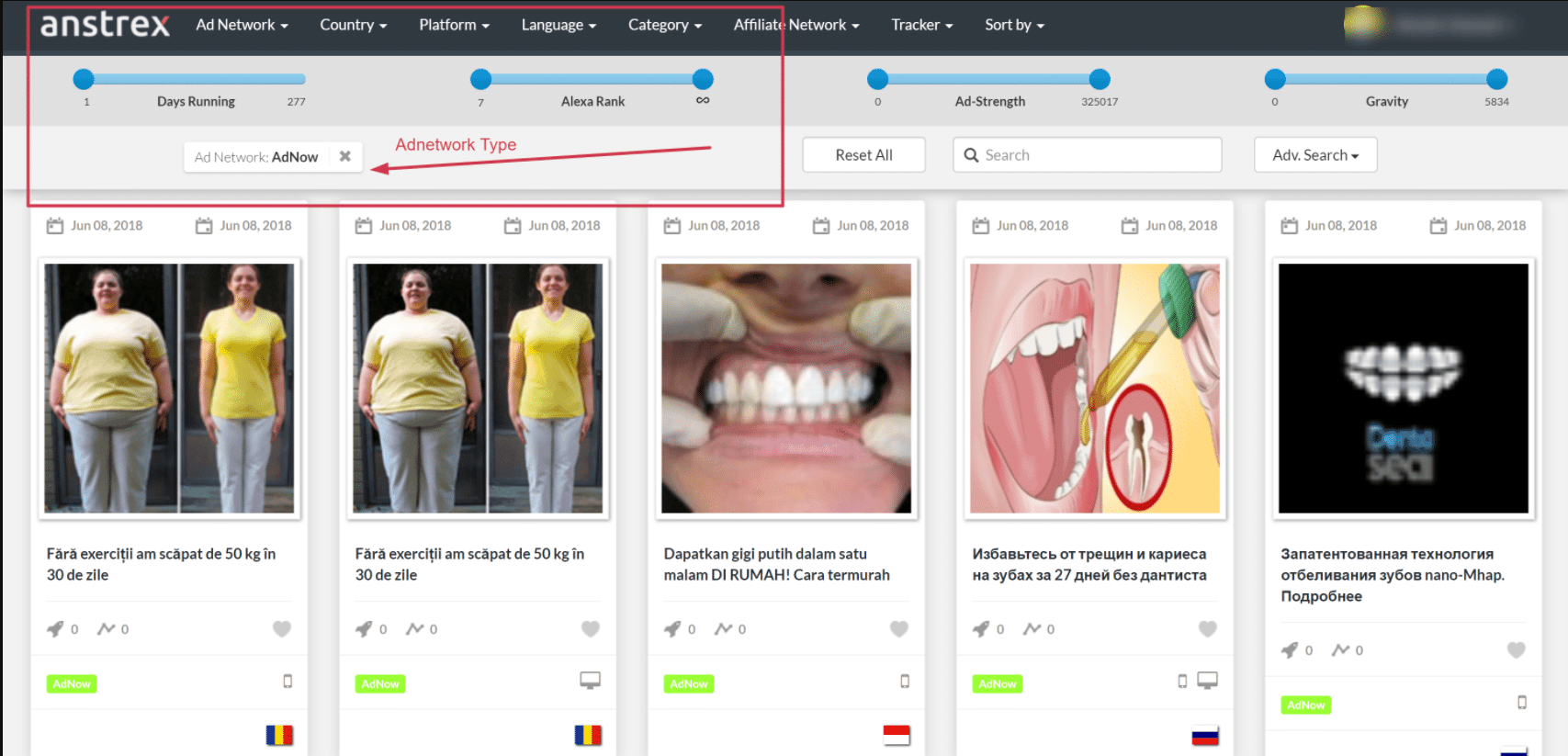 Step 5: You can also undo the filter chosen by clicking on the cross icon just beside the filter option.
Step 6: If the quick filter options do not seem suitable and you want to advance your search, the Slider Bar helps. You can filter out ads depending on how long they've been running (Days Running) or by the Ad-strength, Ad-gravity, and Alexa Rank Slider options.
Step 7: You can also use the search bar option to punch in the keyword to filter the search. You can use either the basic search or the advanced search options as mentioned above.
Step 8: Once you've found the suitable ad or web page you'd like to work on, you can add it to your favorite or download it online or offline. You can find the procedure above in this Anstrex Review.
Do not forget to set alert queries and enable email options to not miss out on the perfect matches for your alerts.
Well, that was about using Anstrex Push and Native Feature.
Let's take a quick look at how to use Anstrex Dropship Feature.
Anstrex Dropship is easy to use, but some points need to be kept in mind while using it.
Anstrex Pricing Plans with Discount
Anstrex plans are flexible, and you can choose from either native, push, or a combination of both plans.
Anstrex Push plan alone will cost you $79.99 per month and offers 38 Push Ad Networks, data from 92 countries, online chat support, and competitor alerts.
Anstrex Native plan costs $69.99 and offers 27 Native Ad Networks, data from 64 countries, a landing page ripper, advanced search and filtering, and online chat support. The Bundle Plan is a combination of both native and push. It costs just $139.99 per month. It is considered the best plan as it opens up more features like CPC bids on push campaigns. You also get to have an Anstrex 2-day free trial!
Anstrex Dropship Pro plan is free of cost and offers import of more than 6M products, data from 10k+ stores, daily updated product lists, and much more.
Anstrex occasionally offers various discount coupons and promo codes. You may save 20% on Anstrex's subscription plan if you use the Anstrex discounts
Almost everything about Anstrex is exhilarating. Initially, I felt a little weird about spying on other people's campaigns, but now I understand why it is essential. It helped me to grow my campaigns and marketing competitively.
Anstrex offers much more ad networks than any other spy tool would. You can also get to learn more and more about Anstrex from its live demo lessons. Not just is it easy to use but also very efficient and effective.
What Experts Say About Anstrex?
Anstrex is used by many marketing experts, to boost their business, Here we have mentioned some positive testimonials About Anstrex native ads tool in the Anstrex review:
Conclusion: Is Anstrex Worth The Price?
🤔Do I recommend Anstrex? Of course, 👍It is the Best ads spy tool!
Anstrex has helped many build my campaigns more efficiently. You can see what your competitors are doing and how they're planning to work.
It also notifies you if there were changes in the competitor's plan. Hence, you can accordingly work out and make changes and always be one step ahead of everyone else.
I would rate Anstrex a 9.5/10 and a highly recommended software. We hope this Anstrex Review helped you sort out the confusion of whether it is a good buy or not.
We hope that our in-depth Anstrex Review 2023 has helped you obtain the correct information about this tool and assist you in your decision to purchase the best native advertising tool. Don't forget to get the Anstrex discount code and save 20% on your favorite native ads spy tool.