If you are frustrated with brainstorming your sales funnel ideas, scribbling them onto a whiteboard or paper napkin, and fear losing them, Funnelytics is the perfect choice for you!
In this Funnelytics Review, I have come up with an in-depth analysis that provides all the information you need before you buy the software.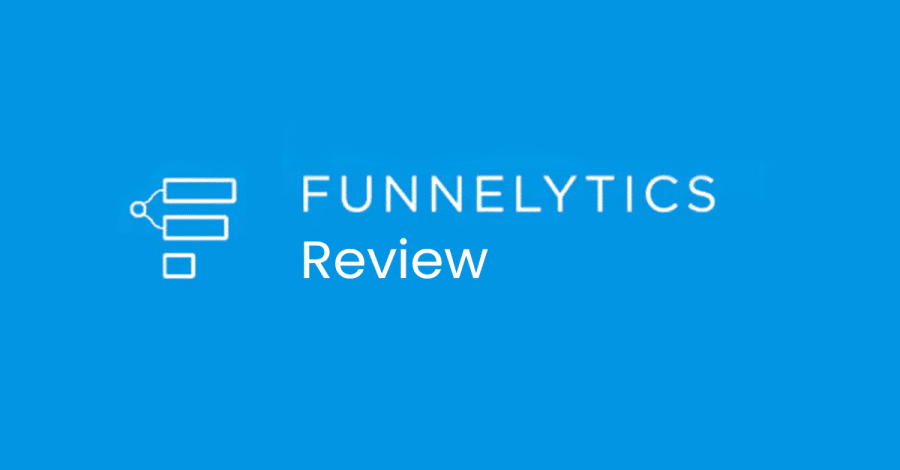 How Funnelytics Came To My Life?
I still vividly remember the day I came across Funnelytics. It was just a day after my fellow colleague had presented a digital marketing strategy and failed to bring out the essence of his idea.
And it was my turn soon. So as not to fail miserably, my in-depth investigation regarding my presentation went on for the entire day. That is when I came across Funnelytics.
Though it intrigued me immensely at first, I did not have time to check it. So, I moved forward and continued my research while bashing about how software can help me with mapping and analyzing funnels.
I realized the worth of it only after trying out the free trial. Well, not until I had failed miserably at my presentation.
And I realized that you need to get out of your whiteboard and marker pen to build beautiful funnels and attract potential customers.
So to save you from what I went through, I will give an in-depth Funnelytics Review, including its features, what I like and what I don't like about the software.
Let's dive right into the review.
Funnelytics Review: My Perspective
Funnelytics is a simple, easy-to-use software that helps with funnel mapping tools for your business sales. The visual drag-and-drop interface is responsible for sales Funnels mapping. The analyzing tool analyses the performances and tracks them.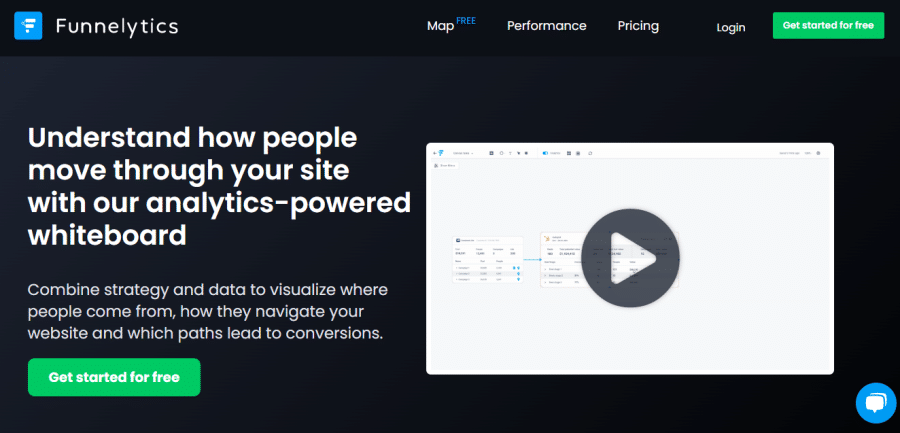 Mikael Dia, the founder of Funnelytics was frustrated over how there was no tool available that would help in designing and tracking funnels altogether.
So he went ahead and built software that is helping many top marketers in designing their sales funnels and analyzing them at the same place, all at once.
Why Use Funnelytics?
With Funnelytics, you don't have to worry about finding multiple papers to jot down your idea and then further frustrate yourself for hours while putting them onto a mind funnel mapping tool Program.
Just drag n drop your ideas into a visually appealing funnel. It will help you explain the project to the client in an efficient manner and also give you a good insight into your work and where you can enhance it.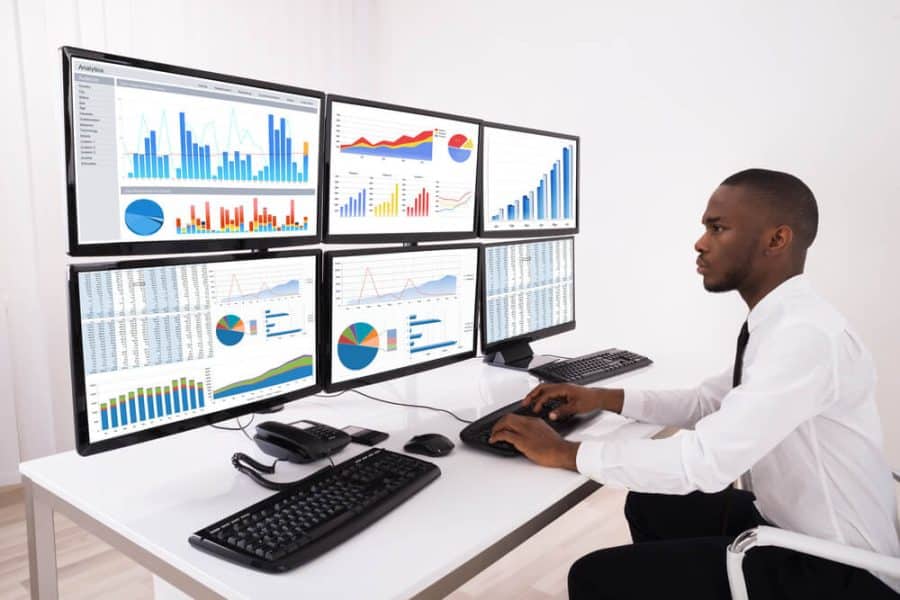 Another good reason for using Funnelytics is the storage system. Your plans are stored there, so you don't have to worry about losing them or reconstructing them.
Once done, you can even share your designed idea easily with anyone. Not just your marketing strategy, you can also share an analysis of your work progress and track live traffic.
What Does Funnelytics Offer?
Funnelytics has two plans to offer, the Free and the Pro version.
When I had initially started, just after I failed in my presentation, I had an impressive experience with the free or the basic version. It offers just enough for one to understand how marvelous the software is.
And now that it's been quite some time since I've upgraded to the pro version, I've got to say, it's astonishing.
Even though the trial version makes it easier for one to plan and design their ideas, there is still a massive problem underneath the surface. You require a tracking tool to keep a check of how all the people in your funnel builder map are traveling through all assets you've mentioned.
That's when the pro version helps. It combines all the assets such as google analytics data, spreadsheet data, Facebook accounts, and all other analytical accounts and simplifies the manual work and calculations you would have to do.
The plan costs just $99 monthly and if you buy the saver plan with annual billing, it would cost you just $74. I personally think it's value for money for the features it has to offer.
Let's look at some other features offered in the pro version that I absolutely love.
Key Features Of Funnelytics: My Personal Favourites
Funnelytics have multiple features to offer. Some of them exceptionally make it stand out in the competition.
Here are some splendid Funnelytics features:
Funnelytics Vault
Vault is one of my favorite Funnelytics features. Funnelytics provides pre-made sales funnel templates from some top marketers to ease out the efforts one has to put in while creating a funnel.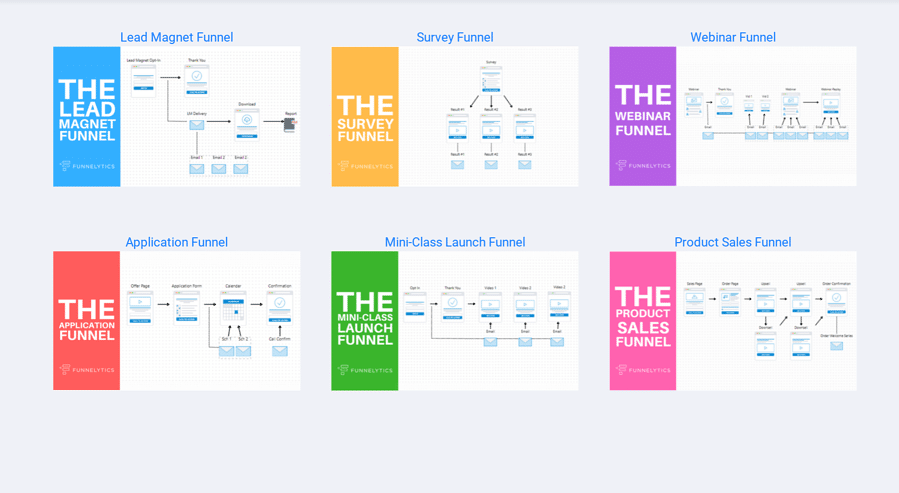 The best part is that pro users can get professionally made and functionally tested funnel builder templates at just $47 with new add-ons happening regularly.
You will find at least one template just the way you would want to build. It saves time and labor. All you have to do is click on the template to see it on your sales funnels map.
Drag And Drop Interface
Drag and Drop is one of the important features that make Funnelytic's functionality an exceptional characteristic.
Just drag n drop the interface icon into your sales funnel and customize it to your needs.
You also have icon options for traffic sources such as Facebook, email, etc.
How To Create A Funnel?
Creating your first funnel can be an exhilarating experience. It is not a very difficult task, but I wished I had a guide to take me through the process.
So here it is.
Open your Funnelytics pro account to see your brand-new dashboard.
Click on the "create project" button and name your project. Once saved, you can see the project on the left sidebar.
Select it, create a funnel, name it and that's it. You have successfully created your first funnel.
Use the drag n-drop icons to design it further. You can select any traffic sources and drag them to your project. You can create multiple pages and arrange them in symmetrical order to form a funnel map.
I will take this part separately later in this Funnelytics Review to help you overcome the problems I initially faced.
Analyse Mode
Mikael Dia created Funnelytics because he wanted a tool to design and analyze funnels together in one software. When the free version only offers to map a funnel, the pro version opens up tracking and analyzing user flow features.
You can visually view how the user flow takes through the assets. It gives an insight into where you can improve, where your potential customers are dropping off, and what changes are necessary.
External Tracking
This feature is another one of my favorites. It helps track traffic from external sources such as websites and URLs through Urchin Traffic Monitor (UTM) tagging.
A UTM code is attached to websites and URLs that create unique tracking codes. These are directly transferred to Funnelytics as soon as a user opens the website or the URL.
Funnelytics provides a UTM spreadsheet where you can manage the track links.
Google Tag Manager
With Google Tag Manager, you can install all tracking scripts. You can have detailed information about various elements such as pop-ups, clicks, views, etc.
All you have to do is install the Funnelytics script on your Google tag manager.
Copy your script through your project and add the tag with the script on google tag manager.
Tracking Revenue
You can easily track the revenue you make on Funnelytics by simply assigning a set price tag for each product. As a visitor reaches a product confirmation page, a similar value to the price of your product is assigned to them.
You can track the value at every step of the funnel for your campaign.
KPI Window
I would say that this feature has personally helped me a lot.
KPI Window helps assemble all the statistical data, compile it into documents, and present them to the client on time. You don't have to worry about doing all the work manually.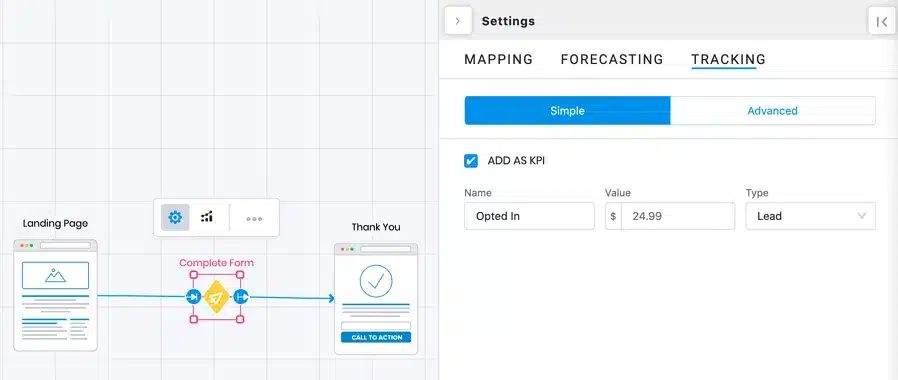 The customizable KPI Window does the entire work and the client can check the performance whenever they want.
How To Use Funnelytics Features For Funnel Mapping?
Funnel mapping is creating an outline of routes that a customer follows while buying a product.
With Funnelytics, you can make the task of funnel builder mapping easy and fun to do.
Step 1: Planning Strategy
If you are a beginner and do not have much experience, you can start by choosing a pre-made funnel template.
Drag n drop the necessary traffic sources and other icons to design your funnel.
Present your idea to the client by using a shareable link.
Step 2: Plan How To Make A Profit
Set clear digital marketing and profit goals by setting up conversion rates and targets. Keep in mind the traffic volume and other expenses.
Explain to the client your work target and how you will make a profit for them.
Step 3: Measure Performance
Do real-time tracking with Funnelytics and understand the user flow. Make corrections if needed and increase your profit margins.
Tracking becomes easy with Funnelytics as you don't have to analyze graphs or read spreadsheets for hours. An in-depth tracking system facilitates the entire process.
What Do I Like About Funnelytics?
There are multiple things I like about Funnelytics.
One is the free version it offers. The features are enough for one to get a glimpse of what it is and encourage users to upgrade to the pro version.
I don't search for pages and napkins to scribble my funnel map anymore. Neither do I need to look for a mind-mapping tool to further progress with the idea.
You get a detailed analysis of progress and at the same time be able to track every solid activity and revenue generated.
Support System And Documentation
This is a great feature offered by Funnelytics. They have a great support system with professional, friendly, and knowledgeable staff. You can reach out to them anytime.
Not just that, you'll find detailed explanatory videos about its features and usages and even multiple articles that will facilitate you with the technical complexities you face, if any.
In short, almost everything about Funnelytics is fascinating and amusing to me. I'd definitely recommend the purchase of the pro version.
What I Don't Like About Funnelytics?
There is only one major thing that I don't like about Funnelytics. It does not offer email tracking. Though it was not a significant issue for me but for some, it may become a little bit troublesome.
The other one is slow loading. There can be times when Funnelytics may act a little grumpy with its slow loading process. But this is not an issue. If you want to plan out your funnel well and have an in-depth analysis of it, having a little bit of patience is necessary.
Except for that, Funnelytics is one of the most efficient and easy-to-use funnel mapping tools one can find.
Funnelytics Social Presence
Let's find out the social media platforms that Funnelytics are using to build its brand and help its users solve their queries.
Facebook Page
Funnelytics are using Facebook to share its insights related to funnel-building strategies and conversion optimization. They have currently over 9k followers and growing on their Facebook page.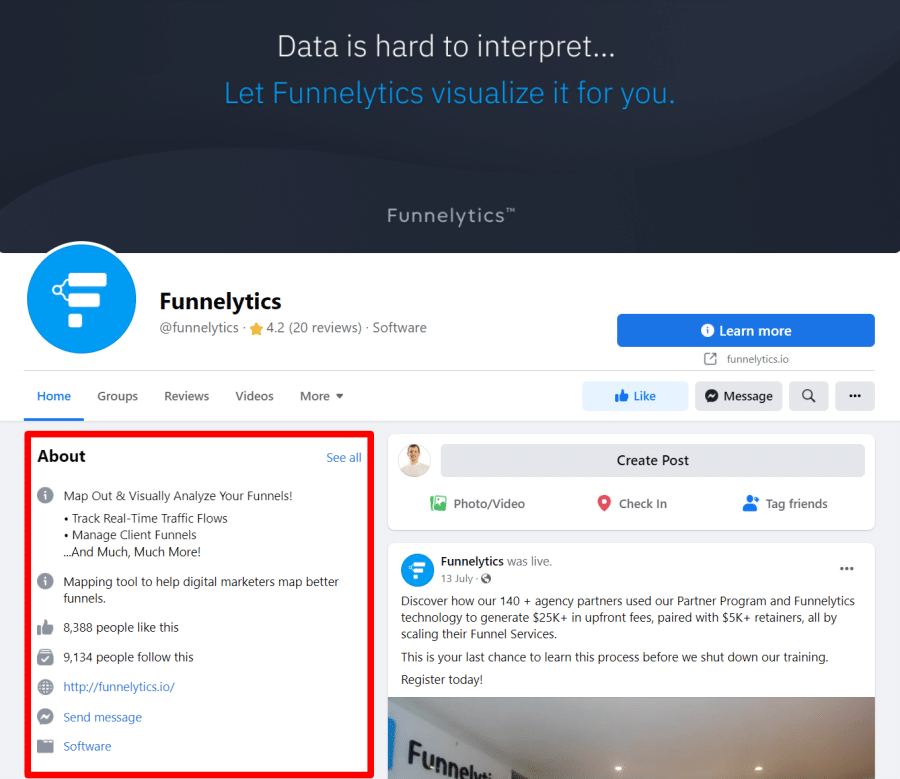 Twitter Profile
With over 184 followers on its Twitter profile, they help digital marketers to build better funnels and improve their conversions online.
LinkedIn Profile
On its LinkedIn profile, Funnelytics have 1,931 active followers where they share digital marketing and funnel-building information.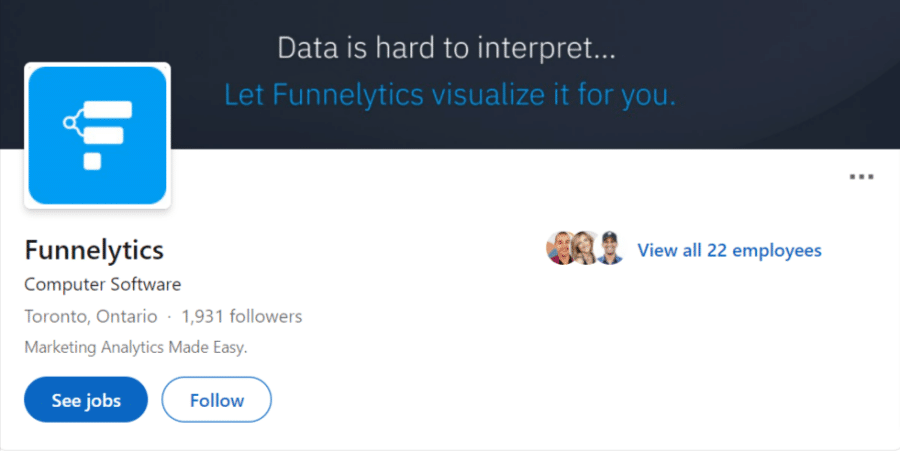 Funnelytics Alternatives And Top Competitors
Funnelytics has some strong competitors in the field of funnel mapping.
1. ClickFunnels
There has always been a comparison between Funnelytics and Clickfunnels. But after trying out both myself, I drew one conclusion.
Funnelytics and ClickFunnels are two different software that has varying purposes.
Funnelytics serves the purpose of funnel mapping while Clickfunnels help in the creation of different types of funnels such as sales funnels and webinar funnels.
2. Geru
It is another strong competitor and has always been in comparison with Funnelytics. But the key features of Geru are forecasting and planning.
On the other hand, Funnelytics offers in-depth analysis and tracking of sales funnels and customers. At the same time, Funnelytics also inculcates forecasting features like Geru.
Is Funnelytics A Good Choice For You?
Whether or not Funnelytics is the right choice for you depends on your needs.
It would be a perfect choice if you want to;
Build mapping funnels
Have an in-depth analysis of the funnels
Track your progress and user flow
Share your ideas and progress directly with the clients.
My Verdict: Should You Buy This?
But it may not be the best choice if funnel mapping is not regular work for you or you are already acquainted with other analyzing and tracking tools.
I find Funnelytics one of the best software to use for mapping, tracking, and analyzing. It has made life easier and the clients have never been this happy.
You can visually represent your ideas and also enable them to see their growth performance in real time.
If you have a budget and try something more advance, Get More Leads, Increase Conversions & Maximize Profits, you should definitely give it a hand on Cartflows, we have written a detailed Review on Cartflows check it now!!!
Funnelytics would always remain my first suggestion to whoever wants to map and analyze their funnel in an efficient manner. We hope our Funnelytics Review satiated your curiosity and gave you a good insight into the software and its purposes.
Frequently Asked Questions
What is Funnelytics?
Funnelytics is an easy-to-use software developed for funnel mapping, analyzing, and tracking your digital marketing for a better strategy and increased sales.
Can I share my Funnelytics plan with others?
Yes, you can share your funnel designs and plans with your clients or anyone by simply using the shareable link and giving minimum access.
Does Funnelytics track user traffic?
Yes, Funnelytics is responsible for tracking all forms of user flow. It also tracks revenue, landing page visitors, and all other assets.
What is Funnelytics vault?
The Vault is an exceptional feature that provides pre-made template funnels made by famous marketers. You can access these templates in just a few clicks.
What is the free and pro version of Funnelytics?
The trial version of Funnelytics provides the option of funnel mapping. It gives enough features to experience the feel of what the software is. Whereas the pro version lets you track and analyze your funnels as well.
Is there a free trial on the pro version?
No, there is no trial offer. But there is a 14-day money-back guarantee in case you cancel your subscription, you can find more details on Funnelytic's pricing page.
Are visitors being tracked on Funnelytics?
Yes, Funnelytics tracks user flow, conversion, and visitors using the UTM codes you attach to your websites or URLs.
What is Funnelytics Academy?
If you are a beginner and do not know how to use Funnelytics, you can access the Funnelytics program on your dashboard by purchasing the service. The 19 lessons provided will help you master Funnelytics.
How can you use Funnelytics?
There are multiple exciting ways to use Funnelytics.
Use Funnelytics to build the most professional funnel like the famous marketers.
– Track your ad traffic.
– Analyse your performance.
– Share your funnels with clients.
Build live funnels for clients and customers.
Is there a certification course for Funnelytics?
Agency Accelerator Program is a 19-lesson course provided by Funnelytics that gives a deep understanding of the software and its working system. You can opt for the service as a certification course.
Is the Funnelytics vault worth it?
Yes! It provides pre-made template funnels made by famous marketers. These are updated regularly and are easy to use. It is a value for money.
Can I build funnels with Funnelytics?
No, you can not build funnels with Funnelytics. It is software that facilitates mapping, monitoring, analyzing, and tracking funnels visually.
Why choose Funnelytics?
Funnelytics is an efficient tool that integrates all the components such as mapping, tracking, and analyzing into just one software. It helps in a better understanding of funnel ideas through visual graphics. What else could you ask from funnel mapping software?
Is there a lifetime subscription for Funnelytics?
No, Funnelytics no longer provides a lifetime subscription, you can check more info on Funnelytic's pricing page.
Can you create pages and send emails utilizing Funnelytics?
No, you can not create pages or email through Funnelytics. It purely works for designing and analyzing funnels.
Does Funnelytics provide live analysis?
Yes! Click on the "numbers" button to be able to see an in-depth live analysis. You can also track how many times an icon was clicked and by how many visitors. Make sure you have installed the tracking scripts.
How to reach out to customer service?
Funnelytics have supportive service with friendly staff. You can reach out to them through the support system on the official website or the email support@funnelytics.io. The only issue is that the service is not available 24/7. So you may need to wait a bit before you hear from them.