Welcome to my detailed review of GoHighLevel, where I will provide you with a comprehensive assessment of this powerful marketing automation and CRM platform.
In this my GoHighLevel review, I will discuss the features, benefits, and drawbacks of GoHighLevel, while sharing my personal experience and insights.
As an experienced marketer, I have used various tools and platforms throughout my career, and I am excited to share my thoughts on GoHighLevel. So, let's dive in and explore what makes this platform stand out from the competition.
What is GoHighLevel?
GoHighLevel is a comprehensive marketing automation and CRM (Customer Relationship Management) platform designed to streamline and automate various marketing processes.
It offers a wide range of tools and features that help businesses manage their marketing campaigns, communicate with leads and clients, and track their marketing efforts effectively.
With its intuitive interface and powerful functionalities, GoHighLevel aims to simplify marketing processes, increase efficiency, and drive better results for businesses of all sizes.
Key Features of GoHighLevel
GoHighLevel comes packed with a plethora of features that cater to the diverse needs of businesses. Let's explore some of its key features:
Marketing Funnels
One of the standout features of GoHighLevel is its versatile marketing funnel builder. With this tool, you can create and customize sales funnels, landing pages, and opt-in forms without any technical expertise.
The drag-and-drop interface makes it incredibly easy to design and modify funnels according to your specific requirements.
Whether you want to generate leads, sell products, or nurture prospects, the marketing funnel feature provides you with the flexibility to achieve your goals.
Email Marketing Automation
Effective email marketing is crucial for nurturing leads and building strong relationships with your audience.
GoHighLevel offers a robust email marketing automation system that allows you to create personalized email campaigns, set up automated sequences, and track email performance.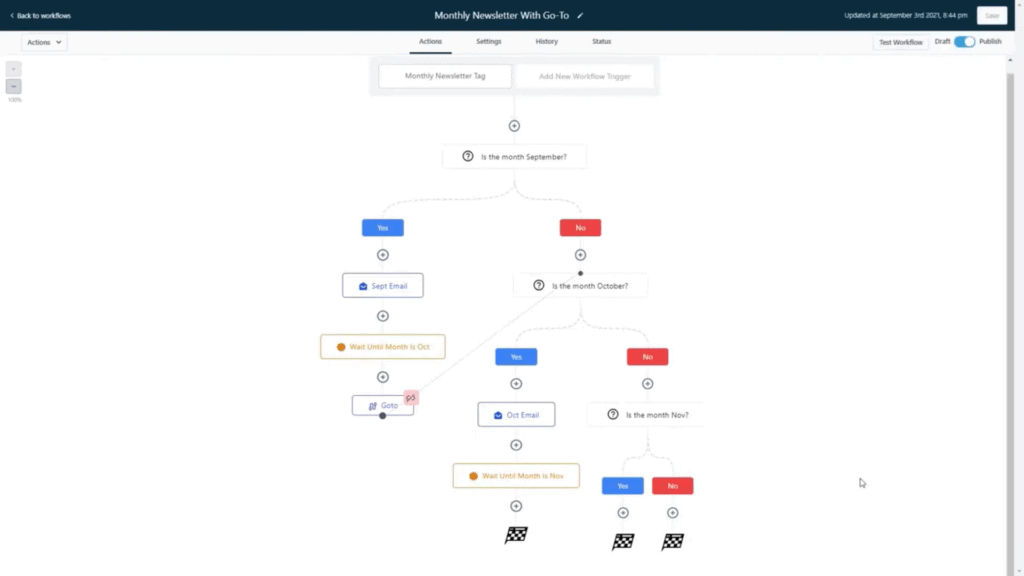 You can segment your audience based on their behavior, demographics, or any other criteria to ensure targeted and relevant communication. The platform also provides detailed analytics to help you measure the success of your email campaigns.
SMS Marketing
In addition to email marketing, GoHighLevel enables you to leverage the power of SMS marketing. With SMS campaigns, you can reach your leads and customers instantly, increasing engagement and response rates.
The platform provides easy-to-use tools to create and automate SMS sequences, ensuring that your messages are delivered at the right time.
SMS marketing is a valuable addition to your marketing strategy, allowing you to connect with your audience effectively.
CRM and Lead Management
GoHighLevel's CRM functionality helps you organize and manage your leads efficiently. You can track and monitor interactions with your leads, manage contact information, and set reminders for follow-ups.
The platform provides a unified view of your leads, allowing you to prioritize and nurture them effectively.
The CRM feature also integrates with other tools, such as the marketing funnel builder and email automation, ensuring a seamless experience and enhanced productivity.
Appointment Scheduling
Efficient appointment scheduling is crucial for businesses that rely on consultations or client meetings. GoHighLevel offers a convenient appointment scheduling system that eliminates the hassle of manual scheduling and back-and-forth communication.
You can share your availability with clients, allowing them to book appointments directly through an intuitive calendar interface. Automated reminders can be set up to reduce no-shows and ensure a smooth scheduling process.
My Experience with GoHighLevel
As an avid user of marketing automation platforms, I was eager to try out GoHighLevel. After using the platform extensively for several months, I can confidently say that it has exceeded my expectations. The intuitive interface and user-friendly design make it easy to navigate and utilize the platform's extensive features.
One aspect that impressed me the most is the versatility of the marketing funnel builder. I was able to create highly customized funnels tailored to my specific marketing goals.
The drag-and-drop functionality allowed me to design visually appealing landing pages and optimize them for conversions. The ability to track and analyze funnel performance helped me identify areas for improvement and optimize my campaigns effectively.
The email marketing automation feature of GoHighLevel proved to be a game-changer for me. The platform provides an extensive library of email templates that can be customized to align with your brand identity.
The automation sequences are easy to set up, and the advanced segmentation options ensure that the right message reaches the right audience.
The detailed analytics provided valuable insights into the effectiveness of my email campaigns, allowing me to refine my strategies further.
Furthermore, the SMS marketing functionality of GoHighLevel helped me diversify my communication channels and increase engagement with my audience.
The ability to send personalized and timely SMS messages enabled me to reach my leads and clients effectively. The platform's integration with popular messaging services ensured seamless delivery and enhanced user experience.
The CRM and lead management capabilities of GoHighLevel simplified my lead tracking and nurturing process. I could easily manage contact information, track interactions, and set reminders for follow-ups.
The unified view of leads provided a comprehensive overview of my sales pipeline, enabling me to prioritize and focus on high-value opportunities.
Lastly, the appointment scheduling feature saved me valuable time by streamlining the booking process.
I could share my availability with clients and eliminate the back-and-forth communication typically associated with scheduling appointments. The automated reminders significantly reduced no-shows and improved client satisfaction.
GoHighLevel Pricing – Is It Worth The Cost?
If you're considering investing in GoHighLevel for your business, you may be curious about the value it brings and whether the pricing is justified.
GoHighLevel offers a range of plans, each tailored to provide additional features and options that can meet your specific needs.
Let's explore the different tiers and determine if the investment is worthwhile for your business.
1. Agency Starter Account: $97 Per Month
The Agency Starter Account, priced at $97 per month, is an excellent entry-level option for businesses looking to elevate their marketing efforts.
With this plan, you gain access to a comprehensive set of tools and resources that can help streamline your workflows, enhance customer engagement, and optimize your marketing campaigns.
If you're seeking a cost-effective solution that delivers impressive results, the Agency Starter Account is worth serious consideration.
2. Agency Unlimited Account: $297 Per Month
For businesses requiring more advanced features and capabilities, the Agency Unlimited Account priced at $297 per month is the ideal choice.
This plan empowers you with an extensive toolkit, enabling you to leverage automation, customize your workflows, and drive exceptional results.
If your business demands a higher level of functionality and flexibility, the Agency Unlimited Account offers a compelling value proposition.
3. Agency Pro (SaaS Mode): $497 Per Month
If you're ready to take your business to the next level, the Agency Pro (SaaS Mode) plan at $497 per month offers an array of premium features designed to supercharge your operations.
This plan provides you with enhanced automation capabilities, advanced analytics, and exclusive access to cutting-edge resources.
If you prioritize scalability, in-depth analytics, and advanced marketing functionalities, the Agency Pro (SaaS Mode) plan is well worth the investment.
4. White Label Mobile App + Custom Zap Upgrade: $497 Per Month
For businesses seeking a comprehensive solution that includes a white-label mobile app and custom zap capabilities, the White Label Mobile App + Custom Zap Upgrade plan priced at $497 per month is a game-changer.
This plan enables you to establish a unique brand identity, deliver a seamless user experience, and leverage custom integrations.
If you're focused on branding, user experience, and tailored integrations, the White Label Mobile App + Custom Zap Upgrade plan offers exceptional value.
Consolidate and Save with GoHighLevel
One of the significant advantages of GoHighLevel is its ability to consolidate your marketing software into a single platform, potentially resulting in cost savings.
By centralizing your marketing tools, you eliminate the need for multiple subscriptions and simplify your operations, ultimately saving both time and money.
This consolidation factor further enhances the value of GoHighLevel's pricing structure.
Making an Informed Decision
When evaluating the worth of GoHighLevel pricing, it's crucial to consider the unique needs and objectives of your business. Assess the features and capabilities offered by each plan and determine which aligns most closely with your requirements.
Take into account the potential cost savings from consolidating your marketing software. Ultimately, making an informed decision involves weighing the value GoHighLevel brings against the investment it requires, ensuring it is a prudent choice for your business's growth and success.
Supercharge Your Business with HighLevel: Try it Free for 14 Days
With HighLevel, you can revolutionize your marketing strategies, streamline your workflows, and elevate your customer engagement. And the best part? You can try HighLevel for 14 days absolutely free. Let me guide you through the simple process to get started and unlocking the power of HighLevel.
Step 1: Sign up and Create Your GoHighLevel Account
To begin your HighLevel journey, visit our website and sign up for a free trial. Simply provide us with some basic information such as your name, email address, and phone number to create your personalized GoHighLevel login. This will grant you access to our comprehensive suite of tools and resources.
Step 2: Choose Your Desired Tier
Once you've created your account, it's time to select the tier that best suits your needs. HighLevel offers two options: the Agency Starter Account and the Agency Unlimited Account. Take a moment to assess your requirements and decide which tier aligns with your business goals.
Step 3: Experience HighLevel in Action
Congratulations! You're now ready to explore the vast array of features and capabilities offered by HighLevel. During your 14-day trial period, you'll have unrestricted access to all the tools and functionalities included in your chosen pricing tier. This is your opportunity to put HighLevel to the test and witness firsthand how it can transform your business operations.
Step 4: Evaluate the Benefits
As you immerse yourself in the HighLevel experience, pay close attention to the advantages it brings to your business. With its intuitive interface and robust features, HighLevel empowers you to optimize your marketing campaigns, automate your workflows, and enhance customer engagement. Take note of the positive impact it has on your business processes and outcomes.
Step 5: Make an Informed Decision
At the end of your 14-day trial period, it's time to evaluate your HighLevel experience and make an informed decision. If you're convinced that HighLevel is the game-changer you've been searching for, you don't need to take any action. Your selected plan will automatically transition into a paid subscription, and you can continue leveraging the full power of HighLevel. On the other hand, if you decide that HighLevel isn't the right fit for your business, simply cancel your membership before the trial period ends, and you won't be charged.
Unleash the Potential of Your Business Today
Don't miss out on the opportunity to supercharge your business with HighLevel. Sign up for your 14-day free trial now and witness the transformation it can bring. HighLevel is your gateway to unprecedented growth, seamless automation, and unparalleled customer engagement. Take the leap and unlock the full potential of your business with HighLevel.
FAQs about GoHighLevel
Is GoHighLevel Suitable For Small Businesses?
Absolutely! GoHighLevel is designed to cater to businesses of all sizes. Its flexible pricing plans and scalable features make it an ideal choice for small businesses looking to streamline their marketing processes.
Can I integrate GoHighLevel with other tools and platforms?
Yes, GoHighLevel Provides Seamless Integrations With Various Popular Tools And Platforms, Including CRMs, Email Marketing Software, And SMS Gateways. This Allows You To Leverage The Power Of GoHighLevel Alongside Your Existing Marketing Stack.
Does GoHighLevel provide customer support?
Yes, GoHighLevel offers excellent customer support. You can reach out to their support team through various channels, including live chat, email, and phone. They are known for their quick response times and willingness to assist with any queries or issues.
Is GoHighLevel secure and reliable?
Absolutely! GoHighLevel Prioritizes The Security Of Your Data. The Platform Implements Robust Security Measures To Ensure The Safety And Confidentiality Of Your Information. Additionally, The Platform Is Known For Its Reliability, With Minimal Downtime And Efficient Server Infrastructure.
Can I try GoHighLevel before committing?
Yes, GoHighLevel offers a free trial period, allowing you to explore the platform and its features before making a commitment. This gives you the opportunity to assess whether GoHighLevel aligns with your business requirements.
Does GoHighLevel provide training and resources?
Yes, GoHighLevel provides comprehensive training and resources to help you make the most of the platform. They offer tutorials, webinars, and documentation to guide you through the setup and usage of various features.
Conclusion: GoHighLevel Review
In conclusion, GoHighLevel is a powerful marketing automation and CRM platform that offers a wide range of features to streamline your marketing efforts. With its intuitive interface, versatile funnel builder, email and SMS marketing automation, CRM functionality, and appointment scheduling, GoHighLevel provides a comprehensive solution