If you are considering using the Pluralsight eLearning platform, confusion about costing.
But before you make your final decision, I have covered all Pluralsight pricing plans and their features.
I have also included the free trial offer they make with a different layout of their website in detail.
So, let's get started!
Pricing plans of Pluralsight
Individual users can purchase a monthly or annual Pluralsight Skills personal plan.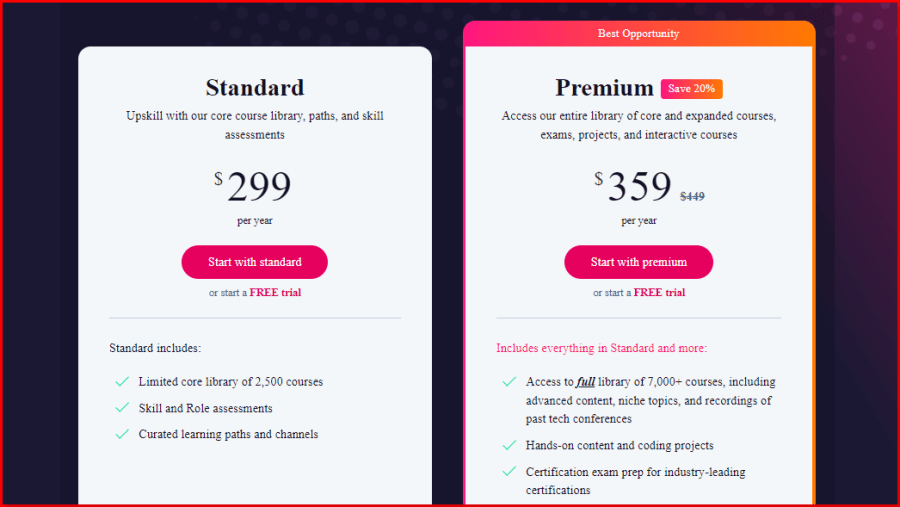 The monthly subscription is $29 and provides access to the whole course library, while the yearly plan costs $299 annually and includes learning paths, channels, guidelines, course descriptions, and more.
For interactive courses, tests, and projects, Pluralsight offers the $359-per-year premium personal plan.
To get massive savings on your desired pricing plans, check out Pluralsight Black Friday Deals. Do not miss it,
Pluralsight Individual Plans Review
The pricing structure you'll find at Pluralsight is similar to what you might find on other sites. You may use the 10-day free trial program to see if their course selection is right for you.
They make every effort to ensure that their users are entirely delighted with their experience here, thus the ten days will provide you with plenty of opportunities to test and troubleshoot your account.
The individual plan provides two payment options: a monthly plan that costs $29 per month and an annual plan that costs $299 for the full year (you save 14% by purchasing it all at once), which works out to just under $25 per month.
You will have access to the complete video course library, which contains over 7,500 individual lessons, as well as completion certificates, channels, paths, Skill IQ, and Role IQ.
The Premium plan grants you access to all of the capabilities of the Individual plan, in addition to several additional features including the following
Access to Kaplan's certification practice exams on an unlimited basis in order to prepare for certifications.
Interactive courses consist of coding challenges that can be done in the browser while receiving feedback.
Using your own integrated development environment, put what you've learned into practice and see how it applies to real-world scenarios as part of the projects (IDE).
Pluralsight Standard Plan Review
You'll have to make a decision when this ten-day period is through. You may join up for a monthly personal membership for $29 per month. You might pay annually instead, which will save you 15% and cost $299.
With this yearlong membership, you'll have access to Pluralsight's entire collection of courses, self-paced tests, apps, learning paths, exercise files, and more.
Pluralsight Premium Plan Review
Pluralsight has a terrific option for you if you want to have a wider range of project kinds.
Pluralsight provides free certification practice examinations and interactive courses to all subscribers, whether or not they have a Pluralsight premium review.
With the Pluralsight premium review, you can also gain access to a selection of valuable training and certification tests while allowing your team either direct or permission-based access.
This option is very beneficial because of the $449 annual membership charge.
Pluralsight Premium Business Plans Review
Starter Business Plan
The most basic version is $399 per user (per employee) per year and includes access to the training content library.
It includes access to 2,500+ courses and theme-based libraries to extend your knowledge relating to various sectors and skill sets, as well as watching anywhere, at any time. Offline viewing and usage through mobile device applications are also possible.
Professional Business Plan
The Professional Plan costs $579 a year per employee and includes access to a library of 7,000+ video courses, interactive courses via project work, and mock certification tests for a variety of certifications.
In addition to these capabilities, analytics assist managers in grouping learners into teams and creating a team manager platform to make invoice generation and subscription management easier.
Here are some features are given below.
Administrators of the plan can divide students into teams and designate team leaders.
Billing and subscriptions can be managed by plan administrators.
Powerful analytics regarding content, usage, skills, and other topics are available to team managers and plan administrators.
Team managers and plan administrators can use corporate channels to coordinate learning.
Enterprise Business Plan
The Enterprise Plan costs $779 per user and contains all of the features of the Professional Plan as well as Single Sign-On access, API capabilities, and the ability to export data from their CRM or Project Management Software.
If you want to get more discounts on your enterprise business use a Pluralsight discounts Code.
| | | | | | |
| --- | --- | --- | --- | --- | --- |
| | Standard | Premium | Starter | Professional | Enterprise |
| Free trial | 10-days | 10-days | N/A | 14-days | 14-days |
| Courses | 2,500+ | 7,000+ | 2,500+ | 7,000+ | 7,000+ |
| Certificates of completion | Yes | Yes | Yes | Yes | Yes |
| Watch offline | Yes | Yes | Yes | Yes | Yes |
| Refunds | N/A | N/A | N/A | N/A | N/A |
| Team management features | No | No | No | Yes | Yes |
| Monthly price | $29 | $45 | – | – | – |
| Annual price | $299 | $449 | $399 | $579 | $779 |
Key Features of Pluralsight
Unlimited watching
The content of the course can be downloaded

There are constantly new courses being introduced

reports, observations, and analytical findings

Course completion certificates

Windows and Mac versions are both supported
Personalized educational itineraries

Superior image and video quality

Beginner-friendly
Content of very high quality
Assessment test
Pluralsight Advantages
Pluralsight is becoming increasingly popular. Aside from being a primary source of education for people, it may also be used by organizations to quickly give training to their workforce.
Solutions are accessible for businesses of all sizes, from small and medium-sized firms to big corporations interested in all elements of cloud-based IT training.
Furthermore, Pluralsight allows professionals to monetize their content by allowing them to join the author network.
This possibility is open to both writers who develop new content and those who supplement current material with video lessons addressing areas where there is a need for improvement.
How to find great courses on Pluralsight?
The first place you should sign in is to Browse to find excellent courses.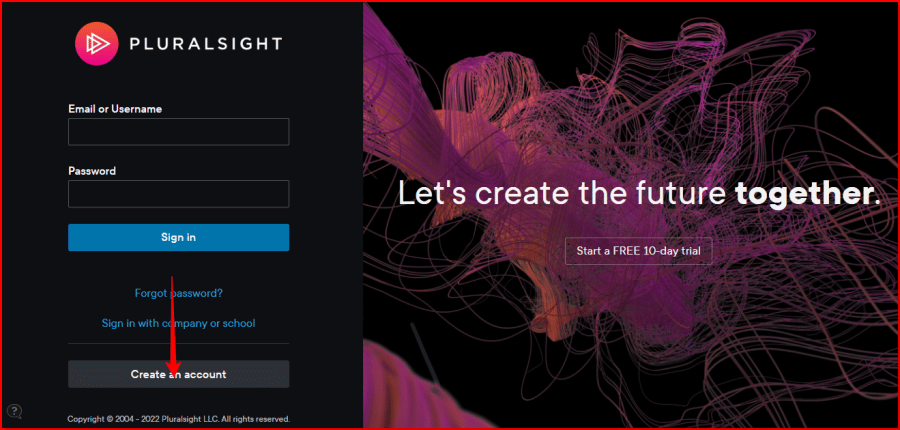 This is located on the homepage's upper left corner. You can access Pluralsight's primary categories by clicking this, which includes:
Software Development
IT Ops
Cloud
Data & Machine Learning
Business Professional
Security
Pluralsight does recommend courses related to Search History, the Newest Courses, and Highest Rated Courses.
By using the top search bar, you can also search for your own courses. Entering keywords like "Python" or "Intermediate" will help you identify the courses that will be of the most assistance to you.
If you have invested a large amount of time in Pluralsight and are unclear about where else you can acquire knowledge, I recommend going through the courses by typing the names of the instructors into the search field.
Since you'll already know that their way of teaching fits with how you learn, you must look into other classes taught by educators who helped you with a class or even a new skill.
To know more information about Pluralsight online courses, read our article Pluralsight courses review.
Does Pluralsight provide a free trial?
Pluralsight does not provide free courses, but it does provide a free trial period of 10 days or 200 minutes as well as thorough content encompassing thousands of various courses created by the most notable teachers.
An individual learner can select between the Standard or Premium package. You can choose to be paid monthly or annually.
The Standard Free Trial consists of the following components
Has a core collection of over 2,500 courses with the option of viewing them offline.
Make channels and take notes
Earn completion certificates and certification practice examinations.
The Premium Free Trial consists of the following components
Access to a 7,000+ course library
Participate in interactive courses and projects.
Make channels and take notes
Earn completion certificates and certification practice examinations.
Free Trial for a Team
Pluralsight free trial is available for both small and medium-sized teams. There is also a package for larger enterprises that utilize the software at scale or want special features or integrations for teams with enormous demands.
In all circumstances, you may test out two of three plans: the Professional Plan, the Enterprise Plan, and the limitless Developer Plan.
Individuals can also take advantage of the 14-day trial period, during which they can join up to two team members. To begin either the Professional or Enterprise team trial, you must input a credit or debit card.
The Professional Free Team Trial consists of the following components
Access to an expanded library of over 7,000 courses
Make channels and save notes
Earn completion certificates and certification practice examinations.
Trend analytics and skill/IQ assessment
Analytics for Skills and Roles (Basic) and Analytics for Channels (Basic)
The Professional Enterprise Free Team Pilot consists of the following components
You may make a channel and get completion certificates.
Access to an expanded library of over 7,000 courses
You may test your skill and role IQ.
You can take notes and might benefit from certification practice examinations.
Analytics for Advanced Skills and Roles, Advanced Channels, Role Customization, and Data Export
Currencies And Payment Methods Of Pluralsight
Pluralsight subscription plans can be purchased with a debit/credit card (Orders are processed using MasterCard, Visa, American Express, and Discover.) or through Paypal.
You can pay in GBP (British Pounds), EUR (Euros), INR (Indian Rupees), or USD (US dollars).
You may also be charged tax on your membership based on the region of your billing address; this varies by country, state, and country. When you initially join up for Pluralsight.
You will be prompted to input your payment method, which can be either a card or a credit card, or a PayPal account.
Even if you are taking advantage of the 30-day free trial, you will still be required to input your payment information.
Please keep in mind that if you choose not to continue with one of Pluralsight's subscriptions, you must cancel before your free trial period expires.
How to Cancel or Renewal Pluralsight Subscriptions?
On the day you originally signed up, your monthly and yearly subscriptions will renew. Make sure to cancel your Pluralsight subscription before it renews automatically if you do decide to stop using the below steps.
Click the Subscription & Billing link on the Account page.
Manage your subscription by clicking.
Select "cancel."
select "Cancellation confirmed".
What makes Pluralsight different?
Pluralsight offers a wide variety of high-quality solutions. You have access to more than 7,000 different course alternatives through the library's recent expansion.
There are also more specialized subjects available for people who are working on projects that are more difficult or unique.
The thousands of courses that are given by prominent figures in the field provide a broad spectrum of skill development requirements.
Social Media Profiles
Social media is widely used for social interaction, access to news and information, and decision-making.
It is an effective tool for communicating with others on a local and global scale, as well as for sharing, creating, and disseminating information.
Facebook Page
A Facebook tool for organizing and managing your business. Pluralsight has 1,244,352 likes and 1,250,755 followers on its Facebook page.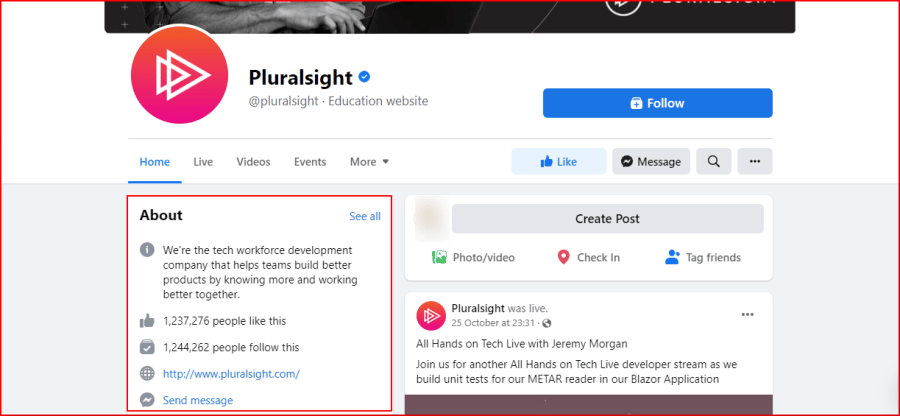 Pluralsight Twitter Profile
Pluralsight has 36.4k tweets & 252.8k followers on its Twitter profile.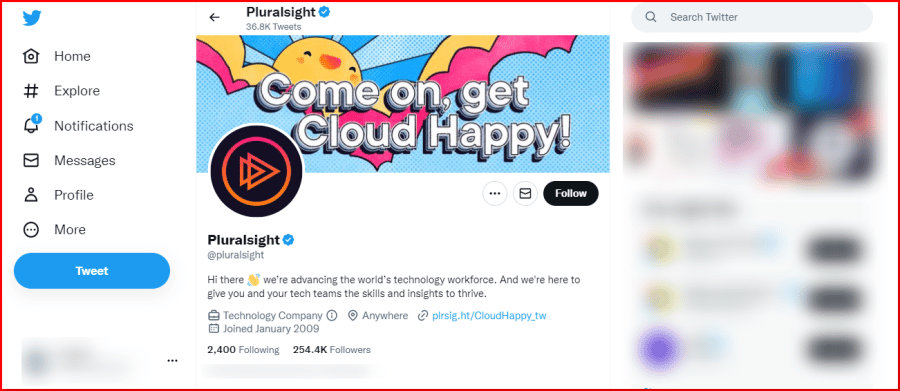 Pluralsight Linkedin Profile
Pluralsight has 148,448 followers on its Linkedin profile.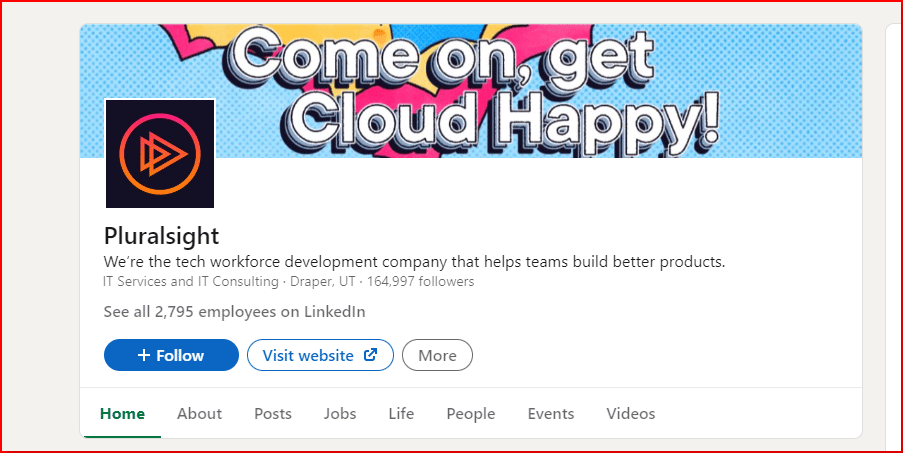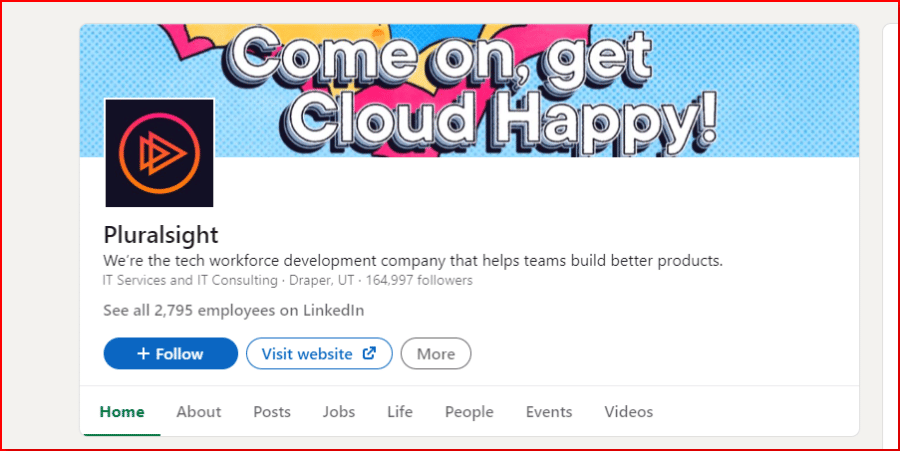 Final Thought On Pluralsight Pricing Options
You should now understand Pluralsight's pricing and subscription options. I'll summarise.
Individual plans, Standard, and Premium subscriptions are good options for tech industry job training. The Core collection (2,500+ courses) is available with the $29/month or $299/year Standard subscription. Cloud, data, security, and software development are popular.
If you wish to invest more, the Premium plan costs $45 a month or $449 a year and gives you access to the Expanded library (7,000+ courses) and premium extras like certification practice examinations and projects.
Overall, I have concluded everything related to Pluralsight pricing. Hopefully, this analysis help you to make a decision.
Frequently Asked Questions
How much does a Pluralsight course cost?
The monthly plan is $29 per month and includes access to the entire course library, while the annual plan is $299 per year and includes learning paths, channels, guides, course descriptions, and more. Pluralsight's premium personal plan, which costs $449 per year, is available for interactive courses, exams, and projects.
Is Pluralsight expensive?
Is Pluralsight completely free? Pluralsight is not a free service. However, both their personal and premium plans come with a 10-day free trial. However, after the free trial period, you must pay either $29.99 per month (personal), $299 per year (personal), or $449 per year (premium).
Are Pluralsight projects worth it?
If you want a quick answer to whether Pluralsight is worth it, the general answer is Yes. Yes, it is. It is a very high-quality education platform with a very low monthly fee. However, depending on your requirements, it may be the best platform for you, or another may be preferable.
How does Pluralsight make money?
The company generates revenue through monthly subscriptions, with programs for individuals, small enterprises, and enterprise users.
How does a Pluralsight subscription work?
It's easy. When you register, you'll get instant access to thousands of professional courses, learning paths to direct your training, tools to test your skills, and hands-on materials like exercise files. You can learn as much as you want and cancel at any moment.