Having embarked on my content creation journey with Sudowrite, I am thrilled to share my personal experience with this remarkable AI-powered tool. Sudowrite has revolutionized the way I write, igniting my creativity and streamlining my content creation process. In this personalized Sudowrite review, I will take you through my journey with Sudowrite, highlighting its key features and the profound impact it has had on my writing endeavors.
What is Sudowrite?
Sudowrite is an AI that helps you write a book. It makes the process of writing fun and engaging. It has a lot of great features, like helping you come up with ideas for characters and plot points, letting you rewrite parts of your story in a different tone, and suggesting great words to use.
The AI program also works as a beta reader for your stories, giving you comments and new ideas to try.
Unlike other AI writing tools, it helps you write fantasy more than non-fiction, though you can use it for both.
One of its founders said that this AI writing tool can be thought of as a "sparring partner" that helps you improve your book, come up with new scenes, and come up with story ideas.
If you get stuck on a line or can't think of the right words to describe a part of your story, you can use Sudowrite to move your story along.
Like other AI tools and technologies like chatbots, Speech-to-Text, and helpers like Siri, Sudowrite uses natural language processing (NLP) and machine learning to make its output.
Using NLP and machine learning means that this AI tool can learn enough about your story to understand it. So, based on what it knows, it gives you ideas you can use in your own work as if it were your co-writer.
When writing a book, you can use Sudowrite as a way to come up with ideas, make a rough first draft, come up with story elements and character arcs, build a world, and so on.
It can even help you with creative writing, like poems, which isn't your strong suit. It will give you feedback on your writing as if a friend had read it.
Unleashing Creativity with AI Assistance
From the moment I started using Sudowrite, I was captivated by its AI-driven writing assistance. This powerful tool goes beyond basic grammar checks and offers real-time suggestions that enhance the clarity, coherence, and overall quality of my writing. Sudowrite acts as my trusted companion, providing me with creative ideas, refining my sentence structures, and suggesting word choices that elevate my content to new heights.
Seamlessly Integrated Workflow
Sudowrite seamlessly integrates into my writing workflow, enhancing my productivity and efficiency. With its user-friendly interface and intuitive design, I can easily access its wide array of features and leverage them to their fullest potential. The tool adapts to my unique writing style, learning from my preferences and consistently delivering tailored suggestions that align with my voice.
Inspiration at Every Turn
One of the standout aspects of Sudowrite is its ability to ignite my creativity and inspire fresh ideas. The tool boasts an extensive database of prompts, examples, and concepts that serve as a constant source of inspiration. Whenever I find myself in need of a creative spark, Sudowrite is there, ready to provide a wealth of ideas and perspectives that push the boundaries of my writing.
Transforming the Editing Process
Gone are the days of tedious manual editing and proofreading. Sudowrite's intelligent editing capabilities have revolutionized my approach to polishing my content. From grammar and spelling corrections to more nuanced improvements in sentence structure and coherence, Sudowrite streamlines the editing process and allows me to focus on the essence of my writing rather than getting caught up in technicalities.
Supercharging SEO Optimization
Sudowrite's integration with SEO optimization has been a game-changer for me. With its AI-driven insights, the tool assists me in identifying strategic keywords, optimizing my content for search engines, and ultimately increasing organic traffic to my website. Sudowrite's SEO optimization feature has empowered me to reach a wider audience and elevate the visibility of my content in the vast digital landscape.
Constant Evolution and Improvement
What sets Sudowrite apart is its commitment to constant evolution and improvement. The team behind Sudowrite actively listens to user feedback, regularly updates the tool with new features and enhancements, and ensures that it remains at the forefront of AI-powered writing technology. With Sudowrite, I am confident that I have a reliable and cutting-edge ally in my ongoing content creation journey.
Sudowrite Plans and Pricing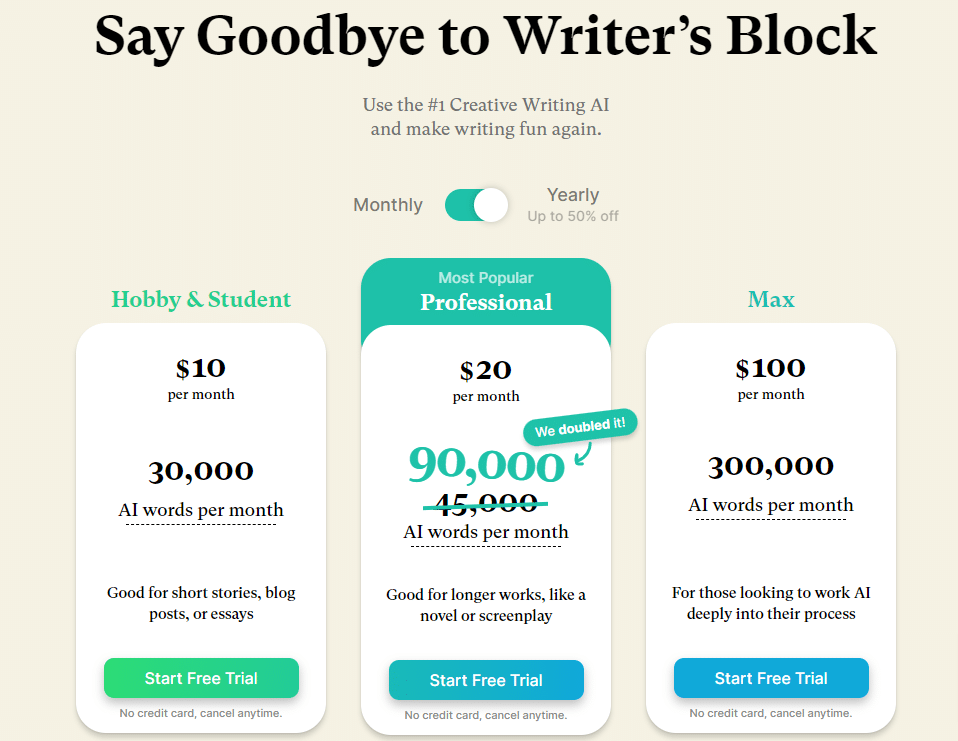 Sudowrite has three plans, and the following costs are if you pay yearly:
Hobby and Student Plan – costs $10/month and provides 30,000 words.
Professional Plan – costs $20/month and provides 90,000 words (doubled from 45,000).
Max Plan – costs $100/month and provides 300,000 words.
When you subscribe on a monthly basis, all plans will be more expensive. If you need a plan with enterprise-level features, you can contact the team at hi@sudowrite.com.
Sudowrite Pros & Cons
Sudowrite Pros
The Brainstorming feature is excellent for solving story problems.
The Rewrite tool can give sections of your story the appropriate tone.
Affordable plans (starting from $19 at the time of writing).
The software can give you beta-reader feedback on your writing.
Its Describe feature is excellent for writers who struggle with sensory descriptions.
Sudowrite can create an infinite number of side characters.
Has a Chrome extension, so you can work in Google Docs if you like!
Sudowrite Cons
Final Thoughts
My experience with Sudowrite has been nothing short of transformative. This remarkable AI-powered tool has unlocked new levels of creativity, enhanced my writing process, and propelled my content to new heights. From its intuitive interface to its seamless integration into my workflow, Sudowrite has become an indispensable companion in my content creation endeavors. If you're seeking to harness the power of AI to elevate your writing, I wholeheartedly recommend giving Sudowrite a try. It has been a game-changer for me, and I'm certain it will be for you too.