Jungle Scout is an Amazon online research tool that helps sellers build a successful business on Amazon through product inquest, market intelligence, brand and listing management capabilities, and much more. It helps Amazon earn more than $50 billion a year.
Here In this Jungle Scout review article, I have come up with a complete analysis of its overview, features, pros & cons, and many others.
So, let's get started!
Jungle Scout Review: Why do you need Jungle Scout?
Before Jungle Scout came into play Amazon geeks were still manually digging bits of information about products, analyzing competitors, relying on gut feelings, and spending hundreds of hours just to create the spreadsheet library, and still, they got access to the little amount of data.
In this fast-paced world if you want to grow your business you should know your product very well which implies proper product research of your product.
Product research is the single most important factor for business growth and winning the hard stone competition increasing day by day.
Stressed-out right? Well, don't worry Jungle scout does things for you instantly. Plus, we have got the Jungle Scout discounts for you that would save up to 55%.
Jungle Scout can aid you with a lot of factual data beyond just relying on gut instincts.
It offers various tools that help to hunt, analyze, and track products according to the market
Jungle Scout is a great tool that can meet the needs of almost any Amazon FBA seller. Because of this, it has become the standard that all other Amazon research tools are measured against.
Jungle Scout Pros And Cons
Data about Amazon product sales and revenue is provided.
Analyze trends by easily tracking product performance.
Easy access to competition and market intelligence data
It's simple to come up with cool, high-value product ideas.
Provides The Niche Hunter's Opportunity Score for the niche you're researching
Find the most effective keywords that are both simple and profitable.
Provide detailed historical keyword search volume trends.
Compare measurements at the company or product level over time.
Avoid hijackers and keep a close eye on your competitors.
It even forecasts future product demand, saving you time.
Keep an eye on the product's organic search ranking for the keywords you've picked.
You can easily keep track of your Amazon finances profit.
It should include additional information about vendors.
When you have thousands of products to manage, inventory management becomes a little more complicated.
The Opportunity Score is a useful metric, but it only makes sense when used in conjunction with other factors. If you don't know what else to look for, it can be quite wrong.
No free trial. I feel JS would have a lot better reputation if they offered a 30-day free trial.
Review Of Jungle Scout Features
When it comes to beginner-friendly and advanced tools Jungle Scout offers several lit tools and features that will help to convert your spark into a fire.
Profitability is a long-term game, and you need to be patient. However, in the short run, speed and power triumph. Jungle Scout is all about saving time in the short term while positioning you for long-term success.
Let us dig into some cool features and tools offered by jungle scout:
1. Chrome Extention
There comes a bit of confusion, people always get confused about the forms available for Jungle Scout. It is available in two forms: the web-based software and the google chrome extension.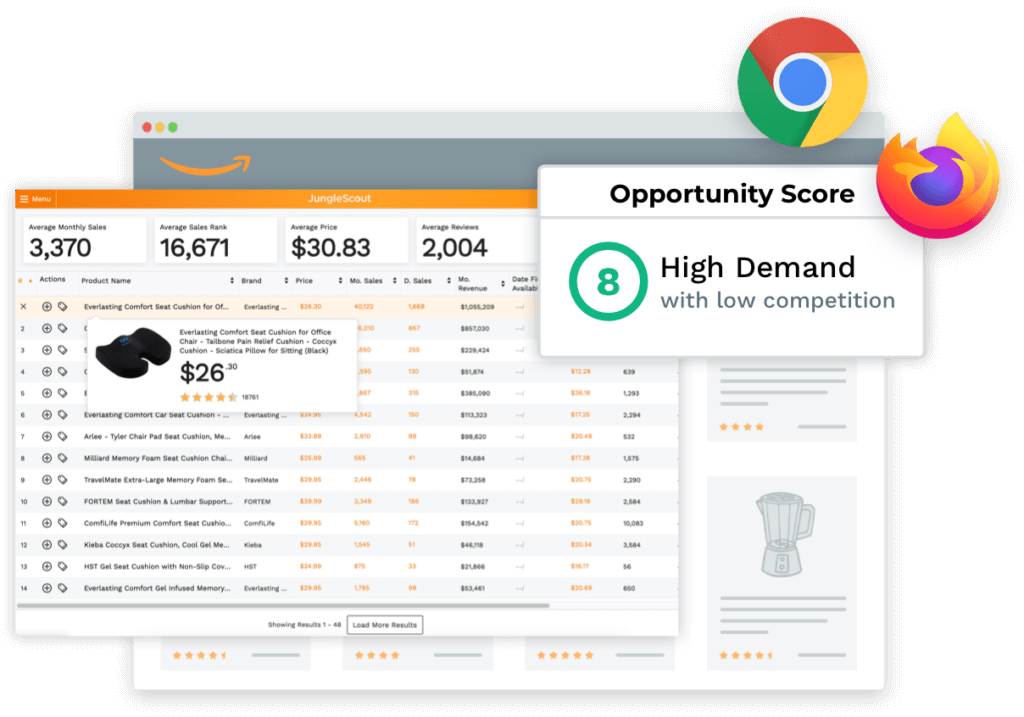 JungleScout's web app is your hidden weapon for making better product decisions and standing out from the competition.
You may simply locate profitable niches and products from the full Amazon catalog with the help of a Web App.
The Chrome add-on is a fantastic little tool that pulls in a wealth of product information directly from the Amazon product page. The Chrome extension provides a rapid overview of all of the product's important details.
It allows you to easily add products for tracking, check basic statistics for each product, view prices, predict monthly sales, study, and export keywords, and even look at Google Trends data.
It instantly provides a list of the top 16 listings for the product niche you're seeking, with figures such as "Average Daily Sales," "Average Sales Rank," "Average Selling Price," "Average Reviews" etc.
You can decide whether a niche is worth entering in seconds using these four formulas.
These figures provide a strong indication of competition and demand. This will save you time and increase both productivity and portability.
2. Product Tracker
Product Tracker is the most complete tool for evaluating the status of a collection of items over time. It monitors sales to touchstone possibilities and establishes an Amazon success strategy.
It keeps a close eye on a product's or a collection of products' average sales, income, and land Best Seller Rank. As you track products over time, you'll gain vital insights into the market area, allowing you to make more informed decisions for your Amazon business.
To see a roll-up of stats on a clean interface, create groupings of comparable items. Drag and drop products within the group to reorder them, and edit columns to see the information that matters most to you.
For each tracked product, see crucial parameters such as average daily sales, price, rank, and more. Explore the product's competitive landscape by looking at inventory, units sold, rank, and Buy Box price over time on a graph. It helps you see a product's entire sales history.
Simply enter the product into Product Tracker to obtain a comprehensive perspective of its history and assess its potential to be the next great thing.
You'll find information such as Best Seller Rank, Price, Units Sold, Inventory in Stock, reviews, and much more. Rather than relying simply on intuition, this provides a much safer, data-driven method to study.
3. Opportunity Finder
Jungle Scout's strong opportunity score finder assists you in identifying emerging trends and lucrative niches for your product.
Opportunity Finder will be your key to finding the first product sold on Amazon or growing your business with unique products.
You can simply locate various niches to get started selling rapidly with Jungle Scout's Niche Hunter tool. By renewing Amazon trend keywords with high demand and low competition, Opportunity Finder discovers valuable product areas.
You can easily bypass tedious hand research and improve data that leads to your search for the most recent product trends with this. Make sure your niche is centered on Niche Hunter Finder.
Based on product demands, competition, and specialized lists, this patented algorithm ranks product prospects from 1 to 10, with 10 indicating the best chance for new sellers.
The opportunity score finder examines all of a product's or niche's data to offer you all relevant data and insights. The power of a term is unlocked by Opportunity Finder, which uses it to find viable product niches.
Convert a keyword into a market sector to get all the crucial information on sales performance, developing trends, and competitor valuable information.
4. Product Database
Product Database is a searchable list of 475 million Amazon-sourced products.
You can Organize, research, and assess product concepts. The preset filters are the best part, as they provide rapid ideas.
It's easy to become paralyzed by analysis paralysis when faced with a 475-million product list. You can use the filters to select the most frequent factors (such as high demand/low competition).
The product database is often overlooked by novice Amazon FBA business owners. Don't be one of these individuals.
There's a wealth of useful information here, including a profit calculator (with fees), international marketplaces, and product rankings. No matter where you are on your Amazon FBA journey, the product database is extremely useful.
5. Supplier Database
The Supplier Database is the first of its type, and it assists Amazon sellers in locating global suppliers that major brands use.
Finding a good source is half the battle when it comes to selling on the internet, so look for suppliers that seasoned brands use and contact them for your own needs. This capability can also be used to locate a competitor's supplier, thereby giving you a competitive advantage.
You can search for suppliers in the Supplier Database by product keyword, company, or ASIN, giving you the highest chance of finding your competitor's exact supplier.
You can make the best decision when contacting manufacturers to source your goods with the help of these providers.
6. Keyword Scout
Keyword Scout is the most complete and reliable Amazon keyword research tool available.
This tool is quite useful for identifying high-quality keywords that should be included in your listing, as well as for displaying the search volume and PPC cost associated with each term.
Any Amazon seller will tell you that having the right keyword(s) in your product listing is crucial if you want to sell a lot of things. You don't have to guess which keywords to utilize when you use a service like Keyword Scout.
Put your seed keyword into the tool and let it do the legwork for you; then just add the high-volume, relevant keywords to your listing.
This tool can also be used to estimate how much money you'll spend on PPC before you even start researching a product niche. You may not be able to afford to enter because the PPC bids are too costly. It's better to find out before you spend hundreds on things!
Keyword Scout provides a slew of benefits:
Real Amazon shoppers are looking for niche keywords.
Keyword demand includes sales revenue, number of sales, and other KPIs for Amazon sellers.
Identifying the importance of keywords.
Set a budget for your PPC advertisements and stick to it.
Faster product ranking for difficult keywords.

One major benefit the company claims to have here is that its product is based on real-world needs from the community and even from company sellers. As a result, this tool reflects what the community sought in a KW tool. That's not awful!
7. Rank Tracker
The keyword ranking analysis tool Rank Tracker records rankings over time. To see previous keyword performance, reverse-search a group of ASINs and figure out which keywords are influencing your and your competitors' listings.
Learn which keywords have a track record of success and which ones haven't.
Use predefined filters to maximize table-data analysis to find the most significant keyword data that defines your ranking approach. Reverse-engineer your competitors' ASINs to discover and track their high-traffic keywords.
Enter the ASINs of your competitors to generate keyword recommendations that you can track and add to your listing. Rank Tracker allows you to track and add keywords from Keyword Lists and Keyword Scouts.
To keep structured and assess cause and effect for future study, add annotations directly to a product's rating graph.
9. Listing Builder
With data-driven listings, Jungle Scout's Listing Builder lets you battle for important ranking on Amazon search results. Use recommended keywords in your listings to improve your rankings.
With Jungle Scout's AI-driven Listing Optimization Score, you can see how likely your listing is to rank and convert sales.
This real-time grading takes into account the product title, description, essential features, keywords, photos, and more to provide you with real-time feedback so you can make changes to your listing.
Improve your product's rating in Amazon's search results by developing a strong SEO plan using popular keywords.
Import current keyword lists, generate new ones on the fly or use complex filters to find high-ranking phrases that will rank quickly or medium-ranking keywords that will keep your advertising budget in check. You Move your listing data between Seller Central and Jungle Scout with ease.
To test and optimize your listings, simply drag & drop them into Jungle Scout. Simply re-sync the changes into Seller Central and see your rankings rise.
10. Inventory Manager
The Inventory Manager from Jungle Scout provides a data-driven approach to Amazon inventory management.
To increase Amazon sales and minimize stockouts and fees, accurately anticipate how much stock you should order and when you should order it.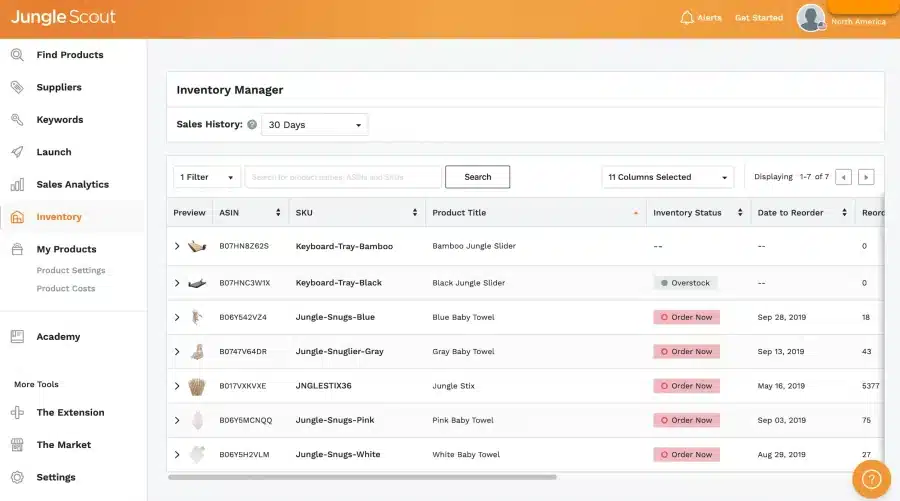 View the status of your Amazon FBA inventory in real time so you can decide when and how much stock to restock.
Each of your items has a Reorder Now, Reorder Soon, Overstock, or In Stock label, and the Inventory Manager calculates the optimal date and quantity to order, as well as predicted costs and earnings.
You may evaluate other crucial inventory-level indicators like revenue, cost, profit, average daily sales, and average profit per unit using the Inventory Manager's demand forecasting technology.
You can also keep a check on units on their way to an Amazon fulfillment center by monitoring inbound inventory.
To avoid an expensive "stockout," make sure you order adequate stock – and on time. Inventory shortages result in missed sales, as well as higher shipping costs, longer fulfillment times, and a poor customer experience.
Reduced conversions might hurt your keyword ranks, Buy Box position, and overall competitive advantage.
10. Category Trends
Category Trends is a one-of-a-kind product research function on Amazon that records the top 100 products in any category or subcategory. Determine which category to target for a future product launch by analyzing category performance in conjunction with previous trend data.
On Amazon, you may look at daily purchasing trends by category and subcategory. Category Trends highlights the top 100 goods in a given category or subcategory, demonstrating how a product has performed over time and providing market demand intelligence.
To validate product concepts, look at category performance data like pricing, review, rating, and rank. Using data down to a specific subcategory, expand your existing portfolio by adding new products. You can view graphs that show how an ASIN's monthly rank has changed over time.
To determine the directionality of items in the market, keep an eye on rank changes, such as low-ranking products that are gaining traction or high-ranking products that are losing traction.
11. Review Automation
Review Automation is a Jungle Scout solution that automates the Seller Central review request process and is Amazon ToS certified.
Save time and money by never missing an opportunity for a positive review.
Allow yourself to focus on your business rather than the time-consuming task of manually acquiring feedback from Seller Central. Review Automation automatically sends review requests to all orders that meet the criteria.

You don't have to do anything because Review Automation takes care of everything. Calculate how much time you've saved by automating your requests, and then concentrate on what counts most: increasing sales.
12. Academy
Jungle Scout established the Academy because Amazon selling may be difficult and involves many different factors. Within the Web App, the Academy is a place where you can view videos and learn how to sell like a pro.
Academy not only teaches how to utilize the Jungle Scout tools but also all other aspects of Amazon selling that must be learned to be a successful Amazon seller.
This resource is available free of charge to Amazon Web App users, so take advantage of it!
Why choose Jungle Scout over others
Its top competitors include Helium 10, Viral launch, and AMZScout.
With Jungle Scout, you not only receive a set of incredible tools that can simply automate the process of conducting Amazon research, but you also get several unique features that you won't find with any other product on the market.
They have a support crew here that will be there for you in any trouble or issue. Furthermore, compared to other tools and applications on the market, using Jungle Scout is straightforward.
The best aspect is that you can access Amazon product sales data for any country you desire. Data is available from the United States, India, Spain, the United Kingdom, Mexico, Canada, France, Italy, and Germany.
Jungle Scout Pricing plan
Jungle Scout essentially offers a variety of flexible and reasonable price options to allow anyone to get started.
You have the option of signing up for a monthly or annual plan.
Basic
With our well-known browser plugin, you can validate product ideas while browsing Amazon.
Its Features include:
License for a single user.
Access to the browser extension (Chrome + Firefox) is unrestricted.
It is available at $49 monthly and $29 yearly.
Suite
Everything you'll need to find new products and run your Amazon business like a pro.
Its Features include:
Examine Automation
Addition of more users
Advanced seller features include access to more detailed historical product and keyword data.
It is available at $69 monthly and $49 yearly.
Professional
More data, users, and access are great for seasoned sellers that require more.
Its Features include:
You can keep track of up to 1000 ASINs.
There were a total of 6 users.
Product Tracker has 6 months of historical data.
Priority onboarding.
2 years of historical keyword data.
It is available at $129 monthly and $84 yearly.
How Jungle Scout's Free Resources will help to boost your business?
Amazon FBA Calculator
Amazon provides this calculator to assist sellers in determining their costs and earnings before listing. Before you order your product, use this calculator to figure out your profit margin.
Jungle Scout Sales Estimator
The only two tools that have good sales estimates, in my opinion, are Jungle Scout and Viral Launch.
Although, based on median results, Jungle Scout is still roughly 30% more accurate than Viral Launch.
Just enter a product's "sales rank" and Jungle Scout will calculate the projected monthly units sold.
Jungle Scout Listing Grader
Allow Jungle Scout to examine your Amazon listing, as a well-crafted listing is typically the deciding factor in your success. Make sure your listing is comprehensive.
with high-quality photographs and writing. Also, provide all dimensions. Your product description should persuade someone to purchase it.
Follow Greg as he launches a product to generate $1 million in revenue. When it comes to how, what, and why, he hasn't left any stone unturned. Greg's case study covers everything from sourcing to product listing.
Beginner Guide to selling on Amazon
This guide is for you if you're new to selling on Amazon.
I recommend reading the entire guide and taking notes; by the conclusion, you should have enough information to begin your own selling journey.
Jungle Scout Market
The Market is one of the most useful things that Jungle Scout has lately released!
Before adopting The Market, FBA owners had to rely on UpWork and other freelancer websites to complete jobs that were either outside of their skill set or took too long.
With its exclusive freelancer platform, The Market brings the top Amazon freelancers together in one spot. Hiring the best freelancers for your company will save you time and money.
The Market offers everything from graphic design to product photography to legal assistance.
Filter by availability, price, and user reviews (left by other Jungle Scout customers). I strongly advise you to visit The Market for all of your outsourcing needs!
Jungle Scout Customer Reviews
Here are the customer reviews of Jungle Scout.
G2
Jungle Scout has received a rating of 4.7 out of 5 on G2 from 99 customers.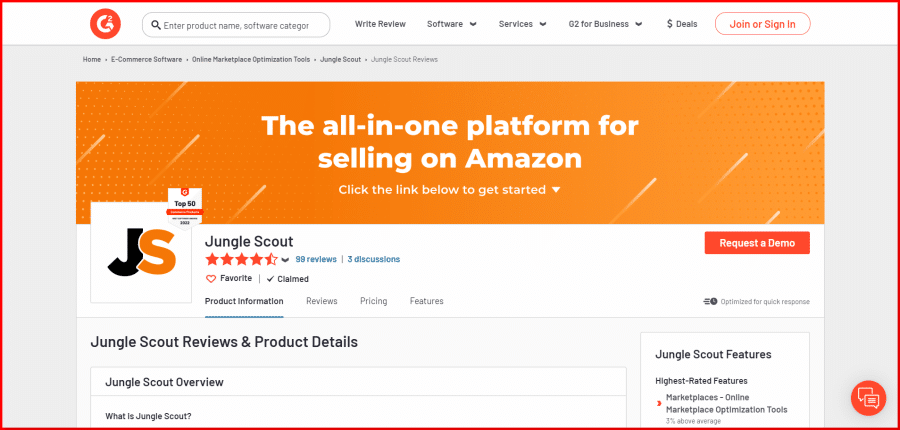 Trustpilot
Jungle Scout has a 4.7 rating out of 5 from 2,982 users on Trustpilot.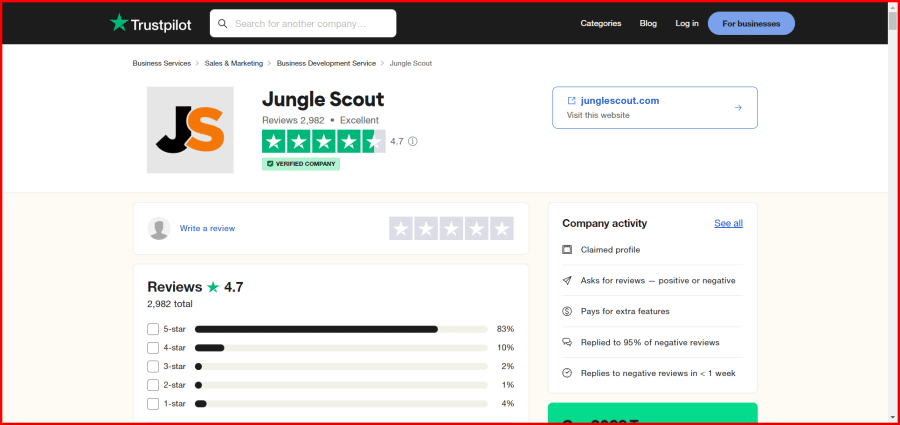 Final Thoughts
Jungle Scout is one of the most effective Amazon research tools available.
Yes, it's a little expensive, and no, there is no free trial, but it's well worth the investment if you're keen on expanding your Amazon business.
If you can't figure it out, simply request a refund within two weeks and you'll be OK.
Frequently Asked Questions
Is Jungle Scout worth it?
Yes, Jungle Scout is well worth your time because it has a comprehensive set of tools for Amazon sellers, including product research, keyword suggestions, research, product tracking, and more.
Is There a Free Alternative to Jungle Scout? 
Yes, you can try UnicronSmasher, a free alternative to Jungle Scout. The problem with free tools, though, is that they aren't always precise or reliable. If you require a free tool, though, you can use the free alternative.
How much is it to start Amazon FBA?
To purchase a Professional Amazon Seller account, you will be required to pay a one-time cost of $39.99, in addition to extra fees for each item sold. In order to enter the Amazon Marketplace, you will also need at least $30 in order to purchase a unique product code.
How reliable is Jungle Scout?
We are aware that Jungle Scout has an accuracy percentage of 84.1%. We discover a supplier in China who can produce the item for $5 each and invest $7,500 on three months' worth of inventory because our data indicates that the product sells an expected 500 pieces each month.