Amazon sellers are aware of the fantastic tools Helium 10 provides, but if you are trying it out before purchasing it, a Helium 10 free trial is available.
Helium 10 software can provide you with insights into Amazon products from which you can learn by tracking the keywords and other terms that get them listed successfully.
Our Helium 10 Review also gives you some amazing insights into using this Amazon FBA tool.
You can acquire data that can make the business just as profitable by knowing what products are doing the best.
Although Helium 10 is not free, you can use most of its tools for free for a limited time.
If you purchase the full paid version, you will also receive a 30-money-back guarantee if you are dissatisfied with the services.
Is Helium 10 free?
Helium 10 is not free.
Helium 10 does, however, provide a limited, free version of the majority of its tools. Cerebro can only be used twice every day and can track up to 20 keywords.
This is insufficient. As a result, as soon as you feel comfortable with this tool, you should upgrade to one of the three paying subscriptions.
How to sign up for Helium 10 free trial?
Step 1: Go to Helium 10 Website
Click here to visit the Helium 10 website.

Step 2: Click on 'Sign up for free
Click on the 'Sign up' button to register for free Helium 10 account.
Step 3: Fill in your details
Fill in all the personal details asked and tick on 'I agree with Privacy Policy and Terms of Use'.
Step 4: Install Helium 10 chrome extension
After signing up, log in and install the Helium 10 chrome extension.
After you install the extension for the first time, you may need to sign in to your Helium 10 account in order to use it.
Just right-click on the button for the extension and do what it says.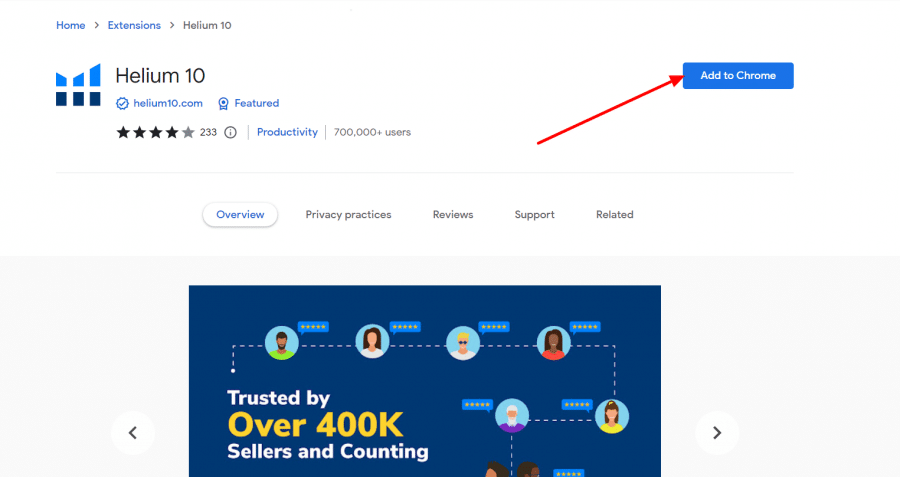 You can also log in and use Helium 10 dashboard with free tools.
What tool does the Helium 10 free trial include?
Here is what does free trial includes:
| | |
| --- | --- |
| Black Box – Amazon Product Research | 20 uses |
| Trendster – Amazon Trends Finder | 30 days free |
| Xray – Chrome Extension for Product Validation | 50 launches |
| Cerebro – Reverse ASIN Lookup | 2 uses per day |
| Magnet2 – Keyword Research | 2 uses per day |
| Misspellinator – Misspelling Checker | Unlimited usage |
| Frankenstein – Keyword Processor | 30 days free |
| Scribbles – Listing Optimizer | 30 days free |
| Index Checker – Keyword Index Checker | 6 uses |
| Alerts – Hijack & Product Monitoring | Up to 2 ASINs |
| Inventory Protector – Coupon Abuse Prevention | Unlimited usage |
| Refund Genie – Reimbursement Assistance | Limited |
| Keyword Tracker – Product Rank Tracking | Up to 20 keywords |
| Market Tracker – Competitor Intelligence | Up to 1 market |
| Profits – Financial Analytics Dashboard | 30 days free |
How can I upgrade from a free trial to Helium 10 plan?
Upgrading gives you access to all of the Helium 10 software's capabilities. Nobody regrets settling for it in the Amazon marketplace business. Even a free trial will persuade you.
To upgrade your plan, go to the top right-hand corner of your homepage and select the Upgrade plan button. You can next follow the instructions to select one of the available plans.
You can subscribe on a monthly or annual basis. Annual registration is less expensive but our Helium 10 coupons can save you hefty bucks.
What features does the Helium 10 free trial lack?
Here is what Helium 10 free trial lacks:
Freedom Ticket course
Adtomic
Portals
Follow-up email automation
In-person workshops
Multi-user login
Private Facebook group
Also read:
Helium 10 vs Jungle Scout
Helium 10 vs Sellics
Conclusion
It's very easy to sign up, and it only takes a few minutes.
There are some limits on how often you can use the tools with the free plan. So, if you like them, you might want to consider getting a paid subscription.
The Platinum plan costs $97 per month, so it's a no-brainer.
There are so many tools on Helium 10 that you can use to help your business grow.
This means that their plans are a great deal for the money. Also, you can get your money back in 30 days.
Frequently Asked Questions
Can we use Helium 10 for free?
Helium 10 isn't for nothing. But Helium 10 gives away a limited version of the majority of its tools for free. Celebro can only be used twice a day, and you can only track up to 20 keywords.
Is the Helium 10 Chrome extension free?
The Helium 10 Chrome Extension is available for free and includes a number of helpful web-based features for managing your Amazon store and keeping tabs on your sales, product listings, and overall success.
How to download Helium 10 for free?
Visit helium10.com/extension. By clicking on this link, you will be taken straight to the Chrome extension's page in the Chrome Web Store, where you may download it. Followed by Step 2: Click the Add to Chrome button.