Designing websites isn't an easy task and when I started with it, it was really frustrating considering how every small work took more time than it should have until something changed, and that being, me getting introduced to Elementor Pro.
And to help people out, I'll give a detailed Elementor Pro Review and also give a brief about how it's worthy to be called the best WordPress Page Builder.
Why To Choose Elementor Over Others:
?Elementor reached 8M active installs in the past five years.
?Elementor is the most popular WordPress website builder, with 5,785 5-star reviews.
?Elementor official community is growing continuously and has just reached 100K+ members!
?Elementor have gone beyond being a website builder and launched Elementor Experts – a place to discover leading web creators, collaborate, and grow your business.
What Is Elementor Pro?
Elementor Pro is a WordPress plugin launched back in 2016 and now has crossed 2 million users and more than 5 lakh active websites. One can already imagine how easy and convenient it would be to use it.
It has two forms available, that is the paid and the free version, on which we'll take a deeper look as we proceed ahead with the Elementor Pro Review.
It has a visual component, that is, that you can see what your viewers will see when they visit the website. This gives you a great insight into improvement.
And a drag and drop component. You can change the layout or positioning of images or forms just by dragging and dropping them.
How Does Elementor Pro work?
Let's first try and understand how Elementor Interface works before we go deeper into the Elementor Pro Review.
Division Of Interface
As soon as you open Elementor, you'll be able to see three components,
Content Area, Where you can create a rough layout or outline of your website and put down your idea.
Elements, which you'll use together to design the website and
Settings, through which you can work on the preview and also work on changes required or done.
Layout Formation
As mentioned above, the content area lets you build a rough layout by providing a few structural elements such as
position elements
style elements,
which are further divided into sections, largest block or a row, and columns which fit inside the section or divide it into vertical forms.
The elements can be added into the sections and columns by simply dragging and dropping them in or be used through the specific styling element option provided.
Features Of Elementor Pro
1. Templates And Blocks
Templates and blocks can somewhere be called time and lifesaver. Though I liked making personally customized designs and so would you, but you don't necessarily have to do everything on your own. You can make use of Templates and blocks and ease out the work process.
Elementor Page Templates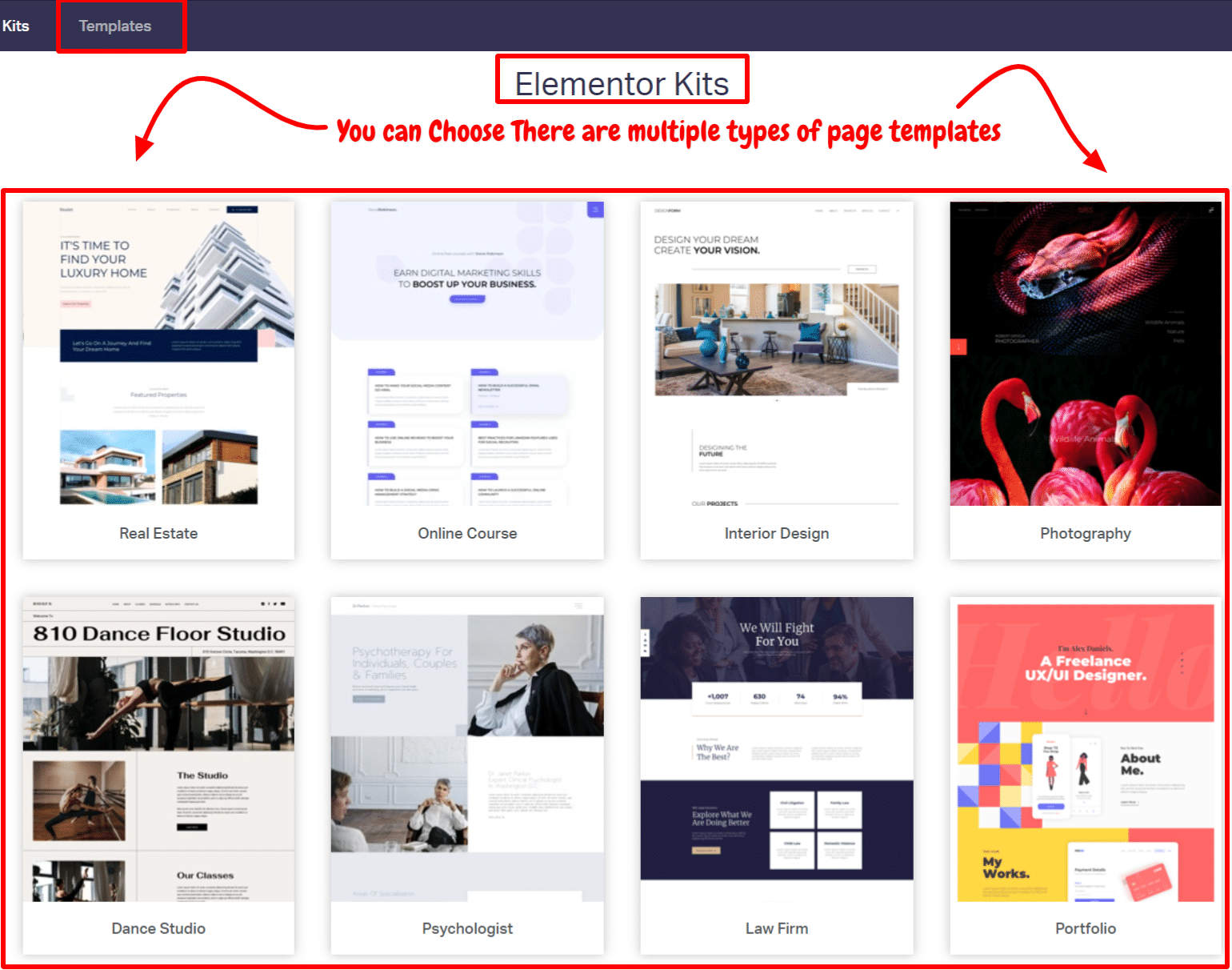 There are multiple types of page templates available for various niches. If you want to make for a particular type of niche and its template is available, all you have to do is insert them onto your page and that's it. You can edit the things present on the template, change the text and customize according to your needs.
Elementor Blocks For Gutenberg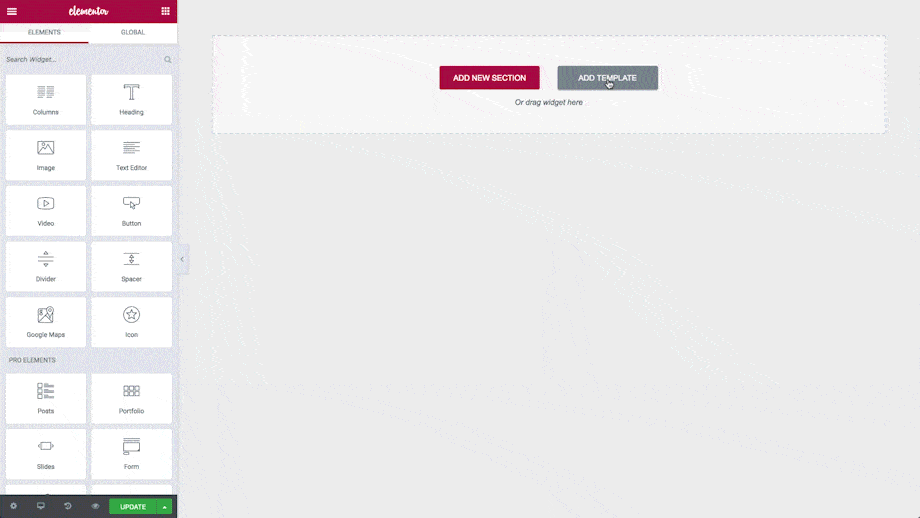 Blocks are kind of like page templates just with a difference that they're present in topics such as FAQs, features, about us, etc. You can find multiple categories of blocks in the category section when you click on the folder icon.
You can save these templates and blocks you've created for future references and uses.
2. Front-End Page Builder
This is another feature I personally like about Elementor because a back-end page builder isn't that facilitating for me as it doesn't let me view the recent changes I've made without updating the website.
And as for front-end page builders are considered, they provide the option of on-spot preview of the changes made, making it more convenient and helps saving time as well. Not to forget to mention, it's less frustrating that way.
3. Allows Mobile Preview
Many people wouldn't necessarily have access to a laptop every time and people prefer browsing on the internet on their phone. That makes it so important that the website you're trying to build is mobile friendly and Elementor gives you just the right option of tracking it through the mobile preview feature. It makes the task easier and I don't have to worry about the website looking messed up when accessed through the phone.
4. In-line Text Editing
If at any point you feel that the text you've added doesn't fit right and you might want to change it, in-line text Editing facilitates that directly. You just click on the page and start editing. Also, you can do the same during the preview as well so you don't need to close the preview, edit and preview it again. It can happen all at once.
5. Facilitating WooCommerce Business

Elementor can facilitate the entire process of the WooCommerce business. You don't have to use codes to be able to design products or templates and it can be done in a matter of seconds and minutes. Elementor WooCommerce reviews have always had a positive side to them.
6. Pop-up Builder
This is one of the essential features of Elementor Pro. You can create an amazing pop-up using it and increase the chances of the target audience clicking on it since they're so visually appealing. They're not just stylish but extremely convenient to understand and fill out as well.
7. Revision History
It might so happen with you because it certainly did happen with me that I used to make something and then not like how certain components didn't feel right in their place. You can carefully undo the work and then redo it on Elementor but if after that you feel that the previous one was better, you can check through the revision history and recover the older version you made.
8. Clean Code after deletion of Elementor
One thing many are worried about is that there is the use of multiple shortcodes and if you deactivate Elementor, it's going to leave you in a mess with these shortcodes. But that's not the case and that's another advantageous feature of Elementor. It'll leave behind clean and without any traces.
9. Availability of different WordPress themes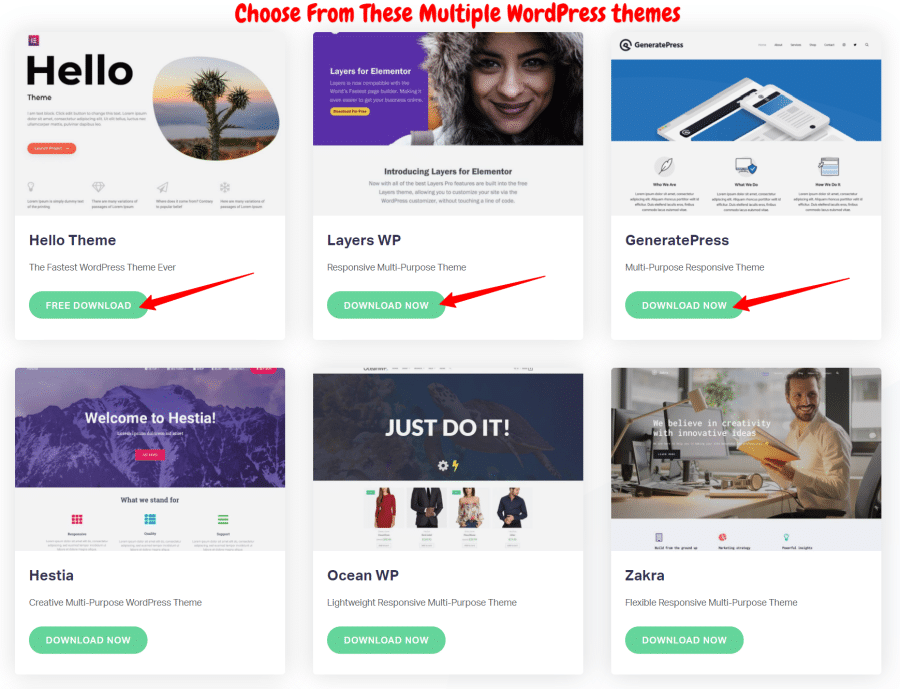 There are multiple WordPress themes available to work on in Elementor. You can choose the best one you're suited or comfortable with.
Though some of these themes are not available in the free version.
10. Integration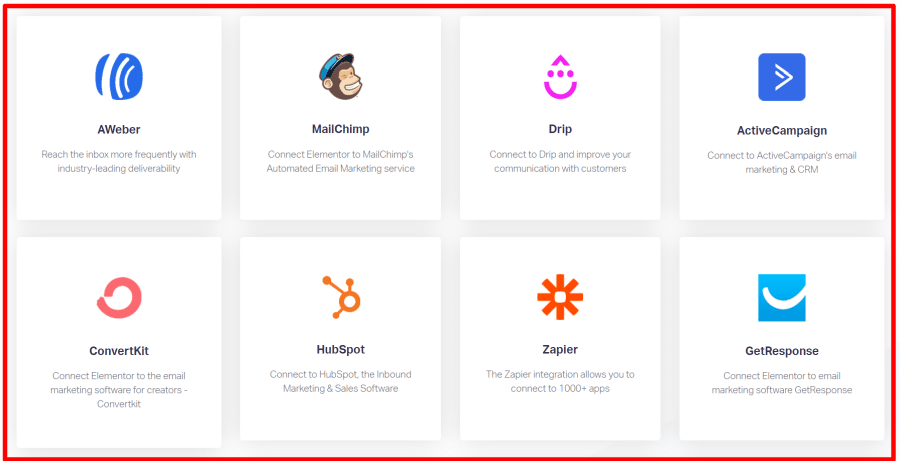 Integration is another powerful feature of Elementor. If it's not clear by the term, integration means that Elementor combines or integrates with other smaller companies, letting you have access to their features as well. You don't require any third-party plugin and also saves you from paying extra for other services or features.
11. Lottie Widget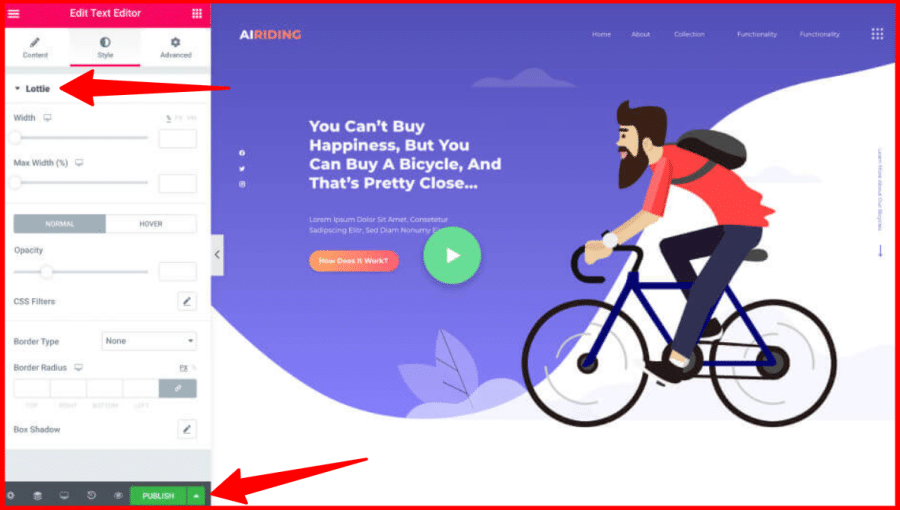 Another great feature of Elementor Pro is the Lottie Widget. It's a form of an animated widget. For example, a cycle moving forward as you scroll down in the website. It's visually appealing and cool and can attract many viewers to your designed websites.
Elementor Pro Review: WordPress Theme builder
Not too long ago, Elementor came up with a new version that allows you to build your theme using the simplest and the same methods used for creating your content. It's not really complex, just drag and drop the features you'd like to include.
You can select the type of theme you'd like to build, focus on working with the interface, and drag and drop the required widgets. You can use as many widgets as you want.
And this is where, Elementor Pro, which is the premium version works better than the free one as it gives you access to a variety of options to choose from, widgets, templates, blocks, you name it.
What Is The Difference Between The Free And Paid Version?
Elementor offers two versions, that is the free and the paid version. To understand the difference between them, let's first take a look at what the free version has to offer.
The Free Version Of Elementor
If you're using the free version, you get access to multiple things. From drag and drop interface options to mobile preview. Almost all the features mentioned above are available and can be used to their full benefits. You can also ensure your WooCommerce Business through the free version of the Elementor.
With the free version, you can get access to 30 different elements and multiple page templates and blocks covering almost everything you'd need.
The question remains unanswered,
What's The Difference?
As a beginner who had worked on the free version and then shifted to the paid version, I can tell you that the paid version is a lot better, naturally, and surely worth the cost.
It can perform everything the free version can but the elements are no longer restricted to 30 and you don't have to just rely on basic tools to develop the best site. Opening up multiple more options such as varied templates, blocks, and widgets and easing out the process of designing even more.
You'll be able to access features such as sliders, media carousel, testimonial carousel, price tables, count downs, and many more.
The golden feature of a premium account is the Global Widget, which allows you to reuse the widget you create on multiple pages and you don't have to overwork yourself. This is a feature developed with the newer version which will be discussed down below in the Elementor Pro Review.
You can also check out some deals on elementor that we have covered on this elementor pro discount, go and grab the latest deals now
So, How to know if you should use free of the paid version?
If you're a beginner who is focusing on just building complex layouts and doesn't focus on all the aspects of the site, then using a free version would be good enough for you.
But if you're someone who is too particular about all the aspects and considers everything, opting for a paid version would make much more sense. You'll have access to all the features that will help bring out the best website design possible.
What Are The Prices And Licensing Scheme?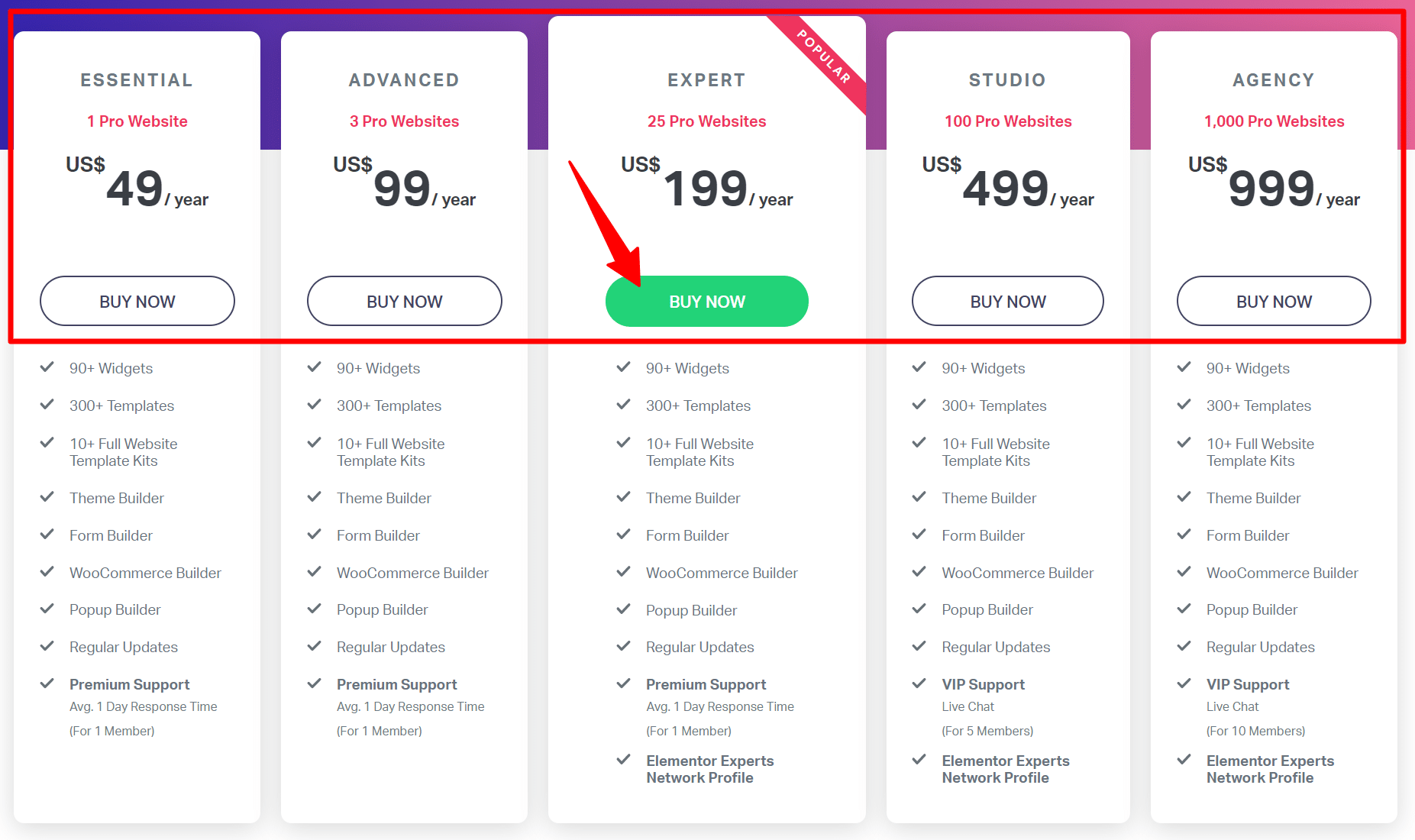 Elementor Pro is a dynamic service. It offers multiple packages such as personal, plus, and expert package. Though all of these have the same premium features, their cost varies depending on the number of site buildings it offers.
The personal package costs $49 and offers designing and building of 1 site. Plus Package costs $99 and offers designing and development of 3 sites where the best package is the expert package that costs $199 and you can create 1000 websites.
The choice of the package just depends on your needs. If you're someone who is into the business of web development then an expert package would be the best deal.
Elementor Pro Review: What Fascinated Me About Elementor After Use?
Well, to say the least, almost everything about Elementor is fascinating to me. You can not ignore the fact that it's comparatively very easy to use and one gets to adapt to it fairly quickly. Not just that, with the ease of use, you also get so many advantages just from the free version itself.
So opting for a premium version would be an entirely different experience and again, you'd be quite fascinated and intrigued by every feature it has to offer.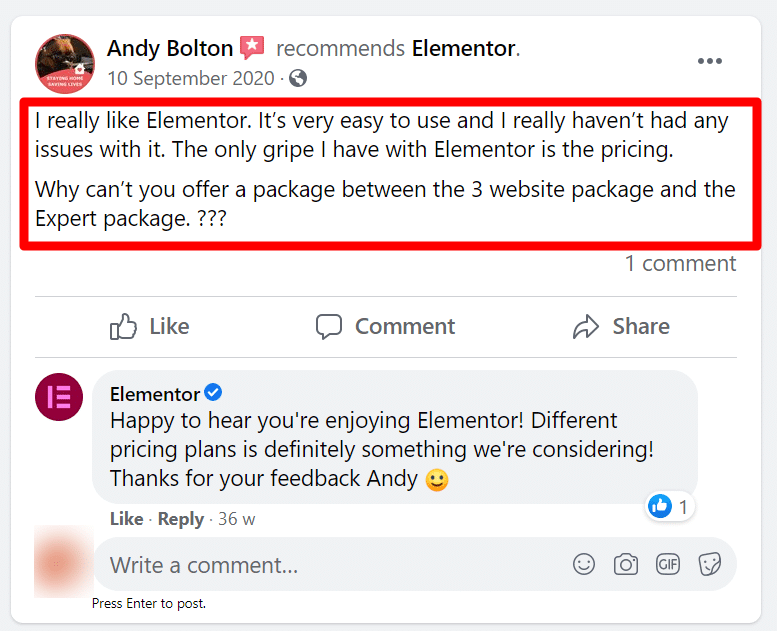 Another thing that is great about Elementor Pro is that it works really fast. You can get done with the work a lot faster when compared to other services. I personally like this because it doesn't get stuck a lot and works smoothly throughout.
Elementor Pro Review: What's Upsetting About It?
After using Elementor, one thing that I would like to point out, a small flaw that could be improved is, how the premium version blocked page templates, blocks, and other elements are grouped together. This could confuse a few who have initially started.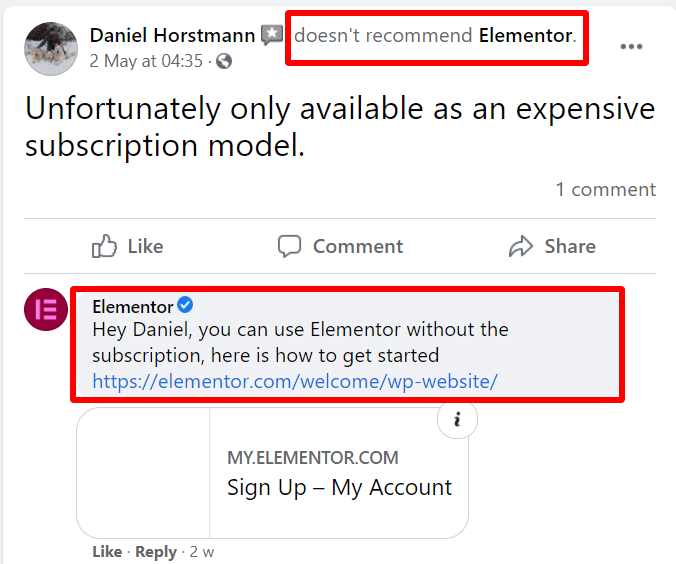 Though this is not an issue with Elementor Pro or the premium version.
I wouldn't want to say that this one flaw is really upsetting rather this in itself is not a big issue but some may initially face a few problems while using the free version but once adapted, this would get resolved as well.
Elementor Pro Competitors
It's not just Elementor Pro that is available for website development, there are various other services as well
One of them is, Divi Builder. It's also considered to be a great platform for designing and building websites but it's not for people who wouldn't want to buy a premium membership as it is a paid service. All you'll get for free is a 30-day trial.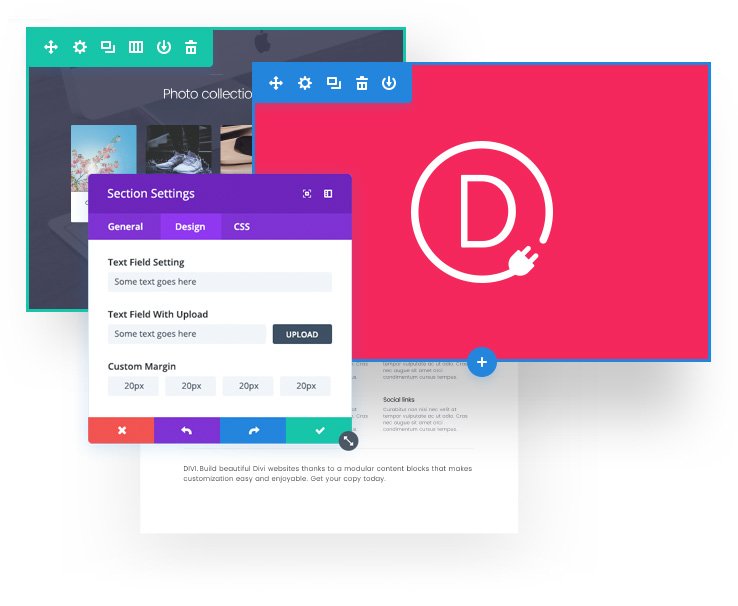 Beaver Builder is another such service. Its premium version starts at $99 and offers multiple features. But yet again, if one wants a good free version, this wouldn't be the best choice to make. As its free version offers basic features and designs.
Thrive Architect is another strong competitor of Elementor, offering multiple similar features and a very strong inline texting but the problem with Thrive Architect is that it comes only as a premium version.
FAQs Related To Elementor
Q1. Do I need coding skills to work on Elementor?
No, you do not require any coding skills as such to work on Elementor. That is the beauty of Elementor, you work on it without knowing about coding or HTML and CSS.
Q2. Do Elementor designed websites work on Mobile?
Yes, they do work on mobile and Elementor provides the special option of a mobile preview as well. It helps you understand how the site will look and function on a particular device, letting you make changes accordingly.
Q3. Should I use a Free or Paid Version?
Really depends on your usage, needs, and focus. If you want more features and focus on all aspects of the website, then a paid version would be better. Otherwise, a free version is good too, especially for beginners.
Q4. Are themes available on Elementor?
Yes, you can make use of any WordPress theme available on Elementor. Just go through them and pick the most suitable one for your needs.
Q5. Is the pop-up builder good?
The pop-up builder made on Elementor is great. It can be used on your other sites on WordPress as well and not just Elementor generated designs.
Q6. Is Elementor Pro difficult to learn?
Just as we started with the Elementor Pro Review, we made a statement telling how Elementor pro might be easy to use and that's right. When you compare it with the other page building services out there, Elementor is one of the simplest to use and this is not just a statement, it's a personal experience. 
If you're a beginner, you would surely need some time to be able to adjust to the entire process of designing and building websites but Elementor Pro would make it easy for you to adapt to it.
Q7.  Who should use Elementor Pro?
There was a time when I started with web development and it was way too complex for me to be able to follow and work with the coding process. If you're someone who faces the same problem, then Elementor Pro is the best solution for you. 
It's easy to understand, use and build pages. You can design everything according to your needs without banging your head onto a wall out of frustration. I've been there, I understand.
Q8. Do you need Elementor Pro?
You can surely opt for Elementor Pro if you don't want to just stick to the basics and want to take your skills to overall best otherwise you can just use the free version. Though, again through personal experience, the premium version opens up more options and opportunities for an individual.
Elementor Pro Review: Concluding Thoughts
With so many users and the immense amount of appreciation received, Elementor is considered one of the best platforms for designing and developing web portals by WordPress itself.
The amount of features it offers just with the free version is what has made it so popular and famous amongst many. And with the advanced version or the premium version, features couldn't get any better.
Elementor is a platform that is definitely worth working on. Since it's free, you can use it and see how well you like it and then further plan on upgrading to Elementor Pro.
Are Elementor Pro Discount Codes Legit?
If you Google the term like "Elementor Pro Discount code" or "Elementor Coupon" in Google, you'll see there are a huge number of websites claim to give you maximum discount on the Elementor Pro plugin. But currently, there are no such official Elementor discount codes, and Elementor pro promo codes right now.
They only run offers on occasions and it will get listed on their official website. In the image above, you can see that many websites claiming for 30% or 35% and even 40% discount. These all are expired or fake coupons. Like "10FORYOU" already got expired.