Elementor Cloud is the managed hosting service provided by the company.
Here is a detailed Elementor Cloud Review that talks about features, functionality, pricing, and much more.
Web designers can create WordPress websites quickly and affordably thanks to Elementor's integration of all website-building tools into a single package.
I have purchased the Elementor Cloud Website Plan to test it out and provide my personal feedback. I'm going to reveal today:
What Is Elementor Cloud Website
What makes Elementor Cloud stands apart from others?
How to Get Started With Elementor Cloud?
What's the Elementor Cloud Pricing Plan?
My verdict
First, let's find out what the Elementor Cloud website is.
What Is Elementor Cloud Website?
Elementor Cloud Website is a hosting service that uses the Elementor site builder to host, develop, and manage WordPress websites.
It is a comprehensive solution that combines several different functions into one.
It includes WordPress as the content management system (CMS), premium hosting, a connection to a custom domain, and Elementor Pro with all its capabilities for constructing websites.
In general, in order to create a website, you are required to register a domain name, locate a hosting provider, and then set it up utilizing a content management system (CMS) or some other way.
You don't need any prior knowledge of technology to use this innovative new service because it consolidates everything into a single location.
Why is Elementor Cloud different?
Most hosting services have hidden fees for things like SSL, CDN, backups, bandwidth, and so on.
Even if a WordPress website owner pays a premium price, they aren't happy because the interface is hard to use, customer service is slow, and sometimes the website takes a long time to load.
Elementor Cloud is your one-stop solution for these hidden costs and technical aspects of WordPress hosting.
No longer do you have to find a domain registrar and a hosting provider to register and host your domain. Elementor Cloud Website is the future.
Elementor Cloud not only hosts your site, but it also has the Elementor Pro plugin installed.
With the Elementor Pro plugin, it's easy to make a beautiful WordPress site without having to write a single line of code.
Elementor Cloud will be the best alternative to Wix and Squarespace, letting you host and build websites on the go.
What Does Elementor Cloud Offer?
Let's find out what benefits you can get with Elementor Cloud.
Elementor Pro plugin: It's free. The plugin lets you design WordPress websites on the go.
Instant Hosting Setup: After purchasing the plan and entering the necessary details, WordPress, Elementor hello, and Elementor Pro will be set up.
Elementor Cloud hosting offers Cloudflare SSL pre-installed. This increases WordPress's security.
Elementor Cloud includes a free Cloudflare CDN. CDN speeds up website content delivery, improving user experience.
Multiple custom domains can be connected to Elementor for free. Any domain provider sells it.
20 GB Storage: The quantity of space for your website.
100GB Bandwidth: Helps you handle a lot of traffic without slowing down your website server.
The server can handle 100K monthly users or IPs.
Elementor Cloud has automatic backups. It has 14-day and night backups. You can also build manual backups.
Elementor Cloud gives a free subdomain like exampal@elementor.cloud.
Is Elementor Cloud Website Compatible With Other WordPress Plugins?
There are a few plugins that are incompatible with Elementor Cloud Website, but it is compatible with all of the major WordPress plugins.
You are unable to install any other page builders for WordPress, and their documentation includes a brief list of all other plugins that are incompatible with their platform.
In spite of the fact that it does not support all migration plugins, it does come with an easy import-export tool that only requires one click and can help you convert your website from one platform to another.
Who Can Benefit from Using Elementor Cloud?
For some websites, Elementor Cloud is a great fit, while for others, it's not the best option.
If you want to succeed, you should first figure out your niche.
When to Use Elementor Cloud?
To begin, I believe it to be an excellent choice for individuals who wish to create personal websites. Here are several examples:
Informational fundamentals on your various offerings
I also believe that it is an excellent choice for websites that double as business brochures, for instance:
Restaurants that are interested in establishing an online presence and displaying menus
Those that supply services (lawyers, plumbers, cleaners, etc.)
Traditional establishments made of brick and mortar that are striving to deliver information (but not eCommerce)
Simply put, Elementor Cloud is an excellent choice for any kind of "straightforward" website, such as one on which you might have some static pages that market your services in addition to, say, a blog in which you could contribute content that is pertinent.
When NOT to Use Elementor Cloud?
When it comes to WordPress websites that are more involved and dynamic, Elementor Cloud is probably not the best choice.
The following are some examples that illustrate what I mean:
WooCommerce stores and other types of online shops
Sites requiring membership.
Online courses
You should anticipate spending more money on hosting if your website falls into one of these categories. You will furthermore gain the benefit of additional freedom as a result of having complete technological access.
Self-hosting your website is something you should consider doing if you plan on turning your blog into a legitimate enterprise in the future.
On the other hand, if all you want to do is publish some blog articles on your company website, Elementor Cloud is an excellent tool for that purpose.
How to Create a website with Elementor Cloud?
Here is the walk of the process of creating your new WordPress website with a fresh Elementor Cloud Hosting account step by step.
#Step 1: Purchase Your Elementor Cloud Website
First, purchase an Elementor Cloud Website, and then you'll be taken to your order completion page after purchasing.
Now Click Start your website.
#Step 2: Create Your Website
After you click the button, a wizard launches that you can quickly navigate and use to fill in the blanks.
Add Your Website Name
In this step, enter your unique website name and click the Next button.
Set Up Your Elementor Cloud Website Domain.
Now, the domain name of your website must then be added.
You must change your domain's DNS records in order to set up a custom name domain, but you can do that later.
Now, click on the Next button.
Choose Your Website Category.
Select the category for your website from the list that is now available. This step can be skipped if you'd prefer.
#Step 3: Select From the Readymade Website Kit
Now, you'll see professionally-designed Elementor Website Kits based on your website category.
I can see great portfolio website designs.
You can preview template kits on mobile and tablet devices.
Click Apply Kit after choosing a template.
Elementor Cloud takes a few minutes to set up your site when you choose a kit.
Let it do its thing.
After setup, you'll see your Elementor Cloud Dashboard.
Elementor Cloud Website Pricing
Every single Elementor Cloud Website has single website support and comes with a single fee that is fixed at $99 per year.
I have ensured that there are no hidden costs associated with this purchase.
You will receive all of the features of Elementor Pro, including all of the Elementor Pro capabilities, along with 20 GB of storage space, 100 GB of bandwidth, and premium support, as part of this price.
The price is really reasonable, particularly when considering that Elementor Pro (which would normally cost $49) is included in the plan. If you are unaware, Elementor Pro is one of the best WordPress page builders available.
In addition, a 30-day money-back guarantee is included with each and every account, which means that you may make use of the service without taking any risks.
Also, you can use the Elementor Discount code to get an extra 20% discount on your plan.
Elementor Customer Testimonials
Here are the customer testimonials of Elementor.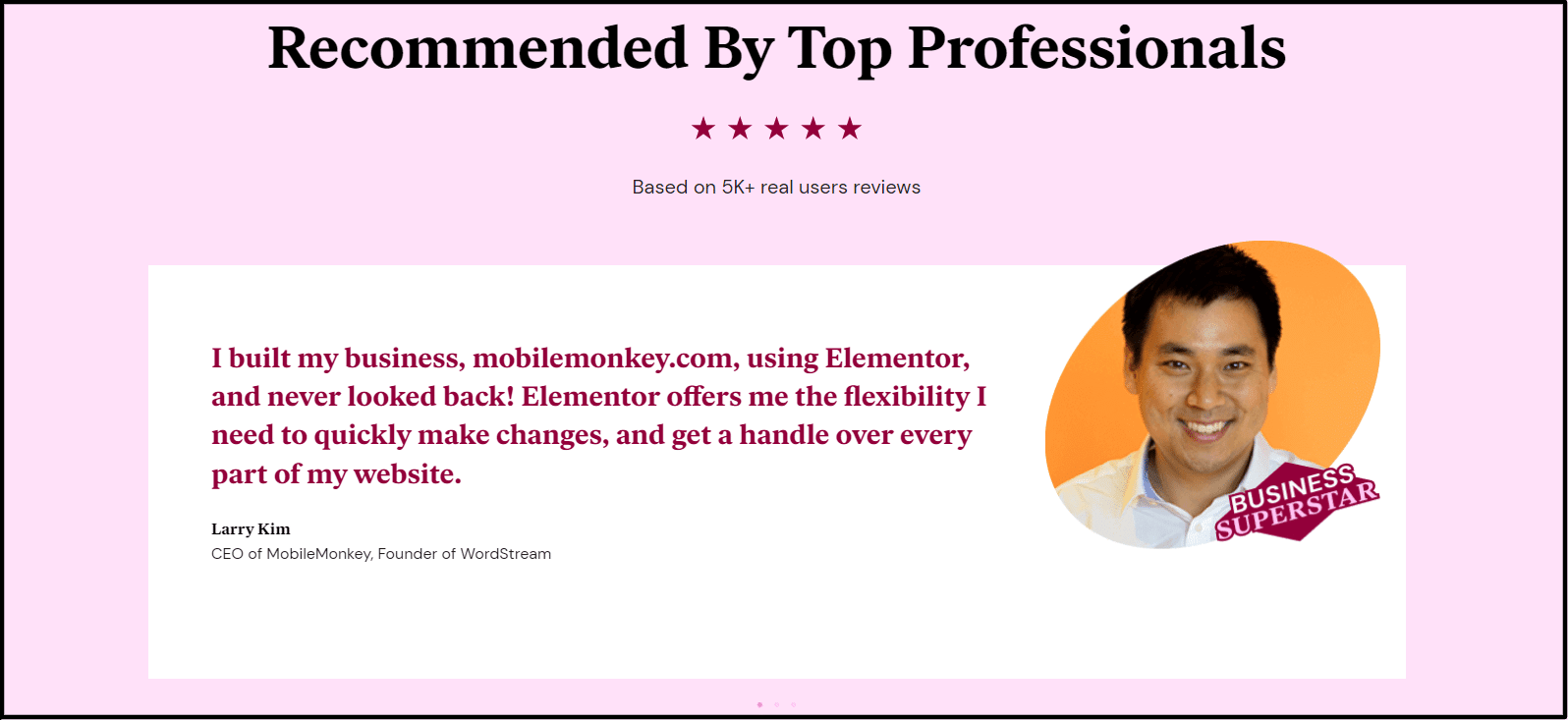 Conclusion On Elementor Cloud Review
In this Elementor Cloud Review article, I covered all the features and functionality of Elementor Cloud.
This service is appropriate for small businesses and website builders who don't need many resources yet want various design alternatives.
Due to bandwidth and storage limitations, maintaining larger websites on Elementor Cloud will be difficult. We'll have to see how they handle this in the coming months.
Your website gets Google Cloud's security features, and the no-code builder makes everything easy for beginners.
If you're ready to try Elementor's Cloud Website, start here.
Frequently Asked Questions
Is Elementor hosting worth it?
Elementor Cloud is inexpensive after testing other WordPress hosts. Elementor Cloud Websites costs $99 annually with no hidden fees. It has necessary and advanced site hosting services, making it reliable for WordPress.
Can I create an Elementor Cloud website for free?
To build a website, you must have a subscription to Elementor Cloud Website. On your website, you can nonetheless freely install the Elementor plugin.
Who should consider using the Elementor Cloud Website?
People who want to build a website but don't want to rely on external hosting companies to do so might benefit greatly from utilizing Elementor Cloud Website as an alternative.
Do I need a custom domain for an Elementor Cloud Website?
To make an Elementor Cloud Website, you don't need a custom domain because they give you a free element or cloud domain with your subscription. But if you already have a custom domain, you can easily connect it to your Elementor Cloud Website.
Is there a free version of Elementor Cloud?
Elementor Cloud is not a free solution; instead, it is a premium service that provides you with access to a complete website solution. This solution includes hosting, which is something that you would normally have to pay for separately.
How can I make my Elementor Cloud website faster?
You always have the option of installing a cache plugin on your websites, such as WP Rocket, which works directly with Elementor, allowing you to obtain instant improvements in both performance and site speed.