I have been an Amazon seller for a long time and the biggest difficulty I used to face was getting all the important insights, numbers, and keywords in one place analyzing them and doing proper research.
I know many sellers face this difficulty when they first start their Amazon business.
In this article, I will give you a complete Helium 10 review and will go through all of the helium 10 features, resources, pros, and cons.
So let's get started 😉
What is Helium 10?
Helium 10 is a powerful software suite made for all types of Amazon sellers, beginners to advanced, small to big, and anyone.
Undoubtedly, Amazon is one of the most amazing marketplaces with over 197 million people and 12 million products to be sold on offer. Well, it is pretty obvious to get lost in such a massive sea of marketers.
Helium 10 is without a doubt the most effective and widely used selling tool. It now contains everything you require in a single package. It's no surprise that Helium 10 is the best alternative to the Jungle Scout option among sellers.
It allows sellers to visualize key business metrics like trends, keyword research, product research, profit estimation, inventory management, trend analysis, and advertising solutions, and it comes with 20+ tools and features that can help you scale your business on Amazon.
It increases the visibility of your product, estimates demand for your product, manages inventory, streamlines operations, and a lot more, Helium 10 Review provides you with a complete solution to grow your business.
Helium 10 Pros & Cons
Helium 10 is one of the most accurate tools available for Amazon Sellers
It is easy to use and navigate
A complete research and analytics tool
Has different plans for different size of Amazon businesses
Also, provides inventory management tools
Comes with the most up-to-date Amazon FBA training for the sellers who are just beginning to do business on Amazon
Comes with listing optimization tools to get visibility on Amazon
Gives you real-time insights into the products and keywords
The most advanced product and keyword research tool available
Helium 10 free tools include URL builder, Amazon Keyword Research, Chrome Extension and PPC audit.
The free plan has very limited accessibility
Does not have an Amazon PPC manager
The expensive plans are the most useful ones, hence Helium 10 is more pricey than its peers
What is Helium 10 used for?
As the largest marketplace, Amazon poses serious competition for the sellers who are actively selling here.
Helium 10 is made for every seller who is just beginning with selling on Amazon or those businesses that are already present on Amazon. This tool is made for businesses of all shapes and size that wants to scale their business on Amazon.
More than 1 million Amazon sellers are using Helium 10 across the globe to get the best insights into the market, scale their business, improve their profitability, and increase the visibility of their products.
Helium 10 Tools & Features
Helium 10 comes with a wide range of tools and features that can help you get better insights, manage your business on Amazon and increase the sales of your product.
I will quickly discuss all these features in this section of the Helium 10 review.
Product Research Tools
The tools under this category help you to find a product quickly. It helps you to quickly analyze your product's success with similar products on Amazon and measure the profitability and other key metrics at-a-glance.
Let us see some of the Helium 10 product research tools.
Helium 10 Black Box
Helium 10 Black Box quickly helps you to find products from every niche from Helium 10's database of 450 million products available on Amazon.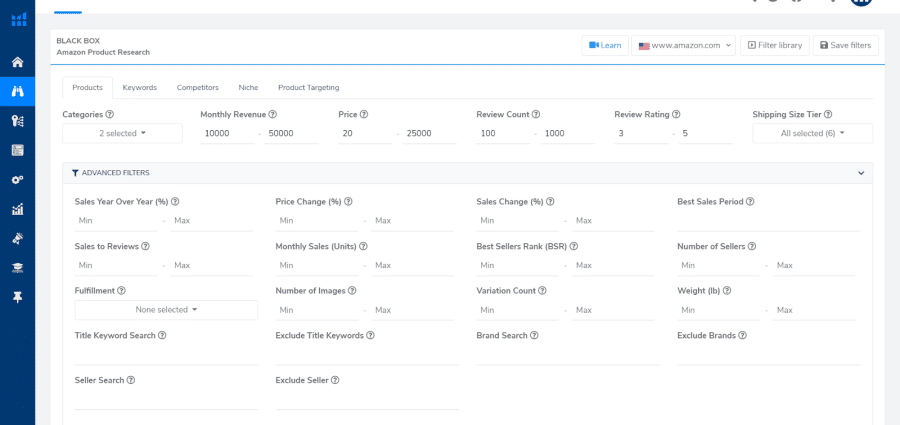 It helps you to create your own product or place your product into the right category and hence increase the visibility of your product on Amazon.
Helium 10 Trendsetter
This is an important tool to analyze the demand for your product or other products by your competitors at a different point in time.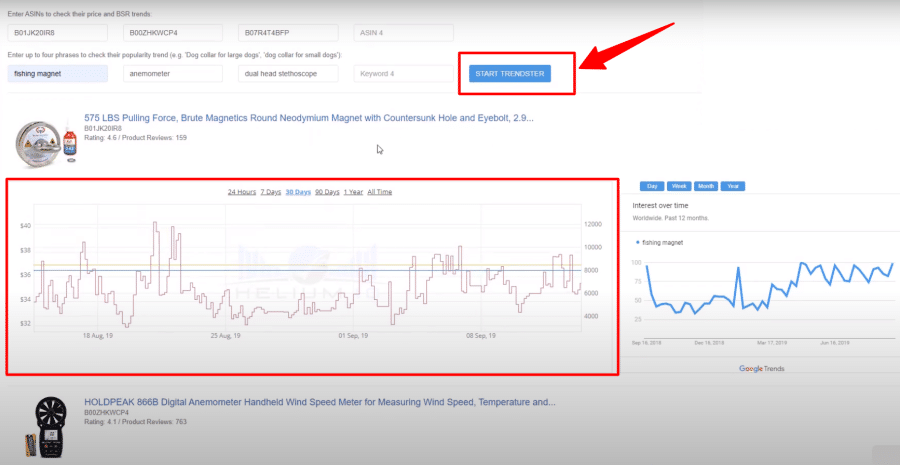 It helps you to analyze the demand and seasonality of your product to make better decisions about the inventory for the future and increase your profitability.
Helium 10 X-Ray
X-Ray gives you all the numbers you need to see where your product and other products are going. It helps you see how your competitor's products are performing and how your product is performing in comparison to its Competitors.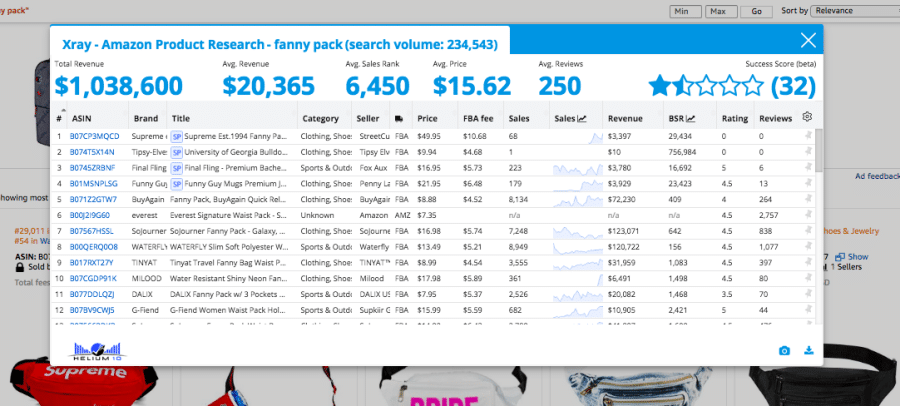 It gives you all the data regarding profitability, revenue estimates, sales trends, reviews, etc. this can help you to place your product efficiently and generate more revenue.
Helium 10 Profitability calculator
With Helium 10's Profitability calculator, you can estimate the profit that you can earn by selling a particular product.
It calculates the profit by analyzing the integral product database, FBA Fees, and freight cost.
Helium 10 Review insights
This is its kind of review insights tool as it can help you quickly analyze product reviews, identify the pros and cons of the product, and identify customer pain points.
This tool can help you immensely to improve your product in accordance with customer's needs and requirements.
Helium 10 ASIN Grabber
Amazon Standard Identification Number (ASIN) grabber can help you to copy ASINs in large quantities and create better and well-targeted ads.
ASIN Grabber can help you identify hot and bestselling products to sell in a particular season or on holidays or during any particular period of the year.
Helium 10 Keyword Research Tools: Where does helium 10 get its data from?
Helium 10 Keyword research tools are some of the most advanced keyword research tools available.
These tools can help you determine the search volume of similar products, and find out the high-ranking keywords that you can use to increase the visibility of your products and rank higher on searches.
helium 10 Cerebro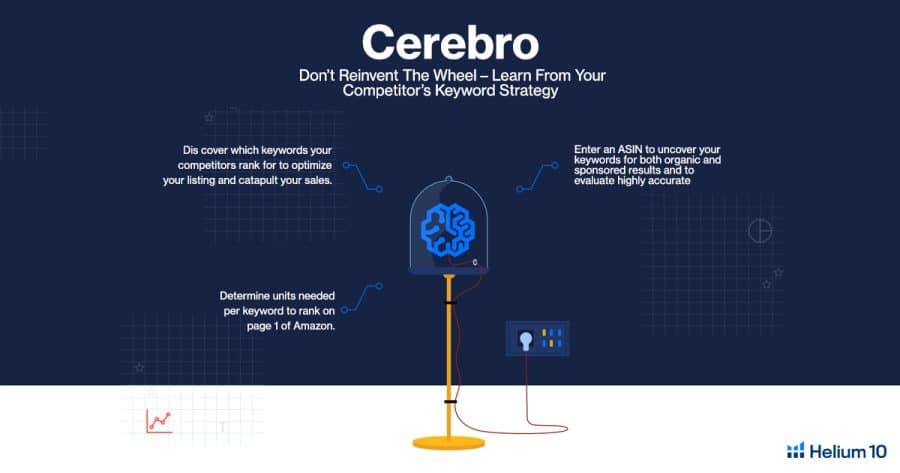 Cerebro is a reverse ASIN Tool provided by Helium 10.
With the help of Cerebro, you can see what kind of keywords your competitors are using, determine the number of sales you need per keyword to rank no 1 on Amazon and use ASIN to determine keyword search volume.
Hence, Cerebro helps you get all types of data and insights related to keywords.
helium 10 Magnet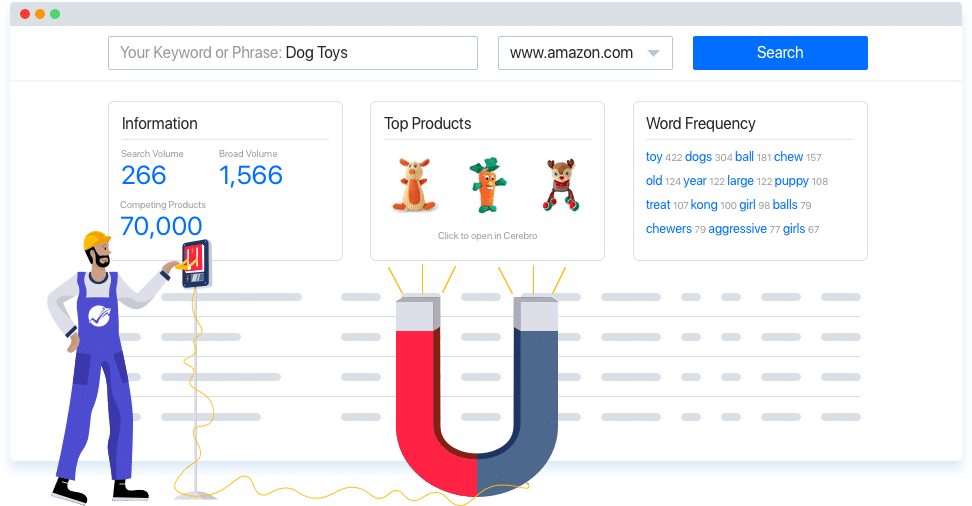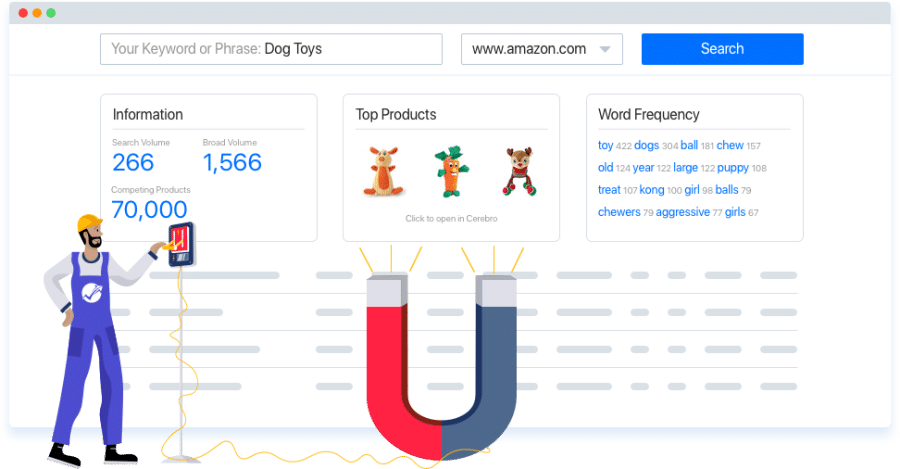 The magnet helps you to find the most relevant, high-volume keywords that you can use to increase organic traffic on your Amazon product page.
helium 10 Mispellinator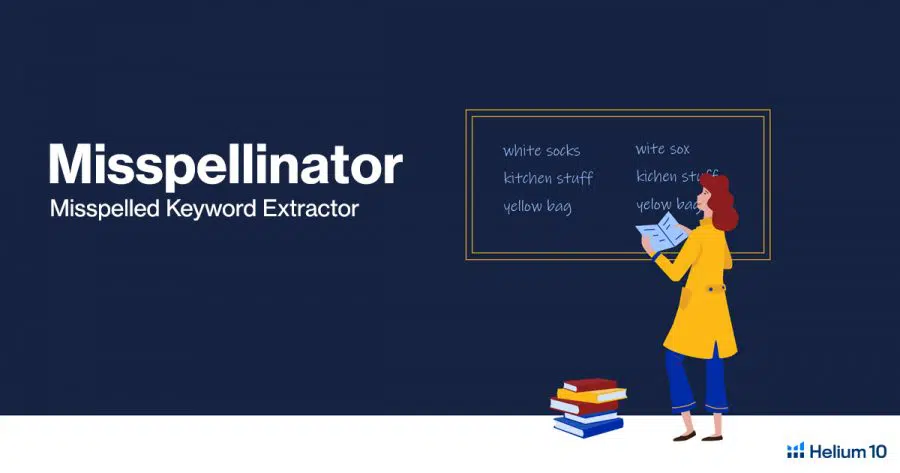 Misspellinator tool can give you a competitive advantage by giving you the list of misspelled keywords that were used to find your product and you can use these misspelled keywords to improve your chances of getting visible at the top of the page.
Listing Optimization Tools
Helium 10's Listing optimization tools help you to create an effective listing of your product that can attract and grab the attention of the customers. It provides you tools to help you with intuitive and straightforward writing that can appear in higher ranks and help you generate more sales.
helium 10 Frankenstein
Frankenstein is one of its kind Keyword optimization tools to write effective product listings on Amazon.
It lists down thousands of keywords used by customers to find products similar to your product and provides you with a more cohesive and manageable list of keywords that you can use to write product listings, hence, helping you to rank higher in search results and increase the sales of your product.
helium 10 Scribbles
Scribbles help you to keep your listing relevant and help you to update it from time to time by providing new and relevant keywords that customers are using to find similar products.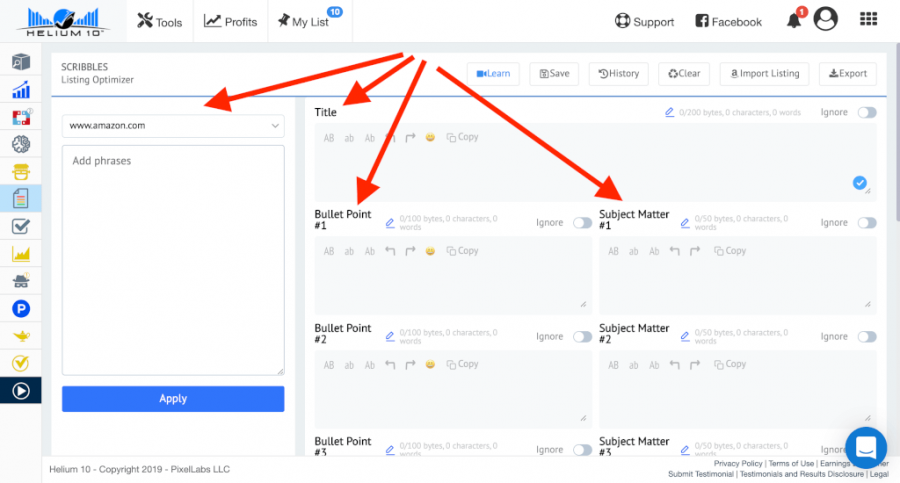 It helps you to use the most relevant keywords and ensures that you do not put an excessive number of keywords if you have certain character limitations to adhere to.
helium 10 Index Checker
Index Checker is a tool that will help you to see how your listings are performing in comparison to your peers. It helps you to see how keywords are helping you to rank higher on the searches and how your peers are performing with the same keywords.
Helium 10 Refund Genie
The refund process on Amazon can be very confusing and time-consuming and here Refund Genie can help you out. Refund genie automatically verifies all five reasons for FBA inventory reimbursements, and automatically sends reimbursement requests to Amazon.
It can give you all the Fulfillment by Amazon refund estimates totals in seconds that would otherwise take hours to calculate plus an accountant to do that task for you.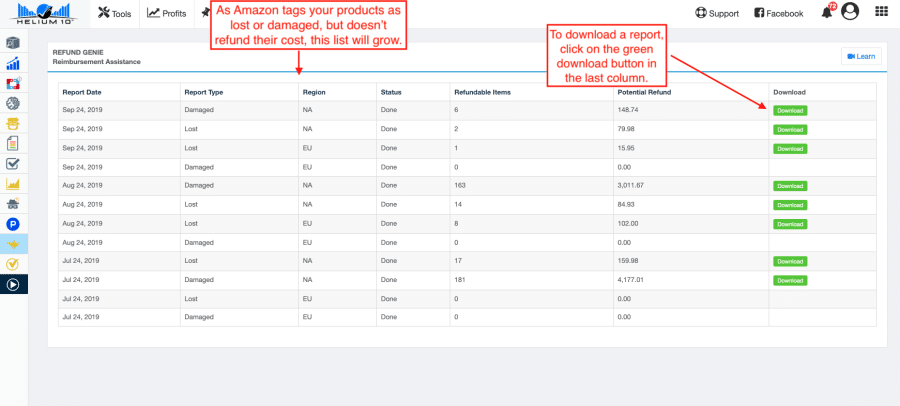 Helium 10 Inventory protector
An inventory protector can help you restrict the number of units a buyer can purchase in a single order and hence protect your inventory from getting wiped out by a few big buyers.
Limiting the maximum purchase can help you keep your inventory lasting longer and protect you from shady practices by your competitors.
Helium 10 Alerts
The alert feature by Helium 10 gives you important alerts if you are facing any threats or if anyone is trying to usurp your Brand Authority on Amazon and hence protects your Business and brand online.
It also protects you from hijackers that try to alter or change your product listings.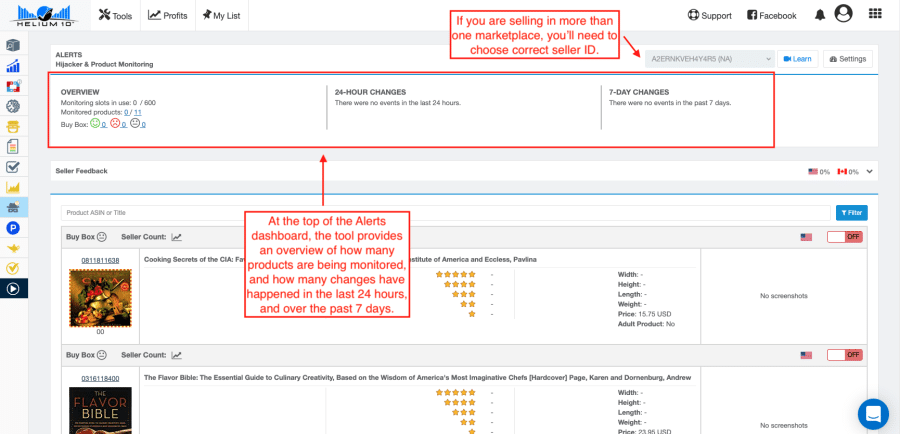 Helium 10 Follow Up
The Follow-up feature by Helium 10 helps you to improve your brand image and goodwill amongst the buyers of your product, it allows you to get organic customer reviews, maintain good relations with customers, increase the rankings of your product, and improve your brand image.
Helium 10 Mobile app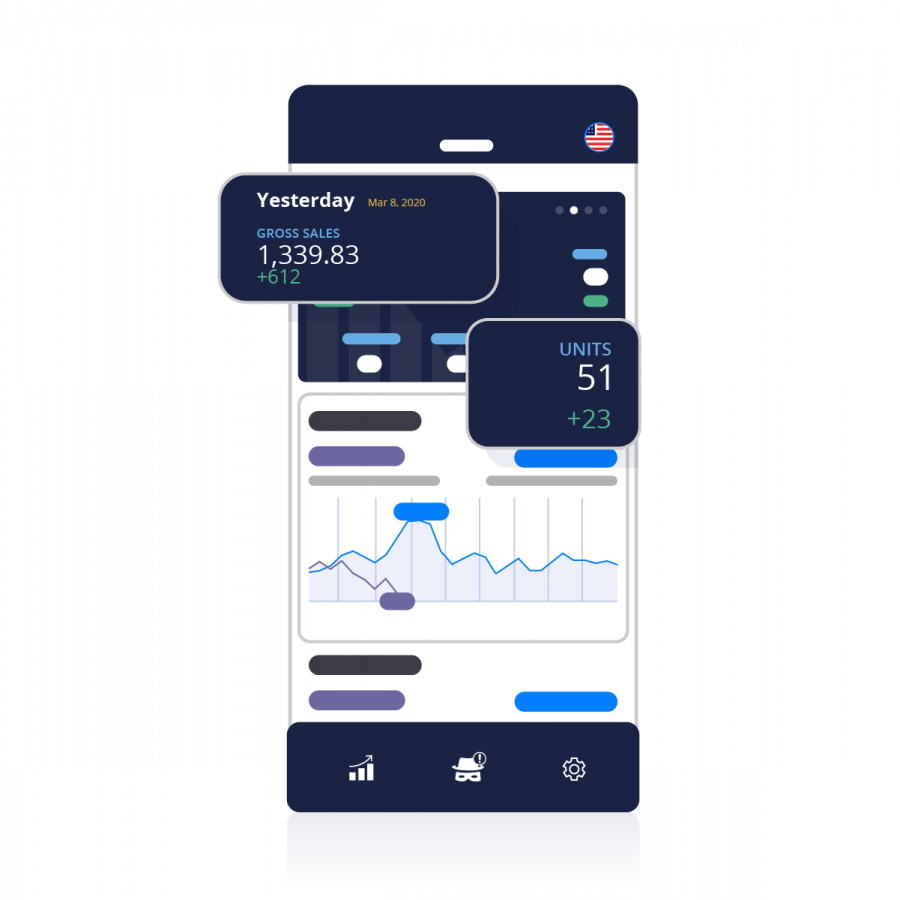 Helium 10 Mobile app gives you all the alerts, notifications, profits at a glance, and every other business metric of your Amazon sales right on your phone, hence, helping you to stay in touch with your business wherever you go.
Helium 10 Analytics Tools Review
Good decisions make good business and good decisions are better if they are backed by facts and figures this is where Helium 10's analytics tools can help you. Analytics tools can help you the best out of your e-commerce business.
Helium 10 Profits
Profits by Helium 10 is one of the most important tools for your Amazon business as it gives you an overview of your financial health and helps you make quick decisions to improve your overall sales strategy.
Profits give you an idea about the sales trend of your product, calculations related to gross and net profits, and help you manage your inventory.
Helium 10 Market tracker
Market Tracker helps you to create a customized market for your product by giving you valuable suggestions and insights from your Amazon business.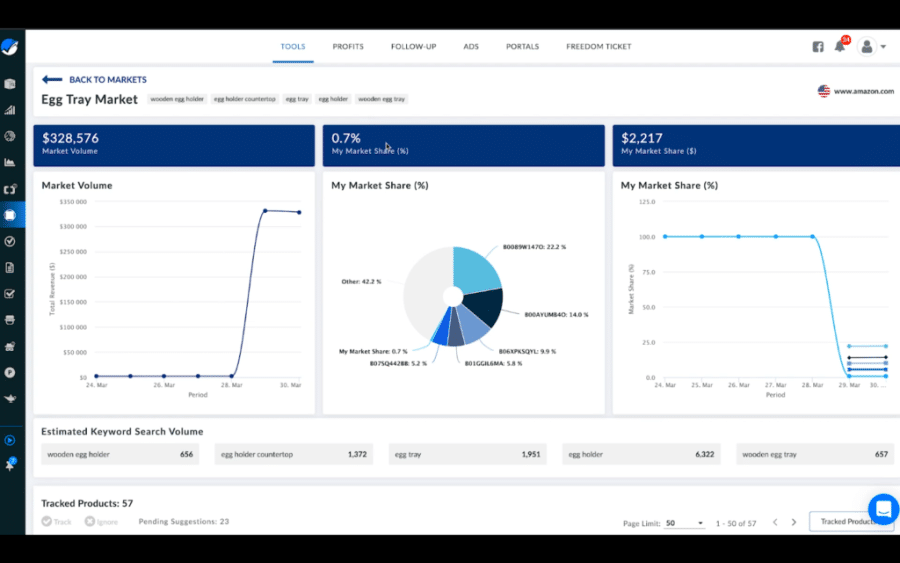 It helps you to understand how your business is performing in comparison to your competitors by showing you important market trends. With this tool, you can create a medium and long-term business strategy and increase profits.
Helium 10 Keyword tracker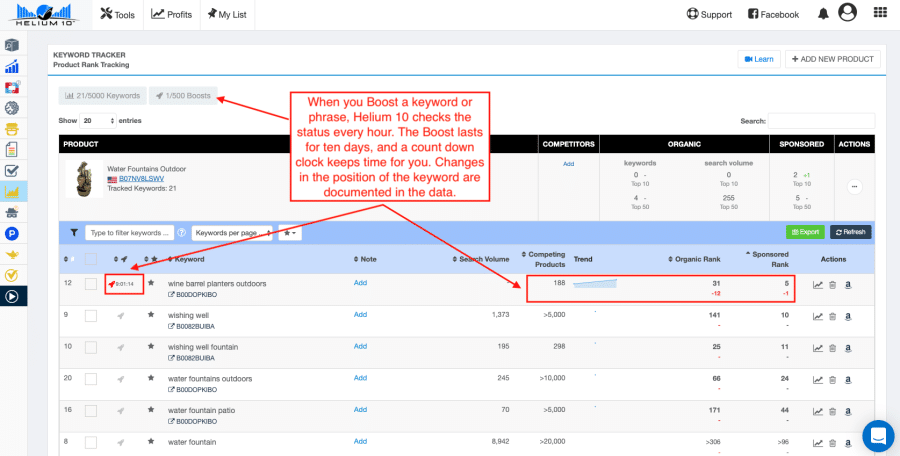 A keyword tracker helps you keep track of all the keywords used in the listing of your product and how they are performing.
Helium 10 Adtomics
Adtomics is a powerful advertisement analytics tool. It streamlines your ad campaigns by using intelligent search term analytics. It also runs a predictive analysis to predict how your ad campaign may perform in the near future.
Helium 10 Portals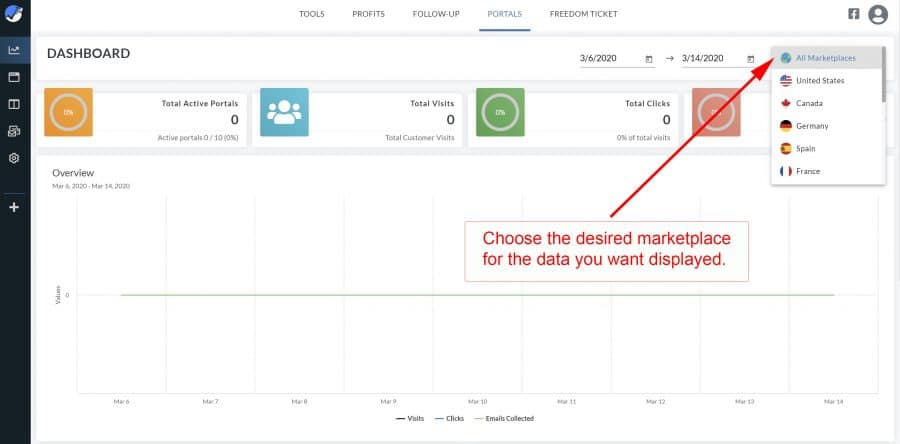 Portals by Helium 10 can help you create effective drag-and-drop landing pages to market your products. It also helps you to target your advertisement to a well-defined audience that is interested or can buy your products.
Helium 10 Seller Assistant
With Seller Assistant, it's easier than ever to request many reviews with just one click, helping you to improve your rating and build a stronger reputation for your products.
With a simple click, you may invite hundreds of people to rate your products.
Intelligent technology ensures that requests are only provided to customers after being evaluated by a third party. Don't bother going from page to page asking for feedback.
You can use the chrome extension to deliver a seamless experience from Amazon Seller Account.
Request a review of a single recent order or all previous orders placed within the last four to thirty days.
Seller Assistant sends out review invitations using Amazon's pre-made templates, guaranteeing that your review invites are always in compliance with the TOS and that your business is safe.
Helium 10 Chrome Extension: What Does it Do?
Helium 10 Chrome Extension is a collection of five time-saving technologies.
These technologies aid in the refinement of your study by confirming product concepts, locating profitable sourcing options, preparing for seasonality, predicting profitability, and modernizing competitive research.
It's a really useful tool to have. You only need to click a button on your browser to have quick access to:
Xray: Get instant access to market data to identify profitable product prospects
ASIN Grabber: Use this tool to copy ASINs in bulk and produce targeted adverts
Profitability Calculator: Calculate your profit margin depending on weight, FBA fees, size, and freight cost in real-time
Inventories Levels: View Amazon inventory for any product in real-time
Downloader of Reviews: Learn what people are saying about items to help you fine-tune your listings and make smarter selections
What Are The Resources Available In Helium 10?
Learn the fundamental, hands-on technical skills necessary to use the Helium 10 software platform. Get instruction from those who are most familiar with them.
Helium 10 Freedom Ticket Review
Freedom Ticket is the most practical and hands-on training for Amazon sellers by Kevin King.
It is a perfect resource for someone who is either beginning their e-commerce journey or is already doing business but needs to learn more from the experts and industry players.
The course teaches everything about how to grow your business on Amazon and best practices and gives you hands-on training. This course will definitely help you to learn more about the e-commerce business and how to operate and manage it efficiently.
Benefits of Helium 10: How It Can Help You?
Helium 10 is one of the most advanced and sophisticated research and analytics tools for Amazon sellers and provides solution for business of all sizes and shapes that operates on Amazon.
It empowers Amazon sellers to manage and take decisions regarding their online business. Also can help Amazon sellers in many ways, a few of which are listed below:
It is a one-stop solution for all your research, analytics, and inventory management requirements to do business on Amazon. You need not purchase different products or software if you have Helium 10
Gives you the real-time and most accurate data on relevant keywords, products, etc
It can help you estimate the demand for your product so that you keep sufficient inventory and cut down on cost
It helps you estimate your margins and profits
It can help you set the right price for your product. It is important for every business to keep the right price that is profitable as well as competitive
It helps you to create good landing pages and create effective ad campaigns
It allows the seller to track his/her competitor's product.
It provides a complete solution to the Amazon seller with regards to the listing of products, marketing, keyword research, product research, profit calculations, and demand estimation, and also helps businesses to increase their operational efficiency
How to use Helium 10?
First and foremost, create a free Helium 10 account. There is no fee to register your account and begin utilizing the tools – no credit card is required or anything of the kind.
Simply click the blue "join up for free" button, enter your email address and password, and then follow the email verification instructions we'll send to your inbox. You will get a 14-day free trial on Helium 10.
You'll be inside the Helium 10 dashboard after you've registered. It's a little confusing at first, but you'll notice a top bar, a left sidebar, and tool information blocks in the center of the page.
We want to make your workflow as simple as possible, therefore we've timed everything to correspond with your Amazon selling trip. The seller tool you're looking for may be found on the left sidebar. Such as:
Product Research
Keyword Research
Listing Optimization
Operations
Analytics
Marketing
Don't worry, you don't have to go through every single tool in order. But they're always available if you need them.
You may also want to concentrate on particular tools over others, or you may choose to ignore certain tools entirely.
That's the beauty of it! Helium 10's tools adapt to your demands, not the other way around. Because this is a fast-start tutorial, we won't go into detail regarding the functions of each tool.
We'll move on to what else you'll need to get started with Helium 10.
Helium 10 Dashboard Overview
All tools are easily accessible on the right side of the Helium 10 interface. Each of the Helium 10 tools may be accessed using the drop-down menu.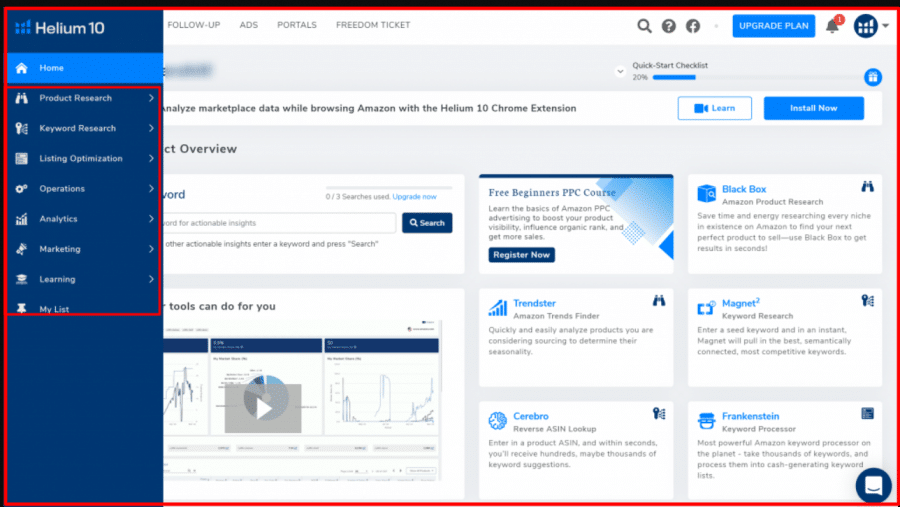 You may also use a Chrome extension to evaluate the Amazon marketplace more effectively. Furthermore, the dashboard features a number of tabs in the upper right corner.
How to use Helium 10 Magnet?
Magnet is a keyword research tool that works much like SEMRush or Ahrefs. You drop in the keyword and you'll get the relevant keywords, phrases, and other relevant products in the category.
Helium 10 Magnet works on the renowned CPR formula. Based on this formula, you can determine how many units you need to sell in order to rank on page 1 for your keyword.
All you need is to simply drop in your keyword and you'll get tons of suggestions on these keywords. Magnet gives various filters to find the best keywords for your Amazon niche.
How to use Heliu3m 10 Black Box?
Black Box is a tool that can estimate how much an Amazon seller's goods should cost.
You may also experiment with different pricing to see what occurs. Amazon sellers are classified into three types: FBA, FBM, and Amazon.
You may ensure that you have a lot of images of your goods and that you have a lot of information about it. Additionally, you can use filters such as BSR, Fulfilment needs, and competitor reviews and ratings to find these keywords.
Black Box lets you choose from various marketplaces out of:
www.amazon.de
www.amazon.com
www.amazon.ca
www.amazon.fr
www.amazon.es
www.amazon.it
www.amazon.co.uk
Helium 10 Pricing And Plans
Apart from the Free Helium 10 plan, It provides different plans for businesses with different sizes and products.
I'll briefly go through the various Helium 10 plans, what they provide, and how much Helium 10 plans cost.
Icing on the cake! Helium 10 gives a 25% discount on its yearly pricing plans and other Helium 10 Discount codes.
Helium 10 Starter Plan
This plan is suitable for businesses that are just starting off with Amazon and needs basic tools and training, to begin with.
The package includes the X-Ray capability, restricted access to additional Helium 10 capabilities, and a Freedom Ticket Amazon Training valued at $997.
You can purchase the Helium 10 Starter plan for $29/month or if you decide to pay annually, you can get this plan for $324/year and hence you save $120 a year. We recommend paying annually as it is cheaper and you need not pay every month.
Helium 10 Platinum Plan
This Helium 10 Plan is made for small businesses and those who require more analytics tools to grow their business on Amazon. This plan comes with features like:
Index Checker: 150 uses/month
Keyword Tracker: 2,500 keywords/month
Alerts: 300 ASINs/month
Follow-Up: 5,000 emails/month
Freedom Ticket Amazon Training: ($997 value).
The Helium 10 platinum plan is available for $84 per month (if you are billed yearly). However, if you pay annually, it will cost you $970 per year, saving you $194 per year. We propose paying annually rather than monthly.
Helium 10 Diamond Plan
It is a great plan for the medium to large-size businesses and expert sellers on Amazon. It is a plan made to scale your business and expand it online on Amazon. This plan comes with features like:
Multi-user login
Free access to Adtomic up to $20k/mo. ad spend
4 Seller Central Account Connections
Index Checker: 300 uses/month
Keyword Tracker: 5,000 keywords/month
Alerts: 600 ASINs/month
Follow-Up: 15,000 emails/month
Inventory Management: Unlimited SKUs
The helium 10 diamond plan costs $209/month (if you are billed yearly), but if you can commit for 12 months, we recommend paying yearly. If you pay annually, it costs $1970/year, saving you $394 each year.
Helium 10 Elite plan
Apart from the standard plans, Helium 10 provides you Helium 10 elite plan which is specifically made for advanced sellers and large businesses on Amazon.
This plan comes with the Highest-tier access to Helium 10 tools and features, Quarterly person workshops, monthly live training sessions, access to the private elite Facebook group, and lastly it provides you free access to atomic if you are spending up to $20,000/month on advertisements.
You can purchase Helium 10 Elite plan at $399/ month.
Helium 10 Enterprise plan
It is specifically made for large size businesses and enterprises and needs a custom solution for their business requirements. You need to contact Helium 10 sales team to create a plan suitable for your business and negotiate the pricing.
Helium 10 Alternatives (Free + Paid)
There are many alternatives to Helium 10, some of which are listed below, however, I think that Helium 10 is the complete tool you need for all your research and analytics needs while doing business on Amazon.
Jungle Scout
Jungle Scout is perhaps the closest alternative to Helium 10 which provides various features and tools for Amazon sellers and Vendors to scale their business.
JungleScout provides the features like Extension, Product Tracker, Opportunity Finder, Product Database, Supplier Database, Academy, Alerts, Keyword Scout, Rank Tracker, Listing Builder, Review Automation, Sales Analytics, Inventory Manager Promotions, and a lot more.
However, if you need more resources and features to help you with your Business Operations and inventory management, then Helium 10 is better than Jungle scout.
Sellics
Sellics is one of the leading advertising and optimization solutions for Amazon sellers and vendors. Sellics provides you with tools like Advertising, AI optimization, profit, and revenue tracking, Mobile application, SEO, and Review management.
Sellics is more of an advertising solution that provides great insights.
However, when compared to Helium 10, Sellics has limited features and Sellics is more expensive than Helium 10.
DataHawk
DataHawk is an Amazon Analytics and optimization software that helps and provides solutions to Amazon sellers and vendors to increase their productivity, optimize profit margins, optimize profit margins, gain insights, etc.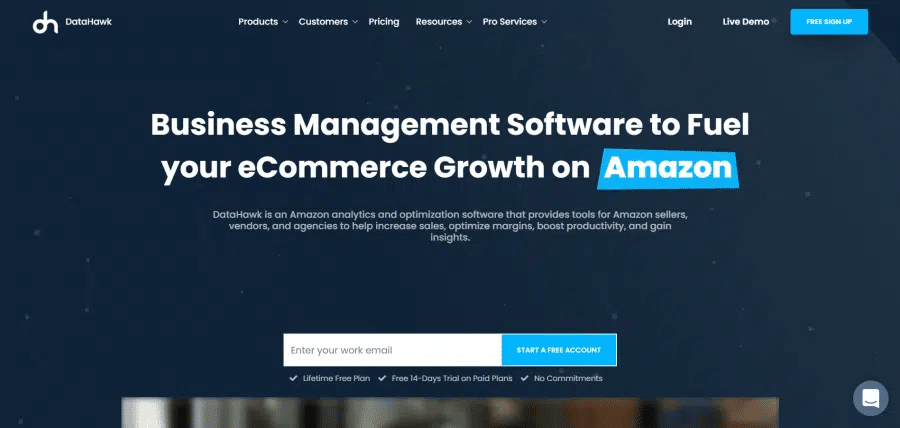 DataHawk is a good platform if you need basic insights and research support for your product, but if you need better insights, more tools, and more research support then I think Helium 10 is a better tool, however, Helium 10 is more expensive depending upon the plan you choose.
Viral Launch
Viral Launch is a tool for Amazon sellers to do product research, keyword research, competitor tracking, Amazon advertising & PPC, and Keyword tracking. It can broadly help you with product and keyword research however if you need more insights into pricing, inventory, revenue, etc.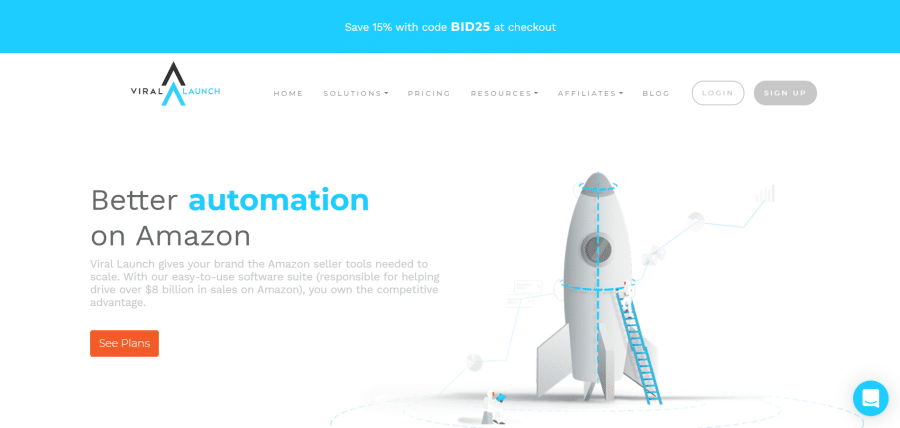 It may not be sufficient and cannot fulfill your requirements and Helium 10 is the better solution for your Amazon Business.
Helium 10 On Social Media Platforms
Helium 10 is active on social media and enjoys interacting with its fans and followers.
This is why Helium hosts weekly live-streaming events on YouTube and Facebook where you can ask us any questions you have regarding our software package or selling on Amazon.
Helium 10 Facebook
Stay up to speed with Helium 10 and FBA news by liking the Helium 10 Facebook page. Helium 10 has over 30k likes and over 45k followers.
Helium 10 Instagram
Follow Helium 10 Instagram to discover what goes on behind the scenes at the company's headquarters.
Helium 10 Twitter
Follow Helium 10 Twitter to stay up to speed on the latest Helium 10 news and maybe even offer a few retweets. It has over 3k followers on Twitter and various useful tweets.
Helium 10 Youtube
Subscribe to the Helium 10 YouTube Channel to keep up with the latest Helium 10 features and learn how to master our tools with our thorough Pro Training Series.
Helium 10 LinkedIn
Follow Helium 10 LinkedIn to stay up to speed on company news and prospective career opportunities.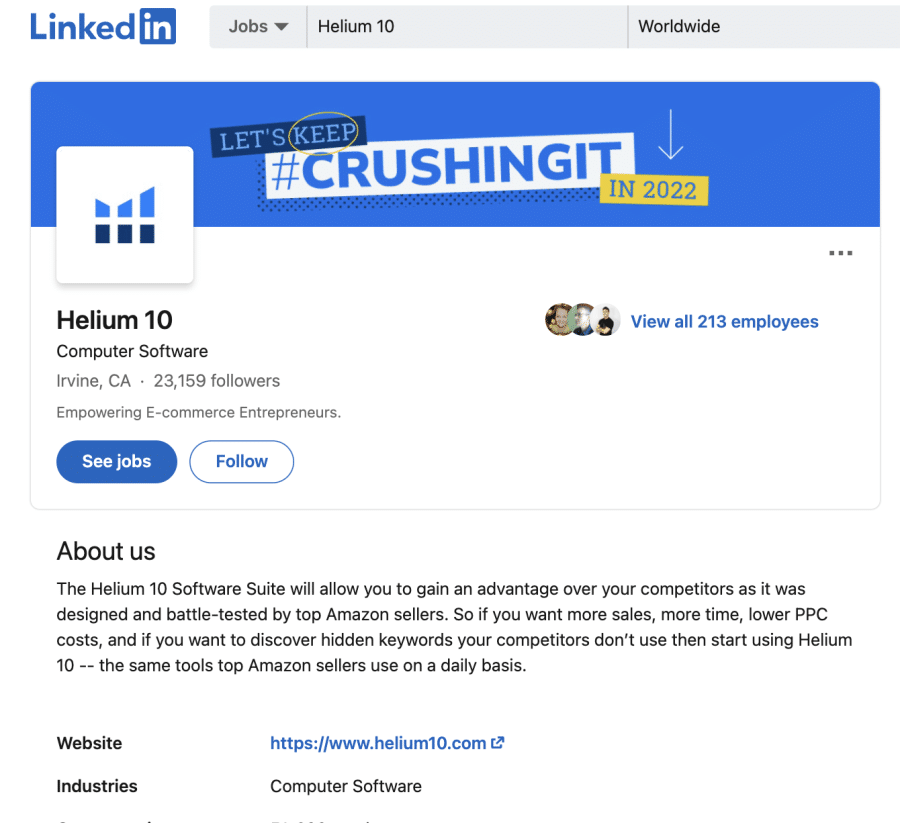 Helium 10 Customer Reviews & Testimonials

I do online arbitrage and FBA at Amazon. I've tried many software so far, but they haven't worked well. I was having trouble finding products and even trying to install products manually. While searching on the internet, I saw helium 10 and decided to try it. First I bought the trial version and used it, the result is amazing! It is both very easy to use and very clear. Competitive analysis is also very good. I believe I can sell a lot of products using Helium 10.

Gülay U
We have tried many different software companies for managing our Amazon sales and listings throughout the years, including Seller Tools, Seller Labs, AMZ, Zon Tools, and none compare to Helium 10. So much more efficient and easier to use and understand. As well as more accurate.

Derek W
I have access to a large range of tools that enable me to research products on Amazon in multiple countries.

Samantha S
Has great promise but essential functions do not work.

David K
The price is expensive for small businesses.

Smith S
It has all the features needed for my online ecommerce business. They are constantly updating the software and adding new features without increasing the price. And it saves so much time when searching for new product ideas and helping to validate them.

MARK J
Final Thoughts: Do I Recommend Helium 10?
A big yes.
Helium 10 is by far the most advanced tool for Amazon sellers to do their research regarding the product, pricing, keyword, visibility, and overall marketing.
It has done wonders for my business by assisting me in making the correct decisions for my Amazon, whether it is in terms of keyword research, product research, product pricing, inventory management, review analysis, enhancing operational efficiency, and much more.
Helium 10 has aided me in a variety of ways, including allowing me to develop at a faster rate than I would have otherwise, increasing product sales, and increasing income and profits by assisting me in determining the proper pricing for my product.
Rather than using different tools for different purposes, subscribing to Helium 10 provides me the complete solution for managing my Amazon Business.
That's all from my side on Helium 10 review. Hope this helps!
To Conclude, Helium 10 is a good investment if you want to grow as an Amazon seller.
Frequently Asked Questions
Is there a Refund Policy for Helium 10?
All of Helium 10's premium programs come with a 30-day money-back guarantee. There is also a free version available that allows you to test out the basic functions. If you like the freemium version but want additional features, you may upgrade at any time.
How many Helium 10 users are there?
As per the Helium 10 official website, there are more than one million Helium 10 users.
What is Helium 10 success score?
The score, like the other data offered by Xray, provides sellers with the information they may utilize in their own research of a product or market in relation to their own business plans. Search for a product on Amazon using a search phrase or keyword while signing into your Helium 10 account.
How do you cancel helium 10?
1. To enable the drop-down Settings menu, click your Profile logo in the upper right corner of the Helium 10 Dashboard, and then select Plans and Billing.
2. Click the Cancel button on the chart, under the title of your current plan. 3. The screen switches to the Cancellation Flow, which guides you through the simple procedures. To Cancel your Helium 10 Plan.
Does helium 10 have an extension?
Our Helium 10 Chrome Extension is a strong combination of five tools that offer you very accurate statistics when browsing Amazon straight in your Chrome browser. Discover how this information may help you as a vendor.
What is the helium 10 keyword tracker?
The Keyword Tracker in Helium 10 allows you to automatically track the popularity of keywords on Amazon. Whether you're tracking your own or your rivals' terms, this tool allows you to keep track of which keywords have (or continue to have) the capacity to enhance product exposure and sales.
What is Cerebro's IQ score?
Cerebro IQ score is a score based on Helium 10's algorithm that evaluates how good a product is as an investment. The greater the value, the better. The score is determined by a comparison of search volume to rival goods.
What is reverse ASIN?
A reverse ASIN search, also known as an Amazon reverse ASIN lookup, allows you to seek the top-ranking keywords for any Amazon listing (your own or your rivals'). This is in contrast to checking search phrases and seeing which ASINs rank for each term.
is helium 10 free?
Helium 10 is not completely free. However, you will get a free version to try with some limited features. This free version is good enough to test out all the features of Helium 10.