Hey, are you here because of the Jungle Scout vs Viral Launch comparison?
When you have an ocean of tools to select from, it's difficult to find the ideal one for your business.
To make your job easier, I'm going to compare two of the greatest programs, Jungle Scout vs Viral Launch.
Finding successful products to sell on Amazon a few years ago required daily data analysis, as you had to check the site numerous times and evaluate the different performance parameters of each product separately, which was a time-consuming process.
Plus, we will compare the Jungle Scout promo code offerings with Viral Launch.
So, let's get started.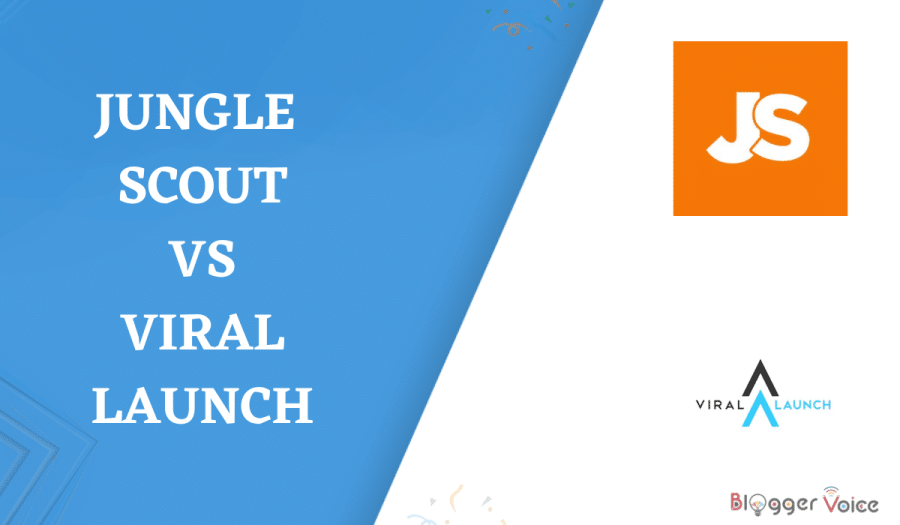 Overview Of Jungle Scout vs Viral Launch
The first thing I'd like to talk about is a quick overview of two tools, Jungle Scout and Viral Launch, so you can have a general idea of what they're about, and then I'll walk you through the pricing, features, and other important details.
What Is Jungle Scout?
Jungle Scout is a company that makes the software with the specific purpose of helping sellers find products that they can sell on Amazon.
It searches for top-selling items and tells users what qualifies as a seller having the best chance to end up in the number 1 spot if you were to offer your product in the same category.
It provides you with information related to keyword tracking, listing optimizations, and spying on competitors. Also, Jungle Scout enables sellers to check information about how competitive a particular niche is and so forth.
If you are looking for a more detailed guide, read our detailed Jungle Scout review.
What Is Viral Launch?
Viral Launch is a product research market intelligence tool that helps users track products and sales data, keywords, and niches.
They come in a variety of price ranges and have a variety of functions, just like any other product research tool.
Viral Launch is great for marketers that want to drive quality leads to their blogs, landing pages, or websites.
Anyone who wishes to increase their Amazon sales can use it.
The user accessibility of Jungle Scout's product research tool is unparalleled (UX). In a clean, simple, powerful, and uncomplicated manner, you will be given an overview of the market.

The Viral Launch pricing options are more expensive then Jungle Scout pricing Plan.

Viral Launch is the best way to find products, find suppliers, put them on the market, and then take over Amazon.

For Amazon FBA, Viral Launch serves as a full launch service. Everything from testing the product to putting it on the market to listing optimization and PPC automation.
Jungle Scout Vs Viral Launch: Key Differences
In this section of the article, I will compare and contrast the two most popular Amazon tools, Jungle Scout and Viral Launch, focusing on the fundamental differences between them.
In my research, I found that Viral Launch comes with a Chrome app, but you can buy a Chrome app on its own from Jungle Scout.
Jungle Scout has much more accurate information about competitors than Viral Launch.
Jungle Scout is the cheapest option, while Viral Launch is the most expensive.
Features Offered between Jungle Scout & viral launch
To determine which of the products, such as Jungle Scout or Viral Launch, is best for your company, the first and most important thing to examine is what features these tools offer.
So, here is a summary of the features that Jungle Scout and Viral Launch have to offer.
Jungle Scout
Listed below are the few tools and features of Jungle Scout.
Product Database
The product database at Jungle Scout contains millions of Amazon catalog products, allowing you to find the most profitable product prospects and successfully source inventory for Amazon sales.
This product discovery engine features a searchable database of 475 million products from the Amazon catalog and is equipped with evaluation tools.
There are numerous categories to sort the products by, such as expected sales, revenue, and so on, which can greatly assist you in establishing your inventory.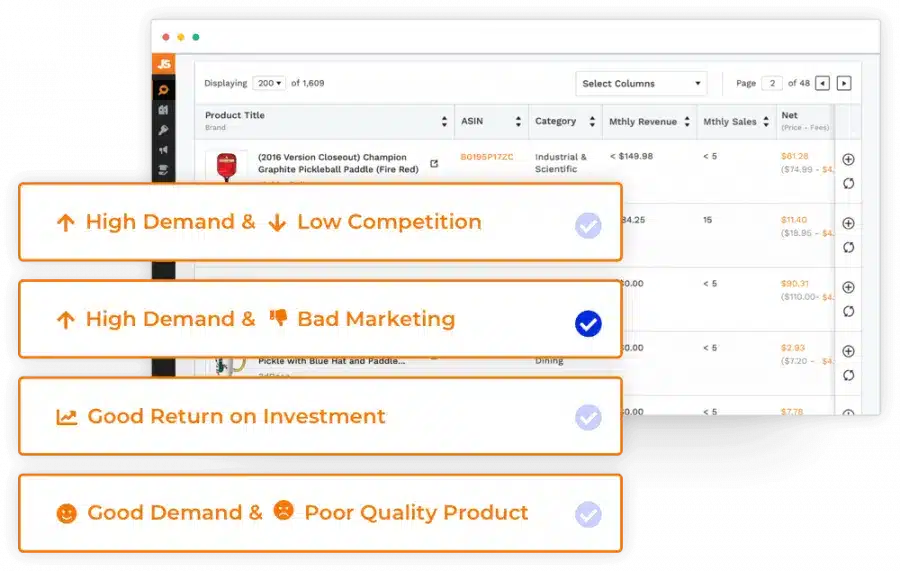 You can even dig deeper into the database with filters like min. and max. price and competition.
Product research tools like this one can help you transform your Amazon FBA success into a foundation of product discovery. Take a deep breath and relax. Discover how to make the most of these features.
Product Tracker
One of my favorite Jungle Scout tools is Product Tracker. It provides a short snapshot of the item's sales history and product tracking.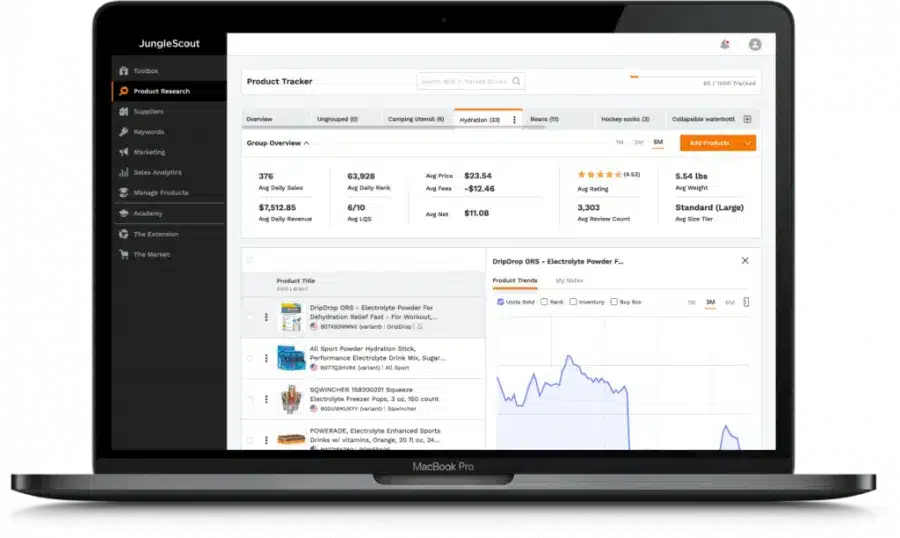 Simply feed it into this tool, and you'll see best seller rank, sales history, units sold, inventory, and other useful stats almost quickly.
As an entrepreneur, it's critical to track your products over time and ensure that you'll be able to launch them with confidence.
Monitor your items over time and make the most informed business decisions with the Product tracker tool to minimize unexpected fluctuations in demand and seasonality risks.
Opportunity Finder
As the name suggests this tool will help you to analyze the trends of a product or profitable product niches and creates great opportunities for you to develop a sound business plan.
The opportunity finder is one of the new tools supplied by Jungle Scout that allows you to discover rising trends and valuable product sectors to start selling quickly.
Look for products that are in great demand and have little keyword competition.
Supplier Database
You can obtain fast access to a list of top suppliers from whom you can buy things relating to your niche with this tool. You can also look at their manufacturing history to determine the quality of the products they produce.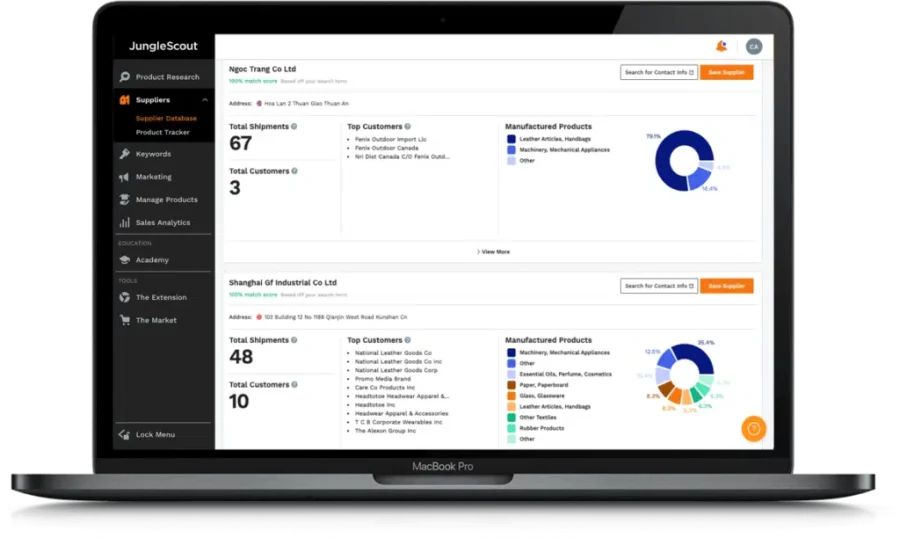 The option to search by ASIN, monitor and compare supplier quotes, and even generate purchase orders to keep track of your financial transactions has just been added to the supplier database tool.
This tool can also keep track of your transactions.
Keyword Scout
Keyword scout is a keyword research tool that helps in finding profitable keywords, along with keyword difficulty. You can also check the keyword volume and the average PPC bid on these keywords.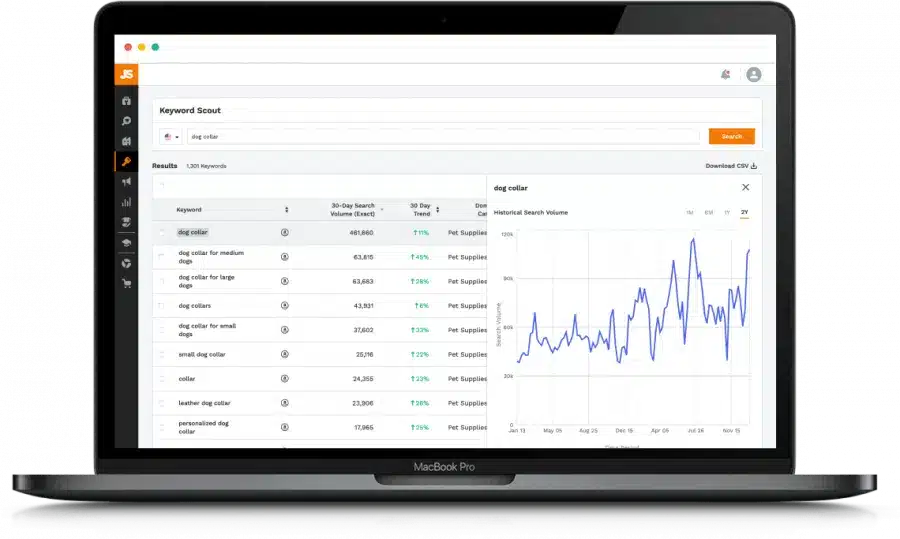 This tool assists you in creating better product listings by supplying you with high-ranking keywords with little competition. This improves the SEO of your store and makes it easier to drive sales to it.
Launch
Jungle Scouts Launch can assist you in managing all of your promotional efforts, automating your email communications, and providing tools to monitor your web presence.
It will keep track of your review count and assist you in reducing negative feedback so that you can collect and reply to client feedback quickly.
Academy
Jungle Scout offers an Academy with educational resources and videos to assist you in better grasping the ins and outs of selling on Amazon, in addition to tools to help you manage your Amazon business.
Viral launch
Listed below are the few features and tools of Viral Launch.
Amazon sellers can now use Viral Launch's new PPC tool. Kinetic PPC is the solution for individuals who want to completely automate or manually manage their PPC campaigns.
You can take advantage of this tool to save time and maintain absolute control while being informed with reports that show you exactly what's going on with your account at any given time.
While you're growing your firm, you'll be aware of what your competitors are up to.
Product Discovery
Searching for items on Viral Launch is simple with this tool. Simply navigate and choose areas of interest to bring up charts that indicate monthly income, page views/reviews, product review count, and more.
Start with a broad keyword and narrow it down based on previous sales data, such as the review ratio, average net profit, sales year over year, and price change. This will offer you a significant advantage over opponents who are guessing.
While this outrageously large number of filters has a higher learning curve than other product research tools, the benefits for the diligent Amazon seller are substantial.
Market Intelligence
Market intelligence is a tool that offers more insights into a product's history, monthly sales, the market's top sellers, unit margins, current market trends, and review counts.
Because we have access to complete data on the Amazon marketplace, the market intelligence tool gives current and reliable information that can be utilized to build realistic sales estimates. Our product-level data can be used to maintain track of the number of reviews, market trends, and analysis for profit.
Keyword Research
Viral Launch features a keyword research tool that does the heavy lifting for you. This function aids in better SEO, increased profit margins, increased sales and visitors to your product page, and eventually increased sales.
Competitor Intelligence
The Viral Competitor Intelligence tool shows the relationship between Best Seller Rank (BSR) and keyword ranking. This can help you understand how much a product's exposure or sales are influenced by its keyword ranking. You can simply analyze your keyword rank, sales, and price with this application.
Listing Analyzer
Viral Launch's Listing Analyzer tool assists you in developing a solid business plan by running a SWOT analysis on the product listing, evaluating your product's position against that of other similar items and their sellers, and providing recommendations based on that study.
When it comes to the features in comparison of Jungle Scout to Viral Launch, Jungle Scout includes all of Viral Launch's features plus a lot more whereas Viral Launch's unique feature is that it gives split testing to its consumers; otherwise, Jungle Scout is a much better deal.
Affordability Between Jungle Scout & Viral Launch
After features, the affordability or pricing with which Jungle Scout and Viral Launch make the features available is the second most significant factor to consider while making a decision. So, here's a quick rundown of Jungle Scout and Viral Launch's price schemes.
Jungle Scout Pricing Plans
The price plans in Jungle Scout are separated into two categories: standard plans and package plans. The basic plan is further separated into three tiers: Basic, Suite, and Professional, while the package plans are divided into two tiers: Startup Suite and Entrepreneur Suite.
You have the option of paying monthly or yearly for the regular programs. Jungle Scout also offers a 7-day no-questions-asked money-back guarantee. All of the plans will be addressed further down.
Jungle Scout Basic plan
Jungle Scout's Basic plan costs $49 per month for monthly payments and $29 per month for annual payments. This plan includes the Jungle Scouts browser extension, 24/7 customer support, and unique Jungle Scouts Academy instruction. It also includes sales data and supports 10 Amazon marketplaces.
The Basic plan is just for sellers who wish to try out Jungle Scout for the first time or who have a small business.
The basic plan has limitations on how you can use its tools, such as the fact that you can only investigate 20 products with the product research tool.
As a result, I do not suggest it to sellers because it provides them with a very limited understanding of Jungle Scout.
Jungle Scout Suite Plan
The Suite plan is listed on Jungle Scouts' official website as the "MOST POPULAR" option. Monthly payment plans cost $69 per month, while yearly payment plans cost $49 per month.
This subscription includes everything in the Basic plan plus additional capabilities such as keyword research, increased product limit research, advanced seller tools for improved business management, access to more historical data, and the ability to add multiple users.
I recommend the Suite plan to most sellers, and I chose it when I first started with Jungle Scout since it includes more features, such as the ability to study 150 products and 3500 keywords, which is ideal for a regular business.
Jungle Scouts Professional Plan
The Professional plan gives you access to all of Jungle Scout's tools and features. Jungle Scout can be used to its greatest potential. It costs $129 per month every month and $84 per year.
It includes all of the capabilities of the Suite plan, as well as additional features such as ASIN research, 6 months of previous product research data, 2 years of historical keyword research data, and more. With the Professional subscription, you can also log in to up to 6 people.
After two months on the Suite plan, I upgraded to the Professional level. If you're a significant businessperson, I'd recommend going straight to the Professional plan.
This subscription allows you to search up to 1000 products and 5000 keywords, making it suitable for a large company.
Jungle Scouts Package plans
Start-up suite – $189 (3-month suite plan)
Entrepreneur suite- $349 (6-month suite plan)
The Startup Suite, which costs $189 for a three-month subscription, and the Entrepreneur Suite, which costs $349 for a six-month subscription, are two of Jungle Scouts' package offerings.
The only difference between these options is the usage limits put on the tools. Both come with the historical product and keyword tracking data, access to academy seller training classes, live question and answer sessions, and much more.
According to Jungle Scout, the Startup Suite is best for sellers who want to start a business right away and learn new methods as they sell, whereas the Entrepreneur Suite is best for sellers who want to study the specifics of the strategies before launching their product.
Viral Launch Pricing Plans
The pricing structure of Viral Launch consists of three categories viz. the Essentials Plan, the Pro plan, and the Pro plus ads plan. It also has two payment methods either yearly or monthly and with the yearly payment plan, you get two months free.

Viral Launch Essentials plan
Viral Launch's Essentials plan is the most basic and costs $69 per month for monthly payments and $58 per month for yearly payments. It includes features such as product filtering, browser extensions, advice and training, and more.
I don't recommend the Essential Plan if you want to grow a significant business because it's only ideal for small sellers. It's useful for experimenting with viral launches.
Viral Launch Pro plan
The Pro plan includes all of the capabilities of the Essentials package, plus additional features such as competitor monitoring, SEO, rank tracking, and historical data. A monthly payment method will cost you $99 per month, while a yearly payment approach will cost you $83 per month.
The Pro plan is rated as the "MOST POPULAR" on the Viral Launch website, and I would recommend it to you because it removes the limitations of the Essentials plan while still providing you with a wealth of data and functionality for your Amazon business.
Viral Launch Pro plus ads plan
The Pro Plus Ads package will set you back $199 per month if you pay monthly and $166 per month if you pay yearly. It's essentially an upgrade to the pro plan because it includes everything in the pro plan as well as the ability to create campaigns for your products.
If you are a large entrepreneur looking to increase sales by driving attention to your store through marketing, I would recommend this method.
When comparing the prices of Jungle Scout and Viral Launch, it's clear that Jungle Scout is much less expensive than Viral Launch; also, Jungle Scout's plans are more value for money because they offer more features for a lower price.
Pros and cons Of Jungle Scout & Viral Launch
After reviewing the features and pricing, the advantages and disadvantages of Jungle Scout and Viral Launch become decisive factors.
Every tool on the market has its own set of benefits and drawbacks, therefore I'm going to highlight a few of the benefits and drawbacks of both Jungle Scout and Viral Launch so you can determine which one is ideal for you.
Listed below are the pros and cons of Jungle Scout.
Jungle Scout Pros & Cons
| | |
| --- | --- |
| Pros | Cons |
| Jungle Scout has a lower pricing plan | No mobile app |
| Provides historical data | Limited research |
| Jungle Scouts Academy to boost your Amazon business | Jungle Scouts chrome extension is not free |
| 7-day money-back guarantee | |
| Makes product research easy | |
| Keyword research tool | |
Viral Launch Pros & Cons
| | |
| --- | --- |
| Pros | Cons |
| Viral Launch features great product tools | Viral Launch is priced higher than Jungle Scout |
| Viral Launch has several webinars which provide training for your amazon growth | The chrome extension has some bugs. |
| Viral Launches Chrome extension is included with its pricing | |
| Provides you with real-time data | |
Which one is more accurate: Jungle Scout or Viral Launch?
Jungle Scout has a margin error of 15.9% whereas Viral Launch has a margin error of around 20.7%.
A difference of a few percentage points between Jungle Scout's estimate and your own doesn't seem like much until you realize the amount of money at stake.
When compared to Jungle Scout, using Viral Launch's data puts you at a higher financial risk.
This is especially critical as sellers increase their inventory purchases.
Customer Support: Jungle Scout vs Viral Launch
Customer support is the services or assistance provided by companies in case of any trouble faced by the users, and speaking of support both Jungle Scout and Viral Launch provide impressive Customer support, let's have a detailed look at both of them.
Jungle Scout Customer Support
Jungle Scout offers pleasant, personalized online assistance to their consumers by incorporating a support box on their website that is constantly open and ready to reply to any difficulties or concerns that their customers may have.
Users can get help from Jungle Scout through a blog, webinars, e-books, podcasts, and FAQ resources, among other things. It also provides a public online contact form, a live chat option, and an email address for troubleshooting support.
Viral Launch Customer Support
Viral Launch includes a specific section for resources to assist you with troubleshooting.
Here you can find free tools, articles on how to sell on Amazon and other Amazon PPC-related topics, as well as in-depth textbooks that will teach you everything you need to know.
You can also contact the Viral Launch customer support staff via email or an online contact form. Viral Launch also responds to questions pretty quickly. Like Jungle Scout, there are no live chat options.
Final Thoughts On Jungle Scout vs Viral Launch
I hope this comparison of the two Amazon research tools, Jungle Scout and Viral Launch, has helped you figure out which one is best for you.
As you can see from my comparison chart, Jungle Scout wins hands down since it offers a variety of unique features and is less expensive than Viral Launch, making it a better value for money.
Jungle Scout's user interface is quite intuitive, with an enormous number of detailed and complex filters, as well as smart tables of figures and the bonus of a supplier database, all of which are valuable to anyone who runs their own Amazon store.
To summarize, Jungle Scout and Viral Launch excel at their respective tasks. Although Viral Launch is a great product with a lot of features and functions, Jungle Scout's functionality and elegant user interface make it stand out.
In terms of features, benefits and drawbacks, and pricing, I would strongly advise anyone seeking the best product search tool on the market to choose Jungle Scout over Viral Launch.
frequently Asked Questions
Which one is more accurate: Jungle Scout or Viral Launch?
Jungle Scout is more accurate than Viral Launch and it has gotten more positive reviews than Viral Launch.
 Can I cancel my subscription to Viral Launch?
Yes, you can cancel your subscription anytime you wish.
How many users can use a single Jungle Scout account?
It depends on the plan you buy, the Suite plan and Professional plan have an option for multiple user logins.
 Can I cancel my subscription to Viral Launch?
Yes, you can cancel your subscription anytime you wish. 
Can I cancel Jungle Scout at any time? 
Yes, similar to Viral Launch you can cancel your subscription to Jungle Scout anytime, Jungle Scout also offers a 7-day money-back guarantee.
How does jungle scout get its data?
Jungle Scout analyses information from over 500 million Amazon goods. Its database keeps track of products from Amazon's catalog as well as a product's sales history.
Can you make money with jungle scout?
How much money can you make if you join Jungle Scout? New Amazon sellers make anything from $26,000 to $810,000 per year, according to a survey from Jungle Scout that incorporates data from over a thousand vendors.