If you are on this page then I am sure that you are looking for the most detailed and honest Semrush Review, aren't you?
Well, you are at the right place. I will take you through a complete Semrush suite in detail and how it has helped me to grow online and help me to increase the visibility of my website and see if it is a good product to invest in. Over the years I've used Semrush, and I've found it to be a very useful tool.
In this Semrush Review, I will take you through its features, pros & cons, alternatives, for whom it is made, and how it can help you to grow online!
At the end of this Semrush Review, I will tell you my final verdict and if it is worth it along with some basic FAQs.
So let's get started!
Our complete SEMrush review
Semrush was founded by Oleg Shchegolev in the year 2008 with the aim to provide a complete SEO solution that is backed by data. Semrush started with just 2 tools and today it provides around 48 tools and has helped over 7 million marketers to scale their businesses.
As per backlinko.com, Semrush's revenue in 2020 stood at $124.88 million and has around 67000 paying customers.
Around 95% of all the companies that use Semrush have less than 500 employees and most of them are just small and medium businesses.
If we look at the various databases of Semrush then it has a database of around 20 billion keywords, 41.28 trillion backlinks database, an advertisement database of 310 million, and lastly, Semrush goes through 17.28 billion URLs on daily basis.
With all these data points you can imagine how big Semrush is and you get access to all this database if you buy Semrush for your business.
What is Semrush?
Semrush is one of the finest and most advanced digital marketing research and competitor analysis tools.
Semrush began its journey with just 2 tools in 2008 and today it has more than 40 tools and hence provides a complete solution to its users. Semrush provides solutions for SEO, keyword research, content development and marketing, competitor analysis, project management tools, backlink tools, etc.
With this wide range of tools available on Semrush, you will never run out of good insights and data to keep building better strategies for your online business, you will keep discovering new things, and better opportunities and see a steady rise in your revenues and traffic!
We understand that investing such a big sum in an analytics tool is a big decision to make hence.
For whom the Semrush is made?
The Semrush is made for small online businesses and marketers to help them in various digital and online marketing domains such as SEO, PPC, SEM, Keyword Research, Content marketing, competitive research, public relations, campaign management, project management, marketing insights, and analytics, etc. it is a complete solution for all your digital marketing needs.
Semrush SEO Toolkit Review
SEMrush provides the most comprehensive and advanced set of SEO tools that can help you with Keyword research, keyword rankings, analytics, on-page SEO analysis, rank tracking, etc.
Keyword Research
Keyword research is at the heart of creating great content that can drive traffic, let us look at some Keyword Research tools provided by SEMrush.
A. Keyword Overview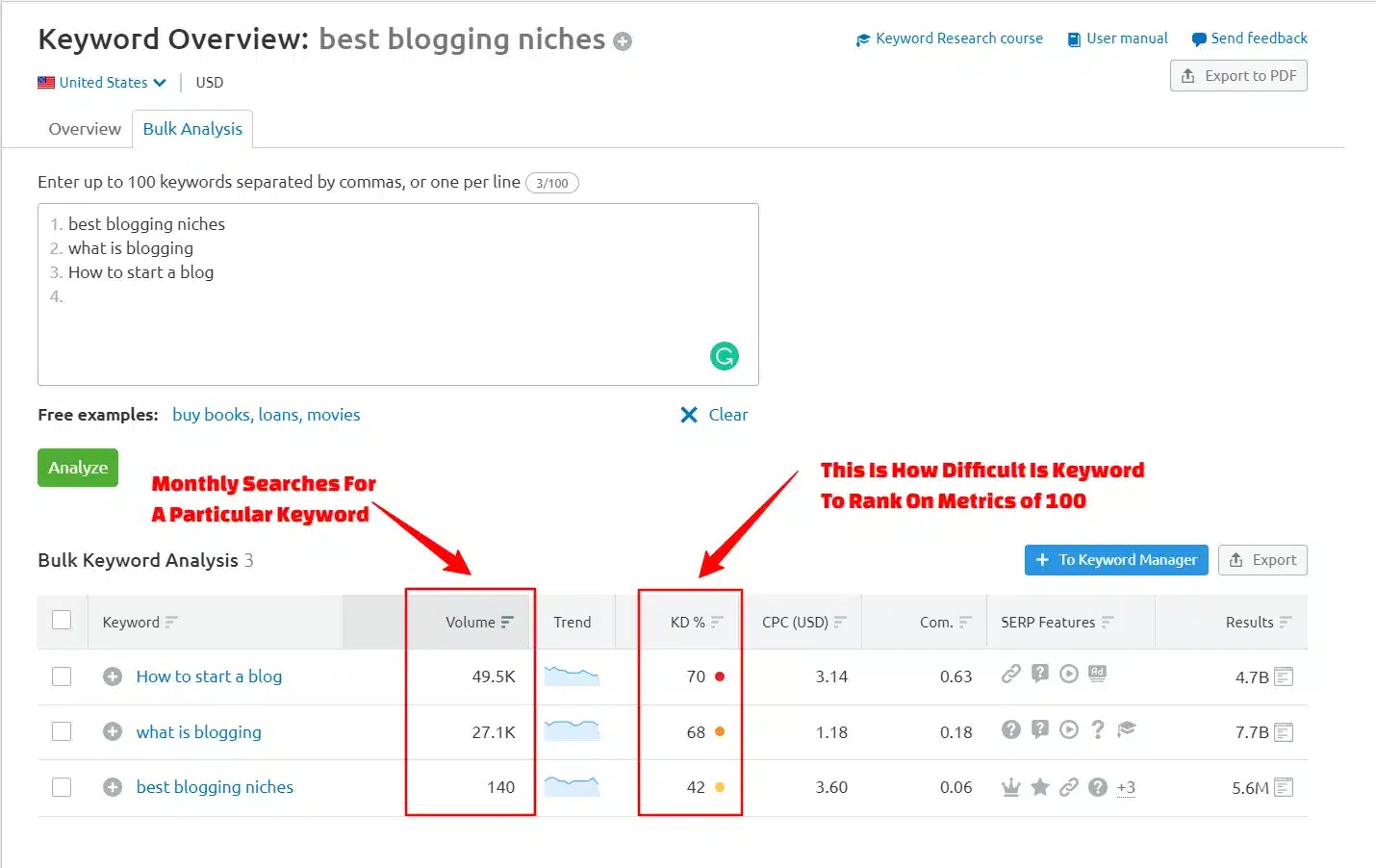 This tool gives you a complete overview of a particular keyword. It gives you data on different metrics such as Volume, regional volume, search results, the average cost per click, the competitiveness of a particular keyword, the number of variations a particular keyword has, the total volume of similar keywords, questions related to a particular keyword, it will also give you the top 100 links that are using that keyword.
B. Keyword Magic tool
Keyword Magic Tool gives you a quick glance at the performance of all the related keywords to your main keyword.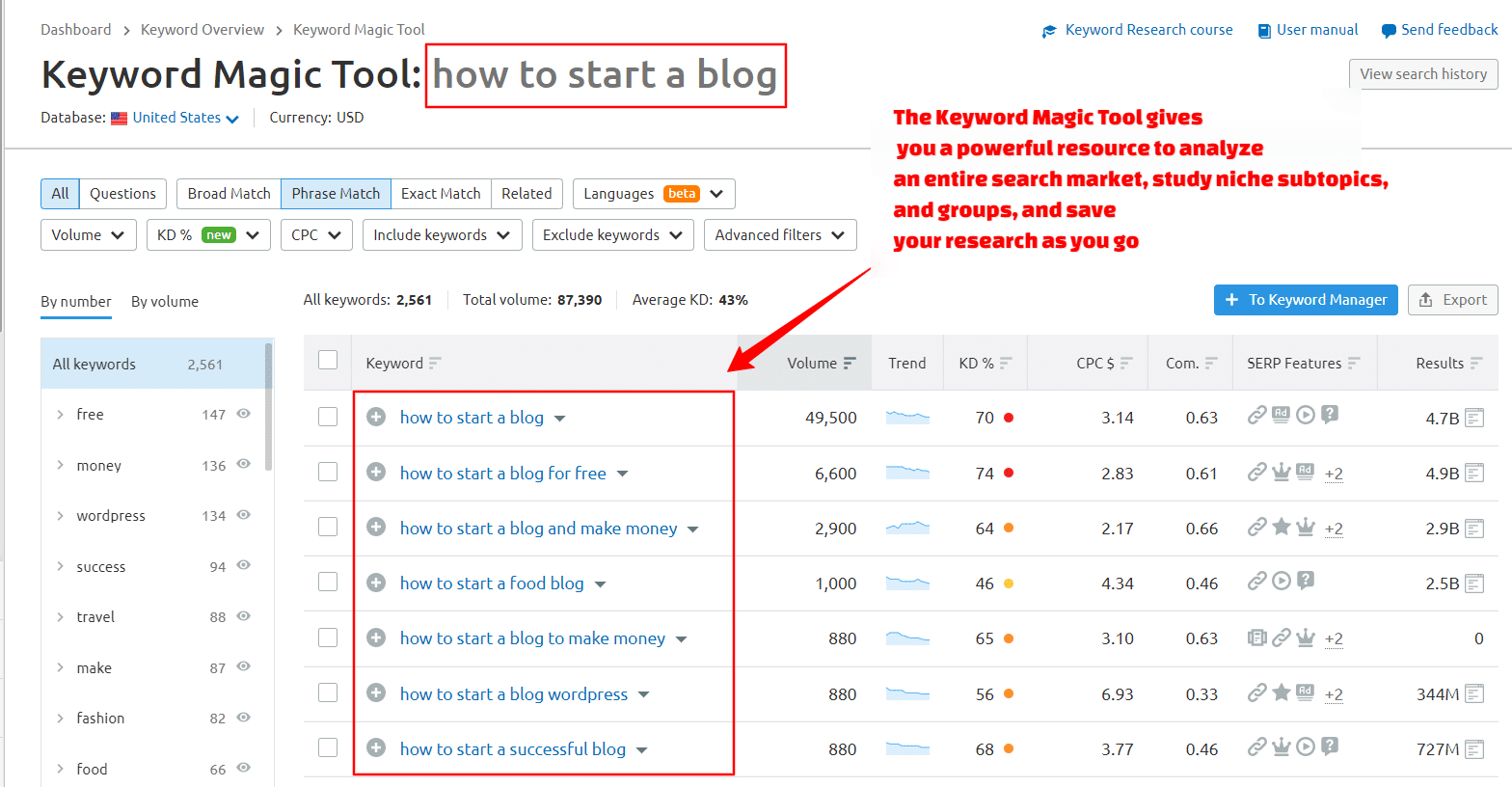 It provides you with a quick insight into important keyword metrics such as volume, Keyword difficulty, keyword trend line, the average cost per click of a particular keyword, Competitive density, Search Engine Result Page (SERP) features, or links that are ranking at the top on search engine but are not traditional organic results.
It also shows you the number of search results available for a particular keyword.
C. Keyword Gap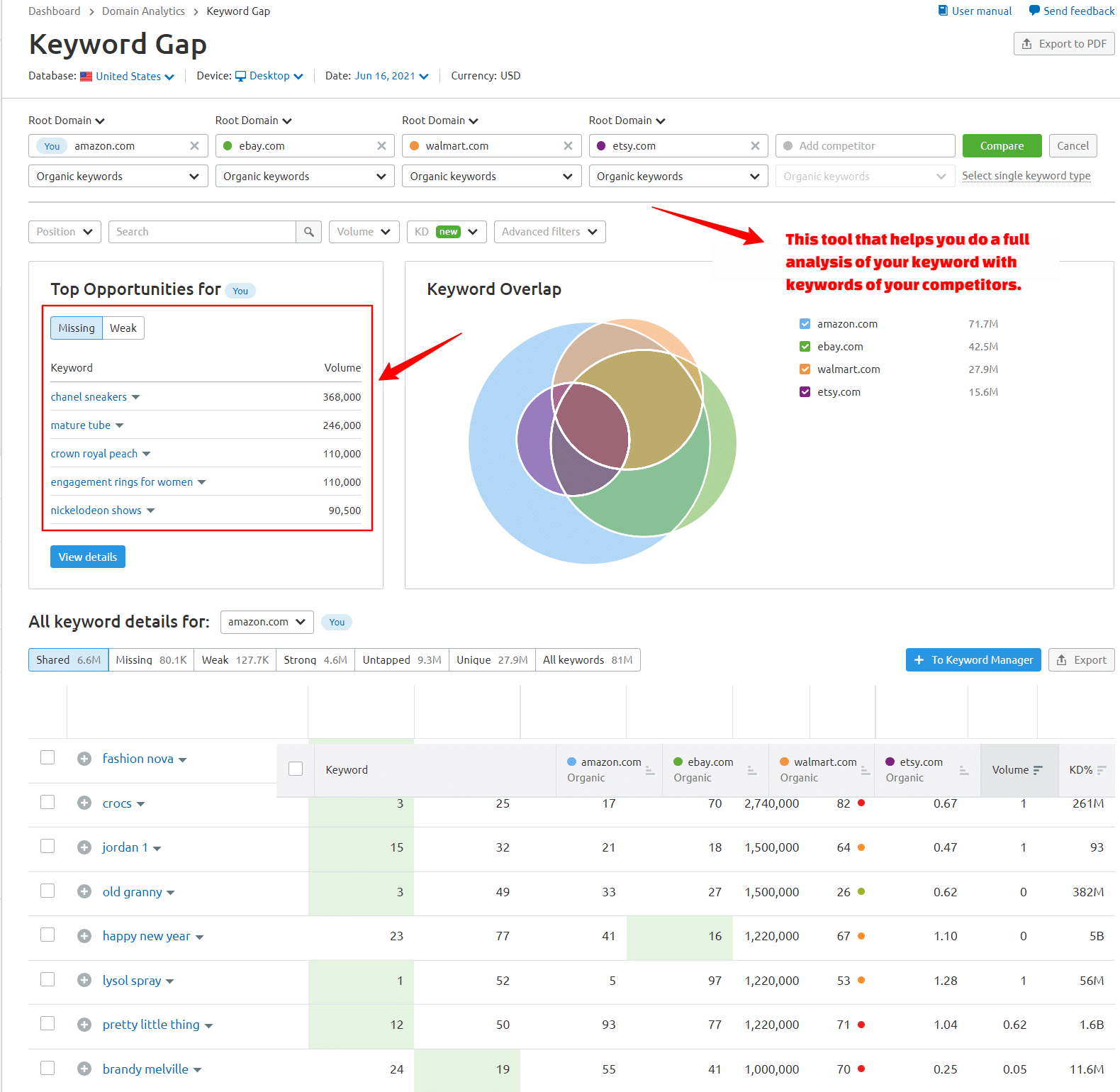 Keyword Gap is a very unique tool provided by SEMrush. This tool helps you to compare your keywords with your competitor's keyword and give you a proper understanding of the performance of your keyword in comparison to other keywords. This allows you to find new opportunities and create a better strategy to drive traffic to your website.
D. Keyword Manager
Keyword Manager allows you to analyze 1000+ keywords in one shot and you can observe the changes within the SERP features of every keyword in real-time.
This tool is helpful when you are working on many keywords and want to see how they are performing and how much traffic they are driving on the internet, this allows you to change your strategies from time to time and keep up to date with new and upcoming trends.
E. Organic Traffic Insights
This tool brings together Google Analytics, Search Console, and Semrush Data to give you insights on organic traffic driven by the keywords on your webpage and find the most effective and optimized keyword strategy.
On-page SEO
A. Site Audit
The site Audit feature by Semrush is an important tool to see how your webpage is performing. The site Audit tool quickly crawls through your websites and provides you with some actionable solutions that you may execute to improve your website's visibility. It gives you a very detailed and insightful report on the performance of your website.
B. On-Page SEO Checker
An on-page SEO checker checks the SEO of the most important pages of your website and gives you an at-a-glance overview of the performance of the webpage.
On-Page SEO checker provides you with an exhaustive list of ideas to improve the ranking of that webpage, helps you to identify link-building opportunities, helps you to improve content writing for your webpage, and helps you in SERP Feature targeting.
C. Log File Analyzer
This tool helps you to analyze how Google crawler is interacting with your website and helps you to review your access logs. This feature will help you to identify the structural and navigational problems with your website and give you many ideas for managing bot activity on your website.
Local SEO
The local SEO feature of Semrush can help you develop the best SEO strategy for your website.
A. Listing Management
With the help of the Listing Management tool, you can automatically list your business in almost every online directory like Google. With the help of this tool, you can also see how much traffic is coming from your local ZIP code and you can monitor the reviews as well and reply to them.
B. Social Media Toolkit
Social Media Toolkit can help you improve your social media game which is a very important aspect of businesses today. With the help of this tool, you can schedule posts, improve social media interaction, reply to your audience queries, take feedback, schedule updates, and a lot more.
Rank Tracking
The tools under these features can help you track your keywords and competitors. It helps you to monitor your performance on Google Search Engine Results Page and show where your content is ranking.
A. Position Tracking
As the name suggests that this tool tracks your position at different places. The position tracking tool by Semrush can help you track the performance of your keywords, domains, and competitors. It also helps you to monitor the progress of your online marketing campaigns and helps you to identify any shortcomings quickly.
B. Sensor
With the help of Sensors by Semrush, you can track your rankings on the SERPs of Google and Baidu. It can help you to monitor signs that indicate a change in your ranking on different search engines.
C. Ranks
With the help of the Ranks feature by Semrush, you can research the domains that are driving the maximum organic traffic across the globe. You can also discover the domains with maximum paid keywords, and paid traffic and estimate the paid traffic budget for your online marketing campaign.
Link Building
The link-building tool by Semrush can help you run and automate various outreach programs and campaigns to acquire backlinks and identify backlink opportunities.
A. Backlink Audit Tool
The most important aspect of your online presence is your backlink profile as that shows how much influence you hold on the internet. With the help of the Backlink Audit Tool will monitor your backlink profile and help you to enhance it and avoid google penalties and ensure the quality of your internet presence.
B. Backlink Analytics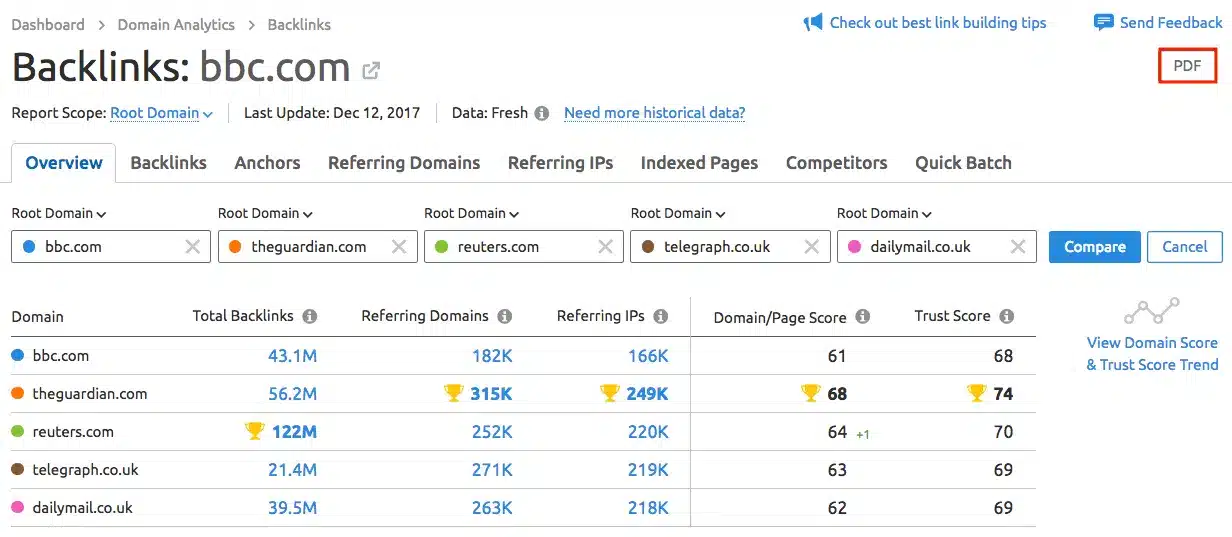 As I mentioned earlier in the article that Semrush has one of the largest Backlink Databases and now you can access this database to discover and track your backlinks in the market. This tool can efficiently help you to find many backlink opportunities to boost your SEO and improve your online presence.
C. Backlink Gap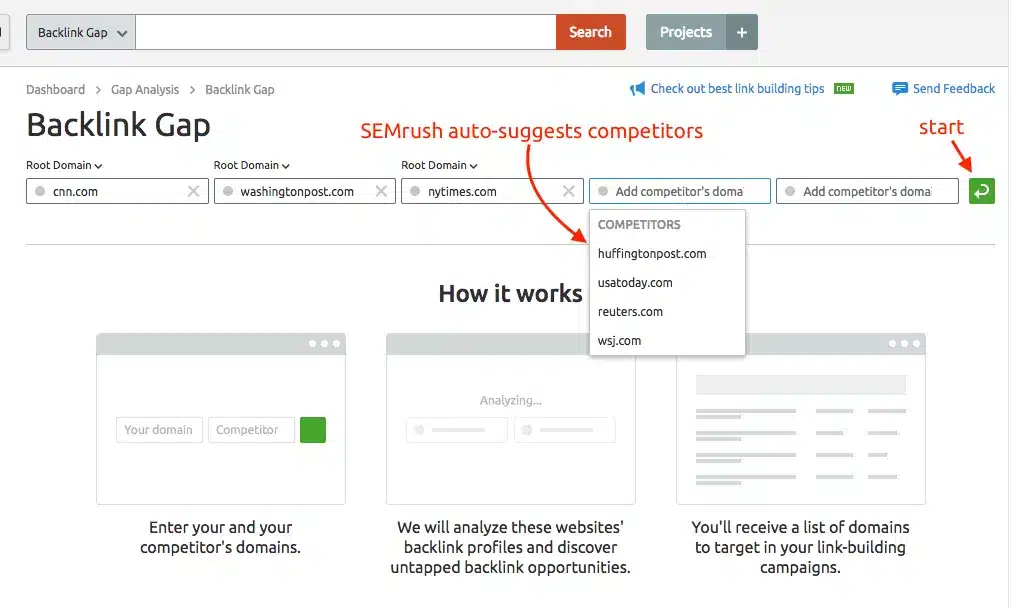 With the help of the Backlink Gap tool, you can track up to five competing Backlink profiles and gather insights from these backlink profiles and improve your backlink profile. With this, you can build more links and increase your outreach.
D. Bulk Backlink Analysis
This simple tool helps you to analyze the wide range of competitors and learn from their link-building strategy hence, helping you to improve your backlink game on the internet.
Competitor SEO Analysis
The simple purpose of this feature by Semrush is to reveal the secrets of your competitors. It allows you to see the keywords and SEO strategy used by your competitors and help you to improve your marketing strategy
2. Semrush Content Marketing Review
Semrush not only helps you to research your content but also to create content, optimize it and make your content work for you.
Semrush's Content Marketing Tools help you develop impactful content that can drive organic traffic. It helps you to research your content, use relevant keywords, connect with your audience and make data-backed decisions.
A. Marketing Calendar
Manage your marketing and social media calendar, plan social media posts, and plan editorial calendars. Marketing Calendar can help you keep track of your campaigns, ads, and social media posts on a single dashboard.
B. Post Tracking
With this tool, you can track your social media post, and blog posts, track social media engagement on your posts, backlink counts, referral traffic coming to your website, and a lot more. You can also get rankings of your keywords used in the content.
C. Content Audit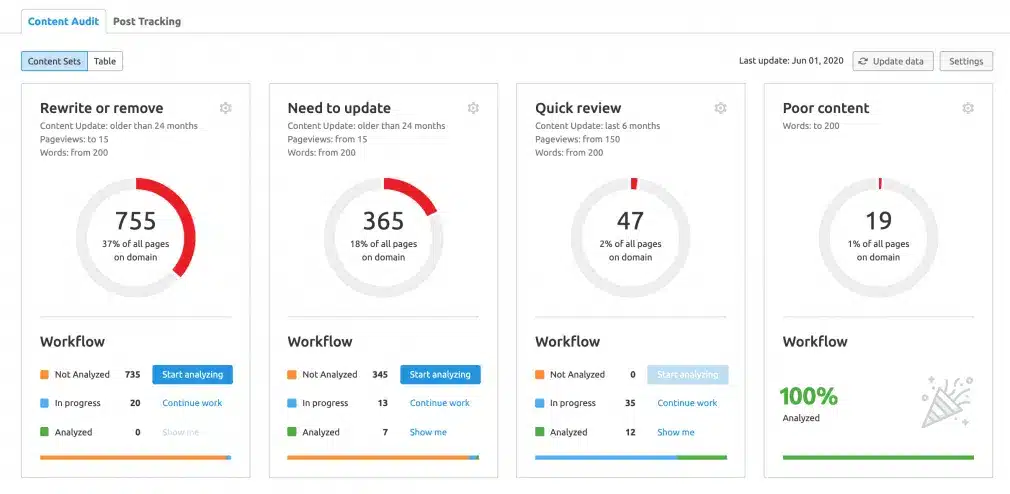 Content Audit by Semrush can help you to analyze the quality of your content and discover your top-performing articles and help do necessary updates. This tool can help you to customize the content with real-time insights and hence stay abreast with the recent trends.
Content Creation & Distribution
A. Topic Research
Topic Research tool by Semrush can help you generate 100s of content ideas and gives you many topics and subtopics on which you can create content and drive traffic to your website most traditionally and organically. This tool also helps you to find out what are the topics on which your competitors are writing and helps you monitor your own content accordingly.
Content Optimization
A. SEO Content Template
SEO content template by Semrush can help you to generate a quality content template that can help you write great content. The tool gives you tips by analyzing the articles of your top 10 competitors and hence, with the use of this tool, you can get the best of your competitors and have an edge over them.
B. SEO Writing Assistant
This is one of the best tools, if you are looking to write organic content that is SEO-ready, helps you improve your content writing, improves the readability of your content, and helps you optimize your content to appear higher on the search engine result pages.
Content Marketing Analytics
You may have created the best content in the world with the right keywords and SEO but the real task is to monitor your competitor's content and update your own content from time to time, so that it remains relevant. To help you do this, Content Marketing Analytics tool by Semrush is there for you.
3. Market Research
Competitor Analysis
A. Traffic Analytics

Conduct a comparative analysis of Market players and your competitor's online performance and see how they are running their content marketing campaign and other marketing campaigns.
You can also analyze and understand your audience and customers and see what they are demanding, what are their interests, and their geographical distribution.
B. Organic Research
The organic Research tool by Semrush can help you to see how your competitors are driving organic traffic. You can use simple filters to see how your competitor is performing on different metrics. This is the perfect tool to do organic research and improve your keyword and SEO strategy and drive organic traffic to your websites
C. Advertising Research
This Advertising Research Tool helps you to analyze the ad strategies of your competitors, and see the keywords they are using and bidding upon. You can also the Ad copies from your competitors and industry leaders and learn how to execute a perfect ad campaign online.
Market Analysis
A. Market Explorer
The first step to growing in the market is to explore the market. Semrush's Market Explorer tool will help you establish market positions, discover the market size and potential, identify the key players, their online market share, and how they are generating traffic. It gives you a complete overview of the market.
Paid Advertising
A. Display Advertising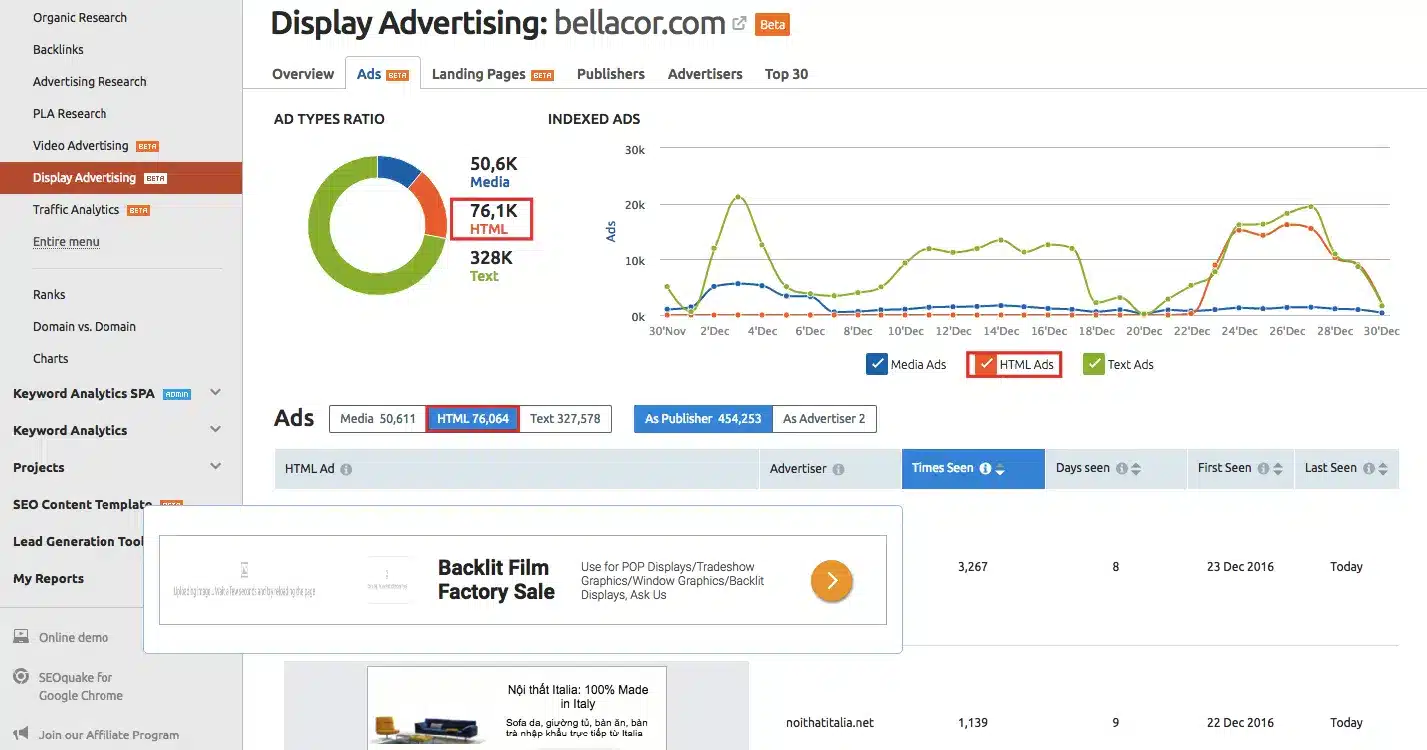 With the help of Display Advertising tools by Semrush, you can analyze the ads by your competitors on Google Display Network and see how they are performing. This tool analyzes the banners and ad text to see the ad performance. It helps you to place your ads in the right place and target it to the right audience.
B. PLA Advertising
With the PLA or Product Listing Advertisements Research tool, you can analyze other listing advertisements on google and execute new and similar ideas in your campaign to make your advertising more competitive.
Competitor PR Monitoring
The tools under this feature can help you track your rival brands, interact with your audience more efficiently, identify branding opportunities, and a lot more
A. Brand Monitoring
Brand Monitoring tool by Semrush helps you to scan social media and traditional online platforms to find where your competitors are mentioned.
This tool also helps you find and list the topics that can drive organic traffic to your website. You can even find relevant backlink providers and marketers that can promote you and improve your brand image.
B. Social Media Tracker
This feature by Semrush helps you to analyze the competitor's social media interaction and find its strength and weakness, these insights can help you to generate more creative ideas and strategies for your social media campaigns.
4. Advertising
SEMrush is perhaps the only tool that I found that provides an excellent set of tools to optimize your social media campaigns and other online advertisements.
PPC Keyword Research
Pay Per Click Keyword Research is the tool provided by Semrush to make your paid search campaign a success story.
A. PPC Keyword Tool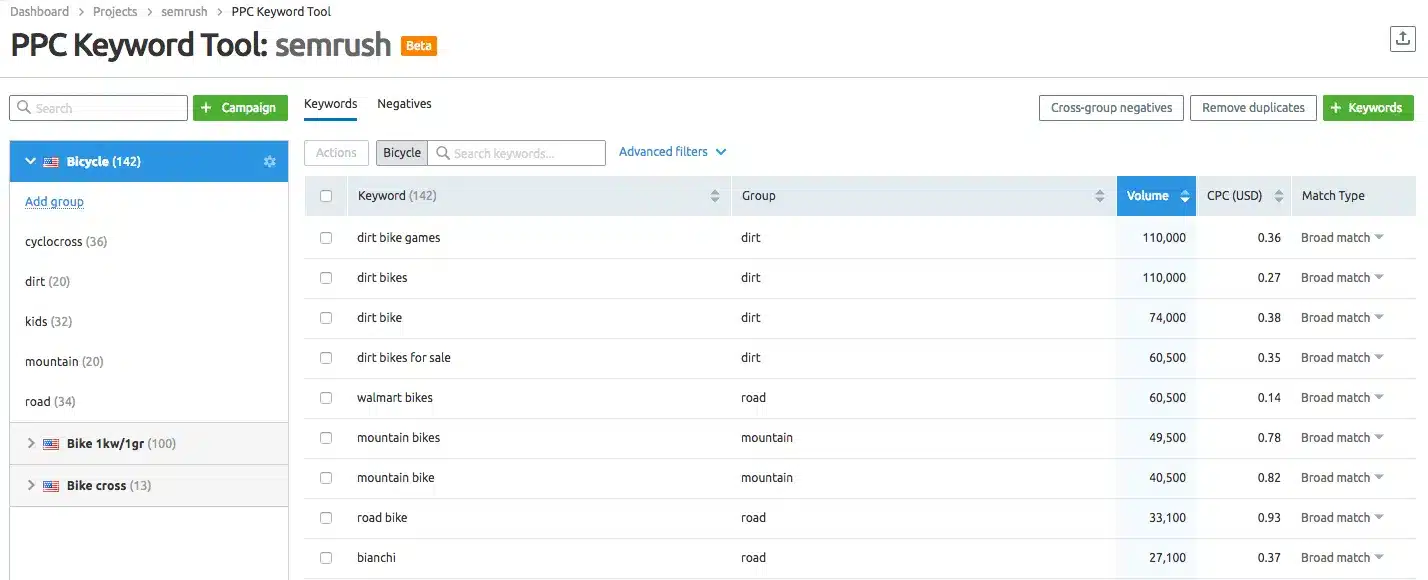 PPC keyword research tool helps you to optimize your PPC campaign. It helps you to identify the best keyword on which you can place your bets to generate maximum traffic to your website.
This tool helps you to organize your keywords, set negatives, see the volume of the keywords, see the Cost-per-click data and build the list of the most effective list of keywords that are relevant to your content and business.
Website Monetization
The website Monetization feature of Semrush helps bloggers, affiliate marketers, AdSense publishers, etc. to find better website monetization opportunities, increase their revenue, improve their content delivery through proper SEO strategy, and a lot more. Proper utilization of this tool can help you increase your revenue through your website.
5. SMM & SERM
You can manage your Social Media advertisement and engagement with these tools provided by Semrush
Social Media Management
The tools under this feature will help you to analyze the performance of your social media advertising and manage your social media posts and schedule them.
A. Social media poster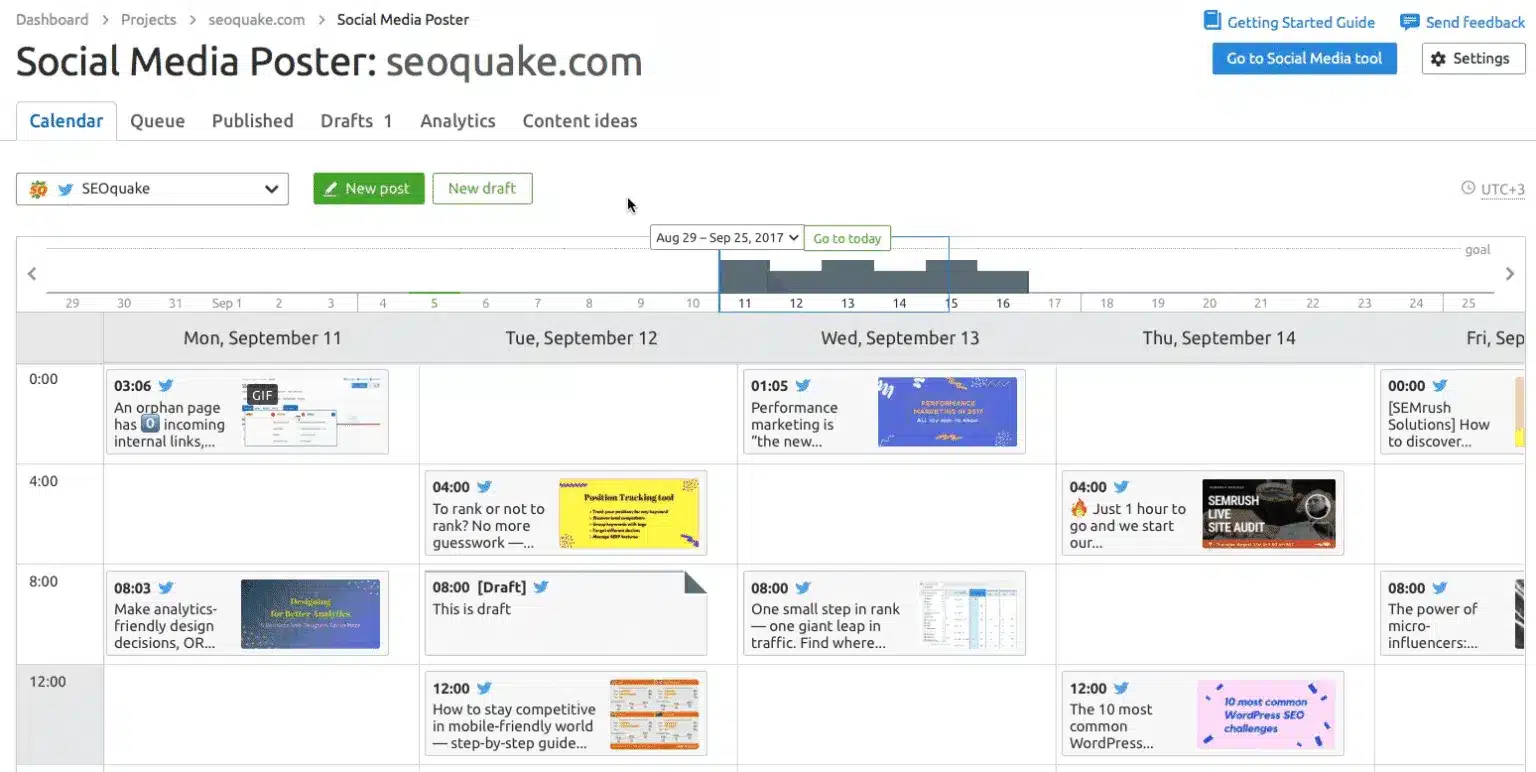 Social media poster is the tool that almost every business needs in today's era of social media where Brand interaction is of utmost importance.
This tool helps you to schedule your social media posts on various platforms like Facebook, Instagram, Twitter, etc. this helps you to stay in touch with your audience and maintain consistency.
B. Social Media Ads
The Social Media ads tool by Semrush helps you to create, launch, track and analyze your social media campaigns on Facebook, Instagram, Twitter, Google, etc. this tool also helps you to quickly identify low-performing ads and take quick action to run a successful social media ad campaign.
6. More Tools Offered By Semrush:
A. Prowly
Prowly is a Media and Public Relations software developed by Semrush and it provides a solution for all your PR and Media-related requirements. It helps you create good and eye-catching press releases and also helps you to find relevant media contacts. It is one of its kind Media and Press Release software available on the internet.
B. Marketplace
A Semrush Marketplace is a place where you can order high-quality content of any type like product descriptions, An article, Website copy, email newsletters, press releases, media stock, an Ebook, or an infographic, it covers all your content writing needs. For each type of content, there is different pricing.
C. Affiliate programs
Semrush Affiliate Program is made for affiliate marketers who want to earn by promoting and marketing Semrush on their website.
With Semrush Affiliate Program you can earn $200 for every new subscription sale, $10 for every new trial, and $0.01 for every new sign-up on Semrush. You can become a Semrush Affiliate if you are a content marketer, a marketing agency, Paid Search Specialist, Course Creator, or an all-around marketer.
D. SEOquake
SEOquake by Semrush is a powerful SEO tool for your browser. It can analyze any webpage you visit on many SEO parameters and give you quick insights on the go.
SEOquake can be used for many purposes like an On-Page SEO audit, examining internal and external links, comparing domains and URLs on a real-time basis, and most importantly you can download all the data into a file for future reference.
E. Amazon Tools
If you run your business on Amazon and want a quick analytics tool to check your listings, keywords, amount of traffic, etc. Amazon Tools by Semrush can help you check the quality of your listings, analyze your traffic, protect your listing from any external threats, analyze your keywords using Keyword wizard, and do split testing.
F. ImpactHero
ImpactHeroe by Semrush is an AI tool that analyses your content and finds out the areas of impact where maximum buyer interaction was observed and suggests ways to improve your content and make it better and more impactful. The best thing about this tool is that it looks at the content from the customer's point of view.
G. SplitSignal
SplitSignal by Semrush should be the most important SEO tool to analyze and compare the two different types of content.
SplitSignal allows you to quickly compare the two content and SEO strategy and find out which one is performing better by using the A/B testing method. This analysis by SplitSignal is completely based on the organic traffic generated by your website.
Semrush Review 2023: How Semrush can help you?
Semrush can help you in many ways if you are planning to market your content, product, services, or any other kind of business online.
It helps you to gain real-time insights, do keyword research, run successful digital marketing campaigns, drive organic traffic to your website, understand and analyze the strategy of your competitors, create content with relevant keywords to get ranked higher on Search engines, and develop your own business strategy for short, medium and long term.
By using Semrush, I can generate around 37% more traffic for my website, and increase revenue. I have also been able to find the relevant keywords for my website content.
Semrush has also helped me to understand my competitor's business model and digital marketing strategies and has helped me to optimize my own strategy.
Slowly and steadily my investment in the Semrush tool is paying me good returns and I hope to continue with this tool in the future as well.
Semrush Pricing Review: How much does Semrush costs?
Semrush has a perfect plan for businesses of all shapes and sizes to fulfill their digital marketing needs.
It provides all the tools that a marketer needs to run a successful campaign online. In this section, we will discuss the prices for different standard plans provided by Semrush.
Note: Semrush is providing a discount of up to 17% if you choose to pay annually for your subscription instead of monthly payments.
Semrush has three different price plans – Pro, Guru, and Business. Also, there is a Semrush free trial. Yes, you can sign up for a seven-day free trial.
Semrush Pro Plan
Semrush pro plan is made for freelancers, startups, in-house marketers, businesses with a limited budget, and those who are just starting with online marketing.
With this plan, you can run successful SEO, PPC, and SMM projects. With 40+ Semrush tools. You can also do competitors analysis with this plan
You can buy this plan at $99.95/month billed annually however if you want to pay monthly then this plan can cost you $119.95.
Semrush Guru Plan
Semrush Guru's plan is suitable for small and medium-sized businesses and medium-sized marketing agencies.
In this plan, apart from all the features of the Pro plan you also get a content marketing platform, historical data, extended limits, and Google data studio integration as well.
You can purchase the Semrush Guru Plan at $191.62/month billed annually and if you opt to pay monthly then you can get this plan at $229.95.
Semrush Business Plan
Semrush Business Plan is made for large marketing agencies, E-commerce websites, and businesses that already have a substantial presence on the internet.
In this plan, you get all the features of the pro and guru plan along with some extra features such as API access, extended limits and sharing options, google data studio integration, and share of voice metric.
You can purchase Semrush Business Plan at $374.95/month and billed annually however, if you opt to pay monthly then you can get this plan at $449.95.
We recommend you always opt for an annual subscription as that costs less and does not hinder the services after every month.
What did I like about Semrush?
Semrush is known for its SEO and keyword features but now it has become a complete solution that provides many features including competitor analysis, research tools, and content development and marketing tools.
Semrush provides you with so many ways to track how your website is performing in terms of organic traffic, keyword performance, search engine rankings, the kind of users visiting and the demography, etc. it gives you many insights to drive your traffic accordingly. You can also see how your competitors are performing
One good thing about Semrush is that you can see the performance of your website in different countries where Semrush is present and it has many countries to choose from.
The best traffic is Organic traffic and Semrush helps you to get the maximum organic traffic to your website.
Semrush allows you to create deep domain analysis and gives you a complete report of that domain without much effort
Where Semrush can improve?
When you are just starting with Semrush the number of features can overwhelm you and it can get difficult for you to navigate through this tool
Well, Semrush is quite an expensive tool, the initial investment is huge and can be a negative point for many, however, you can expect a good ROI over the period.
The number of projects and domains that you can track on Semrush is limited.
The pricing plan of Semrush is per user hence, if you have multiple sales personnel and SEM and SEO associates, you need to purchase the plan individually which is too expensive and Semrush doesn't allow you to have a shared workplace and collaboration on a single project.
Semrush Pros & Cons
Semrush provides excellent value for money
After-sales and customer support is always available and responds promptly
The keywords research tool, content writing tool, site audits, backlink analytics, and other features help you to scale your business online.
The operational support and features by Semrush allow you to set up projects, receive notifications, respond to clients, etc.
The resources provided by Semrush are helpful to understand the usage of every feature and to learn some good tricks and strategies
Semrush helps you to understand your competitor better by giving you insights related to their keywords and content and also helps you to improve your keyword usage
Semrush helps you to create excellent content that can rank higher on search engines
Semrush helps you in advertising as well by providing you tools like Brand Monitoring, display advertising, etc.
Semrush helps you to gain an edge over your competitors by empowering you to make decisions backed by data.
The free tools provided by Semrush has limited functionality
The traffic predictions made by Semrush can be misleading sometimes
You don't get access to the API in the guru plan.
Is there anything better than Semrush – Semrush Alternatives 2023
Here's the complete list of Semrush alternatives.
1. Ahrefs
Ahrefs is the closest competitor to SEMrush when it comes to SEO tools and it offers almost all the features that Semrush offers.
It has amazing site crawling capabilities and offers features like Keyword Management and Competitor analysis.
However, the UI of Ahrefs is not as good as Semrush and it has limited functionality when it comes to content marketing and advertising.
2. SEO Powersuite
SEO Powersuite is used by over 5 million SEO specialists and managers.
This tool is perfect for getting SEO-related data and insights as well as carrying out SEO audits of your website.
The analytical tools are great if you want to perform a quick competitor analysis. However, it is a desktop-based tool and hence requires a lot of computing power. It also does not offer a PPC Tool that comes with SEMrush. SEMrush is a more complete tool as compared to SEO Powersuite.
3. Cognitive SEO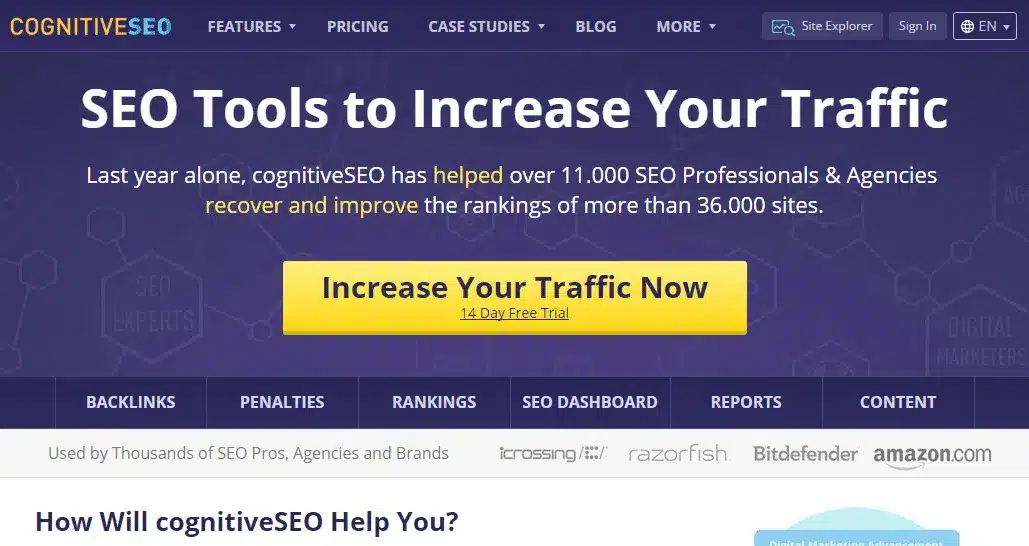 With the help of Cognitive SEO, you can identify the problems in your current SEO strategy including duplicate and plagiarized content.
When it comes to SEO Cognitive SEO provides better and more targeted keyword analysis when compared to SEMrush.
It also helps you in Backlinks analysis and finds a better opportunity. However, Cognitive SEO has limited functionality when compared to Semrush as Semrush provides more tools and resources to carry out a successful digital marketing campaign.
4. SE Ranking
SE Ranking is one of the finest SEO analytics tools and works for almost all businesses irrespective of their shape and size.
It has a strong keyword research tool and allows you to create a great keyword strategy to drive traffic to your website.
It uses 15 different metrics to show you how your backlinks are performing. It is an amazing keyword tool however, it lacks other features that Semrush provides to run a successful digital marketing campaign.
SE ranking is also a little bit slower when compared to Semrush and SE ranking does not provide enough resources so that you can learn more about the features and use them efficiently.
5. WebCeo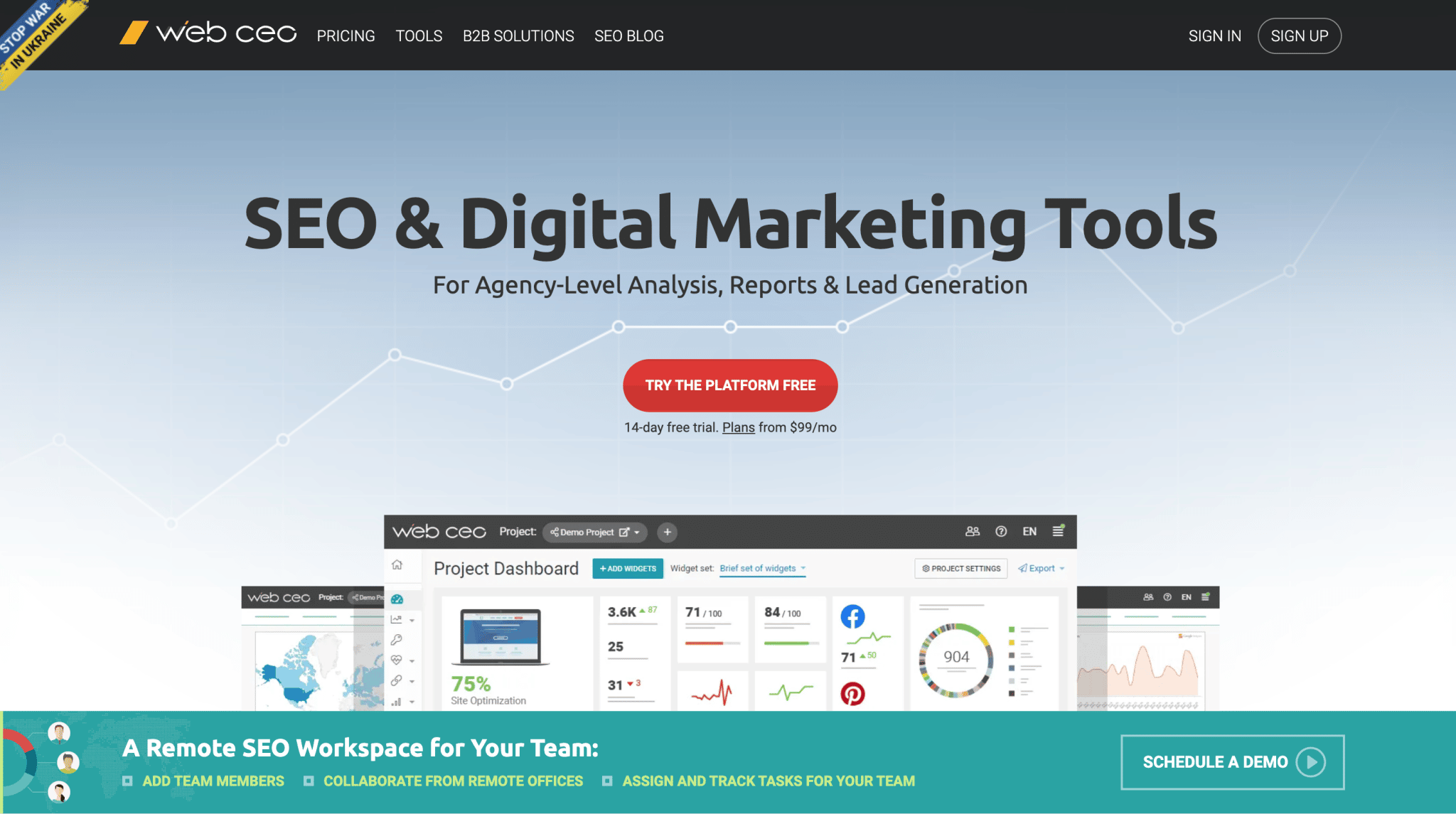 WebCEO is a great digital marketing analytics and research tool. It offers all the SEO, Keyword, and competitor analysis tools that you find in Semrush as well.
WebCeo is suitable for every kind of business, small, medium, or large. However, you won't find a few things in WebCeo such as audience targeting tools, or webinars conducted by Semrush, UI of Semrush is far superior to WebCeo and it is not as intuitive as Semrush that can create difficulties for beginners.
Semrush Real Customers Testimonials
useful for online businesses

Great service that gives us a lot of information about our business. I'd like to see some more backlink analytics features and maybe an integration with WordPress or Drupal so I can edit things right from the dashboard. (or perhaps via Zapier)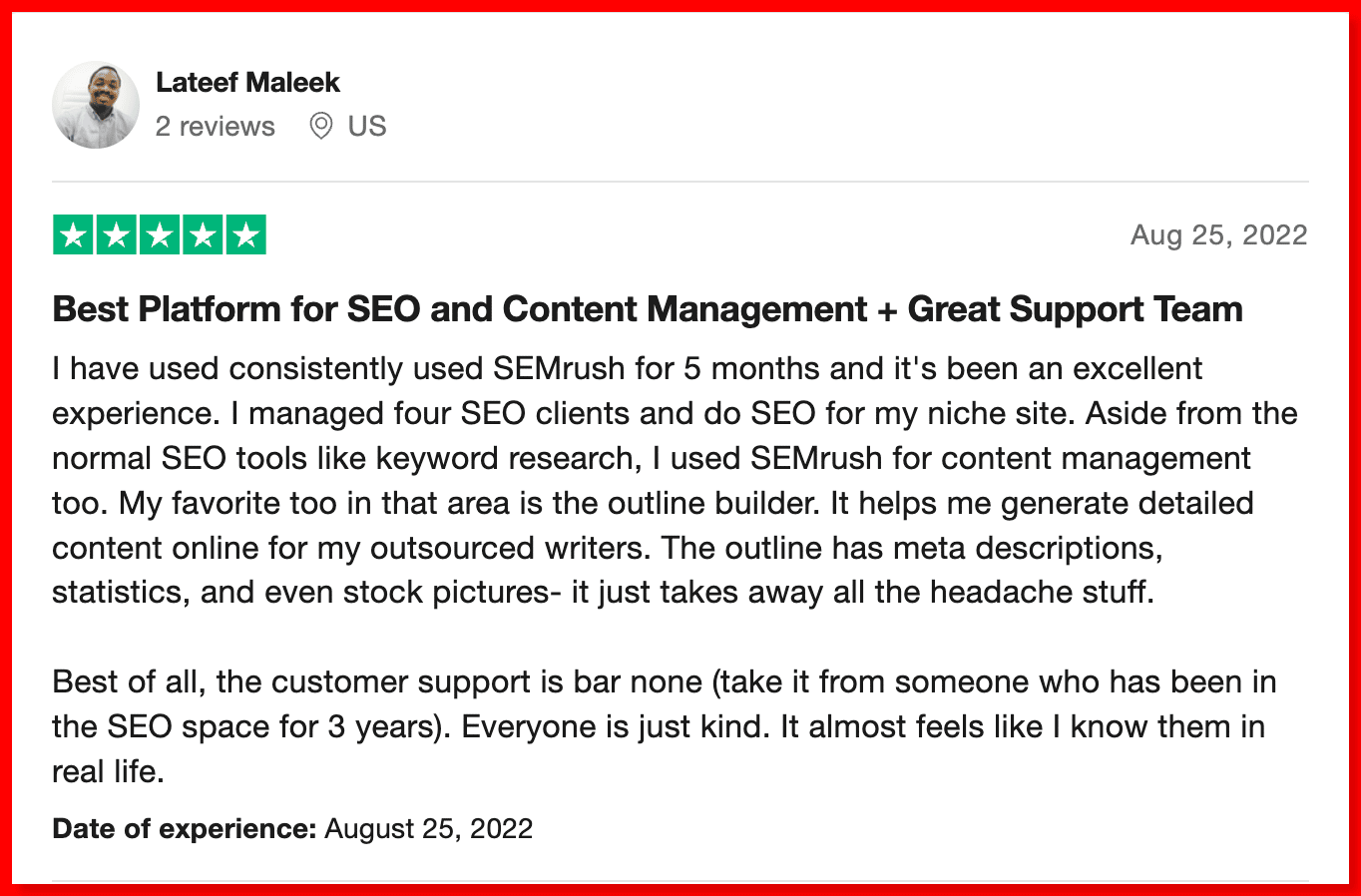 Cannot Survive Without It

I've been a power user of Semrush for several years, the transfer from Ahrefs was straightforward, and the data is significantly more accurate. We track over fifty projects in this system, and when combined with GA/GSC/Majestic, the project tools provide a comprehensive view of what is occurring. This is a requirement for any organization that takes digital seriously.
SEMRush is a formidable tool.

What is your favorite feature of Semrush?

I appreciate the diversity of available tools. Primarily, I utilize it to conduct keyword and competitive research for my clients. It is quite potent for this purpose. I have evaluated various different programs, but I always return to SEMRush. In addition, a SEMRush representative often checks in to see if I require assistance with the features.
Semrush Social Media Handles
Check out Semrush's social media presence and see how active they are on their Semrush Social Media Handles Like Facebook, Twitter, and Instagram.
Facebook
Semrush has more than 210,840 followers on Facebook, They share all the information related to, new products, Updates, upcoming events, webinars, and much more.
Twitter Profile
Semrush joined Twitter in 2009 with more than 190,000 followers on Twitter. They share all of the company's current news and information.
Pinterest Profile
Semrush has more than 12k followers on Pinterest, where they publish infographics and give advice on digital marketing, the latest tool, blogging, and SEO.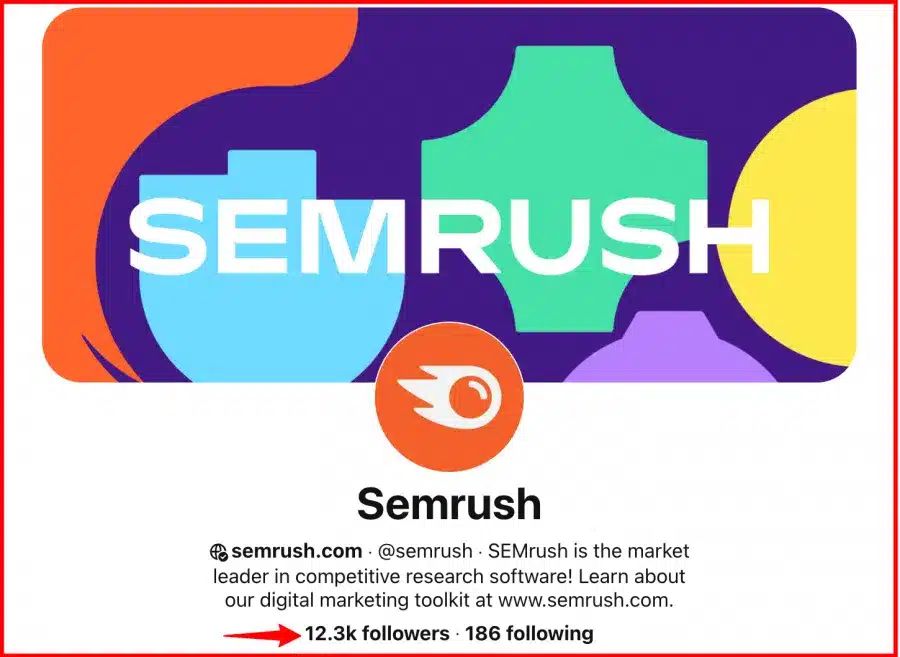 Conclusion: Semrush Review (2023)
Is Semrush Worth it? Well, it worked for me and it has been 100% worth it for me.
If you have a monetized site and you do your business through it then Semrush makes a lot of sense and you will find that Semrush is an excellent investment that can give a great Return on Investment in the form of improving your site ranking and visibility.
It helps you to increase the organic traffic of your site, increase your revenues multifold, and most importantly it can help you develop a strategy that gives you an edge over your competitors with the help of Semrush.
You can identify what your competitors are doing and where you are missing out hence, Semrush makes it easier for you to stay ahead in the race and achieve your business goals!
FAQs On Semrush Review
Are there any Semrush custom plans?
Yes, if you need a custom plan then Semrush does provide a custom plan according to the needs and requirements of your business. To get a custom plan, you need to contact Semrush's customer success team.
What is the Semrush refund policy?
If you are not 100% satisfied with your Semrush Plan, you can claim the 100% refund from Semrush within 7-days of the purchase
Does Semrush offer a free trial?
Semrush offers free features and functions however, they have very limited functionality and you don't get the complete suite.
Can I switch between plans within the subscription period?
Yes, you can downgrade/upgrade your Semrush Plan at any point in time. If you cancel or downgrade your subscription during the first seven days, you will receive a full refund.
Can I cancel my subscription at any time?
Yes, you can cancel your Semrush subscription at any point in time.
What customer services you can access by purchasing Semrush Subscription?
Semrush Customer success teams provide a lot of customer services like successful onboarding through training, and health checks and help you create a proper plan. Semrush Customer Services conducts individual training sessions customized by role/team.
(i.e. c-level, content writer, SEO team), goal/function (keyword research, potential SEO strategies), and more. Semrush also provides product and feature guidance after you purchase the subscription.
What is Semrush Used for?
Semrush is used for any purposes related to your online business. Semrush is used for Keyword research, creating good content with the right keywords, developing keyword and content marketing strategy, identifying growth opportunities, driving organic content, and lastly, you can use Semrush for all the research purposes for content and finding out backlink opportunities.
Is Semrush free?
You have the option of using Semrush for free, but its functionality will be severely restricted. Alternatively, you may subscribe to one of the three primary paid plans: Pro, Guru, or Business.
Is Semrush good?
Yes, Semrush is good and worth the investment. Semrush is accurate and helps you build the best strategy to improve your Keywords, understand competitors, improve the content and create better and more effective content. The insights provided by Semrush can help you build a strong online presence.
How do you use Semrush effectively?
You must use Semrush to create a better online marketing strategy. You can do this by using Semrush to identify your competitor's keyword strategy, identify the ways to get organic traffic, find new ways to monetize your website, create good content that can help you rank higher on search engines, find good link-building opportunities, all these things can be done with the help of Semrush.
How does Semrush gather data?
To provide data in our databases, Semrush employs its own machine learning algorithms as well as reputable data suppliers. We only utilize the most recent data sources and always clean the data using our patented processes to provide the most reliable solution on the market.
Will I be charged for the free trial if I enter my credit card information?
Yes, they will take out a very small amount to see if the credit card information you put in is correct. When you sign up for the free trial, you don't have to worry about getting charged because they will immediately refund the money once it is confirmed.
Does Semrush offer 30 days free trial?
Yes, with our official partnership with BloggerVoice, you can easily get a free 30-day trial of both Semrush Guru and the pro plan.