In This Crocoblock Review, I have concluded a detailed explanation of Croroblock's overview, features, pros & cons, Pricing, and more.
Crocoblock is a collection of tools that can be used with WordPress and Elementor to create any website.
Also, In this Crocoblock review, we will investigate what is included in this package, what it has to offer, and how it can be used in conjunction with Elementor to create a WordPress website that is unique to your business.
So, let's get started!
What is Crocoblock?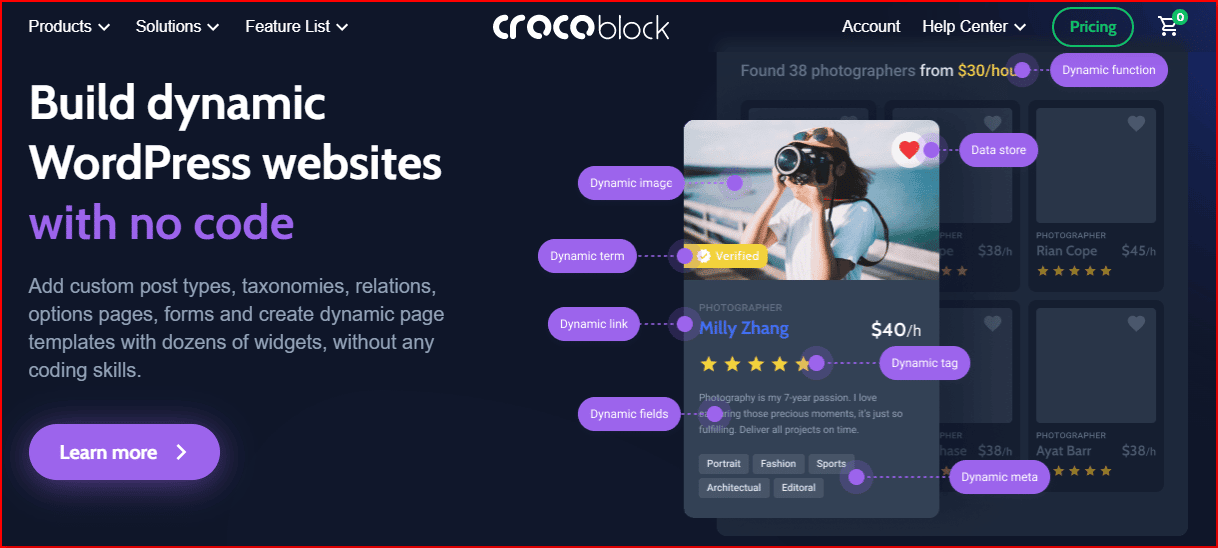 Crocoblock is a subscription service that provides access to all of the Elementor Page Builder add-ons.
Even though they have hundreds of plugins, it's amazing to watch how well all of these plugins work together to create a synergistic effect.
It is included with a number of add-ons and a theme for WordPress called Kava Pro, all of which serve to increase the functionality of the Elementor page builder.
Crocoblock membership is an absolute must if you want your experience of developing pages with Elementor to reach the next level.
Your page-building experience will be elevated to the next level as a result of Crocoblock's addition of a large number of features and elements to Elementor.
More than a thousand parts, a large number of pre-made pages, and various Jet plugins are included in this bundle, and they may be used for any purpose.
There are some of them that provide you with the ability to construct a mega menu and organize it with the assistance of a page builder and a large number of widgets.
CrocoBlock Coupon Discounts & review
Crocoblock provides discounts code rarely, Despite the relatively low number of coupons that are distributed, Crocoblock is one of the most sought-after brands when it comes to promotional offers and coupons for discounts.
Each month, hundreds of thousands of people search for coupons, which is a stark contrast to the number of coupons that are actually distributed.
However, there is no single active CrocoBlock coupon or CrocoBlock discount code that can be used now.
What's Inside The Crocoblock Pack?
Crocoblock Wizard can be accessed in the Installation section of the Extras block in your account. This block includes a theme, plugins, and demo material.
To continue downloading the Crocoblock Wizard archive, use the "Download" button located on the right side of the screen. NOTE. Check to see what format you've chosen for the file you're going to upload.
Those who would rather have everything installed instantly, without the need to import anything via FTP or cPanel, are the ones who will benefit the most from the Super Easy Installation bundle.
You will find JetThemeWizard in this section. It will also install the Jet plugin set and the Kava theme, and it will give you the option to select a skin for your theme.
Easy Installation is a pack that you may use if you already have the theme installed, and you use Elementor on your WordPress site, but you want to empower it with Crocoblock.
This option makes it possible to install Dashboard with access to the complete collection of Jet plugins, as well as thirty thematic skins for Elementor and a library of prefabricated sections.
You are free to install the Kava theme on its own if you desire to test it out.
If you already utilize any of Jet's plugins, you absolutely need to make use of the Plugins block. The other ones may be manually downloaded and installed from inside this block.
Installing the JetThemeCore plugin will give you access to skins and sections that have already been styled.
It is possible that you may require the installation of the JetThemeCore compatibility bundle if you utilize well-known WordPress themes such as OceanWP, Astra, or GP.
Content Edit With Crocoblock
When designing a website, you may feel encouraged to add more content to the pages you have already or to build new pages with unique content.
Crocoblock membership service offers a plethora of plugins for this purpose. JetAppointments, JetThemeCore, JetStyleManager, JetBooking, JetBlocks, JetTricks, JetReviews, JetTabs, JetMenu, JetWooBuilder, JetSmartFilters, JetPopup, JetSmartGallery, JetCompareWishlist, JetCompareWishlist, JetSearch, JetBlog, JetElements, and JetEngine are included.
1. JetReviews
The JetReviews plugin extends the set of accessible widgets with a Review widget, allowing you to create fresh reviews and display them in an appealing visual format.
It's also for use with Elementor-created review pages.
2. Jet Blog
Use this Jet blog plugin to easily incorporate dynamic elements into your pages. Widgets like Smart List and Smart Tiles make it easy to include changing material.
This means that as new entries are added, the page's content will update automatically. Furthermore, it has a simple interface for making query posts and supports user-defined fields.
3. JetElements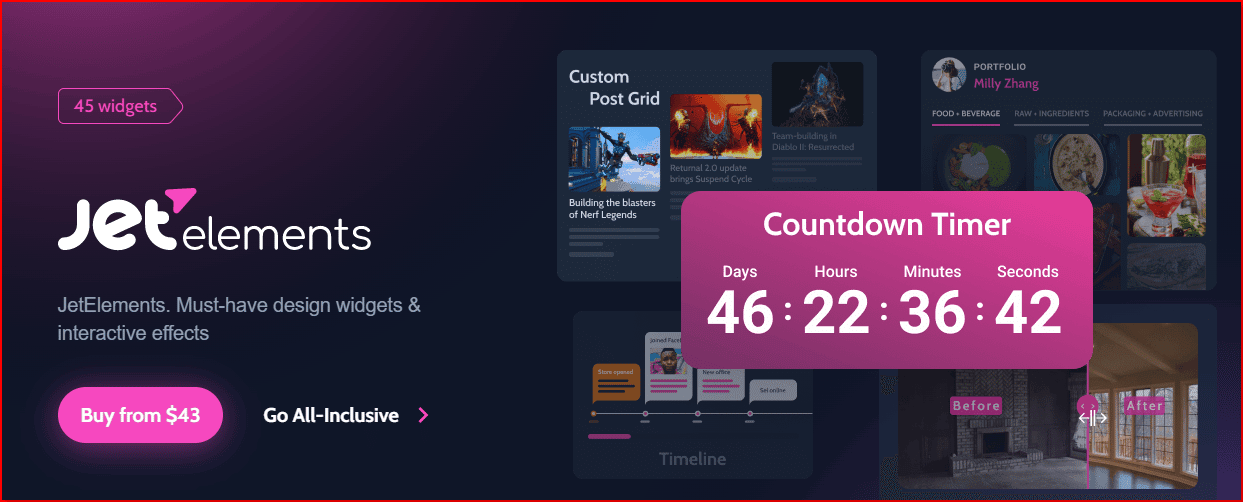 One of the most widely used add-ons for Elementor is called JetElements. There are over 30 powerful widgets available for use in the Elementor editor that come standard with this plugin.
You can make anything from complex maps to WooCommerce elements to price tables with JetElements' flexible content modules. The ability to animate the layouts with a parallax effect is also included.
4. JetBlocks
You can create unique headers and footers with this JetBlocks plugin.
Simply drag & drop a widget into your header or footer to add a login/signup/search/registration form, a shopping cart (including WooCommerce carts), a search bar, a hamburger menu, etc.
A further benefit of JetBlocks is that it enables the creation of sticky blocks, meaning that you may make a sticky header for any theme at any time.
5. JetTabs
Make use of this JetTabs plugin to position the templates created with Elementor inside the tabs and accordion blocks on your website.
6. JetTricks
Using this JetTricks plugin, your Elementor pages will have access to even more stunning visual enhancements.
It comes with a tonne of cool features like animated tooltips, parallax effects for widgets, section particles, and more to make your website's design pop.
7. JetEngine
JetEngine plugin is provided as a dynamic content concept added to Elementor, as well as a separate module for creating custom post kinds, taxonomies, and meta boxes.
Adding Services, portfolios, or Projects to your website does not necessitate any coding expertise on your part.
It's incredible how the Crocoblock team was able to bring powerful plugins to your fingertips that previously required developers to implement.
Crocoblock and WooCommerce
You need the JetWooBuilder plugin in order to build a WooCommerce-based online shop. WooCommerce Single Product page designs may be created by using this plugin.
After creating a new Single Product page theme, navigate to WooCommerce > JetWoo Templates and choose the product from which you want to pull content.
Select "Add New Template" or "Create from Predesigned Template" to add another single product page layout.
With Elementor's extensive styling options, you can quickly adjust the layout and add new sections and boxes. The JetWooBuilder block contains all of the necessary widgets.
Go to WooCommerce > Settings to make the new design available to all of your WooCommerce items. Open the Single Product template conditions in the JetWoo Builder tab.
The JetWooBuilder-created themes and the default WooCommerce product theme may both be applied from this page.
To build an online shop, JetWooBuilder provides 40 widgets to choose from. To customize the look of the tiles or grid elements, you may add a variety of styles and properties to the widget.
Crocoblock Pros & Cons
A Great Deal Of Flexibility Topic Of Kava

A Breeze To Use In Conjunction With Elementor

Modifications To The Product On A Frequent Basis

Assistance That Is Both Competent And Timely

A Wide Range Of Pre-designed Website Templates

Crocoblock's Plugins Are All Extremely User-friendly.

The Support Team Is Quick To Respond And Willing To Help.

A Collection Of More Than A Dozen Specialized Jetplugins.

The Profile Builder They Offer Is A Welcome Addition To WordPress.

Elementor's Add-ons Are A Joy To Use Because Of Their Unique And Fluid Design.

Extra plugins bloat website code.

It makes my site slow, but you may deactivate things you don't want to fix it.
Crocoblock Pricing Plan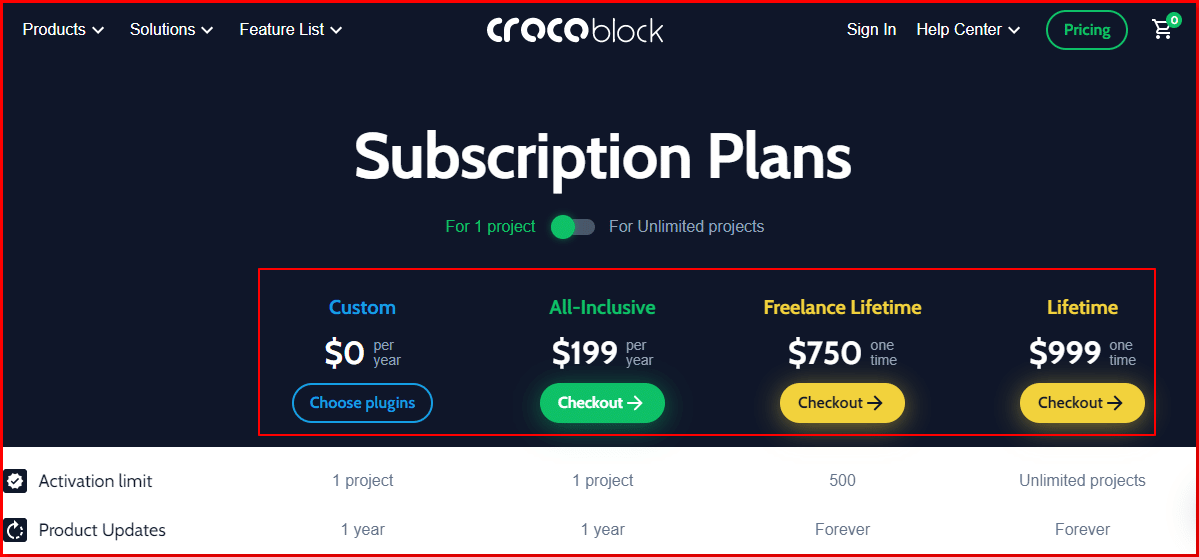 Three price options are available for the Crocoblock package:
The cost of one webpage is $49.
Unlimited webpages for $69
All-inclusive for $299 Yearly
$499 – Lifetime Access to Everything
After your license expires, you can continue to utilize the tools. However, you won't be able to download new versions of the software. Keeping your license valid or opting for the lifetime option is highly advised due to the frequent release of updates.
There is a 30-day money-back guarantee included with all selections, so you may test out the items with no risk at all. Crocoblock's price page offers all the information you need to make an informed purchasing decision.
When it comes to premium WordPress website-building tools, Crocoblock is a wonderful deal.
Crocoblock Social Media Platforms
Crocoblock utilizes various social media sites like Facebook, Twitter, and Instagram by looking at their online profiles.
Crocoblock Facebook Profile
There are currently 6,630 people following The Crocoblock on its Facebook page, where they offer and discuss a wide variety of premium plugins for use in creating interactive content, online stores, and eye-catching visual effects.
Crocoblock Twitter Page
Crocoblock is on Twitter and has 2,292 followers at the moment. They started using Twitter in April 2014, and they often share the latest news and information on their Twitter profile.
Crocoblock LinkedIn Page
Crocoblock shares recent updates and products, and it has 816 people following it on its LinkedIn profile.
Crocoblock Customer Reviews and testimonials
Here is what users say about it: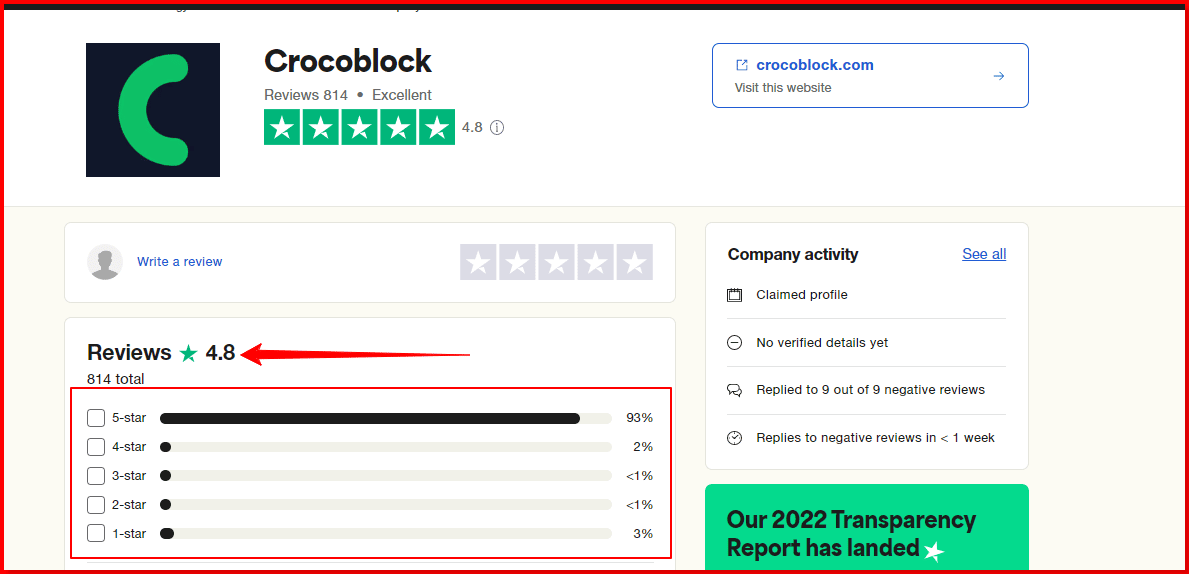 Great value!


The support provided by Crocoblock is beyond top-notch! Their team is quick and efficient at solving the many quirks between WordPress, Elementor and Woocommerce. The plugins alone are great value for the asking price, and the support provided is priceless – it'd cost $100s an hour to do what Crocoblock's support team does for free.

Date of experience: October 12, 2022

Source: Trustpilot
"One of your best ally in web development technology"


What do you like best about Crocoblock?


Widgets. Large collections of widgets or extensions in tandem with Elementor Pro. Developing websites using Crocoblock has been a breeze using it as my development leverage. Been using it for almost 5 years, I haven't exhousted yet there vast array of widgets.

Compatibility. Crocoblock is primary intended as third-party addition to Elementor Pro. So, you cannot discount the compatible tandem of these two. Of course, it also works with tje typical WordPress development – such as the Gutenberg blocks.

WooCommerce. This is one of the best complementary addition Crocoblock has ever done. I use WooCommerce to develop e-commerce stores and they make it really really handy in developing and designing the most obstinate parts of WooCommerce – My Account Page, Checkout, Cart, Endpoints and more.

Customer support. This is five balls. Support is just incomparable. Very professional in all areas!

And a lot more to jot down!

Source: G2
"Crocoblock the must have plugins for every WordPress Developer"


What do you like best about Crocoblock?


Crocoblock is the most advanced plugin bundle I have ever used on my sites; it can let us do many great website types efficiently and professionally at the same time, like directory websites and real estate agency websites. It also gives WooCommerce the ability to have an advanced modern ajax filter to allow customers to filter their search and get what they need. The complete integration between Crocoblock and Elementor Page Builders makes it the best, and nowadays, they add some extra blocks for the Gutenberg editor. They keep adding features like the query builder. They also have a profile builder, a great addition to WordPress. They also have a booking system to meet some websites' requirements.

Source: G2
conclusion On Crocoblock Review
Overall, Crocoblock is a highly recommended all-in-one website builder for those seeking a budget option compared to other platforms. Naturally, you should examine the templates to determine whether they suit your requirements and expectations.
Crocoblock, on the other hand, is a great option if you can't locate a suitable template for your project.
Even if you can't find a template that exactly suits your project's needs, you should still be able to develop a website with this collection of tools.
Everyone should be able to personalize their site using the Crocoblock package thanks to the choice to design templates and tools around the Elementor page builder.
The Crocoblock team's additional Elementor modules improve an already excellent visual page builder.
Frequently Asked Questions
Which themes are compatible with Crocoblock plugins?
Kava, Elementor Hello, OceanWP, Astra, Blocksy, and GeneratePress are all JetPlugins-compatible themes, according to Crocoblock. However, in general, Crocoblock products should function properly with any theme that is compatible with Elementor.
Does Crocoblock work with Elementor?
There are JetPlugins that are compatible with the Gutenberg editor, and you may use them with the Elementor Page Builder.
What kinds of subscriptions does Crocoblock provide?
There are two primary subscription options available through Crocoblock: annual and lifetime.
Why do you need to Choose Crocoblock?
Crocoblock has a wide variety of premade skins, content modules, and website designs. Crocoblock's ever-expanding library of design and web elements makes it a convenient one-stop shop for WordPress site builders. The modern themes on which your website could focus are all represented in these pre-styled templates.
What is a Jet Style Manager?
JetStyleManager is a plugin that adds to what Gutenberg can do. When you use this plugin with JetEngine, JetSmartFilters, and JetFormBuilder, you will be able to change the style of blocks in the Gutenberg editor. This means that if you use Gutenberg and JetPlugins to build a website, you can make it look even better.
Is WordPress Download Manager free?
Download Manager for WordPress (free) WordPress Download Manager's free edition provides password protection, limited viewing, and support for multiple domains. The password protection package enables users to password-protect an entire package of data or a single file within a package.
What does jetpack for WordPress do?
Jetpack gives WordPress sites tools for security, speed, and growth. It gives you all the tools you need to make your website safer, faster, and more popular. Jetpack comes with a full set of tools, but it also has separate plugins that let you install only the features you want.
What is Crocoblock in WordPress?
Crocoblock is an all-inclusive set of tools made especially for the Elementor platform. You may get site starters, free themes, and plugins for the popular website builder. Keep in mind that a third of its plugins are also compatible with the WordPress content management system (Gutenberg).
Is there anything better than Elementor?
When looking for an alternative to Elementor, Divi is a strong contender. You can use the page builder's all-inclusive design framework to make adjustments to the look of your entire site. Divi's intuitive drag-and-drop builder is useful for website owners of all skill levels.