In this WP Rocket Review, we have covered everything about its features, pricing plans, and more.
Are you looking for the most dynamic and ultimate plugin of WordPress to boost your website speed?
Then go with WP Rocket, it is the best caching plugin at a reasonable price.
Due to the same, more traffic will be diverted to your website and also there is a high possibility that the ranking of your website on Google SERP will be higher.
What Is WordPress Caching and How Does It Work?
You may have heard that WP Rocket may help your website load faster, but you're not sure what it is or how it works. Let's take a closer look at this in the section below.


To put it another way, when a user visits a page on your website, a lot of data is transmitted back and forth between the server, the WordPress software, and the WordPress database in order to dynamically build the HTML, CSS, and Java Scripts of the webpage that the user has requested.
This, as you would think, slows things down, especially if you're using a low-cost budget hosting package.
Caching may be used to produce a static version of your site and its content to speed things up. Rather than being created dynamically from the server, the static content is shown each time someone visits your site.
Visitors should see quicker loading speeds since the static version of the material takes less time to show because the number of queries to the server is limited.
Aside from enhanced site performance, there should be no additional changes between dynamic and cached static content for users to detect.
The finest caching plugins will automatically refresh the cached files whenever you make any changes to your website, such as posting new material or changing the design of your pages. This ensures that the static copies of the content are fully up-to-date and loaded properly.
How to enable WordPress Caching?
WordPress caching can be activated in two ways: the cache function may be set by default when you begin installing WordPress on your site, or you can manually add caching and other speed optimization features to your site using a caching plugin like WP Rocket and speed up your site in no time.
So, we know that caching will enhance our website's load time, but is WP Rocket a suitable option for you to drastically improve your site's load time? Let's have a look.
WP rocket review: Overview
WP Rocket is one of the best caching and performance optimization plugins for WordPress websites.
You can install it in less than 3 minutes and the default configuration of the WP Rocket plugin will boost your loading speed in no time.
It is now utilized by over 1,989,000 websites and improves your website's loading time by:
Page Caching
Cache Preloading
Browser Caching
GZIP Compression
eCommerce Optimization
Excellent Compatibility
The licensing for all packages is one year, as shown here. You'll have access to support and plugin updates as long as your license is active.
When your license is about to expire, you'll get an email asking you to renew it at a discounted rate.
Can WP Rocket Really Improve The Performance Of A WordPress Website?
If you want to discover if the WP Rocket plugin will improve the performance of your website, the answer is yes.
We tried this plugin on a variety of websites, including this website Blogger Voice, and saw some pretty impressive results in terms of speed and efficiency.
As you can see in the above figure, performance has improved from 61 to 95, page size has decreased from 5.9MB to 1.2MB, total load time has decreased from 6.08s to 2.02s, and server requests have decreased from 356 to 44.
wP rocket pros and cons
Everything is contained within a single user interface.

New features and upgrades are added on a regular basis.

Excellent customer service and extensive documentation.

The user interface is friendly and simple to use.

If you are not pleased with the purchase, you can get a full refund within 14 days.

When compared to plugins like W3 Total Cache, it's simple to set up.

There's a lower probability of it crashing your website.

Eliminate the need for many plugins to make your life easier.

On some shared servers, this can result in CPU overload.
A Quick Guide to Download & Install WP Rocket Plugin
Are you confused about how to install WP Rocket Plugin without encountering any WordPress errors then follow these simple steps to properly install and use WP Rocket Plugin on your WordPress website?
Step 1: Goto their official download page.
Step 2: Select your desired pricing plan and make the payment on the checkout page.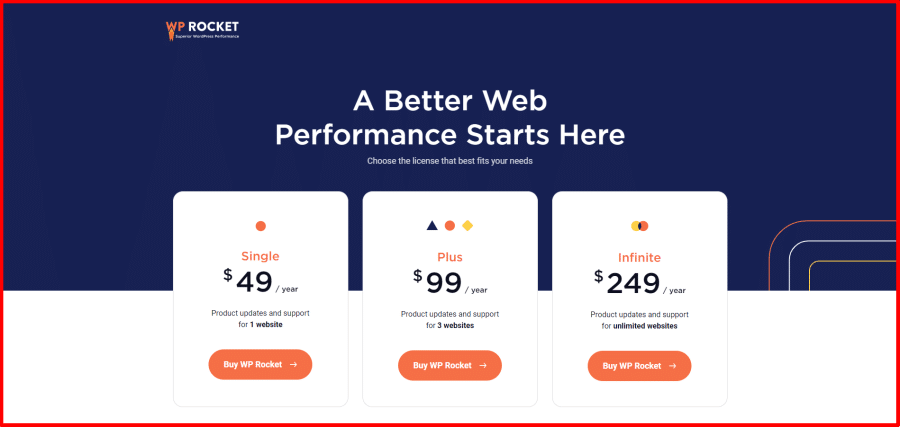 Step 3: After completing the payment click on the Download WP Rocket button to download your plugin.
Step 4: Once you have successfully downloaded the WP Rocket plugin, its time to install it on your WordPress website
Step 5: Goto your WordPress dashboard and click on Plugins > Add New
Step 6: Click on Upload Plugin and then select the WP Rocket plugin that you have downloaded.
Step 7: Click on Install and Activate.
After successful installation, the plugin will boost your site speed with its default configuration
However, you can explore all the optimization options that WP Rocket offers and take your website speed to next level.
Below is a detailed explanation of the Optimizing Features of WP Rocket.
WP Rocket Dashboard – Everything you need to know
Before jumping into the amazing features of the WP Rocket Cache Plugin, let's see what it looks like when Installing it for the first time.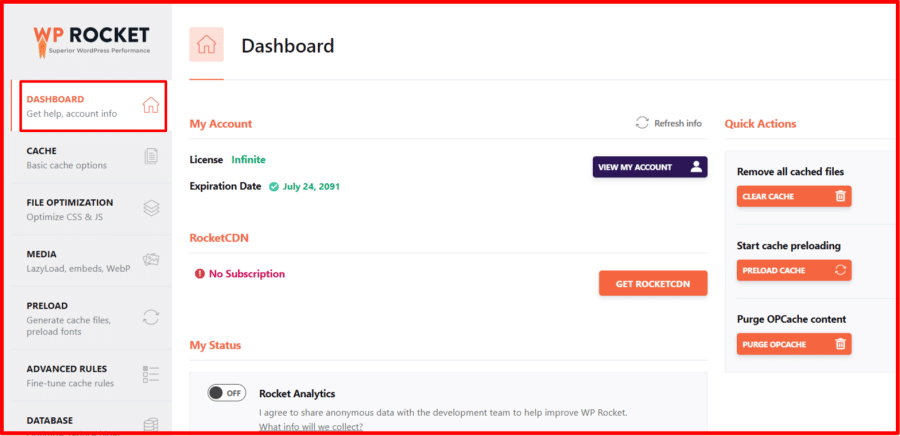 From the above image you can see that it has tons of features ready to boost your website performance, all you have to do is a few clicks and you are good to go.
Now, let's look at each feature that WP Rocket Cache Plugin offers.
Cache (Creates webpage cache)
File Optimization (Compress & Combine HTML, CSS & JS files)
Media (Converts WebP formats and enables Lazyload)
Preload (It preloads the cache of your web pages)
Advanced Rules (Define cache rules)
Database Optimizer (Optimises your database)
CDN (1 click to set up CDN)
wP rocket Features & Plugin Settings
WP Rocket comes with options that provide an instant boost to your website, let's see how.
Page Cache
With an increasing number of mobile users, it's encouraging to discover that WP Rocket can optimize your site for this demographic.
Caching speeds up the loading of your website. It creates a static resource cache file on your server to offer your content to users as quickly as possible.
It improves your search engine optimization, traffic, and conversion rates.
You can enable caching for mobile devices and create separate cache files for mobile devices with these settings, which will assist to speed up loading times for smartphone and tablet users.
Preloading
WP Rocket immediately clears the cache for that specific content and any other content related to it when you publish or amend posts/pages/custom post types (i.e. home, category, tag, pagination, etc.).
This information, as well as associated pages, will be automatically preloaded.
When you first install WP Rocket, "Activate Preloading" is enabled by default, which means that your homepage and any links found on it will be preloaded as soon as the plugin is activated, ensuring that your site is quick straight away.
Browser Caching
Browser caching works by identifying which pages, or sections of pages, require updating at different intervals. Your website's logo, for example, is unlikely to be altered every day.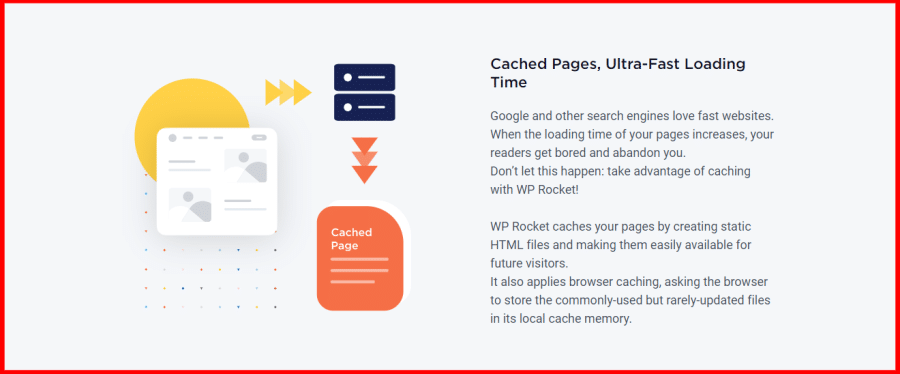 We can tell the user's browser to only download this logo image once a week by caching it. Each subsequent visit within a week would not necessitate a new logo image download.
By instructing the browser to save these files rather than downloading them when you return, you save both your users' time and your web server's traffic.
All you have to do is install and activate WP Rocket to enable browser caching. WP Rocket will automatically edit your .htaccess file and set expiration lengths on certain sorts of files.
File Optimization
The loading time of a website depends on several factors and one such is the HTTP requests.
Here, in WP Rocket, you will get control to manage HTML, CSS, and JavaScript and this will help you to reduce the HTTP request.
Once this task is done, then your website will be super fast.
Moreover, in WP Rocket, you will get the Database Management feature, and using the same, you can monitor your database and can also wipe the unnecessary files, such as trash, post-revision, comments, and many more.
GZIP Compression
Compression using GZIP is a common way to speed up WordPress. It can assist lower the total size of your pages when enabled on your site. It will also assist you in improving the performance of the Largest Contentful Paint and First Input Delay.
In short, you'll ensure that your visitors receive your material faster and that their data use is reduced. GZIP works on any website, whether it's powered by WordPress or another CMS. Let's have a look at how it works:
If it does, the server creates the web page's HTML before applying GZIP compression.
The stream is decompressed and displayed to the user when the browser receives it.
When a server receives a web page request, it looks at the header to see if the browser supports GZIP compression.
The webserver serves an uncompressed data stream if the browser does not support GZIP.
GZIP compresses the markup and sends it to the browser as a compressed data stream.
Media Optimization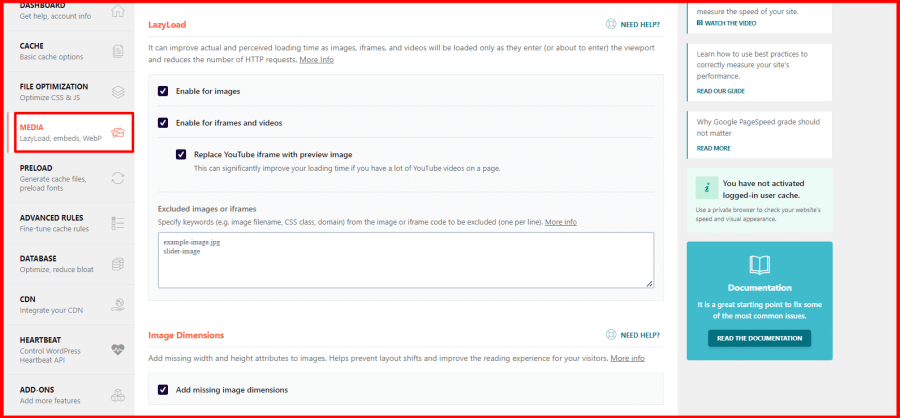 Images are an important part of every website: they make posts and pages more attractive to read, but they can quickly degrade your performance and PageSpeed score.
When it comes to online performance, Google is always wary and ready to judge your actions, and you don't want to disappoint it, right?
The picture dimensions, or how much screen space an image takes up, are measured in pixels, and while they do not entirely determine file size, they are connected.
The larger the image dimensions, the larger the file size.
Imagify was developed by WP Media, the same firm as WP Rocket, is one of the most comprehensive image optimization plugins for WordPress.
If you're familiar with and enjoy our caching solution, you won't be surprised to learn that we've incorporated the same simplicity and usability into Imagify.
Ecommerce Optimization
Page load time is a significant ranking element for WooCommerce websites, and let's be honest, you won't sell your things if you're on page 5 of Google.
"Decreasing page load time raised conversions from 3 percent to 17 percent," according to a Hubspot study. What does this imply in terms of monetary value?
Caching is a fantastic approach to making your WooCommerce store load faster. It's the only thing you'll need for a seamless and fast-loading eCommerce site, from the checkout page to product detail pages.
Caching boosts efficiency by minimizing time-consuming tasks such as retrieving all stored data or creating new copies for each visitor that requests the content.
Database Optimization
Your WordPress database acts as a filing cabinet for your website, storing all of your material, such as posts, pages, comments, revisions, and spam comments, as well as theme and plugin settings.
If you've been using WordPress for a time, your database is probably cluttered and full of tables you don't need.
You can view how many tables are available to optimize on the WP Rocket dashboard. Posts, comments, transients, and database cleanup are among the five parts that allow you to clear up revisions, trashed posts, and transients, among other things.
There's also an area where you may schedule automatic database cleanups to run daily, weekly, or monthly.
Hosting Compatibility
Nowadays, hosting companies have their own caching technology built-in, which speeds up page loading times. The degree of optimization is determined by the hosting providers and the caching technique they employ.
WP Rocket not only comes with a robust caching system, but also advanced features like an in-built CDN, lazy loading, WEBP image optimization, pre-loading, database optimization, and more. As a result, installing WP Rocket is still advantageous to the overall performance of your site.
Excellent Compatibility
WP Rocket is compatible with a wide range of themes and plugins which makes it more user-friendly.
It is also compatible with most of the top WordPress hosting providers.
The WP Rocket compatible web hosts are:
DreamPress
GoDaddy
Flywheel
Hostgator Managed WordPress
Runcloud
Savvii
Siteground
SpinupWP
Synthesis
WP Engine
Kinsta
Amazon Lightsail (Bitnami)
WordPress.com
Pressable
RAIDBOXES
Pantheon
wP rocket cDN (Content Delivery Network)
CDN is a key feature that improves your site load time across the globe.
It generates a copy of your website and stores it on all major servers across the globe.
So that when a visitor comes to your site then the nearest server transfers the website files to the browser.
wP rocket pricing Plan
WP Rocket is an ultimate WordPress Cache Plugin that comes in 3 forms and each one differs from the others based on features and pricing.
Now let's sequentially see them all so that it will be helpful for you to select the right one as per your need.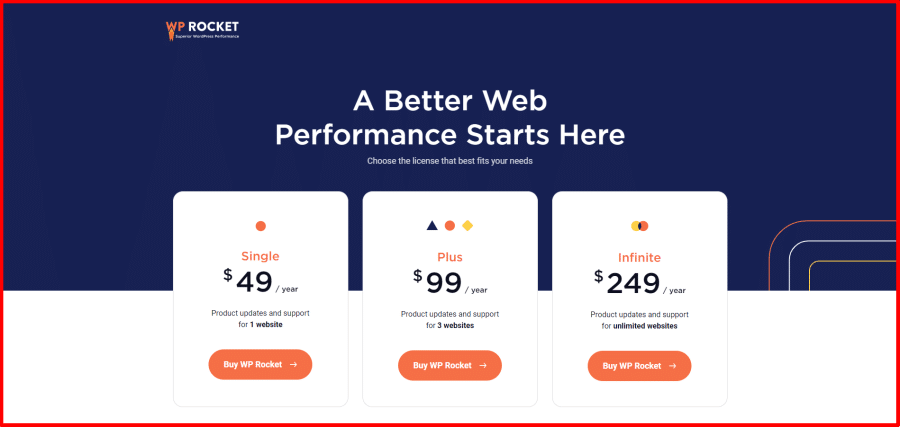 Single Plan- Supports only 1 website
In this plan, you will get control over one WordPress website which means, you can boost the speed of 1 website using the cache plugin of WP Rocket.
Moreover, you will also get 1 year of customer support that will help you to solve the glitches.
The plan starts at $49/year and the most important feature is the availability of updates. This simply means you will receive an update of WP Rocket for a year.
A Plus Plan- Good for 3 websites
If you are handling 3 websites then this is an ideal plan for you and the cost of this plan is $99/year.
In this plan, you can easily manage a maximum of 3 websites and can enhance their speed.
Apart from the basic features, you will also get customer support to resolve your queries in no time.
The License Plan- Perfect for Agencies
If you are running an agency or working on multiple websites, then the license plan is a good choice.
Here, you can use the WP Rocket features for unlimited websites, and also you will get an update of 1 year just at $249/year.

You do need to know any technical kinds of stuff to use WP Rocket, it comes with 80% pre-optimized settings to boost your site when you install the plugin.
Is WP Rocket worth the money? Speed Comparison Test
This is the performance score of my website on GTmetrix before I installed the WP Rocket plugin.
GTmetrix Grade : C
Performance : 61%
Structure : 96%
LCP : 2.5s
TBT : 241ms
CLS : 0.02
The performance score of my website after installing WP Rocket increased dramatically.
Below are the test result after installing the WP Rocket plugin.
GTmetrix Grade: A
Performance: 91%
Structure: 96%
LCP: 1.2s
TBT: 202ms
CLS: 0.02
I would say WP Rocket worked very well for my WordPress website. I noticed the difference in load time just after installing the plugin.
However tweaking some more settings in the WP Rocket plugin depending on the nature of your website, your website will load at blazing speed on both mobile and desktop.
If you want to listen to the stories of people boosting their WordPress websites using the WP Rocket plugin, then check out the below reviews.
Check out the below article which shows you how you can speed up your WordPress site using the WP Rocket plugin.
WP rocket Testimonials & Reviews
Let's look at what experts are saying about WP Rocket Caching Plugin.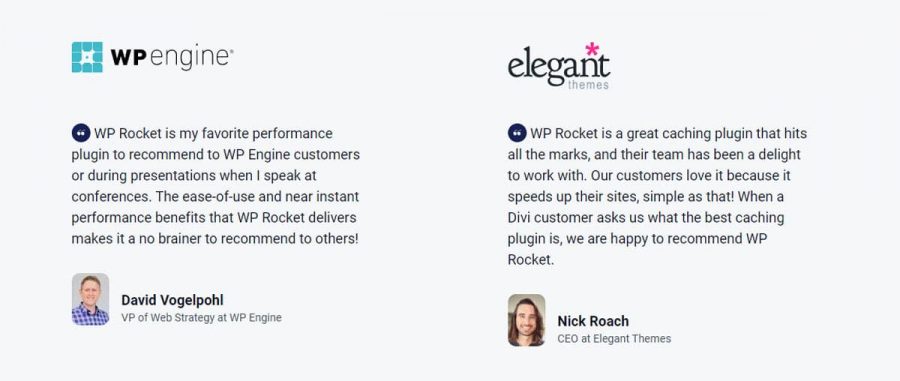 wP rocket trustpilot Reviews
Here are some of the users sharing their thoughts on the Trustpilot website about the WP Rocket Caching Plugin.
Simply the best caching plugin for WordPress, hands down. Streamlined, easy to configure, and makes a huge difference in page load times.

Sarah Schumacher
Exceptional product, first class support, you won't find anything that makes your website faster!

Paul Stoakes
Absolutely fantastic. We've spent hundreds of hours trying to speed up our bloated WordPress sites and WP Rocket is 90% of the solution.

Hans
WP rocket alternative?
Here are the some of the best alternatives of WP Rocket.
WP Fastest Cache vs WP Rocket
Before moving on to the other settings tabs, you'll need to study more than twenty options as soon as you install WP Fastest Cache.
WP Rocket, on the other hand, implements 80 percent of web performance best practices automatically once activated.
It's no surprise that WP Fastest Caching is such a popular free cache plugin for WordPress.
WP Rocket, on the other hand, has more optimization capabilities than free cache plugins, such as Critical Path CSS for specific pages, Google Font Optimization, and LazyLoad, to name a few.
WP rocket vs w3 total cache
If you only use the basic functions of W3 Total Cache, it is free. However, if you require more customization or assistance, you must switch to Pro for $99 per year (or $8.25 per month).
WP Rocket is a paid plugin from the start. Support and version updates are included in the $49/year price for one website.
W3 Total Cache does not provide dedicated free support (and their charge is $99 per year if you require it). WP Rocket, on the other hand, is constantly on your side. Support is included in the pricing and is available around the clock.
Autoptimize vs WP Rocket
WP Rocket has a user interface that is simple to use. Every feature of this plug-in is available right out of the box, so users do not need to set it up manually.
Autoptimize has a user interface that is simple to use and understand. Users will be able to utilize this plug-in without difficulty, even if it is their first time using Autoptimize.
WP Rocket, as previously stated, is an amazing caching plug-in that improves the website's speed. It improves speed using a variety of optimization techniques such as page caching, browser caching, minification, and so on.
Autoptimize, like WP Rocket, aids in increasing the speed of a website. This caching plug-in additionally boosts performance by employing optimization techniques such as Minification and Concatenation.
Autoptimize, on the other hand, lacks a few optimization techniques that users may easily locate in WP Rocket.
| | | | | |
| --- | --- | --- | --- | --- |
| | WP Rocket | W3 Total Cache | Hyper Cache | WP Super Cache |
| Quick Setup | ✔ | X | X | X |
| Database Optimisation | ✔ | X | X | X |
| Defer JS Loading | ✔ | X | X | X |
| Facebook Pixel Optimization | ✔ | X | X | X |
| Google Fonts Optimization | ✔ | X | X | X |
| Heartbeat Optimization | ✔ | X | X | X |
| Minification | ✔ | X | X | ✔ |
| Google Analytics Optimization | ✔ | X | X | X |
Why use WP Rocket instead of a free caching plugin?
There are several reasons why I prefer WP Rocket over other free caching plugins, including the features that WP Rocket offers that are not available in most free caching plugins.
Let's have a look at what the WP Rocket performance booster plugin can do for you.
1. Instant Results
There's no need to mess with the code; the default settings will take care of everything. Install it, turn it on, sit back, and enjoy the increased speed.
WP Rocket uses 80 percent of web speed best practices by default (yes, even if you don't enable any of the options) when you activate it.
2. Great Compatibilities
You can continue to use this plugin without fear of incompatibility. Top-managed WordPress hosting providers like WP Engine, Kinsta, and Pressable all allow WP Rocket as the only caching plugin.
3. Super Add-Ons
WP Rocket Add-ons enable you to instantly communicate with third-party services. They're fantastic for quickly expanding the available WP Rocket options like:
• Cloudflare integration • Sucuri integration • Varnish Cache
WP Rocket Social Presence
Let's find out what social media accounts WP Rocket uses to help their users make their website speed awesome and increase the user experience of their website.
Twitter Profile
WP Rocket is on Twitter with over 6k+ followers where they share solutions related to their WordPress plugin and speed optimization.
Facebook Page
WP Rocket is also on Facebook with over 10k followers. They share some powerful tips and tricks related to the speed optimization of WordPress websites.
Youtube Channel
If you are looking for a practice video tutorial on speed optimization of your WordPress website, then you can subscribe to the WP Rocket youtube channel and start optimizing your site.
Final Thoughts
In this WP Rocket Review, we have learned about its features and price plans.
So, if you want to boost the speed and want to optimize the database and image, then go with this cache plugin.
In all the plans, you will get the ultimate features and the same will help you to enhance your website.
Moreover, the CDN feature is also available in WP Rocket which means you have more control over the URL.
Frequently Asked Questions
Is WP Rocket safe?
Yes, in my experience WP Rocket is a safe plugin to optimize WordPress sites. Just after installing the plugin, you can notice the performance of your site even without touching any of the settings. You can go to the settings and play with the advanced options to optimize your site even more.
Is WP Rocket better than SG Optimizer?
SG Optimizer lacks some of the additional functions that are available in WP Rocket, such as the ability to manipulate the Heartbeat API and optimize the database. You may also get assistance from WP Rocket to improve the performance of third-party tracking scripts like Google Analytics and Facebook Pixel.
Do I need Cloudflare and WP Rocket?
Cloudflare and WP Rocket are completely compatible and complement. In most circumstances, using our Cloudflare add-on is a convenience rather than a need. Whether or not you use the WP Rocket add-on, your Cloudflare account will be active for your site after you've set it up correctly.
Which is better WP Rocket or W3 Total Cache?
When compared to W3 complete cache, WP Rocket is far superior in terms of performance and increasing page load times. W3 complete cache, on the other hand, is a terrific solution if you're a beginner who doesn't want to pay money for a caching plugin.
Is WP Rocket compatible with Elementor?
For performance, this is the single most significant WP Rocket feature. It works well with Elementor and Elementor Pro right out of the box.
Can I use Autoptimize with WP Rocket?
Yes, you may use both WP Rocket and Autoptimize at the same time. Autoptimize compatibility is built-in to WP Rocket, ensuring a smooth ride.
Does WP Rocket work with SiteGround?
Yes! WP Rocket is compatible with all 3 of SiteGround's caching levels, which are as follows: Cache that is static. The cache that is dynamic (NGINX)