As a creative professional, I have relied on Adobe's suite of software for several years to bring my visions to life. From graphic design and video editing to web development and document management, Adobe's diverse range of tools has consistently impressed me with its power and versatility.
In this comprehensive Adobe review, I will delve into the features, pros, and cons of Adobe.com, explore its pricing structure, and provide real-life examples of how Adobe has enriched my creative journey.
Statistics about Adobe:
As of 2021, Adobe Creative Cloud has over 22 million paid subscribers globally, demonstrating its widespread popularity among creative professionals and enthusiasts.
Adobe's revenue reached $15.2 billion in the fiscal year 2020, showcasing the company's strong market presence and financial performance.
Adobe Stock boasts a collection of over 200 million high-quality assets, making it one of the largest stock libraries in the creative industry.
Adobe's applications are available in more than 30 languages, catering to a diverse global audience of creative individuals and businesses.
Adobe's commitment to sustainability has resulted in the company achieving net-zero carbon emissions, aligning its operations with environmentally conscious practices.
What Is Adobe?
Adobe is an eminent American software company that has earned global recognition for its exceptional multimedia and creative software products. The company's diverse portfolio encompasses an array of cutting-edge applications that cater to the artistic and creative needs of professionals and enthusiasts alike.
Among its most renowned products are Photoshop, Acrobat Reader, and Creative Cloud, each of which has played a significant role in revolutionizing the digital landscape.
At the heart of Adobe's success is its commitment to innovation and its relentless pursuit of excellence. Since its inception in 1982, the company has been at the forefront of technological advancements, continuously pushing the boundaries of what is possible in the realm of digital creativity. Co-founded by John Warnock and Charles Geschke, two visionaries with a passion for transforming the way people interact with digital content, Adobe has since grown into a powerhouse of creative solutions.
Headquartered in the heart of Silicon Valley, San Jose, California, Adobe has strategically positioned itself at the epicenter of technological innovation. The company's location amidst a thriving community of tech giants has undoubtedly played a crucial role in fostering collaboration and nurturing a culture of constant evolution.
Adobe's flagship product, Photoshop, has become synonymous with photo editing and manipulation, revolutionizing the way images are processed and transformed. Professionals from various creative fields, including graphic designers, photographers, and illustrators, have come to rely on this powerful tool to breathe life into their artistic visions.
Another cornerstone of Adobe's software ecosystem is Acrobat Reader, which has become the industry standard for handling and sharing PDF documents.
Its intuitive interface and comprehensive set of tools have made it an indispensable asset for businesses and individuals alike, streamlining document management and enhancing collaboration.
Arguably one of Adobe's most significant contributions to the creative community is the Creative Cloud suite. Launched in 2011, Creative Cloud introduced a subscription-based model that granted users access to a comprehensive array of Adobe's flagship applications and services.
This cloud-based approach revolutionized the way creative professionals work, offering unparalleled flexibility and seamless collaboration across multiple devices.
The success of Adobe's products and services can be attributed not only to its cutting-edge technology but also to the company's commitment to customer satisfaction. Adobe actively engages with its user community, welcoming feedback and incorporating valuable insights into the continuous refinement of its offerings.
With an enduring legacy of empowering creativity and a steadfast commitment to technological advancement, Adobe stands as a beacon of excellence in the software industry. Its dedication to driving the creative process forward has solidified its position as a leader in multimedia and creativity software, and its journey of innovation continues to shape the future of digital content creation and dissemination.
Adobe Pros And Cons (Personal Experience)
Upload a brand logo, fonts, and colors and apply them to any design with one tap.

Choose from over 20,000 licensed fonts from the Adobe Fonts library.

Resize and reflow content to fit any size for Instagram, Facebook, YouTube, banners, and flyers.

Get a desired look with effects, filters, textures, and overlays.

Start from thousands of templates for social media graphics, stories, and thumbnails

Cut out backgrounds without having to outline a subject.

Create attention-grabbing content with features to animate text and photos.

Trim, crop, resize, and convert videos.

The biggest advantage here is to provide a low entry price to an amazing suite of products delivering high quality features.

You can Enjoy the free access to the latest product releases, but a monthly fee is necessary to keep access.

No simple whiteout tool (only a more complex redaction tool)

Can't split scanned two-page spreads
Adobe's Features:
Adobe.com offers an extensive suite of products, catering to various creative needs. Some of its prominent features include:
Adobe Creative Cloud: The heart of Adobe's offerings, Creative Cloud grants access to industry-leading software like Photoshop, Illustrator, InDesign, Premiere Pro, After Effects, and more. This cloud-based subscription model allows users to seamlessly access their creative projects from any device with automatic updates and cloud storage.
Document Management: Adobe Acrobat allows users to create, edit, sign, and share PDF documents securely. Its intuitive tools streamline document workflows and enhance collaboration.
Web Development: Adobe Dreamweaver empowers web developers with a powerful coding environment to build responsive websites and web applications.
Stock Assets: Adobe Stock provides a vast collection of high-quality photos, illustrations, videos, and templates for creative projects.
Creative Community: Adobe's Behance platform offers a vibrant community of artists, designers, and photographers to showcase their work, gain inspiration, and connect with like-minded professionals.
Pros of Adobe In Detailed:
Powerful and Versatile: Adobe's software suite is unrivaled in its capabilities, allowing professionals and enthusiasts alike to execute their creative ideas efficiently.
Cross-Platform Accessibility: With Creative Cloud, your projects are accessible on any device, promoting flexibility and collaboration.
Extensive Learning Resources: Adobe offers numerous tutorials, webinars, and resources to help users master their tools and improve their skills continually.
Seamless Integration: Adobe's products integrate seamlessly, allowing for a smooth workflow and effortless collaboration between different software.
Robust Community: The Behance community fosters creativity, inspiration, and valuable feedback for artists and designers worldwide.
Cons of Adobe:
Subscription-Based Model: Some users may find the subscription pricing model costly compared to perpetual licenses, especially for occasional users or hobbyists.
Steeper Learning Curve: While Adobe's software is powerful, beginners may find certain tools and features overwhelming at first.
Frequent Updates: For some users, constant updates may disrupt their workflow or require additional time for adaptation.
Pricing Structure:
Adobe offers different subscription plans to cater to individual needs: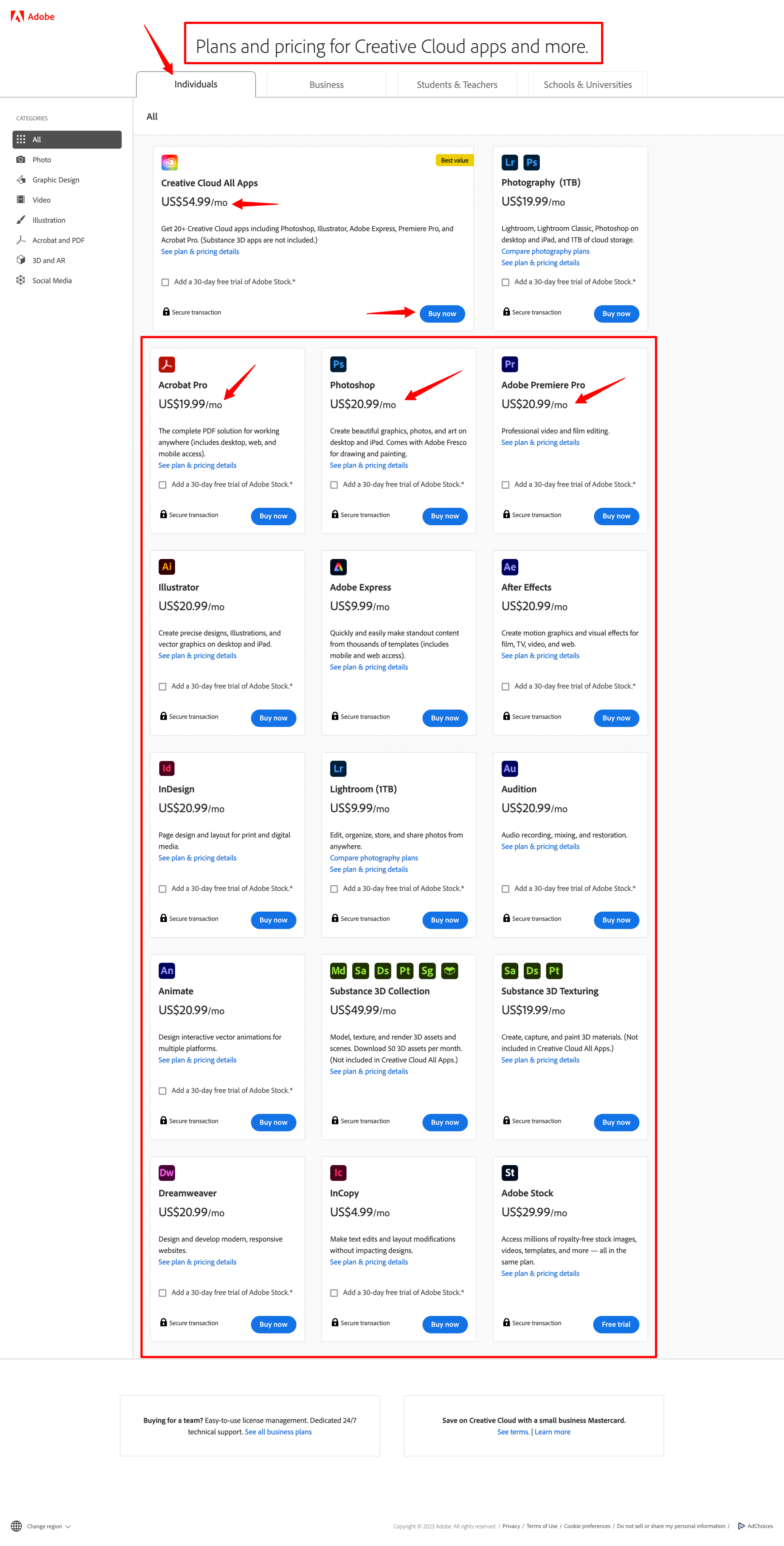 Conclusion:
My journey with Adobe.com has been nothing short of transformative. From the early days of exploring Photoshop to creating intricate web designs in Dreamweaver, Adobe's software has been an invaluable companion in my creative endeavors.
The integration between tools, the constant updates, and the supportive community on Behance have all contributed to my growth as a creative professional.
Though the subscription model might deter some, the breadth of features and continuous innovation justify the investment for serious users. Adobe.com remains a powerhouse for creatives, pushing the boundaries of what is possible in the digital realm.
FAQs about Adobe:
Is Adobe Creative Cloud available for both Windows and Mac?
Yes, Adobe Creative Cloud is compatible with both Windows and Mac operating systems.
Can I cancel my Adobe subscription at any time?
Yes, You Can Cancel Your Subscription At Any Time, But It's Essential To Be Aware Of Any Potential Fees Or Restrictions Associated With Your Plan.
Does Adobe offer student discounts?
Yes, Adobe provides discounts for students and teachers on their Creative Cloud subscription.
Can I use Adobe software offline?
While some Adobe applications allow limited offline access, most features require an internet connection due to the cloud-based nature of Creative Cloud.
How often does Adobe release updates for their software?
Adobe frequently releases updates with new features, bug fixes, and improvements to their software. These updates ensure users have access to the latest advancements.
Are there any free alternatives to Adobe software?
Yes, some free alternatives to Adobe software exist, but they may lack the comprehensive features and seamless integration offered by Adobe's professional tools.
Can I access my Adobe projects from multiple devices simultaneously?
Yes, Creative Cloud allows users to sync and access their projects from multiple devices, ensuring seamless continuity in their workflow.
Does Adobe offer customer support?
Yes, Adobe provides customer support through various channels, including email, chat, and phone assistance, depending on the subscription plan.
Can I use Adobe Stock assets in commercial projects?
Yes, Adobe Stock assets can be used in both personal and commercial projects, subject to the terms and licenses provided by Adobe.
How secure is Adobe's cloud storage for my creative assets?
Adobe employs robust security measures to protect users' data and creative assets in their cloud storage, ensuring privacy and data integrity.