Clubhouse is a social media platform for sharing audio that used to be an iOS app that you could only get by invitation. Today, anyone who downloads the app and makes a free account can use it on an iOS or Android device.
Since it came out in 2020, Clubhouse has quickly become a huge hit on social media. Clubhouse was started by Paul Davison and Rohan Seth. It lets you listen to other people talk, but not in a creepy way.
Elon Musk's appearance in a Clubhouse room in January 2021 brought a lot of attention to the service. Bill Gates did the same thing, and this has been going on for a while.
In today's article, we'll talk about all the latest Clubhouse, statistics abiut its users, and Clubhouse room, which will help marketers and platform fans learn more about it.
Quick Clubhouse Statistics & Trends
Clubhouse now has more than 10 million weekly users, up from 600,000 in December 2020.

It is currently worth $1 billion. It has successfully raised more than $10 million.

Clubhouse is backed by more than 180 venture capitalists. It is classified as a Unicorn start-up, and is comparable to Airbnb and Uber.

Over 20 million people have downloaded the app.

Clubhouse has raised more than $10 million to date.

To date, Clubhouse has received funding from over 180 organizations and venture capitalists.

In January 2022, Clubhouse launched Web listening.
Clubhouse User Statistics 2023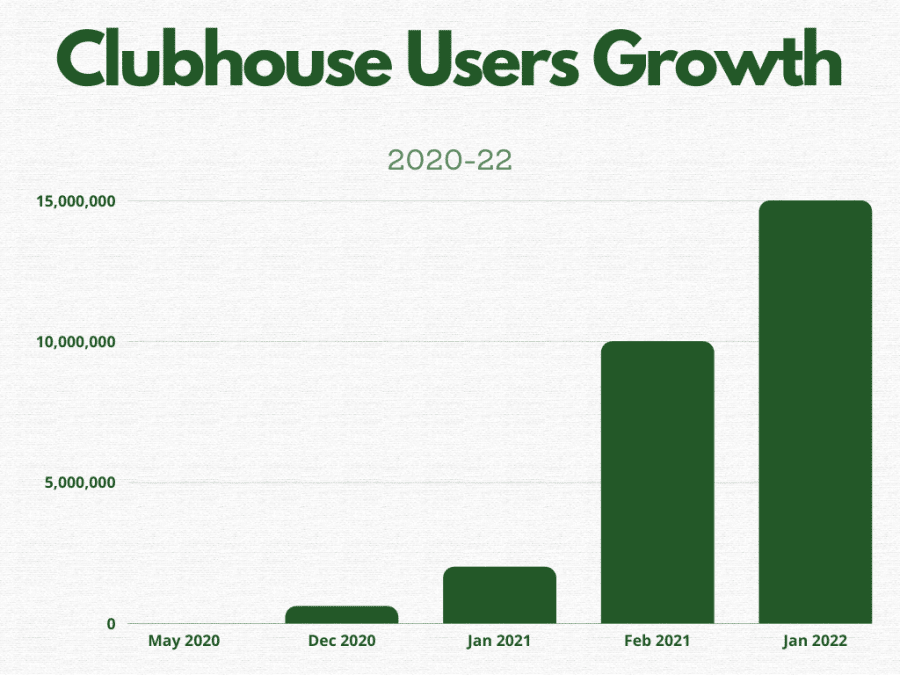 Sources:TechCrunch, New York Times, Mashable, CNBC, Medium.
As of April 4, 2021, 13 million people around the world had downloaded Clubhouse.

When Clubhouse first came out, there were about 1,500 beta testers. A month later, in May, the app had about 270 daily users.

The number of users slowly went up, and by December 2020, there would be 600,000 users.

The United States, Japan, and Germany have the most iOs downloads.

As of January 2021, 2 million people used the platform every week.

The next month, in February, this number grew by a factor of five, to about 10 million users.

The app gained more than 4.6 million users between February 1 and February 16, 2021. This was the most significant growth in users.

Over 400,000 Apple app store users have given the new social media app 4.8 out of 5 stars.

Most Clubhouse users spend between 11 and 22 hours on average each week on the platform.
The number of users slowly went up, and by December 2020, there would be 600,000.
In January 2021, 2 million people used the platform.
Between February 1 and 16, 2021, almost 4.6 million people joined Clubhouse. This was the time when most people joined.
The table shows Clubhouse user stats:
| | |
| --- | --- |
| Date | Users |
| May 2020 | 1,500 |
| December 2020 | 600,000 |
| January 2021 | 2 million |
| February 2021 | 10 million |
Clubhouse Room Statistics
Clubhouse rooms can hold up to 5,000 people, but they are often full quickly because so many famous people are part of the community.
Clubhouse rooms are made up of people who like the same things. By joining clubs, you can spend more time on the Clubhouse app talking about and listening to your favourite things.
| Clubhouse Club | Number of Clubhouse Members |
| --- | --- |
| Startup Club | 175,000 members |
| Womxn in Business | 151,000 members |
| OG Club | 146,000 members |
| Instagram Marketing Secrets | 120,000 members |
| Human Behaviour | 119,000 members |
| Creative Executive Officers | 112,000 members |
| The Hustler Club | 101,000 members |
Clubhouse Stats outside of the US
According to Appfigures, Clubhouse had the following number of downloads outside of the United States (mostly in February 2021):
Germany topped the list with over 250,000 downloads.
Japan came in second with over 225,000 downloads.
The United Kingdom came in third place with over 220,000 downloads.
Turkey came in fourth place with over 125,000 downloads.
Canada took fifth place with 85,000+ downloads.
Australia, the Czech Republic, Italy, Austria, and Switzerland all had fewer than 50,000 downloads.
Clubhouse Influencer Statistics
Clubhouse has proved to be beneficial for the influencers as well. Here is a table on the most followed Clubhouse influencers:
| | |
| --- | --- |
| User (Profession) | Followers |
| Rohan Seth (Clubhouse Co-Founder) | 7.3 Million |
| Paul Davison (Clubhouse Co-Founder) | 6.4 Million |
| Tiffany Haddish (Comedian) | 5.9 Million |
| Felicia Horowitz (Activist) | 5.4 Million |
| Marc Andreessen (Investor) | 5.1 Million |
| Anu (Head of community Clubhouse) | 5 Million |
| Chris Lyons (Businessman) | 4.9 Million |
| Jared Leto (Musician, Actor) | 4.9 Million |
| Shaka Senghor (Author) | 4.7 Million |
| Van Jones (News presenter) | 4.6 Million |
Clubhouse Revenue Statistics
As of 2022, Clubhouse is worth $4 billion.
The company's net sales went up by 321% from the previous year to $4.2 million.
Net Revenue for the year that ended on December 31, 2021, was $4,253,765.
For the year that ended on December 31, 2021, operating costs were $15,514,421.
For the year that ended on December 31, 2021, Clubhouse had a net loss of $22,245,656.
Clubhouse Media Group has gotten new long-term funding, like a $15 million equity line, as well as short-term debt, to help it grow its business as it moves into its second year.
Clubhouse downloads by region
Below is the complete breakdown of Clubhouse Downloads according to region.
DATE
Downloads
APAC
EMEA
NALA
September 2020
22
106
1942
October 2020
814
1061
19002
November 2020
1084
13057
64485
December 2020
6043
113,864
898055
January 2021
292990
874051
1110115
February 2021
3097908
4071839
1985838
March 2021
652325
1360032
712358
April 2021
196035
430040
332621
May 2021
1506035
912730
398012
June 2021
6654075
945044
432488
How much is Clubhouse net worth?
In January 2021, Andreessen Horowitz and other investors gave Clubhouse an undisclosed amount of money as part of a Series B round.
During that funding round, Alpha Exploration Co., the company that owns Clubhouse, was worth more than $1 billion. To put that in perspective, Clubhouse was worth $100 million back in May 2020.
How did Clubhouse grow so fast?
The presence of numerous celebrities and public figures on this social media platform has significantly fueled its growth.
Users can converse with their favourite public figures and celebrities thanks to the voice interaction-based nature of the app. Elon Musk, Jared Leto, Mark Zuckerberg, Oprah Winfrey, and Kevin Hart are a few of the platform's notable personalities.
Conclusion
That concludes our list of Clubhouse statistics for 2022. The audio chat room app is quickly gaining popularity. And is clearly becoming a VC darling, based on its rapid rise in valuations.
It remains to be seen whether Clubhouse becomes mainstream (like Instagram) or fades (like Snapchat). However, Clubhouse is currently overtaking TikTok as the "next big social network." So it will be interesting to see where Clubhouse goes in the future.
Do you have any statistics or data that we overlooked?
Let us know in the comments.
Sources: