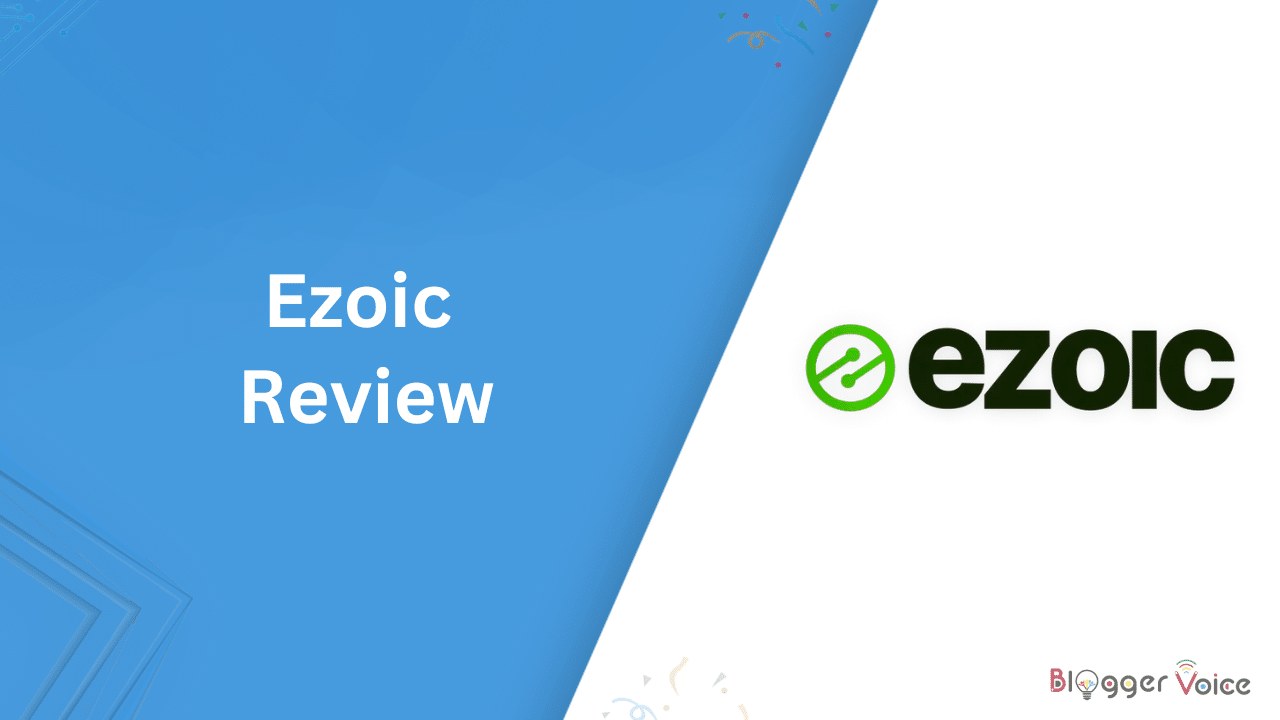 This Ezoic Review is here to help anyone who wants to make money from their blog but doesn't know where to start. In this review, I talk about how I've used Ezoic in real life on this blog for more than four years.
With this review, I've put together something I wish I'd had when I first looked into Ezoic and making money from material in 2019. This Ezoic Review tells you everything you need to know. I tell you how much money my blog has made since I started making money off of it in 2017. I also show you how I switched from Google Adsense to Ezoic and how that changed the game for me.
I can make a living as a Full-Time Content Creator because I joined Ezoic in 2019, and they've given me the chance to do what I love full-time ever since. If you've been reading my blog for a while, you know that I only recommend things I use and believe in. This is the same.
When you understand that Ezoic wants you to succeed (because the more money you make, the more money they make), things become much simpler. I go into more depth about these topics in the next part of the piece.
I also think you should read the whole piece to fully understand how their service has changed over the years. But you can always use the Table of Contents to find the parts that are most interesting to you.
What Is Ezoic?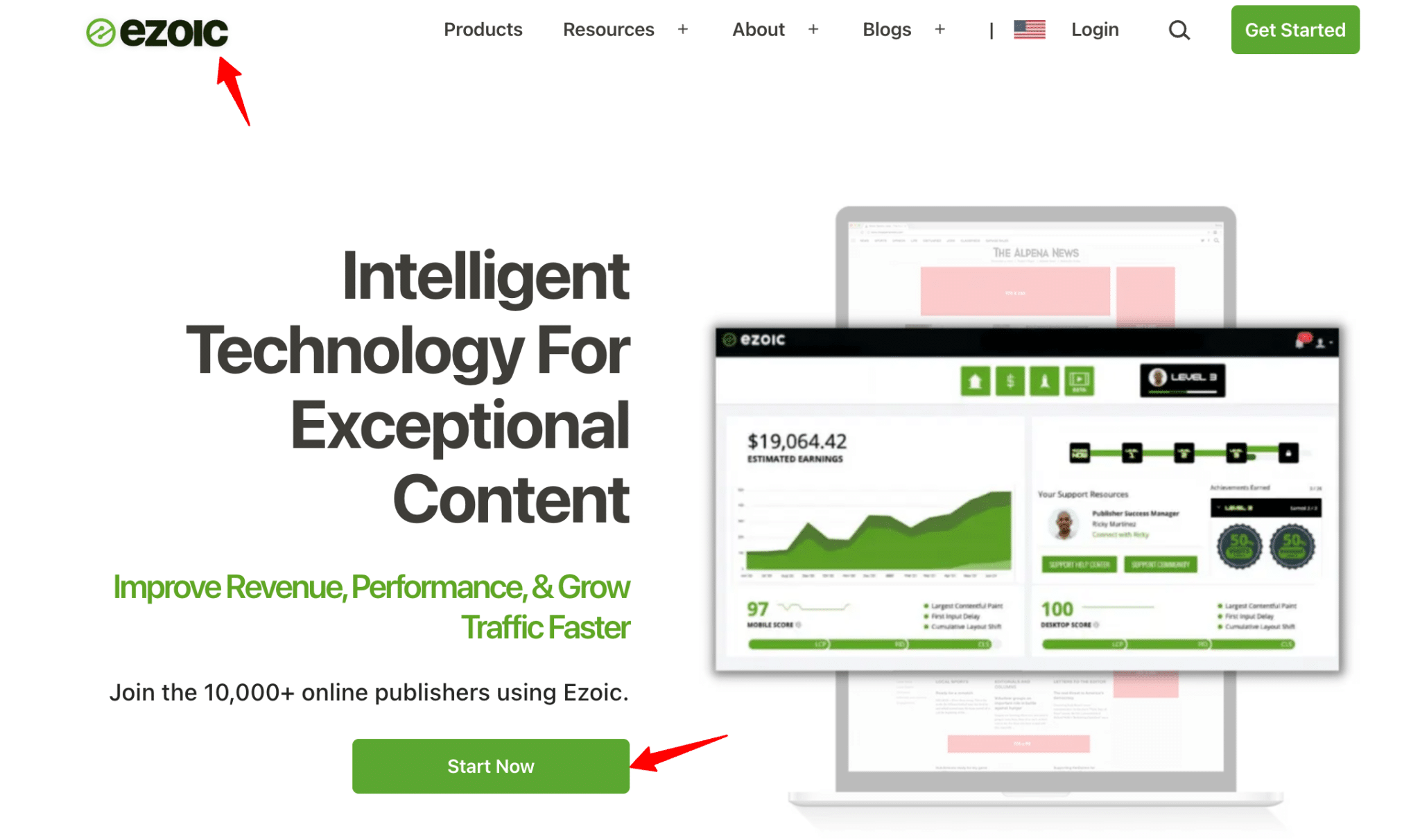 Ezoic is an all-in-one tool for website owners that helps them make more money from ads by using artificial intelligence. Ezoic gives publishers access to the best ad partners, links to current ad networks, automates ad testing, and uses cutting-edge technology to improve the user experience on websites.
What Does Ezoic Do?
Ezoic lets website owners analyze and improve where ads are placed on their sites to make more money from ads. Ezoic does this by using AI to constantly try different types of ads on different websites. This helps them make more money and improve the user experience on desktop, mobile, and tablet devices.
Ezoic's Ad Tester: This technology instantly tests the positions, sizes, and locations of ads on your website using Artificial Intelligence to find out which mix of these factors improves the user experience while also increasing ad revenue for publishers.
Ezoic's Mediation App: lets authors connect all of their current ad partners so that they can compete with Ezoic's own ad partners. For example, if Google Adsense is set up for Mediation, it will try to win bids for ad places and pay authors more money than the competing Ezoic ad partner.
Ezoic's Leap Technology: is a set of tools that can help you improve the performance of your website. It does this by helping you figure out why your site isn't as fast as it used to be and by fixing many of the most common problems automatically.
What Is Ezoic Used For?
As a website publisher, you can use Ezoic to make it easier to handle many different goals while still having full control over all testing processes. Ezoic's technology was made to help companies get the most money from ads, speed up their sites, and improve the user experience.
Ezoic lets you handle your display ad inventory, ad placements, caching performance, optimization settings, video content, and user tracking data. By providing a full end-to-end technology system, publishers don't have to use extra plugins or third-party software to handle, track, and test different parts of ad revenue, site speed, and user experience.
On this site, Ezoic is being used right now. As you read this guide, all of the ads you see are served by Ezoic's technology. Ezoic also keeps track of important analytics data like bounce rate, unique and total hits, average time on page, income, and EPMV (Earnings Per Thousand Visitors, which is also known as Ezoic RPM).
Mediavine is one of Ezoic's biggest rivals. However, Mediavine gives you much less control over where your ads go and doesn't use AI to find the best ads for both user experience and ad income.
Ezoic Key Features
I want to stress that Ezoic gives you the tools you need to make your website better.
Every feature Ezoic has helps its users make their material more profitable and gives them the tools they need to be successful.
Your success will depend on how you use the tools they give you.
Website Monetization
Ezoic gives people a lot of help with making money from their websites. They use a smart AI that makes decisions and makes the most money possible.
Through machine learning, this AI changes and adapts ads, layouts, and frames so that they work better for marketers, website owners, and readers.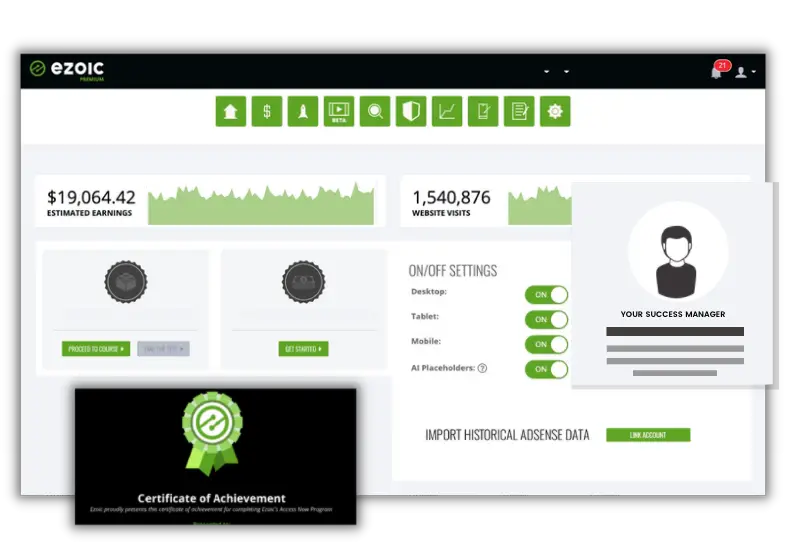 They also give their users ways to test how these ads will look on their website and the best way to lay them out.
Since every reader is different, it's amazing that an AI can change where ads are placed based on how people tend to click on them.
SEO is improved by the video player because it can add and play material that adds worth to what the viewer is seeing.
Also, everything is easy to use, and Ezoic helps you every step of the way as you add these features to your website.
Ezoic Site Scores
Ezoic gives users a scoring system that gives them a reason to improve their website and content better. This is an interesting way to help users optimize their content.
With this feature, you can make tasks or goals to do to improve your general site score. You might be asking what a site score is for, but for many people, it shows them what they should be doing.
The site's ability to make money is shown by the Overall Score. Each level of Ezoic gives people more ways to make money and better perks.
You also get a 5% increase in your Ezoic level.
SEO Tools
When it comes to SEO, you need to improve your text as much as possible. If you don't properly improve your SEO content, it won't show up in search engines.
Ezoic gives you access to SEO tools like SEO Tag Tester and their Broken Links Tool. Tag title testing is an important part of SEO that not many tools offer.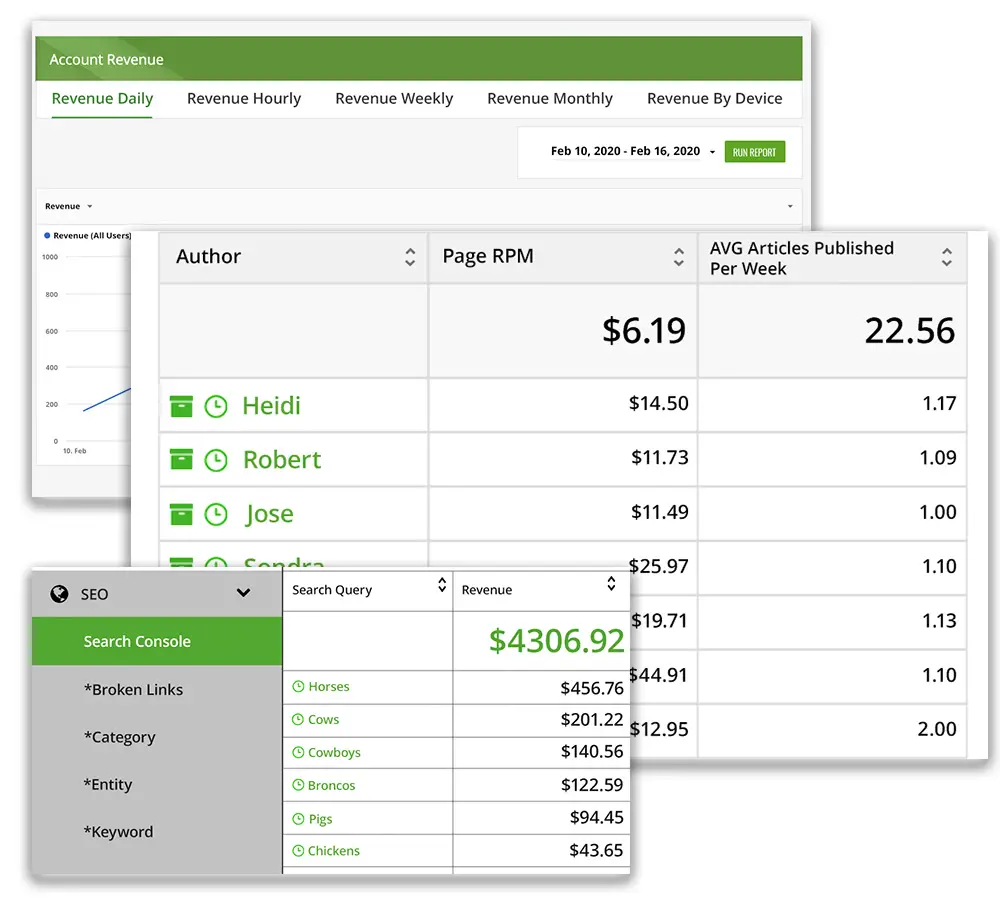 Ezoic understands how important SEO is for getting people to visit a website. Because of this, SEO tag tester lets you try out different page names for URLs and shows you which ones work best. The AI in Ezoic also does different tests for the user.
Here are some of the tools that Ezoic lists for trying.
Pageviews
Sessions
Bounce Rate
Click-through rate
Average position in search results
Testing your content, names, and how you use links is important if you want your content to be useful for years to come, so it's great that Ezoic gets this and helps its users.
Leap
Leap is one of the things that Ezoic emphasizes the most and for a good reason.
For readers of a website to have a good time, the speed and functionality of the site must be improved. Leap does this by focusing on having people pass the most important web tests.
Leap fixes problems with how well a site works by giving easy instructions on how to fix complex problems that may come up.
With Ezoic Cloud, your site's speed and responsiveness will be better than those of authors who don't optimize for security.
This tool is useful not because it solves all of a website's problems at once, but because it helps different websites find the right answer for their problems.
No website has the same problems with how it works.
They both have problems with how well they work, but the causes are generally different.
The content on a website is important, but it's also important to have features that make sure your website works even as you add more features, content, and links.
Ezoic Pricing Plans
You probably want to know, "How much does it cost to use Ezoic?" There are a few different ways to pay for the site, and you can use its services without paying anything upfront.
Most of Ezoic's clients use the tool to make money from their websites. All ad revenue plans give you a 30-day free trial that doesn't require a credit card or a long-term contract. Then you can choose one of the following programs:
Ad-funded plan: When your 30-day free trial is over, Ezoic will take all of the money from one of the ads on your website.
10% revenue share: Ezoic will take 10% of all the money you make from the ads on your website.
Ezoic Pro: Ezoic has a contract level called Ezoic Pro for people who don't want to make money from their websites but do want to increase traffic and audience size. This is a monthly plan with different levels of access and benefits that start at $5.99 per month. Ezoic also asks some website owners to join one of the following programs, in addition to the ones above:
Ezoic Premium: is a service that can only be used by clients who have a certain amount of traffic and make a certain amount of money. With this choice, Ezoic comes up with a plan where clients pay a monthly subscription fee and keep all of the money made from ads.
Ezoic VIP: This is another program that only people who have already used Ezoic and built up big crowds can join. The plan is to give these website owners the best package deals that are made just for them.
Ezoic Requirements & How to Up Your Earning Potential
Ezoic Requirements
Even though there are no requirements to try out the Ezoic feature, if you want to make money and serve ads through the site, you have to follow these four rules:
Site size
At least 10,000 people view the site each month.
10,000 visitors a month is the magic number.
Ezoic is an artificial intelligence system that is driven by data, so it needs 10,000 views per month to collect enough data to make your site better.
Google Policy
Follow the rules that call for things like original material, not overusing keywords, and no invalid clicks or views.
Site Content
Ezoic also needs unique and useful material from publishers to make sure that users and advertisers have a good experience.
In the same way, it must be a site with a lot of information and material. (At the moment, they don't work with mostly business or e-commerce sites.)
AdSense Supported
If you already have an AdSense or Ad Manager account with Google, it must be in good standing.
(If Google hasn't told you through email or a system error that you're not in good standing, just assume that you are and apply for Ezoic.)
Ezoic works with all CMS, hosts, and website settings, as well as all themes and plugins.
Once you meet Ezoic's standards, you can connect your site and start making money from ads.
Ezoic Support
Ezoic has one of the best customer service teams I've ever worked with.
Once you are accepted, you are put in touch with an account manager who will help you set up the Ad Tester and answer any questions you have.
Their "human support team" is the best in the business, and they answer questions via email around the clock, every day of the year.
My favorite thing about Ezoic help is that when you ask a question, it goes straight to a team member who is an expert in that area.
If you don't want to wait for an email reply, the Ezoic website has a lot of videos, lessons, and Frequently Asked Questions (FAQs) that answer almost any question you might have.
Also, their interface for users is the best! It tells how many people visit your site each day, how much money you make each day, and what the next month looks like.
Is Ezoic Worth It?
When you look at me, it's easy to see that partner links and show ads are the best ways to make money from your website.
I love show ads because I don't have to do anything to make money from them. Once the ads are on your site, the money starts coming in on its own. At the end of the month, it all goes into your bank account.
So, if you want to know if Ezoic is worth it, I would say, "Absolutely!"