In this article, I will be covering what Helium 10 pricing plans have to offer and which one is best for you as per Helium 10 Review. Whether we're selling clothing, technology, or everyday groceries, we all want our businesses to stand out and thrive.
Taking your business online is one of the most effective ways to increase sales, and Amazon is a great place to start. Amazon is currently leading the e-commerce market by a long shot.
Because technological improvements allow clients to order things from the comfort of their homes or even while working in their workplaces, selling your products online on Amazon gives you access to a much broader realm of customers.
So, if you are an Amazon FBA seller then you are familiar with Helium 10, as it eliminates the toughest hurdles that you may face.
You'll notice that everything has been raised to the next level with Helium 10. With Helium 10 pricing plans it offers more features than you would think you'll ever need or want, which is why it's such a great choice for Amazon merchants.
There is a black Friday sale going on for tech enthusiasts to claim Linux Foundation CKA certifications at a 50% discount in 2023.
When you assess everything Helium 10 brings to the table, like the pricing and service options, and also if you want to get the best profits from your FBA selling, Helium 10 is probably going to be the best solution you've been searching for.
Helium 10 Pricing Plans:
Helium 10 pricing has Four different tiers viz Starter plan, Platinum plan, Diamond plan, and also they have got a special tier which is Elite plan. All these plans are discussed below:

Helium 10 Starter plan:
Helium 10's new starter plan is the greatest price for new sellers, starting at just $39 per month or $399 per year.
The starter plan includes the $997 Freedom Ticket Amazon FBA Training, as well as complete access to the chrome extension (X-ray), profits, tools for keyword research, as well as many other operations such as listing optimization.
The Starter plan is ideal for young entrepreneurs on a tight budget who want to get started using Amazon resources. You can conduct a variety of things with the Starter plan, including product research, keyword research, and more, but your access is limited.
Helium 10 Platinum plan:
The Platinum plan of Helium 10 is marked as the "most popular" on the official website. It is priced at $99/month or $999/year, so, if you are serious about your Amazon business then this plan should be your choice over the basic starter plan.
The platinum plan offers you everything which is included in the starter plan and is the way to go as you get full access to the product research tools and the keyword research tools and that includes Cerebro.
Access to tools for creating QR codes and monitoring thousands of keywords for better search results.
It also creates 2000 automated customer emails/month, provides you with hijacker alerts(up to 100 ASINs), and helps to analyze Amazon PPC with its AI-powered advertising solution Atomic.
Helium 10's Diamond Plan:
The Diamond plan, which costs $249 per month or $2499 per year, is one of the most popular, as it includes all of Helium 10's best features and tools.
I have been using the diamond plan for 2 years and thanks to this, my Amazon business has touched the stars. It is the best plan if you wish to use Helium 10 with multiple users.
With the diamond plan, you'll get everything from the platinum plan plus additional benefits like full access to Amazon PPC management, which was previously limited in the Platinum plan, as well as full access to Walmart marketplace tools.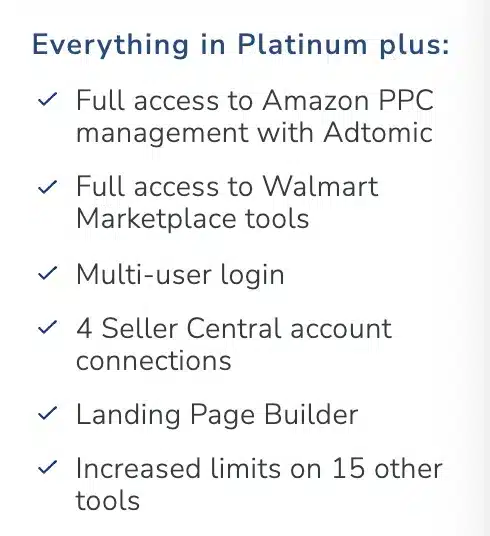 Also free entry to Helium 10 in-person networking socials, a landing page builder to make your business look more professional, and increased limits on 15 other tools that were previously limited in the Platinum plan.
Helium 10 Elite Plan:
Finally, Helium 10's Elite package costs $399/month and has everything you need to help get your e-Commerce business up and running, namely all of the features that were included in our previous plans, such as keyword processor, keyword research, and coupon abuse prevention.

You will also get tools for product research services and financial analytics. The reimbursement assistance and reverse ASIN lookup services will be available to you too.
Now the question arises why you should choose the Elite plan over Diamond, well the answer is quite simple.
With the Elite plan, you're going to have added quarterly in-person workshops, live training from top industry experts which are held monthly, access to the private elite Facebook group, and access to everything that Helium 10 has to offer.
Is Helium 10 Worth the Price?
Well, to be honest, 2 years ago when I came across Helium 10, this question bugged me a lot before my purchase. But speaking from my experience Helium 10 totally is worth its price.
Helium 10 provides a variety of options for managing your Amazon selling business. You'll be able to keep track of everything you're doing, as well as all of your main competitors.
You'll also learn more about SEO tactics for tracking potential customers, converting them into paying customers, and expanding your sales once they've made a purchase.
Nothing is more vital to an entrepreneur than the success of his or her own company. There are numerous ways to lay that solid foundation, the most important of which is to establish a name in the minds of the right industry experts, which may be accomplished through effective marketing strategies that reach potential clients.
That is why you should look into each of the Helium 10 programs to determine how they can benefit your company.
Which Helium 10 Pricing And Plan should you go with?
The choice of a perfect plan varies from person to person and business to business, but I'll walk you through it to make it a little easier for you to make your decision.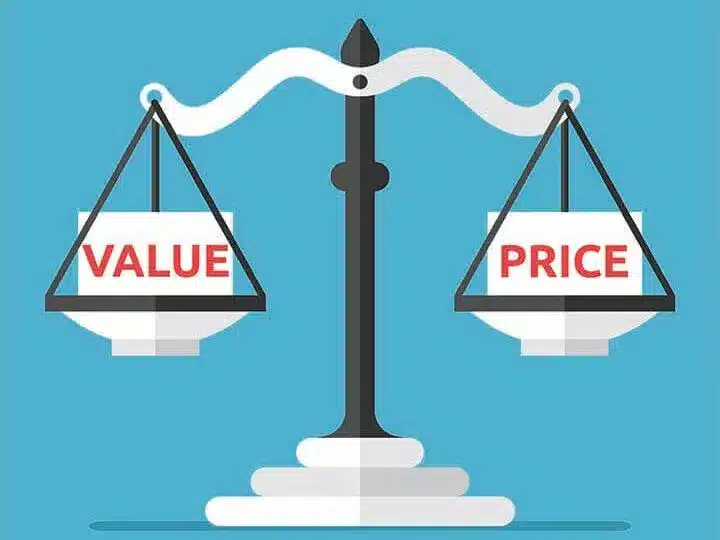 Starter Plan is Ideal for: If you are new to Amazon FBA, gathering valuable experience, or trying out different tools and platforms then the Starter plan would be the best choice to start, as it takes a minimal investment. After getting acquainted with Helium 10 you are free to upgrade your plan anytime.
When it comes to the Platinum plan, as I mentioned earlier it is the "most popular" Helium 10 plan among people, certified by the company itself.
Platinum Plan is Ideal for: So, if you are someone who has a bit of experience in the market and you are constantly developing strategies to make your business bigger and better, then I will recommend you to choose the Platinum plan for further growth of your business.
When you are well experienced and you have all the technical know-how about Amazon SEO, keywords, trend analysis, etc. and you are looking for ways to take your business to the next level then undoubtedly you should put your money on Helium 10's Diamond plan.
Diamond Plan is Ideal for: This plan can do wonders for your business as it will give you everything that the Platinum plan has to offer and on top of that you can have multiple user logins, precisely with the Diamond plan, nothing is holding you back.
Elite Plan is Ideal for: Last but not least, Elite Plan is Suitable if you want to take your business to the next level, then Helium 10's Elite plan is the way to go as it offers all the features without any limitations on any tools also as the business grows this plan is designed to handle more account and users at a time.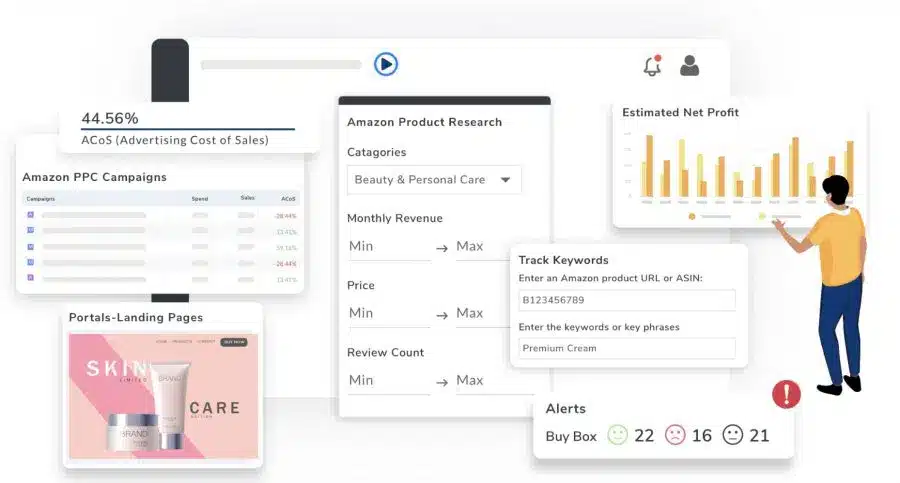 With this plan, you get all the benefits of the diamond plan and exclusive offers like webinars with top industry leaders and in-person workshops, which will fill out any missing links that your business may have.
Helium 10 has the packages you need to make your search easier, regardless of what you're looking for or if you're establishing a business from scratch, or for a means to streamline current operations.
While you focus your approach on every Amazon Ad competition, PPC tools will help you track any keyword that comes into play.
These will provide more insight into how to strengthen your business and further develop it into becoming an organization that can multiply its positive impact on society.
Conclusion: Helium 10 Pricing | Do We Recommend It?
Choosing a Helium 10 pricing plan may be difficult because there are so many features and tools available to their users. With different pricing plans such as Starter, Platinum, Diamond, and Elite, it's easy to get confused about which is perfect for you.
I recommend all The Helium 10's pricing plans, particularly the Platinum plan offers excellent value for money, and many of our users have expressed satisfaction with this plan so far.
Starting with this cost-effective bundle viz. Helium 10's Platinum plan includes various tools to help you learn how to use Helium 10. After you've tried out the Platinum plan and seen what it can do, you may choose from three more sophisticated plans based on your requirements.
However, if you have the financial means, the Elite or Diamond plan may be an option, especially if you require more hands and specialized services to expand your business sufficiently.
Also, if you're an entrepreneur who requires a lot more from the tools, then you'll most likely need to upgrade to the Elite plan, which includes a lot of live training as well as other advantages like in-person workshops. In either case, these strategies will assist you in achieving your objectives.
So that's all there is to know about the Helium 10 pricing plans, I hope that my in-depth analysis of each bundle helped you to have a decent understanding of the Helium 10 pricing plans at this point, and I don't think you should wait any longer.
So, with all the information in mind now it's your call to make a speedy decision.
I wish you the best of luck with your business.
FAQs On JHelium 10 Pricing Plans
Can Helium 10 Account be Cancelled Any Time?
You are free to change your mind about the plan at any time. There are no obligations of a protracted nature. You should not worry about losing any money because there is a full refund guarantee. Because of this guarantee, you are free to cancel your subscription at any point within the first 30 days and still receive a full refund.
Does access to Chrome extensions come with the plans?
If you sign up for one of the paid plans, you will, in fact, have unrestricted access. However, with the Free Trial Plan, access is granted, albeit with certain restrictions.
Which Amazon Marketplaces Are Supported by Helium 10?
The majority of the tools will function properly for Amazon in the United States, the United Kingdom, Canada, Germany, France, Italy, Spain, and Mexico. Some of the tools are even compatible with Amazon Japan, Amazon China, and Amazon Turkey.
How Many Authorized Users Can I Have on My Account?
Only one user is permitted on the Free Trial and the Platinum subscription respectively. The Elite plan allows for up to 5 users, while the Diamond plan allows for a maximum of 3 users.
Can I Upgrade My Plan at Any Time?
Toggle If you go to the 'Plans' section of your Helium 10 account, you will see an option to upgrade your subscription at any moment. You can contact support at helium10 by sending an email to support@helium10.com if you require assistance. le Content