If you share the passion for sneakers that I do, chances are your wardrobe boasts more than a dozen pairs. What's intriguing is that these sneakers probably hail from various brands.
That's one of the exciting aspects of being a sneaker enthusiast – constantly on the hunt for new brands to enhance your remarkable collection.
However, the downside of acquiring sneakers from various manufacturers is the need to jump from one store to another. Even for online shoppers, this can become quite a daunting task.
Recognizing these challenges, a group of dedicated sneaker aficionados established an e-commerce platform called KicksCrew. Their mission is to bring together sneakers from renowned brands under a single virtual roof.
But before you dive into exploring their website and potentially finding your next pair of sneakers there, it's crucial to raise some critical questions regarding their trustworthiness.
In this article, we will address the most commonly asked question about KicksCrew: "Is KicksCrew a legitimate source for sneakers?"
Is KicksCrew Legit?
KicksCrew is undeniably a reputable e-commerce platform for purchasing sneakers and apparel.
However, it does come with some significant drawbacks, including high shipping expenses, extended delivery times, and a challenging and costly return or size exchange procedure.
While KicksCrew is a legitimate platform, one of its primary downsides is the considerable shipping fees that customers are required to cover.
Typically, these shipping charges can range from $25 to $50, depending on your shipping address (further details will be provided later).
Adding to the inconvenience, KicksCrew's delivery times are notably lengthy, as products are typically shipped from Hong Kong. On average, customers can expect to receive their orders within 2 to 3 weeks after placing them.
Furthermore, returning a received product for a refund or size exchange can be a costly process.
In the case of refunds, the buyer is responsible for the return shipping costs, and a 15% restocking fee will be deducted from the total transaction payment.
For size exchanges, the buyer is required to cover both the return shipping costs and the reshipping expenses (additional details will be provided below).
Is KicksCrew A Legit Company?
KicksCrew appears to be a legitimate e-commerce platform based on several factors.
First, a person within the author's circle had a successful order experience, despite high shipping costs and a 2-3 week delivery time.
Furthermore, KicksCrew has been in operation for over 13 years, which suggests it is not a scam, as scams typically do not last that long.
Additionally, KicksCrew does not operate anonymously. It was founded by individuals, Johnny Mak (CEO) and Ross Adrian Yip (COO), both of whom have previous experience in the sneaker industry.
The company operates from Hong Kong with a headquarters in Los Angeles, California, and recently secured a $6.2 million investment from reputable firms like Gobi Partners, Pacific Century Group, and COMPLEX CHINA, indicating its credibility.
Moreover, KicksCrew boasts a strong presence on Instagram with over 1 million followers and a verified profile, further enhancing its legitimacy.
Considering these factors, it is reasonable to conclude that KicksCrew is indeed a legitimate e-commerce company.
How Does Kickscrew Work?
Understanding how Kickscrew operates is crucial for any buyer. So, how exactly does Kickscrew's system function?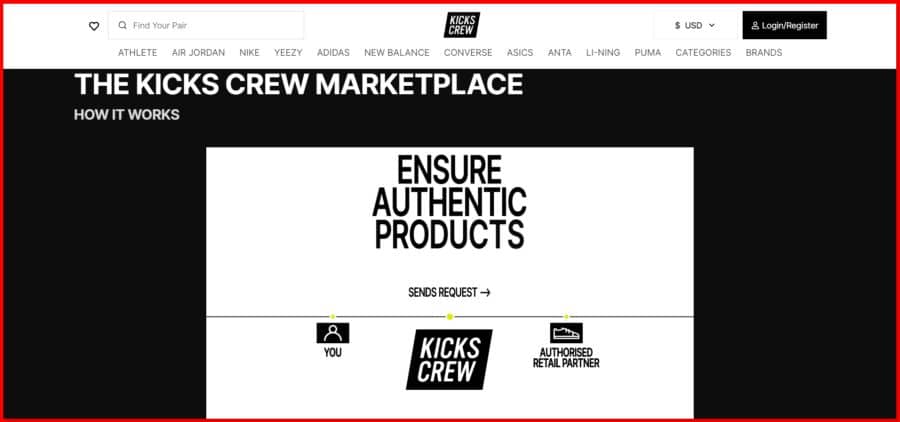 Kickscrew has established partnerships with trusted sellers to meet their customers' needs effectively.
Here's how it works: When a buyer places an order, the seller or supplier responsible for that product ensures its availability in their inventory. The item is then sent to Kickscrew's quality control team for a thorough assessment.
A dedicated team of quality control experts meticulously examines the product, evaluating its quality, material, size, and color to match the order details accurately.
If the product successfully passes this quality control review, it receives a verified status and proceeds to the courier company for delivery to the customer.
However, if the product is unavailable from any of the sellers, Kickscrew promptly cancels the order and issues a refund to the buyer.
It's important to note that the stringent quality control measures in place significantly reduce the chances of receiving damaged or low-quality shoes, ensuring a high level of product quality.
Does KicksCrew Sell Authentic Sneakers?
Indeed, every sneaker featured on the KicksCrew website is guaranteed to be genuine and authentic. The company exclusively offers high-quality products from reputable brands.
In order to maintain this commitment to authenticity, KicksCrew has diligently trained its staff to thoroughly authenticate each item before dispatching it to customers.
If, during this process, any concerns arise that may question the authenticity of a product, the company takes the proactive step of reaching out to the customer prior to shipping.
This ensures that buyers can make fully informed decisions when selecting the sneakers they wish to purchase.
Furthermore, KicksCrew offers the option of contacting their customer service team, who are readily available to assist in selecting the perfect pair of sneakers tailored to your preferences.
Are KicksCrew Shoes Fake?
To determine whether KicksCrew offers counterfeit or authentic footwear, it's essential to grasp the mechanics of this platform.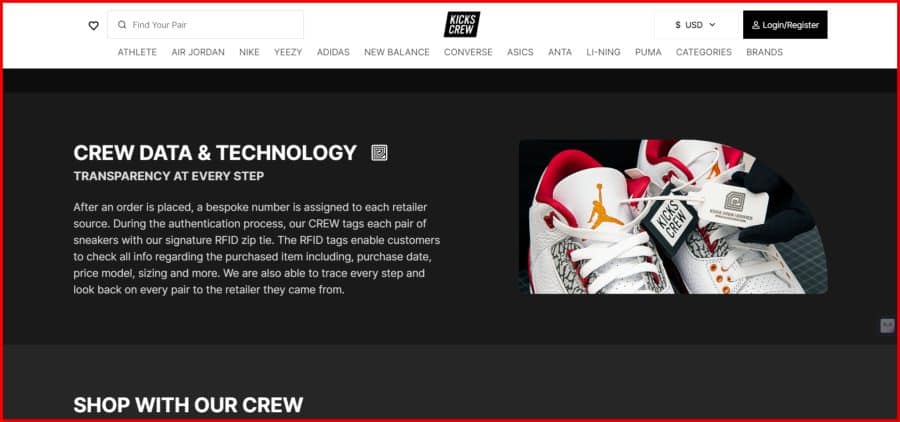 KicksCrew collaborates with retailers worldwide, serving as a bridge between buyers and verified brand retailers (sellers).
In essence, it functions as an intermediary connecting customers with genuine sources of sneakers and more.
Here's how it works:
KicksCrew notifies their partnered seller to fulfill the order.
The seller checks their inventory to determine product availability.
If the product is unavailable, KicksCrew cancels the buyer's order and issues a refund, although this occurrence is rare.
If the product is in stock, the seller sends it to KicksCrew's quality control center.
At the quality control center, each product undergoes meticulous scrutiny, assessing aspects such as packaging, color, materials, stitching, tags, sizing, manufacturing quality, and more.
Once verified as genuine, KicksCrew affixes its verification tag to the product and forwards the order to the designated courier.
The courier subsequently delivers the product to the buyer.
Do I Recommend KicksCrew?
If you find yourself in a situation where the sneakers or apparel you desire are unavailable locally, and you absolutely must have them, then considering KicksCrew as an option might be worth it.
However, it's crucial to bear in mind the seven essential points I previously outlined.
On the other hand, if you can physically access the item you want, it is highly advisable to purchase it directly, bypassing the potential risks and issues associated with KicksCrew.
Even if the local market offers the same item at a slightly higher price than what KicksCrew offers, I still would not recommend opting for KicksCrew.
My reservations about buying from KicksCrew when the item is accessible locally stem from their elevated shipping costs, extended delivery times, and the complexity of their return, cancellation, and refund policies.
How Does KicksCrew Shipping Work?
KicksCrew utilizes a range of shipping providers to deliver orders, with the selection based on the destination country and specific location.
These carriers often include UPS, FedEx, DPEX, DHL, SpeedPost (EMS), S.F. Express, or Air Mail.
The shipping costs, which can vary depending on your location, generally span from $10 to $70.
The final cost is influenced by factors such as your specific address and the choice between standard or express shipping.
Final Thoughts
KicksCrew is a legitimate platform for purchasing genuine branded sneakers. However, they suffer from lengthy delivery times and a cumbersome and costly process for returns and size exchanges.
Additionally, customers should be aware that KicksCrew is not responsible for sales tax, customs duties, or potential customs holds.
Ultimately, the decision to buy from KicksCrew or explore other options is yours to make. If you have questions or wish to share your experiences with KicksCrew, feel free to do so in the comments.