In this Leadpages review, I will explain to you every great feature Leadpages tool has to offer and why you need this tool.
You have created a website to sell stuff online and you launched a new product on your site. You are all excited about the launch.
Months passed and you didn't see any new customers and you are quite disheartened.
You kept asking yourself "What's the thing I lacked?".
Well, my friend, you lacked a simple online marketing strategy and that is Landing Page.
A Landing page is a type of web page that is designed to draw in visitors and convert them into sales leads or customers.
It can be a section of a website, but it must have a defined goal that is focused on completing only one task: converting visitors into leads or customers.
Leadpage is the best landing page builder and the most successful tool for connecting with your audience and converting them into happy customers.
LeadPages Review: Overview
Leadpages is a landing page builder that enables users to create interactive web pages that are optimized for your industry automatically.
Its major purpose is to make it easier for marketers to convert clients through email marketing by providing appealing templates that can be modified to meet the needs of the company.
You can construct the best landing page in minutes with its easy drag-and-drop builder and more than 130+ templates to choose from, and the best part is that you don't need any coding knowledge.
Leadpages isn't only for landing pages; it can also help you with pop-ups, alert bars, and even creating a sales funnel for your business, which is similar to what Clickfunnels offers.
Check out the most recent in-depth Clickfunnel review to know more.
The ease of use of Leadpages is appreciated by many professional industrialists.
So all you have to do now is create your template, upload your content, and Leadpages will do the rest.
Who should benefit from using leadpages?
Leadpages are for all, from young entrepreneurs to music teachers everyone can profit from the landing page.
Many ambitious entrepreneurs who want to start a successful company are scared off by the possibility of getting to figure out things like connecting to the audience and getting leads.
Don't worry, Leadpages has got your back.
Even a teacher who is considering starting online coaching lessons can use Leadpages to connect with students with only a few clicks.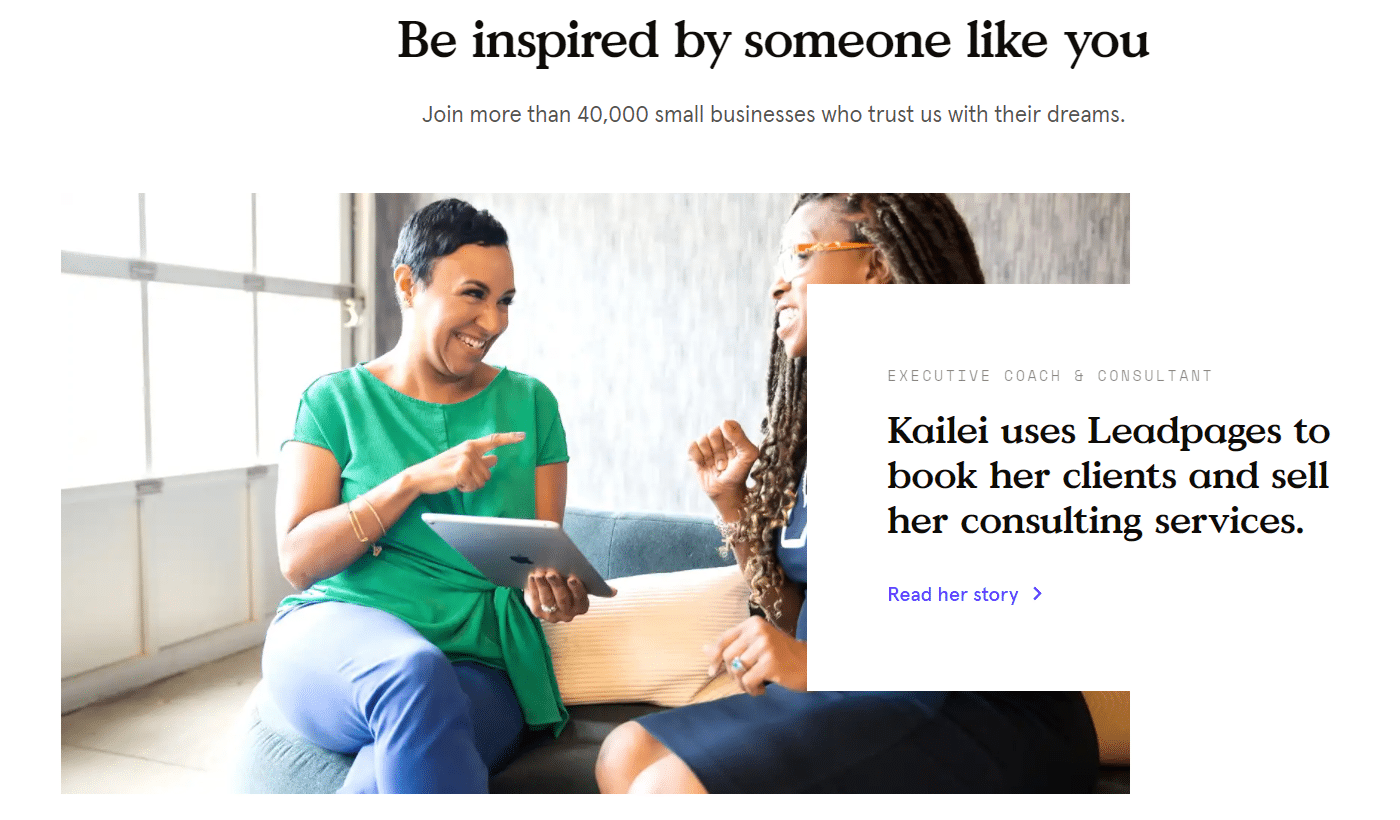 For example, you can use lead pages if :
Enthusiast and young entrepreneur who wants to obtain leads
Make a free ebook or other digital information available to your customers
Request a free consultation by filling out the form below
Enroll folks in an email newsletter to encourage them to buy something promoting the debut of a new product
Share a product/service/offer bundle or promotion
For in-person storefronts/events, provide a printable coupon or pass
Make a reservation or make an appointment
Encourage people to sign up for a live or virtual event
Want to create a sales funnel
There are a lot of people from all walks of life that may benefit from using Leadpages, and if you have a certain goal in mind, you'll need a small spark of landing pages to help it flourish.
leadpages Features
Until now this leadpages review you got to know the basic understanding let us now dive deeper into the great features this tool has to offer
Leadpages Has Built-in Leadmeter
The Leadmeter is built-in technology that analyses your page's content in real-time, compares it to tens of thousands of other sites in our database, scores its conversion potential, and gives you step-by-step instructions on how to improve your page as you develop it.
To objectively anticipate how your website will perform, the Leadmeter evaluates your content and considers four critical conversion characteristics.
Pop-ups
The pop-up builder in Leadpages is one of the tool's best features. The landing pages have pre-built pop-ups that you can customize and add information to as needed.
You can simply attract the attention of the leads using this function.
You can set it up such that your pop-up appears when a visitor clicks on an image, a button, or the text of a hyperlink.
Setting your pop-up to appear after a certain amount of time or a certain number of page visits has elapsed, and the coolest of all, when the lead is about to leave the page, you can even activate an exit pop-up with a snappy message to re-capture the visitor's attention.
Alert bars
You can use this function to capture attention without taking your visitors' focus away from the main material on a page.
With the help of alert bars, you may announce your latest deal or invite your website visitors to join your email list. You may even keep track of the alert bar's progress, compare responsive and non-responsive pages, and assess the non-responsive page's problems.
You can choose from four mobile responsive layouts that adapt to the size of your visitor's device screen to display in the best possible place.
A/B split testing
A/B testing, often known as split testing, is a technique for comparing two versions of a website to evaluate which one performs best.
A/B testing has the advantage of tying the success of your sales and marketing campaigns to hard facts rather than speculation.
By continuously testing your assumptions, you'll learn exactly what motivates your audience to take action, allowing you to improve the conversion rate of your landing page.
Template Gallery
Leadpage offers you a large collection of templates to choose from. It offers 200+ professionally designed templates for conversion. The templates are tested successfully for converting leads into customers.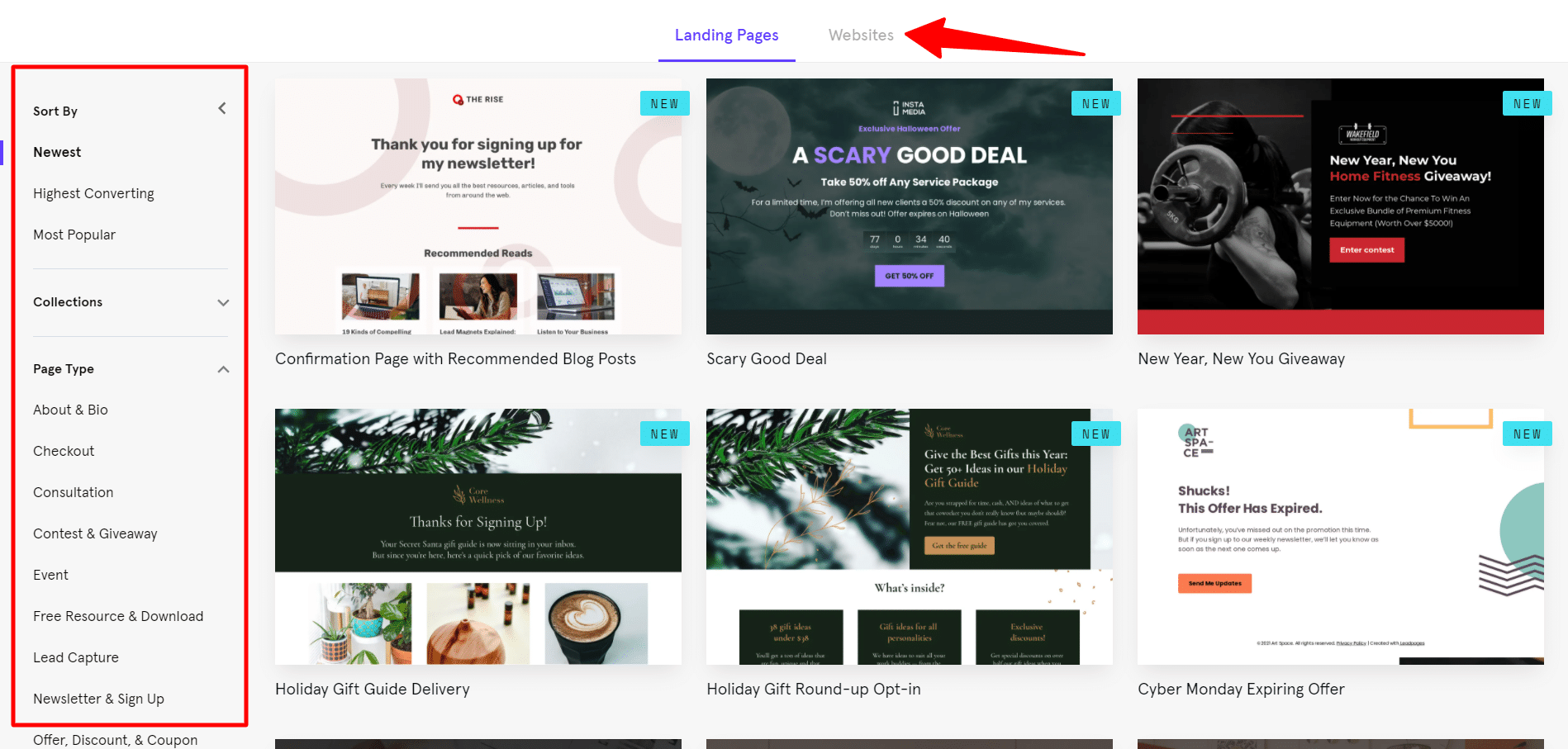 You may also create your landing page using Leadpages customizable template builder. All you have to do now is drag and drop all of your data into it.
If you don't like the templates, don't worry, Leadpages got you covered. Simply start from blank and build any look you need, incorporating current elements and features wherever you want.
The templates from leadpages are mobile responsive and can also be used for other platforms like tablets. PCs, etc, and if you want the business to be distinctive you get the option of premium templates that contain the most conversion rates.
Count down timer
Offer a countdown to an event on your website to generate a sense of urgency about your offer.
Adding an actual ticking clock to the header that counts down the days, hours, minutes, and seconds till the end of this unique period is a terrific way to do this.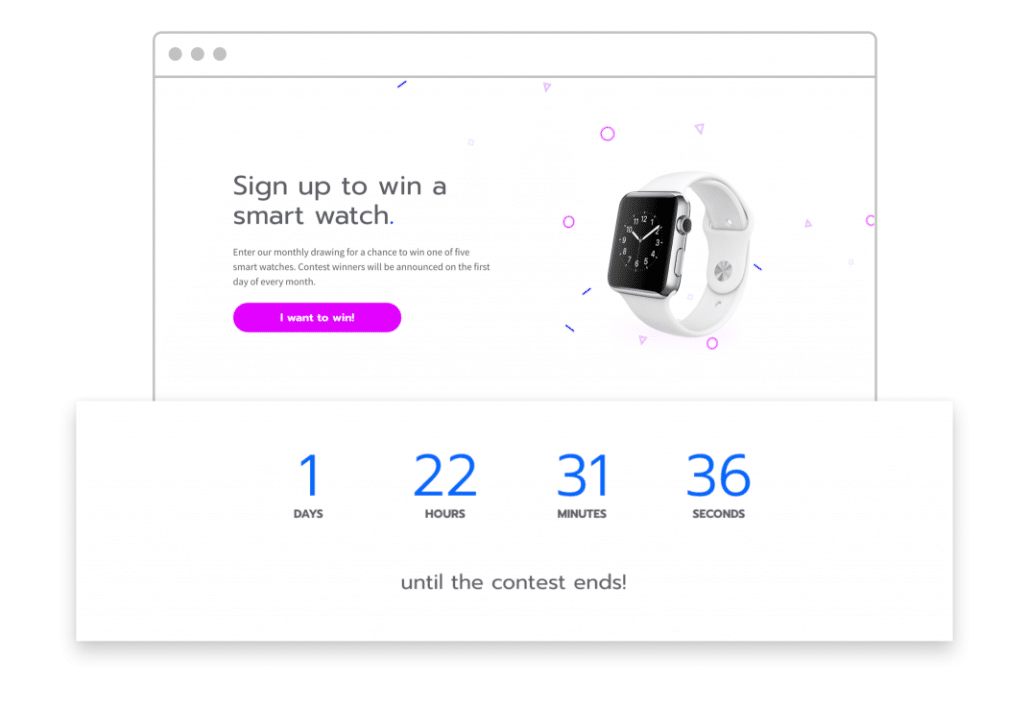 It's also a good idea to include it somewhere else on your site where there won't be a time limit or deadline.
This will serve as a subtle reminder that, while it may not be time-sensitive in and of itself, it may attract other people who are curious about something less urgent or interested in learning more about oneself, for example before the timer runs out, make sure you give them enough time to learn about you and your company.
If you prefer that way, the same notion can be applied to pop-ups.
Education and support
The support system and knowledge base of leadpages are strong and vast.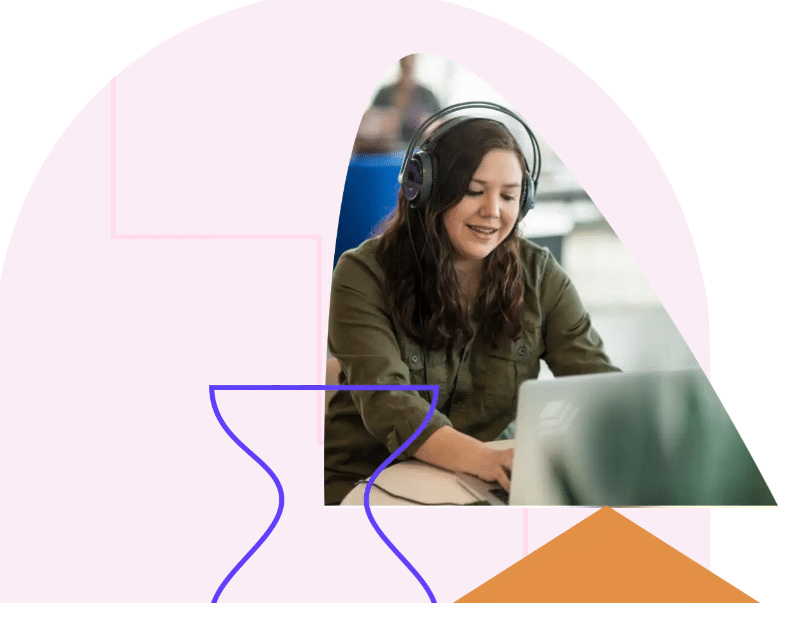 When you contact the technical support service by phone, chat, or email, they respond quickly. However, access varies by Leadpages plan level, while the chat feature is available for all pricing.
At Every step of the process, the technical support specialists are available to assist you.
To clear your marketing barriers and increase your performance, you can participate in live Q&A coaching sessions. Leadpages marketing professionals teach the sessions.
Leadpages has put out a comprehensive owner's manual for your account.
You can meet with a Leadpages launch professional one-on-one to help you set up your account so you can get started right away.
They provide a blog and documentation support that you can browse and learn without having to make any plans.
Access special virtual classes and supplement your marketing knowledge with the expert advice you won't find anywhere else.
Now that you've learned about the basic and key features, let's look at how you can use Leadpages to create a landing page.
How to create a landing page with leadpages?
Here are the 7 simple steps to create a landing page with LeadPages.
Step 1: You need to choose a template you love
You'll need to start with a template to get started. Leadpages has several landing page templates that you can sort by conversion rate.
You can choose the perfect template of your choice with the help of the following steps.
From the top corner of the navigation page menu, you will find create a new landing page option
Browse our whole collection or filter by page type, industry, style, or color
When you drag your mouse over a template's thumbnail, click Start Building to get started or preview to have a better look
When you finally choose the template, give it a name and click to continue
Step 2: Make changes to the content of your page
Pre-built sections with placeholder widgets are included in every template. To customize your page, you can edit, rearrange, delete, and add new material.
There may be various reasons why you can lose your work, but the lead page's powerful builder has got all your work saved. As a human, you're bound to make mistakes, which is why Leadpages provides several options for erasing your modifications.
You can even copy & paste a part from an existing Leadpages site, landing page, or pop-up into your new landing page if you already have one.
Section templates can also be used to quickly add a new section to a website without having to start from scratch.
Widgets include all of the content for the website Builder, including headings, graphics, and buttons. Any widget can be edited by just clicking on it. Each widget also has a variety of design and customization options.
Step 3: Create a form
By default, most templates feature an opt-in form. Using the form widget, you may add forms straight to your page or pop-ups.
You can link integrations, filter spam opt-ins, and put up a thank-you page for individuals that subscribe.
In pop-ups, the form widget is also provided by default.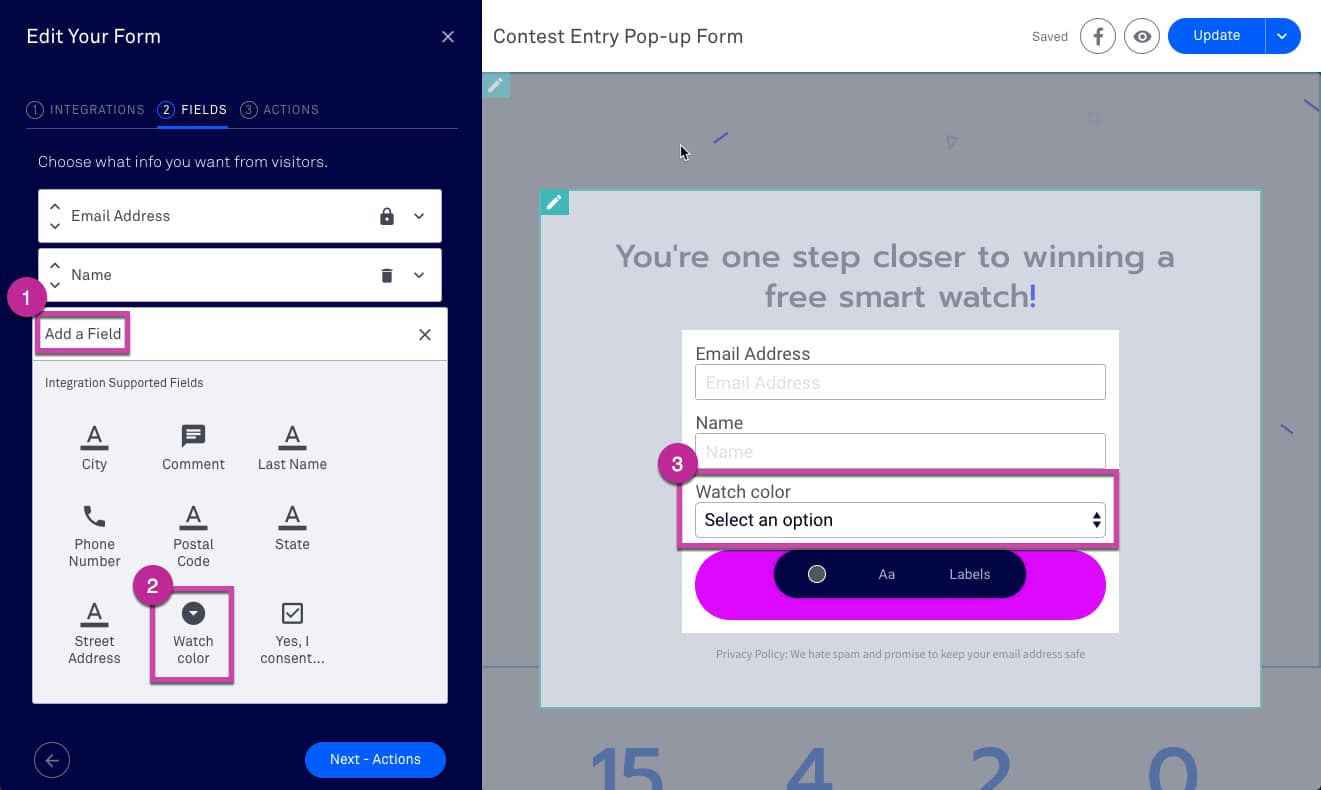 Here's how you can tweak the form:
While clicking over your call-to-action, select Modify Pop-Up from the drop-down menu
Move over the form and select Change Integrations when the pop-up comes
You can alter your form settings by going to the integration, fields, and actions tab
When you're finished, click Save & Close
Step 4: Attach the Lead magnet
One of the most powerful techniques used by internet marketers to attract potential clients is a lead magnet.
They're an excellent way to enter a customer's information into your database and so acquire access to folks who could be interested in purchasing your goods.
It is like sending gifts to the users and you know everyone loves gifts.
Well in exchange for a gift you take the visitor's email information. With the help of leadpages, you can create a lead magnet and attach the file that is intended for the visitor within minutes.
The following steps will guide you to attach a lead magnet:
Scroll down to the Leadpages account navigation menu, and look for the Lead Magnet option
By clicking the Create New Lead Magnet button, you can create a new lead magnet
Fill in the required fields of the form after uploading the file intended for the visitor
The download button text needs to be changed and you have to attach the file
Click Save when you're finished
Any file format, whether it's a pdf or an mp4, is supported, leadpages offer you this flexibility.
Step 5: Create a thank you page for the leads
Visitors who fill out a form on your page will be sent to a generic thank you page by default but you may want to add some more things to the concluding page or change the design as well as you say leadpages have it.
With numerous professionally designed templates create a thank you page of your choice.
After the page is created you can attach it with a form so that subscribers after they opt-in can be redirected to the thank you page.
Step 6: Take advantage of the A/B split testing feature
As mentioned above in my leadpages review I introduced you to this great feature that is offered by leadpages.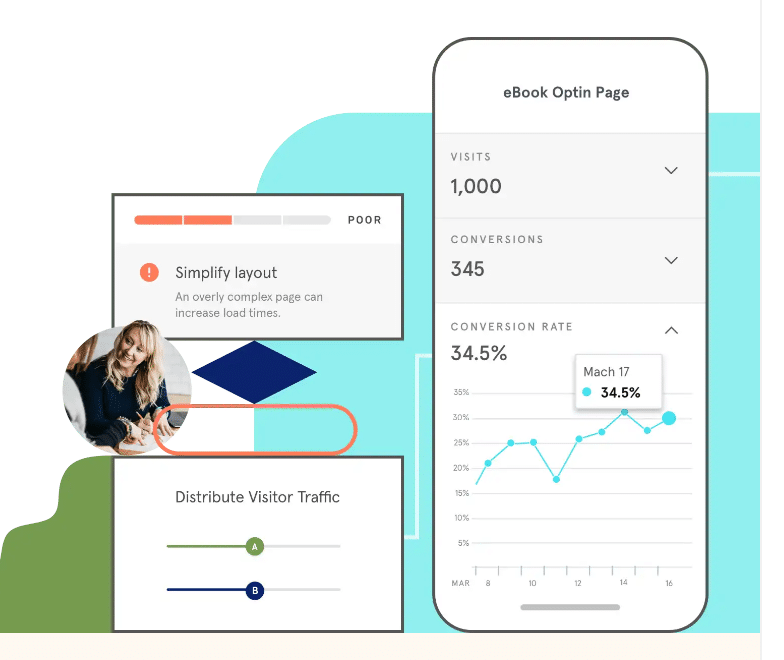 Well, now you can use this feature and test different elements of your pages for example the color design with other web pages available.
Though this is an advanced feature if you want some serious traffic on your landing page I would recommend you use this feature.
Step 7: Publish your masterpiece creation
After you are satisfied with your page you can preview the page and get a final look at your page. You can also see other displays like mobiles, tablets, etc.
After you are finally done with every click on publish.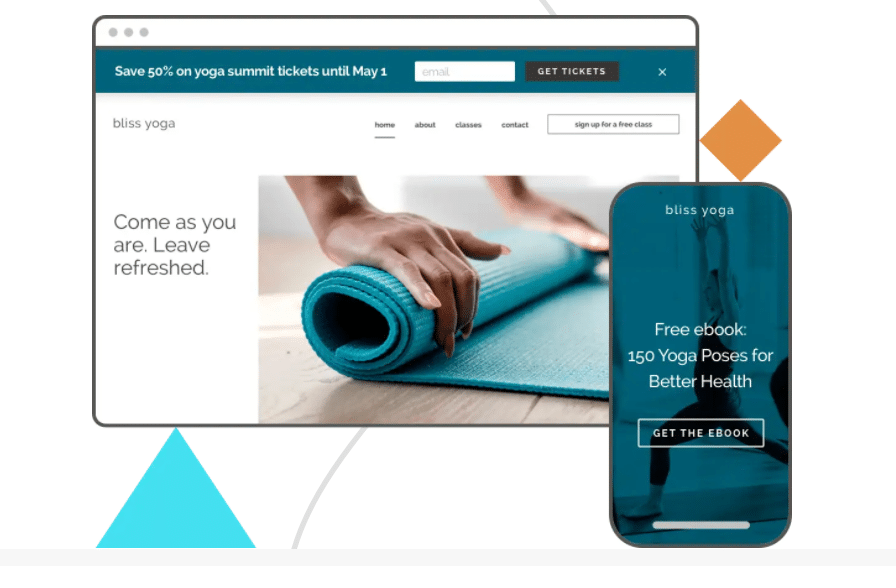 Leadpages Integrations
You need to link your accounts to get the integrations you need. In this leadpages review, I'll show you how to connect your accounts.
For your sites, pages, and pop-ups, you can link several accounts from one integration service to your Leadpages account. However, each form can only have one.
If your desired integration service is not listed in the integrations directory, you can connect to thousands of alternative apps using our Zapier connection.
The steps will guide you through the integration element:
In the account navigation menu, select Integrations
Choose your integration service from the drop-down menu
Connect a New Account by clicking the button
To finish the procedure, give the integration account name, then click Connect and follow any on-screen prompts
The status of the service will change to "Connected" after it has been connected with your desired integrations.
InfusionSoft, Shopify, WordPress, MailChimp, HubSpot, PayPal, Stripe, Calendly, Aweber, LiveChat, and Google Analytics are a few of the many integrations offered by this platform.
You can visit leadpages and choose your integration according to your needs.
Leadpages Plans Pricing
So, I believe I can assume you've learned about how useful this tool is and what its primary features are.
Let's take a look at the lead pages pricing section and see what it has to offer.
Leadpages Standard and Pro plans are available for both monthly and annual plans.
Standard Plan
$37/month if paid annually, or $49/month if paid on a month-to-month basis, you get to save $144 if you pay yearly.
You will be getting all the basic facilities which include pop-ups, alert bars, etc.
You won't be getting an A/B testing facility if you decide to go for the standard plan paid monthly.
Pro Plan
$74 per month if paid annually, or $99 per month if paid on a month-to-month basis, you get to save $300 if paid yearly and I think that's a whole lot of discount.
You will have gate access to all premium features
Unlimited A/B testing is available
You will get full support from customer service and can contact them through phone, chat, and email
The reality is that if you want to use all of these fantastic capabilities, you'll have to charge for them, and compared to other landing page builders, their options are limited
Leadpages Pros and Cons
Leadpages is incredibly user-friendly, and the user interface is quite simple to use

Provides a variety of free templates suited for successful conversion

For newcomers, the pricing is affordable

When compared to other platforms, this landing page builder is really powerful

Leadpages provides excellent customer service

Weekly webinars and Q&A sessions are planned, which is quite beneficial and clears up many misconceptions

14-day free trial is available where you can get to know about the basics

Leadpages drag-and-drop builder is simple to use

There are several integrations available

Pop-ups and alert bars coupled might result in a high conversion rate

Many features are not included in the basic subscription

The price seems a little excessive

The base plan does not provide A/B testing capabilities

Assistance services differ depending on the plan, therefore if you have the ordinary plan, you won't be able to contact support through phone
Leadpages Affiliate Program
Leadpages affiliates may make money by marketing Leadpages' leading lead-generating solutions through the Leadpages Affiliate Partner Program.
Over 50,000 affiliate marketers have used Leadpages to increase leads and sales and enhance their companies.
If you're a part of the Leadpages affiliate program, all you have to do is advertise the service and urge people to sign up.
If you already use Leadpages, you may refer your friends and family and earn a 30% commission for the rest of their lives.
This is known as a recurring Affiliate Program, and it allows you to make money for the rest of your life.
If you already use Leadpages, inviting others will help you get free Leadpages while also earning a 30% commission from them till they use their services.
Leadpages Commission Details:
Leadpages offers a lifetime 30 percent commission. That means you'll get a 30% recurring commission on all sales made through your affiliate link for the life of the customer.
Here are the Leadpages commissions that you will receive for each sale you make.
Year 1: 30 sales = $5,193
Year 2: 30 sales + 30 renewals = $10,386
Year 3: 30 sales + 60 renewals = $15,579
Year 4: 30 sales + 90 renewals = $20,772
Year 5: 30 sales + 120 renewals = $25,965
Leadpages Alternatives
If you're looking for alternatives for Leadpages, there are a few options to consider.
Let's look at the 3 most effective Leadpages alternatives.
HubSpot
HubSpot's landing page builder allows you to create attractive landing pages that blend well with your marketing efforts.
The drag-and-drop page editor is simple to use and includes a number of templates for various content offer types.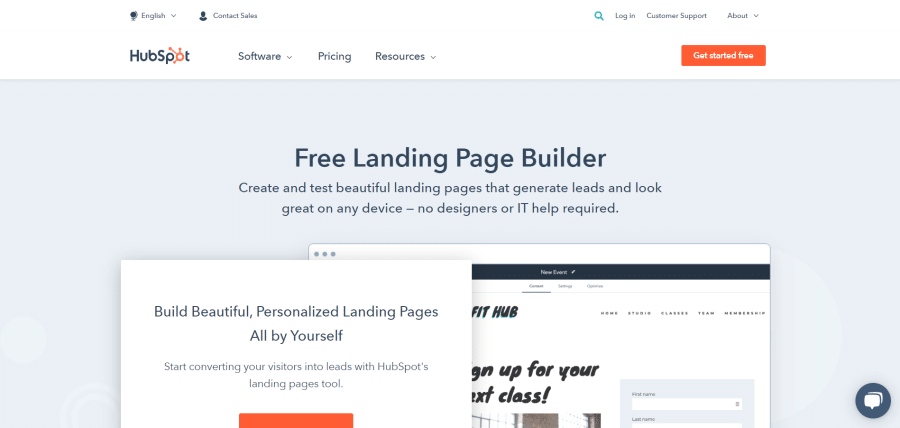 It features all of the expected modules, such as a rich text module and a forms module, but it also has a video module and a meetings module, which allows your prospects to book meetings with your sales staff right on your landing pages.
Price: Free
Pros: You can track every encounter your prospects have with your brand using the CRM, allowing you to design marketing strategies that focus on the whole customer journey.
With HubSpot Academy, you'll be able to learn how to execute a marketing campaign efficiently and simply apply what you've learned to your next campaign.
Cons: You may need to upgrade to HubSpot's Marketing Hub Starter, Professional, or Enterprise plans if you want more advanced tools to assist scale your marketing operations.
Unbounce
Unbounce is one of the most widely used landing page builders today.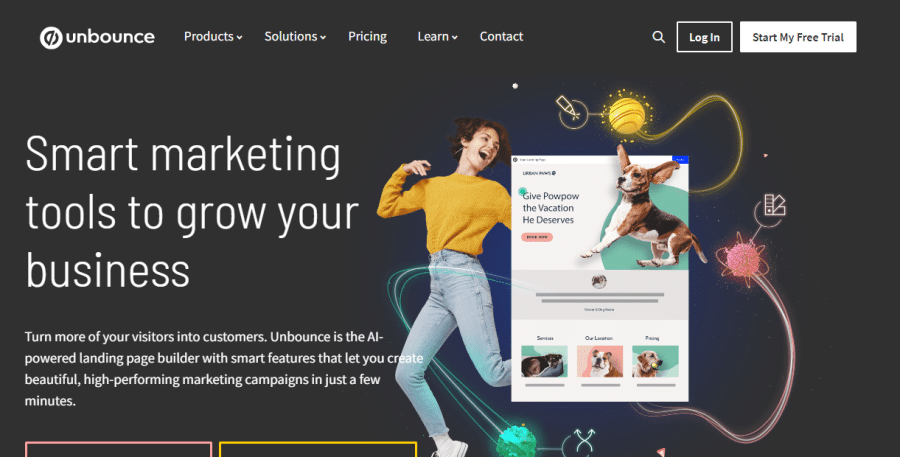 They create landing pages and pop-ups that convert visitors into sales for your company.
Unbounce has over 100 templates to choose from, all of which can be readily customized using their drag-and-drop editor.
All of their templates are compatible with WordPress as well.
Price: $90/month
Avail instant 20% discount using the Unbounce Coupon code.
Pros: With Unbounce, you never have to start from scratch. Its Smart Builder, which is powered by AI, gathers data from over 1.5 billion conversions to help you forecast which layouts and headlines would be most effective for your target demographic.
Cons: Despite its strength, Unbounce costs you based on the number of conversions your site generates. As you produce more leads from your content offers, this can quickly mount up for expanding businesses.
Clickfunnels
Clickfunnels is a sales-focused landing page builder and marketing automation platform.
Clickfunnels thinks that your content should deliver results in the same way that your top sales professionals do, and it's a solution for converting leads into customers through a sales funnel.
Clickfunnels offers a variety of intent-based designs, such as up-sell and webinar event pages. You may use their drag-and-drop page editor to customize these templates and create a page that works for you and your company.
Price: $97/month
Pros: They feature pre-built "funnels" that you can use to visualize your customer's journey with your brand, including follow-up funnels to assist you to nurture relationships with people who have converted to your content.
Cons: One of Clickfunnels' major drawbacks is its lack of email marketing skills. Of course, you may use Clickfunnels in conjunction with an email marketing platform, but this will cost you more money on top of the $97/month beginning plan.
Check out the full list of Leadpages Alternatives.
Leadpages Customer Testimonials & Reviews
Let's find out what customers are saying about Leadpages.
G2
Leadpages has received a rating of 4 out of 5 from 160 users on G2.
Trustpilot
Leadpages has received 4.6 ratings out of 5 on Trustpilot.
Leadpages Social Profiles
Let's find out Leadpages social profiles and their followers.
Facebook
Leadpages have 85,280 followers on its Facebook page and 4.1 ratings from 160 customers.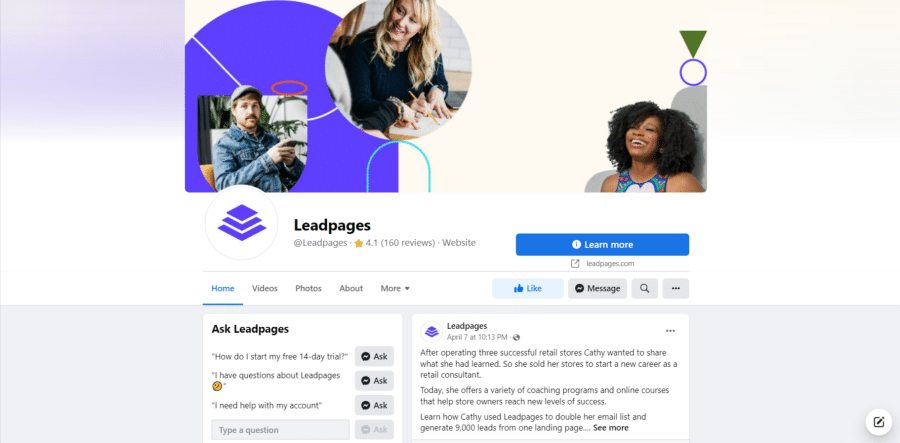 LinkedIn Profile
Leadpages have over 6,407 followers on its LinkedIn profile and 51 employees listed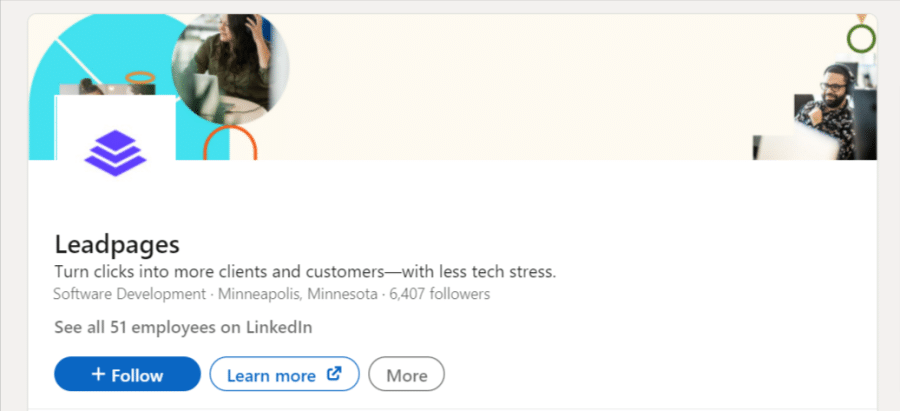 Twitter Profile
Leadpages have over 29.6k followers on its Twitter profile with over 34.2k tweets.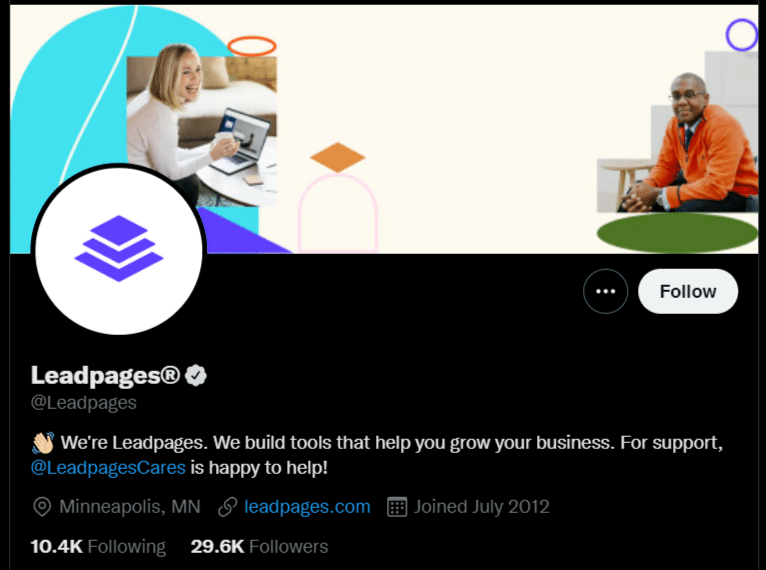 Leadpages Instagram
Leadpages have over 24.2k followers on its Instagram profile with over 487 posts.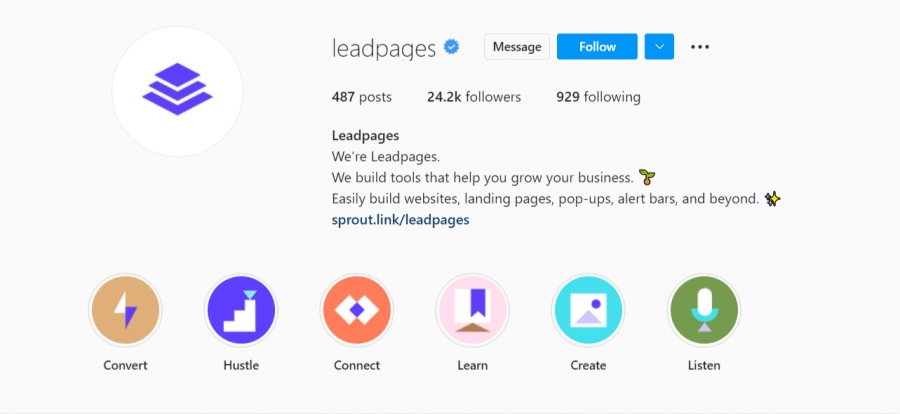 Leadpages Pinterest
Leadpages have over 5.5k followers and over 316k monthly viewers on their Pinterest profile.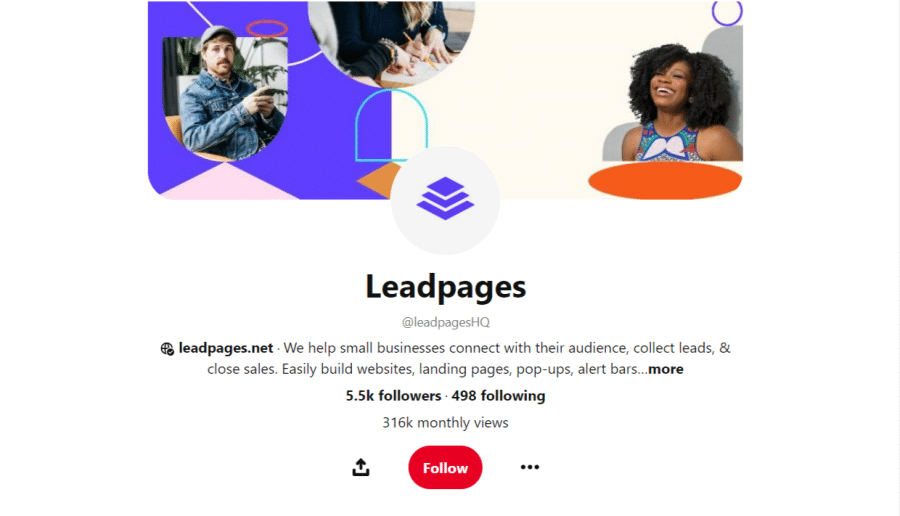 Final Thoughts
I hope you enjoyed my Leadpages review, but unfortunately, it has come to an end.
Before I go any further, I'd like to point out why only Leadpage, according to both myself and statistics.
Building a database of leads is an important aspect of any business's success.
Leadpages is a web-based tool for creating landing pages that collect email addresses from prospective consumers.
Leadpages can assist you with generating leads, customizing forms, and creating landing pages.
If you are a complete beginner in the world of online marketing or any other field, your primary goal should be to collect leads, since leads will provide you with the means to sell your service.
Let's talk about the pricing, which may appear excessive to some, but remember that when you want great items, you don't look at the price, and the prices, in my opinion, are quite beneficial if you go with the pro plan.
Analyzing every part of this leadpages review, you will discover that this tool has a distinct advantage, and you should no longer consider Landing Pages without considering Lead Pages.
Frequently Asked Questions
Is leadpages good for SEO?
Leadpages offer you the feature where you can create SEO-optimized pages that can help you to get a good rank among other websites and cut through the competition.
What is leadpage good for?
Leadpage is one of the best landing page builders which is very good for beginners, it comes with tons of features that can help you convert your daily website viewer to your regular customer.
Do I need leadpages?
Well if you want to get lots of traffic to your site or want to promote products, and convert leads into customers, leadpages should be the first tool that should come to your mind.
Are lead pages worth it?
When compared to doing it yourself in WordPress or using most website builders, using landing page software like Leadpages will save you a significant amount of time when it comes to the creation of leads. Because of how simple it is to use, it will make running A/B tests, increasing conversion rates, and designing sales pages much quicker for you.
Is Leadpages easy to use?
They are a technique that is generally friendly to mobile devices and they provide a straightforward solution for adding calls to action to pages that would not generate leads in any other way. Again, Leadpages makes them really simple to set up, and you won't have to deal with any code or plugins in order to put Alert Bars on your page.