Are you looking for the best Samcart alternatives for your online business?
Conversion rates can be improved by simplifying checkout pages. You can build a landing page that looks professional even if you have no prior knowledge of coding by using one of the many wonderful tools that are available nowadays, such as SamCart.
This can be accomplished in a very short amount of time.
Is Samcart, though, the only software available for doing this? That's not the case at all.
Depending on your requirements, you may find that a different service, such as ThriveCart, Clickfunnels, Shopify, Stripe, or Kajabi, is a better alternative to Samcart. It's also possible that Samcart is the superior choice.
One must have a straightforward and efficient method of digitally selling their products or services in order to succeed as an online business owner or entrepreneur. Samcart may be a frontrunner among checkout page platforms, but it faces stiff competition from other options.
If you've looked into Samcart, or are currently using it, and you're concerned that it isn't the right fit for you, we hope to make your search for a new sales page software solution a little less daunting.
Here, we'll explore the top 7 SamCart alternatives and go through some of the issues that make you want to look elsewhere. Okay, so let's get started.
What Is Samcart And Who Should Use It?
Samcart is a shopping cart software program as well as a checkout platform that makes it incredibly simple to create checkout pages with a high level of conversion.
It includes extensive analytics, A/B testing, checkout templates, and a number of other features that will help raise your conversion rate.
It is best suited for digital marketers, firms, entrepreneurs, startup businesses, and pretty much anybody else who wants to build their online company by selling digital goods or services and has an eCommerce presence online.
Samcart's Advantages Over the Competition
Samcart is a shopping cart software application and an e-commerce solution that is aimed to increase the number of conversions and sales made through online stores.
It comes with many features that all work together to boost your revenues while requiring you to put in as little effort as possible.
Now that we have that out of the way, let's take a look at some of the aspects that contribute to its realization.
1. A/B Testing
The A/B testing feature built into Samcart allows you to examine visitor behavior on your site and make informed decisions. Using this function, you can see which areas of your shopping cart and final checkout page are most popular, and then make adjustments to those areas to boost sales.
2. One-click Upsells And Cross-sells
Related product displays and bundles that encourage upsells have been shown to enhance sales. Customers may add these extra items to their shopping carts with a single click thanks to Samcart.
From your point of view, putting together these upsell and cross-sell bundles is quick and simple, allowing you to generate more sales with minimal additional effort.
3. Affiliate Center
You may use Samcart to run a successful affiliate program and reach out to your affiliates to boost product sales. You can see how each affiliate is doing and how much you've paid them in commissions with the help of a well-designed dashboard.
With this information, you can create affiliate programs that will bring in money and help you get more customers.
4. Checkout Templates
It's important to have a user-friendly checkout system that is also visually appealing to customers so that they stick around long enough to make a purchase.
Samcart features several attractive checkout themes, increasing the likelihood that a visitor will become a paying customer. These can serve as a starting point for you as you design pages to showcase your products.
Now that you know what Samcart can accomplish for your company, it's time to examine how it stacks up against the other SamCart Alternatives out there.
1. ThriveCart
ThriveCart is a shopping cart platform that has been operating since 2016 and has quickly become one of the most well-known options available.
Key Features
Set up smart rules for how customers should act
A simple drag-and-drop editor that anyone can use
Build checkout pages, sales funnels, affiliate programs, and courses
Shopping carts with no limits
On-page, embeddable, and pop-up shopping carts
"Profit boosters" include free trials, subscriptions, one-click upsells, and bump offers.
The A/B test
Metrics and tools for forecasting give businesses a lot of information about their business.
Integrations with well-known tools like Mailchimp, Drip, and Hubspot
A 30-day guarantee
Pros
If you wind up loving the ThriveCart platform and utilizing it for months and years to come, the initial hefty cost for a lifetime account is good value.
The UI is so simple that even a child could use it.
The platform offers a wide variety of convenient payment methods, and it is compatible with virtually every popular gateway.
Includes all the bells and whistles one would want in a shopping cart software.
Dashboards provide easily digestible reports and analytics that can be put to use
Cons
Small businesses and start-ups may not be able to afford the $495 one-time fee for a lifetime subscription, and there isn't much of a trial period to see whether or not the service is right for them.
While it has basic page templates, some customers have complained that ThriveCart's page-building tools are lacking in more complex designs and animations.
Setting up multiple sales funnels with different fulfillment choices might be difficult using ThriveCart's software.
Selling services is not a primary focus of the platform.
ThriveCart pricing
Compared to the other Samcart competitors we've listed, ThriveCart has a slightly different pricing structure. ThriveCart's current offer asks for a one-time payment of $495 for a lifetime subscription rather than monthly payments or a share of the revenue. ThriveCart's lifetime plans offer unrestricted use of the software and a 30-day money-back guarantee.
Best for
ThriveCart is a good option if you want to use a shopping cart platform with a solid track record and the confidence that it will meet all of your needs and those of your online store. If not, there is no use in forking over the hefty, up-front cost.
2. ClickFunnels
ClickFunnels is widely recognized as the best platform for creating effective sales funnels and landing pages. Since its inception in 2014, the platform has seen widespread adoption from companies of all sizes.
Top Features
Marketing and sales funnels that are top notch
A tool for making follow-up funnels
Shopping lists and checkout pages that are smart
Upsells and downsells with just one click
Excellent ways to sell memberships
Affiliate management
Email marketing and automation on Facebook
A landing page builder that is easy to use and lets you make pages from scratch or from templates that have already been made.
The A/B test
A free test run
Pros
Despite its apparent complexity at first, ClickFunnels is actually quite intuitive after you've gotten the hang of it.
Access to a variety of pre-made, user-friendly layouts
For free for 14 days.
It has an excellent sales funnel function because it is one of the most widely used and well-established platforms of its kind.
Cons
ClickFunnels' price has increased significantly over the past few years. Even the cheapest, most basic package is still quite expensive and offers few useful extras. There are just 20 sales funnels, 100 pages, and 20,000 visitors per month.
Depending on the bundle that you choose with, ClickFunnels either doesn't provide any email marketing tools at all or simply provides a restricted range of functions to use for that purpose.
User experience (UX) and user interface (UI) issues have been raised by certain ClickFunnels users.
In general, the ClickFunnels platform can be sluggish and prone to errors.
Clickfunnels pricing
There is a free 14-day trial available for ClickFunnels. When ready to upgrade to a paid plan, you can pick between two different options:
Monthly Cost: $97.20 (Minimum)
Platinum Membership: $297 Per Month
ClickFunnels subscribers who opt to pay for an entire year at once rather than monthly are also eligible for price breaks.
Best for
Those who are keen on constructing sales funnels and would like to do so on the most popular and specialized platform available.
3. PayKickstart
As of its inception in 2014, PayKickstart has made it simple for anyone to create professional-looking sales sites. Its affiliate management hub and subscription services are particularly well-known.
Top Features
Create your own unique checkout process from one of more than 50 available themes.
Multiple alternatives for payment include major credit cards, e-wallets, wire transfers, and PayPal.
Discount codes, added items to orders, added items to shopping carts, recovered carts, upsell with a single click, and "pay what you want" models are all examples of a
Helpful reminders and cancellation policies are only two examples of revenue retention tactics.
Freemium and premium models, flat-rate and pay-per-use subscriptions, one-time fees, and trial administration are all manageable through a subscription platform.
Build forth online platforms where customers can handle their own needs
Organizational hub for overseeing affiliates
Comprehensive data collection and analysis
Pros
Even though the Basic plan is on the more expensive side, it gives you a lot for your money with all the powerful tools it comes with.
Paykickstart's monthly fees are on the higher end, but users can keep all of the money they make from sales.
Users say that their customer service team does a great job.
Free for 14 days.
Cons
PayKickstart's starting plan is a hefty $99 per month, making it a pricey option.
There isn't as much variety in the PayKickstart templates as you may hope for, and they're not the most cutting-edge options available.
PayKickstart pricing
There is a 14-day free trial available at PayKickstart. Afterward, they can choose from one of three premium packages:
Starter Plan (includes $10K/month of revenue): $99 per month
Growth Plan (includes $50K/month for revenue): $199 per month
Scale Plan (includes $200K/month of revenue): $299 per month
Best for
Businesses in need of subscription and affiliate management shopping cart software.
4. Systeme.io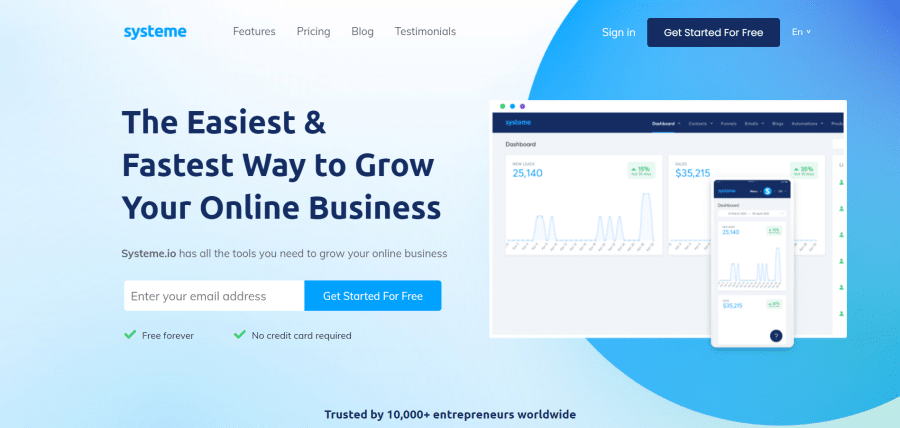 As one of the more recent additions to our roster of recommended applications, Systeme.io is still in its infancy. One of its selling points is that it is the most user-friendly marketing suite available.
Top Features
A sales funnel builder with templates that have been used before
Features of email marketing that let you send as many emails and email campaigns as you want
A website builder
Features of affiliate program management
Advanced business automation can be set up.
The ability to make webinars that last forever
There are features in an online course that let you deliver your content and talk to your students.
New tools for blogging
You can dropship or sell your products with a check-out page and eCommerce features.
Pros
Super simple to use, with plenty of helpful materials for newcomers.
Systeme.io's suite of tools works well together, so you can keep everything organized in one spot.
If you're just getting your online business off the ground, our free plan is perfect.
It's a relatively cheap platform compared to the SamCart Alternatives.
Easily implemented back-end automation that can free you from a tonne of mundane administrative tasks
Cons
At first, the sheer number of tools available on Systeme.io can be intimidating.
Constraints on personalization and aesthetic expression are not excessive.
Systeme.io does not have any third-party app integrations because it positions itself as an all-in-one platform.
Systeme.io pricing
The free version of Systeme.io is ideal for new web enterprises. Everything you need to launch an online store and begin selling your wares is provided, from a contact database of 2,000 to unlimited emails and a selection of three sales funnels.
After that, you can choose from one of Systeme.io's three paid tiers:
Startup: $27 per month
Webinar: $47 per month
Unlimited: $97 per month
Best for
People looking for an inexpensive, comprehensive platform that can handle anything from creating sales funnels and email marketing to managing affiliates and online courses. Systeme.io also includes facilities for hosting webinars, which are not available in rival products.
5. Gumroad
As a platform, Gumroad keeps things easy. To put it simply, it's the best software out there for websites that wish to offer digital goods and services.
Top Features
Create your store on the Gumroad platform or integrate it into your current website.
The potential is infinite. Ebooks, online courses, and recurring memberships are all viable options.
Build your following through consistent content publishing, email marketing, and the use of automated processes.
Create your online shop and give it a unique look with the help of a flexible editor.
Payment integrations that are simple and safe
Create a subscription site and/or membership with the opportunity to create content.
Currency choices abound.
Create coupon codes
Create and market many editions of your product, such as PDF, ePub, and Mobi formats to maximize sales.
Analytics and data from sales
Pros
There won't be any regular payments required each month.
Provides a straightforward and easy-to-use interface, perfect for novices.
Consistently excellent features for customization, with a reduced learning curve
If you've made over $10,000, Gumroad's cut of your sales will be much smaller.
Cons
You'll be paying a sizable chunk of your online sales proceeds to Gumroad, even if you're only making a few hundred dollars a month.
There is no way to sell services on this site.
When compared to more sophisticated rivals, the reporting and analytics are somewhat simplistic.
Free trials and split testing functionality are not currently available.
Fewer than ideal combinations
No matter how much you sell, each transaction will cost you $0.30.
Gumroad pricing
Gumroad's pricing is based on a pay-less-as-you-grow concept, and there is no minimum monthly fee. You can use all of Gumroad's tools regardless of your sales volume.
Based on your total profits as a Gumroad user, the following is the amount you will be required to pay:
$1M earnings: 2.9% fee*
$100,000 earnings: 3% fee*
$10,000 earnings: 5% fee*
$1,000 earnings: 7% fee*
$0 earnings: 9% fee*
*For each transaction that you complete on Gumroad's platform, a fee of $0.30 will be deducted from your account.
Best for
To those who would rather give up a percentage of their sales than pay a monthly fee for an eCommerce platform. Since Gumroad's charge % decreases as you sell more things, it's a good fit for online business owners that expect a constant stream of money from selling their physical or digital products.
6. SendOwl
SendOwl was established in 2010 and has since been an industry leader in assisting owners of online businesses with the sale of a wide variety of products, including memberships, online courses, and ebooks.
Top Features
SendOwl provides you with nearly all of the capabilities necessary to sell digital as well as physical things online. They divide their instruments into a number of distinct groups, including the following:
Shopping carts, checkout pages that are responsive, the flexibility to handle multiple languages and currencies, payment links, and flexible payment choices are all things that should be sold.
Quick and secure delivery, digital as well as physical items, memberships and subscriptions, and material that is unveiled in stages over the course of time are some of the features that are desirable in an online business.
There are many other sorts of marketing methods that may be used in the market, including pay-what-you-want pricing, gifting, discounts and promotional codes, affiliate marketing, one-click upsells, cart abandonments, and email marketing integrations.
There are a variety of personalization choices available, such as bespoke logos, checkout forms, and embedded links.
All of the following types of data and analytics should be analyzed: order, full product, zero download, and discount code reports; income; upsell; and abandoned cart.
Pros
A very user-friendly platform that performs well and reliably throughout.
Integrations with a wide variety of payment gateways, eCommerce platforms, marketing and communication platforms, and member management systems
SendOwl supports over a dozen different currencies, making it a very convenient choice for international enterprises.
A free plan in addition to a free trial that lasts for thirty days.
An extremely cost-effective option for checkout pages in contrast to those offered by competitors
Cons
The percentage of each sale that goes toward the platform's subscription cost is 1%.
When you go above and beyond the standard usage, you may incur additional charges.
A number of individuals have complained about the lack of customer service.
Some SendOwl customers believe that the program's customization options are not nearly as robust as they could be.
SendOwl pricing
SendOwl provides a free trial period of 30 days for new users. Beyond that, customers have the option of choosing between two distinct tiers:
Free: There is no charge per month for unlimited memberships or usage; however, a 5% commission fee will be deducted from your total sales.
Growth: $19 per month for unlimited subscriptions and standard usage, and no percentage of sales (however there is a 1% subscription fee that applies).
Best for
Individuals who are searching for a sales platform that provides a free or reasonably priced monthly plan and bases its fees on the number of sales generated.
Choosing the best Samcart alternative for your business
As you can see, there is a diverse selection of options available besides Samcart, and the information presented in this post is just the beginning.
However, we will let you in on a little secret: thinking about the needs of your business is the most important step in locating the ideal platform that can assist you in creating checkout pages and online shops that are optimized for conversions.
You will be able to select the platform that most adequately satisfies your requirements if you give careful consideration to the areas in which your company needs the most assistance and the growing methods that you intend to prioritize.
Conclusion: SamCart Alternatives
In conclusion, if you want to improve conversion rates and establish credibility for your online store, Samcart is a great tool to use.
It is highly adaptable thanks to its built-in A/B testing tool and its compatibility with 750+ third-party services, and it boosts conversion rates thanks to its intuitive checkout paths. It's easier than ever to design a sales funnel that converts well.
There are three different pricing tiers available for Samcart:
Launch Plan ($59 per month or $468 per annum)
Grow Plan (by $119 per month or $948 per annum)
Scale Plan ($299 per month or $1908 per annum)
Concerns about possible substitutes for Samcart? How about you tell me the ones you're considering checking out? Describe your experience in the space provided below.
frequently asked questions (FAQs)
What is similar to SamCart?
These other platforms are comparable to SamCart and can be used as an alternative.
1) ThriveCart, 2) ClickFunnels, 3) PayKickstart, 4) Systeme.io, 5) Gumroad, 6) SendOwl.
What is the SamCart app?
Samcart is an e-commerce platform that may also sell tangible goods alongside digital ones. You can use it for an array of business operations, including product advertising, affiliate management, online store creation, and more.
Is SamCart good for beginners?
To answer your question, SamCart is suitable for newcomers. It's the best product out there for newcomers because it's so simple to get going, and it has to upsell features that can help you make money even more quickly. Since "one-page" funnels are SamCart's specialty, setting up shop is quick and easy. In just a few short days, you can have a working funnel up and running.
How do I get SamCart for free?
SamCart is aware of this, which is why they provide a free trial period of 90 days. If you're sold, here's all you need to do to start your free trial:
1) Visit this page.
2) Click on the "Claim Your Free Trial" button at the bottom of the page.
3) Fill in your details.
4)Use SamCart for free for 90 days.
Is SamCart a sales funnel?
ClickFunnels is a tool for creating sales funnels, while SamCart is a platform for creating online shopping carts for e-commerce businesses.
Can I use my own domain with SamCart?
One, several, or all of your pages can make use of a Custom Domain. A SamCart store can have numerous Custom Domains, each of which can be used to redirect customers to a unique checkout page.
Can I sell multiple products on SamCart?
When you use SamCart's Bundled Product option, you can ship several items at once.
Does SamCart charge a transaction fee?
On none of the plans do we charge you an additional cost for making a transaction.
Can I use SamCart to sell physical products?
SamCart can be used for either digital or physical product sales. Ship your products to customers with the help of Shopify's in-built shipping tools if you're selling tangible goods. SamCart's digital distribution options are a great fit if you're offering downloadable goods to your clients.
Can you use PayPal with SamCart?
SamCart's "unique" integration with PayPal provides users with access to a plethora of new tools. Customers can browse 1-Click Upsell Funnels, buy subscriptions, try out things for free or for a small fee, and more—all while paying you with PayPal—thanks to this integration.
Who is the owner of SamCart?
Brian Moran is the founder of SamCart and serves as its CEO.
Is SamCart good for affiliate marketing?
If you already use SamCart and have an engaged audience in your niche, joining the SamCart Affiliate Program makes a lot of sense. With a 40% commission rate, SamCart is a great choice; however, you should be aware that money may take up to 45 days to arrive due to the 30-day refund policy.
What payment processors does SamCart use?
Contrary to popular belief, SamCart does not function as a payment processor. SamCart's main integrations are with Stripe and PayPal, so you may think of it as a bridge that leads directly to conversions between your customers and the payment processors.
What is SamCart best for?
By providing a collection of over 50 conversion-optimized templates, SamCart streamlines and accelerates the sales process by making sales pages look great on every device. Make stunning landing pages in minutes using our intuitive drag-and-drop editor.
Can you build a course on SamCart?
You can now develop and deliver your courses without ever leaving the SamCart platform, thanks to the Courses App. SamCart's Courses app can be found under the Apps menu. From there, you can start building your first course.
Can I upload videos to SamCart?
Uploading videos to the Course Thumbnail or a content block is possible (the Content Builder for a course, lesson, or worksheet.) Choose either Select/Upload Video or Add Video through URL to add a video to the Course Thumbnail. The video can be uploaded by clicking the corresponding button.
pricing review
Uploading videos to the Course Thumbnail or a content block is possible (the Content Builder for a course, lesson, or worksheet.) Choose either Select/Upload Video or Add Video through URL to add a video to the Course Thumbnail. The video can be uploaded by clicking the corresponding button.
ThriveCart vs SamCart
SamCart will do the trick if all you need is a simple affiliate scheme. When comparing ThriveCart vs SamCart, it's evident that ThriveCart is the superior affiliate management platform.
SamCart vs Shopify
Shopify is software that facilitates the launch of an e-commerce website. In contrast to SamCart, which is page-centric, you may build an entire website. You can use premade layouts as a jumping off point, and your site's purpose need not be limited to making sales. Since Shopify has so many features, it's great for managing an entire company.