In this article, we will look at what Samcart has to offer us and why Samcart Free Trial is worth it.
Let me guess. You have been looking for the best shopping cart software for your online business and have come across one of the most popular ones: Samcart. However, you wish to try out the tool before you invest your hard-earned bucks in it.
Makes sense because we all know tricky online tools can get.
Well, my friend, you are in luck because Samcart understands its customers. They know the importance of trying before buying and that is why they have opened their platform for a 14-day free trial period for you to check out the tool and make an informed decision.
Sweet deal, isn't it?
Let's start with the Samcart Free Trial details.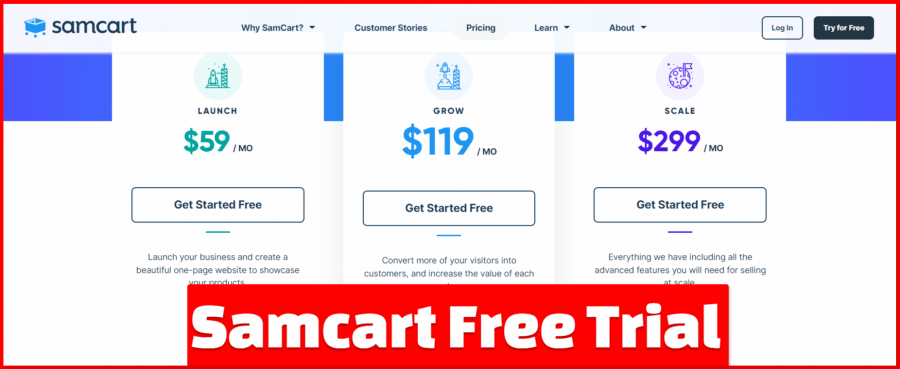 Samcart Free Trial: All You Need to Know
Samcart is a simple eCommerce solution that gives users the ability to create a professional eCommerce store, without any technical skills. It is a cloud-based integrated platform that includes everything necessary to run a successful eCommerce store.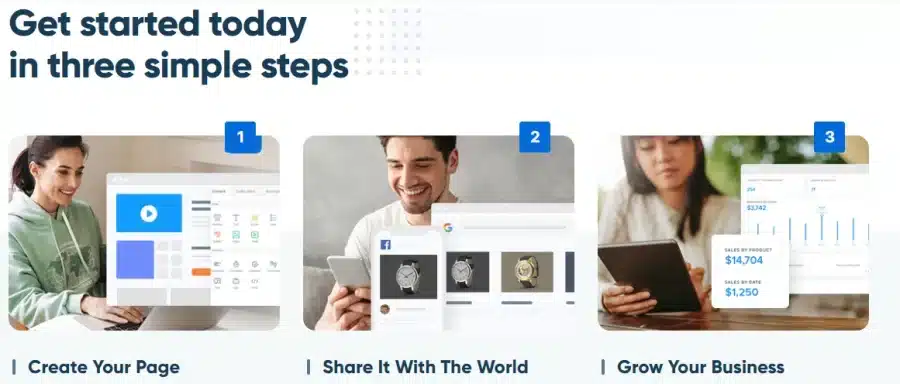 This includes a drag-and-drop website builder, a wide range of customizations, powerful integrations, payment solutions, and customizable storefronts.
For a tool, this diverse and useful Samcart also comes at an affordable price range and even has multiple subscription plans meant to suit different businesses.
But here's the catch. You do not have to pay to use Samcart.
Well, not for 14 days at least.
Samcart provides a 14-day free trial to demo the software.
What does that mean?
It means Samcart offers a 14-day free trial to all new users. This is a perfect time for you to judge whether you like the tool or not. This is available for any of their payment plans. You get unlimited access to all these features and tools for free for this period and can use them to boost your online sales.
​​​​​​​​​​​​​​​But if you need to build a high-quality e-commerce site, you should complete the 14-day free trial of Samcart and gain full access to the Samcart platform. This happens once you complete the trial period and agree to stay and don't opt out.
Samcart Free Trial: How to Activate the Free Trial?
How do you avail of the Samcart Free Trial? When will you be charged? Do you need to provide credit card information?
Here is the answer to all those questions.
Just follow the following steps and get ahold of Samcart for free.
Go to Samcart's Official website and press the TRY FOR FREE button.
You can also watch the video they have arranged for new customers under WATCH DEMO to know better.
Choose the Pricing Plan best suited for your needs. There are three in total: Launch, Grow and Scale. You also need to choose whether you want to be billed annually or years before you move on.
Provide your contact information on the page that follows.
Provide the payment method and card information on which you would like to be charged after the trial period is over and press PLACE ORDER.
Integrate Samcart with your existing website and pay absolutely 0$ and get started with additional free learning resources (CreatorU).
No charges will be deducted from your account for the next 14 days. Once the trial period is over you will be asked for a confirmation to continue and based on which payment plan you chose, you will be billed, based on your response, on the card you have provided as your payment option.
It is as simple as that.
Further explanation is provided in the video below.
Samcart Free Trial: Save Precious Time of Trial Period with CreatorU?
With advanced tools like Samcart, it might be difficult for new users to get used to its interface and understand its nooks and crannies and how exactly it works to help boost your online business. 14 days could be a blessing if you figure out how to use the tool efficiently.
Samcart makes sure you are not wasting your time with the Samcart Free Trial. They have included free learning resources as a part of CreatorU, a special video training program that includes 17+ video training by the best in the field. They also have CreatorU Live in which you are given one live-video discussion session every month.
For the trial period, these resources along with their extensive library of blogs and videos and Knowledge Base are completely free for you to explore and devour.
Samcart Free Trial: Which Pricing Plan is The Best for You?
However, one question prevails. Which pricing plan should you choose before starting the free trial?
Don't worry I will discuss each of their pricing plans so you can choose the best.
Samcart's Launch Plan
This is the base plan of Samcart. This plan comes at 39$ per month billed annually, which comes up to 468$ yearly or 49$ per month for the monthly subscription for one admin user. If you sign up for this plan you are also entitled to Samcart Free Trial for 14 days where you can get hold of all the features in this plan.
This plan includes all of their core features including:
Page Creation: This set of tools will help you create optimized and ready-to-go pages for your website that will enhance your sales and boost your visitor: customer ratio by effectively converting them with your attractive and effective design. To do so this plan includes:
Unlimited Page Creation.
Unlimited Product Launch.
Unlimited Learning Materials.
Pre-Made Template Gallery.
Payments: Samcart has a set of tools that are dedicated to making your online business thrive by easy and adjustable payment options and methods. They do not only allow multiple payment options but otherwise provide many integrations and billing features in their base plan like:
No processing fees for sales.
Integrated Google and Apple Pay.
Discounts.
Coupons.
Coupons.
Tax Calculation.
Multiple Billing Option.
Integrations: The base plan of Samcart also lets you integrate with standard tools that you usually use like Aweber, MailChimp, PayPal, and so on. This plan is dedicated to meeting the basic needs of a beginner in the business but for a better integration experience, you need to upgrade to their higher plans.
Analytics and Reporting: With the Launch Plan Samcart also included an important part of online business control which is making analytics. With this feature, you will be able to keep track of sales and earnings, and everything on your website. It includes:
Samcart Dashboard.
Site Mapping or Tracking.
Customer Support and Resources: With Samcart even on the basic payment level you do not need to be alone. You have access to all their resources and also get customer support to meet your urgent inquiries and confusions. They have made sure that all their customers are well-connected and satisfied. It includes access to features like:
Samcart Courses.
Weekly webinars.
Email Support.
99.9% uptime.
CourseU.
Samcart Grow Plan
This is the most popular plan of Samcart which provides you with most of the features of the tool at a good price for three admin users. It is priced at 79$ per month when billed annually or 99$ per month if billed monthly. There is a 20% discount on each plan on a yearly subscription.
This plan includes all the features in the Launch Plan and additional ones as follows:
Page Creation: With the Grow plan not only can you make the best pages for your website but you can also get access to a whole new level of customization and support.
New varieties of page templates are unlocked and you can now personalize an entire sales funnel with Samcart, in a whistle. These pages will help you grow a customer base by effectively catching their attention and holding it. The new features are:
Customization Of emails.
Thank You, Pages.
Trial Pages.
Bump Order Pages.
Upsells.
White-label branding and so on.
Payments: Along with all the payment features given in the Launch plan, Samcart's Grow plan allows multiple payment options for your customers to choose from which is essential if you want to reach a larger and more diverse audience of buyers and effectively convert them to customers.
Integrations: While the Launch plan as the name suggests is enough to launch a business, we all know that a successful business stands on the pillars of strong tools that make your business experience smooth.
To do this, your shopping cart must integrate with advanced tools like ESPs, CRMs, and even social media websites so that you can power and manage your business easily. The Grow Plan lets you connect to all the tools you want with the help of advanced integrations.
Analytics and Reporting: The added feature in this Samcart plan is UTM tracking and a built-in SEO engine. UTM tracking is an advanced tracking module that allows you to add a simple code to the end of an URL that you created like that for a page and track its performance.
With this, you can keep track of each page on your marketing funnels and make the most out of it.
Customer Support and Resources: In addition, to all the basic features you also get customer support like 1-day email support for quick responses and priority email support that lets you classify which email needs immediate response from their support staff.
Samcart Scale Plan
This is the high-tier plan of Samcart. However, you can still try it out before investing in it with the Samcart Free Trial for two weeks. It costs 159$ per month when billed annually and 199$ when billed monthly. This plan enables you to manage the same account from 10 different admin accounts.
With this plan, you can rest assured that all your requirements of a sales cart tool or even a sales funnel builder will be met and you will scale your business to new levels. Let's see what this plan has to offer:
Page Creation and Payments: For page creation, the core features of the tools remain the same mostly for all the plans. This plan includes the same set of payment features included in the Grow Plan well, so where does it differ?
It differs in its business management and customer engagement tools and support that are necessary for all big businesses.
App Features: There are some really advanced features added in the Scale plan of Samcart that makes it stand out from the rest. These features are catered to serve a large audience of customers and manage them efficiently and increase your customer base by:
Dunning.
Affiliate Programs.
Cart Abandonment Conversion.
Integrations: if you think that advanced integrations are where Samcart halted then you are in for a surprise. With the Scale plan, Samcart has managed to include some key features that even sets it apart from its competitors like:
CRM integration.
Custom API integrations.
Analytics and Reporting: The scale plan of Samcart has gone further into making the website your own. You can complete control over what's happening on your website with the help of the advanced tools that you get in this plan like:
A/B split testing
Automated and Scheduled Insight Reports
In case you still need an extra support base like a personal dedicated account manager or a subscription migration support to access even larger admin accounts you can contact their sales and have a custom Enterprise Plan of your own.
Now that you know the details of each of their pricing plans it will be much easier to choose one before trying it out for free.
In conclusion, it boils down to one question…
Customer Reviews & Testimonials
Take a look at what users are saying about the Samcart Experience.

I had a completely positive experience…


I had a completely positive experience with these people! Easy and fast in their communication. As I wasn t ready to launch my product yet, I asked for a refund which came to me after I messaged them one day after. At first I was sceptical and needed more info as I am new at this. In the future, I might cooperate with them and I am willing to learn more about how their platform works.

Date of experience: August 07, 2022

Source: Trustpilot
Social Media: Samcart Free Trial
Samcart On Facebook

A Facebook page can help you connect with customers and provide important information about your company, products, services, and upcoming events. Samcart has a 5-star rating, 51,145 likes, and 106,659 followers on its Facebook page.
Samcart On Twitter
Samcart is also on Twitter. This page can help you connect with customers and share important information about your business, products, services, and upcoming events. Samcart has 811 tweets and 640 followers on its Twitter page.
Samcart On Linkedin

Samcart is also on Linkedin. This page can help you connect with customers and share important information about your business, products, services, and upcoming events. Samcart has 8,251 followers on its Linkedin page.
Samcart On Instagram

Samcart is also on Instagram. This page can help you connect with customers and share important information about your business, products, services, and upcoming events. It has 128k followers on its Instagram page.
Samcart YouTube Videos
Conclusion: Should You Take It? (My Opinion)
In my honest opinion,
Yes, why not? What do you have to lose? It's free and it's great. Just go for it.
As you now know, Samcart is one of the e-commerce solutions for easily creating and maintaining a professional online store. We also know they offer top-notch customer support and resources to help you kick-start your business if you are a beginner.
If you're ready to start taking advantage of Samcart as an e-commerce solution, then you can definitely take a peek at Samcart Free Trial for 14 days. If you are considering starting an online business or taking your existing one to new heights this is a great way to start.
Try Samcart for yourself and know more.
Samcart Free Trial: Frequently Asked Questions (FAQs)
How Do I Get Samcart For Free?
You can get hold of Samcart for free as a new user by signing up for their free trial period of 14 days during which you will not be charged a penny. After the trial period is over you will be billed annually or monthly based on what plans you have chosen while signing up.
Does Samcart Charge A Transaction Fee?
No, Samcart does not charge any transaction fee or any additional fee for sales that you make using their tools. You can make unlimited pages and product launches and sell unlimited products without worrying about transaction fees on Samcart.
What Is The Cost Of Samcart?
Samcart has three pricing plans:
1. Launch Plan priced at 39$ per month billed annually.
2. Grow Plan priced at 79$ per month billed annually.
3. Scale Plan priced at 159$ per month billed annually.
Each of these plans comes with a trial period of 14 days that you can try out for free.
How Do I Cancel My Samcart Subscription?
You can cancel your Samcart subscription by simply going to the Billing section and Requesting to Cancel. Or you simply contact them at billing@samcart.com to request your cancellation. 
Is SamCart good for beginners?
SAmCart is excellent for both novices and small-medium-sized businesses aiming to expedite their checkout experience, enhance conversions, and increase top-line revenue due to its ease of setup.
What exactly is SamCart?
SamCart is a web-based checkout platform featuring high-converting checkout templates, as well as order bump, subscription, one-click upsell, and payment plan options, all of which were created to optimize earnings and benefits from every sale.
How do I contact SamCart?
SamCart is a web-based check-out platform featuring high-converting checkout templates, as well as order bump, subscription, one-click upsell, and payment plan options, all of which were created to optimize earnings and benefits from every sale.
Is SamCart a sales funnel?
SamCart is an e-commerce platform with built-in up-sell and down-sell features. This feature makes it an excellent tool for creating Micro Sales Funnels.
How do I cancel my SamCart subscription?
You can discontinue your Service by contacting SamCart Billing Support by email at billing@samcart.com or by using the help widget in your SamCart dashboard and requesting cancellation. Your service will continue until you cancel it; there are no usage-based charges. 
Does SamCart integrate with WordPress?
Is it possible to integrate SamCart with a WordPress page? Yes, SamCart can be integrated into a WordPress page. This will help you increase conversions, increase visibility to the correct audience, and develop more beautiful pages that are streamlined to work with both platforms' functionalities.
What is similar to SamCart?
In 2022, the 10 Best SamCart Alternatives (In-Depth Comparison) Thrivecart. Due to its (limited) offer of lifelong access for a one-time charge, ThriveCart is now the greatest option for SamCart. ClickFunnels…. Sellfy…. SendOwl…. CartFlows…. BigCommerce. Kartra…. ClickFunnels…. Sellfy…. SendOwl…. CartFlows…. BigCommerce. There are a few more items.
Does SamCart have CRM?
Is SamCart compatible with the software I'm already using? … You may connect your pages to the most popular email marketing, membership site, and other applications! Custom CRM and API integrations are now available to customers on our Scale plan.
Can users access everything in a Samcart free trial?
Yes, everything that is provided by SamCart is exclusively available even in the free trial version of SamCart which is available for 14 days.
Do SamCart support different languages?
With SamCart's translation capabilities, you may market your business in any country in the world, regardless of language obstacles. SamCart's translation tools make it possible to cater to customers all around the world, whether they're looking to purchase or sell.
Do they have an active community?
The Samcart user base is rather sizable. Both the official Facebook group and the affiliate-only Samcart Avengers group have over 30,000 members. Both groups see a high volume of activity and can serve as a wonderful resource for getting feedback on your sales processes and finding answers to any problems you may have. Samcart affiliates also maintain numerous other, equally active Facebook groups. Automation Nation is the primary one I suggest you join. Spencer Mecham, the most successful affiliate for ClickFunnels, is the man in charge.
Does Samcart offer refunds?
Samcart offers a 30-day money-back guarantee if you pay for it annually. If you don't ask for a refund within that time frame, though, you won't get one. The monthly plan does not include a money-back guarantee either.
Do I need a merchant account to start accepting payments through Samcart?
After signing up for Samcart, they will assist you in setting up a merchant account, so you won't need one to get started. If, however, you already have an account, you can simply link it to Samcart to begin accepting payments right away.