Maybe you're thinking about using Teachable to host your online courses, but you're not sure if they have a free plan. Don't worry we are going to cover the Teachable Pricing Plan in this article, read on!
Did you know, according to statistics from Finances Online 93% of companies say that they plan to adopt online learning?
So, this is the right time for you to start your online learning platform.
Teachable is the best all-in-one platform for creating and selling online courses without writing a single line of code. Teachable takes care of everything from web hosting to payment processing, allowing users to focus on personalizing their programs.
Teachable has three distinct options to select from, all of which can be paid monthly or annually. In this article, we'll go over Teachable Pricing Plan and what you'll get with each plan by highlighting their individual characteristics.
To recap, the more the price you pay for each plan, the more you can optimize your courses. In this essay, we'll go through everything.
What Do You Get with Teachable?
It is vital to keep in mind that you have access to all of the following features with each of Teachable's pricing plans, including the free programme. This includes the following features:
Unlimited video
Unlimited courses
Unlimited students
Unlimited hosting
Integrated payment processing
Student management
Discussion forums
Basic quizzes
No fees on free courses
That is really incredible, right?
As the list above shows, every Teachable pricing plan lets teachers add an unlimited number of videos, texts, PDFs, etc. to their course. This means that there is no limit to how much wisdom you can share with your audience.
You also won't have to spend time looking into payment processing services. Teachable takes payments from credit cards, debit cards, and PayPal, so you don't need to sign up with a different payment processor.
Before we talk more about the paid plans on Teachable, you should know that you can cancel at any time. They don't make you sign long-term deals. So, if you decide that this platform isn't for you, you can cancel your subscription without being charged extra.
If you want to learn how to make an online course from start to finish, including setting up your school, creating your course, and making a landing page, don't forget to read our full Teachable review and our Teachable tutorial.
Teachable Pricing Plans
Teachable offers 3 pricing plans as follows:
Basic: $39/month or $29/month when billed annually
Professional: $119/month or $99/month when billed annually
Business: $299/month or $249/month when billed annually
Teachable Pricing: Basic Plan

Teachable's Basic package is $39 per month and includes a 5% commission on sales. This is one of the more cost-effective online education platforms available. You may now access your money immediately, unlike prior versions of Teachable when you had to wait.
You'll pay 2.9 percent + 30 cents in processing fees in the United States with the basic plan. These processing fees vary depending on the type of payment you accept. International credit and debit card sales, for example, cost 3.9 percent plus 30 cents.
PayPal sales outside of the United States cost 4.4 percent plus 30 cents. There is a $15 chargeback fee that applies to all Teachable pricing plans. If you enable that function, you can also pay a 2% Back Office fee. BackOffice is an add-on service that allows Teachable to handle things like tax filing, author and affiliate payouts, and remit on your behalf.
Some of the features you get in the basic plan are:
Integrated payment processing
Teachable Coupon Code
Lecture comments
Basic quizzes
Integrated email marketing
Custom Domain
Third-party integrations
Drip course content
2 admin-level users
You may also like our detailed comparison of Thinkific Vs Teachable
Teachable Pricing: Professional Plan

The professional option is $99 per month and includes no sales commissions. However, you'll still be charged the same processing fees for UC and international purchases that we discussed in the basic plan.
There's also the $15 chargeback fee to consider, as well as the 2% Back Office fee if you choose to use this option.
You can get paid instantly or on a monthly basis, and you receive access to unlimited courses, video bandwidth, and hosting. Unlike the basic plan, you can get customer service via live chat as well as email.
The Professional package includes all of the standard features of the Basic plan, including student management and payment processing, as well as custom domains and coupon codes.
Some additional features included in the professional plan are:
Course completion certificates
Course compliance services
Advanced reports
Graded quizzes
Integrated affiliate programs
Unbranded website access
5 admin-level users
Teachable Pricing: Business Plan

Teachable's business plan, which costs $299 per month, is by far the most expensive choice accessible right now. This is, nevertheless, the company's most thorough and comprehensive bundle. You won't pay transaction costs with your course sales, as you won't with the Professional plan, and you'll pay the same normal processing fees for all sales.
You can pay instantly or on a monthly basis, and you'll have access to an unlimited number of courses, video bandwidth, and hosting. All of the features you'd expect, such as lecture comments, quizzes, graded quizzes, integrated payment processing, student administration, custom domains, promotional coupons, and more, are included as standard, and support is available via email and live chat.
Users of the Business package can use the integrated affiliate programs with their email marketing, and third-party integrations are also available. You'll also get access to sophisticated features such as:
Developer customization
Custom user roles
Bulk import students
Group coaching calls
Up to 20 admin-level users
So, are you ready to choose your Teachable pricing plan?
Teachable Pricing Comparison Table
| | | |
| --- | --- | --- |
| Basic | Pro | Business |
| 5% per transaction | No transaction fees | No transaction fees |
| Instant payouts | Group coaching calls | Instant payouts |
| Members-only community | Instant payouts | Applies if you set up Teachable Payments or custom payment gateway. |
| 2 admin-level users | Applies if you set up Teachable Payments or custom payment gateway. | 20 admin-level users |
| Admin users include primary owner, owners, and authors. | 5 admin-level users | Admin users include primary owner, owners, and authors. |
| Product support | Admin users include primary owner, owners, and authors. | Priority product support |
| Course creator training | Priority product support | Manual student imports |
| Access to training courses in teachable | Graded quizzes | Bulk student enrollments |
| Custom domain support | Advanced reports | Custom user roles |
| Coupon codes | On courses, students, videos, and upsells | Advanced theme customization |
| Drip course content | Unbranded website | Group coaching calls |
| Integrated email marketing | Integrated affiliate marketing | |
| Third-party integrations | Course completion certificates | |
| Private student community | Course compliance | |
Teachable Pros & Cons
If you want to establish an online company or create an online course, Teachable is a good option. However, like with most things, there are certain advantages and disadvantages to consider before getting started.
Here's a brief rundown of some of Teachable's advantages and disadvantages.
Affiliate programme that is fully integrated.

Video hosting that is both unlimited and free.

Upsells, drip content, order spikes, and discounts are examples of additional selling/conversion and marketing tactics.

To recognise your pupils, there is a built-in certificate maker.

The interface is simple to use and allows even a novice to design online courses.

Their blog option was recently deactivated.

It's possible that you'll have to wait up to two months for your money.

There aren't enough possibilities for customising website themes.
Teachable Customer Support
Teachable customer support offers a good knowledge base with tutorials on all of its topics and features. There are plenty of how-to manuals and articles available to make producing and setting up your items a snap.
Teachable's knowledge base would be much more useful if it incorporated video tutorials. Self-help books, on the other hand, are usually adequate.
You can also get help from Teachable through:
Submitting a ticket
Live chat
Email
Quick Links
Teachable Refund Policy
If you are not satisfied with the Teachable services then you can request a refund. Let's see how.
Monthly Plans
If you're on a monthly premium plan, you're eligible for a full refund if you cancel within the first 30 days. If you paid for your paid plan with a special Teachable coupon code, you are also eligible for a refund within the first 30 days after the discount expiration date. Teachable will not issue refunds beyond 30 days of your first plan upgrade.
Annual Plans
If you're on an annual paid plan, you have 30 days to request a complete refund after upgrading to an annual plan or renewing your annual plan. If you paid for your paid plan with a promotional coupon, you are also entitled to a refund within 30 days after the coupon expiration date. Teachable will not issue refunds after 30 days have passed since your first upgrade or plan renewal.
You can read the full terms of use of Teachable to understand more about its refund policy.
Teachable Social Media handles
Let's see the social presence and how active they are on different social media accounts like Facebook, Twitter, and Instagram.
Facebook Page
With over 52k followers on Facebook, Teachable shares some good stuff related to online teaching and their podcast.
Twitter Profile
Teachable is on Twitter with over 33k followers. They have joined Twitter in 2013 and share knowledge about online courses and coaching.
Instagram Profile
Teachable is also on Instagram with an amazing 66k followers. They post great content here related to their platform and online course.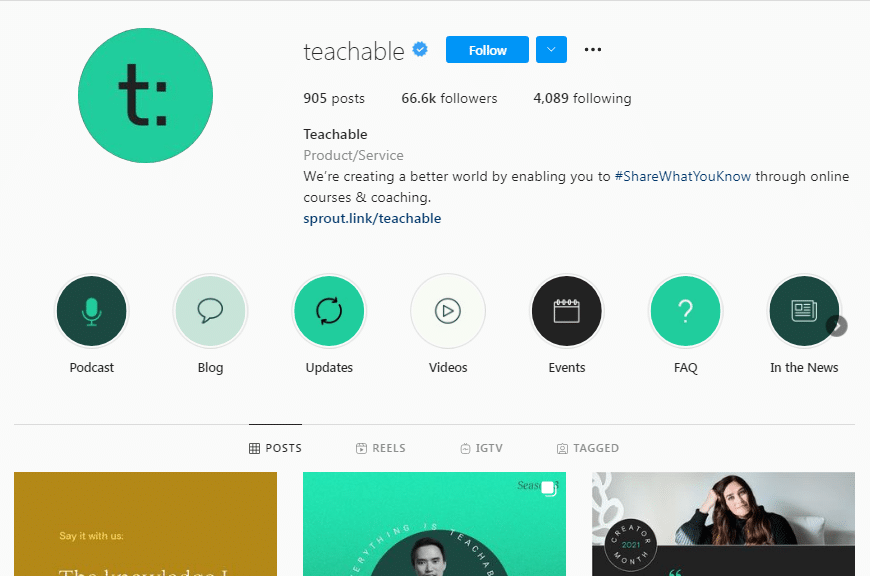 Pinterest Profile
With over 61k followers on Pinterest, Teachable shares some interesting infographics and tips related to how to create and sell online courses.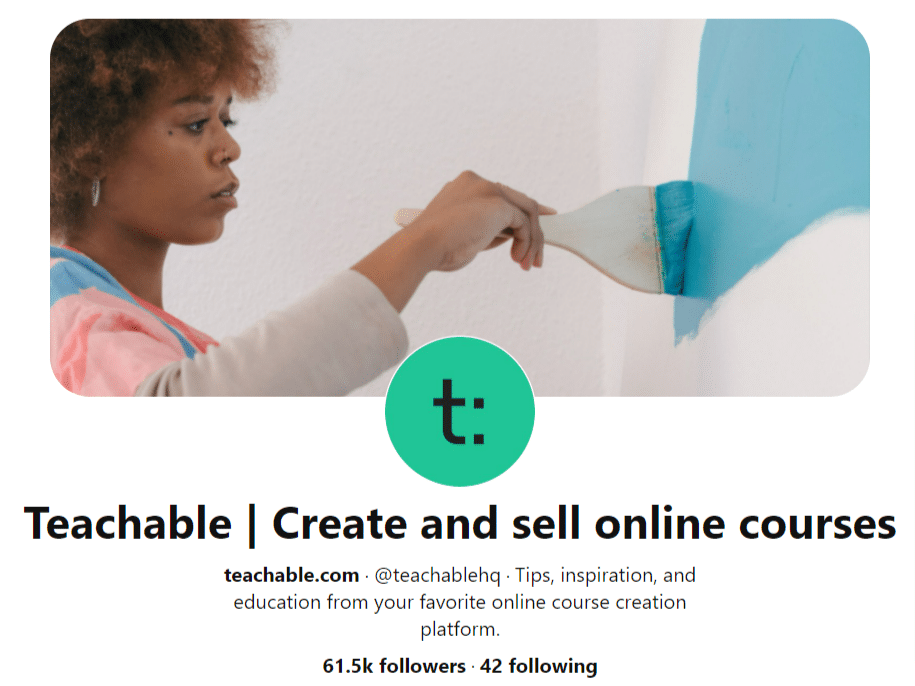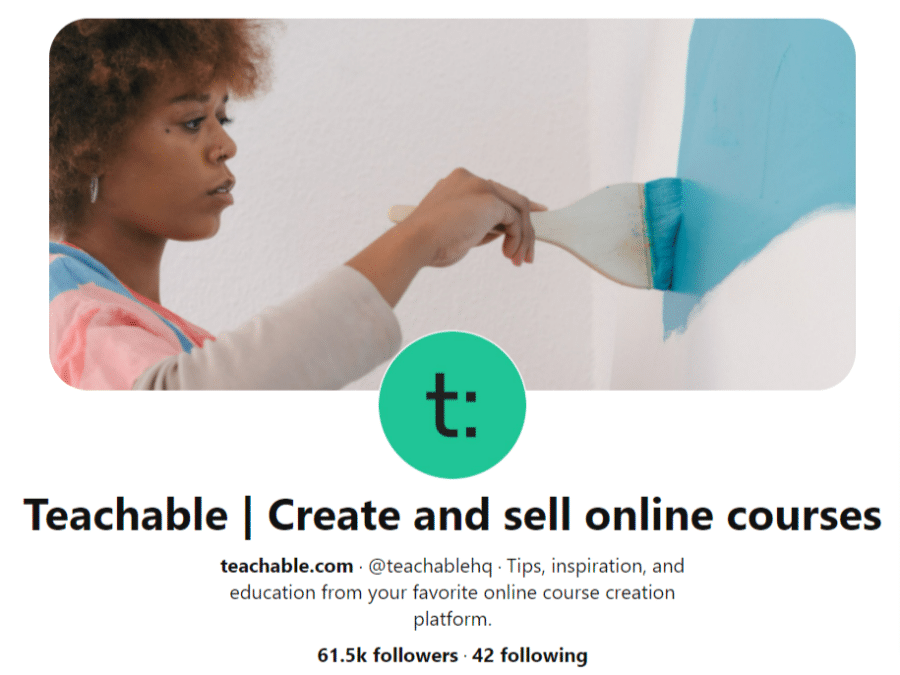 LinkedIn Profile
The teachable LinkedIn profile has a 14k active following. They share the knowledge related to online courses and coaching.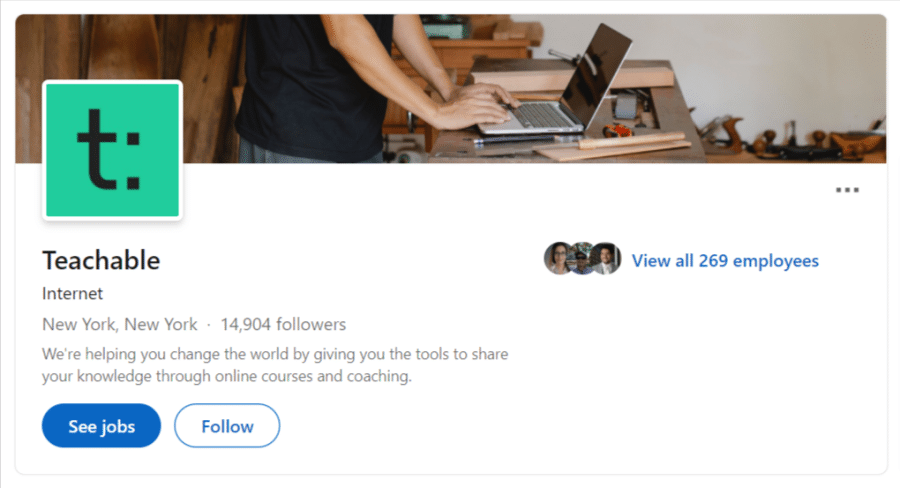 Youtube Channel
On the Youtube channel, Teachable share their awesome tutorials related to their platform and online course creation.
Teachable Alternatives
Let's compare some of the best alternatives to Teachable.
thinkific vs Teachable
Thinkific is a user-friendly and convenient online learning platform. The service has a number of useful features, such as community forums and assignments, as well as quizzes.
Teachable does not always provide tailored quizzes and related solutions. Thinkific, on the other hand, does not have access to Teachable's funnel builder or email marketing.
When compared to Teachable, Thinkific offers a number of advantages, like PDFs, video and text-based quizzes, and course drip content. Thinkific also has a free edition that is no longer available via Teachable.
Thinkific also doesn't charge transaction fees, which can help you save money if you're selling course sessions for the first time.
kajabi vs Teachable
Kajabi is another wonderful option for course building if you want to go beyond things like WordPress for selling your expertise online. Kajabi is packed with of additional features to help you make the most of your educational company.
You may develop online classes, host videos, advertise your campaigns, and even construct landing sites or sales funnels too.
There are tonnes of fantastic choices to explore with this learning management system, including added capabilities for course design and management from your smartphone on a digital app.
There's also the opportunity to develop a comprehensive blog alongside your course, which isn't something you get with Teachable.
While Kajabi is a touch more expensive than Teachable overall, it comes with a lot of wonderful features to explore, including a number of pipeline tools and no unpleasant transaction fees.
There's no opportunity to make certificates when you wish to honor your pupils for finishing their schooling though. This is something you can accomplish with teachable courses.
Read our full Teachable Review to learn more about its features, benefits, and how to use it effectively.
Frequently Asked Questions
How much of a cut does Teachable take?
You should be informed that Teachable charges a transaction fee. All course sales are subject to a 5% transaction fee, which may limit your earning potential on this platform. Just keep that cost in mind when determining the finest online course platforms and pricing your courses.
Can I Integrate Teachable With WordPress?
Zapier, for example, can be used to connect Teachable and WordPress. Teachable, on the other hand, isn't a WordPress plugin; it's a stand-alone course production platform. To use Teachable's capabilities, you don't need to have an existing WordPress website.
Can You Make Money With Teachable?
If you know how to properly develop and market your educational opportunity, you can make money with any course-building website. Teachable is one of the best platforms for creating courses, and it's also great for keeping track of the factors that might lead to your success. There is a slew of reporting and analytics tools to help you figure out where to put your money to increase your chances of success.
Is Thinkific Better Than Teachable?
There are a variety of course design tools available, ranging from Udemy to Kajabi, that can assist you in generating money through learning opportunities and upsells. What's best for you will be determined by your individual requirements. Teachable no longer offers a long-term option for hosting free courses, therefore Thinkific is one of the few options on the market presently.
Is the Teachable free Plan Available?
Teachable offers a free plan as well as three premium options. The Free Plan, Basic Plan, Pro Plan, and Business Plan are all available. Each plan can be paid on a monthly or annual basis.
Is Teachable expensive?
Teachable offers three different pricing options: $39, $119, and $299. It's worth noting that the Basic Plan ($39/mo.) imposes a 5% transaction fee on every sale, which may rapidly mount up. My suggestion for the finest Teachable plan is the Professional plan for $119/month.
Is Teachable better than udemy?
Teachable's comprehensive customization possibilities and easy-to-use templates prevail in design. Udemy is wonderful for design beginners, but we don't recommend it for entrepreneurs.
How much does it cost to have a course on Teachable?
The most basic plan is $39 per month (when paid monthly) or $29 per month (when billed annually), in addition to a 5% transaction fee for paid course sales.