Are you looking for Unbounce Pricing Plan? Read on.
I'll tell you all of the important facts about this landing page builder and you need to choose Unbounce.
So let's get started.
Unbounce Overview
Unbounce is a landing page builder, conversion platform, and website builder that assists marketers in creating high-converting landing pages for their marketing efforts.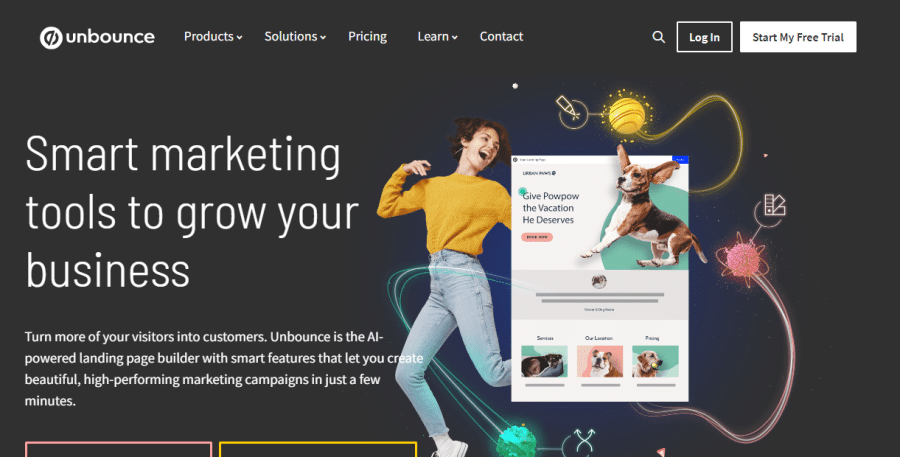 Unbounce interfaces with popular marketing automation platforms like HubSpot, allowing you to create landing pages on the fly without ever having to use a code editor.
The best way to explain Unbounce is as a WordPress for non-technical designers.
By using pre-made templates or customizing their own layout, they may create visually appealing websites in a matter of seconds, all without needing any technical skills.
Using the CRM integration tools, you can keep track of which visitors turn into customers and deliver personalized feedback based on each user's behavior over time.
Use AI-powered smart traffic from Unbounce to perform an unlimited number of A/B tests to discover the most effective variation and boost conversions.
Unbounce Pricing Plans in 2023
Before we begin, you should be aware that Unbounce offers four different price options. You may even pay monthly or annually (so we'll have more to discuss).
You should also be aware that each Unbounce plan includes the following key features:
Unlimited popups
Unlimited sticky bars
Unlimited landing pages
Integrations option such as the powerful Zapier integration
Unbounce Integration options:
HubSpot integration
WordPress Integration
Infusionsoft integration
The Marketo integration starts with the Premium plan
The Salesforce integration also starts with the Premium plan
You can check out the Unbounce coupon code to avail extra 25% off on your premium plans.
Let's explore each plan to see what this landing page builder has to offer.
Unbounce Launch Plan
Unbounce's Launch package is only $74 per month.
The Launch plan price package includes the following special benefits:
1 domain
Up to 20,000 visitors
Up to 500 conversions
When it comes to their drag-and-drop landing page builder, it's quite cool.
This Unbounce package is ideal for individuals who are just getting started with landing pages. You may start developing your first landing page right away with your free 14-day trial.
So, now let's move to the next pricing option of Unbounce.
Unbounce Optimize Plan
The monthly cost of the Unbounce Optimize package is just $109 per month
Here are some of the special benefits that come with the Optimize plan:
3 domains
Up to 30,000 visitors
Up to 1,000 conversions
Smart Traffic and Dynamic Text Replacement capabilities are also available. Smart traffic is what allows you to design marketing programs that convert even better.
Now let's find out the last pricing option of Unbounce.
Unbounce Accelerate Plan
Unbounce Accelerate costs $180 per month.
The following are the unique benefits of the Unbounce Accelerate plan:
7 domains
Up to 40,000 visitors
Up to 2,000 conversions
This package includes a unique feature called Accelerate mobile pages, which will be among the quickest-loading landing pages you've ever seen.
This feature is ideal for the Accelerate plan.
Concierge Plan
The Unbounce concierge plan costs $469 for a lifetime and will get an excellent 25% Off.
This Concierge package includes excellent features, which are given below.
Unlimited landing pages, popups, and sticky bars
More than 5,000 conversions
AI copywriting
Dedicated success manager
More than 100,000 visitors
More than 25 domains
Features of Unbounce
Unbounce lets you easily create, publish, and test landing pages. Unbounce lets you design custom forms, track leads, and conversions, A/B test websites, and more.
Below are some of Unbounce's primary characteristics.
Drag-and-drop page builder: Create marketing landing pages
Smart page builder: An AI-guided landing page builder. Smart builder pulls 1.5 billion conversion data from different sectors to make ideas. That means you shouldn't perform industry research.
Unbounce smart traffic allows you to see visitor behavior in real-time. You can test landing page variations in less than 5 minutes without writing code. It compares split-test results, conversion rates, funnel steps, CTRs, etc.
Unbounce lets you target visitors with customized messaging, pictures, and calls to action based on their purchase stage. This leads to a CTA.
You can A/B test landing page variants. Popups, sticky bars, and landforms can be split-tested.
Dynamic text replacement swaps landing page copy based on visitor searches. If someone searches Google for "red shoes" or "running shoes," your page will appear. Dynamic text replacement replaces your landing page's headline with Google searches. This makes your landing page more relevant to buyers, increasing conversion rates.
100+ tried-and-tested conversion-optimized landing pages for different sectors. Or make your own.
Integrate Google Analytics into landing pages to track marketing activities. You may track what works or measure ROI (Return on Investment).
Customized popups and a sticky bar for lead forms.
Triggers: Schedule when visitors see elements. Popup offers, and sticky bars can be scheduled based on clicks, locations, and more.
Unbounce integrates with Google Analytics, Salesforce, Mailchimp, and Optimizely.
Create unique contact forms. Ask visitors for their names and email addresses. You may add phone numbers, social media links, birthdays, etc.
Unbounce 14 Days Free Trial
Unbounce provides a free trial period of 14 days to all new users, and their service is available to everyone without any restrictions on the features that can be used.
During the trial period, you will have unrestricted access to all of the features, but after the initial two weeks, there will be a fee associated with continuing to use the service, unless they decide to waive the fee at that point in time.
Unbounce Social Presence
Let's find out the social presence of Unbounce, what they share and how active are they?
Twitter
Unbounce has a Twitter profile with over 79.5k active followers where they share about how you can build fast and powerful landing pages that drive sales and conversions.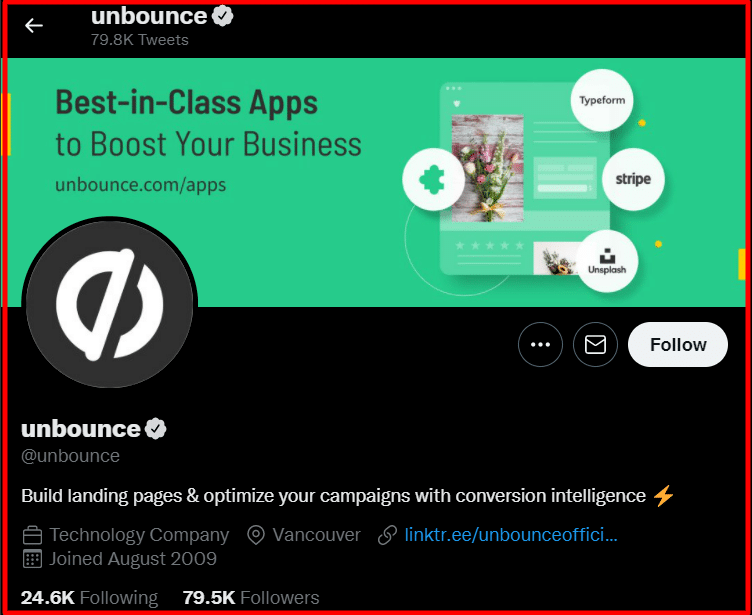 LinkedIn
Unbounce has a LinkedIn profile with over 34,749 followers and 238 employees.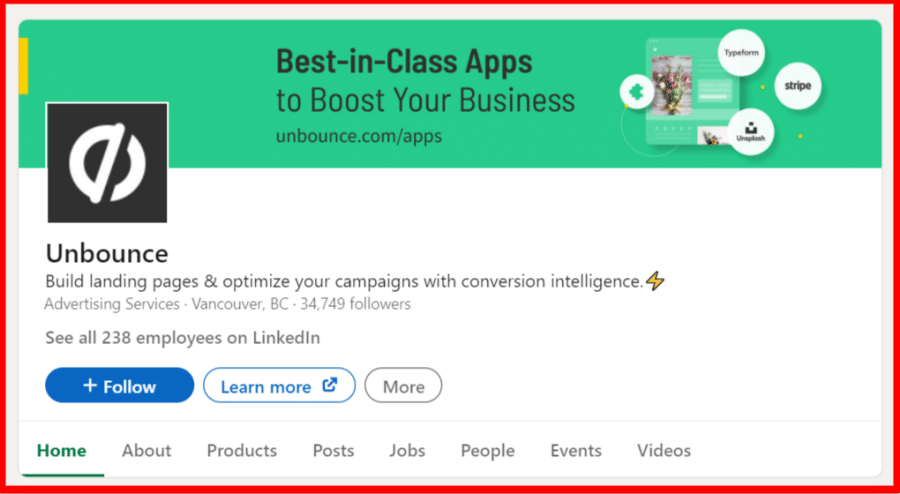 Instagram
Unbounce's Instagram Profile has over 8,286 followers and 803 posts related to the landing page platform and about their brand.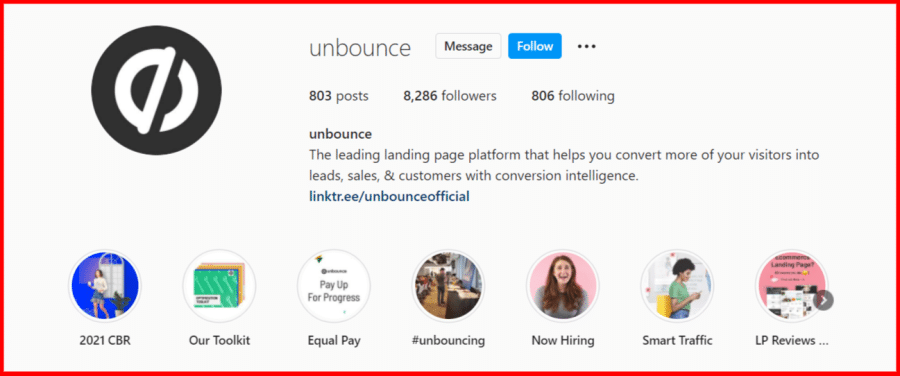 YouTube
Unbounce has a YouTube account with over 16k active followers where they share tutorials related to their platform and landing page.
Final Thoughts
Unbounce will save you far more time than it costs, and you'll find it difficult to live without it once you've got it up and running.
The landing page builder is fantastic, the templates are fantastic, and you have a lot of flexibility in customizing your sites.
I hope you liked our article on the Unbounce pricing plans. If you still have any questions, do let us know in the comment section.
Frequently Asked Questions
What can you do with Unbounce?
Unbounce's Conversion IntelligenceTM Platform assists you in converting more visits into leads, sales, and customers. Unbounce combines your expertise with AI to help you turn your ideas into successful campaigns, from pre-optimized landing pages to fantastic copy generated for you.
Can you sell products on Unbounce?
You can easily develop, test, and tweak focused, on-brand landing pages with Unbounce, ensuring that each product shines and sells.
How much does the landing page cost?
In many situations, a good landing page costs $1,000-1,500. A smart landing page might cost anything from $1,500 to $2,000. A dynamic landing page might cost anything between $2,000 and $5,000. In any case, the cost of a landing page is determined by the task's complexity, technology stack, and business objectives.
How much does the landing page cost?
In many cases, a good landing page costs $1,000-1,500. A strategic landing page can cost anywhere from $1,500 to $2,000. A dynamic landing page might cost anything between $2,000 and $5,000. In any case, the cost of a landing page is determined by the task's complexity, technology stack, and business objectives.
What is a good lead magnet conversion rate?
The most successful businesses convert at a rate of 20-25 percent. Conversion rates of 30% or greater are achieved by the cream of the crop. However, these figures are arbitrary in many ways.
What is the Unbounce rate?
The percentage of visitors that come to your website or landing page and leave without looking at any further pages. Your bounce rate is inversely proportionate to your conversion rate on a campaign-specific landing page.
Are landing pages worth it?
Is a landing page required? Yes, in a nutshell. According to research, organizations with 10-15 landing pages have a 55 percent higher conversion rate than those with less than 10. Those with more than 40 landing pages see a 500% boost in conversions.