Any successful online marketing strategy must have landing pages because these are the page where your target audience turns into leads or customers.
One such landing page-building program on the market is Unbounce. unbounce is the leading platform for landing pages and artificial intelligence copywriting, servicing over 120,000 customers.
In this Unbounce review, I will provide you with an in-depth analysis that will be of assistance to you in learning more about the platform.
You'll be able to decide at the conclusion of this review if Unbounce is a good fit for your company.
You ready? Let's get going.
What is Unbounce?
Unbounce is a prominent landing page builder that helps users to construct landing pages that are aesthetically pleasing, responsive, and have a high rate of conversion.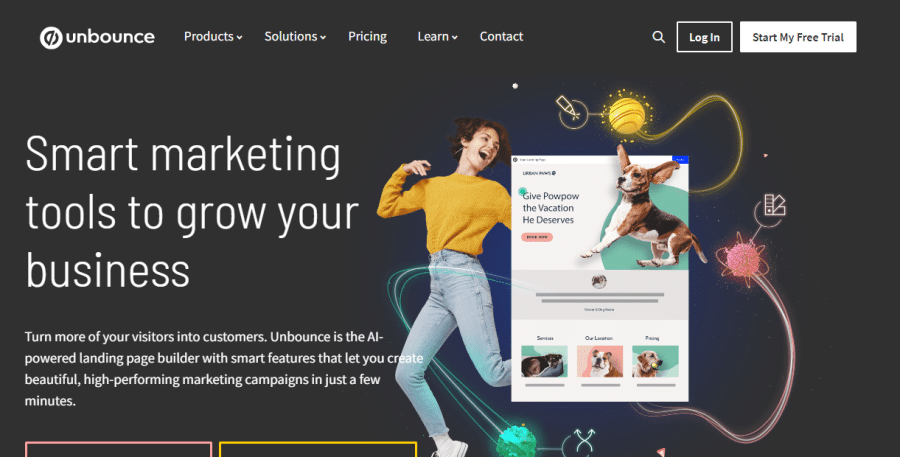 You don't need to be a talented designer or coder to design the pages when you use Unbounce; all you have to do is drag and drop the items that you want to include on the page.
This is the best thing about utilizing Unbounce.
In addition to a landing page builder, Unbounce gives users access to additional crucial capabilities for conversion optimization, such as a popup and sticky bar builder.
In this article, I will go through all of Unbounce's features and provide you with all of the information you need to make a conclusion regarding the service.
You can get a free trial of the tool for a period of 14 days if you sign up through the link provided below and show that you are interested in testing it out while also reading this post.
Pros and Cons Of Unbounce
An easy-to-use drag-and-drop builder
Effective tools for conversion optimization - A/B testing & smart traffic
100% responsive to mobile
Chat customer service is offered
100+ page templates, popup templates, and sticky bar templates
Analytics and reporting could be improved
There are few in-app integrations
Limited traffic and conversions may be a deal-breaker
Customer service is only available during business hours
Unbounce Features Explained
With the help of Unbounce's numerous effective design and conversion optimization tools, you can increase your lead generation and improve the return on your marketing investment.
The following aspects that the platform has to offer will be examined here:
1. Landing Page Builder
The Unbounce page builder may initially look daunting due to the sheer number of items and functions that are displayed on the screen. But it will be really simple to employ once you investigate and acquire it.
With the help of Unbounce's highly adaptable drag-and-drop page builder, you can quickly add text, buttons, photos, videos, and forms. Simply select an element from the left sidebar and drag it to the desired location on the page.
Additionally, you may configure any element you add to the website using the properties tab in the right sidebar.
Links can be added, and font size, text color, image resolution, boundary, and many other things can be changed.
Unbounce offers 100+ gorgeous and configurable templates for various marketing jobs including lead generation, coming soon pages, webinar registration, ebook downloads, etc. to make your life easy rather than having to develop the pages from scratch.
2. Accelerated Mobile Pages
Unbounce just released the Accelerated Mobile Page builder, which lets you make landing pages that load faster on mobile devices than regular sites.
Accelerate Mobile Pages, or AMP pages, use a unique HTML framework to speed up the loading time of your content. Simply enough, AMP pages load five times quicker than regular ones.
With such a quick loading time, you usually give your target audience a better user experience and increase conversion on the page.
Unbounce offers 15+ pre-made AMP templates, similar to the normal landing page builder, that you can quickly modify to suit your company's needs.
3. Dynamic Text Replacement
For a higher conversion rate, personalization is an essential component of a landing page. Unbounce gives you the option to add personalization to your landing page copy utilizing dynamic text substitution.
By substituting suitable content for the page copy based on the URL parameter, dynamic text replacement increases the relevance of landing sites for each individual.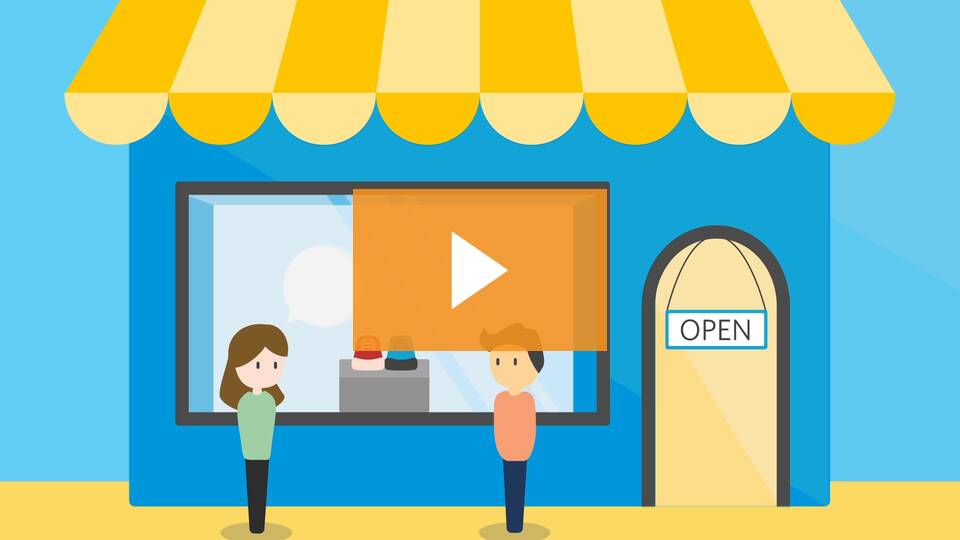 The ability to match your PPC ad copy with the landing page copy depending on searchers' interactions increases the relevance of the page and, as a result, the conversion rate. This is a key conversion optimization option for landing pages.
4. Pop-ups and Sticky Bars
You won't require a third-party tool if you use Unbounce to make pop-ups and Sticky bars for your current website.
It offers a drag-and-drop builder so that you may create new templates or modify existing ones to suit your needs. The editing interface is simple to use and offers a mobile layout aid that quickly adjusts the pop-ups and bars to properly fit the mobile display.
Additionally, Unbounce enables you to provide visitors a customized experience by showing distinctive pop-ups and bars utilizing its versatile targeting options, such as:
You can target your website's URL, including Unbounce landing pages.
You can trigger the popup/bar based on the page visited, delay, exit intent, page scroll, or clicks.
Choose how often popups/bars appear to visitors. Converted visitors won't see the popup.
Advanced Targeting – You can show popups/bars based on visitors' location, cookies, referral URLs, and start/end dates.
One of the finest methods for converting website traffic into leads has been found to be using pop-ups and sticky bars. Make use of it to drastically increase your website's conversion rate.
5. A/B Testing
An essential function provided by Unbounce is A/B testing, which enables you to compare various landing pages and sticky bars.
By copying existing ones, starting from scratch, or using other templates, you can make versions. You must divide the number of visits between the original and variations whenever you have several landing pages or sticky bars.
Additionally, the data for each variant is shown in the A/B test center as the campaign is launched. You can choose the most effective version and implement it across all traffic once you have conclusive facts.
For marketers, the A/B testing function is a lifesaver because it enables them to test many concepts and choose the best-performing one based only on statistics.
6. Smart Traffic
An AI-powered technology called Smart Traffic shows visitors the most appropriate landing page option where they are most likely to convert.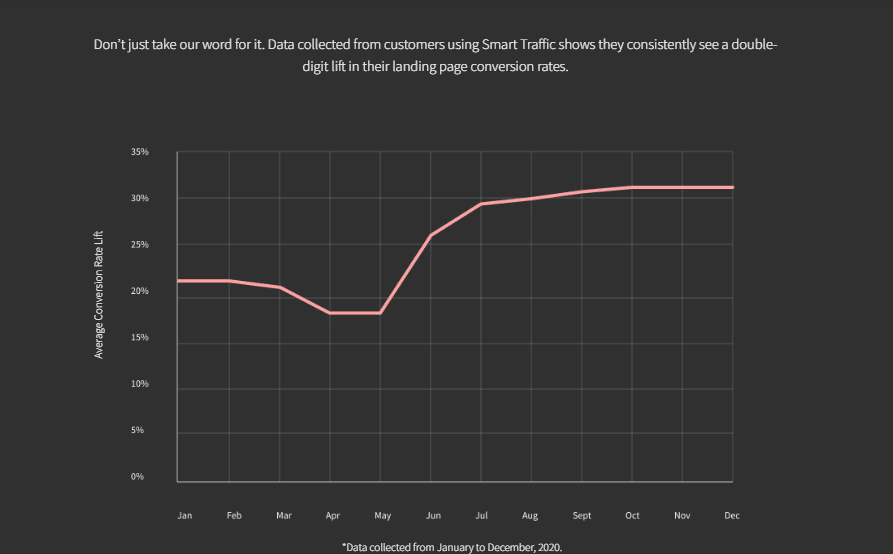 Personalization in marketing communications, as I frequently mention, is essential for any organization to develop, and Unbounce Smart Traffic helps you take that step.
Once activated, it begins to learn which version of the website will convert certain visitors based on their characteristics, such as the source of their traffic, their keywords, their device, etc.
The nice thing about using Unbounce Smart Traffic is that it starts optimizing as soon as it has enough data to start, so you won't have to wait weeks for data collection and campaign optimization for improved conversion.
Smart Traffic is a cutting-edge conversion optimization solution that may improve the effectiveness of your marketing and boost sales.
7. Reports & Analytics
Unbounce delivers all the necessary information regarding the effectiveness of your landing page, pop-ups, and sticky bars. The reports consist of:
Number of visitors
Number of views
Number of conversions
Conversion Rate
By clicking on the corresponding pages, popups, and bars, you can examine these reports. This is how reports for a landing page are displayed.
Unbounce only allows you to read reports during the moment this article is being written. You can add users with "Watch only" permission so they can view the stats and preview pages but not make changes if you must share the reports, though.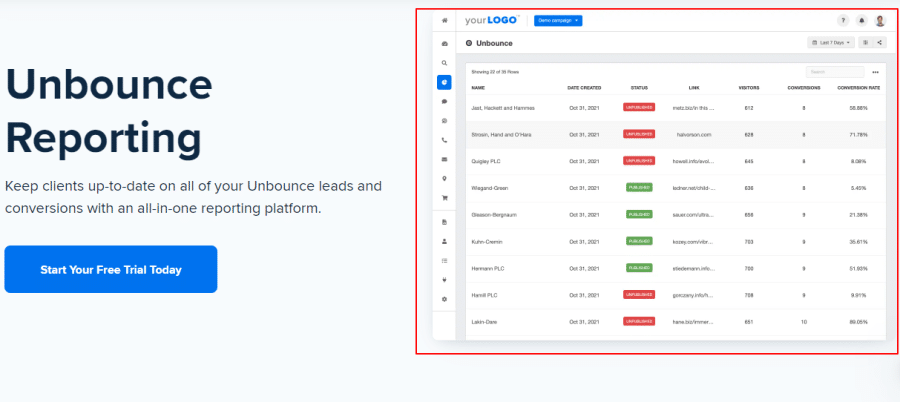 Unbounce's reporting and analytics are incredibly simple. I believe the best method to present insights for each domain and the assets under them would be in a separate section with a reporting button.
Unbounce Integrations Options
To streamline the complete customer journey within the business ecosystem, internet marketers must use a variety of tools and applications.
Therefore, whichever tool you choose, be sure it can interface with the ones you already have.
You needn't worry about it using Unbounce, though. It has several integrations available, including in-app and Zapier-compatible ones.
Since Unbounce is a landing page creator, generating leads must be the main goal of utilizing it, correct?
Because they are aware of this, the Unbounce team offers easy in-app connectivity with top CRM and email marketing programs.
There are other third-party programs as well that offer Unbounce integration directly. LiveChat, Outgrow, Hotjar, Crazyegg, and many more are a few of them.
Unbounce offers many different integration options. Though most small businesses cannot afford to invest in platforms like Zapier and Automate.io, I hope the list of in-app integration solutions keeps growing.
Unbounce Pricing Plans
Launch, Optimize, Accelerate, and Scale are the four pricing tiers offered by Unbounce, which enable you to expand your business at every stage.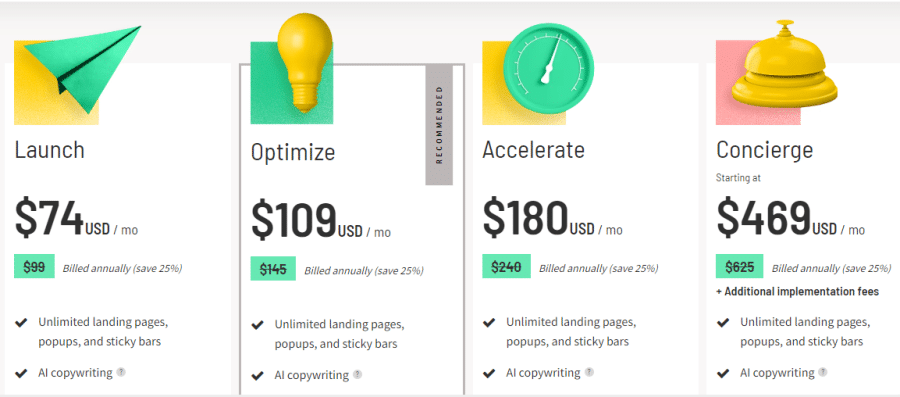 The pricing structure is solely based on the number of conversions, the number of unique visitors, and a few high-end features.
Therefore, you must choose a plan that aligns with your conversion-based lead-generating goals.
Here is a comparison of each plan's conversion rates and the number of permitted unique visitors.
The $74/month Launch plan allows 500 conversions and 20,000 visitors
Optimize costs $109/month and allows up to 1000 conversions and 30,000 visitors
The $180/month Accelerate plan allows 2000 conversions and 40,000 visitors
The $469/month Concierge plan allows 3000 conversions and 50,000 visitors
What I appreciate about the Unbounce price model is that you can construct an endless amount of landing pages, popups, and sticky bars – complete freedom to develop and experiment with copy and layouts – despite the limitation on lead generation and traffic.
Does Unbounce have a free trial?
Unbounce does, in fact, provide a risk-free trial period of 14 days during which you can utilize the entirety of the platform with very few limitations.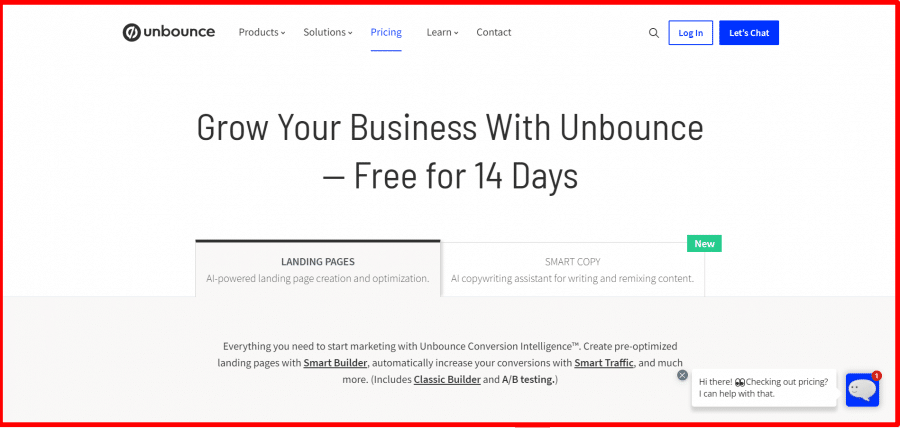 You will be required to enter your credit card information; however, if you cancel your subscription within the allotted time frame of 14 days, you will not be charged.
You are able to cancel on your own, and there is no need to get in touch with assistance (unlike some other landing page tools).
Does Unbounce Provide coupons and discounts?
Yes, using a partner link to sign up will be the only option to receive a discount code for Unbounce.
I am an Unbounce Partner, therefore if you want to use my link to obtain your free 14-day trial and also save 25% off your first three paid months if you decide to stay with them, click here to activate your discount and begin your free trial.
Unbounce Customer Support and Resources
The Help Center of Unbounce provides access to a wealth of materials that can be used for self-help.
The documentation is organized into separate sections for each topic, such as "Getting Started," "Integrations," "Community," and "Courses."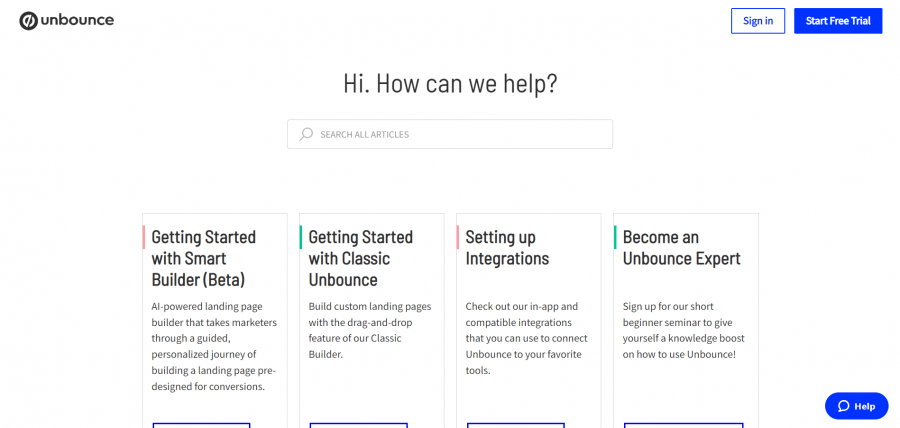 The search feature does not work very well at all.
I was successful in locating the responses to my inquiries; nevertheless, they were frequently buried among the search results.
Support is available Monday through Friday during "business hours," however it's unclear whether that refers to Pacific Standard Time, Central European Time (for their Berlin location), or both.
Unbounce Social Presence
Let's find out the social presence of Unbounce, what they share and how active are they?
Twitter
Unbounce has a Twitter profile with over 79.5k active followers where they share about how you can build fast and powerful landing pages that drive sales and conversions.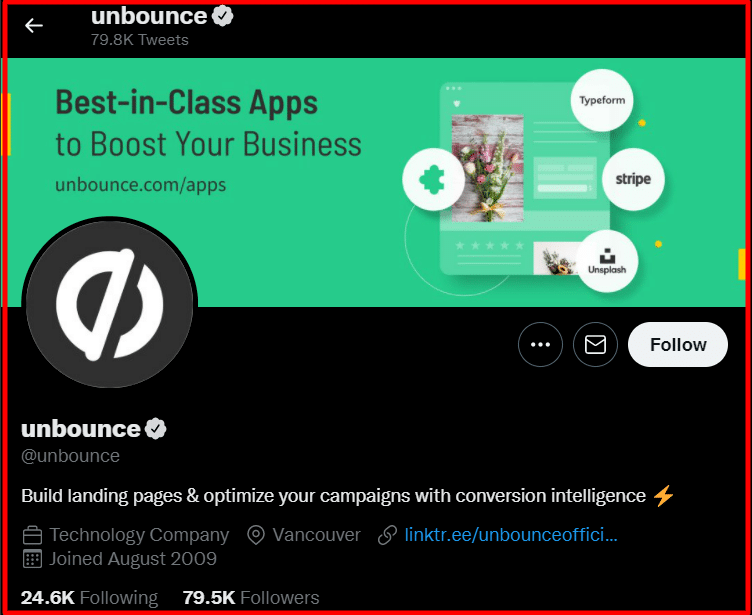 LinkedIn
Unbounce has a LinkedIn profile with over 34,749 followers and 238 employees.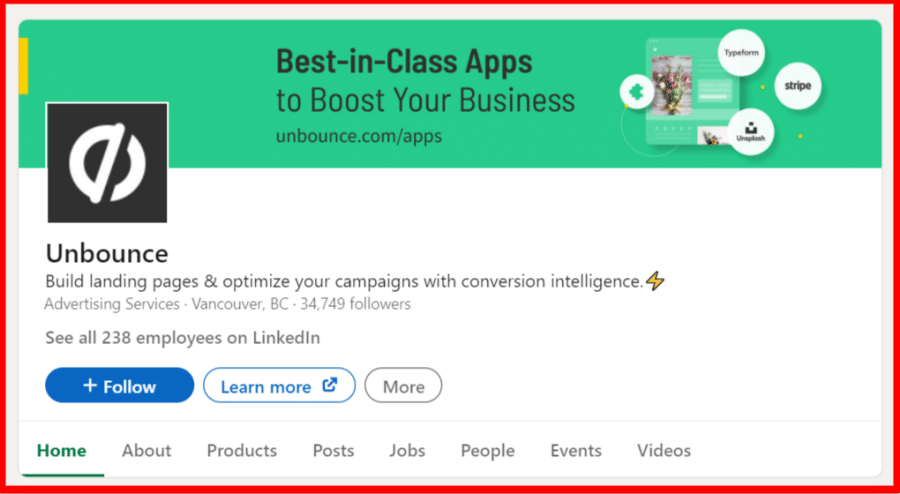 Instagram
Unbounce's Instagram Profile has over 8,286 followers and 803 posts related to the landing page platform and about their brand.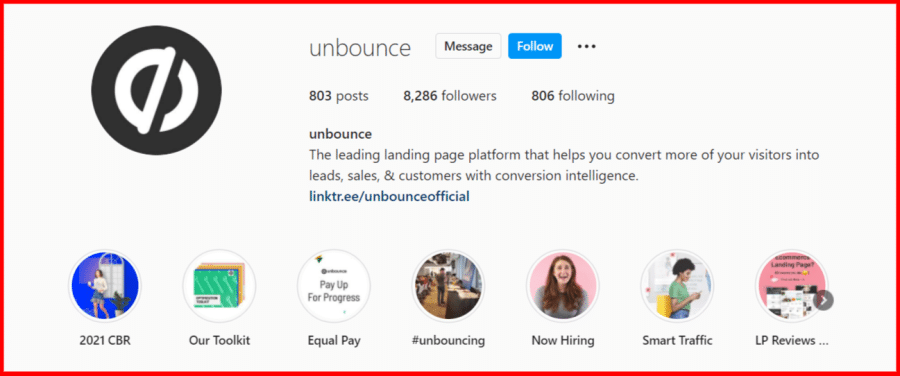 YouTube
With over 16k subscribers on Youtube Unbounce uploads awesome tutorials and guides related to their platform and landing page builder.
Final Thoughts On Unbounce Review
I've used many landing page builders, and this is one of the finest. Some things need improvement, and I'm sure the Unbounce crew realizes this and is working on it.
Unbounce is a landing page builder that provides you unlimited design freedom.
If you've decided to utilize Unbounce, use our coupon to get 25% off all plans for the first three months.
Frequently Asked Questions
Who uses Unbounce?
A number of well-known products, such as Mailchimp, Salesforce Sales Cloud, Marketo, Visual Website Optimizer, and KISSmetrics, are all capable of integrating with Unbounce. The following is a list of all 36 different tools that are compatible with Unbounce.
Is Unbounce a CMS?
Unbounce and WordPress are primarily regarded as "Landing Page" and "Self-Hosted Blogging / Content Management System" applications, respectively. The following is a list of some of the features that Unbounce provides: Drag & Drop. Fast page design.
Why should I use Unbounce?
Unbounce is a conversion platform, to put it simply. It aids in the creation of landing pages that are conversion-focused. And you can finish it quickly. Additionally, Unbounce makes it simple to use pop-ups and sticky bars, which can increase interaction with your target market.
Is Unbounce any good?
When it comes to increasing web conversions, Unbounce is a simple solution for small business owners. In addition, it is important to note that this is a full-featured solution that will grow and adapt to your organization, rather than a short-term fix.
What can you do with Unbounce?
Unbounce Conversion Intelligence Platform increases visitor conversion into leads, sales, and customers. Unbounce combines your experience with AI to create successful campaigns, including pre-optimized landing pages and outstanding text.
Are landing pages worth it?
Yes, Firms with 10-15 landing pages boost conversions by 55% compared to those with fewer than 10. More than 40 landing pages boost conversions by 500%.