Helium 10 vs Sellics are two of the most popular tools on the market. With a study of both back-end and front-end marketing, I'll help you figure out which tool will be more valuable to you in this article.
Online marketing may be a fantastic experience. If you're thinking about selling your items online, Amazon FBA is one of the best options.
They manage every aspect of the process for you, and it's a terrific method for small company owners to reach out to their existing clientele.
So let's get started!
Helium 10 provides in-depth information for assessing products and entering the Amazon Marketplace.

Sellics is a service that aims to boost their customers' Amazon Advertising performance so that they can expand their business.
Overview: Helium 10 vs Sellics
Before we proceed further let us know a bit about these tools Helium 10 and Sellics.
Helium 10
Helium 10 is a powerful website with a powerful collection of tools that streamlines the entire process for Amazon marketplace sellers in finding key phrases, spotting trends, and seeing how their competition is performing, all to optimize their marketing efforts blindly to quickly and exponentially grow.

This goldmine's name certainly says it all. Helium 10 is the industry's most comprehensive Amazon keyword research tool. The software is easy to use, and all you have to do is enter a few keywords to see how much money you may make.
Helium 10 specializes in making the process of selecting profitable items as simple as possible. More specifically, it saves you time and energy that would otherwise be spent researching successful products or seeking products that buyers want.
Sellics
Sellics is an e-commerce solution aimed at professionals in the field, notably Amazon vendors and sellers, who want to increase their profit margins on Amazon.
This program provides Amazon sellers with a comprehensive overview of all sales metrics relevant to tracking profits and optimizing PPC bids, as well as an opportunity to improve keyword ranking and product visibility while simultaneously improving reviews and minimizing negative feedback.
Feature comparison: Helium 10 vs Sellics
Helium 10 and Sellics both have tools in their arsenal that can help Amazon sellers in a variety of ways. Let's take a look at some of the features of both of these platforms.
Helium 10 tools and features
Listed below are the most popular tools and features offered by Helium 10.
Magnet
In the field of keyword research tools, helium 10's Magnet is the one that attracts the most valuable terms. Magnet from Helium 10 is an excellent keyword research tool because it allows you to discover high-ranking keywords for your items.
The rank tracker in Helium 10 will show you at a glance where the finest sites to source your product's target market are so that you may discover new marketing opportunities.
Frankenstein
Frankenstein from Helium 10 is a program that helps you search through thousands of keywords at once, apply unique filters to find exactly what you're searching for, and then more quickly sift out any undesirable characters or words (such as certain numbers) from your results.
The words will then be sorted from most popular to least popular, allowing you to identify the ideal mix of on-page and back-end keywords for your listings.
Cerebro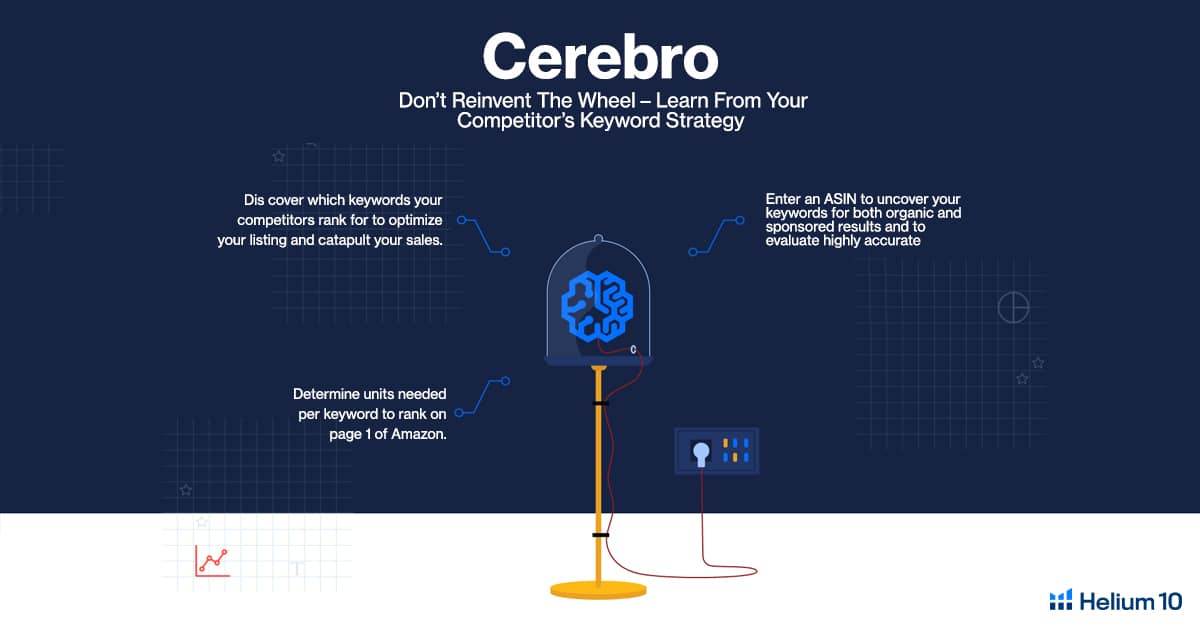 Cerebro is also the name of a tool in Helium 10 that lets you look at ASINs and see what keywords they're associated with.
This might assist you in determining the efficiency of certain keywords in terms of getting customers to your product page. Cerebro allows you to rapidly identify the winners and pinpoint which ones to target and concentrate your efforts on.
Keyword Tracker
The keyword tracker in Helium 10 allows you to see which keywords drive traffic to your products, how your optimization efforts affect the position of your product listing, and even whether your promotional activities are working.
Scribbles
You can simply write structured titles, sections, bullet points, and more with the helium 10 scribbles. This ensures that no valuable keywords are missed and that all products benefit from properly optimized content, as well as allowing you to better define the products accessible on your store.
Black box
The majority of Amazon sellers focus their business on a few products or a small portion of their online store's inventory. The Black Box is a tool that aids in the identification of high-demand, low-supply commodities that are similar to your product line.
Use filters to examine popular items by category, price range, monthly income, and review count to help you identify new alternatives for your company's product line. You can also use keywords to find what you're looking for.
Tendster
Trendster has proven to be a valuable tool in Helium 10's arsenal. It shows patterns in sales for a product you're selling or want to sell.
Knowing the pattern of a product can help you determine whether or not it will become profitable, as well as how long that period of profitability will last.
Even if you don't have a new product to launch, tenders can offer you information about an existing, possibly more competitive product's Amazon rating.
Sellics tools and features
Listed below are the features provided by Sellics.
Niche analyzer
Business owners may track the competitiveness of a niche market by having an idea of its sales volume and related parameters using the seller's niche analyzer.
It provides an in-depth study of how many items are sold overall, as well as which products are currently holding the most value inside that niche, allowing you to determine where you should focus your marketing efforts based on your requirements.
Product detector
Sellics provides a comprehensive product database for quick product research. If you're looking for new releases or high-demand items, you can use the product detector to sort through all of the options by expected sales and amount of reviews.
You can also use Product Detector to find what you're looking for and get suggestions for similar, related, or alternative things.
Keyword researcher
If you're seeking keywords to help you increase your internet presence, Sellics' keyword research tool will keep you up to date.
Not only will you be able to find our suggested keywords that are ripe for the picking using a range of search choices and criteria, but we'll also present other ideas so you can figure out keyword combinations that could otherwise have slipped between the cracks.
Inventory management
If you run an Amazon shop, keeping track of your goods inventory can be time-consuming. Even if you simply have a few items for sale, the Inventory Management features can help you keep track of your inventory so you don't miss another sale.
It will tell you when to place an order so that you can ensure that your clients don't run out of their favorite things.
PPC manager
The seller's PPC Manager makes it easier for Amazon FBA sellers to comprehend their ad performance indicators. You'll get a better picture of how the campaigns are performing if you sort metrics like CTR, CPC, cost, revenue, and more.
You won't have to bother yourself with extensive pages of information in your Seller Central account any longer.
In terms of tools and features provided by Helium 10 and Sellics, Helium 10 excels Sellics by providing a number of tools that will help you in boosting your sales, search for products and keywords and manage your business.
Pricing: Helium 10 vs Sellics
Now let's have a look at the pricing at which the plans are available on both Helium 10 and Sellics.
Helium 10 pricing
Helium 10 pricing plans are divided into four tiers, three of which are major plans and one of which is an extension of the best plan accessible in Helium 10.
Helium 10 offers four different price plans: the Starter plan, the Platinum plan, the Diamond plan, and the Elite plan.
You have the option of paying monthly or yearly. Helium 10 also offers a 30-day money-back guarantee, as well as three months free when you sign up for a yearly membership. These plans are given below, along with their attributes.

Helium 10's Starter Plan
To get the Helium 10 Starter plan, you only have to pay $39 per month or $339 per year for monthly and yearly subscriptions, respectively.
The Starter package includes a $997 Amazon FBA training as well as access to a variety of tools, including X-ray, one of the top Amazon product research tools, and numerous more tools to assist you with SEO, product listing optimization, and access to a financial dashboard called Profits.
Helium 10's Platinum Plan
The "MOST POPULAR" Helium 10 plan costs $99 per month for a monthly subscription and $999 per year for an annual subscription.
The Platinum subscription includes everything the Starter plan does plus the ability to manage your Amazon PPC campaigns as well as complete access to all of Helium 10's keyword research and product research tools.
Helium 10's Platinum Plan includes hijacker warnings for up to 100 ASINs, keeping your business safe and secure from scammers and fraudsters.
You may also track keywords in real time, create QR codes and product inserts, and send customer emails automatically (2000 per month).
Helium 10's Diamond Plan
The greatest Helium 10 plan, which allows you to exploit Helium 10 to its maximum potential and exponentially grow your business, costs $249 per month or $2499 per year.
It includes all of the features of the Platinum plan, as well as eliminating all of the limitations of the Platinum plan, such as full access to Amazon PPC management, full access to Walmart marketplace tools, and the ability to log in multiple users, allowing you to share Helium 10 with your company members.
Finally, the usage limitations on 15 other tools have been enhanced, and you now have access to a landing page builder that allows you to create stunning landing pages.
Elite Plan
The Elite plan is for you if you want to take your diamond plan to the next level. The Elite plan is only offered as a monthly payment option, and it costs $399 per month.
With this package, you will have access to Helium 10's private Facebook community, where you will discover like-minded entrepreneurs and industry leaders discussing tactics and ideas, as well as in-person seminars hosted quarterly and monthly live webinars with top industry experts.
Sellics Pricing
Sellics pricing plans are divided into three categories: free Sellics Benchmarker Plan, Advertising Advisor Plan, and Managed Services Plan. Annual or quarterly payments are accepted. You can save up to 25% if you choose the annual option. The following is a list of these plans.

Sellics Benchmarker plan
This is Sellics' free plan, which is appropriate for DIY advertisers. However, it only includes a few capabilities, such as access to the Amazon PPC tool to track your monthly success and benchmarks for over 20,000 products.
Advertising Advisor Plan
Most advertisers will benefit from this plan, which costs $259 per month for a 12-month annual plan or $349 per month for a three-month quarterly plan.
This plan includes everything in the benchmarker plan, plus Sellics Smart Campaigns for Amazon PPC automation, as well as monthly PPC training.
You also have access to a personalized platform, monthly performance reviews, and advertising-related services such as SEO, product reviews, and earnings.
Managed Services Plans
This plan starts at $1249 per month for a 12-month payment plan or $1599 per month for a three-month payment plan.
It is designed for major advertisers and includes everything included in the Advertising Advisor plan, as well as account optimization by a team of Amazon PPC experts.
You may also create your campaigns, customize PPC improvements, and track your goals with frequent Key Performance Indicator (KPI) reports.
Also Check: Jungle Scout Discount Coupons
Advantages and Disadvantages: Helium 10 vs Sellics
This is one of the major aspects on which your decision will depend while choosing the best platform between Helium 10 and Sellics.
Helium 10
The advantages and disadvantages of Helium 10 are discussed below.
Helium 10 Advantages
Product research: Searching for trending products is very easy with the product research tools provided by Helium 10
List Optimization: Helium 10 helps in optimizing your product listings
Keyword research and follow-up: Helium 10 has several tools which help to search for keywords for better SEO and also help you to determine how your keywords are performing
Product Launches: Helium 10's tools can give you a solid idea about the trending products and also help you in choosing the best niche to launch your product
Spy on your competitors: With Helium 10 you can spy on your competitors and look at their keywords and strategies to devise your own
Security: Helium 10 takes care of your privacy and security by protecting your stock and also providing you alerts from hijackers and fraudsters
Tools and features: Helium 10 takes pride in providing several tools to help Amazon sellers
Helium 10 disadvantages
Pricing: it can be a bit costly for beginners
Ease of use: Helium 10 has several tools but if you are a beginner this can be cumbersome
Sellics
Furnished below are the advantages and disadvantages of Sellics
Sellics Advantages
Widgets: Sellics features widgets that display details like the conversion rates for the products
customer service: Sellics has amazing customer service, which provides pretty quick responses
Knowledge base: the knowledge base provided by Sellics provides knowledge and advice to sellers to excel in their business
Ease of use: Sellics is pretty user-friendly
Sellics Disadvantages
Limited data access: due to restrictions imposed by amazon Sellics cannot extract profit-related data
User management: Multiple user logins with different rights are not possible on Sellics
No download report: You can not export or download reports from your Sellics account
Reports: it is not possible to download reports on your computer from Sellics
Customer Service: Helium 10 vs Sellics
So we are all done with the pricing, features, advantages, and disadvantages, so before concluding let's have a look at the customer service provided by both Helium 10 and Sellics.
Helium 10's Customer Service
Helium 10 takes pride in providing exceptional customer service. They feature a live support desk that is available 24/7, as well as an enormous knowledge base that answers typical questions.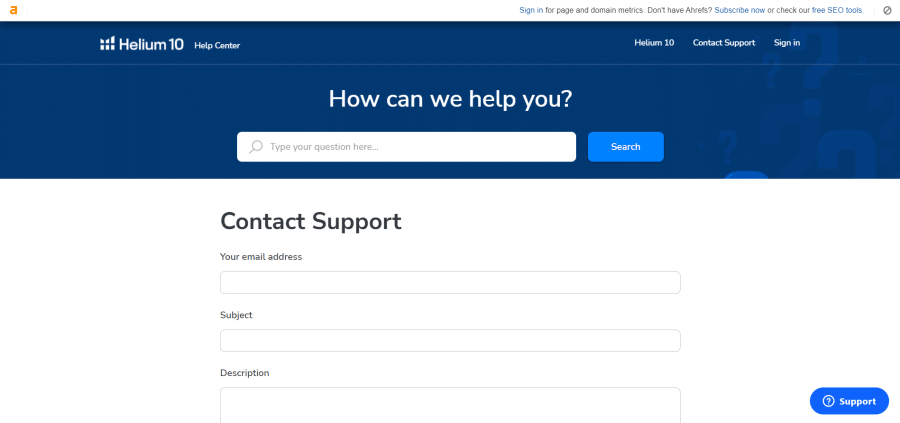 They've also been creating educational content that shows how to do everything from making a complex inventory adjustment to organizing and reporting data relevant to your business, as well as explaining specific features of their software so that even those new to e-commerce can get started easily and quickly.
Sellics Customer Service
Sellics is a German corporation with a customer care team that can be accessed via e-mail or live chat during their working hours. You'll get a response from them quickly because they promise to respond within a day and a half.
Sellics, on the other hand, has a customer service team that is active on social media and is excellent at connecting with their customers, as well as generating a status update that offers information about bug solutions for any software issues that users may encounter.
Conclusion: Helium 10 vs Sellics
It's time to wrap up this topic; both Helium 10 and Sellics are unquestionably the finest in their respective fields because they focus on different objectives. However, if you must choose between the two, I recommend Helium 10.
I've been using Helium 10 for three years and it's helped me manage every aspect of my business.
When comparing the features of both websites and the corresponding pricing, it's clear that, in addition to advertisements, Helium 10 provides several tools that will handle everything from advertising to your privacy and security.
So, after careful analysis and research, I can say that Helium 10 is the tool you should choose.
While it does not have a free plan like Sellics, it does offer a full 30-day money-back guarantee, which allows you to try any Helium 10 plan for 30 days to better understand the tool, and if you don't like it (which is extremely unlikely), you can always cancel your subscription and request a refund.
Precisely, Sellics shines in a single domain: advertising, but with Helium 10, you gain more tools and capabilities to run your business from the inside out.
So there you have it, a comparison of Helium 10 and Sellics. I hope this article has helped determine which tool is better for your business.
frequently Asked Questions
Can Helium 10 or Sellics improve Sales on Amazon?
Yes. Both Helium 10 and Sellics specializes in improving sales by providing analyzed data which gives you an idea about resources and information which helps you to make rationalized decisions. Both of these tools can help you manage your SEO, and take care of your campaigns which helps in turning visitors into paid customers.
What is the basic difference between Helium 10 and Sellics?
The difference mainly lies in their goals, Helium 10 is focused on providing all-around service to amazon sellers whereas Sellics specializes in PPC and advertising.
Can I get a demo on Helium 10 or Sellics?
With Helium 10 you get a 30-day money-back guarantee, but Sellics provides you a demo of its plans. 
Can I cancel my plans on Helium 10 or Sellics?
Yes. on both of the platforms you can cancel your subscription at any time.
What is Helium 10 used for?
Helium 10 is an Amazon eCommerce set of tools for managing and selling products, finding keywords, identifying trends, optimizing listings, streamlining advertising campaigns, and more.
What is Helium 10 CPR?
Cerebro's number is a static CPR number. It's the expected number of promotional sales you'll need for a product to rank in the top half of page one for a certain keyword. Helium 10 has a Dynamic CPR score that can be found in Keyword Tracker.