If you haven't looked into using AMZScout vs Jungle Scout for your business, I understand how intimidating the options can be. I've detailed the essential characteristics of each tool so you can choose the one that's appropriate for you.
While selling on Amazon may appear to be simple, it requires a significant amount of time and effort. If you're a seller who wants to know how to make an Amazon business profitable without losing sleep, you may use tools like Jungle Scout or AmzScout to help you out.

JungleScout is one of Amazon's top-rated tools for product research, and it's praised for being user-friendly with a simple dashboard.
If you want to start selling your goods on Amazon or grow a part-time business into a more profitable full-time endeavor, AMZScout gives you all of the services you'll need.
Fairly easy to set up and makes keyword research a breeze. Even beginners can set up.
Even AMZScout is easy to navigate and has all the tools at one place.
Jungle Scout provides incredible value for money. It gives both yearly and monthly subscription options to the users. Along with this, the pricing plans are pretty flexible.
AMZScout pricing is affordable but their pricing plans are confusing. Their Chrome extension may cost extra.
Customer support is quite impressive. It offers a live chat along with a question answer forum. You would also get helpful video tutorials and a JungleScout Academy.
AMZScout customer service is adequate, but not as extensive as Jungle Scout's
Differences between AMZScout vs Jungle Scout
Here are the main differences between Jungle Scout and AMZScout:
Jungle Scout does not have a free trial whereas AMZScout does
There are not many features in AMZScout
Jungle Scout offers various features for the sellers from product tracking to list optimization
AMZScout pricing seems confusing whereas Jungle Scout has a clear pricing plan
AMZScout has three free tools for the sellers whereas Jungle Scout does not offer any free tools yet
Similarities between Jungle Scout vs AMZScout
Both these tools have great resources and video tutorials
Both have stellar customer support
Both these tools have amazing Chrome extensions
Now, that you have understood the differences and similarities between AMZScout and Jungle Scout, let's understand these two tools better.
What is Jungle Scout?
Jungle Scout is a one-stop shop for Amazon FBA. It allows you to keep track of product research, pricing and sales information, profit analysis, and product reviews all in one location.
Jungle Scout has options for everyone, whether you're a brand-new seller or planning to expand to Amazon soon.
Jungle Scout was started in 2015 and has since grown to become a valuable resource for new Amazon merchants.
It's very important for product development, product launch, and business expansion. The application suggests product ideas that have already proven successful on the Amazon platform, allowing you to expand your business overall.
With thousands of active users, Jungle Scout is one of the most popular Amazon seller tools in the world. Since the tool's introduction, the Jungle Scout community has helped launch billions of products on Amazon.
What is AmzScout?
AMZScout is another prominent Amazon FBA tool that was developed in 2017 to assist Amazon sellers in their success.
If you want to start selling your goods on Amazon or grow a part-time business into a more profitable full-time endeavor, the tool gives you all of the services you'll need.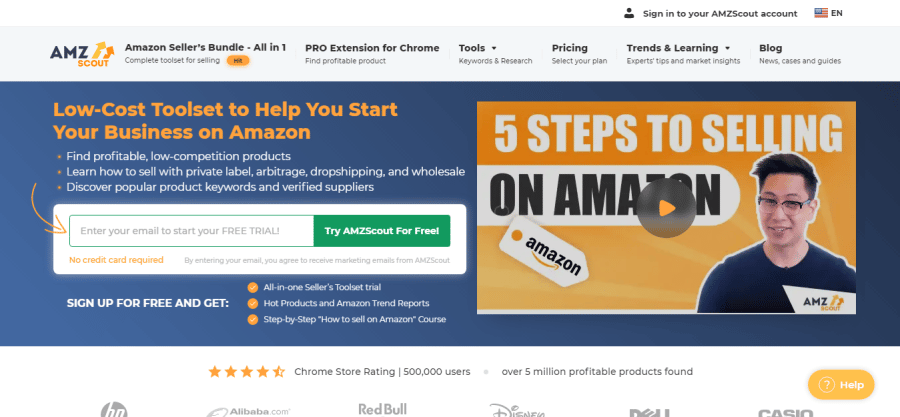 It provides a wide range of services, such as training, keyword research, data tracking, and inventory management, among others.
This Amazon FBA tool has a product database with millions of items. If you're new to selling on Amazon, this is a useful tool for selecting products that have the potential to make you money in the future and aren't too competitive.
Now that we've covered the fundamentals of both Jungle Scout and AmzScout, it's evident that they're both excellent in their way. So, which of these two tools is ideal for you: Jungle Scout or AmzScout?
I've listed some of the features that both of these tools have to offer below to provide an answer to your query.
Both Jungle Scout and AMZScout are invaluable tools for searching new items to buy on Amazon, but AMZScout is simpler and cheaper to use.

I recommend Jungle Scout because Jungle Scout has more features than its competitors, however, could be the decisive factor for your company.
Jungle Scout Features
Jungle Scout provides all the tools that you will need as an Amazon FBA seller, some of the tools are listed below.
1. Inventory manager
Inventory management is a software program that helps sellers manage and track their inventory. Sellers can forecast how much stock they'll need and when they'll need to restock using a data-driven strategy.
As a seller, you can use this knowledge to avoid stock-outs or backorder penalties in the future. Inventory planning that is as automated as feasible will help your firm run more smoothly.
2. Launch
As an Amazon seller, you may use Launch, a powerful and simple Jungle Scout tool, to run product promotions and send automatic outreach emails to previous buyers.
You may check in on your customers with Launch to see if they have any product difficulties, feedback, or reviews.
3. Keyword Scout
The Keyword Scout tool helps you uncover the most popular terms, as well as pay-per-click bids and other related keyword searches. It improves your SEO so that your products appear on Amazon's top page.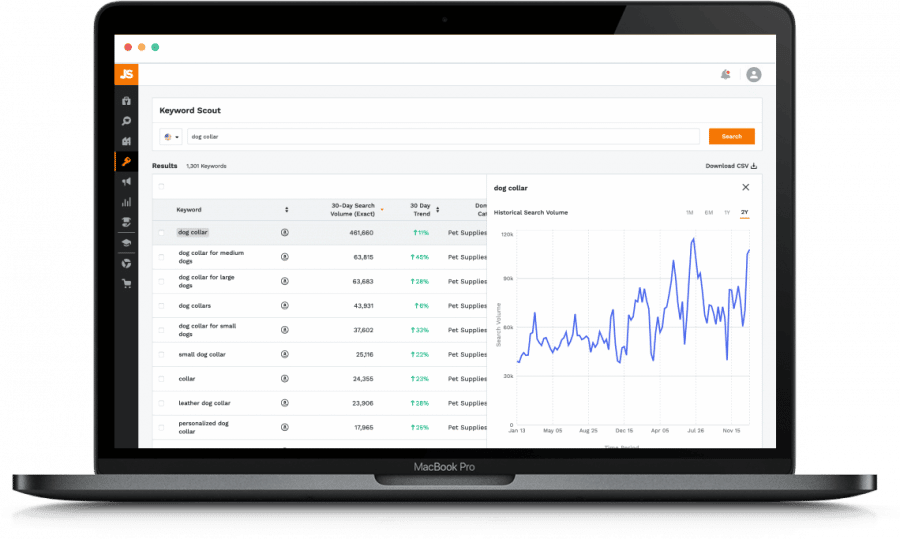 A keyword scout is an excellent tool for getting your product discovered on Amazon. It's also a function that improves in accuracy over time as you use it.
4. Supplier Database
Jungle Scout takes pleasure in providing you with a database of thousands of reputable and authentic suppliers, as well as information on their manufacturing history.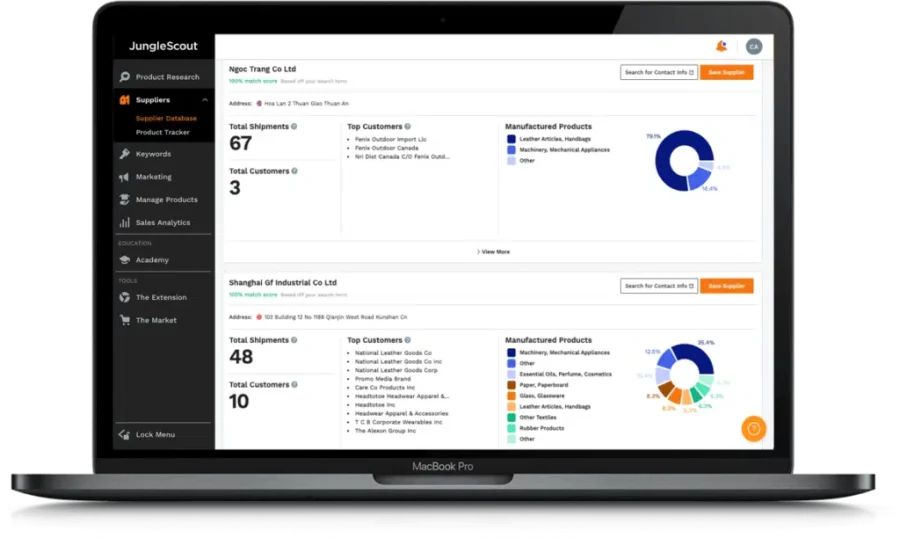 The Supplier database also ensures that you can simply contact those suppliers so that you may seamlessly advertise your items.
AMZScout Features
Listed below are the few tools offered by AmzScout.
1. Product tracker
AMZScout allows users to compare their sales success to that of their competitors. You can view product characteristics, keywords, descriptions, and pricing in a list of your competitor's related products provided by the tool.
You may also add these items to your sales tracker so you'll be notified as soon as they're added to the most popular items list and the money-making products tracker.
2. Keyword research tool
AmzScout can assist you in ensuring that your products appear first in Amazon searches.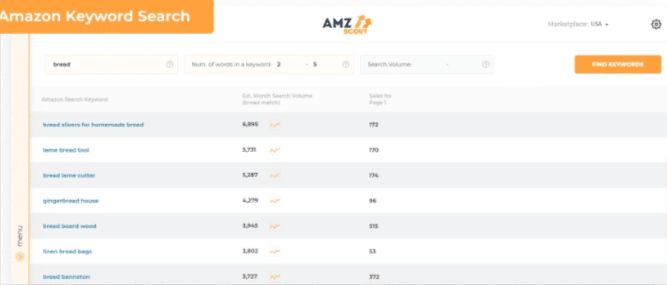 The keyword research tool on AmzScout will assist you in structuring your product descriptions so that they are optimized for Amazon search engines, allowing you to appear higher in their results and items.
3. Data Analytics
In Amz Scout's data analytics, you can acquire information about possible suppliers. If you've identified a product niche to target, you'll need to know where you can get the best things at the best price.
4. FBA Fee Calculator
Amazon merchants can use AmzScouts' FBA Fee Calculator. It provides a full panel of income and sales data for things housed in its clients' facilities. This information includes anything from product details to taxes for moving things over Amazon's borders.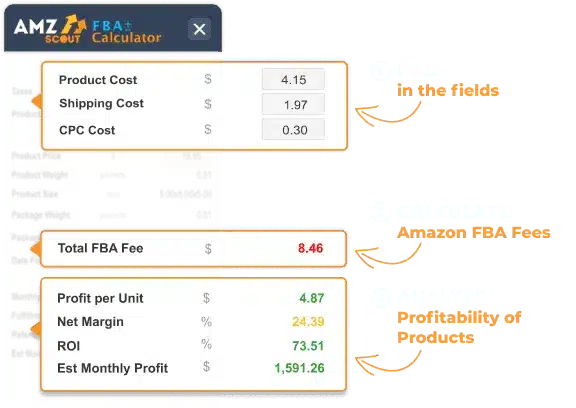 Comparing the features of Jungle Scout and AmzScout, it is clear that Jungle Scout provides the best tools you need to succeed in your Amazon business, even if both of these products provide similar tools.
Jungle Scout will provide you with tools that will perform all of the hard work for you, from managing your store to looking for keywords and products to giving you the greatest resources.
So if you want to have the best features to grow your amazon business I would recommend you choose Jungle Scout over AmzScout.
AMZScout vs Jungle Scout: Accuracy
Accuracy is a measure of how precise the Amazon FBA tools Jungle Scout and AmzScout provide you with information. This is a crucial feature to consider when deciding between the two platforms because you would never pay good money for inaccurate data.
Jungle Scout's Accuracy
Jungle Scout is without a doubt one of the most accurate and effective product research tools now available to Amazon sellers.
The tool will provide you with precise statistics, which you can then evaluate and extrapolate to aid in your decision-making. Most of the time, the software is intelligent enough to figure out which products will maximize your revenues.
With Jungle Scout, you can see how profitable or unprofitable your ideas are. With this in mind, you may examine the data as much as possible and act appropriately when selecting which path your product should go.
AmzScout's Accuracy
AMZScout is another reliable Amazon FBA tool for tracking competitor product prices and sales rankings. You may use the application to figure out what the ideal pricing for your goods is and when you should increase it.
Though this software isn't clever enough to tell you which products will make you the most money, it does assist to simplify things.
When it comes to the accuracy of both Jungle Scout and AmzScout, I'd say Jungle Scout wins hands down by a long shot.
When compared to AmzScout, Jungle Scout will provide you with better and more precise statistics. In a nutshell, in terms of accuracy, I would strongly recommend Jungle Scout over AmzScout.
Pricing: AMZScout vs Jungle Scout
Another thing to consider when picking between Jungle Scout or AmzScout is the amount of money you'll have to spend on them, as you'll never want to buy either of the above platforms if they're not good value for money.
So, I'll walk you through what these products have to offer in terms of price plans so you can make an informed decision.
Jungle Scout Pricing
The price for Jungle Scout is divided into two categories: standard plans and package plans.
Let's take a closer look at the blueprints so you can get a better concept of what they are and what they include.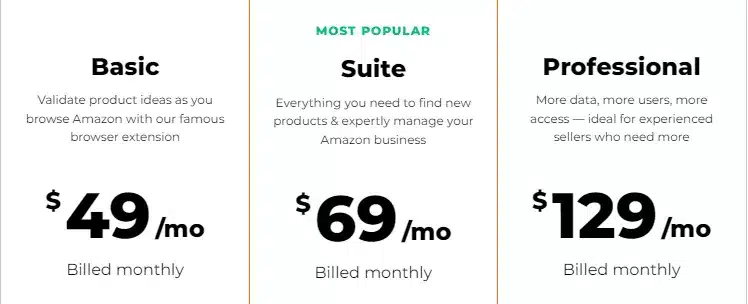 Jungle Scout Basic plan
Jungle Scout's Basic package is $49 per month for a monthly payment or $29 for an annual payment. This plan includes complete access to the browser extension, Amazon FBA training, and multilingual support for 24 hours.
The Basic plan has limitations, such as the ability to track up to 20 products using the product tracker, and I do not recommend it because the Basic plan only offers a few features.
Jungle Scout Suite plan
On Jungle Scout's website, the Suite plan is labeled as the "MOST POPULAR," and it is well-deserved. You must pay $69 per month for a monthly payment and $49 per month for an annual payment for the Suite plan.
This subscription includes all of the capabilities of the Basic plan, as well as advanced seller tools for better business management, historical data, and the ability to add more users.
If you are new to Jungle Scout or are currently using the Basic plan, I strongly recommend you to upgrade to the Suite plan, which includes practically everything Jungle Scout has to offer and is a terrific value for money.
Jungle Scout Professional Plan
You must pay $129 per month for the monthly payment and $84 per month for the yearly payment if you choose the Jungle Scouts Professional plan.
The Professional package includes all of Jungle Scout's capabilities, including ASIN research, 6 months of historical data in the product tracker, 2 years of historical data in the keyword tracker, and the opportunity to add up to 6 users.
The professional plan, as its name implies, is for businessmen who run a large company and need to make the most of Jungle Scout. However, if you have a larger budget, I would strongly advise you to go with the professional plan, as it would undoubtedly benefit your company.
Jungle Scout Package plans
The package plans include the Startup suite which costs $189 for a three-month subscription and the entrepreneur suite which costs $349 for a six-month subscription.
Both of these offer similar features like Academy seller training classes, live question and answer sessions, and a lot more. The only difference between these plans is in the usage limits.
According to Jungle Scout, the Entrepreneur Suite is ideal for sellers who want to research the complexities of techniques before launching their products, whereas the Startup Suite is better for sellers who want to jump right in and learn new ways as they sell.
If you don't have a limited budget, the package plans are the best way to get all of the perks. You can also use the Jungle Scout discount code to get additional off on your subscription.
AmzScout Pricing
The pricing of AmzScout is divided into two categories viz the Pro Extension and the Amazon Seller's Bundle. These plans are listed below.
AmzScouts Pro Extension Plan
The Pro extension plan provides you only a few features like product research and their amazon seller course. For the Pro Extension plan, you have to pay $49.99 for monthly payments, $16.49 for yearly payments, or pay $449 for a lifetime.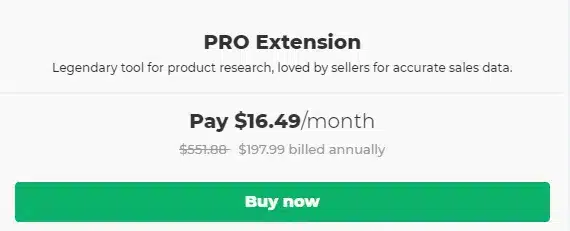 This is the most basic feature of AmzScout and I do not recommend this plan at all as it's not value for money. If you want to get started with AmzScout then chances are there that you may get disappointed with this plan.
AmzScouts Amazon Seller's Bundle plan
If you opt for the Amazon Seller's Bundle plan you need to pay $49.99 for monthly payments, $29 for yearly payments, and $1499 if you want to pay for a lifetime.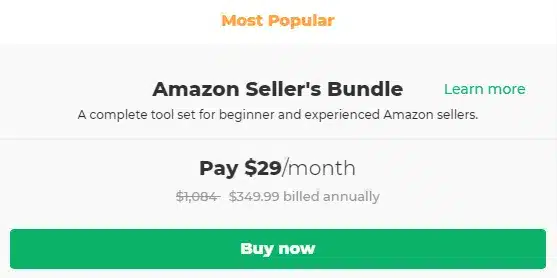 This is labeled as the "MOST POPULAR" plan and it offers everything in the Pro Extension plan plus features like monthly trend report, keyword tracker, product tracker, keyword search and reverses ASIN, and a lot more.
If you are someone who is getting started with AmzScout then I would recommend you go for the Amazon Seller's Bundle plan because it has the necessary features for growing your business.
I've used both of these Amazon FBA tools, Jungle Scout and AmzScout, and based on my experience with both, I choose Jungle Scout over AmzScout.
I appreciate that AmzScout is a little cheaper than Jungle Scout when it comes to cost, however, Jungle Scout delivers considerably more value for money than AmzScout by giving all of the capabilities a merchant would require.
So, Jungle Scout, rather than AmzScout, is the one I recommend.
Pros and cons Of Jungle Scout & AmzScout
Both Jungle Scout and AmzScout have their own set of pros and cons, and this is one of the primary elements that influence your decision on which platform is best for you.
The pros and cons of both Jungle Scout and AmzScout are outlined below.
Jungle scout Pros & Cons
| | |
| --- | --- |
| Pros | Cons |
| You can easily search for the best products related to your niche | Jungle Scouts chrome extension is not free |
| More accurate data than AmzScout | Jungle Scout does not have a free trial |
| All-in-one tool | |
| Beginner-friendly | |
| Large product database | |
Amzscout Pros & Cons
| | |
| --- | --- |
| Pros | Cons |
| AmzScout graphs and charts make tracking data very easy | AmzScout product database is not as vast as Jungle Scout |
| The AmzScout interface is also easy to use | Customer service is not that good in AmzScout |
| Setting up AmzScout is pretty easy | |
| AmzScout makes tracking products efficient | |
When comparing the pros and cons of Jungle Scout with AmzScout, it is clear that Jungle Scout wins.
Though AmzScout has a simpler setup method than Jungle Scout still Jungle Scout outperforms AmzScout by a wide margin, from more features to a well-built chrome extension to accuracy and customer service.
So, if I had to choose between Jungle Scout and AmzScout, I'd go with Jungle Scout.
Customer Support: AMZScout vs Jungle Scout
Customer support is another key element to consider since if you have any problems while using Jungle Scout or AmzScout, you will need to contact customer support to get your questions answered. Here's a quick rundown of Jungle Scout and AmzScout's customer service offerings.
Jungle Scout's Customer support
On their website, Jungle Scout provides a support page where users may get answers to particular queries and report any problems they're having with the software.
The Jungle Scout crew is always ready to assist these users in real time, allowing them to quickly find solutions to their problems and seek a question from support personnel when needed. They also respond quickly and are available 24/7.
You can also contact them if you'd like to learn more about their affiliate program or if you have any questions or concerns regarding their software, which can assist you with your product research.
Requests for further information about the Jungle Scout system are always appreciated, and the Jungle Scout team is always pleased to answer any questions you may have if there are any gaps in the support documentation accessible on their website.
AmzScout Customer support
AmzScout's customer service is adequate, but not as extensive as Jungle Scout's.
They do, however, provide support to their users. If you have any problems while using the site, you can contact their experts or seek more information by sending an email to their staff, and they will respond as quickly as possible.
The customer support team of Jungle Scout is a lot better and more responsive than AmzScouts' customer support team. So if you have got a query it will be solved more efficiently and seamlessly with Jungle Scout than on AmzScout.
Jungle Scout Customer Reviews & Testimonials
Here is what Jungle Scout users have to say about the tool:
What do users say about AMZScout?
Here is what users say about AMZScout: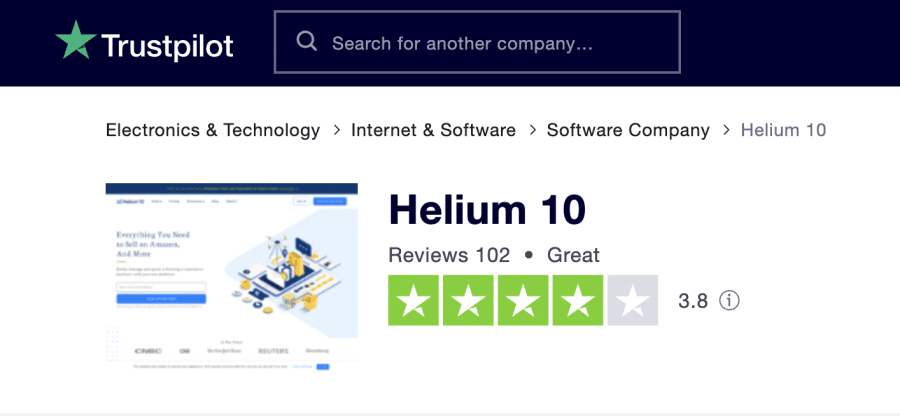 Final Thoughts On Jungle Scout & AmzScout
Now it's time to wrap up all I've said. Both Jungle Scout and AmzScout are fantastic Amazon FBA tools, as they offer nearly identical features such as Amazon FBA training, product research, and keyword research.
However, when comparing features and accuracy, it's evident that Jungle Scout has everything AmzScout has plus a lot more; Jungle Scout's product database is larger than AmzScout's, and Jungle Scout is also more accurate.
Finally, when it comes to pros and cons and pricing, Jungle Scout has more pros than cons, and while AmzScout is less expensive, Jungle Scout offers better value for money because even Jungle Scouts Basic plan offers better features than AmzScout Pro Extension plan.
So, after considering all of the criteria, I would conclude that Jungle Scout has the upper hand over AmzScout. As a result, when compared to AmzScout, Jungle Scout is the greatest tool for your business.
I hope that this in-depth comparison of Jungle Scout and AmzScout has aided you in deciding which platform is best for your company. I wish you success in your endeavors.
Frequently Asked Questions
Is it necessary to use Amazon FBA tools like Jungle Scout or AmzScout?
Yes, if you want your business to boom then Amazon FBA tools are recommended. Amazon FBA tools ease your work by finding the right products to target, checking the competition, and targeting the right audience.
Are Jungle Scout and AmzScout accurate?
Yes though both of these tools provide accurate results. But between Jungle Scout and AmzScout, Jungle Scout provides more accurate data.
Is there a free version of Jungle Scout?
JungleScout has only two free alternatives: Unicorn Smasher and Helium 10 Xray (free for the first 1000 product lookups). Unicorn Smasher is simply charming, while Helium 10 Xray is really accurate and a great pick. More in-depth comparisons can be found further down.
How does Jungle Scout collect data?
We collect it from a variety of places, but the data we get from actual Amazon sellers who have agreed to share their sales data with us is the most unique. Furthermore, our data examines more than just inventory and ranking information.