In this Learnworlds vs Teachable article, I have done an in-depth comparison between Learnworlds and Teachable to help you choose the best online course platform.
There are numerous online course platforms available. As a result, choosing which is the greatest and meets our expectations might be difficult.
So let's begin.
Learnworlds Vs Teachable: Overview
Learnworlds
Learnworlds is a cloud-based LMS with advanced e-commerce features for selling courses and educating or training customers or employees. Learnworlds evaluate and future-proofs our business with powerful authoring tools and with the most advanced features.
Teachable
Teachable is an online coaching creation that allows its creators to create personalized online courses and coaching with videos, lectures, and quizzes.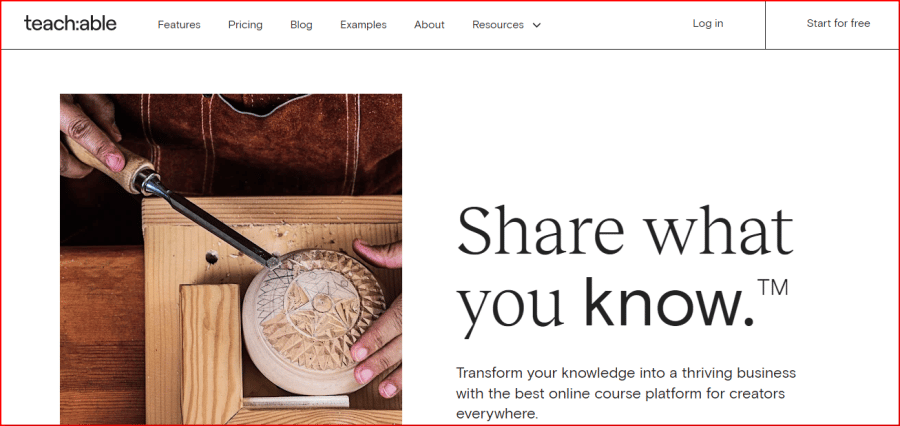 Let us start knowing both of them by some of their key differences and similarities. By the end of this article, we will be in a better position to decide which one is the best and meet our requirements.
Similarities
Learnworlds and Teachable allow their users to offer grades and course completion certificates to the students. When we sign up for their cheap packages we will be paying a transaction fee while making a sale. But when we will upgrade the transaction fee will vanish.
Both of them have the same marketing features which include Teachable coupon codes, free courses, etc.
Both of them help us to get started by offering a free trial. It is easy for us to build an online school on both platforms. They also offer SSL certificates with packages.
Differences
Learnworlds makes us able to create student communities, while teachable does not. Learnworlds always focuses on video content but Teachable does not. Learnworlds provides quizzes and assessment-type questions for the students but Teachable limits only to multiple choices.
Learnworlds provides us 24-hour support through e-mail and also accepts phone calls during its business hours from Monday to Friday. But Teachable supports us only through e-mails and live chats.
Read our in-depth Teachable Review to find out why is it the best online course-creating platform.
Features Comparison
Course Builder
Course builder is the main thing of any online platform. The editor gives us the building blocks which have a direct bearing on the learning experience we create.
The web page builder of Teachable provides a good service. We can just drag the elements on the page wherever we want to place them. It takes responsibility after the work is finished by us. Whatever devices the students use, they will surely have a great experience.
There are also plenty of tools available that we can provide to students to understand the lessons completely. They also provide us an easy-to-navigate SEO setup.
They also provide course creation commendable such as
Banner blocks
Text blocks
Text blocks including images
Curriculum blocks
Featured courses blocks
All the blocks mentioned above are self-contained so they won't affect others for the customization we make.
Learworld's course creation focuses on video content. We can easily access the videos available here. we can also add things to our video making it more interesting and enjoyable for the students. They also allow the students to highlight and add notes as they go through the syllabus and lessons.
Quizzes and Testing
Teachable
Teachable provides you with the tools you'll need to put your students to the test and ensure they're learning.
With the built-in capabilities, you can quickly design graded quizzes. This allows you to review course material, check in on your student's progress, and reinforce what they've learned.
You can provide a completion certificate at the conclusion of a course to prove your student's progress. This is a good approach to show pupils that they completed an online course and learned a new skill.
It can also encourage people to take your course seriously and regard you as an expert in your field.
You have the option of using one of three pre-made certificate templates or creating your own. Then you can customize it by adding your logo, changing the wording, add your signature, and more. Teachable also includes course compliance tools to back up your course certifications.
These might include requirements like completing videos or lectures before proceeding or passing a quiz with a specific score in order to complete the course.
You may even set a limit on how many times students can repeat a quiz and receive an alert when they've used up all of their chances.
Learnworlds
Learnworlds has a comprehensive testing engine that allows you to incorporate almost any type of quiz you desire.
Whether you want it graded or not, official or informal, it's up to you. You may also include open-ended or closed-ended questions in your surveys.
This enables you to develop a comprehensive approach to evaluating and instructing your pupils. Informal quizzes will assist them in reinforcing their knowledge or improving themselves.
Formal tests can aid in the evaluation of performance. Assignments can also be used to assess critical thinking skills. You can utilize a question bank if you have a Learnworlds Pro subscription or above. You may use this to create a large pool of questions and then link them to numerous examinations or courses.
This is the way to go if you want to generate randomized and secure testing. You may give students branded digital certificates once they've completed your course. You may make your own certificates by designing and personalizing them.
There is some data to suggest that students are more willing to purchase a course if there is something at the end with which they can demonstrate their abilities.
Marketing
In terms of marketing and sales tools, I believe Learnworlds and Teachable both lag behind a little.
Everything is incorporated into other more complete all-in-one platforms like Kajabi. Email list management, funnel creation, analytics, and more are all included.
Teachable and Learnworlds both lack such features. As a result, you may need to employ third-party technologies such as Clickfunnels or MailChimp, which you can then integrate with your online course platform.
Basic marketing options are available on both platforms. To encourage people to sign up for your courses, you may run promotions and provide vouchers. You may utilize percentage or dollar-amount coupons, and you can even define expiration dates for them.
Advanced pricing choices are available on both platforms. As a result, you may charge a one-time price, set up a payment plan, bundle courses, or employ a monthly subscription model.
You may establish your own affiliate program on Teachable and Learnworlds utilizing built-in functionalities. This is a fantastic method to get others to market your course for you and increase sales while also compensating them with a commission.
Community
Learnworlds includes a feature that Teachable does not: the option to form a community.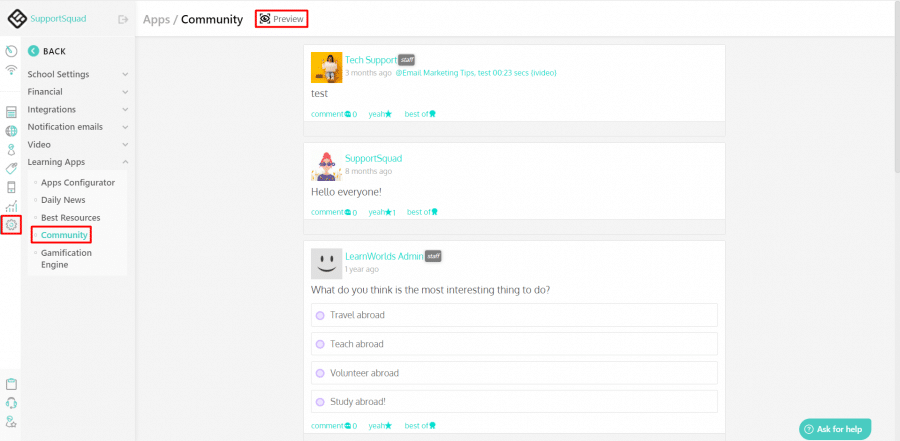 I haven't been able to find a means for you to construct a discussion forum or any other basic kind of interaction in your Teachable course based on all I've looked at. Learnworlds shines in this area since it features a built-in social networking function. Every student in your class is given a public profile.
As a result, students will have the opportunity to communicate and network with one another. They may broaden their network and meet like-minded people this way.
Learnworlds students may utilize the social media feature to discuss any troubles they're experiencing, share their experiences, and trade any unique ideas or advice. It's also a fantastic method for them to provide comments and interact with their instructor.
If you've concluded that Teachable is the right platform for you, but you need a community, there are alternative possibilities. You may always create a secret Facebook group, Discord server, or another mechanism for your paying members to communicate.
White-Labelling
Both LearnWorlds and Teachable allow you to utilize your own website or domain to link your school/academy, deleting the platform's name and simply presenting your branding.
On the signup, login, and checkout pages, you may still see a myTeachable login option which is both restrictive and confusing.
With the Learning Center plan, all LearnWorlds white-labeling options remove the LearnWorlds brand name and logo from the student side of your school.
Teachable has a tool called 'myTeachable' that allows users to manage multiple schools and their users. While this is a nice feature for ease of use, it eliminates white-labeling opportunities because students share profiles among teachers and institutions.
LearnWorlds, on the other hand, offers comprehensive white labeling with social logins and brand-specific email notifications.
Testing
Learn worlds offer more quizzes and tests than Teachable. Teachable offers may not be enough for students but Learnworlds gives a guarantee about its testing quality and quantity of questions for students.
Certificates
Both online platforms make it easy to complete courses and give certificates. But Teachables creates certificates easier using its templates.
Sales & Marketing
After everything is set up, you must promote your courses. LearnWorlds and Teachable share many features, with subtle variations and implementations (i.e. small settings or how they are used).
Some similarities that both platforms share are:
Connecting a payment gateway
Multiple payment methods
Memberships / Subscriptions
Coupons, discounts & promotions
Integrations with marketing & analytics tracking tools
SEO optimizations
Course expirations
Affiliate Reporting
With the option to send students with marketing emails or updates, Teachable has a tiny sales and marketing advantage.
The most significant distinction must be made when comparing white-labeling solutions. Teachable does not allow any white labeling, thus it's a decision to go with a course marketplace like Udemy instead.
Teachable's Discover marketplace and mobile app may be accessed by opting in. As a result, your courses will have a larger market.
The disadvantage is the 20% cut, as well as the fact that it increases competition for your courses as compared to operating your own school.
Payment Options
Teachable provides flexible payment structures to us for offering to the students which include
Membership subscription
One-off payments
Course bundles
Payment plans
Teachable also accepts Paypal, Mobile pay, Apple Pay, and Google pay.
Learnworlds also allows us to offer students such as
Membership
Subscription
Course bundles
One-off payments
Learworlds also accepts pay pal, stripe, 2checkout, Shopify, and Pagseguro.
Mobile Apps
The availability of a mobile app is a significant difference between LearnWorlds and Teachable.
LearnWorlds App
For an extra monthly fee, LearnWorlds provides each user with a white-labeled app. The App is entirely branded to match the customer's online school's appearance and feel.
As a result, any client may publish his or her own mobile app in both the Apple and Google app stores!
Teachable App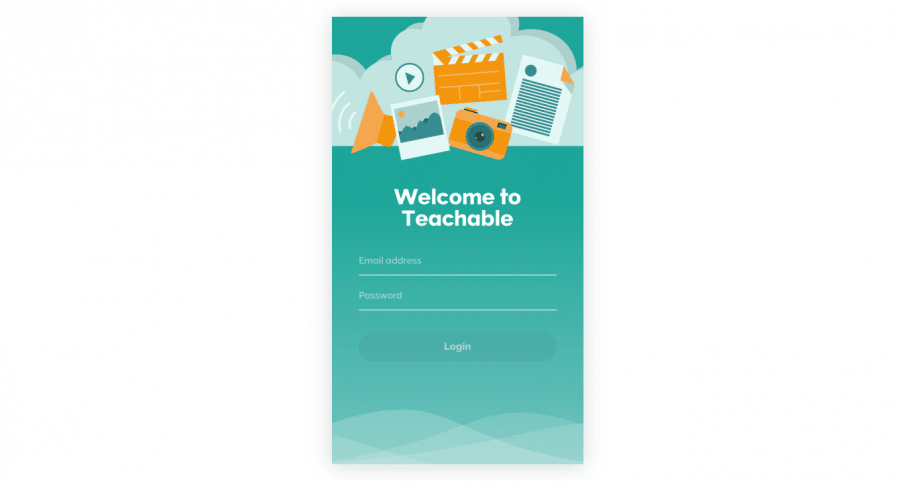 Teachable, on the other hand, provides a single Teachable-branded interface that allows creators to compare their courses to those of their rivals.
Students may access courses from all of the Teachable schools in which they have registered, as well as learn about additional trainers' courses. The software is only accessible for iOS (Apple) devices, and there is no Android version available.
What customers Say About Teachable

Very User-Friendly and easy to create Plattform. Valuable Trainings. I was able to create fast and easily my Online Courses.

Claudia
I'm totally not tech savvy, then had an issue in my teachable school that I couldn't figure it out. I reached out to support because I thought something must be wrong on the site. I wasted a lot of time and just wanted to give up. Customer support at teachable was kind, patient, treated me and this issue with dignity and respect, and offered solutions to help fix my issue (it was me, not them). But this wasn't too small for teachable to help sort. That means a lot to me. Anyway, this is why I love teachable.

American Crochet Association
Teachable has been a cornerstone in our business for years and supported us to grow to 7-figures in revenue. The Teachable team is absolutely fantastic and has offered valuable support throughout.

Julia Saxena
Teachable has the best course platform out of all the options out there. In addition, the team at Teachable is so passionate about creating an incredible tool for creators.

Luisa Zhou
Have used Teachable for over 3 years and always feel so supported by their team. It's the easiest and most trustworthy course-creation platform out there, and they do a great job of helping amplifying creators and our work.

Tori Dunlap
Learnworlds Vs Teachable: Pricing Plans
Now let's look at the different pricing plans of both platforms.
Learnworlds Pricing
Learnworlds costs $24 per month and like Teachable, this also has a transaction fee, and here we are lumped with a flat $5 fee on every course we sell instead of 5%.
You may create an infinite number of paid courses with this package.
The page builder, on the other hand, is extremely restricted, allowing you to construct only three pages: a home page, a course catalog, and an after-login page.
You may use Stripe, 2Checkout, Paypal, or Shopify as payment gateways with this package. Basic connections with a limited number of third-party apps are also included.
A custom domain and a free SSL certificate are among the various miscellaneous features available.
The Pro Trainer, which costs $79 a month, is Learnworld's mid-tier plan. This is one of the plan alternatives provided that I believe would be most suitable to most course authors.
It supports up to 5 administrators or teachers, as well as an infinite number of courses and landing pages and a more comprehensive website builder with the blog.
You may also use a completely personalized checkout page to provide payment plans, subscriptions, and memberships. Premium integrations, question banks, and bespoke certifications are also available.
Aside from specific large-volume or corporate plans, the Learning Center plan costs $249 per month and is Learnworld's most costly plan. You can have up to 20 admins or instructors with this package.
Teachable Pricing
You can always find a free package in Teachable Pricing Plan. This helps in testing out Teachable's course builder for adjusting yourself to the software feature. But they don't mention their free plan on its pages.
So we will have to check around to find it. Here we can only register up to 10 students, and we will charge 10% on every sale we make.
The Professional plan, which costs $99 per month, is Teachable's most popular choice. This package, in my opinion, provides the best value for the features you get.
So that's the one I'd suggest. In addition to all the Basic plan has to offer, you won't be charged any transaction fees with this plan.
Up to 5 admin users are included, as well as priority product support, graded quizzes, an unbranded website, sophisticated reports, course completion certificates, and more.
Teachable's most costly package is the Business plan, which costs $249. It has all of the features of the lesser plans. However, you receive 20 admin users, as well as manual student imports, mass enrollments, custom user roles, and comprehensive theme customization.
Unlimited video, unlimited courses, and unlimited hosting are included in all Teachable subscriptions.
You may also read: Thinkific Vs Teachable
Can You Drip Content On Teachable?
Yes, you can drip content on Teachable. Before diving deep into this let's understand what does drip content means? and how does drip content work?
Instead of giving everything away at once, drip content allows you to deliver content in stages. It allows membership websites to automatically distribute content to their users at predetermined times.
Instead of constantly developing new content, site owners may make better use of what they already have.
When creating a Drip plan by date, keep in mind that one date in UTC can correspond to a different date in your local time zone.
If I schedule my lecture part for publication on 1/8, for example, my content will be available at midnight (12:00AM/00:00) on 1/8 in UTC. If I'm in New York, though, UTC is five hours ahead of my time zone.
This means that my lecture content will be available at 7:00PM/19:00 on January 7th, in regard to my local time in New York.
With this in mind, take these steps to create a Drip schedule by date:
#Step 1: Choose a course from the admin sidebar, or click View All and pick one from the list.
#Step 2: The drip is located in the submenu of the particular course area.
#Step 3: Then look for the segment that will be released on a specific date. Choose a certain date.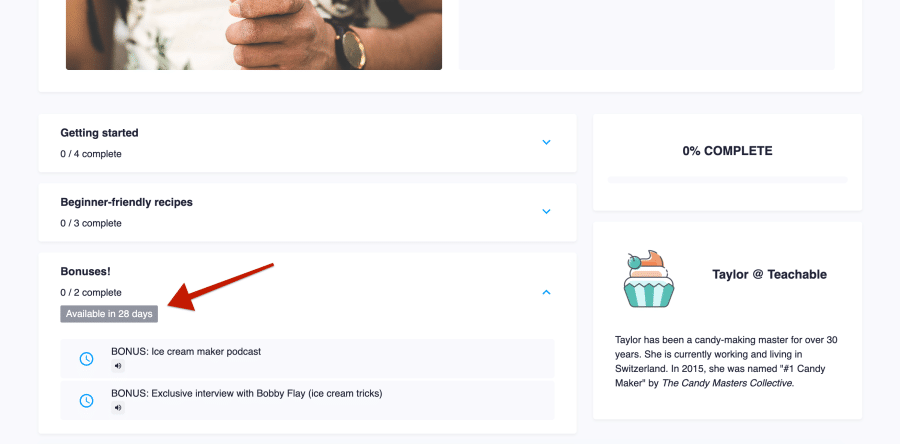 #Step 4: To open a calendar, click the date box. Then, specify the date on which the portion will be made available. Please keep in mind that in order to drip a section on a given day, the drip date must be established and activated at least 48 hours in advance.
If you want to release a portion on April 5th, for example, the section must be triggered to drip by April 3rd.
#Step 5: Deactivate a drip schedule for a segment to cancel it. When a drip part is turned off, students will get access to the content as soon as they enroll in the course.
Customer Support
After comparing Teachable vs LearnWorlds it's clear that Teachable only supports during business hours and live chat. But, business plan subscribers do also participate in group chat calls. We can call the support manager who provides us the right direction for the business.
Learnworlds support is a whole 24 hours support and if we opt for the pro trainer plan we will also get a call to help us. If we don't have time for sharing the content then the support team also takes care of that for us.
Learnworld Customer testimonials
Here are the customer testimonials of Learnworld.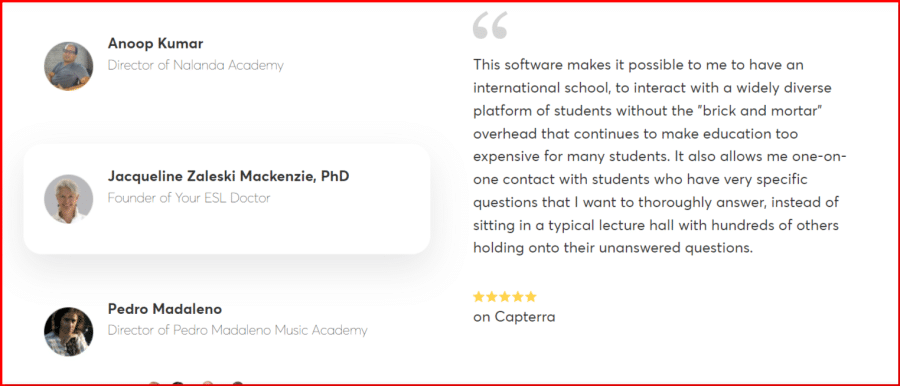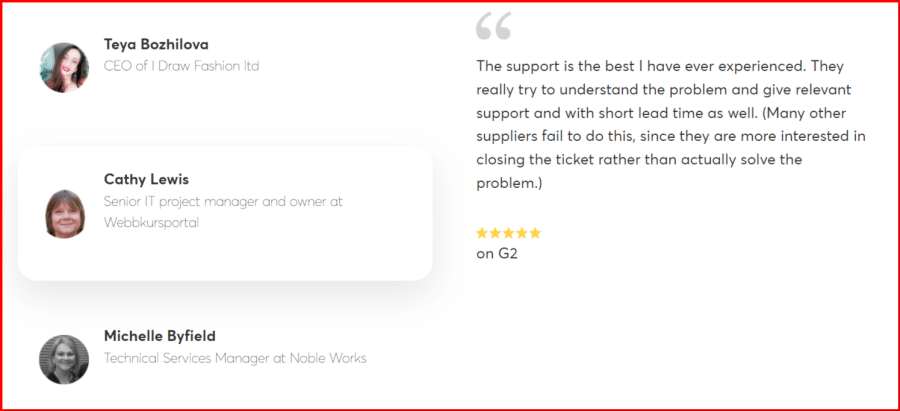 Teachable Customer Testimonials
Here are the customer reviews and testimonials of Teachable:
Capterra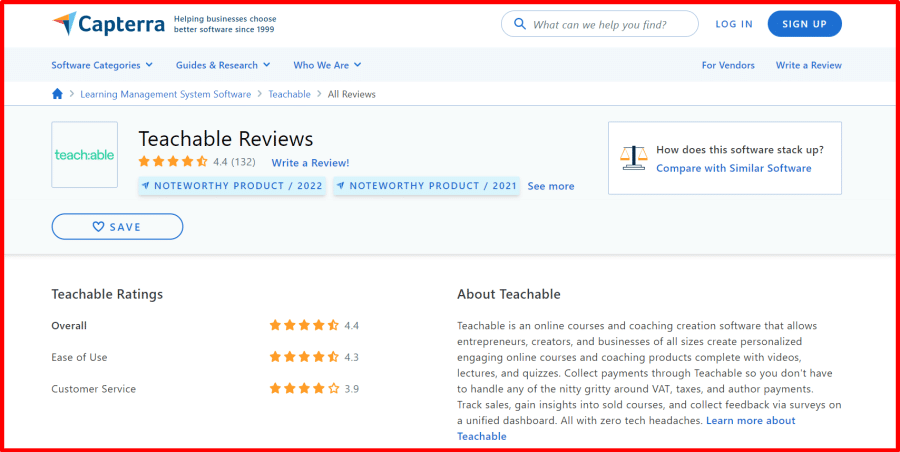 Teachable is rated 4.4 out of 5 by 132 users on Capterra. The overall rating of Teachable is 4.4, Ease of use is 4.3, and Customer service is 3.9
G2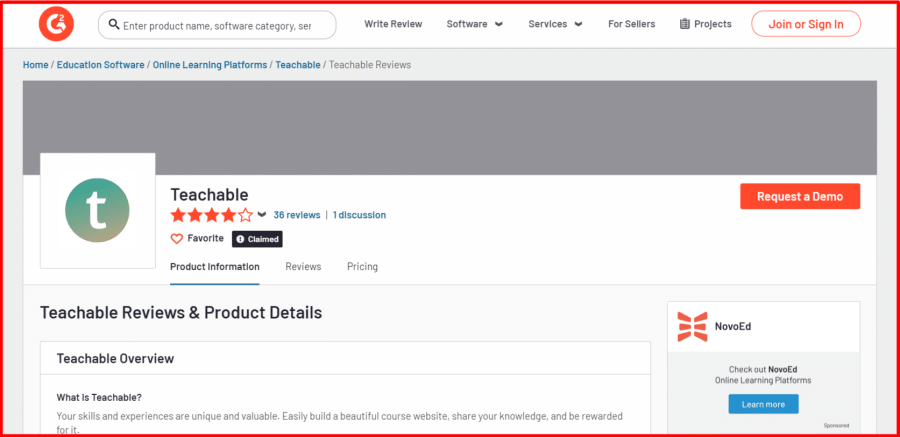 Teachable has received 4.0 ratings out of 5 from 36 users on G2.
Learnworlds Social Presence
Learnworlds and Teachable both online learning platform giants have their presence on social media platforms like Facebook, Twitter, and Reddit to share some insights and answer their customer's queries. So, let's have a look at them.
Learnworlds On Facebook
LearnWorlds has a Facebook page with over 11k followers where they share tips and news about their platform.
LearnWorlds Instagram Profile
LearnWorlds has an Instagram profile with over 1,674k followers and 140 posts where they share updates about their platform.
LearnWorlds Youtube Channel
LearnWorlds has its own Youtube channel where they share video tutorials related to their online course platform. They have over 2.06k subscribers on Youtube
Learnworlds LinkedIn Profile
LearnWorlds has a profile on the LinkedIn platform, they have 81 employees listed here. You can find the company details here.
Teachable Social Presence
Here are the social profiles of Teachable.
Teachable Youtube Channel
Teachable has its own Youtube channel where they share video tutorials related to its online course platform. Teachable has over 17k subscribers on Youtube.
Teachable On Facebook
Teachable has a Facebook page with over 57k followers where they share podcasts, tips, and news about their platform.
Teachable Instagram Profile
Teachable has an Instagram profile with over 66.6k followers and 905 posts where they share updates about their platform.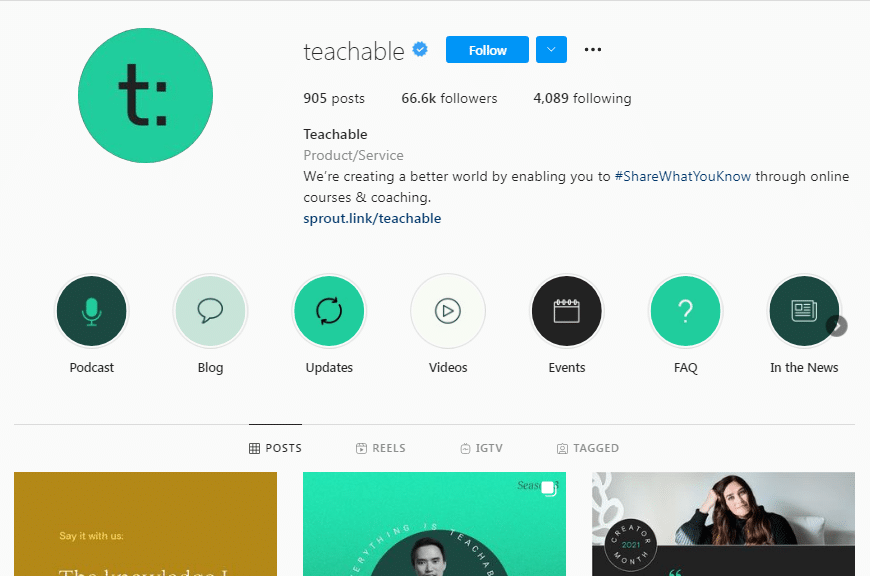 Teachable LinkedIn Profile
The Teachable LinkedIn profile has over 14,904 followers, you can check about their company details and employee here.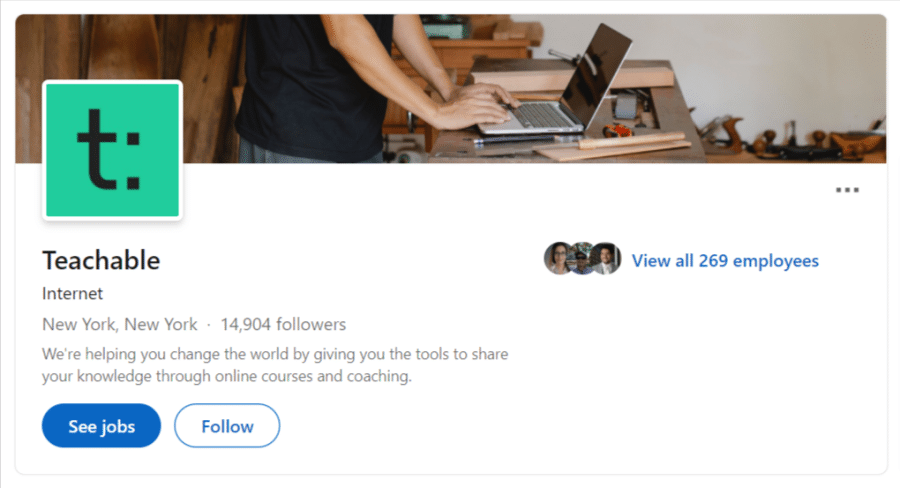 Learnworlds Testimonials on Reddit
LearnWorlds is a powerful, easy-to-use and reliable training solution for individuals and enterprises. A fully customizable, white-label solution to train employees and associates, educate customers, or sell online courses to a wide audience.

Our cloud-based e-learning platform offers Professionals, Entrepreneurs & Training Managers a solution tailored to their specific needs and a team of experts to help achieve your goals.

Reddit User
Teachable Comments On Reddit
Used to be called Fedora. I signed up but my priorities changes, so never got around to using it. Definitely something I'll go back to next year when ready to launch a course. They have a very active facebook group that provides a lot of peer support and encouragement.

Reddit Comment
Awesome, I was going to launch a website and then use udemy to create courses for the website but this does both! I plan to start working on my first course after finals.

Reddit Comment
I've been researching them for a while for a new online course I'm working on. Biggest worry is how scalable it is b/c it's a newer company.

Reddit Comment
Final Thoughts
So after reading this Learnworlds vs Teachable compared article, we came to the conclusion that both platforms provide the same services such as easy-to-use course creation, completion certificates, SSL packages, and many more.
Both of them charge us hefty transaction fees with lower-tier plans.
We should also be thankful for the community-building feature of the Learnworlds as they really lend themselves to building a thriving and engaged audience. It also helps us with its video content tools, flexible payment options, and testing quality which makes it very helpful for students.
On the other hand, Teachable is also a little easier to use and better for beginners. Though its testing quality is not advanced, they also provide a wide range of building blocks for our courses.
But all in all, we can't go way too wrong or right, but there are a few factors we need to decide before choosing the final one.
If still not sure, why don't we give their free trials a shot? This would be the best way to test out their interfaces and see which works best for us.
Whichever we may decide, we have to check that it is the best and meets our requirements.
Frequently Asked Questions
What Percentage Does Teachable Take?
What proportion of the population is teachable? You should be informed that Teachable charges a transaction fee. All course sales are subject to a 5% transaction charge, which may limit your earning potential on this platform.
Does Teachable Have A Community?
Teachable's community (also known as Teachable: HQ) is a specialized location for paying Teachable members to network with other creators who are in a similar stage of their company. This page describes how to go to Teachable's community section, as well as how to log in.
Where Is LearnWorlds Based?
LearnWorlds is based in London, GB
How can I Get learnworlds trial For Free?
LearnWorlds offers 30-day free trial with no credit card required. The premium edition of LearnWorlds starts at US$29.00 per month.
Does LearnWorlds Have Gamification?
Your LearnWorlds school is gamified, and it comes with a set of digital badges that are granted to your students depending on their social behavior and the goals they achieve while using your online school right out of the box.
When Was LearnWorlds Created?
LearnWorlds is a rapidly expanding, forward-thinking e-learning firm with customers in over 100 countries. We are a firm with offices in Greece and Cyprus that was founded in mid-2014.
Does teachable work in China?
People in most parts of China have high-speed internet, so watching videos from Teachable and Thinkific hasn't been a problem. However, video-based programming will be problematic in schools and districts where the internet is slow.
Is Teachable Profitable?
Teachable, which was founded in 2014, is rapidly expanding. It made $7.5 million in income last year after processing $90 million in course fees. Nagpal claims the company is on course to more than quadruple those figures this year, and he expects to be profitable by the end of the year.
Does Teachable Integrate with Stripe?
Yes, Stripe Express is used by Teachable to process credit/debit card transactions as well as PayPal payments. This enables school owners to get payments more quickly and choose their own distribution schedules.
How to set up LearnWorlds Subscriptions?
Step 1: Navigate to Settings → Financial → Payment Gateway.
Step 2: Set up your Stripe account.
Step 3: Enable Subscriptions only in school. A notification message will appear at the bottom right corner.
Step 4: Hit Save.