In this article we have featured Thrive Architect vs Elementor, Over the past few years, there has been a huge surge in the world of WordPress page builders. Countless page builders are now flooding the market with their unique features and functionalities.
These two-page builders in question here are Thrive Architect and Elementor. Both these page builders are essential to help you create the best-looking and highly functional WordPress websites.
So, what exactly is the difference between these two-page builders? Which one fits your business requirements better? And, how much do you need to spend to get your hands on these page builders?
This blog on Thrive Architect vs Elementor is going to help you answer all the above questions. Here we get into the details, let's take a look at these WordPress page builders individually.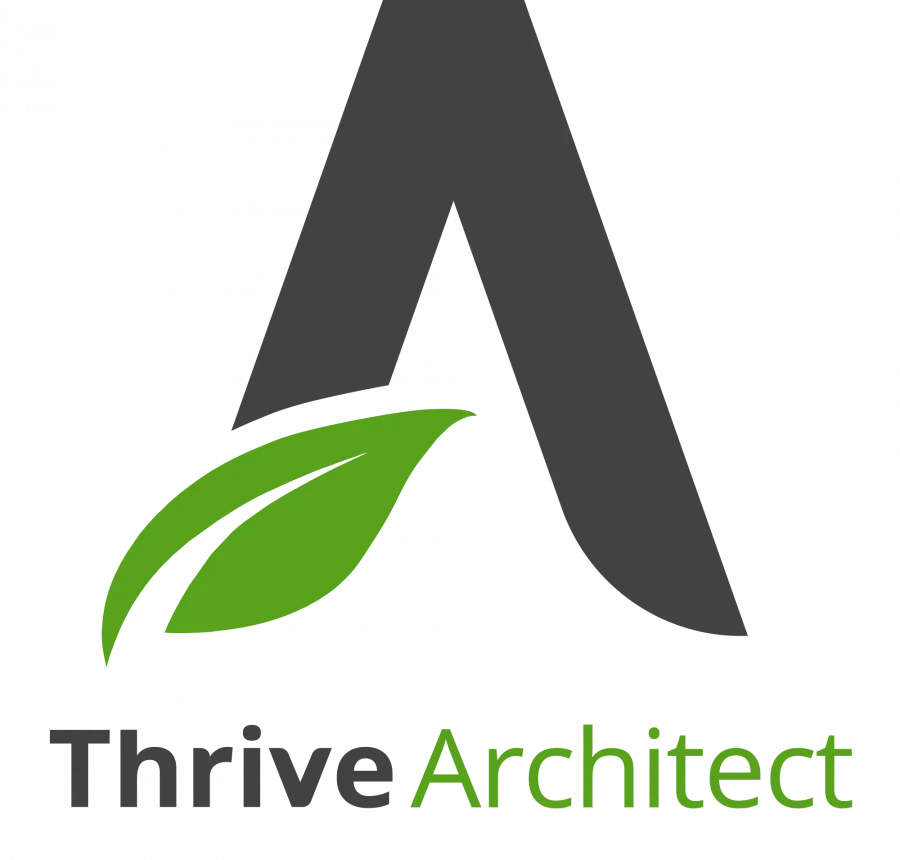 Thrive Architect is a visual page builder for WordPress that was made for businesses that prioritize conversions over anything else. They knew that business owners were busy, so they made Thrive Architect as efficient as possible.
Elementor is a drag-and-drop page builder for the WordPress platform that allows you to create your own pages from scratch. This plugin enables you to utilize a visual editor to improve the appearance of your pages. It has been designed specifically for you to utilize in order to easily create dynamic websites.
Thrive Architect is very easy to use and very powerful when it comes to making custom content designs for WordPress websites.
Elementor is the most user-friendly page builder out there, and it also offers you the most features for free.
The most common plan is Yearly plan $228 annually, or $19 per month. The quarterly plan is $90, or $30 per month. You can only add 25 websites. The Agency Plan costs $588 annually and includes 50 websites.
Elementor offers five different pricing choices, the most affordable of which is one website for $49 per year. Three websites for the price of $89 per year. For $259 per year, you can host 25 websites.
In general, Thrive Themes Team tries to answer all queries relating to General, Plugins, Thrive Theme Builder, Thrive Automator, Thrive Apprentice, Thrive Architect,  And Thrive Optimize.
Ask questions about existing Elementor features and get replies within 24 hours. Their team can also assist directly and provide Premium Support.
Thrive Architect vs Elementor: overview
Thrive Architect: Overview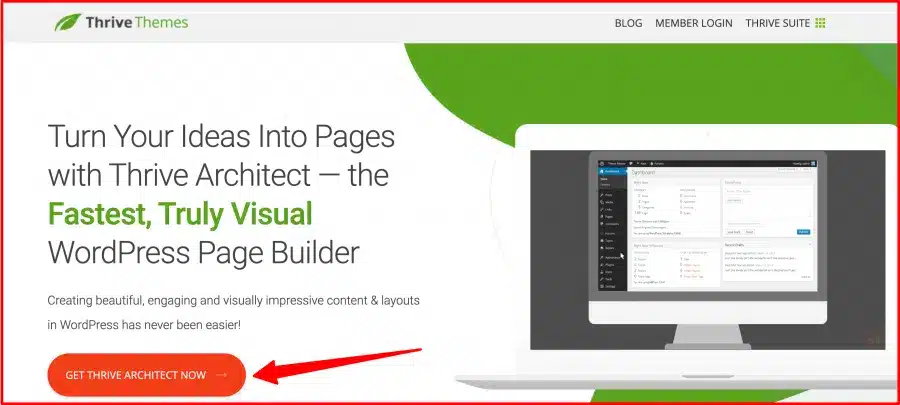 Thrive Architect is a powerful tool that helps you build WordPress pages, squeeze pages, sales pages, and lead generation pages. Thrive Architect is one of the latest additions to the Thrive Themes product family and a part of their Thrive Suite.
It is a comprehensive visual page builder with drag-and-drop, templates, and integrations that aims to help bloggers create stunning landing pages, quizzes, and other engaging content.
This is the ultimate toolkit for anyone serious about making money online. We will get into the details of the features of this tool as we go along with this article.
Elementor: Overview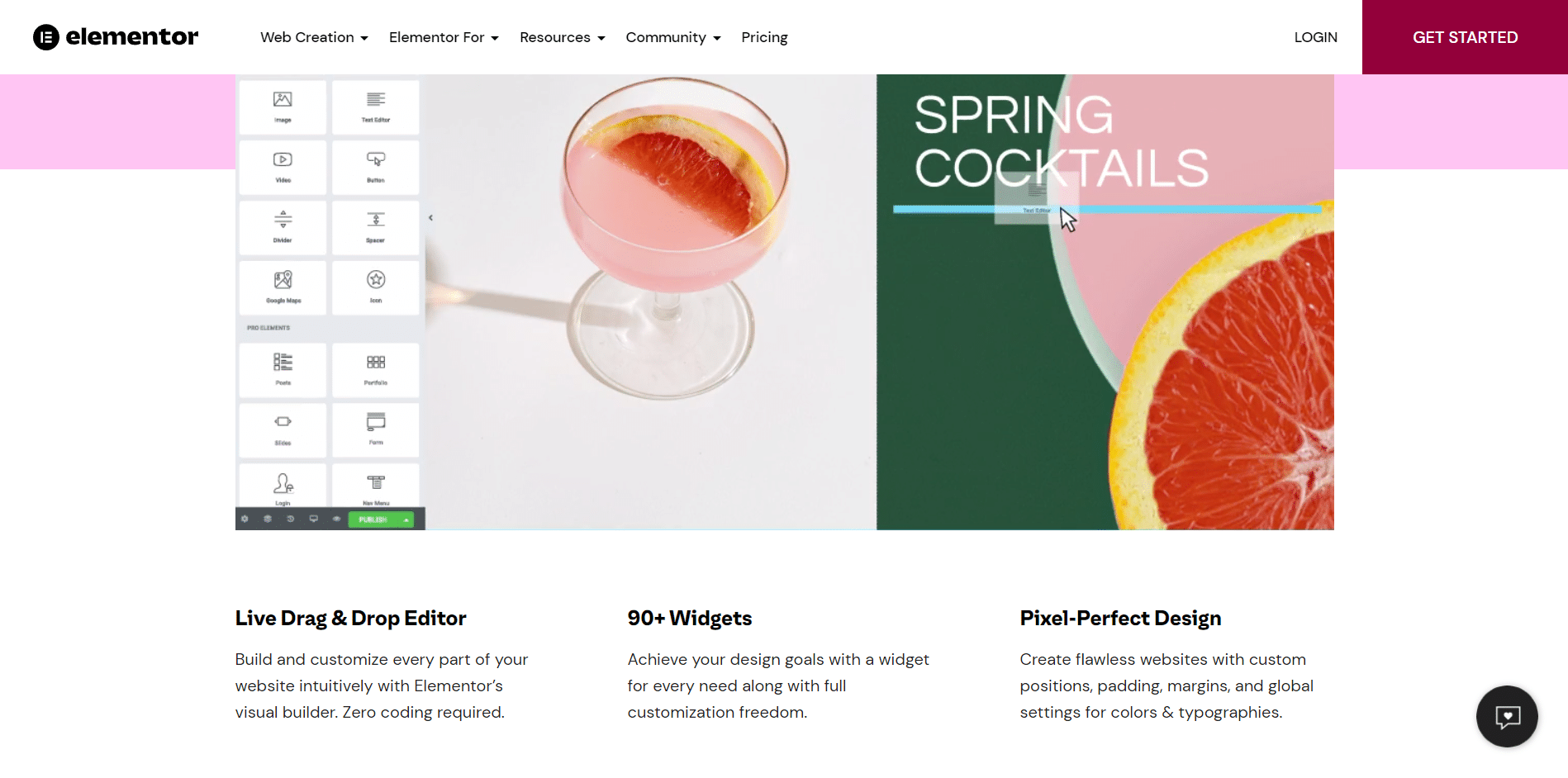 Elementor is a WordPress Page Builder Plugin that can be used to create a wide variety of website designs. Elementor is the ultimate solution for creating beautiful, responsive WordPress pages and posts. It's a drag-and-drop page builder that helps you build beautiful websites in no time.
It is also a one-stop WordPress Theme Builder plugin. The framework is built on the Bootstrap front-end framework and is offered in over 20 languages, adapting to localized settings.
With Elementor, you can easily build any kind of page you can think of, including layout templates that can be used to create any number of pages based on a common layout.
The best thing about Elementor is its large template and element option. Also, it has a free version. We are going to get into the details in a while.
Here is a quick comparison between Thrive Architect vs Elementor.
Thrive Architect vs Elementor: Summary
| | | |
| --- | --- | --- |
| Features | Thrive Architect | Elementor |
| Templates | 267+ templates | 300+ templates |
| Widgets | 46 widgets | 100+ widgets |
| User Interface | Two sidebars; has a learning curve. | One sidebar; easy to use. |
| E-commerce widgets | No | Yes |
| Theme Builder | No | Yes |
| Pop-Up builder | Yes | Yes |
| Global Widgets | No | Yes |
| Updates | Yes, for a lifetime. | Only for a year. |
| Third-party integrations | No | Yes |
| A/B split testing | Yes | No |
| Pricing | Starts at 19$ per month. | Starts at 49$ yearly. |
Thrive Architect vs Elementor: Major Differences
Now that we know what are these tools let's take a deep dive into Thrive Architect vs Elementor by comparing them in these nine major categories:
2. Templates
6. Mobile Preview and Customization
7. Pop-Ups
8. Integrations
1. Thrive Architect vs Elementor: Decoding the User interface
Thrive Architect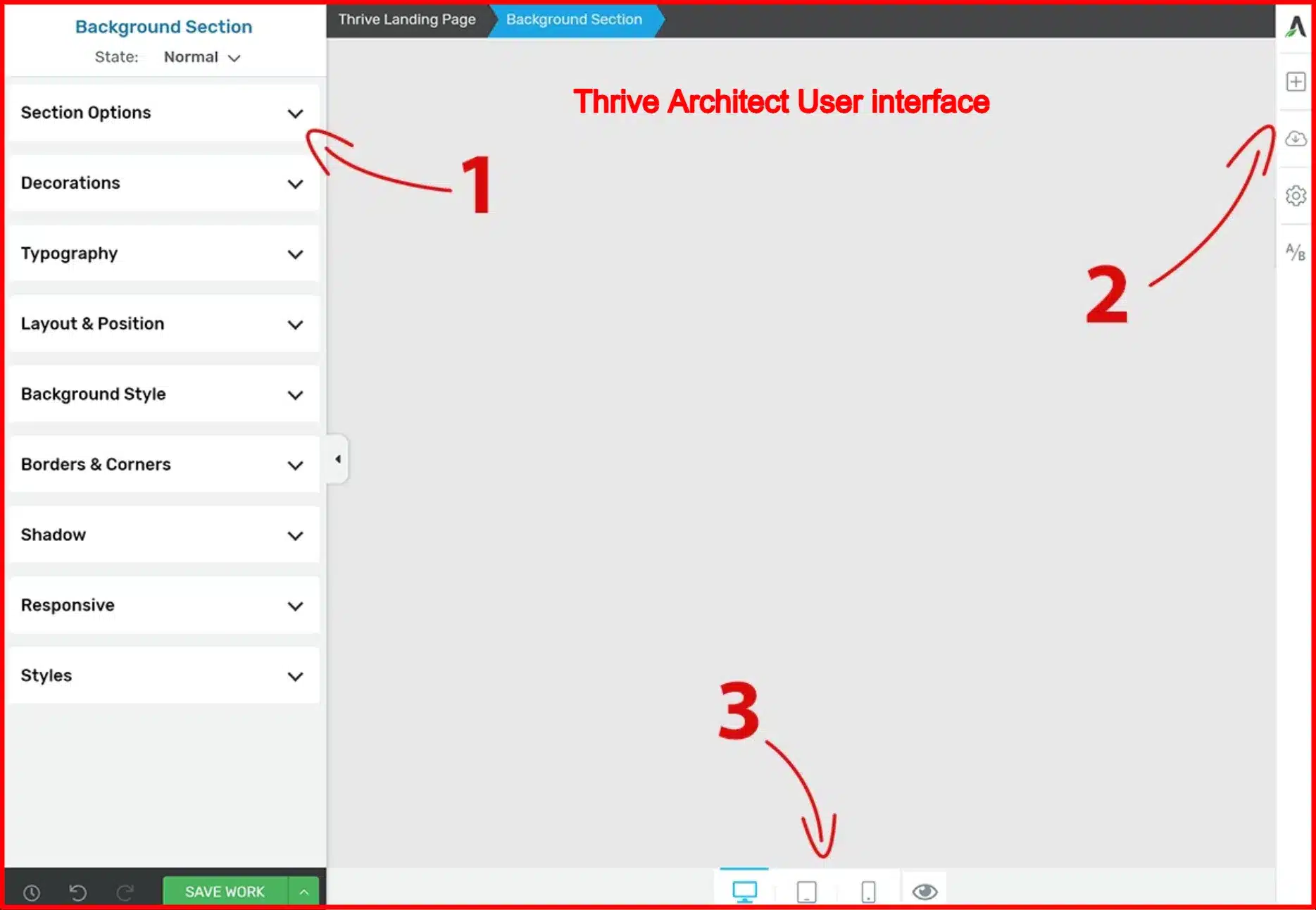 The Thrive Architect interface is simple and clean. It has an interactive drag-and-drop page builder that allows you to create beautiful, highly converting landing pages and sales pages in minutes.
Thrive Architect has two sidebars instead of one. One with elements and one design tab. Navigate to Templates to see the collection, then click on the template you want to import and preview it in the Design tab from the top bar.
Before you can just place it on the page you are editing. Content can be edited within each section, and you have the option to either add an image or replace the existing text with some of your own.
The best part is that you can save any changes to your content as a draft so that you can go back to it at any time and continue making more edits.
Elementor
Elementor has a drag-and-drop page builder with a ton of functionality, but it's not too difficult to start working with it.
It's intuitive and easy to pick up. It's impressive the amount of customization it offers in a streamlined interface. It's easy to use and makes more advanced management easy.
However, it just has one sidebar from which you can choose the elements you want to customize, place them on the page and edit it as desired.
Verdict:
With the two sidebars option in Thrive Architect, it definitely becomes much easier to choose and customize an element before placing it on your page. The Design bar is also retractable so it does not take up space. But if you want a wider view of your page then Elementor has a very simple user interface.
2. Thrive Architect vs Elementor: Templates
Thrive Architect
Thrive Architect comes packed with over 267 templates for creating stunning WordPress pages that can go with any theme you want.
These templates can easily be customized with their Drag-and-drop editor and therefore any Thrive Architect user has plenty of options to choose from.
Elementor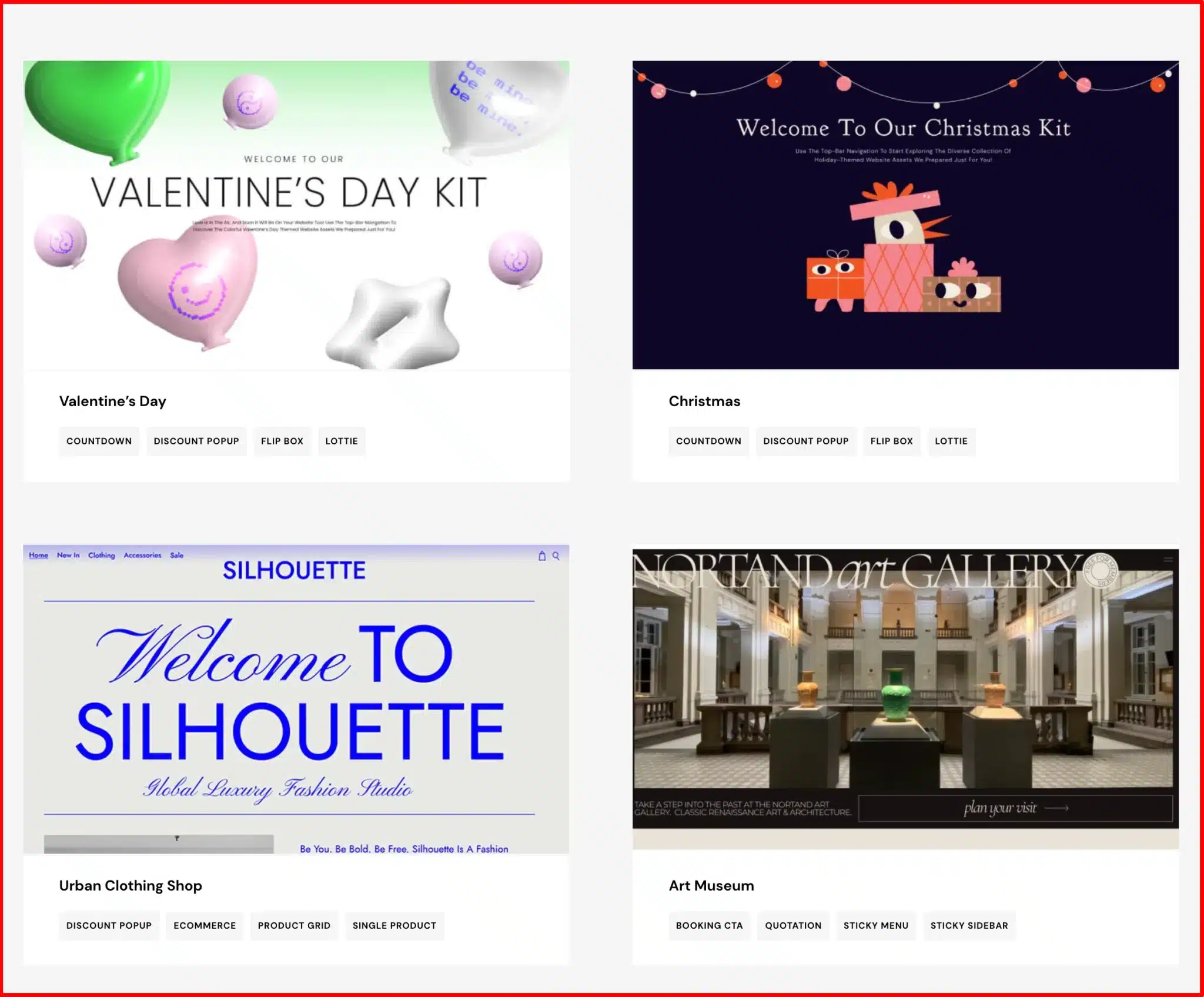 Elementor lets you import or make or use a pre-made template when it comes to page design. In its free version, Elementor has about 60+ templates to choose from.
These templates are divided into two types: one is the whole page templates and the other is the blocks.
You can use these blocks to create your own page as well. In its paid versions it gives you 300+ such templates, to begin with.
Verdict:
As you see there is not much difference in the number of templates while considering Thrive Architect vs Elementor. You can use either of these tools to create the best pages for your WordPress website. If you are a Thrive Suite payee you also get access to their other tools dedicated to making landing pages that have their own set of templates. Thus, if you are focused on lead generation Thrive Suite gives you Thrive Architect with the other tools.
3. Thrive Architect vs Elementor: Who has more Widgets and Modules?
Thrive Architect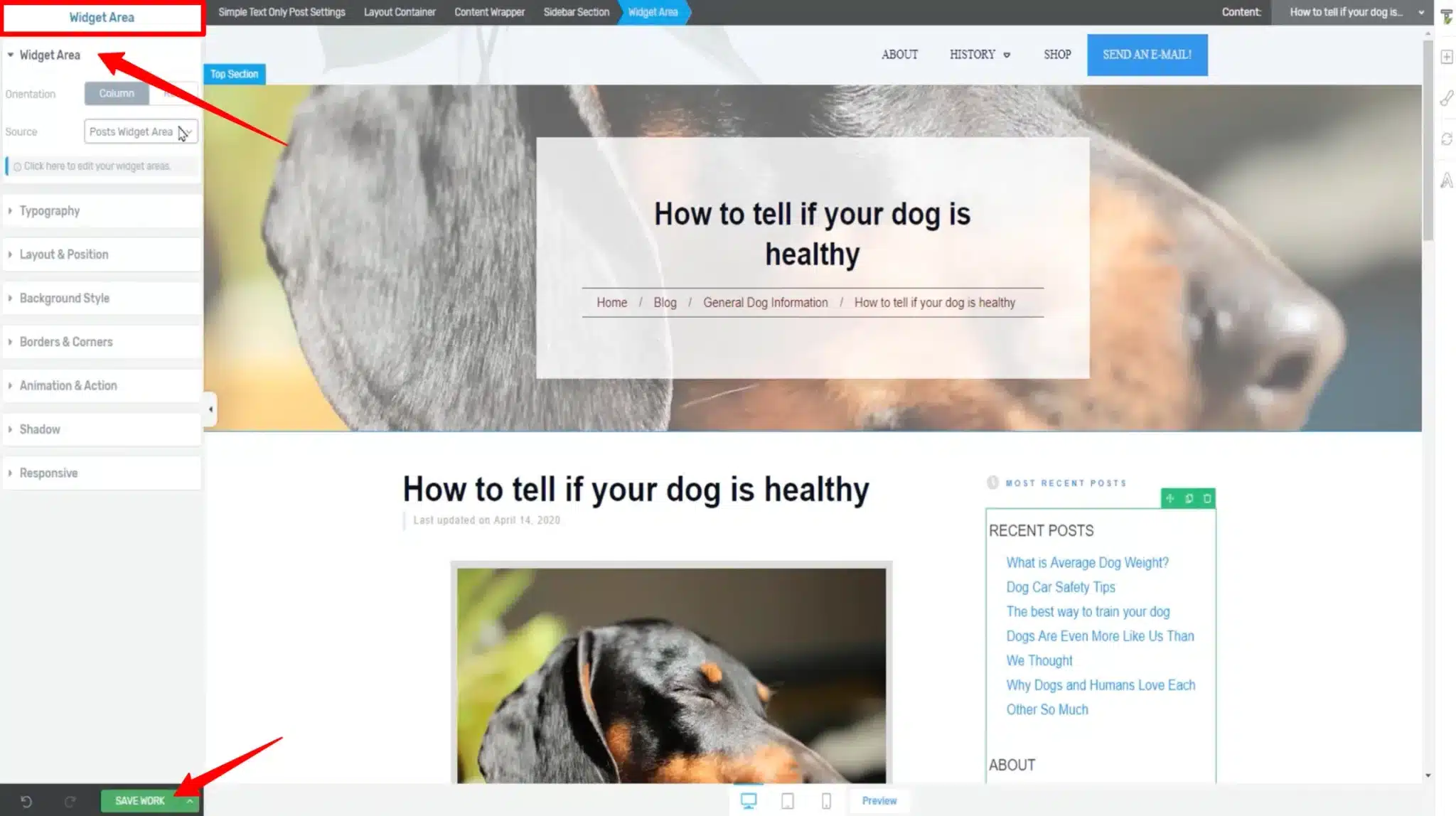 Thrive Architect comes with a modest set of around 40 elements divided into two sections:
A. Conversion Elements like call-to-action buttons, testimonials, countdown timers, and so on.
B. Building Elements that include column layout, image, text, tables, and so on.
Some unique elements of Thrive Architect that are not found in Elementor are:
Content Box and
Content Reveal.
Elementor
Elementor provides its customers with 40+ elements in the free version itself while in its paid versions you get about 90+ elements to work with. Some of the unique elements of Elementor are:
Flip Box.
Animated Headline
Code Highlight
Lottie Widget
Price List
Hotspot and many more.
Elementor also has an entire array of WooCommerce elements for those clients that run a business website.
Verdict:
In the comparison between widgets between Thrive Architect vs Elementor, Elementor surely shines in this regard for its versatile widget and element options.
4. Thrive Architect vs Elementor: Can you perform A/B split testing?
Thrive Architect
Thrive Architect offers you the interesting ability to test your creations in an A/B split test. This is an important aspect for people who have Marketing websites as they can look at how their pages will work on conversions.
Elementor does not offer built-in testing but third-party applications or plug-ins such as Google Analytics can be used to perform the same function.
Elementor
Elementor does lack an A/B split testing ability which does give it some low points as people usually would want to know whether their pages are going to convert or not. However, integrations are very easy in Elementor and you plug in an external app to perform the same function.
Verdict:
In this category of Thrive Architect vs Elementor, Thrive Architect definitely wins over the others.
5. Thrive Architect vs Elementor: Theme Building Options
Thrive Architect
Thrive Architect in itself does not have theme-building options instead you have to use another tool from the Thrive Suite called Thrive Theme Builder to edit and customize the theme of your WordPress website.
Theme building means header and footer customization or the areas that are not directly related to the content you are posting.
Elementor

Elementor offers its users the 'Theme Builder' inbuilt with its paid versions. To access Elementor Theme Builder you must go to the WordPress dashboard and select Theme Builder in their template section.
What the theme builder does is allows you to design parts of the website that are not usually limited to content such as the title, or footer of the website. This feature is however not available in its free versions.
Verdict:
Theme building is especially important if you want to make your website attractive to your visitors. With Elementor you do not get this option in the free option.
However, if you are part of the Thrive Suite community you need not worry about Theme building. So, in this Thrive Architect vs Elementor, I will give both the WordPress page Builder the points.
6. Thrive Architect vs Elementor: Can you make your pages Mobile Responsive?
Thrive Architect
With a large portion of visitors viewing websites from their mobile phones it becomes important that the pages that you create using these tools are mobile responsive. With Thrive Architect you get mobile previews of the page you create where you can adjust images, the size of the font, and other aspects of the look as you want.
Elementor
Elementor is also mobile responsive. It comes with a built-in Mobile responsive UI that automatically sets your page in mobile aspect ratios however if you do want to make custom changes you can do so too using Elementor.
Verdict:
There is not much difference between Thrive Architect vs Elementor in this regard both tools will make sure you can make your creations appealing to mobile users as well.
7. Thrive Architect vs Element: Do they have pop-ups?
Thrive Architect
Thrive Architect is solely made to create WordPress pages. You are given a large number of templates to choose from and use their drag-and-drop builder to create the best pages for your website but you are nothing given the option to make pop-ups with Thrive Architect.
Elementor
Pop-up Builder is an inbuilt unique feature of Elementor. If you need to generate leads or advertise your products you can use Elementor's pop-up builder which is powerful enough to suffice your needs. You can create various types of pop-ups with Elementor such as Registration Pop-ups, Newsletter pop-ups, exit-intent pop-ups, and so on.
Verdict:
Since the pop-up builder is unique to Elementor thus it definitely wins this round.
8. Thrive Architect vs Elementor: Ease of Integration
Thrive Architect
Since Thrive Architect is part of a large community of tools from the Thrive Suite it is highly unlikely that you will not find a tool that you will need. However, if you do want to plug-in external extensions or apps you can do that too. Thrive Architect integrates with many ERMS and social media sites like
Active Campaign
Amazon Services
HubSpot
MailChimp
Zapier
Postmarks and so on.
All in all, it supports 40+ external integrations
Elementor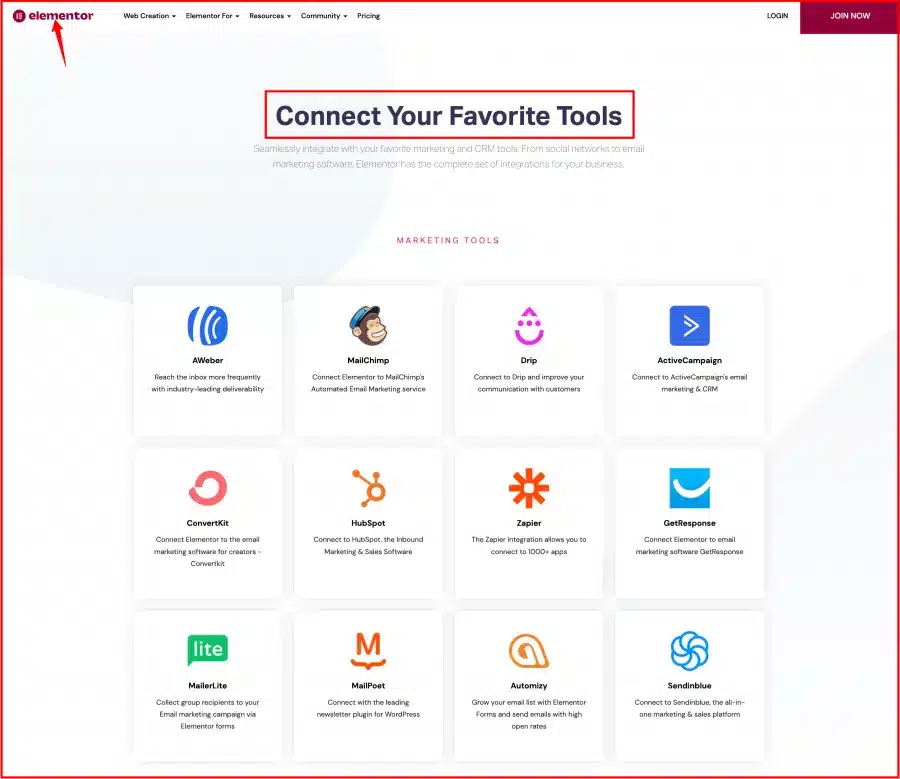 Elementor is a free app as well as a paid tool. This is the reason why it is only natural that it allows a wide array of integrations. It integrates with all major CRMS, ERMs, E-Commerce tools, and social media sites like
MailChimp
ConvertKit
EmbedVideo
Active Campaign
Drip and so on.
Verdict:
Both the tools offer similar integration options thus Thrive Architect vs Elementor level is at par.
Thrive Architect vs Elementor: How much do you have to pay?
Thrive Architect Pricing
The important thing about Thrive Architect is that it is not a standalone plug-in. You have to purchase the entire Thrive Suite to get access to Thrive Architect.
It comes in three pricing plans:
Yearly plan: This plan is the most common one that costs around $228 yearly which is $19 per month.
Quarterly Plan: The quarterly plan comes are $90 for three months which is $30 each month. However, you do have a limitation to the number of websites which is 25 only.
Agency Plan: This comes at $588 yearly with the only difference being that you can plug in 50 websites.
Elementor Pricing
Elementor has versatile pricing plans. In fact, it can be used for free as well for 1 website. However, the free version does not include Pop-Up Builder, Theme Builder, and advanced customization options.
The paid versions come with all the features with different numbers of websites supported.
The pricing plan details are as follows:
Essential Plan which costs 49$ yearly for 1 website.
Expert Plan which costs 199$ yearly for 25 websites.
Studio Plan which costs 499$ for 100 websites
Agency Plan which costs 999$ for 1000 websites.
You can avail discount on any of the above Elementor plans using the Elementor coupon codes they provide on special occasions like Elementor Black Friday.
The added advantage to this is that you also get a 30-day money guarantee on any of your purchases as well.
Verdict:
As you can already guess the winner in this Thrive Architect vs Elementor category. Elementor wins for having not only cheaper but also more versatile options for their clients.
Thrive Architect vs Elementor: Pros and Cons.
Now that we have compared the key features of Thrive Architect vs Elementor let's take a step further to see what are their advantages and disadvantages so that you get a better look into what you will be working with.
Thrive Architect Pros:
The drag-and-drop editor is a big plus. With a simple drag-and-drop tool, you can build a high-converting landing page in minutes.
With its awesome page editor, you will be able to create any kind of page you want with a simple drag-and-drop tool.
The built-in split-testing feature is a big plus. This feature helps you to determine which versions of a page have the highest conversion
Demos: Each pre-made landing page has a live demo, so you can see how it'll look in your browser before you download it.
No technical skills required: Not a coder, designer, or copywriter you need not worry. Thrive Architect's templates make landing page creation a breeze.
Build your pages in a live preview mode as you work, so you can see how they look at every stage of development.
Includes a huge range of shortcodes, elements, and modules to help you create any kind of page.
Thrive Architect Cons:
Lacks the design capacity of other competitors.
Lacks customization options.
Expensive compared to its competitors
Lacks many essential elements like Pop-up builders and many widgets as well.
Elementor Pros:
Timeless design. Elementor's design is carefully created to always look modern and beautiful.
Lightweight and fast. No more loading time and memory issues. Elementor only loads the parts of the page that you're working on.
Most advanced page builder. Elementor's page builder is the best first-page builder on the market. It's highly flexible and gives you advanced editing options like global widgets, Custom CC integrations, styling, and so on.
It's easy to use. Elementor has a simple and modern user interface with no coding knowledge needed.
Provides you with complete control over your site. Create unlimited custom designs and elements.
Elementor is an intuitive front-end drag-and-drop builder that allows you to build stunning websites without the need to know HTML or CSS.
Elementor is a highly intuitive drag-and-drop interface that makes it easy to build beautiful websites.
Elementor Cons:
It's slow due to its memory-intensive nature.
It's expensive because of the large number of plugins you need to use to create a website or a blog.
Elementor is missing some advanced features.
Elementor is missing essential features like A/B Split testing.
Thrive Element vs Elementor: So, which one should you choose?
We hope you enjoyed this comparison between Thrive Architect vs Elementor. Both are very popular page builder plugins for WordPress, and it can be hard to choose between them.
Knowing the differences between them will help you make an informed decision when choosing between Elementor and Thrive Architect. However, the choice is entirely up to you.
Every online website has different needs and choosing a tool that matches or lives up to your demands is essential. In fact, with Elementor, you can even try it out for free if you want before paying. Either way both a good tools for WordPress press building and we hope you enjoy using them.
Happy Creating.
Frequently Asked Questions (FAQs)
Is Thrive Architect better than Elementor?
It's not hard to see why Thrive Architect is so popular. You can create beautiful designs for your website easily. There are tons of resources and tutorials for you to learn how to build a page without much of a problem. However, you might be asking yourself if Thrive Architect is really worth it or you want to know if it's really better than Elementor or the other platforms. To know the full details read the detailed comparison between Thrive Architect vs Elementor.
Is Thrive Architect SEO-friendly?
The answer is a resounding yes. Thrive Architect team has taken the time to make sure that every page is optimized so they can be easily read by search engines. While the product was being created, it was tested on different search engines including Google and Bing. This allowed the team to make sure that Thrive Architect is SEO-friendly.
Which Website Builder is the best?
There are many different options for website builders out there. However, it can be difficult to know which one is right for you. The best way to find out is to try them for free. You can choose among many options like Thrive Architect, Elementor, ClickFunnels, Divi, Beaver Builder, Google pages, and so on.
What is Thrive Architect?
Thrive Architect is a WordPress plugin that allows you to easily add new page templates, WordPress widgets, and additional functionality to your website. It also allows you to easily add calls-to-action and external links.
What's better than Elementor?
Elementor allows you to create your own page layouts, and it makes it easy to create unique pages. Elementor is fully responsive, which means it will adapt to different screen sizes, from tiny smartphones to large desktops. You can easily customize the design, layout, and content of a single Elementor page. However, if you look at alternatives there are plenty out there. You can refer to this article to the difference between Thrive Architect vs Elementor.