If you search for Thrivecart Review, I'm sure you will get a plethora of options online but if you are looking for a one-stop solution to knowing Thrivecart from the core then we've got your back.
We all know how important a shopping cart is for an online business to convert its visitors into customers. I am not going to bore you with the obvious information.
If you are here, I'm sure you already know it and are looking for shopping cart software that will help boost your sales. Thrivecart is one of the most popular and widely used shopping cart software and in this Thrivecart Review, I will give you a complete breakdown and guide of the nooks and crannies of Thrivecart and how you can use it to sell your products.
Starting from its highlighted features, pros, and cons to pricing, I will discuss everything you need to know about Thrivecart before you invest in it and use it to your business's benefit.
Let us start at the basics and understand what is Thrivecart.
What is Thrivecart?
Thrivecart in its simplest form is a tool that can be used to make shopping carts and checkout pages that will help you convert your website visitors into customers. But it doesn't stop here.
Thrivecart, unlike other online shopping cart solutions, goes beyond creating singular sales pages for your online campaign and helps you create entire sales funnels by adding upsells, downsells, and bump offers to your checkout pages that will keep your customers hooked and satisfied. That's not all.
Thrivecart has enriched itself by allowing a ton of integrations with payment partners, CRMs, analytics software, email autoresponders, and other E-Commerce tools that help you create a well-coordinated and well-designed shopping website that does not even require any technical coding knowledge.
Whether you are selling online or physical products Thrivecart makes the entire selling process easy for you to design based on their hand-crafted templates and customizations and as a major plus point makes it attractive to your customer as well.
Best of all, Thrivecart is available for a one-time charge, which provides you lifetime access to the application. If you're looking for a less expensive alternative to what you now have, you should take advantage of this unique offer. We start off our review by evaluating the Thrivecart platform.
But what does exactly Thrivecart offer us?
Let's dive into its main features…
ThriveCart Coupon & Discount
They offer discounts and coupons on special occasions, you can check out our full article on ThriveCart Coupon or ThriveCart Discounts, However, if you do purchase ThriveCart using the link on this page it will be directly redirected to the Thrivecart special offer page.
Is ThriveCart Worth it?
It would be beneficial for you to invest in ThriveCart for your online business given that it has assisted other business owners in generating more than $2.0 billion in sales to this point.
This solution will have a rapid return on investment (ROI) and will quickly pay for itself thanks to the array of tools that are included in it that are meant to help you increase your conversions and sales (return on investment).
If you run a single campaign and make just one bump or upsell, it's possible that you won't need to worry about paying for this software again.
Because of the likelihood that a single campaign will pay for it many times over, I strongly recommend ThriveCart to those in the marketing industry.
In addition to that, the fact that there is a limited-time lifetime deal available with no ongoing fees is a pretty cool perk.
Personally, I've been using it, and I think the value it offers in terms of the capabilities it possesses compared to the price is outstanding.
Thrivecart Pros and Cons
Here is a quick review of where Thrivecart shines and places that they can work on.
A shopping cart plugin that integrates any shopping website including WordPress platform.
Drag and drop interface makes it easy to customise, manage and publish your content.
Create unlimited pages and posts, assign each to a category and publish at your convenience.
Works perfectly with WooCommerce.
It is 100% cloud-based so you can use it anywhere any time
Rapidly create a professional digital store that supports multiple payment gateways.
Keep track of your sales, customers, products, and services using the built-in admin dashboard.
Fully responsive and mobile-friendly.
Easy to integrate with other apps.
Inbuilt marketing automation like advanced email autoresponder and affiliate marketing.
It is cost-effective and pocket-friendly.
Thrivecart could have better customer support.
It has a limited template gallery.
Thrivecart Review: What Does Thrivecart Really Do?
In my experience, Thrivecart has been ingeniously crafted to achieve one goal: Selling Products and I believe this is a common goal between the tool and the business it is being used for. Ecommerce websites are created to sell products online and the shopping cart is the determinant of the business.
According to experts, for online businesses, the shopping cart abandonment rate is almost 70% which means 70% of your visitors will cart your product but will never proceed to checkout. And just by optimizing your checkout experience, sales are said to increase by 36%.
Keeping this in mind, Thrivecart's functionality can be discussed under the following heads.
Thrivecart Helps Create Optimised Checkout Pages
Thrivecart is a software program designed to help online businesses create better shopping carts and checkout pages. It's built with a prioritized checklist feature that helps manage the flow of checkout pages and optimize the conversion rate of your website.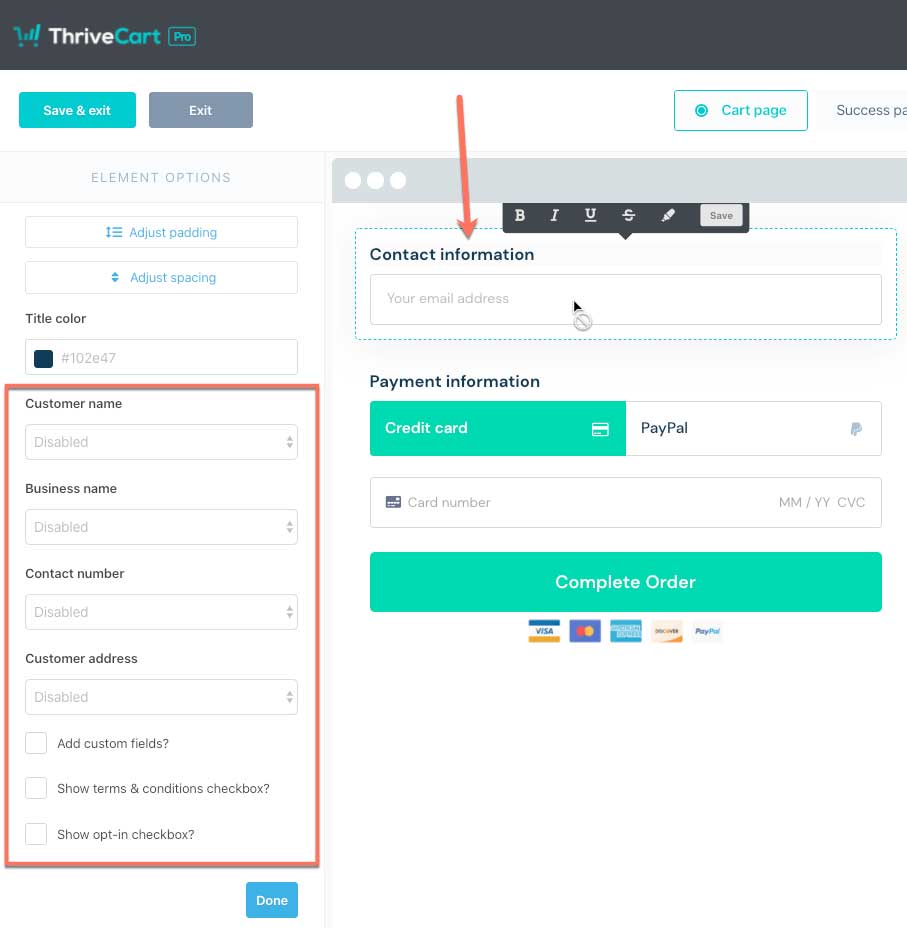 Thrivecart comes with its own Drag-and-drop 'Sales Cart' Builder. Its user interface comes with left and right sidebars where you can choose the element you can to edit and customize all necessary elements like font, color, style, size, text, images, and so on using the beginner-friendly interface for any user without any prior experience in page building or coding can set up any sales page in a matter on minutes with Thrivecart.
Interestingly you can build your sales pages based on pre-built and conversion-tested templates available in the template library of Thrivecart. They provide templates for four different categories of sales pages:
Standard Sales Pages: With both one-step and two-step checkout templates.
Pop Up Sales Pages.
Sales Pages with Embed Anywhere feature.
Shopping Cart Pages.
You also have advanced customization options like adding video cards, countdown timers, terms, and condition boxes, buy buttons, and so on to increase the productivity of your page.
To add to the goodies comes the ability to perform A/B split testing of both bivariate and multivariate page types. A/B split testing is an advanced feature that lets you test the pages you create so that you get maximum returns once you post.
My Opinion
In my experience using Thrivecart I have found the pop-up templates to be a unique feature and have widely used them in my business ventures. The ability to perform A/B split testing on my sales cart gave me clear stats on which of my sales pages would convert better and help me gain more sales in the long run.
Thrivecart grabs a solid 4.5 out of 5 in this category of Thrivecart Review of sales page creation with the only hiccup being a slightly limited template gallery.
Two-Step Shopping Carts
With the help of Thrivecart, you can convert your website into an effective e-commerce platform with lead capture features.
Keep in mind that the value of the client data you acquire is doubled if you are able to convert that data into a sale. In the event that a consumer abandons their shopping cart, you can still retarget them by emailing them reminders or other offers.
This is why the platform's multi-step checkout process is so beneficial. A one-click shopping cart allows the buyer to quickly and easily complete the transaction, make the purchase, and then leave the store.
In contrast, a two-step shopping cart requires the customer to enter some information before the purchase can be finalized.
One's name, email address, mailing address, and phone number are all examples of data that may be collected. Customers can be easily retargeted with suggestions based on their last purchase even after they've left your site.
Repeatedly doing this, even when the cart is abandoned, will allow you to amass a sizable subscriber list directly from your checkout pages.
Thrivecart Creates Sales Funnels to Boost Sales
When it comes to boosting sales, it's important to consider a lot of different strategies. It's important to first figure out what your customer's interests are and what you can offer that would fill that need, not only making sales but keeping them engaged with your brand.
Thrivecart is the perfect solution for this because it offers several different features.
Thrivecart essentially guides customers through a planned sales funnel strategy that will generate their interest in a product and ultimately lead to its purchase by the addition of selling options that can be added to your sales pages as a part of your elements with the Sales Cart Builder. These include:
Upsell offers products related to the one being purchased or added to the cart.
Down-sell offers for related products being rejected from cart or payment which are usually cheaper.
Bump Offers related products to offer the best products in a similar price range.
With these offers along with the creation of personalized coupons with Thrivecart, you can sell your product with the help of attractive offers and discounts that will be almost impossible to resist for a customer and therefore will ultimately boost your sales.
My Opinion
Thrivecart has clearly understood the assignment and has ingeniously added features that will entice customers into your little sales trap.
Personally, the ability to create coupons with minute details like fixing the discount amount, expiry after use, or even applying the coupon to one or multiple products on my website let me create unique offers year-round that kept my customers interested and hooked.
Thrivecart also has a dunning facility which means it gives automated payment reminder emails and thank you emails for every product sold. With such advanced customer management techniques, it is efficient in managing your customers.
Thrivecart bags a five out of five in this category for being the best in what it does: Selling Products.
Bump Offers And Upsells
Upsells- A skilled salesperson knows how to maximize a customer's spending potential once they've made up their minds to buy. One way to do this is to suggest a comparable product or one that offers similar value but at a lesser cost.
Thrivecart facilitates this precise function. You can enhance the average order value by including a one-click bump offer or upsell on the final checkout page.
When consumers click the offer, they won't be taken directly to the product page; instead, the item will be added to their shopping cart. The emphasis, instead, is still on leave.
Every time you make a transaction, you may use this strategy to push further purchases that are complementary to the one you just made. Customers are more likely to buy related items from you if they only have to click a few times to do so.
Using upsells and bump offers, you can increase your earnings from your current clientele.
Thrivecart Has Efficient Affiliate Management
No Thrivecart Review can be complete without discussing its amazing affiliate management. Affiliate programs are the ultimate way of engaging a large group of people to promote your products and therefore increase your exposure and ultimately increase your sales.
Therefore, creating a good and rewarding affiliate program is necessary for all businesses that want to scale their businesses to greater heights. With Thrivecart this is child's play.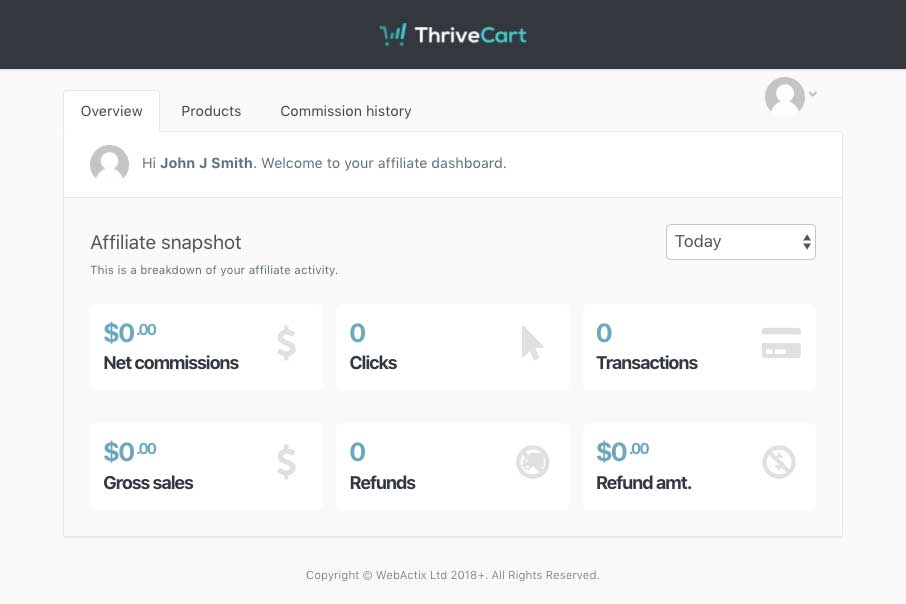 Instead of having to build such a program from scratch, Thrivecart has a built-in affiliate program that has a two-step set-up. First, you need to set up the percentage of commissions to be rewarded, and second, you need to set affiliate URLs and cookies.
Even in this step, you have two types of commissions:
Furthermore, these commissions can also be different for people from different pricing plans.
My Opinion
Managing affiliates and sending manual payouts can be a disaster if not properly managed. With Thrivecart I have been able to control the tiniest details of affiliate management including how affiliates sign-up, disable some affiliates, expire cookies, and redirect links to places I wanted.
I would recommend the affiliate management center of Thrivecart to even newbies as it has made it as complicated as easy as cake.
Thrivecart Has Detailed Analytics
If you are into business then you know how important it is to keep track of your net sales, and revenues, manage your costs, and optimize your performance accordingly. Thrivecart has inbuilt dashboard analytics and reporting that gives detailed statistics of everything happening on your website.
You get in plain numbers and figures the exact amount of conversions you have had and the net revenue you have earned all in one place in Thrivecart's Dashboard. The functionality of the Thrivecart Business Dashboard includes:
Total Transaction Count
Net Revenue
Average Order Value
Gross Revenue
Annual Revenue
Total Orders Placed
Total Customers
Conversion Rate
Cancellations
Refunds
Failed Charges
Active Subscriptions
Refund Rate
Refund Amount and so on
My Opinion
As you can already guess Thrivecart has left no stone unturned to make sure you have complete control over your website and know every detail of what's going on it. The feature that interested me the most is the insights.
Here I found detailed forecasting of revenue generations and live traffic monitoring which is pretty much unique to Thrivecart.
Thrivecart Provides Necessary Customer Service
As with all new tools, it is obvious that you will face some challenges initially and will require technical customer support. Thrivecart also provides its users with customer support facilities which include:
A large gallery of resource material in the form of tutorials and blog posts is posted on their website.
Email support that promises help within 24 hours of contact.
An active and large Facebook community that is very responsive and helpful.
You can also submit tickets that will be responded to at the earliest to help you out.
Their blogs can be divided into major categories that help you to get used to the tool such as:
Getting Started
Creating your Product
The Sales Funnel
Billing and Payments
Managing Customers
Integrations
There is a blog for every issue you might encounter while setting up your shopping website and selling your products so you do not need to be stuck anywhere and can easily work your way out. Simple and Neat.
My Opinion
While you will in most cases find almost anything that you need in their blog collection, there may arise problems that are unique and maybe urgent as well. It is at this stage that a live chat option or an immediate response channel is required which Thrivecart has yet to include.
This is definitely a place that Thrivecart can work on but other than that with this information in hand you are set to go.
That being said, here is a quick summation of the best features and small demerits of Thrivecart.
ThriveCart Integrations
It is absolutely necessary to have the ability to correctly integrate your shopping cart with the rest of your sales and marketing stack.
It is possible that the level of your business's integrations, or the lack thereof, will be a big influence in determining whether or not your company will be successful.
ThriveCart provides a broad range of integrations that may compete with those offered by some of the industry's most well-known brands.
When taking into account how long ThriveCart has been on the market as a product offering, this is quite an accomplishment.
Thrivecart Has Automated Payment Integrations
As with any shopping website, the most important thing to consider is payment. Thrivecart not only integrates with multiple payment partners to give you a large range of options to work on but it also has multiple payment gateways to choose from for your online store.
By pressing a couple of buttons, you have a fully-functioning store, ready to receive your products and handle payments.
Thrivecart integrates with most major payment partners including:
PayPal
Stripe
Google Pay
Apple Pay
Authorize.net
You can set up different payment models as well with Thrivecart including:
Multiple Pricing Options for different customers.
Subscription plans.
Auto Billing.
Split payment plans.
Free Trials. (Check out our article on how to get Thrivecart free trial)
Paid Trials and so on.
Thrivecart accepts money in over 22 different currencies from across the world as well making them one of the most diverse payment tools as well.
My Opinion
With a 5 out of 5 in this category, In Thrivecart, in addition to the above features, there is a set of tools that has personally impressed me which is automated tax calculation and revenue splitting between partners.
As a website owner, these are the small tasks that are heavy-duty and Thrivecart has taken them under its belt and made my work pretty simple.
With a simple click "Calculate Digital Sales Tax Automatically'' option while creating your payment gateway you can get your tax calculated automatically based on your region without any additional costs.
Also, Thrivecart could be one of the first tools to accept payment in cryptocurrencies like Bitcoin powered by Stripe; however, this facility has not yet been introduced in Thrivecart.
Payment Models
While we're discussing ThriveCart's payment gateways, it's also worthwhile to examine the many payment options you have at your disposal.
The payment options you can set up with ThriveCart are extremely versatile.
There are many options that you can choose from, including:
One-time fee
Split-pay or Multiple payment plans
Name your price
Support for 22 different currencies
Subscriptions (Monthly/Quarterly/Yearly)
Automatic sales tax
Free trial period
Product quantity limitations
Countdown timers, discounts, and coupons are just a few of the tools available in ThriveCart that can help you increase sales. In addition, it contains a separate section for handling coupons, giving you extensive say over the finer points of the process.
Limits can be specified in terms of either a flat dollar amount or a percentage. A coupon's validity might be limited either by the number of uses allowed or by the passage of time.
In addition, you can easily apply a coupon to a single product or across the board, automate affiliate attribution, and much more.
Overall, the payment methods and connections available in ThriveCart provide you a great deal of freedom by letting you apply separate rules to any offer at a fine-grained level.
One-time or recurring payments, flexible order quantities, and even a free trial can all be part of a successful upsell strategy.
Thrivecart's payment models and the payment gateways it interfaces with are fantastic, but the best thing is that the user interface is so straightforward and easy to use that even a total novice can set up and run a successful online store, no matter how complex the sales funnel may be.
Membership Platforms
Thrivecart has opened its doors to a wide range of tools to integrate with to make your work easier as a creator. It is important to be able to manage the products you sell, or connect to your customers and integrate your shopping cart with your entire business franchise.
Thrivecart isn't only concerned with shopping carts and payments but they also have paid importance to different families of tools including: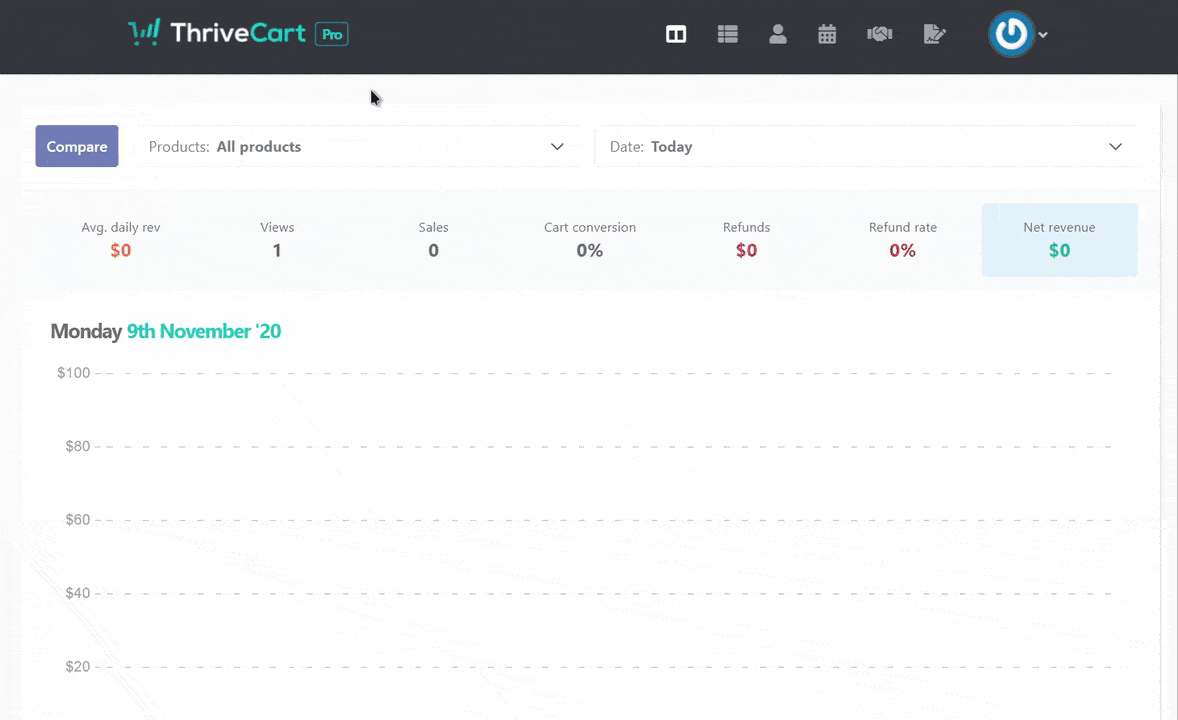 1. Membership Tools: Having a big community of registered members is one of the biggest strengths of a business, as it can serve as a platform for direct interaction between the business and customer and thus, helps us cater to their needs. Thrivecart integrates with various membership software like:
Thrive, Apprentice,
MemberPress
MemberMouse
LifterLMS
OptimizeMember
Digital Access Pass
WishList Member
Despite the fact that this is one of the most significant aspects of integration for this shopping cart software, it does appear to be a little lacking in contrast to other choices available on the market.
You can still utilize ThriveCart even if you are using a different membership platform that is not featured on the list in order to integrate your membership website with your email provider.
You can combine any of the famous membership sites, such as Memberium, with ActiveCampaign, and ThriveCart works well with ActiveCampaign. So, for example, if you use ThriveCart, you can integrate it with ActiveCampaign.
This means that there is no requirement for ThriveCart and the membership site to communicate with one another.
Zapier makes it simple to combine a variety of other applications, including Thinkific (a comprehensive Thinkific review is available on this page), as well as other online course delivery systems. The method is still quite easy to understand despite the fact that it is not as basic as direct integration.
Email Marketing Providers
Email Integrations: To be able to connect to your customer via email to not only advertise offers but also send personalized coupons and thank you emails after purchase is important to have a satisfied customer base. Thrivecart integrates with:
ConvertKit
ActiveCampaign
Mailchimp
Moosend
Ontraport
GetResponse
Aweber
Sendy
MailerLite
HubSpot
InfusionSoft Drip
You can have greater success in selling your products by including an autoresponder in your online shopping cart. Integrations with autoresponders are straightforward.
You only need to navigate to the "Settings" section:
To view the integrations, you must first click the "View" button.
Next, inside the list of integrations, locate the option labeled "Autoresponders." To view the settings for your account, use the "View Settings" button, as shown in the image below:

Locate your autoresponder in the list, and then proceed with the instructions that are provided.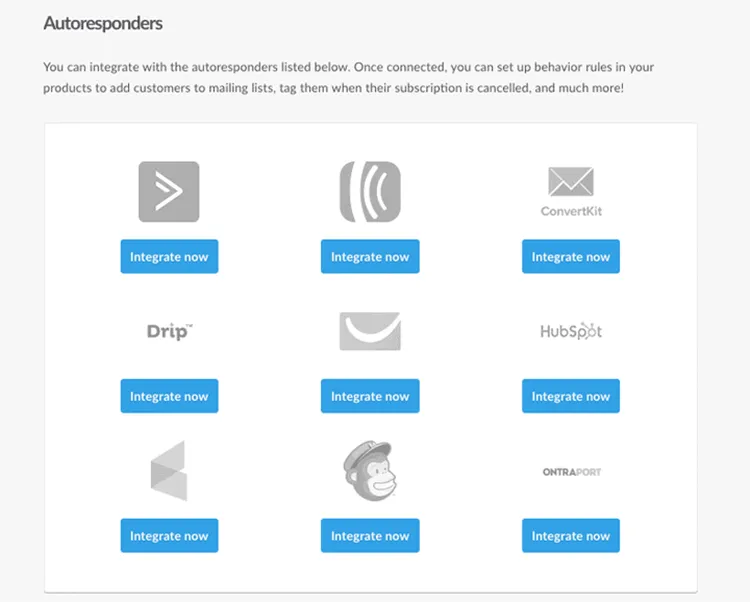 To conclude the steps of the process, simply click the "Integrate Now" button, and you are finished! You may now send pre-written emails to your customers and subscribers using an automated system.
Even if your email service provider is not included on the list, you can still integrate by filling out the HTML form. Alternatively, you can get your autoresponder set up via Zapier.
In either case, this essentially translates to the fact that you are able to combine ThriveCart with nearly any email service provider.
You may learn more about the email integrations that ThriveCart offers by clicking here.
Fulfillment Services
Fulfilment Software: As an online product seller, you can also sell physical products that will need delivery and shipment. To make sure that these complicated matters are done with ease Thrivecart integrates with top fulfillment software including:
Lulu
Zapier
Disk.com
ShipStation
Shippo
Vervante
Kunaki
Webinar Platforms
Webinar services: If you have an online e-learning website and monetize learning content then this is what will help you connect to your students and even take live classes if required.
Webinars can also be held by other businesses to announce product launches and various activities of the business. Currently, Thrivecart integrates with only two tools that are
My Opinion
Thrivecart has a very impressive list of integrations enabled by itself but the icing on the cake seems to be its association with Zapier.
Even if there is a tool beyond their extensive list that you require for your business, with Zapier you can consider it done. Zapier supports integrations with over 2000 third-party applications that you can use to your benefit.
Thrivecart Review: Who is Thrivecart For?
Now that we know what Thrivecart can do we can easily say that Thrivecart is one of the most versatile tools in the industry that can be useful to almost any business.
Do you wish to sell products and services online? If yes, Thrivecart is for you. Thrivecart is for online stores, blogs, and businesses.
Thrivecart is an online seller's tool. The platform's main goal is to simplify online merchant checkout. Simple checkout can increase income.
High-converting Thrivecart checkout pages inspire purchases. That equals more money and recurring business for you.
If your customers can easily order from your website, they will likely return. Aside from basket abandonment, Thrivecart collects email addresses.
The checkout templates streamline the process. They're easy to personalize to fit your business.
Thrivecart can help your business if your products or services fall into one of these categories:
Businesses Selling Online Products
With Thrivecart you can easily sell your digital product in your own store. Set up your own prices, and commission rates, and even give discounts or promotions to your customers.
Thrivecart will even provide you with a variety of pre-made themes to choose from which you can customize and use for your store.
With a Thrivecart™ store, you can easily sell multiple products, set up a shopping cart to handle checkout, add new products, and more.
From creating and converting sales pages to handling payment gateways and reaching out to your customers via email, Thrivecart makes selling digital products on the internet immensely easy and fruitful.
If you are a consultant or blogger selling services online, Thrivecart is also an ideal platform for you.
Businesses Selling Physical Products
There are a lot of features that make Thrivecart an excellent choice for eCommerce, but one of the best ones is that it is not limited to digital products. If you sell physical products like books, clothing, shoes, or anything at all, Thrivecart still has your back.
With advanced third-party integrations, automated tax collection, multiple shipping options, multiple payment gateways, and everything that you need to sell and deliver your product to your customer is handled by Thirvecart.
In addition to the standard cart, Thrivecart also offers wholesale ordering, inventory management, and bulk shipping.
So yes, you can sell physical products with the help of Thrivecart and it can easily give you an advantage over the competition.
Websites Selling E-Learning Courses
Thrivecart is one of the most popular e-commerce platforms for selling courses and e-learning content. With this platform, you can easily create an online course and sell it online. Or, you can use it as a way to train your team by selling access to training and educational materials.
It has a lot of features that make selling content easy, such as automated subscriptions and account upgrades, but still gives you complete control of your products.
With webinar integrations and Zapier, you can integrate e-learning apps and gratifying tools that even enrich the learning experience of students subscribed to your online course. You can also use Weibo to conduct live classes with your students in the required part of the course and increase its face value.
With a focus on selling educational content, this is a place that is built for educators, e-learning coaches, and anyone else who wants to sell educational content and build a successful career out of it.
Thrivecart Review: How Much Does Thrivecart Cost?
Thrivecart is by far one of the most cost-effective eCommerce solutions that also allow you to spend more time on what you do best: running and growing your business.
In fact, Thrivecart is one of the most pocket-friendly tools available in the market and provides many features that are unique to it and is absent from its top competitors.
For a limited time frame, Thrivecart offers its users two-lifetime access pricing plans.
1. Thrivecart Standard Plan for $495 and
2. Thrivecart Pro Plan for $690 ($495 +$195= Pro Package Upgrade)
As of 2022 September, Thrivecart has come up with their special Lifetime Deal in which you have to pay only once to use Thrivecart for life plus regular updates and support for free.
With this, you are also given a 30-day money-back guarantee in case you are not satisfied with the product. The offer ends soon with prices to go back to monthly subscription plans starting from $90 per month billed annually.
The Standard Plan includes the following features at $495:
Drag-and-drop visual builder.
Free Upgrades and Resources.
Learn Platform.
Pre-Tested Highly Converting Sales Templates.
Unlimited Checkout pages.
Unlimited shopping carts.
Advanced Integrations.
A/B Split testing.
Payment Integrations Powered by Stripe and PayPal.
GDFR compliance and secure payments.
Email and SMS Autoresponders.
Dashboard and Reporting Analytics.
Automated Follow-ups to keep customers intact.
Unlimited Upsells.
Unlimited Down-sells.
Unlimited Bump Offers.
24*7 Customer Service.
Thrivecart Pro Plan has to offer at $690:
Everything included in the Standard Thrivecart Pricing Plan is listed above.
Affiliate Marketing.
Dunning Facility.
Automated Sales Tax Calculation.
5 sub-accounts.
Joint Venture Contracts for ensuring fair and automated splitting of revenue.
Custom Domain.
Specific Client Usage Rights.
If you're looking for a more affordable option for your business, but only need a few options for your customers, then the Standard Lifetime Deal is for you.
If you're looking for more professional options to scale your business and manage it from various subaccounts, then the Professional Plan would be the best for you.
With advanced options like dunning and sales tax calculation, it is by far the most popular Thrivecart Pricing plan offered by Thrivecart and with the large discount being offered by the special lifetime offer, this is the perfect time to try the tool out for yourself.
Now the final question of the entire Thrivecart Review arises…..
Customer Reviews and Testimonials
ThriveCart vs Competitors
ThriveCart's primary competitors, SamCart, Woocommerce, ClickFunnels, and Shopify are the focus of this part, in which we examine ThriveCart in relation to these other e-commerce platforms.
ThriveCart vs SamCart
Note: You can read my comprehensive comparison of ThriveCart vs Samcart here.
There aren't many alternatives to ThriveCart's shopping cart software, and SamCart is one of the few that can compete with it. Both of these platforms feature designs that are comparable, based on the concept that they will assist online business owners and marketers in better managing and optimizing their sales.
There are features that help you maximize the value of each transaction, boost conversion rates, gain deeper customer insights, and much more.
The cost of ThriveCart software is significantly lower than that of SamCart, which is the primary differentiating factor between the two shopping cart software solutions.
In order to gain access to a feature set that is comparable to that of ThriveCart, SamCart charges a monthly price of $199 while ThriveCart simply requires a one-time payment of $495.
A significant benefit that SamCart enjoys over ThriveCart is the availability of a more extensive collection of pre-made checkout layouts.
However, the ThriveCart team is working on expanding the template and modification choices, and users will also be able to obtain shared templates from other users, so this problem won't exist for much longer.
SamCart is, without a shadow of a doubt, an excellent platform that is capable of completing the task at hand; however, when it comes down to it, it is quite a bit more expensive, charging $199 per month for access to features that are comparable to those that are included in ThriveCart for a one-time price payment.
Thrivecart vs Shopify
Both ThriveCart and Shopify are excellent choices for an online storefront. There is no question about that.
Both of them are highly effective at what they do, and they both offer all of the essential elements that are required for running eCommerce businesses of any size, from the smallest to the largest.
In addition, whether you are new to the world of e-commerce or have years of experience under your belt, you won't have any trouble using ThriveCart or Shopify.
However, you are only allowed to pick one.
Despite the fact that ThriveCart comes with a large price tag, I'm hesitant to call it pricey because the price is essentially a one-time payment. Not to mention the money you'll save over the course of the project! Additionally, if you want to manage digital products, services, and a limited quantity of physical inventory, this is the finest choice for you to make.
Get Shopify instead if you are in the process of opening an online store but don't believe you can come up with $690 in such a short amount of time. It is excellent for expanding into large-scale commerce for physical things, and it also provides some template possibilities for the creation of single-product storefronts for your digital products. Both of these features are highly desirable.
ThriveCart vs Clickfunnels
Over the course of the last few years, ClickFunnels has emerged as one of the most prominent options for businesses seeking to construct sales funnels. It gives users the ability to choose from a large selection of templates and put them to use however they see fit. These templates include ones for sales, subscriptions, lead capture, events, squeeze pages, and many more.
Each of these templates can be modified to conform to the look and feel of your company's brand. ThriveCart is NOT a landing page builder, nor is it a complete sales funnel system. Rather, it is a shopping cart software solution. Because of this, it would not be appropriate to compare the two unless one did so solely with regard to the shopping cart and affiliate management capabilities.
The following is a list of some of Clickfunnels' advantages:
The shopping cart can be easily personalized thanks to an intuitive page builder that uses a drag-and-drop interface.
Full sales funnel suite, perfect for customers who want everything to be housed in one location.
Increases earnings by providing upsells and downsells that can be completed with a single click, as well as bump offers.
Built-in affiliate management system
Comprehensive reporting for the individual sales funnel's revenue
In comparison to ThriveCart, Clickfunnels possesses a number of severe shortcomings as well.
One example would be that the platform does not enable direct interaction with PayPal. There is no support for Apple Pay or Google Pay, and the software does not comply with EU regulations regarding the collection of digital sales tax. The affiliate marketing system is exclusively accessible through the Etison suite, which has a monthly fee of $297 and is the only place where it can be purchased.
In the end, would you say that ThriveCart or Clickfunnels is more suited to your needs?
If you're interested in nothing more than a shopping cart, it's easy to understand why ThriveCart is the best and most economical option for a shopping cart solution as well as the affiliate management tool of choice.
Despite the fact that it may have a few restrictions, such as the absence of a drag-and-drop capability for advanced customization of the shopping cart and checkout templates, these are features that are coming soon, which means that ThriveCart is still the option that I would recommend the most.
Thrivecart vs Woocommerce
ThriveCart is the way to go if you want a checkout cart (also known as a shopping cart) and landing page system that has already been fine-tuned and optimized.
It is ready to use right out of the box for use with sales funnels. It is perfect for proprietors of modest-sized shops or those dealing in digital goods (including membership sites).
If you want to develop a classic online store with lots of different SKUs and a complicated inventory management system, WooCommerce is the ideal option for you.
Because the answer to this question is highly dependent on the product(s) you are selling, you should first work out the specifics of both your business plan and the product(s) you are selling before making a choice regarding the appropriate sales software to implement.
When it comes to selling things online, ThriveCart restricts you to only being able to sell digital goods, whereas WooCommerce has no such restrictions and lets you sell both physical and digital goods.
The process of selling digital products, memberships, and one-time products may all be made more efficient with the help of ThriveCart.
Social Media: ThriveCart Review
Social media is a type of internet-based communication. Users of social media platforms can have conversations, share information, and create web content. ThriveCart is a shopping cart platform that allows businesses to increase revenue about your use of our Site through social media, and advertising.
thriveCart on Facebook
This is a welcoming environment/community. Everyone deserves to be treated with dignity. Healthy debates are natural, but they must be carried out with decency. ThriveCart Academy has 12.6k Facebook members.
ThriveCart On Twitter
Set up the ThriveCart trigger and watch the Twitter magic happen. Zapier's automation tools make it simple to connect ThriveCart and Twitter. Thrivecart has 103 Twitter followers.
Thrivecart On Linkedin
Cart, funnel, and course creator for entrepreneurs. This platform powers sales, metrics, subscriptions, affiliates, and online courses.
YouTube Videos
Conclusion: Should You Get Thrivecart? (My Opinion)
My answer to that question will be a sure yes, because of all the shopping cart platforms I've tried, Thrivecart has been by far the most user-friendly and delivered what it was asked for.
It has an easy-to-use front end, multiple payment gateways, advanced integrations, and affiliate management and with this tool, you can rest assured that your sales will be hiked.
I hope this comprehensive Thrivecart Review will help you make an informed decision and if you're looking for an affordable as well as powerful shopping cart platform, I highly recommend you give Thrivecart a try.
Until next time…
Happy Creating!
Frequently Asked Questions
What Does Thrivecart Cost?
Thrivecart is available at a highly discounted price as a part of their special lifetime offer for 495$ only. This is a one-time payment offer for lifetime access to a Pro Account of Thrivecart. 
Does Thrivecart Integrate With WordPress?
Yes, Thrivecart is a unique eCommerce platform for WordPress that can be integrated with it as a plug-in. It's powerful, usable, and affordable and also works with all existing WordPress Themes.
Can You Use Thrivecart With WooCommerce?
Yes, Thrivecart works with WooCommerce. Here are instructions for using Thrivecart with WooCommerce. First, go to your WooCommerce dashboard and click on "plugins." Locate the Thrivecart plugin, click it and then click the "install" button and wait for it to finish. After that, you can use Thrivecart with WooCommerce from your WordPress Dashboard.
Does Thrivecart Offer A Free Trial?
Thrivecart does not offer any free trial, but they have a 30-day money-back guarantee during which you can use our full set of integrations, professional-looking themes, and A/B testing along with advanced management options.
Does Thrivecart Take A Percentage Of Sales?
Thrivecart does not earn from any sales commission. This means Thrivecart will never charge you any amount for any number of sales you make using Thrivecart. There is no additional processing fee either.
Is ThriveCart a payment processor?
For each payment processor, ThriveCart allows users to link numerous accounts. This allows you to have many products in your account and process payments using various accounts. One or more of the aforementioned processors must be connected to your account in order to accept payments from clients.
Do I need a website for ThriveCart?
It's as simple as that: do you want to sell products and services through your website? If you answered yes, Thrivecart is right for you. Thrivecart is for everyone who runs an online business, whether it's an e-commerce store, a blog, or a small business.
Does ThriveCart have landing pages?
You no longer need the added costs and difficulty of using page building tools and other apps with Thrivecart's new drag-and-drop sales page and cart builder. Within the Thrivecart platform, you can create pretty much any page you desire. As a result, it's a terrific method to save money on those landing page tools.
Can you build a website with ThriveCart?
Users of ThriveCart have access to a robust and native upsell page builder, which eliminates the need for additional pages on your website. Some users, on the other hand, may want to create their own pages using the page editors they're familiar with.
Can I use ThriveCart on multiple websites?
Is it possible to create many custom domains? A single domain/account is included with each ThriveCart licence. This is replaced with a custom domain name, which you can use instead. There are no further domains available.
How is ThriveCart different than SamCart?
There are many similarities and the key feature, they are both set up to sell digital things. One of the differences is ThriveCart charges a one-time fee while SamCart demands a monthly price. For additional information, check my ThriveCart vs SamCart comparison.
Can You Integrate ThriveCart with Zapier?
ThriveCart links your apps with Zapier. Over 2,000 apps may be easily integrated, allowing you to streamline your workflow and increase your output. If you have access to more than one ThriveCart account, you have to choose which account you wish to combine with your Zapier account.
Can ThriveCart Handle VAT?
ThriveCart has a feature for sales tax collection. Customers from the European Union only need to enter their country's VAT number to have the applicable sales tax subtracted from their order. ThriveCart's technology verifies that each VAT ID is valid in the nation in which the customer resides. For consumers outside the EU, the VAT field will not be presented since it's not relevant.
Does ThriveCart Allow Coupon Codes?
ThriveCart allows coupons, and you can apply them to individual products rather than your entire account. You can still use a generic coupon for all products in your account.
Does ThriveCart have a Money Back Guarantee?
ThriveCart doesn't offer a money-back guarantee, but they do have a 30-day "pays for itself" Refund Policy. For the first 30 days after purchase, they will work with you to see if the product pays for itself.
How Does Thrivecart Pay You?
ThriveCart doesn't hold, handle, or administer affiliate commissions. Affiliates are paid directly by the companies they promote. Automatic payment occurs once you have incorporated a PayPal account into your affiliate dashboard. If not, payments will still be monitored, and the vendor can pay the affiliate manually.
Is ThriveCart a Payment Processor?
While Thrivecart is NOT a payment processor themselves, they integrate effectively with multiple payment gateways including Paypal, Stripe, and Authorize.net. In addition, they accept payments using both Google and Apple pay. So, while they don't make these payments directly, they have all the instruments to cover at least 99.9% of persons.