In this post, I have come up with an in-depth explanation of Udemy Vs Pluralsight, as well as which one I felt to be superior.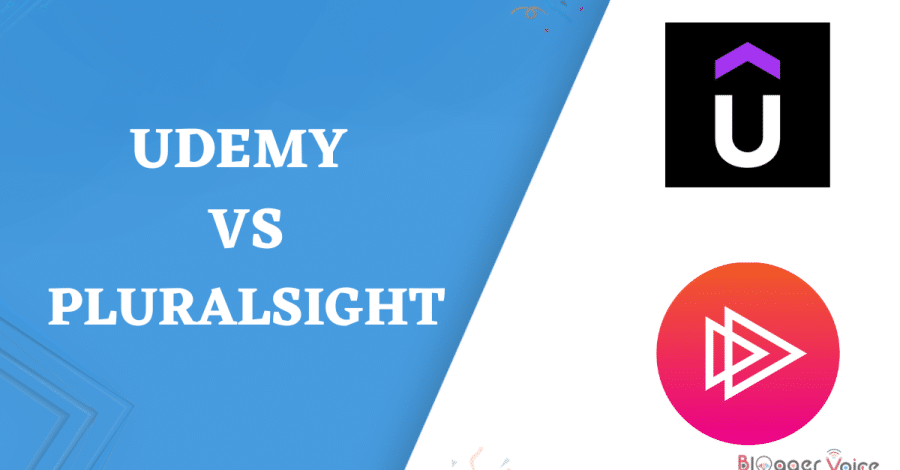 In recent years, online education has become increasingly popular and there are currently 17 million students enrolled in online courses in the US alone. Because of this, both the total number of websites and the level of rivalry between them are expected to grow.
After reading this in-depth comparison, you should have a better sense of which platform is best for you, and any doubts or questions should be resolved.
As Udemy, Pluralsight has many alternatives, to get to know more about its alternatives, read our article, Pluralsight competitor.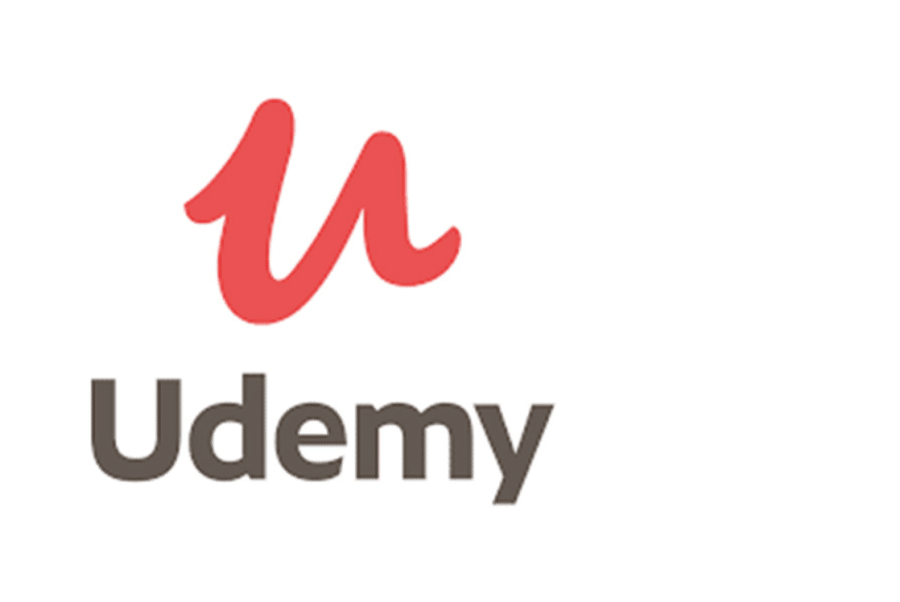 Udemy is a marketplace where you may buy a one-way course that gives you access to it for the rest of your life. You may also access articles, contests, and questions concerning the practice, as well as everything from the course that can be downloaded.
Pluralsight, Inc. is an American private online education firm that offers software engineers, IT managers, and creative professionals a variety of video training courses on its website. Pluralsight is a little more structured, and it offers skill pathways that connect similar talents.
Udemy features a very basic registration process that only requires you to provide your email address, password, and name. Then all you have to do is wait for a confirmation email from Udemy.
Pluralsight's signup process is simple and straightforward. To begin, click on 'TRY FOR FREE.' Then you'll need to choose the membership plan you'd want to test out for free. Then you'll need to fill in your first and last names, email addresses, country of residence, and business names.
For a limited time, Udemy provides a free 7-day trial of Udemy Pro, which gives you access to all of their IT subscription material. After the 7-day trial period expires, you'll be charged $19.99 each month.
Individuals and teams can choose from a variety of Pluralsight subscription levels. Individual plans are available in two flavors: Standard ($29 per month or $299 per year) and Premium ($45 per month or $449 per year).
You may ask for assistance and go through Udemy's helpful FAQ area for students and teachers. For particular questions, you can contact Udemy directly at support@udemy.com.
Pluralsight offers a variety of ways to reach them, including email, phone, ticket submission, and the Help Center. E-mail assistance is accessible 24 hours a day, Monday through Friday, from 8 a.m. to 5 p.m.
Pluralsight At Glance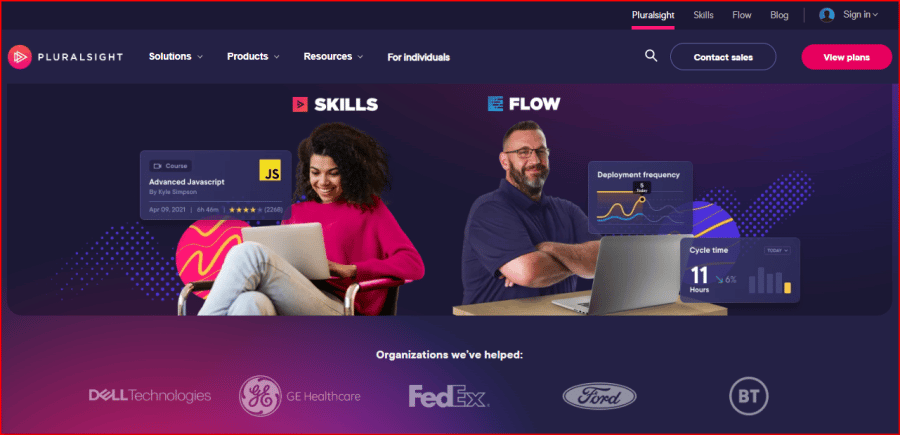 Pluralsight's headquarters is in Farmington, Utah, and was established in 2004 by Aaron Skonnard, Keith Brown, Fritz Onion, and Bill Williams.
Pluralsight, Inc. is an American private online education company that provides several video training courses through its website for software developers, IT managers, and creative professionals.
By July 2018, it had been used as an author by more than 1,400 specialists and offered a catalog containing over 7,000 courses.
The company has expanded, developed, and added a corporate platform comprehensively since it first moved its courses online in 2007.
To know an in-depth analysis of Pluralsight online courses, read our article Pluralsight review.
Udemy At Glance
Talking about its contemporary Udemy, this company is headquartered in San Francisco and was established in 2010 by Eren Bali, Oktay Kaglar, and Gagan Biyani.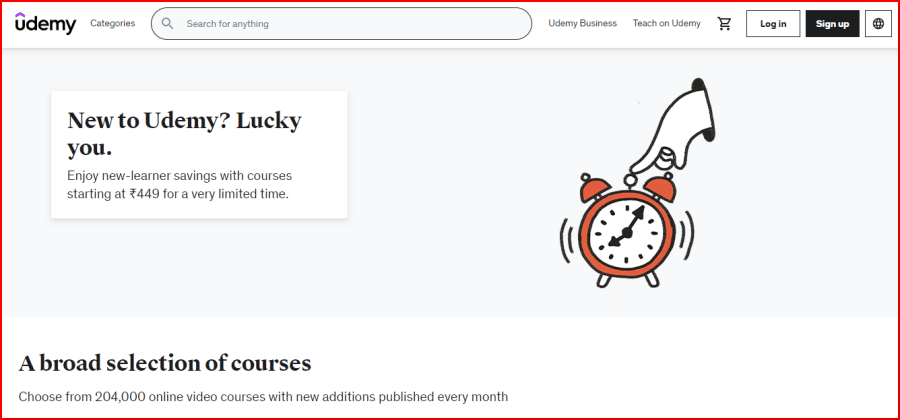 Udemy is aimed to provide quality e-learning in various fields, including IT, Software, business, etc.
Both being e-learning platforms, the fundamental difference lies in their structure model. Udemy is the place on the market, in which you can purchase a one-way course, which gives you lifelong access to this course.
You can also access the articles, contests, questions about the practice, and everything that can be downloaded from the course. Pluralsight is, on the other hand, on a model of a subscription.
To access their platform, you must pay a monthly fee which will provide you with access to over 5000 courses in top-of-the-line technologies.
No course, just log in and learn what you want to learn. You don't have to buy a course.
Udemy Vs Pluralsight: Key Differences
Udemy and Pluralsight are two of the most well-known online education platforms that each provide a comprehensive selection of courses for both individual and professional growth.
On the other hand, there are significant distinctions between the two platforms.
Pluralsight generally focuses on technological and creative abilities, while Udemy offers a larger variety of courses, such as personal growth and lifestyle classes.
Pluralsight courses are often more professionally created and much more expensive than Udemy courses, which could also vary widely in both quality and production value.
Udemy's interface is more straightforward, making it simpler to browse and enroll in courses, whereas Pluralsight's is more intricate, catering instead to experienced IT specialists.
Pluralsight's dynamic coding lessons and hands-on projects let students apply what they've learned, whereas Udemy's emphasis is on video-based instruction.
Pluralsight's whole collection of courses can be accessed for a monthly or yearly subscription cost, whereas Udemy offers a large variety of both free and paid courses.
Pluralsight courses can lead to certificates accepted by employers, while Udemy courses do not.
Udemy Vs Pluralsight: Which platform is the most user-friendly?
Udemy Interface
The first introduction to these platforms is the registration process. You have to simply add your email, password, and name to your registration.
All that remains to be done is to check your email for Udemy confirmation.
Pluralsight Interface
The process of registration is very intuitive at Pluralsight. Click on 'TRY FOR FREE' First. The subscription plan you want to try for free will then be clicked on.
The first name, e-mail, country of residence, and business name will be added. A section will then be added to your payment details, but nothing will be charged until a free trial is complete.
You can cancel the trial anytime during that time if you decide not to continue the free trial. Plus Pluralsight sends a reminder 1 day before the free trial.
Pluralsight Vs Udemy: Course Structure
Udemy
There is no clear winner in the diversity of courses because some Udemy courses are very good, but generally speaking.
Not all Udemy courses are bad, but many of them are poor in quality and simply designed to earn fast bucks rather than focused on teaching and offering learners an excellent experience.
pluralsight
The Pluralsight classes are also top-quality courses. Udemy's problem is that so many inexpensive courses are difficult to find on the sea.
Now that Pluralsight is a site focused on professional learning, their teachers are a true authority in the subject. Simply put, you must know the platform to find the highest quality courses.
I spend a lot of time on Udemy so I know who are excellent instructors and who I can follow. I usually buy these instructors' courses.
Udemy Vs Pluralsight: Course
Udemy course
Here is the list of courses available on Udemy are:
Instagram Marketing 2019: How to increase Followers Step by Step
Night Photography Productivity and Time Management for the Overwhelmed: You Can Take Beautiful Night Photos
Study Ethical Hacking From the Ground Up
C# Unity Developer 3D: Learn to Code Games is finished
How to Use Interior Design Styles Professionally
Saving, Protecting and Making More: The Complete Personal Finance Course
Pluralsight Courses
Here is the list of courses available on Pluralsight are:
Fusion 360 – Design for Injection Molding
Introduction to PowerShell
Pivot Tables for Excel 2016
Excel 2013 Fundamentals
Introduction to Unreal Engine 4
Amazon Web Services Fundamentals for System Administrators
Incident Detection & Response: The Big Picture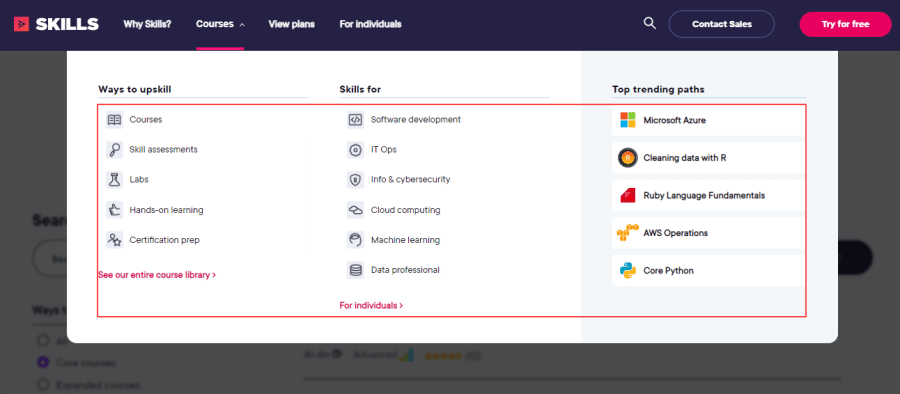 What are the best Free Courses Offered By Udemy & Pluralsight?
Udemy Free Courses
Udemy clearly outpasses Pluralsight when it comes to free resources and free online courses.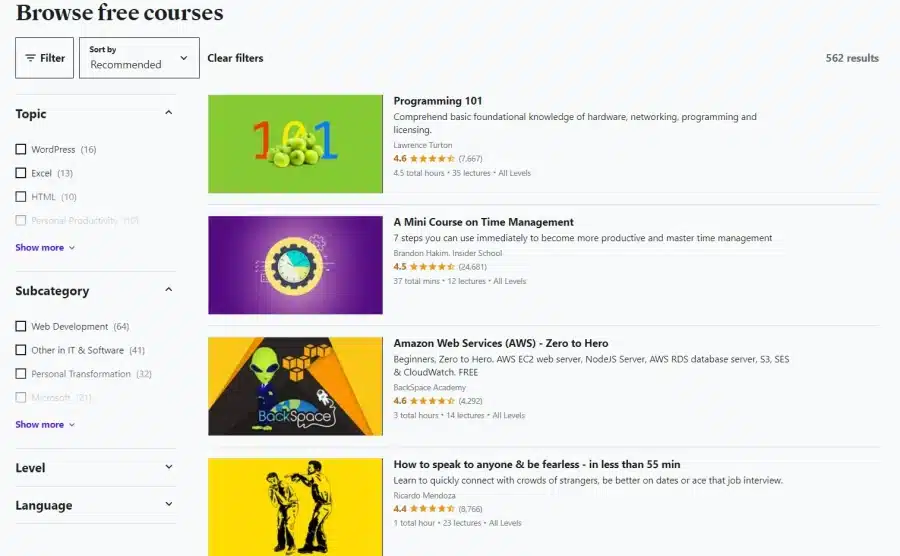 On Udemy, there are many free classes for learning thousands of programming languages and tools. Udemy instructors will also be free to train initially.
This is not fixed and changes from time to time, but there are many instances where free coupons are given to people to join their courses, learn, and leave reviews.
This is a point where Udemy outshines, but at the time and especially for the course that you want it is not easy to find those coupons.
Pluralsight Free Courses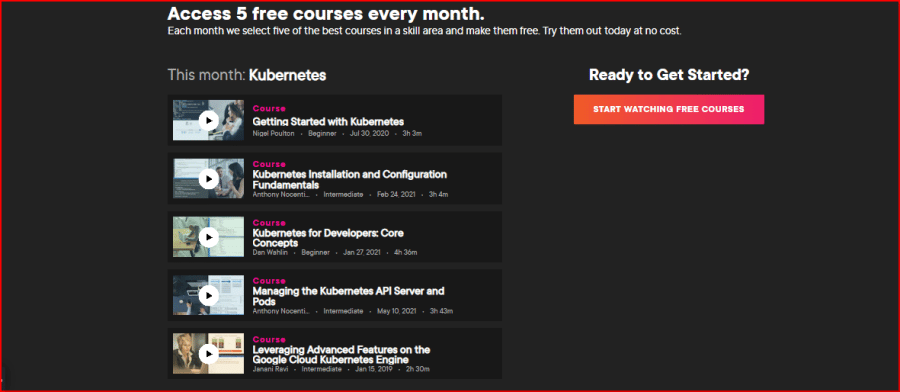 Pluralsight on the other hand offers a free 10-day test, which only takes about 200 minutes and gives access to its 5000+ courses.
This is a non-obligatory test, but in 200 minutes you can do little; you can only take one course and assess the quality of the platform.
However, many companies have also partnered with Pluralsight at various times to give free or somewhat very fewer fees amount to give access to high-quality courses.
Which Course has Good Quality: Pluralsight Vs Udemy?
Both sites try to offer the best in class available. Both Udemy and Pluralsight have thousands of courses on almost anything and everything.
Pluralsight
Pluralsight has over 5000 courses online and Udemy has over 80000 courses covering everything from the programs of Java, C, C++, C#, JavaScript, Ruby, Python, Kotlin, Scala, Swift, ASP.Net, and PHP to Frameworks such as React, Angular, Vuerj, Nodej, Docker, Kubernetes, Jenkins, Maven, Gradle, and more.
Pluralsight is slightly more organized and provides skills paths, which bring related skills together. You can learn HTML, CSS, JavaScript, Angular, React, NodeJ, and other web developers' technologies and tools, for instance.
If you want to learn a skill, Pluralsight got it divided into beginner, intermediate, and advanced classes.
Udemy
On Udemy, the courses on the subjects are just organized and not differentiated. The best way to find a course that is appropriate to satisfy your learning needs is with Udemy Search.
Which Support System is better: Udemy Vs Pluralsight?
Udemy
Udemy provides support for both its Students and its Instructors, including the ability to ask for assistance and access to an informative Frequently Asked Questions section.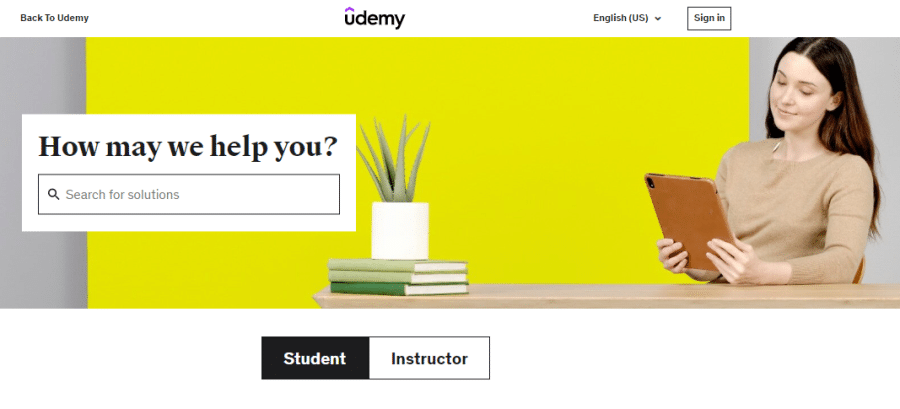 You can get in touch with Udemy support directly by emailing support@udemy.com if you have any special questions.
Pluralsight
Pluralsight's support team can be reached via several channels, including e-mail, phone, ticket, and the online Help center.
Email help is available around-the-clock, while phone service is only available from 8 AM to 5 PM (GMT-5) Monday through Friday (GMT – 7).
In addition, I think Pluralsight stands out because it offers phone help, which is unusual for an online learning platform.
Which is better for business: Udemy vs Pluralsight?
Udemy
There are several Team and Enterprise plans available on Udemy for Business. Teams and small businesses will find the Team plan to be ideal.
You get a branded dashboard with a personalized URL and an iOS and Android app for offline viewing in addition to 5,500+ highly regarded courses with this plan.
Each user on this plan will pay $360 per year including tax after a free trial period of 14 days.
Larger groups and companies should consider the Enterprise package.
You will get the same access to 5,500+ highly rated courses, an international collection, course management, analytics and reporting, and round-the-clock customer service that is included in the team plan.
Pluralsight
When it comes to Team subscriptions, Pluralsight has three options. There are three annual subscription tiers to choose from: the Starter plan ($399), the Professional plan ($579), and the Enterprise plan ($779).
Each subscriber must sign an annual agreement to use any of these services.
If you are searching for the best for Plurlsight's pricing plans, read our Pluralsight pricing article, in which we have done an in-depth analysis.
If your group is smaller than 10, we recommend the Starter plan, which gives you access to our 2,500+ piece core library. Unfortunately, the Starter plan does not come with a free trial.
The enlarged collection of 7,000+ items is available only to those who subscribe to the Professional plan, which is intended for teams of 10 or more.
You may try out all the features of the Professional plan risk-free for 14 days.
Pluralsight's pricing is easy to understand throughout all subscription tiers than Udemy, from the free trials of the Professional and Enterprise plans to the rest of the pricing structure.
Looking to get massive discounts on your desired Pluralsight pricing plans, check out the Pluralsight promo.
Udemy vs Pluralsight: Hands-On Experience
Pluralsight
Pluralsight is popular due to its abundance of labs and sandboxes, which are essentially interactive coding playgrounds for students.
Pluralsight, for example, provides a sophisticated virtual environment where you can try out all the new abilities you acquire as you go whether you want to learn about Amazon's AWS or Microsoft's Azure.
This means you won't have to install software or pay to try out some services. You may also access code playgrounds for dozens of computer languages on the platform.
This adds consistency to the whole system and makes learning much easier.
Udemy
In a manner comparable to this, several courses provided by Udemy include hands-on tasks that may be completed using Udemy's interactive coding playground.
Although Udemy's interface for interactive coding may benefit from certain enhancements, the platform nonetheless possesses a great deal of power.
Udemy vs Pluralsight: Course instructors
Udemy
The instructors are the ones who make, own, and run the courses on Udemy. If you are interested in a subject and know a lot about it, you can teach it. To become an Udemy instructor, you don't need to get approval from anyone.
Sometimes in cases, instructors could also bring in teaching assistants to help answer questions and comments from students.
To make sure that Udemy's courses meet its standards, they undergo a Quality Checklist. A course must have HD video, good audio, at least 5 lectures, and at least 30 min of video content, at the very least.
pluralsight
Each of the 2,000+ experts that write Pluralsight's courses serves as an instructor. Pluralsight will help you as an author with things like content creation, video production, and editing.
The content and technical accuracy of the writers' submissions will thereafter be peer evaluated by other authors and professionals in the field.
Pluralsight's content is subjected to a stringent quality check to guarantee it meets our strict standards.
Clicking on a course or author will take you to a page with more information about them, including a short biography, the number of courses they've written, and the total and average ratings for those courses.
You can submit an application to become a Pluralsight author by making a short audition video, which will then be assessed by the team to determine if you are a good match for the platform.
Udemy vs Pluralsight: Certification
Udemy
The vast majority of paid courses on Udemy will provide you with a completion certificate that can be downloaded in either pdf or jpeg format.
Udemy awards certificates that are unique to each course. Therefore, the value of the course will most likely be higher if it is taught by an instructor who is highly renowned in their field.
Pluralsight
After completing a course in its entirety on Pluralsight, students are eligible to get a completion certificate.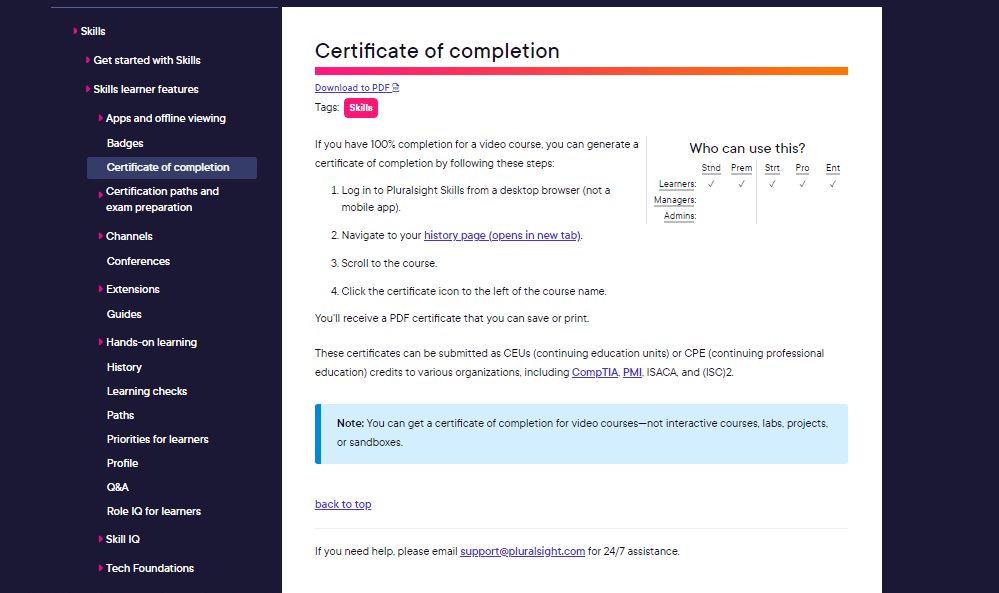 In order to view your certificate, you must use a desktop browser. Once you've logged in, go to the History page. There, you'll see the course you've already finished.
Choose the certificate image to see a downloadable PDF version of your certificate.
Udemy Vs Pluralsight: Pricing And Plans
Udemy Pricing
Udemy's USP is the price, which is why the students love it. Literally, for a mere $10, it's like dreaming, but yes, that's what Udemy does.
It runs Udemy flash sales, and then you have coupons flying by teachers all around so that you can buy online for just $10 for 20 hours. That's why Udemy has become an ideal location for students.
In contrast to paying $10.00 to a classroom instructor, you can learn Web development from a bootable coding instructor for just $10.00.
Students tend to buy so many courses just because they were low prices, thus, when it came to price Udemy emerges as the winner
Pluralsight Pricing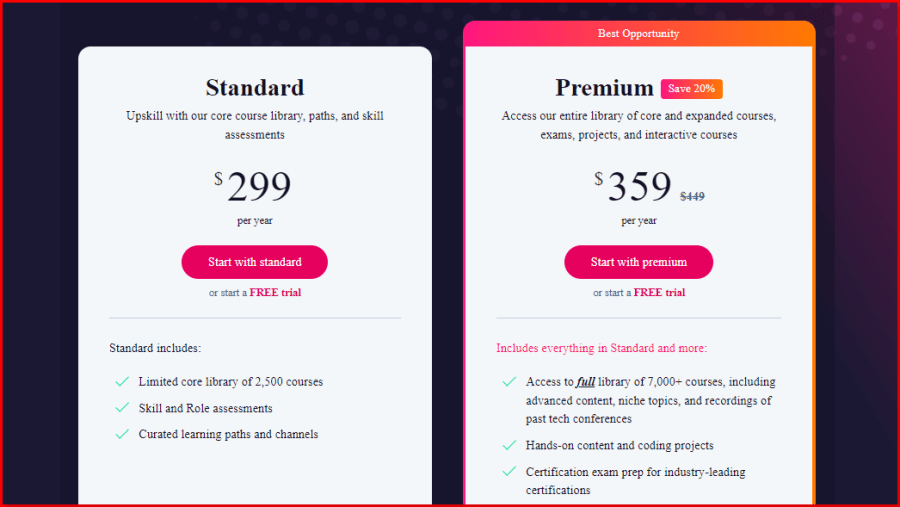 Pluralsight, on the other hand, offers membership. You need to purchase a membership or subscription to watch Pluralsight courses.
They have monthly and annual subscriptions, costing around $29 per month and $299 per year (14% off).
It's called a personal plan for Pluralsight, which is worth taking and if thought carefully is actually beneficial.
The membership is somewhat multifarious, costing about $359 a year and providing access to interactive courses, quizzes, evaluations, and projects.
They offer certificates of completion, and Udemy does also have these certificates, but they don't apply to all classes.
So you just pay $359, which is no bad thing but remember for only a single year, to access those more than 5000 courses.
You have to renew your membership next year again, otherwise, you will lose access to those classes.
Social Media Profiles
Social media is a platform for attracting customers, gathering feedback, and building customer loyalty. Your market presence will extend as a result of using social media, even in international markets.
Conduct market research and cut marketing costs. build customer networks and advertise to increase revenue
Pluralsight
Facebook Page
Pluralsight has received numerous positive reviews. On the Facebook page, it has 1,244,453 likes and 1,250,856 followers.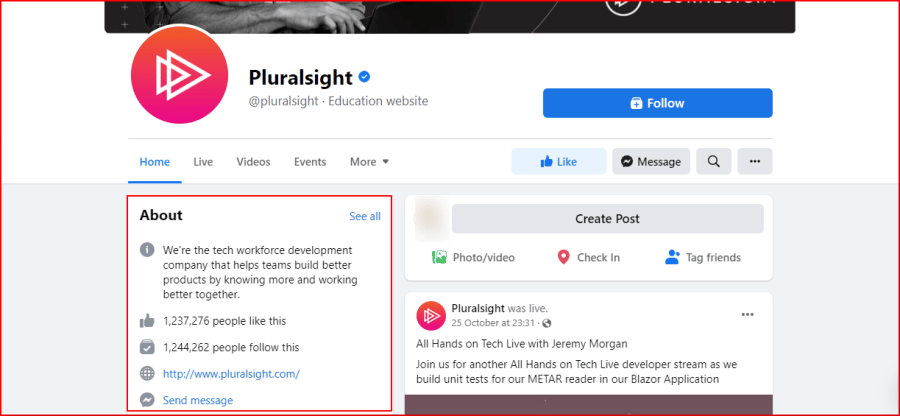 Pluralsight Twitter profile
Pluralsight has 36.3k Tweets and 252.5k followers on its Twitter profile.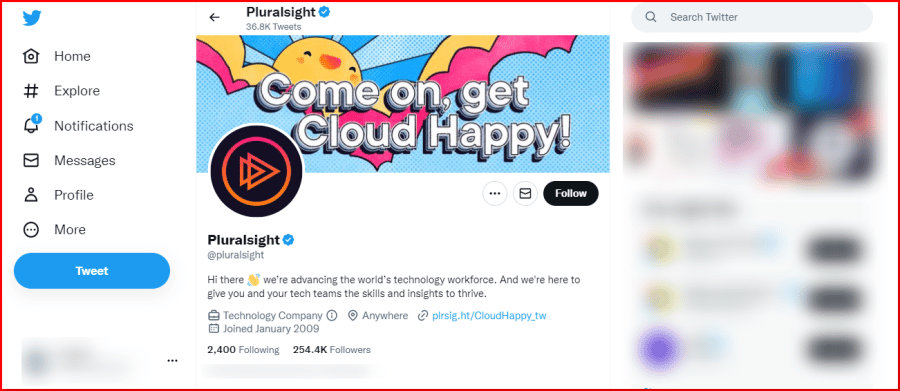 Pluralsight Linkedin profile
Pluralsight is a well-known educational website. On Linkedin's profile, it has 148,181 followers.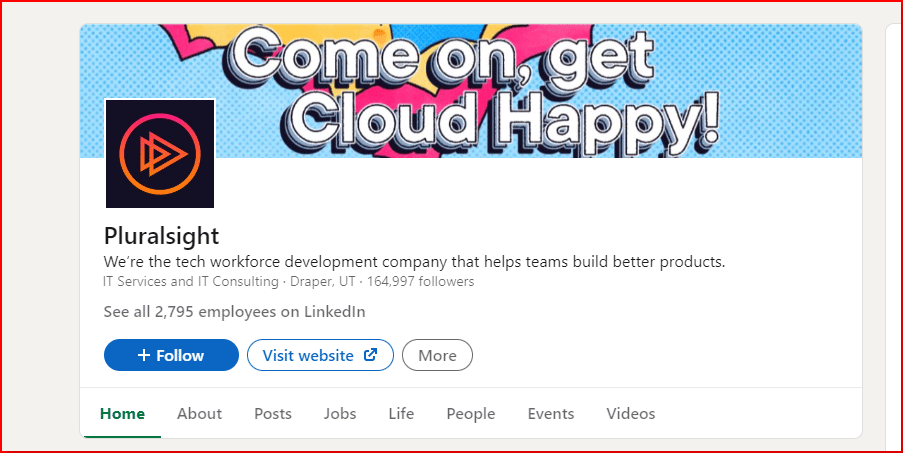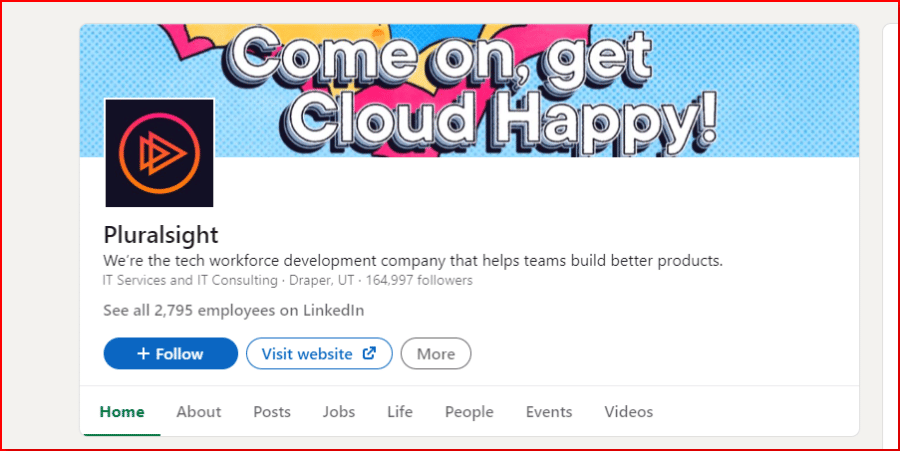 Udemy
Udemy Facebook Profile
Udemy has Facebook marketing courses that will teach you everything from Facebook Ads to building sales funnels and much more. It has 6,732,924 likes and 7,346,977 followers on the Facebook page.
Udemy Twitter Profile
Udemy has 16.9K Tweets & 267.9K Followers on its Twitter profile.
Udemy Linkedin Profile
On Linkedin, Udemy shares e-learning-related courses. It has 914,804 followers on its Linkedin profile.
Conclusion: Udemy Vs Pluralsight Which is the best platform for online courses?
That was all we had in our minds on Pluralsight Vs Udemy. Both platforms are very similar when it comes to online coding, online testing, and evaluation. There are key differences in their model:
You buy one single course in Udemy while you buy a membership in Pluralsight that allows access to over 5000 courses.
In Udemy, for the course, you buy you have lifetime access, but membership in multi-level is either monthly or annual.
Both platforms offer highly qualified instructors and host authority about the topic they teach.
Frequently Asked Questions
Which is better Udemy or Pluralsight?
Pluralsight wins four of the six measures analyzed, while Udemy wins two. Udemy provides learners with far more options than just numbers. If you don't like the JavaScript course from instructor A, there are hundreds more from different instructors to choose from. Pluralsight's selection is somewhat limited.
Do professionals use Udemy?
Udemy is a low-cost learning portal that provides courses taught by qualified instructors. There are no time constraints, and users can go at their own leisure. It is ideal for professionals who work full-time and can only devote a few hours each week to continuing their education.
Is the Udemy certificate valid?
Courses that are free or merely involve practice tests do not provide a certificate of completion. Certificates of completion might help you demonstrate your achievements, but keep in mind that Udemy is not an accredited institution. As a result, the credentials are ineligible for formal accreditation.
Can Udemy get you a job?
Yes, an Udemy certificate can help you find a job. This is especially true if you are a student eager to work hard. Udemy credentials can help you develop relevant skills and information to help you in your career search, but they are not enough to get you high-paying positions.