Indeed, an increasing number of people are turning to online learning platforms such as CBT Nuggets vs Pluralsight to conduct their research or learn new skills, particularly on cutting-edge topics such as cloud computing and mobile development.
The entire world has gone digital. Almost everything is moving online, and with it, a massive amount of knowledge is being shared.
Time is of the essence for some professionals and even students, and they may not have the time to go to a classroom for lessons or earn their certifications through traditional means.
So, which platform for skill development is ideal for you? We'll go through the advantages and disadvantages of CBT Nuggets vs Pluralsight so you can gain a better understanding of what each platform has to offer.
CBT Nuggets Overview
CBT Nuggets is an online training platform created specifically to assist IT, workers, and project managers, in increasing productivity in their workplaces and corporate environments.
Similarly, it all started as a method for small businesses to learn and teach their personnel on the job.
However, requiring physical attendance at one spot while the facilitator created several strategies to avoid an increasingly common problem proved to be unworkable.
They eventually realized that video training nuggets were the ideal solution!
These bite-sized films are available online, and consumers may choose from over 1000 courses to help them broaden their skill set or learn a new ability that will enhance their profession.
Microsoft, Cisco, and Networking are examples of certification classes you should be aware of.
CBT Nuggets is among the best learning platforms available since it is recognized by businesses and used by IT professionals worldwide.
They make their courses available on mobile devices as well as PCs. When you've finished learning with CBT Nuggets, you may even take a certification test to obtain a certificate.
As CBT Nuggets, If you wish to know more about other Pluralsight competitors, Check out Pluralsight alternatives.
Pluralsight Overview
Pluralsight is another edutainment platform designed specifically for folks interested in learning about technology.
Currently, there are around 7000+ skill-development courses for technology that are managed by 1500+ experienced specialists. We're thrilled with their library's breadth of selection.
Founded in 2004, Pluralsight has grown to become a monstrously popular tech-based learning platform with more than a thousand student bases as of today.
Most people are unaware that the firm began as an education organization, but by 2007, it had shifted its focus and begun offering courses in technology, which quickly became one of the company's most profitable areas.
Pluralsight, like any other platform, provides a set of capabilities that allow you to compare your skill set to others who have used their services.
Since its inception, the software firm has seen millions of users join its ranks to enroll in some of the most popular courses among IT enthusiasts and professionals worldwide.
They created agreements with well-known firms like Google, Microsoft, and Adobe after gaining such a large following and a strong reputation over the years.
Main Differences: CBT Nuggets vs Pluralsight
Pluralsight takes a more laid-back approach to studying and using its software, whereas CBT Nuggets' on-demand format can make it challenging to set aside dedicated study time.
In comparison to Pluralsight's extensive library of courses, CBT Nuggets offers a more limited variety of learning options.
When it comes to learning, CBT Nuggets leans more heavily on video training, while Pluralsight emphasizes reading and writing above watching videos.
Video courses on CBT Nuggets are longer and more in-depth, so you learn more, while those on Pluralsight are shorter and more manageable if you want digestible chunks of information.
Pluralsight encourages you to perform your own research, while CBT Nuggets provides both video classes and labs.
When it comes to customer support, CBT Nuggets has a live chat feature and other resources available, while Pluralsight's offerings are vaguer.
When compared to Pluralsight, whose lessons are all presented in one big list that can be difficult to navigate, CBT Nuggets' interface is much clearer.
Pluralsight's courses are developed by working professionals in the field, while CBT Nuggets' are more hit-or-miss.
CBT Nuggets Vs Pluralsight: Features Explained
Even though both platforms provide identical services and courses, a few things set them apart.
CBT Nugget Key Features
Learning with CBT Nuggets is a wonderful method to gain hands-on, real-world experience in a range of in-demand IT careers.
CBT Nuggets offers comprehensive training on the most popular software and hardware systems, with guidance from seasoned industry professionals who bring you through each course step by step.
With virtual laboratories accessible for all courses, students will receive essential insight into how to apply skills effectively and efficiently in the business.
CBT Nuggets offers a range of excellent technology to help with more effective learning. One of these is their utilization reporting tool, which keeps track of your progress with your team and other students.
Unlike other learning platforms, CBT Nuggets allows you to modify your playlist settings by removing unnecessary courses and replacing them with ones that match your tastes, allowing you to reach out for further assistance if necessary.
Certificates are awarded at the end of each course (to users who finish the course) demonstrating enhanced expertise in certain technology, which may be useful in future pursuits.
Pluralsight Key Features
Pluralsight creates excellent courses that it is willing to make available on a pay-as-you-go basis. Pluralsight has projects that may be directly used to establish and sustain one's business.
There are also cloud laboratories, which allow customers to connect directly with actual production without having to spend money or obtain access credentials while choosing the appropriate resources for their specific needs.
If you are undecided about which Pluralsight training to take, take a brief quiz to assess your knowledge and determine which areas of learning will be most valuable to you.
Usage data in CBT Nuggets, for example, breaks down how many hours of a course you've finished and may assist inspire you to finish a difficult topic.
Then there's Flow, a tool that provides total insight into your team's work, letting them know how effectively they're contributing!
Podcasts are an excellent method to learn about new technological trends or to hear from actual experts on issues that might otherwise go over your head if you read an article alone.
CBT Nuggets Vs Pluralsight: Ease of Use
Regardless of everything else, the simplicity of the use of a product helps determine if it is worthwhile. I mean, knowing how user-friendly a product makes it easy to pick.
It's all about CBT Nuggets and Pluralsight in this scenario. Allow me to share my experience.
CBT Nuggets
I found CBT Nuggets' classes to be quite beneficial. There would be no sense of lag in the course's quality.
CBT Nuggets is an outstanding training platform. What I like best about it is the inclusion of new courses that cover the same subject as one you've already completed.
The fact that those are instantly added to your playlist makes it easy to construct a timetable based on their themes and obtain a better knowledge of them.
CBT Nuggets' Virtual Labs are also wonderful news for anybody searching for hands-on experience while learning IT courses.
You get to put them to work and discover how practical learning may offer you a significant edge when it comes from theory rather than just books.
Pluralsight
Pluralsight provides a nice, user-friendly interface that is also cost-effective and comprehensive.
Pluralsight allows you to structure and organize your learning progress through a variety of modules that surface as you advance and develop a certain skill, which is fantastic.
Pluralsight subscribers may also access a variety of cloud labs to help them put what they've learned in courses into practice. Custome
rs may begin coursework anywhere with an online connection by using the cloud labs, which require just a browser and an internet connection.
The cloud laboratories are dynamic and completely integrated with Pluralsight's online platform, allowing users to concentrate on learning ideas step by step rather than dealing with difficult technology on their own.
Pluralsight, like other social networking sites with cartoonish avatars and over-the-top character profiles, allows users to establish a profile from which they can access all of their learning histories while also giving opportunities for them to develop their own distinct identities.
Interface and Customer Support
CBT Nuggets
CBT Nuggets' layout is clean and straightforward, and the app's simplified features make it simple to navigate through a variety of different categories to get exactly what you're looking for.
Furthermore, the large symbols are incredibly user-friendly since they notify consumers where they can locate each item and how much information it will deliver.
With a plethora of useful options and data, such as explanations for each category, there is never a shortage of aid accessible when using this program.
It's vital to ask yourself a lot of questions both before and throughout your time working on your business, but there will be moments when you feel stuck.
Fortunately, they have a whole area of their website dedicated to assisting individuals in becoming unstuck, making it simple to find out precisely what you need help with by visiting their issue pages.
Each topic page provides suggestions and FAQs depending on what issues previous customers have asked in the past, so if you can't find exactly what you need help with here, you may contact them through phone, live chat, or email.
Pluralsight
The website and app have a well-organized style. Everything is readily navigable, with no misunderstanding regarding which tab one is on or which area to select, for example.
All labels are clearly labeled, making it a very simple method to learn from some of the most brilliant online instructors.
who seek to make their courses as effective as possible by determining how best we can teach you how to increase your knowledge and abilities regarding software such as MS Excel.
When it comes to customer service, there are several methods to contact them. Their website's Help Center part is both visually appealing and user-friendly.
There is plenty of evidence that they go above and beyond to ensure that you are satisfied with the outcome.
Instructor Quality
Both systems are outstanding in terms of instructor quality in their own right. As a result, before deciding on a winner in this category, you need first to determine what type of learner you are.
CBT Nuggets
When you take CBT Nuggets classes, you receive a more laid-back approach to studying. Consider the CBT Nuggets professors to be your friends or coworkers.
When you take these courses, you'll feel as if you're conversing with them and they're guiding you through the lessons because they're a little friendlier than Pluralsight.
pluralsight
Pluralsight's instructors, on the other hand, have decades of experience in the fields they teach. The courses are delivered formally and traditionally, similar to what one may encounter in a typical classroom setting.
It's not of the same caliber as Coursera's traffic-style education delivery, but it has its attraction to those learners who prefer this form of learning over Coursera's more relaxed approach.
CBT Nuggets has great teachers if you prefer a more relaxed learning environment. Pluralsight, on the other hand, will appeal to you if you want a more formal approach.
Course Quality
CBT Nuggets
CBT Nuggets also offers certifications, but their exams are more like a quiz where you're allowed to take unlimited attempts at answering a question until you get it right.
Unlike Pluralsight, whose certification program consists of a final exam in which one receives feedback immediately in the form of an overall score and several detailed comments explaining each incorrect answer.
Pluralsight
Pluralsight has risen to the top of the software developer training business for a variety of reasons, one of which is its ability to allow course participants to take notes.
Taking notes is a crucial component of comprehending what is significant and should be kept when learning any subject matter since it functions as a guide on how to recall various information linked to the topic.
Pluralsight also provides additional freedom in terms of being taught by numerous teachers via its "learning path" function.
, while still managing a network of trustworthy coaches accessible to reach out and support students when they want particular clarity regarding any given course.
Pluralsight's content is of higher quality than that of other platforms since it includes in-depth exercises and the opportunity to utilize Note Mode.
Pricing comparison between CBT nuggets & Pluralsight
Cbt nuggets Pricing
When it comes to CBT Nuggets pricing, there are two distinct price bands, which are as follows:
Individual membership
Individuals may sign up for an individual account for $59 per month and receive free weekly training. Pay-as-you-go customers that obtain CBT Nuggets through an annual subscription plan pay only $599 for everything.
If you ask us, that's a lot better alternative! We believe it is a no-brainer, but we leave the final decision to you, the consumer.
Team membership
You will pay the same amount for the Team membership plan as you would for the Individual plan – a total of $59 per month or $599 yearly.
pluralsight Pricing
Pluralsight is a subscription service for individuals and businesses looking to learn new skills or refresh their knowledge in certain areas.
There is also a variety of subscription-based training tools available for software developers at the beginning, intermediate, and expert levels.
Skills subscription
You'll have to pay $29 per month OR $579 per year for The Skills membership, which isn't for businesses but for individual development.
If you want the Professional subscription, it will cost you $29 per month or $779 per year.
Finally, the Enterprise plan will cost you $29 per month or $749 yearly. Looking to save more on a skills subscription? checkout our latest Pluralsight coupon.
Flow subscription
Flow membership allows you to choose the ideal subscription for you. The Standard plan costs $499 per year, while the Plus package costs $599 per year.
Finally, the Enterprise package gives you access to Flow for $699 per year.
Pros & cons comparison
CBT Nuggets Pros & Cons
| | |
| --- | --- |
| Pros | Cons |
| A wide selection of available classes. | There are fewer courses focusing on certain specialties. |
| Effective virtual labs. | |
| Excellent presentations utilizing videos. | |
| Instruction on a professional level. | |
Pluralsight Pros & Cons
| | |
| --- | --- |
| Pros | Cons |
| PluralSight offers high-quality current training. | Technology-related courses only. |
| Their website has exams to test your understanding of different topics. | |
| PluralSight instructors aren't random. | |
| You can retake a course as much as you desire. | |
| You can get help via email and phone. | |
| An application can easily ignore the fact that increased web traffic is coming from mobile devices. | |
CBT Nuggets Vs Pluralsight: customer review and Testimonials
CBT Nuggets Customer Reviews
Here are what users say about CBT Nuggets.
Pluralsight Customer Reviews
Here is what customers think about Pluralsight
Social Media
CBT Nuggets On Social Media
CBT Nuggets is a social media powerhouse. IT professionals and teams have relied on CBT Nuggets for online IT training for certifications and IT skills for over 20 years. Begin a free week.
Facebook
CBT Nuggets has a 4.8-star rating and 114 reviews. It has 105,019 likes and
105,126 followers on the Facebook page.
Twitter
CBT Nuggets has 28.2ktweets and 32.2k followers on its Twitter Profile. They share various resources from time to time.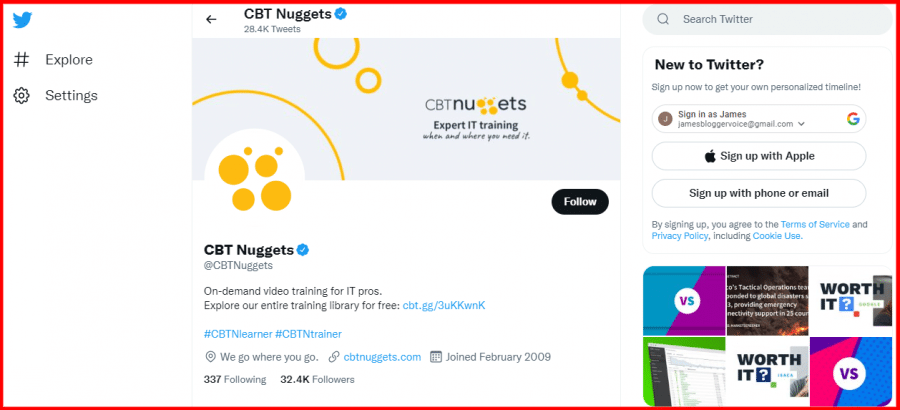 Linkedin
CBT Nuggets provides innovative IT training that is informative, meaningful, and engaging. It has 79,680 followers on its Linkedin Profile.
Youtube Videos
Pluralsight On Social Media
Facebook
Pluralsight has various positive reviews. It has 1,244,924 likes and 1,251,273 followers on Facebook page.
Twitter
Pluralsight has 36.2k Tweets and 252k followers on its Twitter profile.
Linkedin
Pluralsight is a popular educational website. It has 147,167 followers on its Linkedin profile.
Youtube videos
the Final Verdict
So, which is superior? Let's take it one step at a time.
Testing: Pluralsight has far superior testing methods in place, providing you with thorough feedback on each of your answers.
Lessons: The videos on CBT Nuggets are excellent and succinct; unfortunately, you cannot take quick and simple notes, therefore Pluralsight takes the cake for lessons.
Interface: Both CBT Nuggets and Pluralsight offer excellent, clear, and clean interfaces, however, CBT Nuggets are significantly easier to use and have a more appealing color palette.
Prices: In the long run, CBT Nuggets is far more expensive than Pluralsight, so if you're looking to save money, Pluralsight is the way to go.
So, which is better Pluralsight and CBT Nuggets? If you ask us, we believe the latter contains all of the necessary parts to do the task.
It includes more courses for your convenience, ranging from programming to administration, hosting, and even information security.
In the long term, it may be incredibly cost-effective because future updates will only cost a small charge! And did I mention how sophisticated their system is?
The framework of how they educate allows you to become a professional in whatever technical sector you choose to master or brush up on without spending years attempting to learn it on your own. We'd say Pluralsight, by far, outperforms CBT Nuggets.
Frequently Asked Questions
Is CBT Nuggets enough to pass CCNA?
In general, the online course materials and videos provided by CBT Nuggets are as comprehensive as they can be in terms of the themes, concepts, and training required to pass the CCNA.
Which is better Lynda or Pluralsight?
Pluralsight provides more sophisticated coding and engineering possibilities, whereas Lynda also provides courses in other categories, such as artistic and educational classes. Pluralsight offers tests and projects as part of premium membership, whereas Lynda occasionally offers projects and activities as part of any plan.
Are CBT Nuggets accredited?
CBT Nuggets is not an ATO authorized to provide ITIL training or content. AXELOS Limited's registered trademark is ITIL®.
Is Pluralsight a MOOC?
Pluralsight is a training platform for IT professionals.
Pluralsight is the MOOC platform for you if you want a more targeted approach to tech training, assured professional coaching, and courses that are precisely tailored to get you up and running quickly on a new skill.
How do you get Pluralsight for free?
1. Sign up for a new Microsoft Account at signup.live.com.
2. Sign in to my.visualstudio.com with your Microsoft account.
3. This will take you to the Visual Studio Dev Essentials website.
4. You'll be directed to the Pluralsight website where you can activate and redeem your 6-month subscription.
Does Microsoft own Pluralsight?
Pluralsight announced in December 2020 that it would be acquired for $3.5 billion by private equity firm Vista Equity Partners.
who is Pluralsight Competition?
Competitors of Pluralsight include Skillsoft, Udemy, Coursera, Learning Tree International, and edX.
Are Pluralsightkills free?
Develop in-demand tech skills with free access to expert-led courses, tests, and other resources.