In this post, we'll compare two of the most popular course creation services, Teachable vs Udemy, to see which one wins.
Despite online learning being a rapidly expanding sector, there is still a great deal of misunderstanding about how to build your course and get it in front of the proper people.
So, if you want to produce and sell an online course, you'll need a platform that can assist you in creating a high-quality course.
In this article, I'll compare the two most popular platforms, Teachable vs Udemy.
So, let's get started.
Teachable vs Udemy Overview: Which platform is better?
What is Teachable?
Teachable wants every entrepreneur to get started creating their online course as quickly as possible, although there is a lot of competition.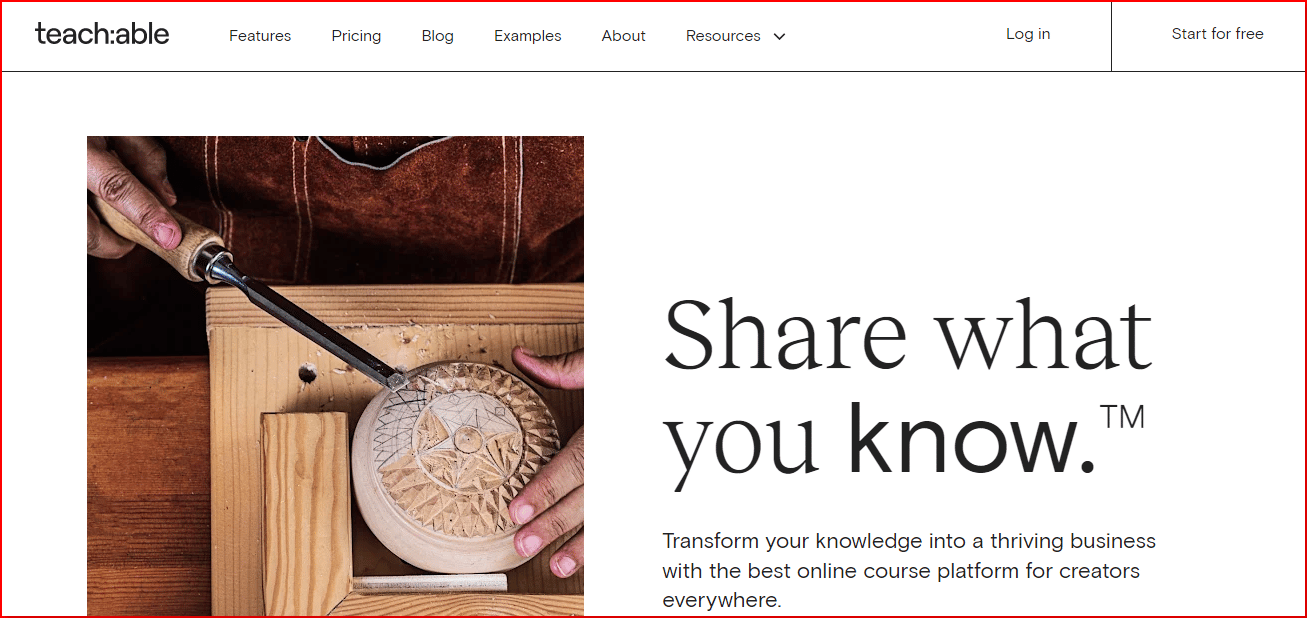 They believe that in the digital era, anyone can impart useful skills and experiences to other learners.
By creating a website that caters to the needs of students looking for an effective way to learn new skills, you can join the ranks of the many successful entrepreneurs who have done so with little work and without burning out.
It's a service that enables you to create and build your course website. You can customize every component of the website using the interface.
Teachable offers easy-to-use customization tools to help make your online course as unique and bold as possible.
You can then sell your online courses globally or keep them open to the public if you want to share what you've learned so that others can see how beneficial they are. A fascinating new manner of learning could be unleashed with this program.
What is Udemy?
Udemy is an online learning platform where people can share their expertise through skill sets and teach others exactly what they know.
People use Udemy to revisit passions, create something that could potentially produce cash through courses, and help students learn about a topic or subject. Finally, some people utilize Udemy to further their careers.
Udemy enables users to learn a wide range of skills by leveraging the experience of eager educators willing to share their knowledge.
Technology like social media and the internet can be done all over the world. Some Udemy courses are quite specialized, providing unique information to a specific audience to satisfy their needs.
The authors of Udemy courses, known as "instructors," can define their own goals, allowing them to create a unique ambiance for each one.
Do you know that Udemy has 46 million+ students, 60 thousand+ instructors, and 175 thousand+ courses? Do you know how much rich content they have?
Click here to get a perspective of how enormous it is.
Teachable vs. Udemy: two of the most popular online course platforms, with tens of thousands of knowledge entrepreneurs earning hundreds of thousands of dollars each year. Here's a closer look at their core beliefs.
There is one more platform where you can create your online course i,e. Thinkific, which is really a great platform we have compared a detailed comparison between Thinkific Vs Teachable.
Features Comparison: Teachable vs Udemy
Ease of Use
Creating an online course can be difficult; you want one that can help you break down barriers to the entrance while also providing a user-friendly platform. However, not all platforms are made equal; here's a comparison of the most user-friendly: Udemy vs Teachable
Teachable
Teachable allows you to provide the most immersive experience for your audience. When it comes to course building, the learning platform allows teachers a lot of creative and aesthetic freedom.
You're getting them through all parts they'll need to know going forward, whether they're learning a new skill as part of their professional development or expanding their expertise in a certain subject – which means a lot of freedom when it comes to personalizing each session along the way.
Teachable is more than simply a simple way to get started generating and selling content. They also provide training sessions and materials that you may use when you're having trouble setting up or getting started with your course.
They make it simple to discover how to launch your first course and what steps to take over time to increase the number of students enrolled in your courses. You'll be able to attain the results that are most useful to you as an entrepreneur by tailoring each step.
Udemy
Udemy is similar to a library, however, it is accessible over the Internet. It's for educational purposes.
Consider what would happen if a city gathered all of its books into one massive building and invited everyone to use them whenever they wanted.
Udemy, on the other hand, offers more than just books, it also offers a variety of courses and other educational possibilities that consumers may access at their leisure.
Furthermore, you won't have to worry about attempting to establish your brand as a teacher or educator because Udemy will take care of it for you.
Udemy is a website worth investigating for those wishing to sell online education products or services.
Udemy is one of the best options available to entrepreneurs wishing to sell online education. There are no costs associated with becoming a teacher, so getting started is simple.
Because Udemy offers your course alongside other educational options on a pre-existing marketplace, you won't need to do any marketing or brand-building to get people interested in your services. Instead, you are provided immediate access to a large number of students.
Course presentation and Customization
Teachable and Udemy both include a dashboard for offering courses and tracking activity. Both allow you to design your lectures, adjust your display, and perform a variety of other tasks.
Teachable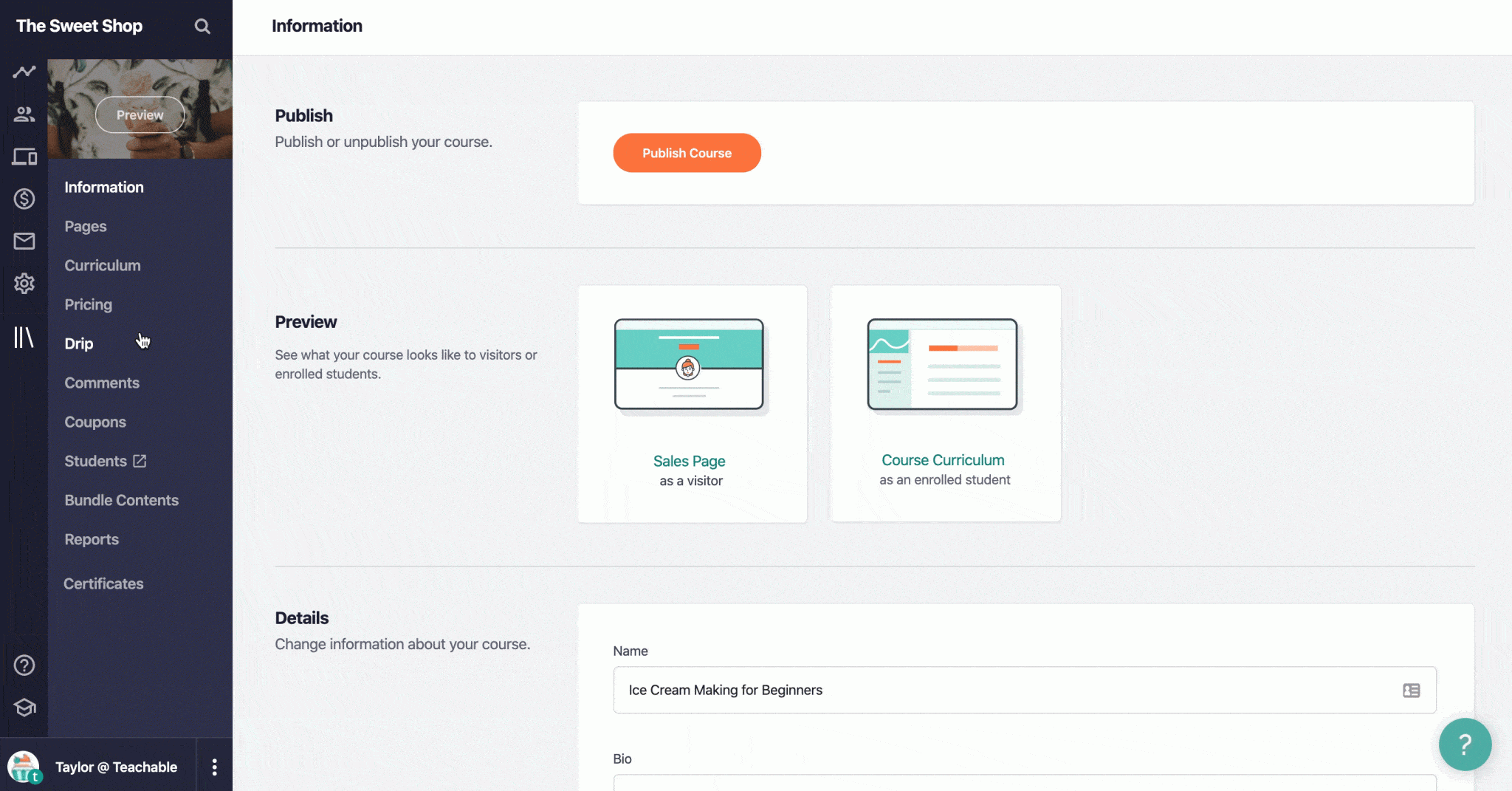 Teachable is what online educators call a platform.
Teachable offers a variety of tutorials on how to build up your course as well as a variety of themes to pick from.
The client dashboard is also significantly broader, with several possibilities for customizing the design of your site. The interface is substantially larger than the others, but don't let it bother you, it only means that potential pupils have even more options.
If you're seeking extra capabilities in the platform, look at Drip, which allows you to gradually drop course content so that potential students and course participants aren't overloaded.
Teachable makes it easy to build up your whole course website with a clean and straightforward interface.
You have complete control over the look and feel of your site, allowing you to customize anything to your liking. You can make it look like a regular website by hosting it on Teachable's subdomain, or you can use a custom domain to control the branding authority.
Udemy
Udemy is an online learning marketplace where you can buy and sell various paid courses, mostly in the form of video tutorials. It functions as a course catalog and is dedicated to teaching and learning.
Since the site lacks a site builder or website editor, there are no possibilities for you to create your online courses. Because Udemy only provides one website that links back to its page, you'll be obliged to utilize its branding even if you don't want to.
Udemy's dashboard is simple to use, however as mentioned earlier you can't customize items or change the layout of your pages.
This is a benefit if you don't want to make any changes, but it has a downside in that you won't be able to create a distinctive and appealing page design.
You may also read: Kajabi Vs Teachable
Course Approval
You can't teach ANYTHING on these platforms, so familiarise yourself with the curriculum before sharing your work.
Teachable
Teachable makes it simple to maintain your production schedule flexible and adaptable to the needs of your project.
It's wonderful news since it means you won't have to wait for people to validate your efforts.
People deserve to get their money's worth, and if you're the type of person who wants to keep an unstoppably happy attitude, they can show you how to get your business off the ground as smoothly as possible.
If your ultimate goal is to provide success to those rather than just create something for business goals, you should get started as soon as possible.
Udemy
The rules aren't the same in this case, brother.
Udemy's management staff will ask you to evaluate and approve every part of your online learning program before it goes live on the platform.
It's easy to get wrapped up in how you want, what you're delivering students to look at rather than concentrating on the wider picture that keeps your audience interested during this process.
They may even argue against you based on absurd principles such as your light not being good enough.
In reality, though, it is readily evident and easily visible. Or they may claim that, although having a great audio system with amazing sound quality, it isn't quite up to par and may use some work.
Course Analytics
When it comes to program analytics, most platforms provide enough information to help you determine which pages are profitable and where your income is coming from. These systems also allow you to link with Google Analytics for further information.
Teachable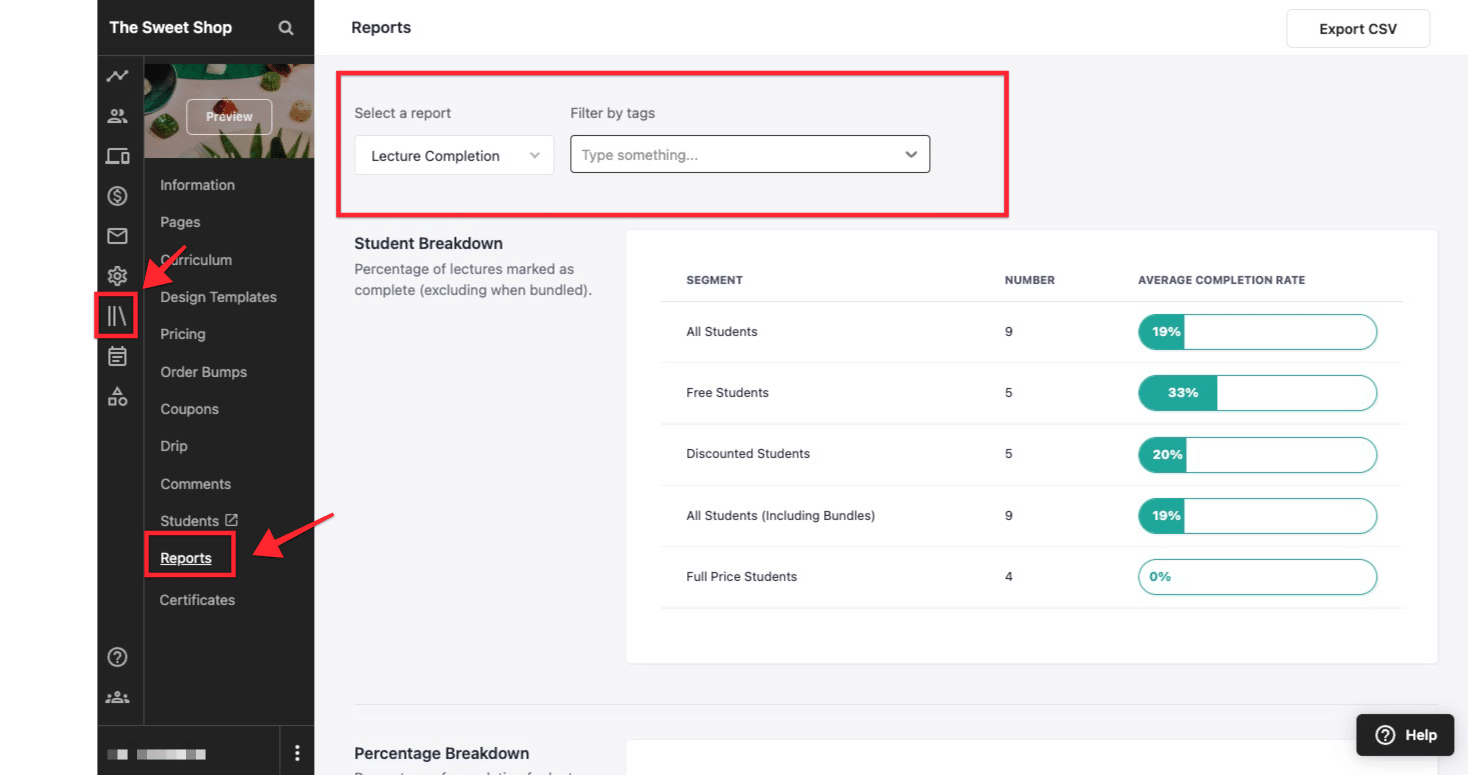 You may learn about how your audience responds to your particular brand of teaching from the monthly reports you get for each session on Teachable.
If you're able to manage it, the subscription function provides for even greater contact with students, allowing you to communicate with them one-on-one.
The unique feature allows instructors to communicate directly with their students in the form of live chats, forums, and direct messages.
Teachable's dashboard also has a straightforward way to keep track of who's signing up for your courses and when they could drop out, which will enable you as a course creator to do what you need to do to avoid that last situation.
You'll also get sales data regularly so you can keep track of how your classes and videos are doing. This type of feedback is essential to enhance courses over time and provide a higher rate of return on investment.
Udemy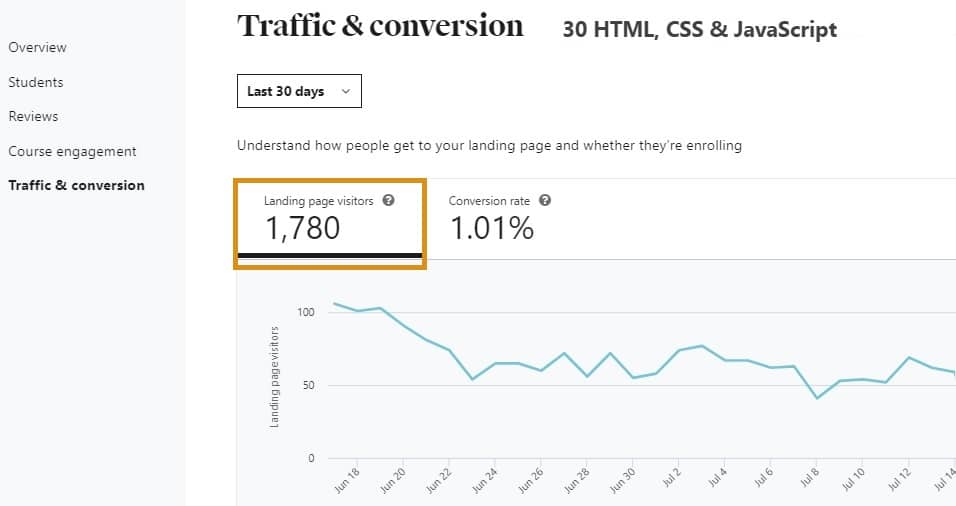 In your dashboard, you'll see your average rating, which will be computed based on how much money your product has made so far, as well as a graph illustrating the traffic platforms that have produced sales for your content.
Udemy currently does not allow you to use custom code snippets in your course content, such as a Facebook Pixel or a Google Tag.
Tracking user activity is critical for organizations because it may help them improve conversion rates.
Customer and Revenue data export
Teachable
You can see your clients' information from within your account. You can also look at their IP address (which isn't good) to see where they're coming from on the internet, and you have full access to their transactions, which you can safely export for safekeeping or tax purposes if necessary.
Udemy
Udemy does not allow you to export any significant data because they own it, but it is feasible to function under a new identity within the Udemy platform that is more in line with what you want to establish over time.
Udemy does not allow courses with the word "copyright" in their title or description to be exported into CSV format, often known as a comma-separated value, and so is not available for download.
Custom Domain
Custom domains are extremely significant for branding considerations because they allow you to make your course available under any name you desire.
Teachable
Teachable enables you to put in the effort once and sell your creation to a large number of people at the same time.
Teachable allows you to design, produce, and publish your course on a custom domain that you think is scalable and convenient.
The best thing is that Teachable won't let you compete with other course designers on the same platform because you have complete control over how your course is featured (technical content, pricing, discount promotion, etc.)
Udemy
Only the Udemy website is used to list and sell courses on Udemy.
You don't get to choose your unique name that corresponds to how you want to be known as a teacher.
People looking for courses comparable to yours will find them on Udemy's website, which means they'll be competing with a slew of other instructors selling similar courses.
Your course may rank higher or lower for particular keywords, limiting the likelihood that people will find it or enroll in it.
Potential students will purchase from you since they consider you to be an expert on the subject. They don't want to take the chance of buying courses or content from people who aren't well-known in the field or who don't know what they're talking about.
Being on generic marketplace websites makes it difficult for your name to stand out, which may deter potential students from acquiring your information and items.
It's grateful that both platforms offer to host for free.
Course Marketing
You can't expect your amazing content to go viral despite your best efforts. You must spread the word and promote it through marketing activities and approaches for this to happen.
Teachable
Teachable allows you to be inventive when it comes to course promotion. Excellent branding, which includes websites, social media, blogging, and video communications, has a distinct benefit.
With its built-in website builder, this platform also makes it simple to develop landing pages and blog posts to promote your online course.
Basic email marketing notifications keep your students engaged with the topic in each lesson of your online course, making course marketing even easier.
The platform also allows you to create Teachable coupon and integrate your account with a variety of marketing, sales, and business-related apps.
Udemy
Udemy spends millions of dollars on a variety of promotional efforts, such as email marketing, advertising campaigns, discount packages, and sales events, to promote its platform and attract buyers.
However, it does not expressly promote courses created by instructors. As a result, Udemy may not be the ideal option if you're searching for a fresh strategy to promote your course on a global scale.
Udemy does not offer many options for promoting your course. You can't use webinars or landing sites nor can you use email marketing or any other sort of internet advertising.
Customer Support and Service
Teachable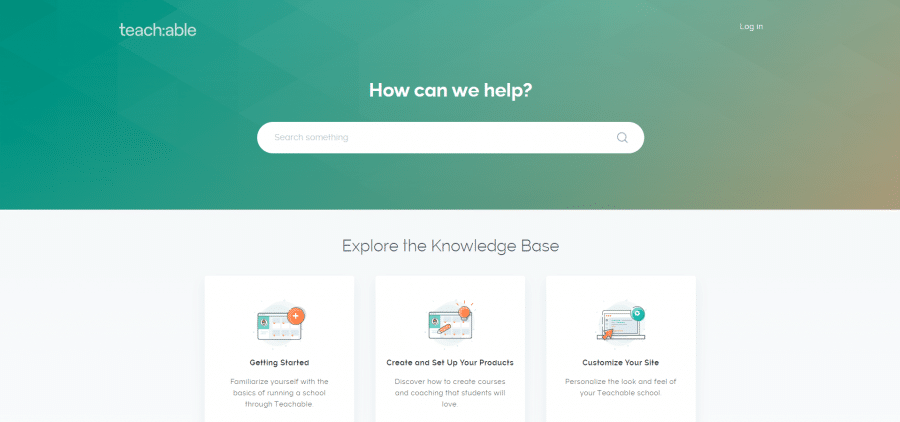 Teachable employees keep track of every hour of every day to guarantee that any difficulties are rectified quickly.
This is done to ensure customer pleasure at all times and to assist you, our investors, in protecting your money.
You can also count on Teachable's customer service to provide you with all of the information you require at any time.
It makes it simple to back up your data and store everything so you never have to worry about losing data from any of your courses.
You may always manage your information in the admin panel at your leisure and discover how to modify or enhance various areas of your course material.
Udemy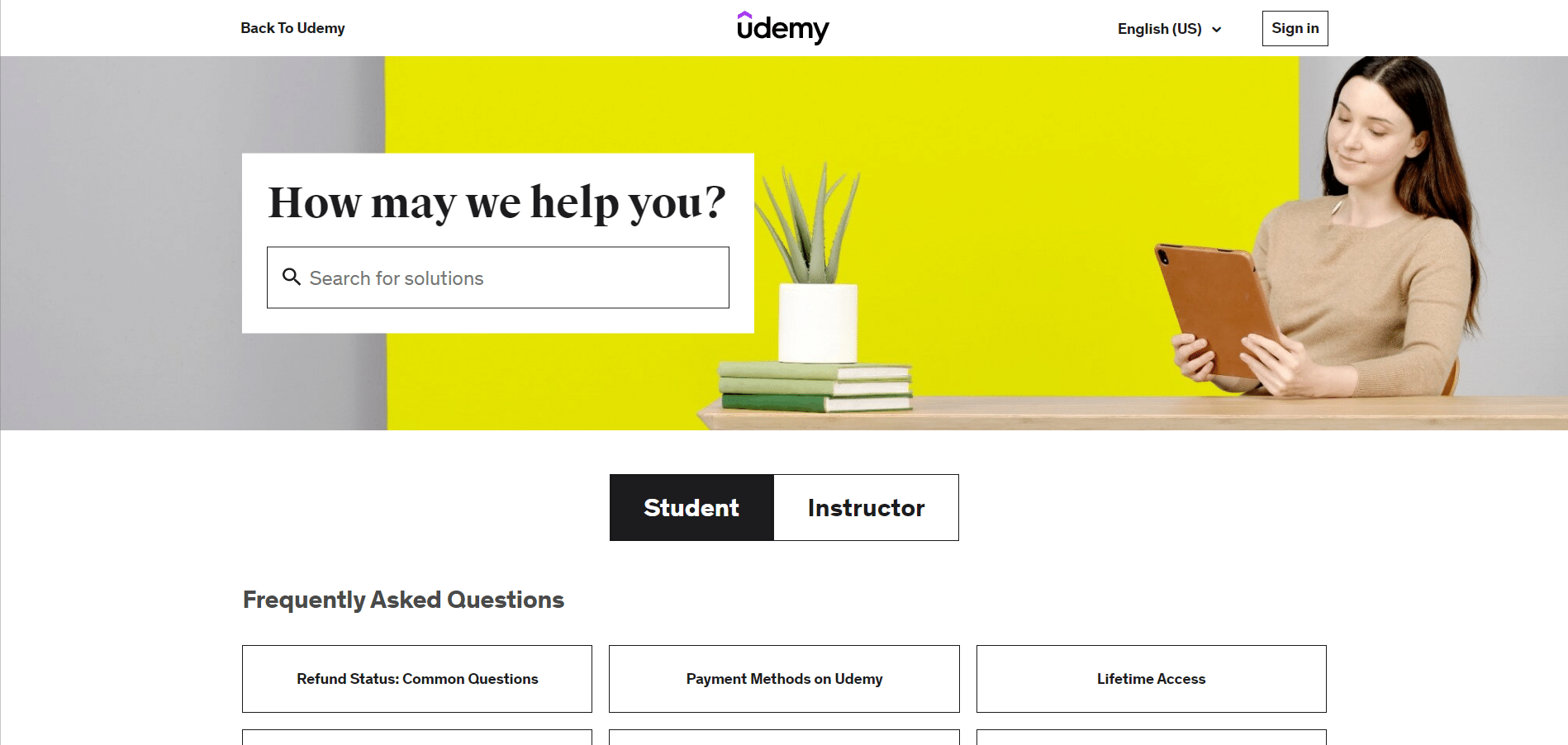 With Udemy, you're in good hands. The Udemy support team is always there to assist you in assisting your students in achieving their objectives.
On the studio u landing page, there is a live chat feature as well as an extensive help center. As you design your curriculum, you may contact other Udemy instructors on various channels within the community, including their Facebook group, to seek support or feedback.
Well, I hope you now have a comprehensive understanding of all the benefits and drawbacks of both platforms in this feature comparison between Udemy vs Teachable.
Without any further, let's look at the pricing section.
Security
Both Teachable and Udemy provide hosting, which means that you do not need to sign up for a separate service to use either platform.
Both of these platforms for teaching courses additionally give supplementary security measures to guarantee the safety of your content, the data of your students, and any online money transactions.
Teachable
Teachable has a number of different security measures in place to protect the confidentiality of your online money transactions and the information you collect about your students.
Data pertaining to students is protected by using SSL certificates with a bit length of 2048, and the platform interfaces with payment processors that are compliant with PCI Level I, such as PayPal and Stripe.
You will receive regular automated upgrades for learning websites to incorporate new security measures, and the platform is continuously reviewed for any potential security concerns that may be present.
Udemy
Udemy provides a free platform for you to host your online courses on their platform.
Since your content is hosted on the website, an SSL certificate is issued to you without any additional action required.
This certificate is used to safeguard the transmission of data, logins, and even the processing of credit card transactions.
It can also be used to browse social media websites securely.
Developer Features
If you are an experienced user, then you almost certainly require a platform that grants you greater control over the manner in which you construct your online course by providing access to an editing environment that supports HTML or CSS.
Using this method, you will be able to make something that is genuinely one-of-a-kind and remarkable by drawing on the full potential of the software.
In this regard, let's take a look at the different things that each platform has to offer.
Teachable
Teachable provides course creators with significantly more options and customization than Udemy does in terms of the method through which they build their courses.
The platform provides you with fundamental access to editing environments for both CSS and HTML.
You are able to make live updates to the code of your website; however, the changes to the code will need to be published before you may preview them.
Udemy
Udemy does not provide access to HTML or CSS, which prevents users from making advanced customizations.
You are not permitted to make use of the same code, nor are you able to create any new layouts, pages, or sections.
Because there is no option for importing or exporting code, you are effectively forced to work with the page in its current state on the platform.
Teachable vs Udemy: Pricing Plans
teachable pricing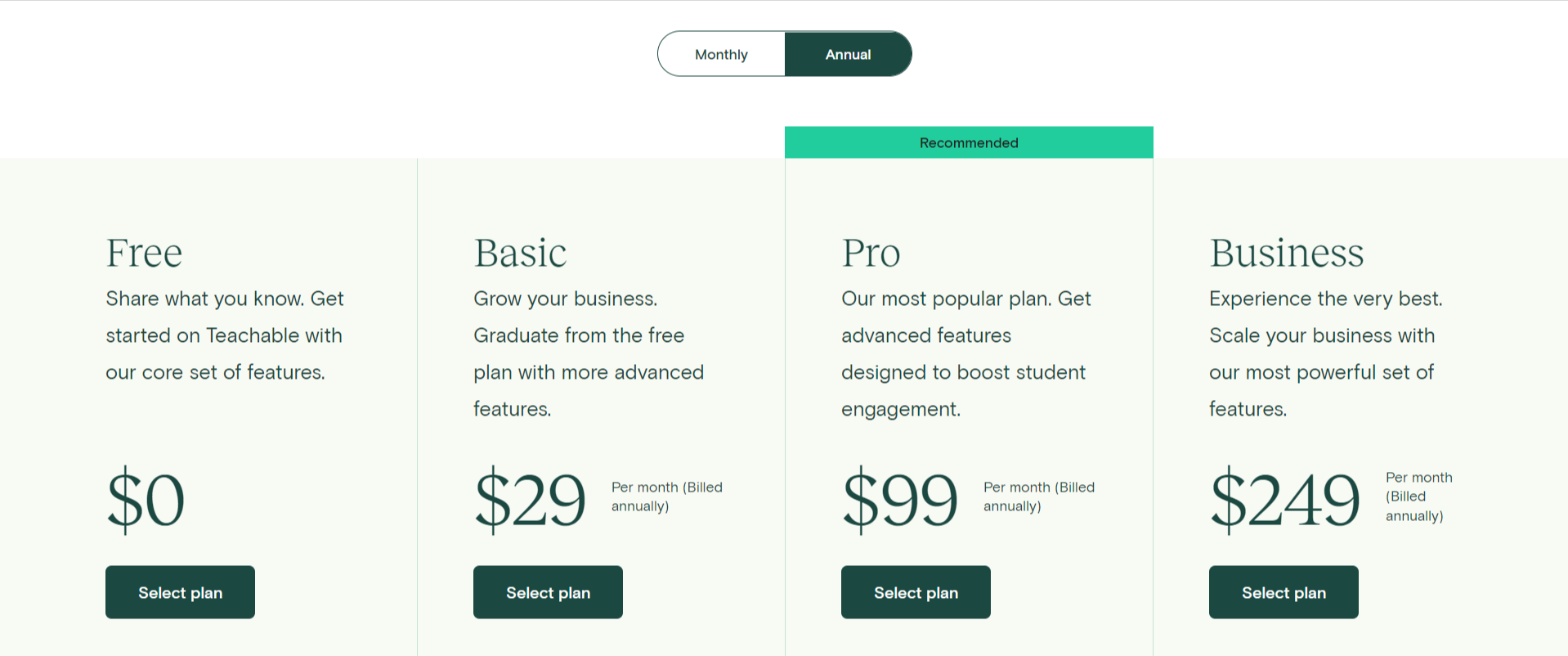 There are four plans available on this platform: free, basic, pro, and business.
Free – You don't need an explanation you are free to express your content
Basic – This plan is available for $39 per month (when paid monthly), and $29 per month (when paid annually).
Pro – This plan is available for $119 per month (when paid monthly), and $99 per month (when paid annually).
Business – This plan is available for $299 per month(when paid monthly), and $249 per month (when paid annually).
Checkout our detailed article on Teachable Pricing Plan
Udemy Pricing
It's entirely free to sign up for Udemy and start creating and hosting your courses. Consider signing up for a team or business user license to provide a more comprehensive support system for your program's users.
There is, however, a profit-sharing scheme, which according to Udemy is 50%, which means that if your course costs $30, Udemy will take $15 and you will only be left with $15 as interest.
It is up to you to intelligently choose the course price so that you may earn your part after Udemy's cut.
Well, the Teachable vs. Udemy comparison review has come to a close, but before I go, I'd like to list the perks and drawbacks of both platforms.
Read my full Teachable Review to learn more about its features and pricing options.
Teachable Pros & Cons
| | |
| --- | --- |
| Pros | Cons |
| Feature to use one's domain | It can prove to be costly when someone upgrades to plans |
| Includes a page builder featuring drag-and-drop functionality for building your complete website | |
| An all-in-one website builder that incorporates hosting, data ownership, and an SSL certificate | |
| A beautiful dashboard with data related to revenue and with students' insights | |
| This platform is way too much flexible in all its aspects | |
Udemy Pros & Cons
| | |
| --- | --- |
| Pros | Cons |
| There's a space for client feedback built right in | There are only a few features available |
| A user interface for mobile devices | It is not possible to build a custom domain |
| You have the option of creating promotional videos for your course | |
| Tools that can be used to converse privately with other students | |
Teachable Customer Reviews
Here are the customer reviews and testimonials of Teachable:
Capterra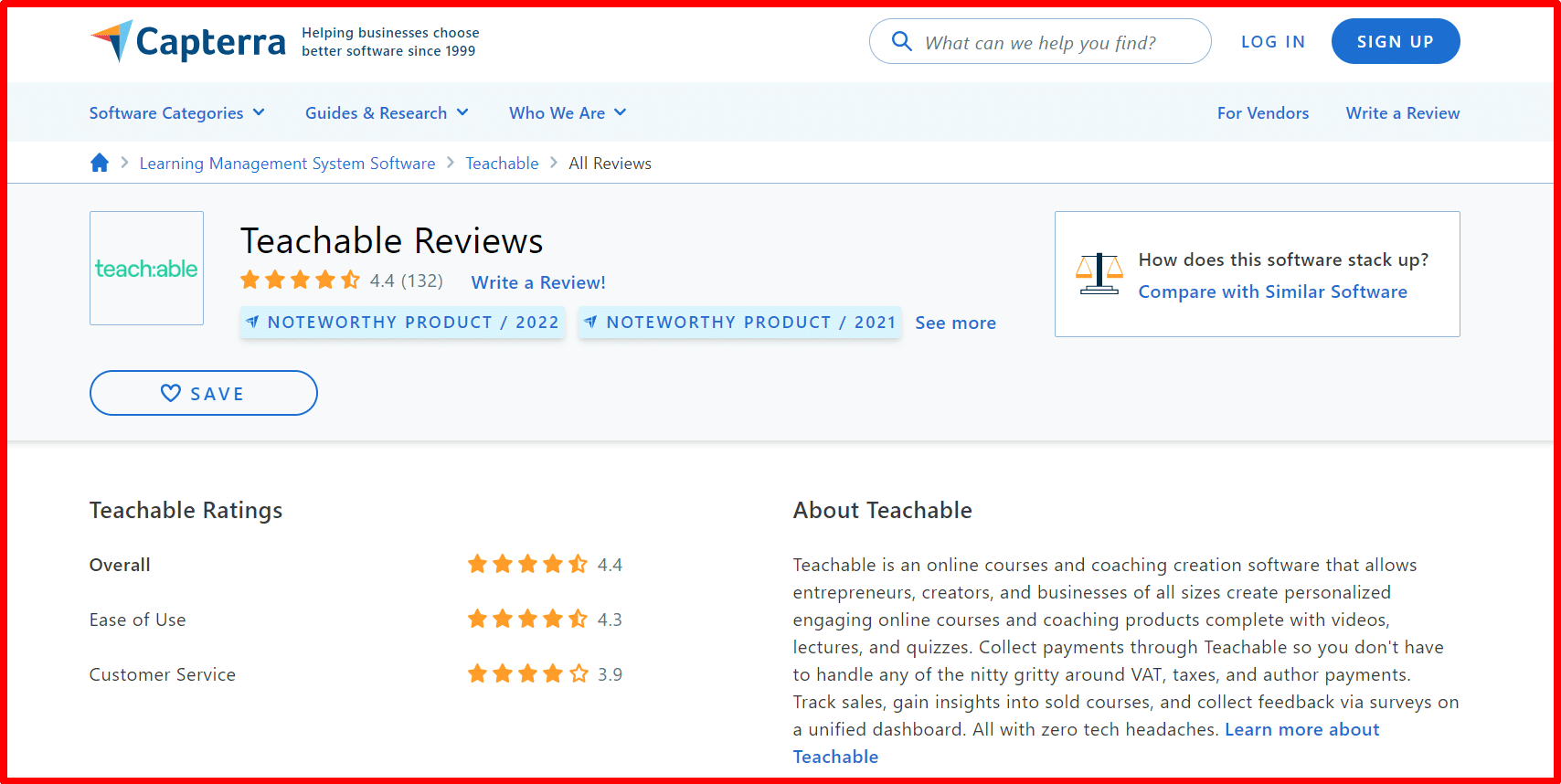 Teachable is rated 4.4 out of 5 by 132 users on Capterra. The overall rating of Teachable is 4.4, Ease of use is 4.3, and Customer service is 3.9
G2
Teachable has received 4.0 ratings out of 5 from 36 users on G2.
Udemy Customer Reviews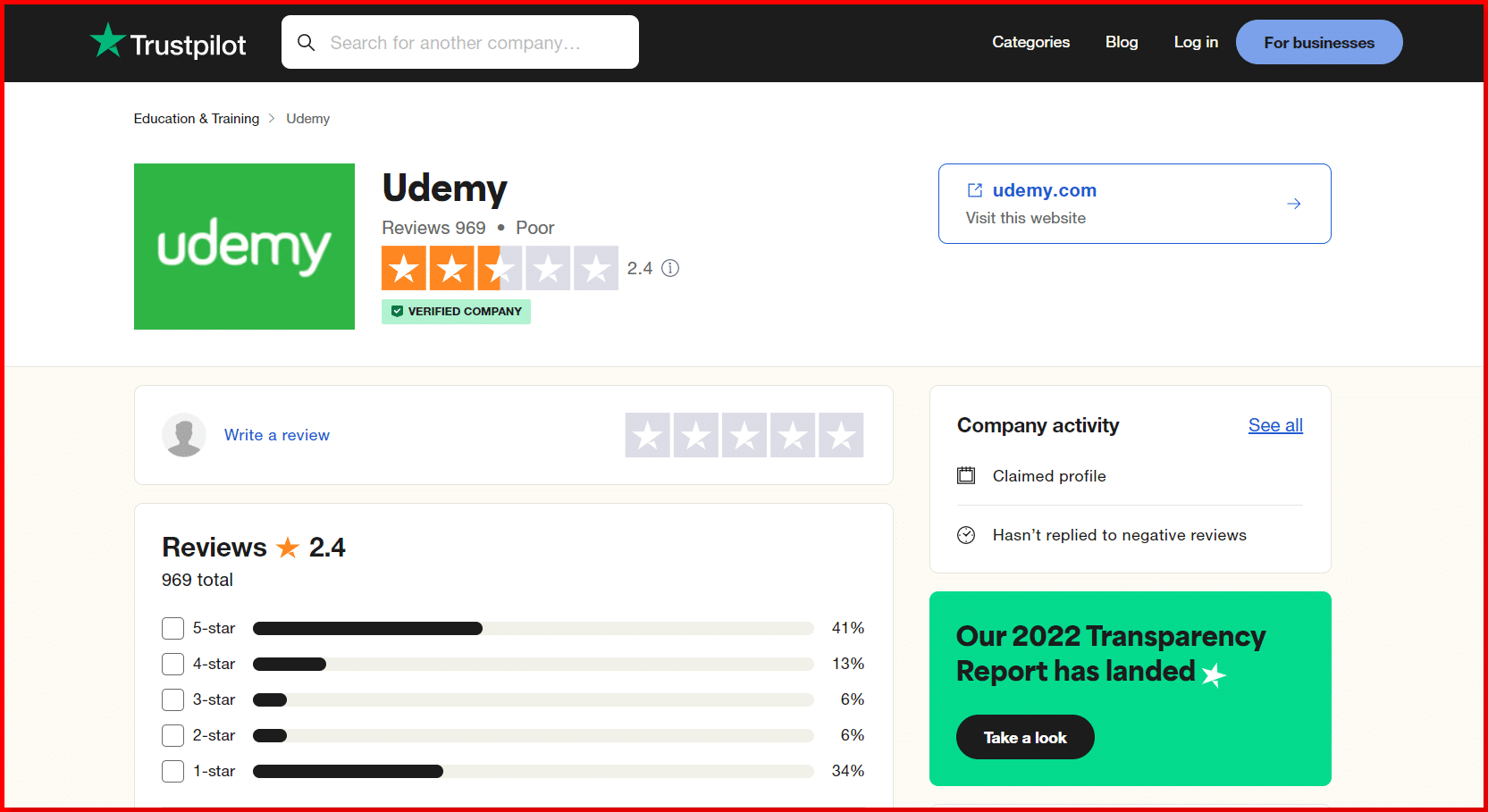 Agree with your analysis, decision is yours… But if anyone ever should consider launching anywhere else other than on Udemy, it's people like you with an existing follower base. So it really depends on your willingness to spend a considerable amount of time on SEO (like getting links from other websites) and also on social media activities.

Reddit user
Teachable Social Profiles
Let's see the social presence and how active they are on different social media accounts like Facebook, Twitter, and Instagram.
Facebook Page
With over 52k followers on Facebook, Teachable shares some good stuff related to online teaching and their podcast.
Twitter Profile
Teachable is on Twitter with over 33k followers. They joined Twitter in 2013 and share knowledge about online courses and coaching.
Instagram Profile
Teachable is also on Instagram with an amazing 66k followers. They post great content here related to their platform and online course.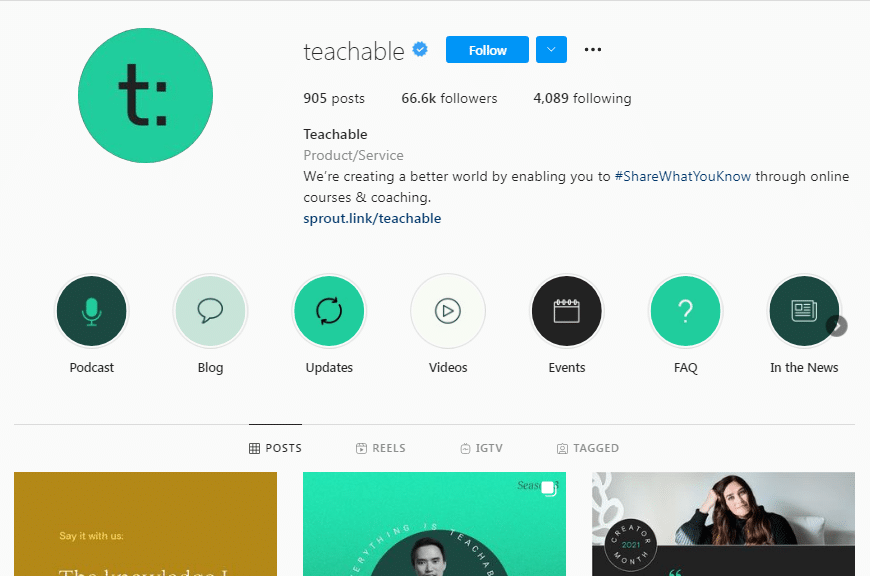 Pinterest Profile
With over 61k followers on Pinterest, Teachable shares some interesting infographics and tips related to how to create and sell online courses.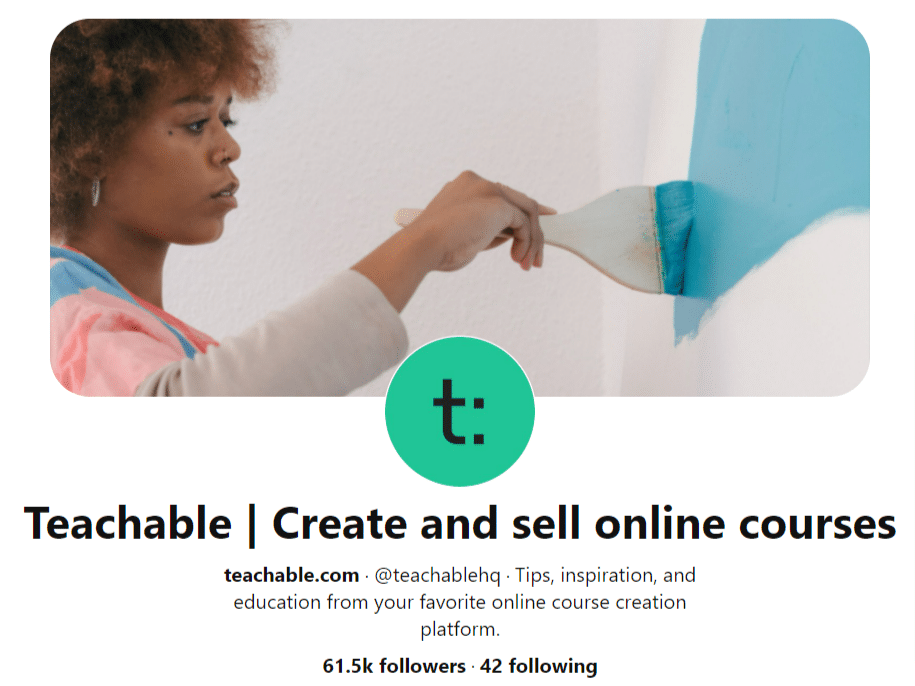 LinkedIn Profile
The teachable LinkedIn profile has a 14k active following. They share knowledge related to online courses and coaching.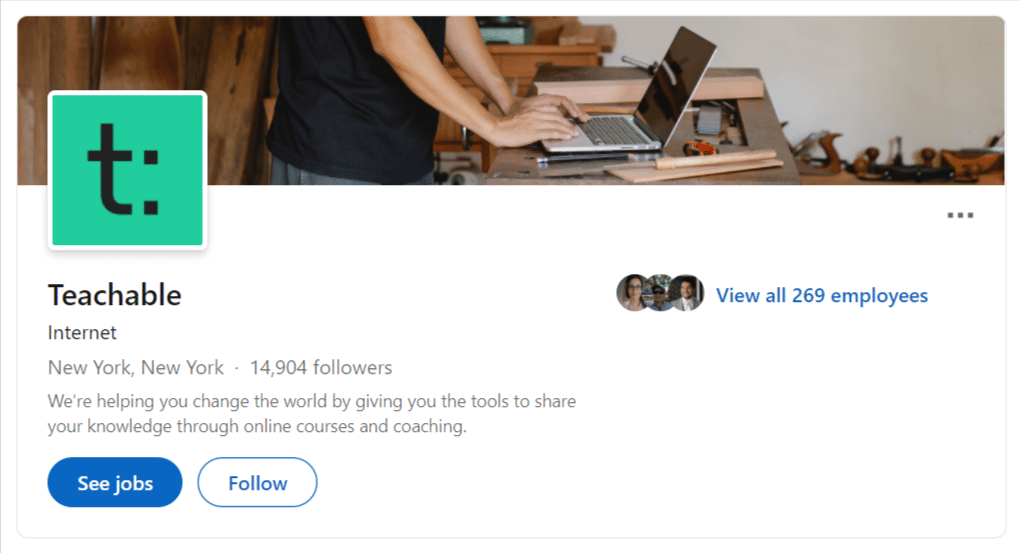 Youtube Channel
On the Teachable Youtube channel share awesome tutorials related to their platform and online course creation.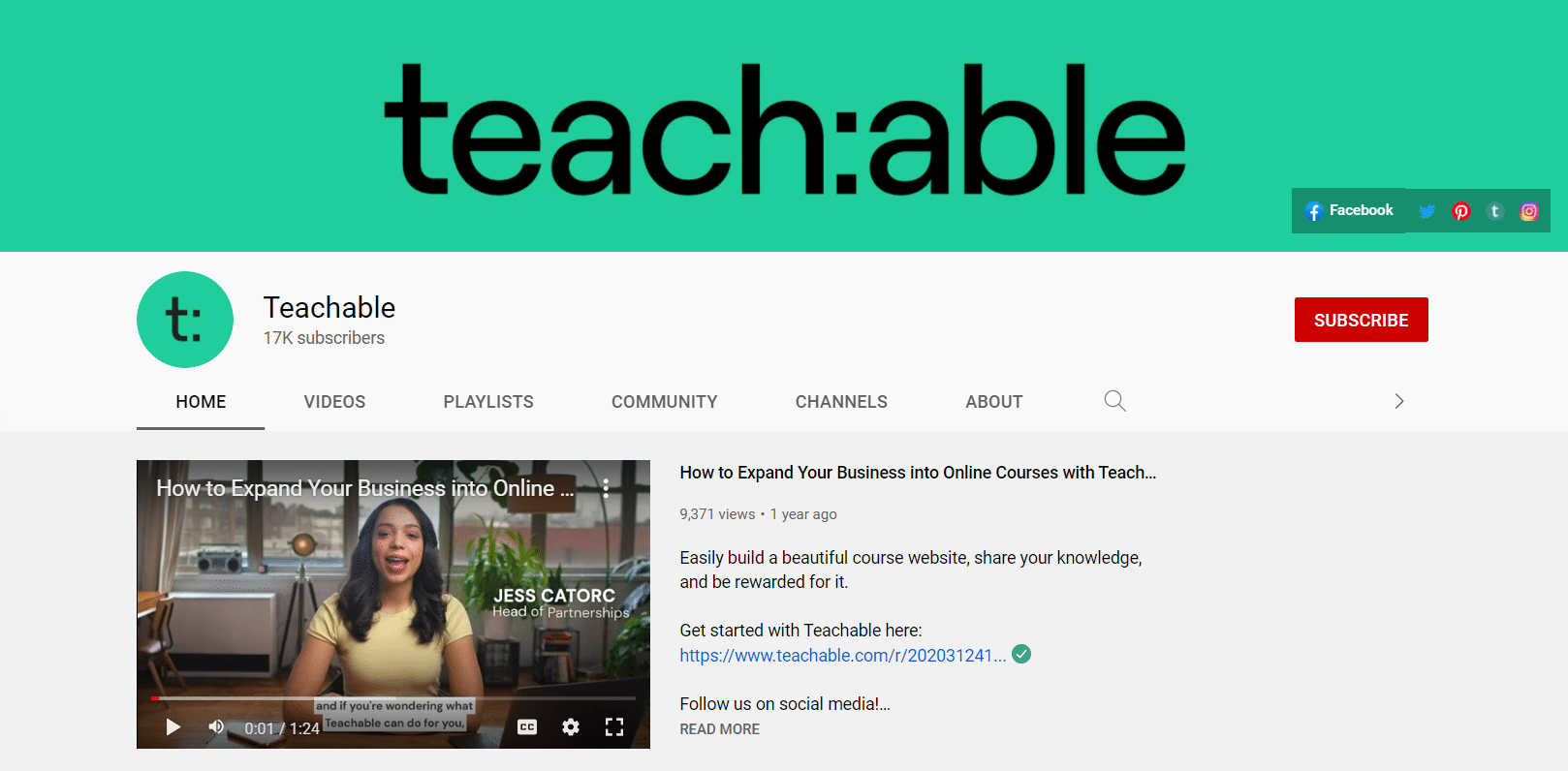 Udemy Social Profiles
Let's find out the social profiles of Udemy.
Facebook
Udemy's Facebook page has over 6,722,754 likes and 7,332,273 followers.
Twitter
Udemy's Twitter profile has over 266.4k followers and 16.9k Tweets.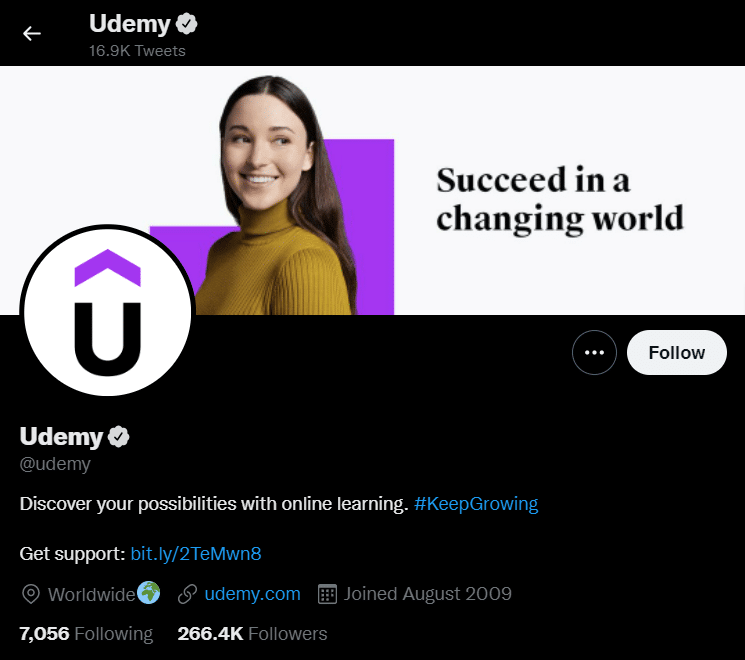 LinkedIn
Udemy's LinkedIn profile has over 903, 638 followers and lists over 6,105 employees.
Instagram
Udemy's Instagram profile has over a huge 2.3 million followers and 341 posts.
Conclusion: Teachable vs Udemy 2023
Despite the fact that there is a lot of competition in the online course industry, it is a quickly developing market with a lot of opportunities.
We hope that our comparison of Teachable vs Udemy has given you a better understanding of the platforms' benefits and features.
Teachable is changing the way you design and sell online courses. Teachable allows you to create and publish your course in minutes. You may easily share your course with other Teachable users, and you can even sell your course through Teachable.
Udemy, on the other hand, provides users with more than just books; it also provides a choice of courses and other educational opportunities that they may access at their leisure.
At the end of the day, it is your pick; if you want to tailor your teaching method in your way, Teachable is the way to go; if you just want a basic platform to promote your ideas, Udemy is the way to go.
Frequently Asked Questions
Is it possible to integrate Teachable with third-party software?
Many social marketing programs, such as ConvertKit, may be connected with Zapier to enable you to send out alerts and notifications to your subscribers automatically. You can also integrate google analytics and get an analysis of your sales and revenues.
Does Teachable provide course analytics?
Yes, you'll receive a complete revenue report as well as details on how the students were assigned. You could also use Teachable to access the Reports feature, which lets you track student progress.
Are Udemy certificates recognized?
Udemy courses aren't authorized, which implies that their credentials aren't always accepted by employers. However, for business professionals seeking continuing education units (CEUs) rather than the peer validation of a specific college or accreditation body, the Udemy learning experience provides a platform for them to continue learning without being hampered by an educational institution's reputation.
How much do you get paid on teachable?
If you're selling courses on the free plan, each course sale will cost you $1 plus 10%. If your course costs $200, for example, you'll pay Teachable $21 from each transaction if you're on the free plan.
Is Teachable good for online courses?
Make sure to check out Teachable, a website that you should put your mind to. A good thing about this is that it's one of the best options when it comes to making online courses. You get a lot of ways to work with other software, which is great because you don't have to start from scratch in some parts.